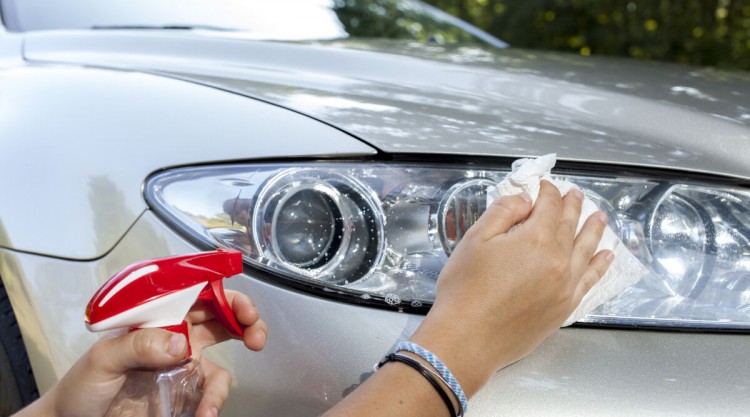 Parked under a tree and found your car stained with the oh-so-ugly and obstinate annoyance that is tree sap? If so, you might be tempted to get out the chainsaw and exact some retribution on the tree, but before you do so, let us offer a few more practical solutions.
In this post, we will show you how to remove tree sap from your car in a variety of ways, from using home remedies like hand sanitizer and nail polish remover to using no-nonsense commercial removers.
We'll also describe some of the most important tips and pointers that will help you avoid this situation from happening in the first place and suggest a few insider removal methods that will help tackle even the stubbornest of tree sap stains.
Key Takeaways
Act fast! – The sooner you get this done, the better. The longer tree sap stays on your vehicle, the harder it will be to take off and the more elbow grease the job will require.
Try home sap-removal remedies – Nail polish remover, hand sanitizer, lighter fluid, bacon grease, and WD40 can all do the trick if you don't want to splurge on a commercial sap cleaner.
Steer clear of those trees! – Prevention is always easier than cure.
How to Remove Tree Sap From Car Windows and Paintwork
Depending on how long you've had the substance on your car, there's a bunch of different options and methods you could use to remove it.
Hot Water and Car Wash Soaps
Washing and drying your vehicle should be the first step to remove any sap stain, new or old, or any other sticky substances on your vehicle.
The following is a list of steps you should follow at first:
Park your vehicle inside your garage or in the shade.
Using a bucket, mix hot water with soap or other car cleaning product.
Place some plain hot water in a different bucket to rinse your mitt while cleaning your car.
Using a hose, ensure that your vehicle is wet throughout.
Hand wash your vehicle with a clean mitt. It's best to start with the wheels.
Use the hose to rinse.
Dry the entire vehicle with a clean microfiber cloth. This part is important, as wet droplets can create water spots and raise other issues.
Apply a layer of protective wax.
Washing off your car should be enough to remove fresh stains and hardened tree sap. If stains remain, they'll be weakened and softened by the water and heat, at which point you can gently scratch them off with a fingernail if they don't come off with a cloth.
Alcohol Home Remedies
Rubbing alcohol can be very efficient in removing tree sap from your car's exterior.
Wash your vehicle with soap and hot water as previously described.
Try the alcohol solution on a hidden part of the car paint first. These alcohol home remedies aren't primarily made to remove sap stains, so test it on a small hidden area to be on the safe side!
After applying the tree sap remover solution, rinse, and apply a coat of wax.
For this purpose, five alcohol-based home remedies can be used:
Bottle of hand sanitizer: Spray or apply a small amount of hand sanitizer on the sap stain. Let the liquid sit for a few minutes and wipe it off using a microfiber cloth.
Nail polish remover: Apply a few drops on a cotton ball and rub against the sap stain until it comes off. Wash the remover off with baking soda and water to prevent it damaging the paint.
WD-40 solvent: Spray generously over the sap stain and let it sit for a few minutes before rinsing and drying. (You can also do this with lighter fluid or even bacon grease!)
Alcohol wipes: Apply the wipe directly on the stain or hardened sap and until it comes off.
Isopropyl alcohol, 91 percent: As it evaporates fast, you'll need to apply it on a clean microfiber cloth and rub against the sap stain right away. Gentle circular motions should be enough to dissolve the stain.
Mineral spirits: Also called paint thinner, this should be your last home remedy to resort to, and it's really preferable not to reach this stage if at all possible. Mineral spirits are very efficient, but can also cause great damage to the paint when used incorrectly.
Pour a small amount of the liquid on a soft cloth and apply it on the affected areas for only a few seconds.
Clay Bar
A car detailing clay bar works great with fresh or soft sap. Hopefully, you already have one at home if you're into detailing your car at all. The sap residue attaches to the clay, making it easy to remove.
It's crucial not to use an old and dirty clay bar for sap-removal purposes, and it's also very important to ensure that the area is wet before using the tool.
Wash and dry your car thoroughly.
Spray all the sap-stained areas with a clay lubricant.
Soak the clay bar in warm water.
Gently rub the bar in small circular motions until the sap comes off.
Rinse and dry the area.
Wash your car and apply a layer of protective wax.
Commercial Removers
Commercial removers are specifically designed to remove stains such as pine sap without damaging your vehicle's clear coat or paint.
For example, popular commercial cleaners that do an excellent job at sap removal include Turtle Wax Bug & Tar or Goof Off. In fact, they might be one of the safest options out there, as they've been tested for this very specific purpose.
No matter which commercial cleaner you use, though, it's important to read the instructions first.
Typically, these are the steps you'll need to follow:
After washing and drying your car, apply a small amount of the product on a clean microfiber towel or damp cloth.
Press on the stain for at least 60 seconds, then rub the stain gently until the sap dissipates.
Wash the area again to remove any remaining sap and product.
Dry and apply a layer of car wax.
Tar remover is another option. While commonly used to remove bird droppings and bugs, this can also be used for tree sap removal using the cleaning process described above.
Polishing
If your sap stain is still resisting, you'll need to pass to the next plan of attack: polishing.
A polisher is an electronic device that features a rounded end piece.
Wash and dry your vehicle.
Use a polisher device with light pressure.
Wipe down the area.
Apply a layer of protective wax.
Steam Cleaners
Steam cleaners are increasing in popularity these days as they're an efficient and eco-friendly cleaning device that can be used for most surfaces of your car.
Steamers produce a hot vapor (over 212 degrees Fahrenheit), and should therefore be able to soften even the driest sap residues.
Plug your steamer in and wait until the water is hot.
Use the appropriate accessory: large and flat, or pointed.
Pass the steam over the sap-stained surface, and avoid staying too long in one specific area.
When steaming a window, make sure it isn't cold, or else it might crack.
Rinse and apply wax.
Ask a Professional
If nothing has worked for you so far, or you don't have the time to test all these methods, there's still hope!
Your best bet is to bring your vehicle to an auto repair shop, a car wash, or a full-service station, and they'll be able to remove the sap stains for you.
The cost of having a service provider remove sap on your car will vary depending on where you live, how dry and old the stain is, which type of repair is needed. It shouldn't, however, cost an arm and a leg.
Why Should I Remove Tree Sap From My Car?
So, why exactly should you remove tree sap from your car, anyways?
What could possibly happen if you decide to leave the substance to accumulate on your vehicle? (Besides driving something that looks a little awful, of course).
Damages Your Paint
Tree sap is acidic. It might not damage your car right away, but after some time, the chemicals in sap will create etching and permanent damage.
It starts by attacking your clear coat, making its way to the paint.
Now, here is the tricky question: How long does it take before sap attacks a car's paint? Well, sap made by different trees varies in chemical composition and concentration. Each substance might, therefore, affect your vehicle in a different way.
Pine trees, for example, produce a sap that becomes resin-like when it dries. Once dried, it becomes almost impossible to remove.
Weather also plays an important role in all of this, as heat and sun accelerate the deterioration of the paint.
Reduces Visibility
Sap doesn't only aim for your car paint – it falls all around your vehicle, including your windows and windshield. And no, it's not as easy as turning on your windshield wiper and watching that stubborn sap go away (even though I sure do wish it was!).
A windshield covered with this sugary substance reduces visibility, and can become dangerous while driving.
How Can I Prevent Tree Sap From Getting On My Vehicle Again?
Staying away from sticky sap is often easier than removing sap from your ride, so – prevention is the best medicine!
Don't Park Under A Tree
Alright, this might seem obvious, but it's really the #1 best prevention tip there is. Avoid parking under a tree!
In hot weather, parking under the shade of a tree can be tempting. You might only need to make this mistake once, however, to learn the lesson the hard way. The higher the temperature, the more solidly the sap sticks.
Some trees produce more sap than others. The ones producing an excessive amount are maple trees, honey locusts, elm, and birch trees. If you must park under a tree, don't do it under one of these!
Applying Wax Regularly
Ensure that your vehicle always has a fresh coat of wax, as this creates a protective layer for your paint job.
Wax is able to protect your vehicle for a couple of months, assuming you're using a good product, of course. However, if you wash your car often and if it's exposed to sunny or rainy weather, you might want to apply wax more often than that.
Invest in a Car Cover
A car cover might be one of the best ways to keep all of this trouble and headache away from your paint, as well as not having to deal with removing sap from your windows and windshield wipers. Most are compact enough to keep inside your vehicle until needed, so this shouldn't be much of an inconvenience to you at all.
Multi-purpose car covers protect your vehicle from this substance, but also protect it from other stuff such as water drops, dirt, bug residue, wind, debris, and potential scratches.
Keep the Necessary Equipment in Your Car
Last but not least, keeping all the necessary cleaning items and accessories in your vehicle should help you remove sap on cars as soon as it appears.
The sooner you take care of tree sap that makes its way onto your car, the easier of a task this will be.
Keep a tree sap first aid kit in your car at all times. If you're not familiar with what that is, it should basically contain a commercial remover, a microfiber towel, a small bottle of water, and a clean sponge or mitt. Another good tool is a small razor blade, which can be used to gently scrape the worst of the sap off the affected area before using a liquid remover.
Wrapping it Up
Tree sap can be tricky to remove from your vehicle, but the solutions and remedies we've discussed in this article should really help you get rid of this sticky, stubborn, and unsightly substance.
From home remedies, commercial cleaning products, to heavy-duty equipment, sap stains can be attacked and dealt with in a variety of different ways and methods, all depending on their resistance and just how stubborn they are in your situation.
At the end of the day, though, the key remains to do your best to avoid tree sap altogether, so steer clear of those trees!
For now, enjoy getting your clean car back!