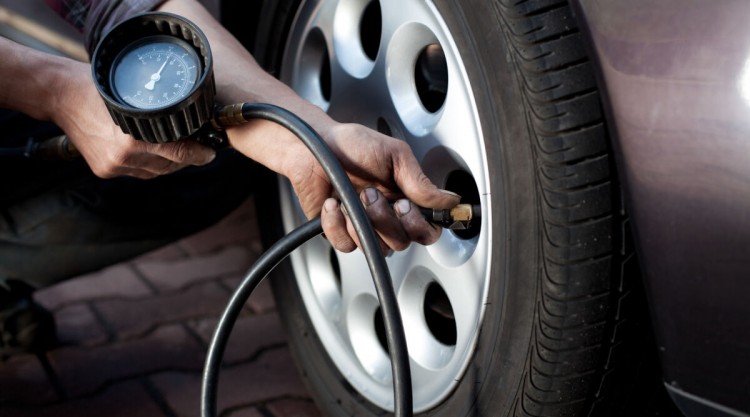 When you own any type of vehicle, safety is always the number one priority. Failing tires are a huge cause of road accidents in the U.S., so you should be extra vigilant when it comes to them!
Avoiding over-inflating or under-inflating your tires is essential—not only for safety but also for tire quality, comfort, and fuel economy. Driving with a less-than-optimal tire pressure could cause uneven wear, higher fuel consumption, and decreased handling.
Not only are most people unaware of these facts, but they are also under-equipped to check or monitor their tire pressures.
And that's where this guide to the best tire pressure gauges, in combination with our guide on how to check tire air pressure can help.
In this article today, we're all about helping you find the best tire pressure gauge to help you keep on top of your tire pressures.
We'll go through what to look for, different types, why it's important to have one, and some top models available on the market today.
As a tool, they are relatively cheap, very easy to use, and should be in every motorists tool kit.
Quick Links to Our Top Recommendations for Best Tire Pressure Gauge
Note: Clicking the above links will take you to further information, current prices and customer reviews on Amazon.
Different Tire Pressure Gauge Types
Even though the different types of tire pressure gauges will all do the same job, some require more or less work, or experience, on your part.
Let's have a look at the options to help you decide which is the best tire pressure gauge for you, from the 3 main types available.
Digital
A digital tire pressure gauge somewhat resembles a pocket calculator. These generally have an electronic display consisting of an LCD screen. Some models have backlit screens for even easier reading at night or in less than optimal lighting conditions.
Another major plus of digital tire pressure gauges is they're much more resistant to dust and dirt. Everything is enclosed, and it's difficult for dirt or dust to penetrate through.
In saying this, there are also drawbacks. The digital type is much bulkier than its analog colleagues. This might make them difficult to store, seeing they're not exactly pocket-sized.
The last drawback I'll mention is a battery. A digital tire pressure gauge needs batteries to function. Now, this may not be such a huge negative for everyone. But batteries run out, and toward the end of their cycle can interfere with the reliability of results.
Analog
These usually go by the name of 'dial tire pressure gauges.' The analog version consists of an analog dial that resembles a clock face. Here, there's a moving needle, which indicates the reading of the pressure in the tire.
Some analog gauges are equipped with more features. They may include a bleeder valve, extension hose, dual-scale dial, and perhaps a shock-resistant cover for the dial.
That said, some lower quality models aren't always as accurate as, for example, a digital gauge. This depends on the type. And, although they're usually easy to handle, if you buy one with an extension cord, you may need two hands to operate it.
Stick/Pen Type
The stick-type or pen-type gauge is a bit different. At first glimpse, it looks a little simpler than the two above. It's basically a long pen-like stick with a dial attached to it, almost resembling a thermometer.
These are compact, simple, and relatively easy to use. However, if you're not familiar with tire pressure gauges, then they can be difficult to interpret.
Integrated Into a Pump
Pretty much all tire pumps, and particular the best portable air pumps for car tires we cover in our guide, will have an integrated pressure gauge.
You could check your tire pressures from this and save on having to buy a separate gauge. However, a dedicated gauge is far smaller, more manageable and easier to use, rather than having to carry out to your car a compressor with gauge attached. So we'd still prefer a dedicated tool.
Which Type Should You Choose and Why?
Depending on your experience, you want a tire pressure gauge that is easy to handle and use, but is also reliable.
If you're looking for one that's easy and fast to use, then I would suggest the stick-type gauge. As I said above, these are very simple and straightforward. They're easy to fit pretty much anywhere, and you won't have to worry about extension cords or to replace worn-out batteries.
On the other hand, if you're often working in low-light conditions, or if this is your first purchase, then I'd advise you to go for the digital gauge. These are usually more reliable and will give you a fast reading that's easy to see, no matter the conditions.
However, if you don't mind working with two hands, and don't want to mess around with batteries, look at the analog tire pressure gauge. If you find yourself a good model, you'll undoubtedly get a very reliable reading.
Why Everybody Should Have One
Tools such as a tire pressure gauge are, unfortunately, often underrated. But they're a must-have item to keep with you when on the road.
Finding the best tire pressure gauge could mean the difference between a quick fix and a full blown-out tire. Under-inflated tires will begin to build up heat on longer journeys, eventually resulting in tire failure.
I can't say this enough—it's crucial to keep the pressure in your tires just right. A tire pressure gauge will help you detect any changes early on so you can correct them before it's too late.
Choosing the Best Tire Pressure Gauge for You
When it comes to choosing the best tire pressure gauge to suit your needs, there are some things to look for. Things such as PSI rating, accuracy, or perhaps even the price are all things you should take into consideration. It does vary between different types and brands.
Here are some things to consider:
Accuracy
We all want a product that can give us an accurate reading. Generally, professional mechanics tend to prefer analog tire gauges as opposed to the other types. And that's understandable, seeing they use it so often and if they chose a digital gauge, the batteries would run out quickly.
However, for normal use, many recommend a digital gauge—these are many times more accurate. Some models can even show an accuracy of 0.1 PSI (pounds per square inch). That's an extremely high accuracy compared to the general 0.5 PSI.
Psi Range
It's essential that you find a tire pressure gauge that can accommodate the recommended tire pressure of your vehicle. The general recommendation for most regular cars is a PSI of about 30, more or less. But for heavy-duty vehicles using high-pressure tires, you're looking for something around 80 to 100 PSI.
To check your tire's PSI, look in your owner's manual. If you can't find it there, then it should be on either a tire placard attached to the car door, doorpost, fuel door, or glove box.
Display Readability
What's the point in a tire pressure gauge if you can't read the results? This is also the reason why many car owners opt for a digital gauge.
As mentioned, most come with an electronic LCD display, which may be backlit. This means you can see the reading in all situations, wherever you are and at whatever time of day or night.
There are also those that come with a flashlight. It's not unsurprising that these are gaining popularity fast as the built-in flashlight makes it even easier to use and read the gauge in the dark.
Additional Functions
Depending on your use, you might consider looking into some additional features. While these are mostly for car enthusiasts, professionals, or the dad who'd rather be safe than sorry, we could all benefit from them.
These additional functions may include a tire tread depth gauge or an inflator. It could also be something fancy, such as a feature that preprograms the PSI settings for both the front and rear tires.
Durability
This one's a given. We all want something that's durable and won't fall apart after the first use.
For this one again, I'm going to suggest a digital gauge. As they're enclosed, they are more likely to be resistant to the damage often caused by dirt and dust. And thanks to their bulky nature, might typically survive a fall to the floor.
If digital isn't for you, the analog gauges usually have a shockproof dial. This may also be able to handle a trip to the floor, although I wouldn't recommend you test it out.
Price
Tire pressure gauges are usually in a reasonable price range and won't set you back hundreds of dollars. For the top rated products, you're generally looking at around $10 to $50.
But, of course, if you're looking for something with more additional functions, you'll have to expand your budget. Extra functions such as a tire tread gauge will undoubtedly up the price a bit.
Best Tire Pressure Gauge – Our Choices for the Top Models Available Today
So, we've had a look at different types, some things to consider when buying, and even why it's essential to have one. It's only fair that we now share with you our picks of the best tire pressure gauges available on the market.
Best Overall
There are plenty of good tire pressure gauges out there that will give you an accurate reading and are easy to use. So here is our pick for the best overall gauge.
Craftsman Programmable Digital Tire Gauge
Craftsman's programmable digital gauge made it to the top of our list for a couple of reasons. Firstly, it's digital, meaning it has an easy-to-read LCD display. What sets this one apart is that the screen is large and comes with extra backlight.
But what we're sure you'll love about this model is its programmable features. This means you can store the recommended pressures for two vehicles, to get an even more accurate reading.
It's super easy to operate as well, you simply push the nozzle in and wait for the beep. Once you hear the beep, the reading is ready, and you can remove it from the tire.
It also has a bleed button which helps you deflate the tires if needed, although you can't read the pressure at the same time.
This gauge can measure up to 99 PSI. Another thing you'll like is it's not as bulky as some digital gauges tend to be. It's portable, and you can fit it in the glove box.
Additionally, remember the backlit LCD display? This can convert to an LED flashlight for when you need some more light.
Manufacturer's Specs and Feature List
Steel and plastic material.
Maximum pressure is 99 PSI.
CR2032 batteries are included.
What We Like
You can program it for two vehicles.
It's very accurate.
Can measure high-pressure tires.
Converts to a LED flashlight.
Large display with extra backlight.
Easy to use.
Excellent size, not too bulky.
Batteries included so it's ready to use straight out of the box.
What We Don't Like
Batteries seem to drain quickly.
The bleed button doesn't deflate the tire to the preset PSI.
Summary
All in all, if you're looking for an easy-to-use digital tire pressure gauge, then you really don't have to look any further. This example from Craftsman is a great option, whether you're a newbie or an old pro.
For more information, feel free to click here.
Best Digital Tire Pressure Gauges
Digital gauges are the favorites among many car owners, and their popularity is on the rise. That's also why we couldn't make this list without a few examples of our favorites. However, when looking for a digital gauge, make sure it's easy to use and read—take a look at these top models.
Michelin MN-12279 Digital Programmable Tire Gauge With Light
This example from Michelin is an excellent representative of this category. The gauge not only looks good, but it's easy to work as well. The gauge is equipped with a large LCD display that shows all the settings for front or rear tires.
The LCD screen is backlit—Michelin made this extra bright so it's easy to see even in the darkest conditions. Additionally, to help you see further there's a white LED
flashlight located just under the nozzle. This will help guide you to the right place.
This is another programmable device. You can set it to different PSIs for either the front or back tires and it will remember your settings for the next time you use it.
Another great thing about this gauge is the rubber surrounding it. It's comfortable to hold and won't slip through your fingers easily.
The display resolution measures in increments of 0.1 PSI, with an accuracy of +/- 1 percent plus 0.5 PSI. The last feature I'll mention is it's easy to store and you even get a zippered storage pouch with it.
To use it, you simply choose the right setting, then press the nozzle firmly against the tire valve and wait for the beep. As you hear the beeping sound, you can remove it and check the reading.
Manufacturer's Specs and Feature List
Batteries included.
The resolution shows down to 0.1 PSI.
Will read up to 99 PSI.
Rubberized exterior.
What We Like
Rubber edges for easy grip.
Strong backlit display.
White LED flashlight.
Quick and easy to use.
Preset it for required front and back tire pressures.
It holds the reading for 10 seconds after removing from the tire.
Highly accurate readings.
What We Don't Like
Although batteries are included, they may need replacing on delivery or soon after.
Poor quality storage pouch.
The gauge is a bit heavier than many other models.
Summary
For a digital tire pressure gauge, you can't really go wrong with this one. Although some say it's a bit too heavy, it fits well in the hand and is easy to use.
For more info, please click here.
Tekton 5941 Digital Tire Gauge, 100 Psi
Our second example of the best digital pressure gauge is this model from Tekton. It has an easy-to-read LCD screen. The screen is not as large as the ones above, but the backlight is strong.
One great feature is it shows the results fast. It will show you the readings instantly. It can measure pressure up to 100 PSI and will display in increments down to 0.5 PSI.
Another plus point is the ergonomic design of the gauge. It's comfortable, fits well in the hand, and is compact in size. It's also fitted with non-slip material to ensure a good grip.
The nozzle is amazing. It lights up as a small flashlight when needed, so you can see clearly to use it. Additionally, the nozzle seals the valve well, so no extra air will escape the tire while you're measuring.
All you have to do is lightly press the nozzle up to the valve, and it will show you the pressure. Then when you're done, simply place it back in storage and it will automatically shut off in a matter of seconds.
What's more, you can choose one of four different measurement options. With this one digital gauge, you can check the PSI, BAR, KPa, or Kg/cm2.
Manufacturer's Specs and Feature List
Plastic material.
Batteries included.
Shows up to 100 PSI.
Displays increments down to 0.5 PSI.
Ergonomic design.
What We Like
It works fast and easy.
Ergonomic design and non-slip plastic for good grip.
Light-up nozzle.
Will seal onto the valve.
Strong LCD backlit screen.
Turns automatically off after 30 seconds.
What We Don't Like
The LCD screen is quite small.
There's no off button for the nozzle light; if the device is on, the light is on.
It seems to drain the batteries quickly (probably due to the light.).
Summary
Another great example of a digital gauge. This model from Tekton is both compact, comfortable, and quick and easy to use.
If you need some more convincing, check more info here.
Best Analog or Dial Tire Pressure Gauges
Dial gauges are the general favorite among professionals—they will give you an accurate reading without relying on technology. However, they can be a bit more challenging to operate seeing that you'll often need two hands. With that said, I'm sure you'll like our examples.
Rhino USA Heavy Duty Tire Pressure Gauge
This dial gauge from Rhino USA is perfect for heavy duty work. Not only does it look tough and durable, but it's also relatively easy to operate. This dial gauge is made from solid brass and has a no-leak braided hose.
A great feature is the bleed valve located right above the dial. If there's too much air in your tires while you're measuring, push the button, and it will let air out until you release.
Although there's no flashlight or fancy screen, you can still use this in dimly lit areas—the numbers on the dial are extra large, and they glow in the dark. Surrounding the dial, you have a rugged exterior for a better grip that will also give some protection if it's dropped.
The highlight of this product is the accuracy of the dial. It's a certified product, ensuring you'll get fast and correct measurements.
When you attach it, you can adjust it using the 360-degree swivel. It can read up to 75 PSI, so it's perfect for the average car as well as motorbikes and bicycles.
Another thing I want to mention about this dial gauge is the manufacturer. It's a family-run business that guarantees its customers a refund if they're not happy with its products.
Manufacturer's Specs and Feature List
Certified ANSI B40.1 accurate pressure reading.
2-inch dial.
Solid brass material.
No-leak air hose.
What We Like
Made to last.
Very simple to use.
Bleed valve.
Large dial display.
Glow in the dark text.
Rugged exterior for great grip and extra protection.
Lifetime warranty with a money-back guarantee
What We Don't Like
Sometimes takes a few attempts to connect without leaking.
It doesn't keep the reading after you release it from the tire.
Summary
For our first example of the best dial tire pressure gauge, this definitely is a good one. It's durable and clear to read, but as expected, does require two hands to operate.
If this seems like the one for you, or you need more info, click here.
Joes Racing 32307 (0-60) Psi Tire Pressure Gauge
Our next example for the best analog tire pressure gauge comes from Joes Racing. This model can measure up to 60 PSI with high accuracy. Similar to the one above, the dial will glow in the dark for easy reading.
One great feature is the hose—it's 17 inches long. But it's flexible, so easy to get around wherever it's needed.
Additionally, at the nozzle, there's a chrome swivel which attaches effortlessly to a variety of valves. What's more, Joes Racing included an extra ball chuck in case you'll need it for another tire.
The swivel fitting will help you attach it to the valve on the tire. Then turn it to tighten and start measuring the PSI. There's also a pressure release bleed button, allowing you to let air out if needed.
Another great feature is the damper inside the hose. This is excellent for preventing excess air loss.
Manufacturer's Specs and Feature List
5-inch dial face.
Ball chuck and angle included.
Glow-in-the-dark display.
Bleed button.
What We Like
Long flexible hose.
Lightweight.
Easy attachment with the chrome swivel.
Excellent bleed feature.
Display that glows in the dark.
Gauge damper inside the hose.
Rugged edge around the dial.
What We Don't Like
It's not as accurate at the lower or upper reading ranges.
Numbers are very small, and it can be difficult to read.
It doesn't hold the reading after you release it from the tire valve.
Summary
This model from Joes Racing is excellent in many ways. It's durable and will last for years.
If you want more info, please click here.
JACO Elitepro Tire Pressure Gauge – 60 PSI
Our last pick for the best dial gauge is a product from JACO. This dial gauge is both performance-tested and has certified accuracy. It will undoubtedly give you an accurate reading every time.
This dial gauge is attached to a flexible rubber hose. Toward the nozzle end of the dial, it's secured with durable brass.
One huge plus is how easy it is to use. The no-leak hose makes checking your tire pressure super simple, without losing excess air.
Alternatively, if your tire is overinflated and you need to let some air out, it has a bleeder valve near the dial. You simply attach it to the tire and hold the button to release air until you reach the desired reading. Because the bleed valve is so close, you only need to move your finger to use it.
Another feature you'll find handy is the rubber exterior on the dial. This not only protects it if it falls but also helps you get a better grip. The rubber is rugged, so it fits well in the hand.
To make it even easier to use, the swivel chuck rotates 360 degrees. It's also slightly curved so it can reach even the trickiest places.
This dial gauge can read up to 60 PSI. Which leads us to the last feature I'd like to mention, namely the dial. On here, the numbers are large and easy to read—it even glows in the dark.
Manufacturer's Specs and Feature List
Rubber and brass materials.
Rotating swivel.
Maximum 60 PSI.
Glow in the dark display.
Bleed valve.
What We Like
Durable dial.
Large numbers and glow-in-the-dark dial make for easy reading.
Compact in size.
Accurate.
What We Don't Like
Sometimes you have to release it and try again before getting an accurate reading.
You may need to push it hard against the tire valve to read the pressure.
Summary
This was our last example in the category of the best dial tire gauges. This model is exceptional and definitely worth a second look.
If you think that too, then click here.
Best Models With Added Features
Features are always a major plus, especially if you get two handy tools in one. However, although it can save you some money, it may also complicate the instructions of the gauge. Let's take a look at our top picks.
Mclintech 5-in-1 Tire Pressure Gauge
For our first product in this category, we chose this digital gauge from Mclintech. Right off the bat, there's not much to dislike.
The greatest feature, or should I say features, is the five-in-one function. With this one gauge, apart from reading the tire pressure, you will also get three emergency tools. These are: a pop-out window hammer, emergency white LED flashlight, and a seatbelt cutter—needless to say, you will feel safer with this on board.
The fifth feature is the red safety light, that you can use when checking the pressure in the dark. Or you could also use it to alert other drivers that you're present on the road.
Back to the gauge. Because this model is digital, it features an LCD screen with a backlight. The screen is relatively small but is clear enough to read.
The tire pressure gauge can measure up to 150 PSI, this goes well beyond heavy-duty. The greatest advantage of this is you can use it for a range of vehicles.
Additionally, the Mclintech gauge is very durable. The whole exterior is made from rubber, keeping it safe in case it should fall on the floor. This will also make it comfortable to hold, and it won't get too cold during the frigid winters.
Manufacturer's Specs and Feature List
Weighs approximately 4.8 ounces.
5 inches long.
CR2032 batteries included.
Five-in-one feature.
Measures PSI, BAR, KPA, or KGF/cm2.
What We Like
Several emergency tools in just one package.
Easy-to-read screen with strong backlight.
Rubberized exterior.
Durable gauge.
Measures up to 150 PSI.
What We Don't Like
Requires two different battery types.
You might have to press it quite hard against the tire to get a reading.
The pop-out window hammer is difficult to open.
Summary
The Mclintech 5-in-1 tire pressure gauge has some great tools for a motorist's needs. Several essential emergency tools are gathered in one tire pressure gauge, which is a really nice touch.
So if you want to have a closer look, follow this link.
Accutire MS-48B Digital Combination Tire Pressure and Depth Gauge
For our last pick, we chose the Accutire MS-48B digital gauge. This is a combination tool, whereby you get both a tire pressure and a depth gauge.
Measuring the tread depth of your tires is just as important as reading the pressure. When tires wear down, they become illegal—not to mention extremely dangerous.
Let's start with the gauge feature. This handy little digital gauge will measure tire pressure up to 99 PSI. It's small and compact, perfect for the glove box or in the onboard tool kit.
After you've measured the PSI, you can move on to check the tread depth. This tool can measure between 0 and 19/32 inches. One standout feature is the color bar that will indicate whether or not your tires are safe.
We applaud this device's simplicity. There aren't any unnecessary features and it's easy to use. After use, it automatically shuts off after 30 seconds.
Manufacturer's Specs and Feature List
Batteries included.
PSI and tread depth gauge.
Color bar.
What We Like
Simple and easy to use.
Measures both PSI and tread depth.
Compact size that can fit almost anywhere.
Color bar to indicate safe or unsafe tires.
What We Don't Like
The tire tread gauge can be difficult to use.
The display turns off quickly.
Summary
This product from Accutire won't disappoint you. It makes reading the tread depth and PSI easy, and it will even indicate when it's time to change your tires.
Click here for more information.
Conclusion
Tire pressure gauges are essential to keep with you in the car for regular use. Driving with an under-inflated tire can mean a lower gas mileage and more expense for you. Additionally, it can also lead to worse handling, and even a dangerous tire blowout.
Fortunately, a tire pressure gauge is simple to use and gives a heads up of any changes. In the guide above, you have eight great examples, one of which is sure to suit your needs.
We hope you found our search for the best tire pressure gauge useful, that it's convinced you of the reasons to own one, and has helped you decide which to choose. Feel free to leave any questions or comments below, we'll be happy to get back to you.