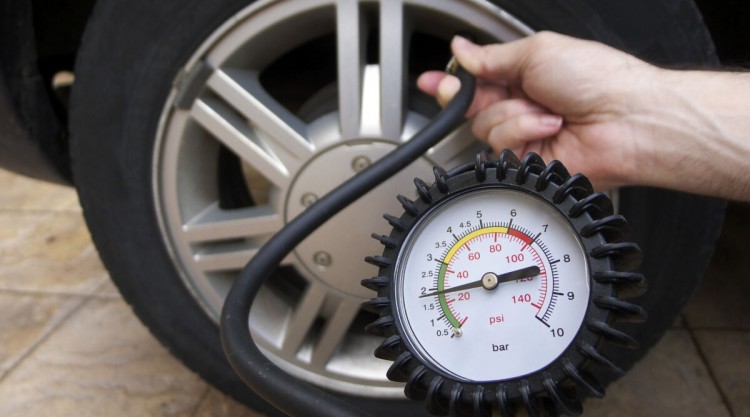 It's the first cold morning of the autumn, you're late for work, and the tire pressure monitoring system on your car says you've got a low tire.
Now you've got to do your commute on an under-inflated tire and sacrifice your lunch break to get it fixed.
What if there was an easier way? Meet the portable air compressor or pump for car tires!
In this article, we take a look at exactly what a portable air compressor is, why you might want one, and the features and specs to look for while shopping. We'll also introduce you to 7 great models, making recommendations based on your anticipated needs and budget. 
At a Glance: Our Top Recommendations
Note: Clicking the above links will take you to further information, current prices, and customer reviews on Amazon.
Best Portable Air Pumps for Cars – Our Top 7 Picks
Now that you've got a handle on what the wide array of air pump terms mean and which features matter most for filling car tires, follow along as we review seven outstanding options to consider adding to your garage or emergency roadside kit.
We'll tell you the specs of each model, why it might be a good fit, if another model might be best, what we like, and what we don't like about each option.
Viair 88p Portable Air Pump
We think the Viair 88P portable air pump is an excellent choice for an all-around tire inflator that can do most things well. It's not too heavy or bulky and will be easy to use for most people. It also has enough grunt to deal with full-size SUV and truck tires.
Specifications
Model: 88P
Can inflate to 120 psi
CFM: 1.47
Air hose length: 16 ft
Power cord length: 10 ft
Weight: 4.5 lbs
Power source: 12v via connection to battery terminals
Automatic off at desired psi setting: no
Chuck type: screw-on, brass
Other notable features: a higher cubic feet per minute rate than other similarly priced options, which means faster filling.
This Model is for You if
The 88P is a great match for you if you need to be able to service several different cars or want to have the most flexibility in what tires you can inflate since it will handle car, truck, and SUV tires up to 33" in diameter.
Another Model Might Be Better for You if
You might be happier with a different model, though, if your budget is tight, as the 88P is not the cheapest option in our roundup. You do get a well-designed unit for your money, though.
What We Like
Excellent build quality, with a metal housing and brass nozzle. A design that is both easy to carry and allows excellent cooling, which means this inflator can run longer at a stretch before it needs to be allowed to cool down.
What We Don't Like
There's no carrying case included. Attaching directly to your car's battery provides better power and thus a faster tire fill, but it's a bit more fussing around than plugging into a cigarette lighter.
Summing up
The Viair 88P can't be beat for design and usefulness. Well-reviewed by many users, it is the obvious "no-brainer" choice for most home garages. Find your own by following this link.
Epauto Portable Air Compressor Pump
The EPAuto Model AT-010-1Z portable tire inflator tops our list for best value. While it won't manage the tires on full-size trucks, it's a great little workhorse for sedans and mid-size SUVs.The pump offers two very nice features, auto-off, and a built-in flashlight, at a very smart price point.
Specifications
Model: AT-010-1Z
Can inflate to 100 psi
CFM: 1.06
Hose length: ~30 in.
Power cord length: ~9 ft.
Weight: 3.75 lbs
Power source: 12v via cigarette lighter
Automatic off at desired psi setting: yes
Chuck type: screw-on
Other notable features: onboard LED flashlight, light-up display, automatic off.
This Model is for You if
This model is the perfect fit for you if you've got a sedan, minivan, or mid-size SUV, need a bright emergency flashlight as well, and want an automatic shut-off option.
It's equipped with over-heat protection, a spare fuse, and the best hose and cord management of all the devices we've listed.
Bonus: it comes in either red or blue, although I don't believe your tires really care either way.
Another Model Might Be Better for You if
A different air compressor model might be a better choice for you if you've got a full-size SUV or a truck, as the EPAuto AT-010-1Z is not rated to inflate truck tires and LT-, HT- rated tires.
If you'd prefer a press-on chuck, take a look at the Viar 84P discussed below, which offers a similar design but without the 88P's brass screw-on chuck.
What We Like
A choice of colors, the convenience of simply plugging into your car's cigarette lighter, the auto shutoff feature, and the handy lighted display; just set the psi rating you need and let the device run until it shuts off the airflow. (The pump will continue running, but the device will automatically shut off the air to your tire when the preset psi is reached.)
The AT-010-1Z has excellent cord and cable management as well, with the hose wrapping neatly around the base of the device.
What We Don't Like
The plastic connector requires some care in use to avoid stripping the threads, and other models feel a bit sturdier. But for features offered in relation to cost, the EPAuto AT-010-1Z can't be beaten for best value.
Summing up
The EPAutoAT-010-1Z strikes the best balance of features and cost, and the nifty air hose wrap will keep it tidy in your trunk.
Ryobi P737
The number of cordless tools available seems to increase every year, and Ryobi has added a small tire inflator to their One+ line-up. The Ryobi P737 uses Ryobi's One+ compact lithium-ion battery pack, which is interchangeable with the batteries of all of Ryobi's One+ battery-powered tools.
The advantages of a hand-held device are obvious: no cords, no concerns about connecting to your car's electrical system or finding an outlet to plug into.
Specifications
Model: P737
Can inflate to 150 psi.
CFM: unlisted
Hose length: 20 in.
Power cord length: cordless
Tool Weight: 2.5 lbs.
Power source: rechargeable lithium-ion battery pack
Automatic off at desired psi setting: no
Chuck: press-on
Other notable features: Lights to indicate the remaining charge on the battery.
This Model Is for You If
This cordless tire inflator is right for you if you've already got a collection of Ryobi One+ system battery-operated tools, or would like to start one.
It's also an excellent choice for anyone who has limited access to their car's cigarette lighters or has an older car with only one socket.
Someone not crazy about clamping stuff to their battery terminals might also prefer this model, and it would be a perfect fit for someone who checks tire pressures weekly and is normally only adding a few psi each time.
Another Model Might Be Better for You if
You do not already have other One+ tools, as you'll need to purchase a charger to charge this tire inflator's One+ brand battery.
It's also not a great choice for someone who is frequently filling a tire from near-flat to the proper desired air pressure, as it can be slow to fill due to its small size and small power source.
What We Like
The Ryobi is small, weighs just under three pounds without the battery pack, and doesn't require a cigarette lighter or bulky jumper cables to connect to your car's battery terminals.
The bright color means it's easy to spot in your car's trunk and hard to misplace when you set it down. (A Ryobi-branded lime green storage bag is available separately.)
Finally, the Ryobi name is a trusted one in cordless power tools.
What We Don't Like
You do need to hold the trigger down to inflate with the Ryobi; there's no option to set it to the desired psi reading and walk away.
The hose is on the short side (under two feet long), which requires you to kneel or sit down near your tire's valve stem.
Summing up
We don't currently own any Ryobi One+ tools, although this little handheld tire inflator seems a good excuse to start a collection. As long as you don't anticipate heavy use, as mentioned above, get your own Ryobi handheld into your hands at the link below.
EP Auto AT-006-3
When budget is of utmost concern, we think the EP Auto AT-006-3 is a smart choice. It offers a very compact size and a wallet-friendly price but doesn't skimp on useful features. It has automatic-off to prevent over-inflation and an emergency flashlight.
Specifications
Model: AT-006-3
Can inflate to maximum pressure 100 psi
Hose length: 20 in.
Power cord length: 9 ft.
Weight: 2.17 lbs
Power source: 12v via the cigarette lighter
Automatic off at desired psi setting: yes
Chuck type: screw-on
Other notable features: an LED flashlight that can be switched on and off independently of the pump running.
This Model is for You if
The EPAuto AT-006-3 is an excellent choice for teen drivers and those unsure about connecting directly to their car's battery terminals, due to the simple cigarette-lighter plug and compact size.
The automatic-off feature makes it particularly easy to use: just set the desired psi reading and start the pump. It will stop filling when the desired setting is reached.
Another Model Might Be Better for You if
Another portable air pump might be a better fit for you if you've got a larger car, such as a full-size sedan, minivan, or a mid-size SUV, as the cords may not provide enough length to reach all four wheels on a larger vehicle.
Also, this unit does not support the inflation of light truck tires (such as LT- and HT-rated tires) like those used on pickups and full-size SUVs.
What We Like
The compact, sleek design is attractive and easy to use, even for those not familiar with car maintenance tasks. The automatic shut-off when the desired pressure is reached is extra reassurance for those not confident with tire-filling.
What We Don't Like
The hose and power cord don't always stash back into the unit as intended. You may want to pick up a small storage bag with your purchase.
Summing up
Lack of funds doesn't have to be a limit on safety and good preventative maintenance. As you can see at our link below, even those on a budget have a solid choice in portable pumps.
Viair 84p Portable Compressor
The Viair 84P is similar in design to the Viair 88P discussed above, but is a little easier to use for the inexperienced, with a cigarette lighter plug and a press-on, clamp-on chuck instead of a brass screw-on chuck.
It also has an onboard LED work light. Furthermore, it has a similar compact design to the Viair 88P, with a sturdy metal housing and cooling fins for cooling the unit efficiently.
Be sure to grab it by the plastic handle, not the metal housing. Like all portable air pumps, it can get warm while in use.
Specifications
Model: 84P
Can inflate to maximum pressure of 60 psi
CFM: 1.26 CFM
Hose length: 3 ft
Power cord length: 10 ft
Weight: 4.3 lbs
Power source: 12v via the cigarette lighter
Automatic off at desired psi setting: no
Chuck type: press-on
Other notable features: sturdy storage bag, LED work light included.
This Model is for You if
This unit would be a great fit for you if you'd like the convenience of a cigarette-lighter power source and don't mind the slower fill rate of a lower-powered pump.
Another Model Might Be Better for You if
You may want a portable pump with a higher CFM rating, though, if you have a heavier car with larger tires.
Although this inflator is rated for tires up to 31", the CFM rating is on the lower side of the pumps we're looking at in this roundup, and that will show in a slower fill time with larger tire sizes.
The LED work light makes this an excellent all-around choice, though.
What We Like
Like with the Viair 88p, the build quality and design make the Viair 84P stand out. The addition of an onboard LED work light makes this unit an excellent choice for emergency use, too.
What We Don't Like
To get an accurate reading from the onboard tire pressure gauge, the pump must be momentarily switched off. This is a relatively minor inconvenience, though, as the design of the unit is otherwise excellent.
Summing up
We love the design of both of the Viair portable pumps we've looked at. If we've got to watch the wallet outflow closely, we'd pick the 84P over the 88P. It'd also be a great gift for a young driver on your Christmas lift. Cross that one off of your holiday shopping with our link below.
Porter-Cable Cmb15
The Porter-Cable CMB15 small air compressor comes ready to go right out of the box, complete with a 25 ft air hose and an assortment of attachments.
At 20 lbs, it's the heaviest of the options we looked at, but with that weight, you gain an actual air storage tank and better airflow, at 2.0 CFM.
Specifications
Model: CMB15
Can inflate to 150 psi
CFM: 2.0
Hose length: 25 ft
Power cord length: unlisted
Weight: 20 lbs
Power source: A/C (wall) current only
Automatic off at desired psi setting: no
Chuck type: press-on
Other notable features: Has a small storage tank, at 1.5 gallons.
This Model is for You if
With an onboard air storage tank, the Porter-Cable is a true air compressor, although a very small one. If you'd really like to be able to do very light work around the house which requires an air compressor, as well as maintain your car's tires, the Porter-Cable CMB15 might be right for you.
It has the capacity to run a small, light-duty air tool for a short time, such as a brad nailer. It also has the capacity to deal with RV tires.
Another Model Might Be Better for You if
A smaller portable pump might be a better choice for you than the Porter-Cable if you really want on-the-go portability because the CMB15 can't be run off your car's 12v system; it needs a standard wall plug or generator for operation.
What We Like
The fully-shrouded design protects wayward fingers or leg hairs from mild scorching on a hot metal pump housing, a risk on many small portable compressors and pumps.
The tank capacity means the Porter-Cable can also be used for small DIY projects and cleaning jobs.
What We Don't Like
The Porter Cable is a fine addition to the garage for low tire pressure problems and light hobbyist's use, but it's not as useful as an emergency tire repair tool due to the power source needed. A digital gauge would've been nice, too.
Summing up
The Porter-Cable is a great air compressor to grow into if you'd like to start doing additional tasks around the garage besides just topping off your tires.
Air compressors are one of those tools that once you've got one, you wonder how you managed without before. Start finding more uses than you ever thought possible for a lowly "tire inflator" at our link below!
Slime 2x Heavy-Duty Direct Drive Tire Inflator
For heavy-duty applications and more frequent use, consider the Slime 2X heavy-duty tire inflator. With a high CFM rating, it can fill a car tire in about two minutes.
It comes with a handy hard plastic storage case. This inflator is quieter than many small portable pumps, although it's important to note that no compressor is truly quiet in operation!
Specifications
Model: 40026
Can inflate to 150 psi
CFM: 1.9
Hose length: 20 ft
Power cord length: 8 ft
Weight: approx 8 lbs
Power source: 12V via direct battery connection
Automatic off at desired psi setting: no
Chuck type: screw-on
Other notable features: The in-line tire pressure gauge can be disconnected from the hose for use separately (saving money on having to buy a separate, dedicated tire pressure gauge.).
This Model is for You if
The Slime 2X heavy-duty tire inflator is a good match for a family with multiple cars or trucks, as it's built for more frequent use.
Due to the included case and onboard flashlight, it's a good candidate for keeping in the trunk for emergency use.
Another Model Might Be Better for You if
A smaller pump might be a better fit for you if you've got a small car, though, as it has ample hose and power cord length, which may be more than you really need if you drive a small car.
No need to be wrestling extended lengths of cords and hoses if you've got a tiny little car.
What We Like
This Slime model comes with a dual-piston pump and a matching storage box with a carry handle. It's also fast to fill, which is a bonus on a chilly morning. It's powerful enough to inflate a truck tire or any other that requires higher pressure.
What We Don't Like
The clamps to attach to the battery terminals are a little on the small side, which won't be an issue for someone used to doing car work and maintenance but might pose some difficulty for a more inexperienced person.
Summing up
When heavy-duty use is anticipated, the Slime 2X heavy-duty tire inflator is the one to pick. Order your tires' new best friend at our link below!
First, What is a Portable Air Compressor?
A portable air compressor is a small, lightweight tool used to inflate car tires, sports balls, and bicycle tires.
Some portable compressors provide enough air at high enough pressure to run air tools such as paint sprayers and pneumatic nailers. But in this article, we'll be looking at the smaller, lighter side of portable compressors, sometimes also called portable air pumps or portable tire inflators, which are designed primarily to inflate tires to the recommended tire pressure.
These smaller versions are quite compact, easy to carry, and can run off your car's 12V power supply or cigarette lighter socket. There are even a few cordless options available.
Larger portable compressors, such as those appropriate for air tools, have sizable tanks to store air under pressure. An onboard pump fills up a metal tank with pressurized air, the pump shuts off until the tank empties a bit, and then restarts to refill the tank as needed.
Small portable compressors, such as those you'll need to fill a low tire or to top off your tires every week, have only very tiny tank capacities. This minimal tank or chamber is only used to smooth the airflow as it's delivered through the hose to your tire.
Because of this, the pump will constantly run while in use. This small chamber instead of a larger storage tank is also what makes them portable, easy to carry or store in your car, and affordable compared to larger, heavier, full-featured portable air compressors.
Why Might You Want One?
Keeping your car's tires inflated properly is the simplest thing you can do to extend the life of your tire tread and avoid poor fuel economy. It's also important for safety!
Underinflated tires won't absorb pothole hits as well and can overheat, causing premature tire damage and blowout.
Having your own portable air pump or compressor right in your trunk or garage means that checking and adjusting your tire inflation takes only moments of your time. No driving to a local gas station or service shop and hunting for loose change to run their air supply!
With a portable inflator in tow, you'll also be well-prepared to help others or inflate your spare tire properly in the case of a roadside flat tire. (It's also a good idea to get your hands on one of the best tire sealants for these scenarios, too).
Types of Portable Air Compressors
The types of air compressors or pumps that are best suited to tire inflation come in several different forms, sorted by power source:
Portable tire inflators that run only on 12v power.
Ones that run through a cigarette lighter.
Those that clamp directly to your car's battery with jumper-cable style alligator clips.
Those which run on a rechargeable battery pack.
Those that can run on both wall-socket household power or your car's 12v power.
You can also find tire pump features on the best car battery chargers, and even on the best jump starters. These can be worth looking at, but will never be as good as a dedicated unit.
Some of portable tire inflators have additional features, such as a backlit digital screen, which is helpful for use at night, onboard emergency lighting, a digital tire pressure gauge, auto shut-off feature at a preset psi setting, and additional tips and attachments that allow you to fill sports-equipment balls and bicycle tires.
Larger portable air compressors, like those which can power pneumatic tools, have larger metal storage tanks and usually run only on AC wall current. These aren't covered in this article. They'll fill your car tires, yes, but they're more costly and not nearly as convenient for specific use as tire inflators and pumps.
Buying Guide to the Portable Air Compressors
If you've never shopped for an air compressor, the options available can be overwhelming, so you want to follow sound advice on how to choose the correct one.
We've narrowed the choices down to just the features important for keeping your car safe on the road, cubic feet per minute, size of the tank, portability, and air hose attachment style.
Look at the CFM Rating, Not Horsepower Rating
One specification to consider carefully when shopping for the best tire inflators: how many cubic feet per minute (CFM) the pump can deliver.
This is far more important than any horsepower rating on the pump, as it dictates the speed at which a small compressor will fill your tires.
A higher CFM rating means a faster fill. Not surprisingly, this often means a more expensive device as well.
Devices with higher CFM ratings need more power, too. The unit with the highest CFM we discuss below can only run off of 120v wall current and can't be connected to your car's battery.
Consider the Size of the Air Tank (If It Has One)
Six of the seven portable compressors we review below have no air tanks to speak of. This means that the device will run continuously while you're inflating tires, delivering pressurized air on the fly.
As mentioned above, true air compressors have tanks to store pressurized air and only cycle on when the tank's pressure drops below a certain point.
One device featured below does have a small tank, increasing its usefulness outside of inflating your tires, although all seven of our picks will do the job of keeping you and your tires safe.
Portability and Weight
How portable do you need your tire inflator to be?
Sizes range from something that can be shunted around the garage but would be bulky to be schlepping in and out of the car frequently, all the way down to something small enough to hold in your hand as you fill a tire.
The power source is an important consideration here as well. Many tire inflators and small pumps simply plug into a car's cigarette lighter, but sturdier pumps with a higher CFM rating are likely to need a direct connection to your car's battery via jumper cables or even a wall socket for power.
Air-Hose Attachment Style: Press-On Or Screw-On?
Consider the nozzle or chuck style. How fast are you with your fingers?
A screw-on style chuck or nozzle is a more secure fit but takes a bit more fiddling to get on correctly and care should be taken to avoid cross-threading and damaging the threads on either your valve stem or the chuck.
A screw-on chuck might also leak more air when you remove the hose than a press-on chuck.
A press-on chuck sometimes has a small lever that clamps or grips your valve stem. This type is likely to be plastic, and thus more economical, but it does require a secure push to get it on straight, so it doesn't leak while you're filling.
On the plus side, a press-on chuck is faster to remove and less likely to leak air while removing the hose.
Whichever option you choose, make sure the hose is long enough to reach all four tires on your vehicle.
Psi Rating
Many small air compressors and tire inflators are rated to inflate to 100 psi (pounds per square inch) or 150 psi, but most car tires require only 35-45 psi.
So unless you're planning on filling tires on an RV, a commercial vehicle, or some heavy-duty trucks, the maximum psi rating on the pump you buy isn't all that important for use with car tires.
Cost Considerations
Figure out your must-haves, set a budget, and don't overspend!
Think about what features you absolutely must have and buy the best you can that meets just those needs. No reason to overspend on features that aren't likely to make a big difference in how you use your new compressor.
And as you read, you'll see that some of the more economical choices are still full of useful features.
Conclusion
We hope we've set you well on the path to finding the best tire inflator for you.
Now that you know all about these smart, small devices, you're ready to order one and become the best-prepared person on your block and have properly inflated tires at all times.
Whether you choose our top pick, the Viair 88P, go for the full-featured choice with the Porter-Cable CMB15, or save your pennies and choose the economic EPAuto AT-006-3, we hope you've found our roundup useful and informative. And make sure to check out our guide on how to put air in tires to make sure you're using your new product correctly.
Now go check your tire pressure!