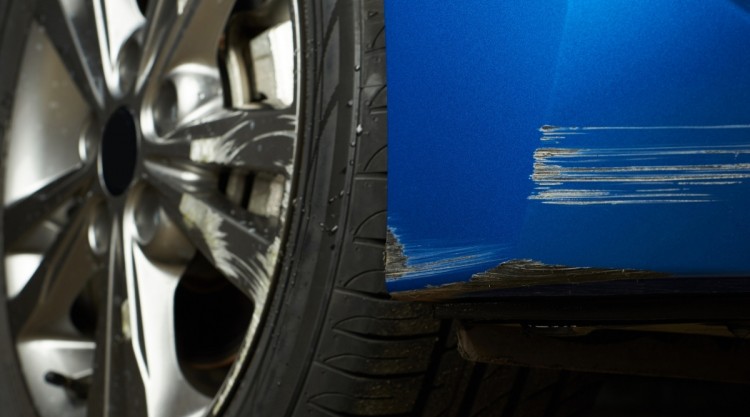 Wherever car maintenance is concerned, I always abide by that old expression that says: there's no time like the present. And yes, that also holds true when I see even the slightest of scratches in my paintwork, too.
If you're anything like me and your car is your pride and joy, only few things are worse than having to see scratches on its body every time you want to hop in.
Visiting the car wash and even hand washing your car can cause swirl marks and scuff marks to appear on its paintwork. This is usually due to dirty cleaning pads, cloths or car wash mitts and–unfortunately–is quite common.
Usually, a good polish and buff once every three months or so to restore the shine will be adequate to do away with these.
If you're unsure how to do this, there are lots of instructional videos out there that walk you through all the steps and show you how you can correctly polish your car at home.
A scratch that's more serious and goes through down the clear coat and into the paint layer, however, needs direct attention with a compound specifically designed to deal with this kind of damage.
Beyond that, down to the primer coat and beyond to the bodywork will require filler, and you will most likely need a visit to your local auto body shop to get this done properly.
So, when a scratch occurs, you have to make a decision. Will a car scratch remover be enough to get the job done for you? If so, which products out there are the best for you to choose and use?
It's very important to know when and what type of car scratch remover to use. Not all of these products are equal, and some will not work on scratches that others might do a great job on.
So, when do you use one? And how do you choose one that's suitable for the type of scratch(es) you have on your car? Read on to find out everything you need to know.
Quick Links to Our Top Recommendations for Best Car Scratch Removers
Note: Clicking the above links will take you to further information, current prices and customer reviews on Amazon.
Car Scratches: How They Happen and How to Get Rid of Them
Car scratches are inevitable, and there's really nothing you can do to guarantee one will absolutely never happen to your vehicle.
They can happen for any number of reasons. Whether it be a jealous ex and a pair of keys, or the accidental grocery bag swipe across your passenger side door, virtually anything can scratch your car.
With that being said, there are lots of things you can do to minimize the chances of scratches appearing on your pride and joy.
Be sure to wash your car regularly. Dirt build-up will make your vehicle more susceptible to scratches.
Don't slide anything across your car.
Leaning on the car could cause a scratch, from a metal button, zipper or stud on your clothing.
When washing your car, use a hose to clear off any loose dirt and grime before cleaning, and don't use a harsh cloth to wash the car.
After rinsing, dry your car with a clean chamois or terry cloth.
Finish off with car wax to protect the outer layers of paint.
How Do Car Scratch Removers Work?
A car scratch remover is a mildly abrasive compound that works in a similar way to sanding. It does this by removing a very thin layer of a car's clear coat into the abrasion to match the paint on the rest of the car.
Most of these removers are made up of different surfactants and solvents that help clean the area and remove unwanted grime around the scrape. Some may also contain waxes and silicone for a glossy finish.
It's very important to take care of scratches and other blemishes on your car as and when they occur.
Depending on the severity of the situation, it may expose some of the bare metal of your vehicle to rust. Apart from decreasing the value of your vehicle, bare metal will rust over time.
To avoid rusting, getting the problem attended to as quickly as possible should be your number one mission. (If it's too late to avoid a problem, read this article about how to remove rust from cars).
When Should You Use a Car Scratch Remover?
Whenever your car gets a scratch in its paint, a car scratch remover will only be useful for minor scrapes and nicks. It lightly sands the area to match the rest of a car's paint.
In more severe scratches—those that penetrate down to the metal of your car—a car scratch remover may end up causing more damage to your vehicle's appearance.
If you do happen to have a deeper gash, your car will most likely require a visit to an auto body shop.
Sure, you could touch up the paint at home, but if you aren't really experienced in this area, you may end up getting the surrounding paintwork looking as bad as the scratch, if not worse.
A good indicator in finding out whether or not a car scratch remover will work for you is by doing a fingernail test.
If you can feel it with your fingernail, it's probably too deep for a regular remover. You then need to take your car to a paint shop to get it properly fixed.
Benefits of Having Car Scratch Removers on Hand
As long as you have a good product available to use whenever you need it, and the scratch your car has passes the fingernail test, you can most likely fix the issue yourself.
This will save you time, money and a headache. It will also give you a degree of self-satisfaction when you see the completed job, knowing that you managed to do all of this on your own!
Having a scratch remover in your garage is also extremely convenient.
If you really enjoy taking care of your car and making sure its in tip-top shape, you're not going to want to take it to an auto body shop every time you find a little blemish. That's not feasible at all, unless you have all the time (and money) in the world.
Some brands even manufacture car scratch remover pens—the perfect option for when you're on the go and don't want to carry an entire bottle with you.
Which brings us to our next point:
What Different Types of Car Scratch Removers Can I Choose From?
Once you know whether or not you'll be able to use a car scratch remover for your vehicle's situation, your next step is finding out which one is best for your needs.
For example, some products come with just the bottle of remover, while others may bring home the bacon with a full removal system.
In order to determine which product will best fit your needs, you need to think about how and when you'll use it.
Are you looking for something that's best used for on the go purposes? Or maybe you've just bought a new car and you want an entire removal system to help keep your vehicle looking its best?
In any case, there's something suitable out there for everybody's needs. So, let's go over the different types of car scratch removers you can choose from.
Polish
The type of product you'll find most often is scratch removal polish.
This is as basic a method as it gets. It doesn't require a lot of steps to get it to work, and is good for car owners who don't want the complication of a multi-step processes when removing scratches from their car.
In some cases, removal polish will also come with a buffer pad or some other cloth suitable for applying the polish. This helps because you won't have to worry about finding a cloth that is suitable for the task.
It's also important to keep in mind that buffer pads and cloths need to be properly cleaned after use to prevent causing more scratch and swirl mark damage to your car's paint job in the future.
Pens
Car scratch remover pens are good for drivers who need a quick fix, such as when on the go and without much time to dedicate to this task.
These can be easily stored in your glove box or bag, and make quick repairs in parking lots super easy.
Scratch pens are also good for anybody looking for a fix on a budget. Most of these pens cost less than remover polish or full-on systems, and they're also much smaller.
With that being said, there is some controversy as to whether or not this type works effectively.
Something to keep in mind about these products is that they usually don't last as long as other methods. So, you could find yourself buying these quite regularly if you don't have a full-size product to use at home.
Color-Specific Scratch Removers
If you want something that will match the color of your vehicle's paint, look for a color-specific product.
With color-specific removers, a polish has pigments added which match the color of your car. You may have to purchase these from your car dealer rather than the local accessories store, though, which is likely to bump up the cost.
There are mixed reviews about whether or not a color-specific remover works better than regular remover polish. If you do choose a color-specific remover, make absolute sure that the pigment shown actually matches your vehicle's paint color.
If you buy the wrong shade, even if the difference is slight, you could end up with a repair job that makes the paint look worse than the scratch itself.
Compound Pads/Step Systems
If you're looking for a more complex kit, getting compound pads or scratch removal step systems may be what you need.
These systems tend to have a higher price tag, but they come with several parts that each specializes at getting a different job done. Keep that in mind if you specifically want something affordable.
It's probably a good idea to keep a kit like this in the garage for bigger repairs, even if you don't have any such repairs to do at the time being.
An important thing to keep in mind with any of these kits is to make sure you that you properly clean all pads and cloths that come with it.
Other Things to Keep in Mind
When shopping around for these products, there are certain features to look for, and some you should avoid, depending on your needs.
For starters, a good option will have weather-safe packaging.
Most car maintenance items are stored in poorly insulated spaces, which may become an issue with rising and dropping temperatures. Shoddy packaging can lead to a pretty big mess, and nobody wants to deal with that.
You may also want to make sure that the product offers a permanent fix. Some removers may just cover up the problem, while others remove the scratch completely.
Be wary of a product's abrasiveness as well. Something that's too abrasive can cause more damage to your car, and you'll end up having to put more money on repairs than you had to when just starting out.
Last but not least, if you choose a product that comes with a cleaning cloth, make sure it's made from chamois or terry cloth and is 100% cotton to avoid swirl marks.
Note: If you do accidentally create them, here is a guide dedicated to removing swirl marks from cars.
Best Car Scratch Removers – Product Reviews
Now that you have a much clearer idea about automotive scratch removers — what they do, how they work and whether or not they're going to help you get rid of your car's blemishes – it's time to explore your actual options.
To help you choose the best scratch remover for your task, below is a list that discusses our choices for some of the top car scratch removers available today.
The Ultimate Car Scratch Remover System
This option is great for anyone looking for a permanent fix. This particular company prides itself on its high-quality products, and their solution is nothing short of that.
The company also has a one-year money back guarantee to show how confident it is about its product. No questions asked, if you are not entirely satisfied with the product.
If car maintenance intimidates you and you're worried about not being able to do a proper job on this yourself, you can relax with this product.
In such a case, this product can be a great choice for you, since there are plenty of step-by-step videos that will help you get the job done. If hand-holding through it all is what you're looking for, this is definitely a worthy consideration.
In this set, you'll receive a patented 3000-grit reusable sanding sponge, five 120ml bottles of product and reusable cleaning cloths. This is great because you don't need to worry about improvising with a paper towel or other cloth, which can oftentimes make the issue even worse than it already is.
If you need to have a professional-grade remover system on hand, this option is a good choice for you.
Manufacturer's Specs and Feature List
Detailed instruction and links to how-to videos.
Comes with five formulas, one for each step.
3 color-coded microfiber towels.
Safe-T-sand 3000-grit sanding sponge.
What We Like
Comes with everything you may need to get a good job done. True to its name!
Removes 80 percent of all vehicle scratches.
100 percent satisfaction guarantee.
What We Don't Like
May not work too well on some deep scratches.
Summary
If you're on the hunt for the whole package, the Ultimate car scratch removal system is definitely worth your consideration.
This is a great option for anybody looking to have professional-grade products on their shelf and peace of mind that a guarantee brings.
To ensure that the product is being used to its full potential and that there isn't much guesswork for you to figure out on your own, the company has several how-to videos on Youtube to serve as a very clear guide.
Check the link below to find out more about this product.
TriNova Scratch Swirl Remover
If you're on the market for a simple solution and don't want the fancy systems that require the use of complicated tools, then this could be the right choice for you.
The TriNova scratch swirl remover is a formula made up of some very high-quality ingredients, and is manufactured in the United States. The set includes a 12-ounce bottle of scratch remover, as well as a buffer pad.
This particular remover is only best used for light scratches, and should not be used on any scratches that are deep into the clear coat or the metal. For those, you'll need something more heavy duty.
If you happen to be unsure whether or not something on your car is light enough for this remover, you can do the fingernail test first to determine what's what.
Manufacturer's Specs and Feature List
12-ounce bottle.
Premium surface restoration.
Safe on all paint finishes.
Removes unsightly blemishes.
Buffer pad included.
Works by hand or with an orbital polisher.
Restores brilliance and repairs minor scratches.
What We Like
Comes with a buffer pad.
Can remove other blemishes, such as water spots, oxidation, etc.
Can buffer by hand or with a buffer tool.
What We Don't Like
Only works best on minor scratches and blemishes. For deeper problems, you'll need something with stronger and more effective compounds – and not as moderate.
Summary
All in all, this is a good choice for someone looking for a quick, basic solution to keep on hand for relatively light work.
Because it also comes with a buffer pad, you won't have to worry about finding a good cloth to use with it.
The TriNova scratch remover is made right here in the USA, which means it's a great product for anyone looking to buy American-made.
For more information, or to see the latest price for this product, click the link below.
Meguiar's Ultimate Compound
Drivers looking for a car scratch remover that works ultra fast and leaves their car looking like new should definitely check out Meguiar's ultimate compound.
This liquid scratch remover is especially great for people who aren't looking for a complicated procedure that takes ages and an endless list of steps to go through.
The bottle comes with just over 15 ounces of scratch removal compound. With that being said, Meguiar's ultimate compound doesn't come with any type of cloth or buffer pad, although the company sells the applicator pads separately.
The product boasts an exclusive micro-abrasive formula to ensure an easy finish without leaving swirls or other damage on your vehicle's exterior.
Meguiar's is good for light scratches and paint defects, as well as wear and tear from daily use, such as oxidized surfaces, water spots, and so on.
It adds gloss and leaves a "new" finish, all in one step.
Manufacturer's Specs and Feature List
2 ounces of product.
Formulated to be clear coat safe.
Exclusive micro-abrasive technology.
Restores surface clarity without scratching or swirling.
Can be used by hand or with dual action polishers.
What We Like
Equipped with a clear-coat safe formula.
Removes scratches, blemishes and other wear and tear effectively.
Restores neglected and abused paintwork.
Micro-abrasive technology.
What We Don't Like
Doesn't come with a pad or cloth for application.
May need several applications to remove some of the more stubborn marks.
Summary
If you're in need of something that works quite quickly and doesn't cost an arm and a leg, Meguiar's ultimate compound may be the right choice for you.
Its clear coat safe formula is a good reassurance that it won't be harsh on your car while repairing blemishes and scratches.
Although it doesn't come with any type of buffer pad or cloth, you can buy their applicator pads separately, or use any clean cloth to get the job done.
Keep in mind that it's recommended to use only cloths made from 100 percent cotton to avoid further swirl marks while repairing.
Check out the link below for more information about this product.
3M Scratch and Scuff Removal System
This is an all-in-one removal system that is easy to understand and doesn't have too many steps to follow, so it's great for a quick but thorough fix.
With the three-stage system of sanding, compounding, then polishing, you can eliminate most minor scuffs and scratches. It repairs pretty well, and you shouldn't need to buy any extra products to get the job done.
The company recommends that you finish the work by applying auto wax afterward, as a layer of clear coat has been removed.
The system comes with all the essentials for scratch removal, although you'll need to supply a drill for buffing and polishing to ensure an optimal fix, and a detailing cloth for the final polish.
In this car scratch repair kit, you'll receive an abrasive square for sanding the area, a disc pad holder, purple compounding pad, black polishing pad, and 1-ounce packs of rubbing compound and scratch remover.
Manufacturer's Specs and Feature List
Liquid consistency.
3-tiered repair process.
All essential components included.
DIY car scratch remover kit saves money.
Improves paint appearance.
What We Like
Easy to use.
Sands, polishes, and repairs all in one kit.
Kit includes a comprehensive guide.
What We Don't Like
To get the best results, you need a drill for buffing and polishing.
Detailing cloth not included.
Only for single use, just a 1-ounce sachet of each product included.
Summary
The 3M scratch removal system is a great car paint scratch remover set for anybody looking for a professional-grade finish. It comes with almost everything you need to complete the task, as well as a guide book to give you step-by-step instructions.
Before buying this product, keep in mind that while you can use it by hand, it's recommended that you have a drill for the ideal finish. It comes with specific pads and parts that can fit on a drill bit.
Using a drill when fixing scratches on your car ensures that you perform a precise fix and makes the end result more professional.
There isn't too much product included, so it's for one use only. However, an 8-ounce bottle of 3M scratch remover is also available for you to choose if you prefer that.
To find out more about this removal system, click here.
Turtle Wax Polishing Compound & Scratch Remover
This polishing compound and scratch remover combo from very well-known manufacturer Turtle Wax is definitely worth a look.
Its heavy paste consistency is safe on all car finishes, as well as painted metal and chrome.
The Turtle Wax Renew Rx polishing compound comes with 10.5 ounces of product and works for mild oxidation, faded paint, and light scratches on your vehicle.
While it doesn't come with an applicator, you can use any clean, damp cloth (100 percent cotton) to apply the paste to the problem areas. Buff with a clean, dry cloth to finish, and you're all set.
For best results, be sure to wipe off excess product before it dries.
This product has another useful application that's worth mentioning; it's also good for cleaning off dirty and dull headlights on your car. Nobody wants to drive around at night with dim headlights after all, right?
Manufacturer's Specs and Feature List
5-ounce container.
Restores dull finishes.
Removes light scratches.
Safe for all car finishes, painted metal, and chrome.
What We Like
Easy to use.
Works quickly to repair damage.
Safe on all car finishes.
What We Don't Like
Doesn't come with any applicators, such as cloth, pad, etc.
Summary
Turtle Wax has been a popular brand name for over 60 years, and this product is another one that doesn't disappoint.
For something that will give you fairly quick results, the Turtle Wax polishing compound & scratch remover is a great choice for many.
It's also easy to use, which is great for anybody who may not be very car maintenance savvy.
If you're interested in knowing more about this option, click on the following link.
NOVUS 2 Plastic Fine Scratch Remover
This one is for the plastics on your car, rather than the paintwork.
As I'm sure you'll agree, there's just as much likelihood of a scratch here as on the painted areas. So, if your scratches and scuffs are on the plastic, this product is a good option for you to consider.
The NOVUS 2 plastic fine scratch remover comes in an 8-ounce bottle and is suitable for many products, not just plastic surfaces on cars. For permanent results in a short amount of time, this product buffs out quickly.
It can be used on a variety of other vehicles as well as household items, such as boats, golf carts, and even kitchen equipment. Basically, if it's plastic and it's lightly scratched or has a hazy surface, it should be a good candidate to use Novus 2 on.
Rather than simply filling in a plastic scratch, this particular product completely removes light scratches from your vehicle's plastic finish in the same way you sand down a similar problem on your car's paint job.
When you need to replenish an item's plastic finish to like-new, this remover has the ability to do so with repeated uses.
The company does not recommend using this product on coated plastics, though. Why? Doing so can cause an uneven finish, and may make the interior look dull.
Manufacturer's Specs and Feature List
Removes fine scratches on plastic surfaces.
Restores discolored and faded plastic.
Offers permanent results.
Seals with a coat of polish.
Won't work on coated plastics.
What We Like
Removes scratches and scuffs, rather than just filling them in.
Multipurpose car scratch remover, can be used on most plastic.
Buffs out quickly.
What We Don't Like
Not recommended for coated plastics.
Summary
If you're looking for something to fix up any plastic components of your car, the NOVUS 2 plastic fine scratch remover could be the right product for you.
Its multi-usability is a major plus. If you have CDs or DVDs that are scuffed up, you can use this product to restore them back to normal. It also works well on plastic windows on boats, motorcycles and other vehicles, and it can even restore plastic on household products.
However, it is important to keep in mind that this particular product is not recommended for coated plastics.
For more information, check out the link below.
Chemical Guys VSS Scratch & Swirl Remover
Of all the basic car scratch removers we've talked about on this list, the Chemical Guys scratch & swirl remover comes in the largest bottle size at 16 ounces.
It's also available in a more compact, 4-ounce bottle size, in case you weren't particularly looking for something to last you all that long.
This particular remover is a compound, polish, and cleaner all in one. It is also easy to use, although the company recommends you do the job by machine.
The Chemical Guys remover is free of wax and silicone, but still works like a compound to eliminate any surface imperfections such as water spots and stains, as well as light scratches.
It can be used on clear coat or single stage paintwork.
Manufacturer's Specs and Feature List
16 ounces.
1-step high gloss polish.
Scratch and swirl remover, plus handles other defects as well.
Works on single stage or clear coat paint.
Doesn't contain waxes or fillers.
Works with all rotary buffing or dual action machines.
What We Like
Economical product, one bottle should be long-lasting.
One-step process.
Works on all types of car paintwork.
What We Don't Like
Recommended for use with power tools, not applied by hand.
Summary
Of all the options we've seen so far, the Chemical Guys VSS scratch & swirl remover comes in the biggest volume and works with all car colors.
It's a one step process that could restore your car's paintwork back to showroom condition—now wouldn't that be great?
The only downside to this choice seems to be that the company recommends that it be used with machines, rather than by hand.
With that being said, if you've got the tools to do this, that should be no problem for you at all, and you could be onto a winner with this product.
To find out more about it, click here.
Mothers California Gold Scratch Remover
When you require a rapid response to those minor scuffs and scratches on your vehicle, the Mothers California Gold scratch remover may be just what you need.
You can keep a bottle on the garage shelf, or store one in your trunk to pull out when the paintwork comes into contact with your groceries, key fob, or a tree branch.
Used with a soft and smooth, clean cloth, you just rub away those unsightly abrasions and let the formula do what it does best to have them disappear and work on restoring your paintwork.
Because this removes the top layer from your paintwork, the manufacturer recommends following up with a wax finish.
Mothers California Gold scratch remover comes in an 8-ounce bottle, and works well on any type of vehicle paintwork.
Manufacturer's Specs and Feature List
8-ounce bottle.
Works on all car colors and finishes.
Safely and effectively eliminates surface scratches.
Waxing the area is recommended after treatment.
What We Like
Restores paint and removes small scratches.
Reduces the appearance of deeper scratches.
Works on any painted surface.
No machines needed.
Easy to use.
What We Don't Like
More than one application may be needed in certain situations.
Paintwork needs to be waxed afterward to restore protection.
Summary
Sometimes, we just need a quick fix when we're in a hurry and notice a scratch we hadn't seen before. This remover from Mothers is designed to do just that.
It can be carried out anywhere at any time, with no polishing appliances or fancy machines needed. You just need to have a clean cloth handy, and the rest is easy.
The only downside to this remover is that the paintwork requires waxing afterward, in order to keep it protected, as you've removed the top paint layer with this product.
All in all, the Mothers California Gold scratch remover is another great product from this popular company.
The quick action, basic remover is good for anybody who doesn't want to spend time or money on a multi-stage scratch removal process.
For more information about this product, click on the link below.
Turtle Wax Scratch and Chip Repair Pen
Another quick fix product to keep in mind is this scratch repair pen from Turtle Wax.
We especially admire this pen because it carries out a repair in minutes rather than the hours it may take with other car care products, and – unlike other pens on the market today – it also dries to the touch in as little as 10 minutes.
This scratch & chip repair pen will work on both small and long scratches, as well as chips caused by stones and other flying debris while driving.
The felt tip of the pen makes for optimal precision to ensure a clean repair, and one pen can be used for up to 144 inches of application.
Bear in mind, however, that this scratch repair pen is not technically a scratch remover. Instead, it just fills in the area exposed by the scratch.
To remove the scratch entirely and take care of it properly, you'll need to address the problem later, or else the scratch will still technically be there.
Turtle Wax boasts that this pen is unique because it has universal color match properties that blend with the most popular OEM automotive paint colors. Four colors are available for you to choose from: black, light silver, bright white, and ivory.
Manufacturer's Specs and Feature List
144 inches of use.
Safe to use on any type of paintwork.
Fills in scratches and chips in less than a minute.
Precision tip for accuracy.
Dries to the touch in 10 minutes
What We Like
Compact, easy to store in the glove box.
Doesn't drip or run on vertical surfaces.
Universal, but comes in different color finishes
Also helps repair rock chips as well as scratches.
What We Don't Like
Not technically a scratch remover, it only fills in.
Only works on specific car colors.
It's best to only use a scratch remover on minor scratches.
Summary
If you're worried about how a remover will look on your car's paint finish when you're done, you won't need to with this scratch repair pen. Its universal color match technology will ensure that the finish will match up to your car's paint job.
However, it's only available in four colors, so isn't for everyone.
Also, the consensus seems to be that it's more suitable for chips and deeper scratches than surface scuffs. You're better off going with a traditional scratch remover for these, as the paint is noticeably raised after drying.
The Turtle Wax Color Magic scratch and chip repair pen is definitely a good option for anybody looking to keep something handy, though.
The pen can be stored in a glove box and can easily be whipped out in the parking lot if you get a scratch or chip.
You can check out more details about the product here:
Conclusion
It's always hard trying to find good products to help resolve problems by yourself, especially when it has to do with your vehicle and some nasty scratches that might come to happen out of the blue.
It may all seem to be a bit overwhelming at first, especially when you've never done any repairs like this yourself, but – as you've seen by now – it's really not all that complicated!
Hopefully by now, you have enough insight into what car scratch removers are, how they work, what they do and what's available on the market today, and you have more of an idea about which product(s) will suit your circumstances best.
There is a degree of satisfaction in doing the job yourself, and it's always less expensive than taking your car to a professional for a fix, but keep in mind that a botched job will stand out like the proverbial sore thumb.
So, you always need to know when a car scratch remover won't be sufficient, and when you need to call on a professional to tackle the job instead. As always, the fingernail test should tell you this before you move on to any further steps!