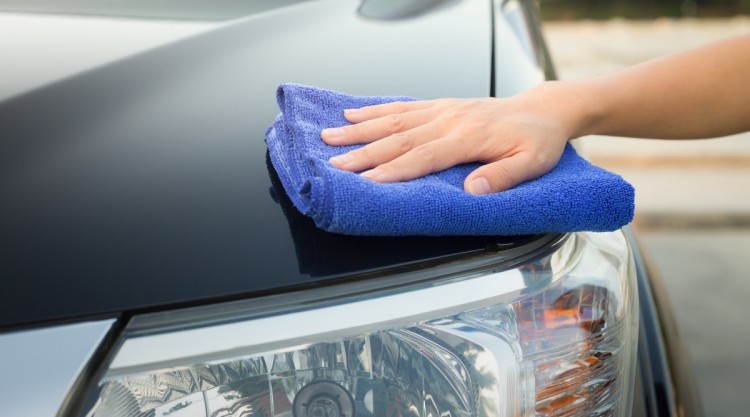 Tired of going through what seems to be an endless list of extra steps just to dry your car after you're done washing it?
If this is a recurring issue for you, then you might need to implement some massive changes to your car washing routine – or it might just be that you're missing a few effective microfiber towels!
Choosing the right microfiber towel for auto detailing can make all of this simpler and more efficient, just the way it should be. They can also take away the need for that extra elbow grease to get the perfect shine – and who says no to that?
Despite the fact that they don't seem to be the most complicated of products to purchase for your car, there are a lot of things to know about microfiber towels and keep in mind to help you choose the right one when shopping around.
In this article, we're going to cover the ins and outs of these scientific marvels and why exactly they are an essential purchase.
We'll also cover the different types of microfiber towels available, and what it is exactly you should be looking for in these products.
Finally, we will review what we believe to be the best of the best microfiber towels on the market today for all your auto detailing needs.
Quick Links to Our Top Recommendations for the Best Microfiber Towels
Note: Clicking the above links will take you to further information, current prices and customer reviews on Amazon.
Now that we've got that out of the way, let's kick things off with our microfiber towels buying guide:
What Are Microfiber Towels and Why Do You Need Them?
Microfiber detailing towels are made of a combination of two fibers—polyester and polyamide (or nylon – known to be highly resistant to damage caused by chemicals and oils).
The actual ratio of each fiber combination varies, but they will generally be an 80 percent polyester to 20 percent polyamide mix, or a 70 percent polyester to 30 percent polyamide mix.
The ratios are usually indicative of where the microfiber car towel originates, with Asia producing the 80/20 mix and the EU producing the 70/30 mix.
The 70/30 mix used to be deemed super absorbent (at least a significantly more absorbent towel than its 80/20 mix counterpart), but with technological advances nowadays, both blends are now insignificantly different in performance and price.
When you use these, the polyester and polyamide fibers will separate due to their different surface tensions. This creates tiny sharp edges, grooves and gullies that make the towel ideal for cleaning, absorbing water, and retaining dirt particles.
These tensions, also known as van de Waals forces, are the same ones that allow geckos and other lizards to effectively climb up walls.
Because the towels are made up of millions of these tiny fibers, they make great tools for eliminating particles as small as bacteria and microbes. It should be noted, though, that these probably won't be effective in eliminating virus strands.
Most of the time when we think of a good clean, we think of brushes with thick bristles that can really scrub down to the surface. However, when you really think about it, the microscopic fibers in these towels are able to attach themselves to some of the tiniest dirt particles.
A single microfiber filament is minuscule and weighs less than one denier. For a comparison and in case you have no idea what that means, that's half the diameter of a silk fiber! Other cloths, like terry cloth towels, will just slide right over those pesky dirt particles without a second thought.
The unique properties of microfiber towels make them favored by hospitals and other medical facilities for cleaning purposes.
They are also extremely porous and can sometimes hold over seven times their own weight. Not only are they able to hold so much, but they're quick-drying as well – a huge plus for when you're washing your car and want to save as much time as possible.
In addition, their uniquely-designed blend prevents swirling and scratching on all kinds of delicate surfaces, including your vehicle's paint, plastic bumpers and windows.
Why Microfiber Towels are Essential for Car Owners
There's no question that a microfiber detailer towel is a great item for general cleaning and drying purposes, but how does that apply to your car upkeep?
Well, if you plan on maintaining and regularly cleaning your own car to a high standard, or even if you're looking for something a bit more advanced than that (perhaps you take your ride to car shows?), then these should definitely be one of the priority automotive items for you to have on hand.
Microfiber towels for car detailing can be used on a variety of surfaces, and because they dry rapidly, they're very versatile. You can quickly finish washing and drying the body of your car and then move right on to drying its windows and interior.
In short, microfiber towels are the go-to choice among many body shops and car showrooms, because of everything mentioned above – as well as how effective they are in achieving a swirl and providing a streak-free clean.
Also remember that because they pick up water and dirt so easily, they make the task of washing and drying cars so much quicker. Time is of the essence!
What to Look for In Microfiber Towels for Cars (and What to Avoid)
While all microfiber towels for auto detailing are essentially designed the same way, the size and density of their fibers isn't always the same. This may not seem like a huge deal, but it's definitely something you'll need to keep in mind.
Thicker, more dense fibers will translate to heavier and softer towels. Thinner, lighter fibers make for flimsier ones.
Both types can be very beneficial, with either type being superior depending on the task at hand, so it pays to know which one to choose and when to choose it. This will usually depend on what type of surface you're looking to clean.
In some cases, these cloths are rated by GSM, or grams per square meter. Usually, the higher the GSM rating, the better the cloth will be for delicate surfaces such as windows, mirrors, or a car's paintwork.
If you're looking to clean the plastic areas of your car or other areas that aren't easily prone to scratching, a cloth with a lower GSM count will work best in these cases.
When shopping around for microfiber towels for your cars, be on the lookout for fibers woven in a looped weave, as these are generally of a much higher quality. When a cloth has a looped weave, this makes it much easier for it to grab at impurities, which makes for optimal cleaning performance.
If you aren't sure whether or not a microfiber towel has a looped weave, as the manufacturer hasn't stated whether or not this is the case anywhere on the packaging or on the product description online, there's a small test you can do yourself to find out.
Grab the microfiber towel and run the fabric across your skin – if it grabs at it a little, then it has a looped weave.
A high-quality towel will also absorb water very well. If the microfiber towel you buy just pushes water around while you're using it, then it's more than likely made of poor quality material, and you'll be better off looking for something else.
Best Microfiber Towels – a More Detailed Look at Our Top Recommendations
Who would have thought so much had to go into choosing a simple piece of fabric? As it turns out, these simple (yet effective) items can be much more complicated to choose than you'd think.
Hopefully we've so far convinced you that microfiber towels are the ideal cleaning cloth for you and your car.
We'll now go through our reviews of what we believe to be some of the best microfiber cleaning towels for cars, to help you decide which cloth will best fit your needs.
Chemical Guys Professional Microfiber Towels
These professional grade towels from Chemical Guys are great because they serve a dual purpose. One side has a short pile which is best used for buffing away unwanted products like wax, while the high pile on the other side is great for achieving a streakfree finish.
There are no hard nylon edges with this product. Instead, it comes with silky smooth edges that help prevent scratching while cleaning your car.
The golden color these towels come in also helps dirt stand out, so you'll know exactly when it's time to change cloths or switch sides to prevent scratching.
To clean them, it is recommended by the manufacturer to use their own Chemical Guys microfiber wash in hot water. The amount of the detergent you'll need will depend on the size of your load.
To dry, it is best to do so on low heat or air dry. Remember not to use any fabric softener or dryer sheets with these!
These come in three different sizes for you to choose from depending on your needs, as well as various quantities: you can choose to buy just one cleaning towel, or packs of 3, 6 or 12.
These microfiber towels are made of 70 percent polyester and 30 percent nylon.
Manufacturer Specs
Dual-weave design.
Silk edging.
Bright yellow color.
Exceptional softness.
70/30 blend.
Three sizes.
What We Like
Dual purpose, to make buffing and cleaning a one-time job.
The bright golden color clearly shows dirt to indicate when it should be changed or cleaned.
Soft microfiber edges prevent scratching.
Different towel sizes available.
Sold individually or in multi-packs.
What We Don't Like
Might have a tendency to shed after several uses.
The label on the towel can scratch surfaces if not removed.
Summary
If you're looking for something to remove all the impurities from your car's interior and exterior, these towels are great.
Because they're dual-sided and each side serves its own purpose, you won't need to worry about buying more than one type of towel.
Their silk-lined edges also give a nice quality finish, reassuring you that you won't need to worry about marks that most other types of cloths tend to leave behind.
To find out more about the Chemical Guys microfiber towels, click here.
Zwipes Microfiber Cleaning Cloths
Nobody ever wants to see scuffs or scratches on their car after they clean it – that's a whole other round of fixing no one looks forward to.
These cloths by Zwipes are a good choice if you're worried about abrasive cloths damaging your shiny paintwork. They're plush microfiber and super soft, so they're not likely to leave behind any marks.
Zwipes microfiber cloths are able to hold eight times their weight in water while still maintaining the quick drying quality that microfiber towels are very well known for.
These cleaning cloths are available in packs of 12, 24, 36, or 48, and there are three different colors in each towels pack, allowing you to color-code each for a specific use. Or, if you're anything like me, I just love a varied color collection!
These microfiber towels can also easily be washed and reused. Many companies boast reusable, but not all products out there stand the test of time.
Lots of microfiber towels on the market today tend to fray and lose their appeal after only a few washes, so they aren't exactly durable.
The great thing about these, though, is that they can withstand up to 500 washes (as per the manufacturer's description), which is ideal for any of you frugal Freddies out there!
In order to maintain high quality of this microfiber towel, it is recommended to wash it regularly in cool or warm water, and to air dry (or tumble dry) only on the lowest setting possible. You should also be sure to clear out your dryer's lint trap before starting a load.
You should never use dryer sheets or any other extra cleaning agents to clean these towels. Doing so can cause irreparable damage to the cloth, so keep note of that at all times.
Manufacturer Specs
Plush, super-soft microfiber cloth.
Different colors in the pack.
110,000 fibers per square inch.
Lint-free and streak-free cleaning.
Absorbs eight times its weight in water.
Washable and reusable.
Size: 12 inches x 16 inches.
Ships in frustration-free packaging.
What We Like
The package comes with multiple cloths in various colors.
Streak-free cleaning.
Long lasting.
Multiple uses for the car and home.
What We Don't Like
Need to be washed before first use, to reduce fine fibers that they leave behind.
Cloths are thinner than many other brands.
Summary
All in all, these towels by Zwipes are a super option if you're looking for something to make cleaning as easy as possible. Plus, if you're a worry wart and the idea of streaks and scratches terrifies you, then one use of these will put your mind at ease.
The fact that these towels come in three colors is also useful for color-coding cleaning tasks.
Their promise of prolonged use even after several washes make these an excellent option for anyone looking for high durability microfiber towels, especially if you want the biggest bang for your buck.
If you like what you've read so far about the Zwipes microfiber towels and would like more information about them, click on this link to learn more.
Meguiar's Supreme Shine Microfiber Drying Towels
For those of you who want quick results and don't like the thought of spending a whole morning washing and drying your car, these microfiber towels from Meguiar's are a good choice for you to consider.
They absorb two times more than regular terrycloth towels, which speeds up dry time significantly.
These towels are also nice and plush, making them a great choice for a streak-free clean. You can confidently use them for your windows or other delicate surfaces you're particularly worrisome about damaging – they almost guarantee a great result.
Meguiar's Supreme Shine towels work well in removing compounds, polishes, waxes, and spray detailers (if you're into car detailing at all).
This feature makes them very good all around, multi-purpose cloths. They can be used to clean your car, buff out wax, polish, and any other compounds you've used on your car – whether that was on the inside or outside of your vehicle.
They are reusable and come in a pack of three large towels.
These microfiber towels are also safe for the washing machine, but you should still follow the general care instructions we talked about above, to do your part in ensuring they last for as long as possible.
Manufacturer Specs
Leaves a swirl-free, mirror-like finish on your surfaces.
Non-scratch edging.
Quickly remove polish and wax from paintwork.
3-pack
Size: 24 inches x 16 inches.
300 GSM.
What We Like
Plush texture.
Ability to be used on car's exterior and interior.
Good for polishing off cleaning compounds.
Streak and swirl-free.
What We Don't Like
Sometimes, it leaves lint for the first few uses.
Might not be as long lasting as some of the other microfiber towels out there.
Might fray easily.
Summary
For those of you who are all about fast results when polishing and cleaning, these may be just the right towels for you. They're great for quickly finishing off the task you have at hand, and leaving your surfaces with a super shiny finish.
We specifically admire the fact that these microfiber towels are strong enough to give a good clean, yet delicate enough to use on both the exterior and interior of your vehicle without causing any damage.
Be sure to take proper care of these towels, though, because they do have a tendency to fray easily if not properly maintained.
Think the Meguiar's Supreme Shine towels might be the right choice for you? To know more about them, click here.
Royal Reusable Microfiber Cloths
Aren't sure about using the same cloth for cleaning your tires and your window at the same time? Then these may be a good choice for you to consider. Each pack comes with three different colors, so you can use specific colors for different purposes.
Royal microfiber cloths are unique in that they're made with a 90 percent polyester and 10 percent nylon blend. This special blend makes the cloths soft enough even for a baby's delicate skin, so you won't need to worry about any streaks or scratches on your car while using them.
These microfiber towels will also absorb up to 10 times their weight in water.
As the name suggests, these cloths are reusable and washable. They are also available in packs of 24 or 48, which is excellent if you're looking to stock up on microfiber towels in bulk anyways.
Manufacturer Specs
24 or 48 pack.
Packs come with 3 colors: white, yellow, and blue.
High absorption.
Size: 12 inches by 16 inches.
250 GSM.
What We Like
Absorbs 10 times its weight.
Can use different colors for different uses.
Larger size makes them suitable for vehicles of most (if not all) shapes and sizes.
Soft enough to use on the most delicate tasks.
What We Don't Like
Much thinner than many others.
At the time of this writing, they're only available in bulk packs. Be sure to double check for yourself first to see whether this has changed by the time you're reading this.
Summary
All in all, these are great for anyone who likes to stay organized. If you want to use particular cloths for certain jobs, the fact that these come in three different colors will make your life much easier.
They're also versatile and have lots of uses around the home, not just for the car.
At the time of this writing, they are only available in packs of 24 or 48, though. You may not want or need this many cloths altogether, so there is a chance you'd have plenty left over that you will need to store.
On the bright side, though, you won't have to keep buying new ones every month!
More details about the Royal reusable microfiber cloths product are available here.
Chemical Guys Waffle Weave Towel
This product by Chemical Guys has patented waffle grooves to help trap dirt much more efficiently than others microfiber towels out there. This makes it a perfect option for even some of the more advanced tasks out there, such as getting a car show-ready.
It's also a quick car drying towel, and the company boasts streak-free cleaning.
While normal microfiber towels use shorter strands, microfiber waffle weave towels are unique in that they use square grooves to trap dirt and absorb liquids.
To simplify things, Chemical Guys compare the waffle weave to the difference between eating pancakes or waffles.
With pancakes, the syrup rolls right off the pancake. With microfiber waffles, on the other hand, the syrup burrows into the grooves. So, that's how the waffle weave technique got its name!
This towel also has the same silk edges as the professional grade towels by Chemical Guys talked about towards the beginning of this list, so you won't need to worry much about fraying.
It's also machine washable and can be used over and over for a long period of time, as long as it is properly cared for, of course.
This towel is larger than some of the others that earned a spot on this list, with dimensions of 36 inches by 25 inches. This bigger size makes it great for owners of large vehicles such as SUVs and minivans, though.
Manufacturer Specs
Waffle groove design.
Silk edging.
Size: 36 inches by 25 inches.
70/30 blend.
Machine washable.
What We Like
Waffle grooves wick up water easily.
Silk edges to ensure long-lasting use.
Larger cloth to cover more surface area.
What We Don't Like
Single product pack isn't economical for everyone.
Not as plush as some other products
Summary
For anybody looking for something with a quick drying time, you should give this towel a consideration. Because of its unique waffle design, water and dirt will get wicked up quickly in just one or two swipes.
Like the other products by Chemical Guys on our list, it also has quality silk edges that will ensure they won't fray, which is a major bonus.
Some people might find this towel a bit less absorbent than others, though, so keep that in mind if you're looking for a super plush item.
For further information about this towel, click the link below.
Kirkland Signature Microfiber Towels
If you're a bulk buyer, consider giving these a look. These Kirkland Signature ultra plush towels come in a pack of 36 and are machine washable, so you won't need to worry about repurchasing on a regular basis.
These towels also boast of being ultra plush and of premium grade microfiber quality.
They're made of high pile microfibers, so these are good to use on just about any surface you plan to work on, as they won't leave any scuffs or scratches on your pride and joy. Their high density means they're also great for absorbing virtually any liquid, including oils.
Because of their high pile, they're easy to use. You don't need to use any special soaps or cleaners, as these can get the job done with just a little water.
They are made of an 80 percent polyester and 20 percent polyamide blend, and are 16 inches square.
Manufacturer Specs
36-pack.
High pile fiber.
80/20 blend.
Machine-washable.
Size: 16 inches square.
What We Like
Multiple products in the pack.
Good weight and density.
Dual-sided pile is good for different purposes.
Absorbs most (if not all) liquids, including oils.
What We Don't Like
Color might beed on washing.
Cloths might become discolored after a few washes.
Summary
If you're a bulk buyer looking for a quality microfiber towel, then these ultra plush towels could be the right option for you. They're certainly a crowd favorite for many!.
We specifically like these because they can absorb so much. Just be sure not to wash them with your favorite shirts – that's not going to end very well!
To find out more about the Kirkland Signature microfiber towels, click on the link below.
SimpleHouseware Microfiber Cleaning Cloth
This is another outstanding option for all you bulk buyers out there. They come in packs of 20, 50, or even a whopping 150 (!) if you need a whole bunch of them.
Each pack comes with four different colors—green, yellow, blue, and orange. You could choose to color code the car cleaning tasks, or just use a different color for other purposes around the home if you're super organized.
The SimpleHouseware microfiber cloths measure in at 12 inches by 16 inches, and can hold up to eight times their own weight in water.
Each cloth is ultra soft and non-abrasive, so they're strong enough to get the job done but delicate enough not to leave any unwanted scratches.
The cloths come in an 85 percent polyester and 15 percent nylon microfiber blend. They are washable and reusable, and it is recommended to wash them before the first use to make sure no fabric rubs off onto your car.
Manufacturer Specs
Available in packs of 20, 50, or 150.
Blend of 85 percent polyester, 15 percent nylon.
Size: 12 inches by 16 inches.
Green, yellow, blue, and orange.
250 GSM.
What We Like
Available in smaller and large bulk packs.
Different colors can be used to color code various cleaning tasks.
Non-abrasive.
Budget-friendly and affordable.
Great for use in the household as well, not just for cars.
What We Don't Like
Not as absorbent as some other products.
Very thin material.
Summary
All in all, these are ideal if you want to be sure to have plenty of cloths on your shelf.
These are also practical because the colors they come in are perfect for designating specific ones to particular purposes, not just for car cleaning.
This is a lifesaver for any super organized folks out there who like to keep everything for its own purpose.
Interested in the SimpleHouseware microfiber cloths and want to know more about them? For a more detailed look at this product and to see what other people have to say about it, click on this link.
How to Use a Microfiber Towel
Always keep in mind that, although they are quick-drying, you don't always need to soak them in soap and water before use. These towels can be used dry or slightly damp, and should still get the job done efficiently.
If you're trying to dust off a surface because it's got dirt or other debris on it, you can simply use the towel to wipe the surface down. For other more intensive cleaning, it's recommended to spray water on the surface you'd like to clean and then use your towel.
Nobody wants to deal with streaks and scuffs while cleaning glass, mirrors and windows, right? Because of their streak-free properties, a simple wipe with a wet towel should be enough to help give your windshield and mirrors that perfect gleam we all seek.
Taking Care of Your Microfiber Towels
With microfiber detailing towels, it's important to make sure you thoroughly clean it after each use. Used to dry your car on a regular basis, microfiber towels also need to be maintained as well. If you don't do this, dirt and other build-up will decrease the efficiency and life span of the product.
Microfiber towels are relatively easy to clean and it's usually a straightforward process, but there's a proper way to do it, nonetheless.
First things first, make sure whatever microfiber towels you get to use for your car have been labeled by the manufacturer as machine wash friendly. If they're not compatible with washing machines, you'll hate yourself for having to clean them by hand!
You can pop them right into the washing machine, but be sure to wash them separately and only use liquid detergent, not powder.
You should never use bleach or fabric conditioners as this will corrupt the fibers and loosen them to the point where they won't be as effective anymore. Vinegar should also be avoided, as it also tends to degrade the fibers.
Microfiber towels should be washed on a standard cycle, using warm water.
Once they are ready to be transferred to the dryer, be sure to dry them only on your dryer's low heat setting – or without heat at all. Using heat when drying microfiber products will cause the fibers to melt and also cause the fabric to deteriorate.
Alternatively, of course, they can be air dried if you prefer to do it that way. (Again, pay attention to the manufacturer's directions concerning drying, as this might drastically differ from one microfiber towel to the other).
For a detailed how-to on washing your microfiber towels correctly, check out this article from HouseWifeHowTos.xom.
This is very important to do on a regular basis and not slack off on, since you want your microfiber towels to last for as long as possible before having to go out and buy new replacements for all your car washing needs.
Conclusion
So, clearly there's a lot more to microfiber towels than one would think at first!
With that being said, we've gone through the main stuff you should know about, and now you have a comprehensive guide to finding the best microfiber cloth on the market for all your car cleaning needs.
Our favorites from those we reviewed are the Chemical Guys professional grade microfiber towels. We like these the most because of their long-lasting use and completely streak-free promise (something many car owners who use these swear by as well).
Their silk-lined edges do a great job at ensuring the cloth won't do any unsuspecting damage to your vehicle during cleaning.
Do you use microfiber towels on your car already? Do you use any of the brands listed above? Or perhaps you have some experience you'd like to share with others about other brands' products you've used before? Let us know below—we'd love to hear your questions, comments, and concerns!