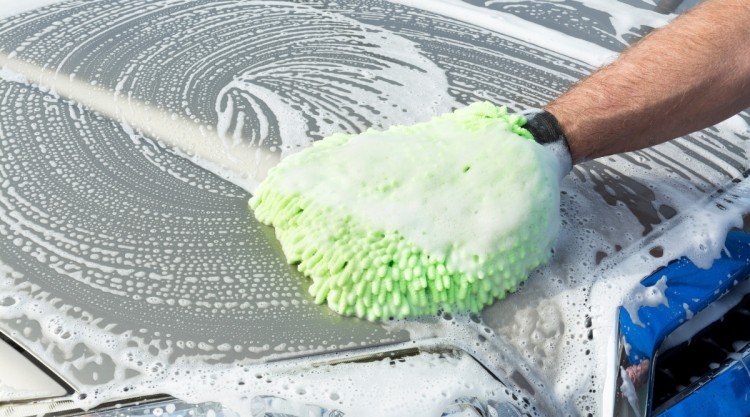 Striving to always ride in the the shiniest, cleanest car out there? Well, aren't we all? Regularly washing your car not only ensures you roll down the street in style, it also ensures you feel happy when going from destination A to destination B.
We all know that cars are an expensive investment – so, you want to make sure it's kept in tip top shape and the best condition possible.
Thankfully, with all the car tools, items and accessories available at our disposal nowadays, the solution to keeping it clean is relatively easy, inexpensive and not anywhere near as time consuming as it used to be.
Of course, washing your vehicle is more than just getting a bucket of water and soap and splashing it around. You've got to have the right tools to get the job done properly.
A lot of people use a car wash sponge to clean their vehicle, which isn't always the best idea.
While sponges can (and do) indeed clean, they leave behind dreaded streaks and swirl marks. Over time, these can cause serious damage to your vehicle's paint, which you'll be spending hefty repair fees down the line for.
You also can't only rely on microfiber towels for all your car detailing needs.
The good news is that this can be avoided by using some of the best car wash mitts to suit your vehicle's needs. You can get it all shiny and looking brand new again without damaging your paint job in the process.
So, stick around and keep reading our guide to learn about all the benefits car wash mitts have to offer you and your vehicle, the different types available for you to choose from, and what to look for in these products for the best experience possible.
We also review some of the best car wash mitts on the market today, to help make your choice easier.
Quick Links to Our Top Recommendations for the Best Car Wash Mitts
Note: Clicking the above links will take you to further information, current prices and customer reviews on Amazon.
What Exactly Is a Car Wash Mitt?
A car wash mitt does exactly what the name implies – it's a mitten-like product that vehicle owners use to clean and dry their ride.
The materials they're made from help to protect the paint job by capturing and removing dirt and grime particles. In turn, this stops them from harming your paint job, and leaves your vehicle with a shiny body.
In other words, a car wash mitt can be an effective way to wash your car without leaving behind any scratches. For those of you who have ever tried using a sponge for this matter, you'll know what we're talking about.
So, using one every time you clean your vehicle, paired with the right technique, can help you avoid those nasty swirl marks that can ultimately damage your paint job, and be pleased you can avoid having to read our guide on how to remove swirl marks from your car.
The Benefits of Using a Car Wash Mitt
Chances are you'll have a standard, yellow sponge lying around somewhere. If you're anything like I was back when I first heard about car wash mitts, you may be thinking to yourself, "why can't I just use this sponge to perform washes on my car"?
Well, there are some very good reasons for this.
A lot of people assume it's the cleaning products you use that are the most important – such as the car wash soap or waterless car wash, and so on. But the reality is, the accessories you use are equally as important, if not even more important in certain situations.
So, let's talk about why car washing mitts are superior to sponges and what benefits they can offer both you and your vehicle.
Captures Dirt and Grime
Everyone wants to drive a glossy and sparkling clean car on the road, and using a car wash mitt is sure to help you achieve that.
Made from quality materials, a mitt is able to buff the paintwork of your vehicle. It captures and lifts away dirt and grime from the road, and helps bring out the colors of your ride.
Sponges, on the other hand, don't actually attract dirt. Rather than absorbing it, they tend to just move it around. If you're going to spend all that time cleaning your car, wouldn't you rather use a tool that will actually help you do the most effective job?
I know I want to get in and out of there as quickly as possible, as my time is best invested elsewhere – and I'm sure the same holds true for you as well!
Protects Your Paint Job
When it comes to protecting your paint job, there's no question which accessory is better.
First, let's think about how sponges work: They have a flat surface that you run over your paintwork, picking up dirt and grime along the way.
In theory, this sounds fine, but the particles being picked up are actually sticking to the face of the sponge. These are then dragged along the surface of your car. This is how damage occurs, including those unsightly swirl marks.
In many cases, using the right type of mitten can be even safer than taking your automobile to a professional.
Many car wash techniques include abrasive cleaning appliances that can damage your paint job, and many times, this is a case where doing it yourself might be the best thing for your car!
Quality cleaning mittens, on the other hand, are the safest bet. They often have deep pile, which captures the dirt and grit particles and takes them away from your vehicle.
Since they're absorbed into the mitt, they don't come in contact with your paintwork again. This means there's less chance of any damage occurring.
Watch this video to see how common car wash mistakes can cause serious damage to your vehicle's paint job.
What Are Car Wash Mitts Made From?
Different car wash mitts are made from different material – they're not all manufactured equally. This will affect their durability and performance at effectively cleaning your ride.
The most common options include:
Microfiber.
Lambswool.
Synthetic wool.
Let's take a close look at each one, and see what distinguishes each from the rest.
Chenille Microfiber
The most common option when it comes to these products is chenille microfiber. There's no question that this is usually a very good choice. It's versatile and can be used for cleaning, drying and detailing.
The material is soft and pretty durable, and an added benefit is that it's very easy to clean. In fact, you'll find that most of the time, microfiber mitts are machine washable, so there's no cleaning you'll have to do by hand.
Oftentimes, this type of wash mitt has a noodle design with long caterpillar strands. This is excellent for capturing dirt and grime and drawing it away from your paintwork.
Compared to wool, microfiber is better for getting rid of tougher dirt. It's also a fairly absorbent microfiber material, meaning you can spread suds over your vehicle easily.
Lambswool
Lambswool cleaning products are the preferred choice of a lot of automobile enthusiasts, with good reason. They're made from real and natural wool, which is an extremely soft and plush microfiber material for cleaning your vehicle.
In fact, many users prefer them despite their higher price tag.
The wool can lift away all that dirt and grime on your ride in a gentle manner. Once you give it a try for the first time, it's actually surprising how well it works. This means you won't have to worry about micro scratches or any kinds of swirl marks.
In addition, lambswool can help buff and bring out the natural color of your paint for everyone to see. It's also a very absorbent material, which comes in handy when you're washing your car.
Higher absorbency means it can gather a lot of suds at once and get the job done faster.
Despite their effectiveness, there are a few downsides to using a lambswool cleaning glove you need to know about.
First things first, and as we touched on above, it can be costlier than the other types. It also isn't as durable as microfiber products.
Finally, lambswool can also be more of a hassle to clean, as you'll have to wash it by hand – unlike microfiber car wash mitts which can be popped into the dishwasher.
Synthetic Wool
The last material we'll look at is synthetic wool.
Products made from synthetic wool are very popular in auto stores, and for good reason. They're very soft—but don't underestimate how well they can clean your car.
This material can capture contaminants, salts and other dirt without rubbing it into your paintwork. Say goodbye to swirl marks!
With that being said, since it's a synthetic wash mitt, it's not as absorbent as real wool.
In terms of lifespan, the synthetic wool products fall somewhere between the other two materials discussed above. On one hand, they have a longer lifespan than ones made from lambswool, but they're still not going to last as long as microfiber.
What Should You Look for in a Car Wash Mitt?
If you're thinking about buying a wash mitt for your vehicle, you'll notice there are a lot to choose from – and we mean a lot. Have a look for yourself if you want to, you'll be bombarded with all sorts of options.
But it's important to remember that they're not all the same. Some are definitely better than others, and it won't all be down to price. There's much more to think about than how much a car wash mitt actually costs.
So, let's have a look at some of the key things you should take into consideration when shopping around for these products.
The Material
One of the most important decisions you're going to have to make is what material you prefer. This is why we went through all the different options in detail in the previous section.
As we've explained, a lambswool mitt is usually going to be the most effective at cleaning your vehicle. It's also going to be the least likely to damage your paint job.
Synthetic wool is going to last longer than natural wool, but won't be as plush.
Microfiber is also a good choice for lifting away dirt and grime, but an important thing to keep in mind is the density of the microfiber. Generally speaking, you'll want to get the highest density possible, as a lower density—which is often cheaper—might damage your paint.
If you decide to go with microfiber, here's a good tip to keep in mind: Ideally, you want a ratio of either 70/30 or 80/20 polyester to polyamide for the most effective cleaning.
The Size and Fit
Remember that these products are not usually held when using—rather, they are worn on your hand. So, when we talk about size and fit, we mean in relation to your hands, and not your car.
Ideally, you want your car wash mitt to fit like a glove.
Most products will list the measurements, so be sure to pay attention to those before you buy anything. Look at these in order to know if the product will be a good fit for you.
You can often find ones that have an elasticated cuff – which can help it to stay on your hand, even if it's a bit bigger than you need.
In addition to the fit, also consider overall size of the mitt. Are you someone who thinks of washing your car as a fun activity? Even so, you probably don't want to be out there cleaning all day.
For the most efficiency, look out for products that work on both counts. One that fits you well, and can cover a good amount of surface area at the same time.
Durability
You're probably going to be cleaning your car often, especially if you use it to commute almost every day, so you'll want a product that's up for the job and one that's going to be durable.
As we've discussed, material is the primary factor that dictates durability.
Microfiber material is usually the most durable and is also most likely to be the best choice when it comes to cost-efficiency. Synthetic wool tends to be more durable than real wool, but still won't last as long as microfiber.
Machine Washable
Once you've got your car dirt-free and looking all sparkly, there's still some more cleaning to be done. It just never ends, right? I know how you feel!
Now the products you've used during the actual washing of the vehicle need to be cleaned themselves. It's usually simpler to choose a mitt that's machine washable; that way you can toss it in the machine and not have to worry about scrubbing it yourself.
I don't know about you, but I'm all about saving valuable time wherever possible.
Of course, it's not the end of the world if the product isn't machine washable. Truth be told, hand-washing doesn't take that much time, but it just might not be as convenient for you.
Like most factors, it's a matter of personal preference in the end. Machine washable or not is something that you may (or may not) want to consider when making your choice on which car wash mitt to buy.
The Best Car Wash Mitts: Our Top Recommendations
It's time to take a look at some of the best car wash mitts out there on the market today. Hopefully there's one that you like and decide to purchase for your vehicle!
Mary Moppins Pure 100% Lambs Wool Wash Mitt
This product doesn't just have a catchy name, we know, but who cares about that? It's still a serious contender for one of the best car wash mitts on the market today, and deserves a place on our list.
It's made from 100% pure lambswool, making it super soft, yet still very effective at trapping grime particles and cleaning your car. It's even got a leather backing for durability.
Swirl marks will be a worry of the past with this product. The lambswool makes the chances of creating scratches and swirls almost impossible – but you still have to be careful, nonetheless.
With this mitt, the dirt moves deep into the lambswool, away from the paint job.
We really like the size of this one, too. It's large and is going to cover a good amount of surface area, but it's also very absorbent (which is great for spreading suds quickly).
You could use this product to clean any type of vehicle, from small hatchbacks to larger trucks.
Manufacturer's Specs and Feature List
Constructed from 100% pure lambswool with leather backing.
Elasticated cuff for good fit.
Hand-wash only.
What We Like
Effective at capturing dirt and grime.
Super soft for minimal risk of scratching.
Very absorbent for spreading suds.
Fits like a glove.
What We Don't Like
Might be a bit big for some people, so be sure to carefully check sizing first.
Summary
There's no doubt that lambswool is one of the best materials for cleaning your ride. Its softness and effectiveness at capturing dirt make this one a good investment, and being exceptionally absorbent also means you can clean your car faster.
Lambswool is too delicate to wash in the machine, though, which means you've got to clean it by hand. It also has to be air dried as it's not suitable for the dryer. Obviously enough, this isn't going to be ideal for everyone.
Want to find out more about this product? Follow this link here.
Chemical Guys MIC_493 Chenille Microfiber Premium Scratch Free Wash Mitt
If you prefer to use microfiber, check out this mitt from Chemical Guys. We particularly like the noodle design and caterpillar strands.
This is going to wipe away dirt and debris without harming your paintwork, and of course, microfiber is known for being soft and non-abrasive – which means no swirl marks.
The good thing about this microfiber product is that it's lint-free. This means you won't find any small strands or dust on your paintwork after cleaning. Plus, the bright lime green color is pretty cool too–you'll never lose it in an ocean of other items!
The microfiber in this product is an absorbent material, which means it can hold water and shampoo pretty effectively. This will allow you to clean more area without having to go back to your bucket.
It's also machine washable, which makes it reusable and easy to clean for next time.
As for how it fits, the elastic cuff allows for a comfort and snug fit around your hand and fingers. You won't have to worry about it falling off while you're in the middle of cleaning your vehicle.
Manufacturer's Specs and Feature List
Measures 12 x 8 inches.
Double-stitched elastic cuff.
Machinable Washable.
70/30 blended microfiber material.
What We Like
Soft microfiber for cleaning with no scratches.
Good size for all types of vehicles.
Easy to clean and dry in washing machine and dryer.
Durable and long lasting.
Good control because of proper fit.
What We Don't Like
Might start to fall apart after limited use if not taken care of properly.
Summary
Overall, we're pretty impressed with this product. It's going to effectively clean your vehicle and it's constructed from 70/30 blended microfiber, which should help avoid dealing any damage to the body of your car when cleaning.
It's also great that it's machine washable. Just be sure to have it on a gentle cycle to make sure the microfiber doesn't prematurely wear out. You should also use a low heat on your dryer so it's ready to use next time.
For more information about this product and to see how much it costs, click this link.
Meguiar's X3002 Microfiber Super-Thick Reusable Wash Mitt
If you've ever bought any products for your car, you'll most likely have heard of the Meguiar's brand. If you're loyal to their brand, they've got this microfiber wash mitt that you may be interested in.
The great thing about this product is that it's versatile – you can use it for washing your car as well as detailing. This is a possibility because it can be used either dry or wet, it's your choice.
This material is also relatively absorbent, which means fewer trips over to the bucket, andt can easily spread suds around the body of your vehicle.
You can wear it like a glove and the elastic cuff will make sure it doesn't fall off.
Manufacturer's Specs and Feature List
Measures 8 x 10 inches.
Made from microfiber material.
Machine washable.
Elasticated cuff.
What We Like
Microfiber material can be safely used for your paint job.
Machine washable to reuse.
Made from a durable material.
Absorbent for more suds.
Versatile.
What We Don't Like
May be too big to fit small hands.
Might need to be wrung out often during use.
Summary
Altogether, this is a good car wash mitt for the price – it'll do a good enough job at getting rid of the grime particles, and will help leave your car looking all shiny.
Being machine washable also makes it easy to care for, and you can reuse it many times.
The one possible downside we did notice is that this wash glove can be quite big for some hands. If you have especially small hands, it might slide off and not fit comfortably.
It's also so good at absorbing water, that it can feel quite heavy at times. Because of this, it will need to be wrung out frequently.
If you're interested in this product, click here to find out more about it.
AmazonBasics Deluxe Microfiber Car Wash Mitt
Why have one car wash mitt when you can have two? With this 2 pack, you can polish and shine up your car without scratching the body.
These are designed from soft microfiber and they're lint free – so you can look forward to seeing no dust-like strands on your vehicle after cleaning.
Of course, the noodle design captures the dirty particles that you don't want. This can help bring out your car's true paint color and make it look as good as new.
Also, this mitt can absorb up to an impressive seven times its weight in water. Because of this, you'll be able to spread around your suds and clean faster.
Since you get two mitts in a pack, you can use them for different parts of your car. For example, you can dedicate one to use for your paintwork and dedicate the other to use for your wheels. You could also use one of them for cleaning your car and the other for drying. Again, this is going to be up to you.
Manufacturer's Specs and Feature List
Measures 12 x 8 inches.
Two mitts in a pack.
Machine washable.
Noodle microfiber design.
What We Like
Easy to wash in the machine.
Long microfiber strands for capturing dirt particles.
Shouldn't cause any scratch and swirl mark.
What We Don't Like
Absorbency may make this product heavier.
Summary
If you're worried about swirl marks on your ride, check out this product. Microfiber is soft and non-abrasive, and the noodles will take away the grime. All that's left is to buff and shine.
Afterwards, you can just chuck this mitt into the washing machine and call it a day.
While this car wash mitt is very absorbent, this is sometimes a double edged sword, as it might also make it heavy. This means you'll have to wring it out often.
The elasticated cuff should help keep it on your hand in the meantime.
If you think this product is for you, you can follow the link here to learn more about it.
The Rag Company Premium Cyclone Korean Microfiber Wash Mitts
This is a fantastic product to get your vehicle clean and bring out its glossy color.
It has luxurious long microfiber strands that easily trap the dirt and take it away from your paintwork, and it's made from a 70/30 blend of microfibers, which is perfect for avoiding scratches.
This is also a product that you can expect to last. The manufacturer says that it should last through different seasons and for years to come, but be sure to do your part and take care of them properly to ensure they last as long as possible.
You can reuse this product by simply throwing it in the washing machine, just be sure to put it on a gentle cycle. If you prefer, you can wash it by hand using a mild detergent.
If you prefer to, then toss it into a cloth dryer, that's fine too – just be sure to keep it on a low setting.
Manufacturer's Specs and Feature List
70/30 blend of micro fibers.
Elasticated cuff.
Wash on a gentle cycle or hand-wash.
What We Like
Caterpillar strands to trap dirt and grime.
Gentle microfiber material to prevent swirling.
Machine washable.
Two to a pack.
Long lasting.
What We Don't Like
Not the most budget friendly and affordable option.
Might be a bit too thick for some people's liking.
Summary
The Rag Company have done very well with this product. It's going to get all that dirt off pretty quickly–since microfiber is absorbent for fast cleaning–and you can expect it to last a long time before you have to buy a replacement.
Being 70/30 blend of microfibers means this products shouldn't scratch the paint job with any grime particles. This is definitely something you want in any mitt you use, to keep your car's surface in the best condition possible.
To see if this is the right product for you, follow this link here.
How Often Do Car Wash Mitts Need to Be Replaced?
The answer to this question is going to depend on how often you use it. It's also going to be dictated by the type of material yours is made from, and how well you take care of it.
As a rough estimate, you could enjoy using real wool mitt for around one year. A microfiber one, on the other hand, may last a few years if taken care of properly.
Signs that it may be time to replace your car wash mitt include wool falling out and bald patches appearing. Microfiber can also lose its softness, and some marks and stains may not wash out as effectively anymore.
How Often Do Car Wash Mitts Need to Be Washed?
To make sure your car wash mitt doesn't transfer dirt back on to your vehicle, it has to be washed on a regular basis – or else you'll end up making a dirty car, well, even dirtier.
Ideally, this should be done after every time you use it and when it becomes grubby. You need dirt and grime to be washed out of the material before you use it on your car, so it can't cause swirl marks and scratches.
How to Clean a Car Wash Mitt?
By now, you already know that some of the best car wash mitts are machine washable, so you can just throw these ones right into your washing machine and this will take care of the rest for you.
With that being said, there's a few things you still need to keep in mind.
It's best not to mix your mitt with any of your personal clothing.
You should also avoid using any fabric softeners when you're washing your car cleaning products.
Before you put your mitt in the machine, it's a good idea to wring it out and remove all the water and suds. If you decide to hand wash it, this is actually an essential step. First, wring it thoroughly to remove the soapy water. Next, you want to use clean water to flush out the dirt from the mitt. Simply keep doing this until the water runs clean and you can't see any dirt. The final step is to wring it out one last time, and then allow it to air dry.
Conclusion
Using a car wash mitt is going to keep your ride in fantastic condition, and is going to make your life a whole lot easier when cleaning it yourself. It's an investment that's definitely worth it – and one that's not at all too costly, either.
Wondering what our favorite car wash mitt is? If we had to choose just one, we'd select the Mary Moppins Pure 100% Lambswool Wash Mitt. While microfiber may be more durable, we believe that there's no beating the softness and effectiveness of genuine lambswool.
Do you have a favorite car wash mitt? Or would you like to post a word of caution to others about certain products you've tried that didn't work out that well for you? We'd love to hear from you in the comments below!