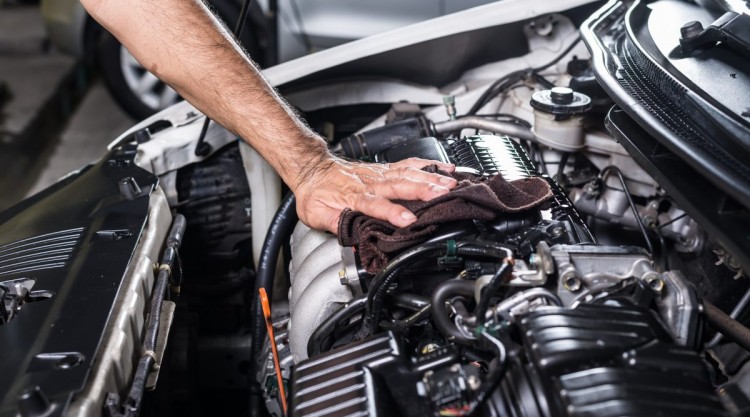 We can't say it enough that a clean car is a happy car. A happy car is going to last longer, look better, and function properly more often than one that's constantly dirty.
But there's only so much you could do with the places your eyes can see. What about the places that people don't see?
Underneath the hood of your car is a lonely place. It's often overlooked, even though the engine (arguably your car's most important component) lives under there.
If not cleaned and maintained properly, you could be reducing its serviceable life and setting yourself up for some costly repairs down the road. Always remember that regular maintenance is key.
This is where engine degreasers come into the picture and why they're so important.
In this article, we're going to dive into the world of engine degreasers, and show you just how valuable they are to you and the prolonged life of your vehicle.
Quick Links to Our Top Recommendations for the Best Engine Degreasers
Note: Clicking the above links will take you to further information, current prices and customer reviews on Amazon.
What Exactly Is an Engine Degreaser?
If you think about it, an engine degreaser is not that different from car wash soap.
It's a compound that's meant to cut into tough grease, dirt, and even residual gasoline and other types of grime, emulsify it, lift it, and remove it from a given surface.
Unlike car wash soap, though, engine degreaser is generally more specific to cleaning components and materials that one would find underneath the hood or undercarriage of a vehicle.
The engine block and metal frame aren't usually as delicate as exterior car paint, which is why normal car wash soap just won't do the job like a good engine degreaser.
Likewise, engine degreaser usually can't be used to wash the outside of a car the way car wash soap can.
Why Is Using an Engine Degreaser so Important?
Engine degreaser is specifically designed to remove tough dirt that accumulates on and around your engine. Using a different kind of cleaner will not yield the best results, and you might even end up damaging something in the process.
The following is a list of reasons why using an engine degreaser will make sure your car is the best it can be.
Prolongs the Life of Your Vehicle's Engine Components
You might think that just because your vehicle's engine compartment is covered, it stays clean. In reality, however, this couldn't be farther from the truth.
Your engine compartment isn't sealed. Therefore, dust, dirt, and grime can sneak in to more places than you might think.
Your engine and its components are also lubricated. This allows for residual oils and gasoline stains in certain places as well. The underside of your engine bay may also be quite exposed, especially if you own an older vehicle.
Grease and grime can decrease the life of various components under the hood, especially if they aren't made of strong metal materials. Rubber hoses and gaskets are particularly susceptible to soot buildup and will breakdown quickly if left uncleaned.
Helps You Spot Issues and Leaks
It's easy to spot a leak when you've just cleaned everything. Leaking lubricants becomes much more visible in a clean engine bay to you or your mechanic, especially when there's only one obvious spot there that isn't sparkling.
The most underrated aspect of cleaning your engine with a good degreaser is troubleshooting a problem. It doesn't just work with oil either. Coolant and even water leaks can be quickly diagnosed just because you took the time to clean up your engine bay.
Helps Your Mechanic
Even if there isn't a problem or leak, a professional mechanic will always be happy to see a clean engine bay. It's easier to see everything when parts are well-defined.
If you work on your own vehicle, everything will be easier for you to see as well.
Makes Your Car Look Better
The most obvious advantage of using a good engine degreaser is that it will make your engine bay stand out.
This is probably a more important benefit to those who take their vehicles to car shows. Anybody who doesn't participate in car shows can still get the satisfaction of knowing that they could if they wanted to.
Knowing that everything in your vehicle is clean and working properly is one of the most satisfying feelings you could have as a car owner.
Could Increase Your Vehicle's Resale Value
Another underrated, and often forgotten, aspect of removing the crud from your engine is that it could increase your vehicle's resale value should you want to sell it later.
Anybody looking to buy a car is going to care about how well its previous owner took care of it. Nobody wants a car that's dirty and falling apart.
Degreasing your vehicle's most important parts shows a potential buyer that the car was well taken care of by its previous owner, and that it will last for years to come. Or else, they would be hesitant to buy it off you.
All other factors equal, a clean car can often fetch at least a few hundred dollars more than a dirty one when it's time to sell. This includes the engine bay. After all, dealers don't open up a vehicle's hood on the car lot for nothing!
Can Using an Engine Degreaser Actually Be a Bad Thing?
Now that we've covered all the benefits involved, it must be said that engine degreasers do have their downsides.
Using a particular degreaser incorrectly can cause damage to the engine components under the hood.
Additionally, overspray from a particularly caustic or concentrated degreaser can do damage to paint and exterior components. In these cases, ensure you're getting something safe to use on painted surfaces.
Last but not least, using the incorrect type of degreaser for your particular needs will also prevent you from getting the results you want.
What Types of Engine Degreaser Are Available?
A wonderful thing about technology is that in almost anything you're looking for, there's all sorts of different products you could choose from to suit your specific needs.
There's plenty types of engine degreasers from which to choose, ones that can fit just about anybody's needs.
Petroleum-Based
Petroleum-based degreasers are generally considered the best for most people, because they tend to be the most effective in getting rid of most types of grease and grime.
They will clean brake dust, oil, and gasoline stains pretty effectively because they contain ethanol and petroleum distillates.
As a result of their contents, petroleum-based degreasers are often more caustic, less environmentally friendly, and more dangerous to handle than other types of degreasers. Users often complain of the chemical smell which often accompanies use.
Nowadays, many are being phased out in favor of other types of degreasers or being made differently to combat the negative effects of their chemical makeup.
Being the more traditional type of degreaser, they are also usually more inexpensive than other available types.
Pros:
More powerful than other types
Generally less expensive than other types
Widely used and easy to find
Cons:
Less environmentally-friendly than other types
More caustic and dangerous to handle than other types
Can damage paint and other parts of the vehicle if not applied carefully
Often contains an unpleasant "chemical" odor
Water-Based
Water-based degreasers are almost the complete opposite of their petroleum-based counterparts. They don't use harsh chemicals, they're much more environmentally-friendly, and they usually cost more.
Ingredients like vinegar, baking soda, and even citrus juices take the place of the caustic chemicals used in alternative degreasers. This generally decreases the product's grease-fighting ability and drives up cost, but it's also safer to use for both the consumer and the environment.
Another big benefit of water-based degreasers is that you can actually make them on your own at home if you don't want to buy one. A super easy homemade degreaser includes 2 cups of warm water, 1 tablespoon of baking soda, and some lemon oil. All you do is mix it up and spray where you need to.
Pros:
Usually safe for a wider variety of components because they don't contain harmful chemicals
Environmentally-friendly
Some offer comparable degreasing power to other types due to better technology
Cons:
Generally more expensive to buy than other types
Still generally lag behind other types in cleaning ability
Foam
Foam degreasers make up the minority of mainstream engine degreasers, but they can be found.
Foam degreasers aren't really a separate type on their own, but they do offer a separate set of benefits and drawbacks from other types.
They can be water or petroleum-based, but unlike other types, foam degreasers usually don't require any kind of rinsing with water. Similar to waterless car wash soap, foam can be sprayed, left to eat away at the grime, and wiped dry.
Another benefit is that foam clings to surfaces better than other types of sprays that need to be rinsed away.
Pros:
Simple to use: just spray and wipe
Clings to surfaces better than other types
Offered in petroleum or water-based formulas
Cons:
Harder to find
Can be more expensive than other types
How Do I Choose the Best Engine Degreaser for My Car?
Each vehicle and each person has different needs. Fortunately, there's always going to be an engine degreaser that's right for you no matter what your needs are.
Water-based degreasers are great for those who are environmentally conscious. They work well for someone with a newer vehicle that might not have the wear of an older vehicle, as they aren't as powerful as non-water-based products.
Petroleum-based products are great for those who need to save a buck or two. They will break down the toughest grime with their chemical makeup. Those who are sensitive to smells may want to stay away, though.
For the simplest and most restricted of folks, there's the foam option. You can get it, spray what you need to, and wipe clean.
For anybody else, there's a lot of crossover between all types of engine degreasers. There are even degreasers that can be used on a wide variety of items, including household objects. This could save you money by allowing you to buy a catch-all cleaning product.
Whether you've never used an engine degreaser before or you're an absolute stickler for cleaning your vehicle, there are so many benefits to keeping your engine clean.
In fact, you may end up saving yourself thousands of dollars by getting a little dirty and sprucing up the part of your vehicle that everyone seems to forget.
Using engine degreasers to clean your engine bay may sound intimidating. Some parts of it can be, that's for sure, but that's not an excuse for anyone to skip doing this.
You can have a dramatic effect on the longevity of your engine and its parts by simply following the instructions on any degreasing product. You won't regret it either when your friend's car starts running a little rough while yours just keeps on going!
Best Engine Degreasers – Our Top Recommendations for 2023
Now that we've had a look at what exactly an engine degreaser is, what it does and how you would benefit from using one – let's have a detailed look at what we believe to be some of the best engine degreasers of today, some of which professionals in the field use for engine detailing purposes.
Meguiar's Super Degreaser
To start our list off, we have the Super Degreaser from Meguiar's. This product has strength, is fast acting, and capable of breaking down some of the toughest grease you could possibly test it with. We're talking about the kind that's been plaguing you for years.
First of all, Meguiar's is a reputable brand, known for producing reliable products for all types of motorheads.
Power is the name of the game with this super degreaser. The minute this product touches grease, it gets to work on breaking it down. Simply leave it on for a couple of minutes to work, and then wipe down or wash away with clean running water.
One of the main features of this engine degreaser is its streak-free formula. We all know how disappointing it feels when a newly cleaned engine is full of white stains left behind by the cleaning product. But ,thanks to Meguiar's specially formulated product, you won't be left with residue afterwards.
This product also seems to be multi-purpose. While it's advertised as an exterior cleaner, many motorists say they use it on the interior as well – and they swear by its effectiveness.
By diluting the solution with water, they have successfully applied it to seats, dashboards, and upholstery. Of course, always read the instructions thoroughly before trying something like this out, and do a test run on a small area first before going all out.
This product comes in a 1-gallon container, but is meant for use as a spray-on solution – so you'll have to transfer it to a spray bottle.
Manufacturers Specs and Feature List
1-gallon container.
Fast and strong formula.
Residue-free, spray-on solution.
Fresh herbal fragrance.
What We Like
Super easy to apply and works fast.
Will remove grease, soot, and dirt, among other things.
By diluting it you can use it on different surfaces.
Won't leave white stains or streaks.
What We Don't Like
The herbal fragrance isn't a favorite with everyone.
Summary
If you're looking for a tough degreaser that will do the job thoroughly, without leaving streaks, then this might be just the one for you.
It's easy to apply and wipe down or wash away – plus, you can even use it on the interior.
Click here for more information about this product.
Simple Green Crystal Industrial Cleaner/Degreaser
For our next product, we're taking a trip to the other end of the spectrum with a biodegradable degreaser. This example from Simple Green is very different from what we're used to seeing.
First things first, as opposed to the usual green color you see with engine degreasers, this one is crystal clear.
In fact, it's called "Crystal" because it has no added colors or fragrances and is water-based. This is certainly a huge plus for users who work inside garages or other poorly ventilated areas, where fumes can have adverse effects.
But the main attraction of this product has got to be the fact that it's an all-purpose cleaner. For example, you can use it on your truck and then bring it to the kitchen to clean a greasy countertop. Because the formula is biodegradable and non-toxic, it won't cause corrosion and it isn't flammable.
Despite its green credentials, this doesn't take anything away from how effective it is. It has a high concentration, so it's recommended that you dilute it to suit your needs.
It works fast and seems to get most, if not all, of the grime and grease away.
You can use it on almost any type of metal and even stainless steel. Follow the instructions and dilute the solution in a spray bottle for the best results. This makes for easy application, as well as making the most out of the product.
Manufacturers Specs and Feature List
1-gallon container.
All-purpose degreaser and cleaner.
Fragrance and color free.
Non-toxic, non-corrosive, biodegradable, and non-flammable.
Highly concentrated formula.
What We Like
You can use it for a range of purposes, from a car engine to a kitchen surface.
No added colors or fragrances.
Biodegradable and easy to rinse off.
Easy application.
Highly concentrated, so a little goes a long way.
Helpful dilution chart on the back of the bottle.
What We Don't Like
Some users found that it wasn't as effective as the original Simple Green.
Only for use on washable surfaces, as you'll need to rinse it off afterward.
Summary
This product is a major step for Simple Green, away from their usual scented and colored products that not everybody appreciates.
It's effective on nearly all grease-covered surfaces and isn't too heavy on the wallet, which is a huge plus considering that it's eco-friendly.
If you think this might be a good choice for you, click here for more information about this product.
Gunk FEB1 Foamy Engine Brite Engine Cleaner
Our first foaming engine degreaser recommendation on this list, and it's from none other than Gunk.
This product is both fast and efficient, and works well dissolving the grime and grease build-ups under the hood and other places. Gunk has been producing engine degreasers for over 55 years now, and is the number one brand for many.
It will work to dissolve and remove grease, grime, soot, and road dirt. Basically, you can rely on it to work on removing just about all of the components that can corrode an engine if left unchecked.
You'll be amazed at how easy it is to use, too. Because it's a foam-based degreaser, it will leave the area covered in a white foamy solution when you spray it on. Leave it to work for 15 to 20 minutes (depending on the severity of the grease you're dealing with) and then rinse it off. It comes in a convenient 17-ounce spray bottle.
Depending on the area, you won't need much scrubbing to clean away the grime. In fact, it's advertised as a spray-on, wash-off product with no scrubbing required.
Another major plus is that it sticks to vertical surfaces – you know, those hard-to-reach places under the hood. A lot of products out there seem to slide off before taking effect, but Gunk's formula really seems to stay put until you're ready to clear it off.
It can also be used on a variety of vehicles and machines – this includes cars and trucks, ATVs, RVs, lawn mowers, bikes, and watercraft. This degreaser is intended for engines that have plastic covers.
Manufacturers Specs and Feature List
17-ounce bottle.
No-scrub formula.
Safe on all parts of the engine.
A foam-based solution that sticks well to vertical surfaces.
Removes grime, grease, and dirt.
For use on engines with plastic covers.
Easy to rinse away with water.
What We Like
You can use it all over the engine.
Very easy to apply and rinse off afterward.
Works efficiently.
You can apply it to plastic covers.
For use on a range of different engines and vehicles.
Will stick to vertical surfaces.
What We Don't Like
The product is flammable, so rinse thoroughly with water afterward to avoid a potential fire hazard.
Although it cleans well, it's not a heavy duty cleaner. For tough spots, you'll need some elbow grease.
The spray nozzle is quite small and doesn't cover a large area when spraying. Not everyone wants to cover a large area, though, so this isn't always a problem.
Summary
If you're looking for an easy-to-use everyday product, then this might just be it.
This foam-based degreaser from Gunk is milder than some, but effective enough at getting the grease, grime, and dirt off your engine.
For further information about this product, click here.
Krud Kutter Original Concentrated Cleaner/Degreaser
The next product on our quest for the best engine degreasers is a little bit different than the rest. This option is not specifically made to degrease engines, it's rather a good option for grease just about anywhere. We're talking about the Krud Kutter concentrated cleaner — and it's a popular choice for a good reason.
This product is water-based, so it's a biodegradable formula, non-toxic, non-flammable and free of xylene. It doesn't contain any of the harmful chemicals found in petroleum solvents, ammonia, or bleach. This isn't without its drawbacks, though, as this also makes it quite mild when compared to some of the other products out there.
Nevertheless, you can use it on almost all surfaces. It's meant for use on ladders, tiles and other building materials, but it also works very well on a greasy engine, without leaving a trace of harmful chemical residue.
This may not be the perfect product for the car enthusiast looking for an engine-specific formula, but this degreaser is nonetheless an excellent choice for the everyday driver or family guy.
This will not only cut through grease, but should also be able to take care of that crayon mark your kid left on the upholstery in the backseat. It can even be used on carpets in certain situations.
As a regular cleaning product for those difficult stains, this degreaser is very user-friendly. You simply spray the solution on the area, leave it to work, and then use a brush to scrub it clean away. Several different sizes are available, from a single 32-ounce spray, to a 5-gallon bucket. Some packs even include a 2-in-1 brush.
Manufacturers Specs and Feature List
Various sizes to choose from, ranging from a 32-ounce spray bottle up to a 5-gallon container.
2-in-1 brush included in some bundles.
Multi-purpose formula.
Water-based, non-toxic, and eco-friendly.
Safe for home and work.
What We Like
Excellent for multiple cleaning purposes—engines, children's "artwork," tiles, and many others.
Free of toxic chemicals and biodegradable.
You'll receive an included brush.
Easy to apply and scrub off.
What We Don't Like
Mild formula, may not be the best option for tough cleaning jobs.
Requires quite a lot of elbow grease at times.
Some people mention that it's not so good at dissolving oil stains.
Summary
If you're looking for a product that you can use for different purposes, then look no further – this might be what you've been searching for all along.
Because it's water-based and non-toxic, you can use it on the engine as well as on indoor surfaces.
If you're keen for some more information about this product, click here.
Chemical Guys Signature Series Orange Degreaser
Our next recommendation is the Signature Series Orange degreaser from Chemical Guys. As opposed to the multi-purpose product above, this one is specifically made for everything in the garage.
When we say everything, we mean everything — the garage floor, tools, engine, under the car, the tires, and wheels.
As the name suggests, this degreaser screams orange, but that's not just for decorative purposes. You might have guessed it already, but if not: this product is mainly based around natural citrus.
Citrus extracts are helpful in many ways, and, when combined with the right chemicals, create a grease-cutting formula. As you apply it to the area, it will penetrate and readily separate the grime from the surface. It can cut through motor oil, hydraulic fluid, diesel, coolant, and more.
Additionally, it can also clean your tires from dirt, mud, and whatever else they manage to pick up on the road. You can even use it on the undercarriage and suspension if need be.
This is definitely one of the most heavy-duty products on our list. It seems that pretty much whatever grease, dirt, or soot it touches dissolves fast and effortlessly – and not much can stand in the way of its prowess.
Some of you will also appreciate that it's safe to use on other surfaces as well, such as chrome and titanium exhaust tips. Still, tread carefully and do a patch test with a tiny amount on a new surface before applying all over. If the results aren't what you expected them to be, damage will be minimal.
To use, you simply spray some solution on the area and let it sit for a while, then rinse with water and the grime should fall off.
Manufacturers Specs and Feature List
16-ounce spray bottle.
Citrus-based formula.
Works to remove grime, grease, dirt, and debris.
Good for use on engines, tires and rims, the undercarriage, machinery, and tools – among other uses.
Fast at loosening and emulsifying oil, grease, and grime.
Highly concentrated, to be diluted as needed.
What We Like
Super citrus formula.
Works fast and effectively to remove tough stains.
Can be used on a variety of surfaces, from floors to titanium exhaust tips.
Pleasant citrus smell.
Highly concentrated, but you can dilute it as needed in order to use on other places.
What We Don't Like
Fumes can be tough on eyes and throat, so it's best for outdoor use.
Has the potential to leave a stain on some surfaces such as the dashboard.
Summary
If you're on the hunt for a heavy-duty product, then look no further than this. The Chemical Guys got it right with this citrus-based formula, being an option you can use on nearly everything in your garage.
For more information about this product and to find out how much it costs, click here.
Superclean Purple Super Clean all Purpose Cleaner/Degreaser
This is a product that lives up to its "super clean" name. Tough Task from Super Clean is one of the best all-purpose degreasers many of us strive to have as part of our toolkit.
Depending on how much you dilute it, you can use it indoors for appliances, fireplaces, and even laundry. You can also take it outdoors to tidy up stainless steel grills, concrete driveways, and lawn mowers – but most importantly, it will clean that greased-up engine of yours, or even various other parts of your car, outside and inside.
At its highest concentration, you can apply it directly to your engine, tires, and undercarriage. You simply spray it on, leave it for a while, and then wipe away before rinsing. At a lower concentration, it can be used to clean floor mats, vinyl seats, upholstery, and even chrome surfaces.
You might be surprised by the fact that it's actually a water-based solution. This means that it's quite safe, but not necessarily any less effective than some of the other non-water based solutions on the market. Super Clean also managed to formulate this without phosphate, so it's biodegradable and won't cause anything hazardous.
When considering the power of this cleaner, it's mind blowing how mild the formula actually is. Super Clean claims that you can dilute it down to 16:1, and still get the surface clean. Still, we would recommend you use gloves when you are handling this degreaser.
The last thing we'll mention is that one bottle of this stuff will go a long way, unlike some of the other products out there that you'll go halfway through before you even notice it.
Manufacturers Specs and Feature List
256 fluid ounces in the bottle.
Twin pack bundle.
Dissolves grease upon contact.
Removes oil, grime, wax, tar, and dirt.
Water-based formula that's powerful, yet biodegradable and free from phosphates.
Can be diluted down to 16:1.
Compatible for use on a range of surfaces including engines, car floor mats, tiles, tools, and RVs, among others.
What We Like
Powerful yet eco-friendly.
Excellent for use on almost any surface.
High concentration, but easy to dilute to suit your specific needs.
Removes most – if not all – the tough spots such as wax, tar, oil, and grease.
A little goes a long way.
What We Don't Like
You might need some elbow grease on tougher stains.
Summary
For a relatively mild degreaser, this product from Super Clean is amazing. You can dilute it to your requirements and use it on all types of surfaces in the car, from the engine to the vinyl seats.
If you think this one's for you, click here for more information about it.
How to Use an Engine Degreaser to Clean Your Engine Bay
Properly using an engine degreaser doesn't have to be difficult. It's often portrayed as harder than it needs to be.
With that being said, extra steps do need to be taken in order to keep the degreaser away from more sensitive parts of the vehicle.
If you follow the instructions given by the manufacturer, you will have accomplished the desired results.
Let's walk through the steps you will need to take to prepare your vehicle and make sure all its components are protected through the entire cleaning process.
Step 1: Read the Instructions and Manufacturer Warnings
First things first, it's important to read all the safety instructions and warnings on the product before you do anything else.
So many people – probably you and I included – like to jump right into a project because they think they know what they're doing. When dealing with chemicals or cleaners, that's never a good idea.
Avoid the mistake of assuming you know exactly what to do just because you may have done this before. It may save you time, hassle, and an expensive repair.
Step 2: Gather the Necessary Materials
1) A mat or drip pan: We suggest that you use a pan or a mat to soak up any degreaser that may drip. Not all products will have this problem for you to deal with, though. Using a petroleum-based degreaser will necessitate a drip pan or mat so that harmful chemicals will not get leaked into drains, the yard, or the street.
2) An air compressor: Using compressed air to rid any surface of excess dust can be very helpful, thought not necessary.
3) Microfiber cloths: Microfiber cloths are a staple of any automotive cleaning job. You can use these for just about anything you need, from drying a wet surface to getting rid of that little extra spot of dirt.
4) Water: Another staple of cleaning anything car-related, water can be used to rinse any applied degreaser after it's done its work.
5) A brush: You may use a brush similarly to how you would use compressed air. You can also use a brush to clean spots that are extra greasy or difficult to get to. Depending on the material of the part you're brushing, a wire brush or one with plastic bristles can be used. Wire brushes are great for metal surfaces and a plastic brush can be used on plastic and rubber.
6) Protective material: Sandwich bags, plastic wrap, or any other kind of protective material will be needed to cover sensitive areas of the vehicle's engine compartment.
Step 3: Prep the Engine Bay
The engine bay contains much more than just the engine, especially on newer vehicles. There are wires, hoses, sensors, and computer modules all over. It's important to cover every electrical component and other sensitive parts of the engine to prevent shorts and electrical failures from chemicals or water.
If you aren't sure of each component's location, just refer to the owner's manual. Missing a sensor and spraying it with water could easily cost you a few thousand dollars in damage.
Older vehicles are similar and may not have as many electrical components to them. Parts like the distributor and carburetor will need to be masked.
Any kind of intake points, holes, or air filters will need to be covered as well. It's always a good idea to disconnect your battery, starting with the ground first. This will prevent any kind of electrical shorts or major issues.
Step 4: Prep Any Other Areas Susceptible to Overspray
Because the hood will need to be open, be sure to cover any adjacent parts of the automobile susceptible to overspray.
Fenders, headlights, and even the base of the windshield are all places to consider, especially if the degreaser of your choice doesn't have a concentrated spray nozzle for you to use.
Step 5: Apply the Product
Each product will be a little different, so make sure to apply each product exactly as the manufacturer recommends in their instructions.
Some will need to be mixed before applying to cut the concentration levels, while others can simply be sprayed directly from the bottle.
Be aware of what materials aren't included in the instructions. Plastic and rubber are widely used and sometimes can't be sprayed with certain degreasers. Damage could occur.
Step 6: Rinse/Remove the Product
If the product is one that requires rinsing with water, you should always use the most gentle and widest spray setting available to you. Using a hose with a lot of pressure can cut through more delicate portions of the engine compartment and can destroy sensors.
On the other hand, some degreasers don't require any water at all. Damage can still occur by dislodging components and wiping too hard or bumping them with a part of your arm, though.
You can always "rinse and repeat" as needed depending on the amount of dirt buildup you're dealing with.
Step 7: Finish It off Right
Engine degreasers aren't the be-all, end-all of engine bay cleaning. Finishing the entire job with a coat of engine protectant coats the surfaces you just degreased with an oil or wax to keep grease from sticking again.
Not only will doing this make your engine bay shine a little brighter, it'll also make any future cleaning you have to do much easier.
For an example of how to do all this, be sure to watch this easy video on degreasing your engine bay.
Is There Anything Else I Need to Know Before Using an Engine Degreaser?
There are always a few tips and tricks we have up our sleeves that don't really fit anywhere else. Here are some of the best pieces of advice we can give on a few miscellaneous items.
Flammable Engine Degreaser
Many chemicals are flammable. Some used in engine degreasers are the same. It's always a good idea to let a vehicle cool down before doing anything with the engine, but it's even more important to do so if you're using a flammable degreaser.
In addition to burning yourself, you could cause a fire. A good rule of thumb is that if you can touch the engine with your bare hands for three seconds without getting burned, you're good to go ahead and degrease to your heart's content.
It's also important to note that you shouldn't start the vehicle and run it immediately after application of any flammable degreaser. If you absolutely must do so, make sure that each part of the engine bay is thoroughly rinsed and wiped down to prevent a fire.
Warm up the Engine
In contrast to what we just said, it does help to warm up a cold engine just a little bit. Running the vehicle for 5-10 minutes will go a long way in helping to loosen any grime. Heat always makes dirt and grime a little easier to lift.
Not All Engine Degreaser Is Harmful to Other Materials
If you're 100% sure that the product you're using is safe on things like paint and plastic, you may not need to cover as many things in the engine bay.
Regardless of the product of your choice, electrical components will still need to be covered if you're going to be using water at any point.
Engine Degreasers Can't Get Rid of Engine Sludge
Engine sludge is a little different than the grime that gets caked on to the engine and its components on the outside.
Engine sludge is the buildup of broken down, thickened oil – primarily inside the engine. In layman's terms, it can build up around the engine, but it usually has a dramatic effect on the actual moving components and performance of the engine itself.
The dirt we have been talking about comes primarily from lubricant leaks, outside sources, and buildup over a long period of time. Getting rid of engine sludge requires separate additives and products that work to break down the deposits.
Conclusion
It's essential you get and use an engine degreaser for regular maintenance purposes, both for your vehicle's performance and wellbeing, as well as its resale value should you decide to sell it down the line.
Of course, you can always take your ride to a mechanic to take care of all of this for you, but you don't always need to. All you need to do is know what yo look for in an engine degreaser, and follow a few simple steps from A to Z to get it cleaned up. It's not rocket science!
Do you have any questions regarding engine degreasers? Let us know in the comments section, and we'll be sure to answer you as soon as possible. Other than that, if you have any other thoughts or experiences you'd like to share for others to learn from, then please do that as well. We always love hearing back from our readers!