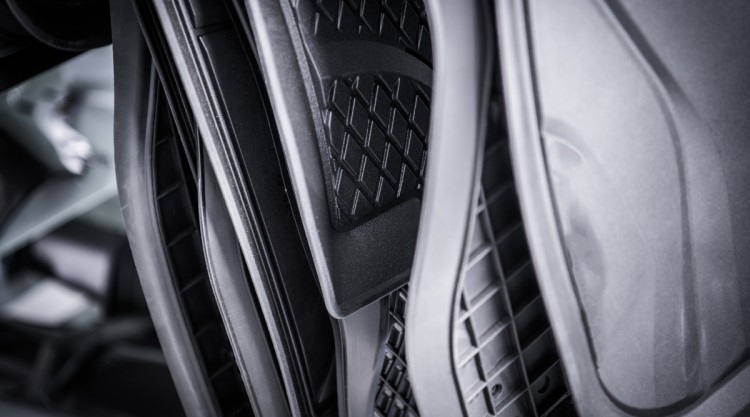 You step on them every day and probably don't pay much attention to your car's floor mats until they become a dirty mess and are in desperate need of a wash.
Sounds like something you're guilty of doing? I know I used to be!
Car floor mats are a very important accessory in our vehicles, and they're not just there to make interiors look good and keep messes at bay. On the contrary, they serve many functions.
In this article, we will be looking at some of the most important roles they play and benefits they have to offer our vehicles, the different types available for you to choose from, as well as a list of some of the best car floor mats on the market today.
Quick Links to Our Top Recommendations for the Best Car Floor Mats
Note: Clicking the above links will take you to further information, current prices and customer reviews on Amazon.
What Are Car Floor Mats?
These essential vehicle accessories are used to help protect your interior from the rigors of everyday use, dirt and salt corrosion.
Car mats take a lot of mistreatment as they are the first point of contact in a vehicle. People step on them all the time, pets scratch them, a lot of stuff is placed on them, and then you have weather elements they protect against.
So, your car floor mat's life isn't easy!
How Do Car Floor Mats Work?
First things first, these accessories come in all sorts of different shapes and sizes.
Most will feature grooves and ridges that help trap dirt, spills, and water to keep it from escaping onto the car's bottom surfaces. All of this makes it easier for you – just remove the mat, clean it, then put it back.
Some of them fit loosely in the car, while others may require fixation points to ensure that they stay in place. You can also find styles that feature small spikes on the underside to enhance their grip on the carpet.
Benefits of Using Car Floor Mats
Think your vehicle's interior can survive just fine without the help of floor mats? Think again!
Here are some key reasons why you need to consider using these:
Protects Your Vehicle's Floor
From the main interior of your car to the cargo area, these floor mats are designed to take one for the team, and they don't complain about it!
They trap dirt, snow and rain, and handle any hauling of the stuff we put in our cars. This protects your carpeting from all sorts of damage.
Easier to Clean
Imagine cleaning out your vehicle every time something spills on the carpet or your pet's hair falls. Not exactly the definition of having a good time, is it?
Perhaps the area you live in receives a lot of rainfall on a regular basis, meaning you and your passengers are constantly tracking in mud.
Car floor mats are much easier to clean than having to scrub or vacuum the carpet every time. Some stains will be harder to get rid of (if not permanent) and would leave an ugly mark if wasn't for the protection that mats provide.
Besides all of this, too much cleaning will wear out the carpet fairly quickly.
Increase Your Car's Resale Value
The interior condition of your vehicle will affect how much you can get for it when selling. Poorly maintained and worn-out carpets are usually some of the first things your potential buyers will notice, which means you'll be getting less money for it.
Mats can help eliminate this problem by protecting the body carriage from long term damage. As a result, this can help retain your vehicle's resale value and earn you a larger chunk of cash.
Give Your Car Some Personality
Car floor mats come in different colors, styles, and prints – and they can also be customized to suit your vehicle.
It's surprising how much this can brighten up your vehicle's cabin, and even give it a completely different look. The increased aesthetic appeal can add some much needed personality to your ride!
Reduce Risk of Mold
What's that awful smell? Carpets are susceptible to mold.
When moisture finds its way into the carpet, it will create conditions for mold to grow. The thing with mold is that once it starts growing, it multiplies, spreads fast and becomes odorous.
While just the thought of having mold in your ride is plain gross, did you know it is also responsible for many respiratory problems? It can aggravate allergies and breathing problems for those who already have them.
You may not be able to prevent moisture from getting into your vehicle, but you can minimize its effects. Using waterproof car floor mats will help keep your interior dry and free from mold.
Oh, and you might also want to consider getting a car air purifier as well – it helps, big time!
Cheaper in the Long Run
A ruined carpet that requires replacement altogether is far more costly and may strain your budget.
Investing in a good set of car floor mats will reduce the need to re-carpet — and they tend to be much cheaper than replacing carpets altogether, too!
Environmentally Friendly
Most car floor mats are designed for durability and should last for several years. (Don't take that for granted, though, as you still have to take good care of them so they last you for a long time).
They also have a relatively low impact on our environment. The environmentally-conscious consumer will be happy to know that they can find eco-friendly car floor mats on the market nowadays.
Types of Car Floor Mats
There are lots of different types of floor mats that you can choose from for your car, and there's bound to be one that best suits your personal needs and budget. The two main types are rubber and carpet:
Carpet
Made of nylon or polyester fabric, these mats are similar to the carpets you'd normally find at home or in the office.
They are easily available, generally (but not always) the most affordable of the bunch, and come in universal sizes. They are also quite attractive since they come in an array of colors, which can greatly improve your interior aesthetics.
However, carpet mats soak up fluid spills and are also susceptible to staining. They require frequent cleaning to keep them looking good and have a shorter lifespan when compared to other types. They're also likely to slip easily.
Be sure to check the sizes carefully before buying, too, as you're unlikely to be able to cut these to fit.
Rubber
These types are durable, so you can expect that they'll be around for a long time. They are also quite safe since they're unlikely to slip or obstruct pedal use.
Their surfaces are textured and they retain moisture or dirt until you can remove it.
Most rubber mats are black in color, so there isn't much in the way of aesthetic appeal. With that being said, when buying rubber versions, try to look for those that are specific to your vehicle, rather than going universal.
Also try looking for ones made from flexible (yet durable) rubber.
All-Weather
Through the rain, snow, and sunshine, be it winter or summer, all-weather mats are great for all seasons and can aptly handle extreme weather conditions. They will resist water and other fluids, and will contain most (if not any) spillage until you're able to remove it yourself.
These products don't skid or slither around the car floor, making them very safe for use. They are also durable and usually come in different colors for you to choose from.
All-weather floor mats are easy to clean and maintain. In many cases, you'll only need to shake the mat and brush off the dirt, and you're ready to go.
3D
These styles are premium, custom-fit products and are usually the most expensive of the bunch.
These mats fit perfectly on the car floor and you can expect that they will give your car's interior a high-end ambiance – which is why they tend to cost more than the other types.
Made of polymer, which is water resistant, they trap dirt and spills in their grooves but they don't soak up any fluids. This means that you may need to clean them regularly in wet weather.
3D mats contain anti-skid properties, but may require re-adjusting every so often to keep them from obstructing pedal use.
Is There a Difference Between Floor Mats and Floor Liners?
There absolutely is! To have a practical idea of the difference between car floor mats and floor liners, think of the former as sectional rugs and liners as wall-to-wall carpeting.
Floor mats are normally flat on the bottom, whereas liners are shaped to the contours of the vehicle's floor. Liners feature raised edges around the perimeter of the footwells, which helps trap dirt and spills better.
Liners are usually custom made for a specific car, while mats can be either custom-made or have a universal application.
What to Look for in a Car Floor Mat
Now that we've gone over just how important car floor mats are for your vehicle, the following is a list of important things to keep in mind while you're browsing for the ideal product:
Size (and Shape) of the Mat
Most of these products you'll come across when shopping around are universal, meaning that they are made to fit and be compatible with any vehicle. That said, this doesn't mean there isn't anything you'll need to do. Sometimes, you may need to trim the edges to fit your specific floorboard space.
Additionally, some vehicles are contoured a little differently, meaning a standard size may not fit. If you're buying a mat online, it pays to check the dimensions as well as the shape of both your car space and the product before making a purchase.
Before buying a universal floor mat, check first to see if the manufacturer makes products that are specific to your type of vehicle.
Just in case you'll need to do so, here's a video on how to trim a universal floor mat to fit.
Custom Fit
Are you going for a customized look? A custom fit will match the exact space of your car while taking into consideration any special contours. It will also ensure that the space you want to protect is fully covered.
With a custom fit mat for your car, you may also be able to choose a color that matches the interior of your vehicle. This kind of luxury may not be available with a universal type of mat.
Frequency of Use
How often you use your vehicle can make a huge difference in the type of mats you require.
For example, if you don't use your vehicle too frequently, or if you avoid taking it out of the garage in bad weather, a carpet floor mat could work for you.
Where You Live
Does your region receive a lot of rainfall on a regular basis? In that case, you'll want to think carefully about the product that's best suited for your car in such circumstances.
An all-weather car floor mat will offer superior protection and resistance compared to any other type. On the other hand, if you live in a low rainfall region, you can likely get by just fine with normal rubber or carpet varieties.
Durability
Certain types wear out with frequent use.
The materials used to make the product will almost always determine just how durable (or not) it is. Ideally, you'll want to look for one that will last several years without needing replacement.
Ease of Cleanliness
Since these floor mats get dirty pretty fast, they should be easy to clean.
Look for a mat that does not stain, as this will make cleaning easier and less time consuming for you. Carpet styles may give you some trouble when it comes to cleaning, so you might want to think twice before buying those.
A good car floor mat should only ever require a brush and water to get rid of the dirt. As we have seen above, those made of rubber are much easier to clean.
Grooves
Grooves help channel fluids to the mat's basin.
They are particularly important if you get a lot of spills, moisture, or mud in your car. A family car, for example, may require floor mats with grooves.
Ridges
Ideally, ridges should be high, so as to create a deep dish on the car's floor. This dish will keep any fluids, dirt, and mud within the mat's perimeter and avoid spillage.
Anti-Sip Back
If you were to get something that doesn't stay in place, this can cause all sorts of problems – including accidents.
Ensure that the backing of the product has teeth or nibs that can be sunk into the car's carpet. Some styles have holes that can be mounted with hooks in the vehicle.
Whichever one you choose to buy, ensure that it has anti-slip and anti sliding properties.
Thickness
The likelihood of a thick mat roaming under your feet is much less than that of a thin one.
Thicker versions are also quite durable and do not crack or curl easily. If you come into contact with mud or snow, thick car floor mats will likely serve you better.
Odor
Mats that emit toxins or fumes are a health hazard. Don't underestimate this, as they can negatively impact the health and safety of whoever happens to be in the vehicle.
For this reason, manufacturers are obligated to use odorless materials. You still need to be on the lookout for this and double check first before buying any car floor mat, though, as not all are manufactured to adhere to these standards.
Mistakes to Avoid When Purchasing Car Floor Mats
Here are some common mistakes that you should be aware of when shopping for car floor mats – ones you should avoid doing yourself:
Going for the cheapest products on the market: Chances are that these products are also low quality and will not last long, among other shortcomings.
Getting a poor fit: A good mat should not obstruct any important features of your vehicle, such as the brake or gas pedal. Additionally, a product that does not fit well will not protect your carpet as it should – it may allow spills and dirt to pass onto the car floor and ruin it.
Using the wrong mats: You must buy a product that is specifically designed to fit vehicles. Never use a walk-mat or any other rugs from your home for your car.
Best Car Floor Mats — An Inside Look at Our Top Recommendations
So far, we've looked at just how beneficial these accessories are to your ride and what to look for when buying these products.
In this section, we will be reviewing some of the best floor mats (in our opinion) on the market.
Husky Liners 53341 Front SuperCrew Cab
Looking for the perfect liners for your truck? The team at Husky use the latest and patented technology to measure every make and model's floorboard to ensure that the end product is a perfect fit.
What you get is a floor liner that fits seamlessly with your vehicle and doesn't look like an inferior aftermarket addition.
One of the best features of these liners is their deep channels which make for better drainage. They will trap any spills, sand, mud and other dirt – and will do an excellent job at keeping them away from your feet.
They are heavy duty and strong, yet soft enough to keep you comfortable.
Safety is not overlooked with the Husky Liners. Their patented StayPut Cleats dig into the car floor to prevent the liner from shifting.
Features and Specifications
Product number: 53341.
Location: Front row.
Color: Black or cocoa.
Materials: Thermoplastic elastomer.
Vehicle category: Truck and SUVs.
What We Like
Comfortable soft feel.
Custom-fit
Premium look.
Great for all types of weather.
What We Don't Like
Only available for SUVs and trucks.
Summary
If you've got an SUV or truck, the Husky liners use the latest technology to create the perfect fit for your floorboard which maximizes protection.
With these, it's not just about the car – your comfort is also taken into account. They are also great for all kinds of weather.
If you'd like more information about them, click here.
Armor All 78840ZN All Season Rubber Floor Mats
As the name suggests, this 4-piece set provides full protection regardless of the weather, and does so at a reasonable price.
The are made of high quality and durable rubber that will keep any spills or dirt from reaching the carpet. They are sturdy and will not crack, curl or harden in extreme temperatures.
A great feature of the Armor All rubber mats is the carpet claw anti-slip technology that is designed to secure the mats in place. This ensures that the mat is not slithering around while you're in the driver seat.
These mats are extremely versatile and the universal fit is suitable for cars, SUVs, and trucks. All you need to do is trim them to fit your floorboard.
Features and Specifications
Product model number: 78840.
Location: Front and back rows (2 front and 2 back).
Colors: Black, gray, or tan.
Materials: Heavy duty rubber.
Vehicle category: Cars, trucks, and SUVs
What We Like
All-season protection.
Anti-slip carpet claw backing.
Able to withstand extreme temperatures.
Available in a choice of colors.
Slim but durable, and will not curl.
What We Don't Like
Not always trimmable: Trimming to fit may not always work.
Tend to give off a chemical odor for the first couple of days.
Summary
These universal mats for cars from Armor All offer an effective and easy solution for a variety of vehicles.
They are lightweight, waterproof and designed for use in any weather.
To check out more information about these and their price, click here.
Motor Trend MT-923-BK FlexTough Contour Liners
This eco-friendly set provides an excellent solution for trapping fluids, snow, mud, and debris that come your way.
Made with an inverted shell design, the deep dish has specially engineered channels that capture and hold onto water and other forms of dirt until you are ready to remove them.
It also has built-in ridges that are high enough to prevent any spillage. Additionally, they're heavy-duty, durable and made using high-quality rubber that will not crack under extreme weather.
One other great feature about these is that they are customizable – you only need a pair of scissors to trim the mats to fit your floorboard.
Features and Specifications
Product model number: MT-923-BK.
Location: Front and rear.
Color: Black, beige or gray.
Materials: Heavy duty rubber.
Vehicle category: Cars, SUVs, vans, pick-ups, and trucks.
What We Like
Eco-friendly materials used.
Caters to a large category of vehicles.
Easy to customize.
Non-slip nibbed backing
Can withstand extreme temperatures.
What We Don't Like
Trimming the mat might reduce effectiveness in certain situations.
Summary
The Motor Trend floor mats are well thought-out, especially in terms of materials used and design. Their universal design allows you to easily customize them to suit your vehicle.
If you'd like to know more about these, click here.
BDK Proliner Heavy Duty Rubber Floor Mats
If you're looking for rubber floor mats with extra high ridges for added protection, your solution just might lie in these BDK Proliner mats.
This special feature allows liquids, mud, snow and other dirt to be trapped easily – and you can then dispose of it at your convenience whenever you have a minute.
These universal all weather products are durable and can withstand extreme temperatures. When we say extreme temperatures, we're talking about both sides of the spectrum – whether you're looking at extreme cold or harsh heat.
This is a great advantage these have over other products on the market, ones which are quite limited and can only deal with extreme cold, and not harsh heat.
Additionally, they have a strong anti-slip backing to keep them firmly in place.
Features and Specifications
Product model number: MT-738K
Location: Front and rear.
Color: Black, tan beige or gray
Materials: Heavy duty floor protection rubber.
Vehicle category: Cars, SUVs, Vans, Pick-ups, Trucks
What We Like
Extra high ridges.
Easy to clean.
Customizable sizing.
What We Don't Like
The rubber smell might take a while to go away.
May not provide adequate floor coverage in some vehicles – be sure to check measurements carefully before buying.
Summary
The extra high ridges on the BDK Proliner mats make them ideal for areas that experience regular rainfall or snow.
They will also be a good choice if you're looking for an easy fit without much hassle, and should fit most vehicles. With that being said, do make sure you get the measurements part on point before buying.
To know more about this product, click here.
FH Group FH-F14408 Carpet Floor Mats
Looking to touch up your vehicle's interior with some stylish floor mats? These combine carpet with faux leather to provide a durable material that will give your car's interior a lovely edge as far as looks go, while still protecting the vehicle's carpeting.
These universal mats not only look good, they will also do a good job at trapping all the debris underfoot while keeping your driving comfortable. The heavily nibbed backing also ensures that they stay in place.
The numerous color combinations available will ensure there's a product to match your vehicle's upholstery – one you'll feel super proud of showing off to whoever hops in the car with you!
Features and Specifications
Product model number: F14408
Location: Front and back rows (2 front and 2 back).
Color: Several combinations
Materials: Carpet/PU leather.
Vehicle category: Cars, SUVs, Vans.
What We Like
Easy to clean.
Stylish.
Lightweight.
Durable materials used.
Many color choices.
What We Don't Like
Not easy to trim – can't be customized by cutting.
Summary
These mats are great for anyone looking to style up their car's interior while still providing effective protections to their carpet underneath.
With so many colors available, you're sure to find one you like and looks super cool with your car's interior.
Be sure to check the sizing properly, though, as these can't be trimmed to size.
To have a look at all the super cool color options this car floor mat is available in and learn more about it, click here.
Weathertech 443461 -442712 DigitalFit Floorliner Set
Coming from a leading brand, we would expect no less than a perfect fit from these custom-fit floor liners.
The manufacturers use laser technology to accurately and completely line up the interior carpet, giving you absolute internal protection. By completely, we're talking about the front floor, back and sides of your vehicle's footwell.
The especially engineered channels within the mat carry any fluids and other debris to a reservoir that can be expelled whenever you're ready. This lower reservoir helps minimize fluid movement, allowing you to concentrate on what's most important for now: your driving.
Weathertech floor liners are custom made to fit your vehicle, using durable material that is wear resistant and can withstand extreme temperatures.
Features and Specifications
Product Model Number: 443461 -442712.
Location: First and second row set.
Color: Black.
Materials: HDTE and custom blended TPO (thermopolyolefin).
Vehicle Category: Custom-fit to your vehicle's make and model.
What We Like
Custom fitting.
Anti-skid backing.
All-weather floor protection.
Complete floorboard protection.
Reservoir design channels.
What We Don't Like
Some reports about the rear mats not being an exact fit.
Summary
If you're looking for superior, fully customized and all-weather floor mats for cars, these Weathertech digital liners are definitely a good option to consider.
You'll need to provide your vehicle's accurate details to buy, as they're made to order.
For more information and to learn about the price on these, click here.
AmazonBasics 3 Piece Car Floor Mat
If you're working with a tight budget or just don't want to spend a whole lot on something too advanced because you don't need it, consider these universal mats to protect your vehicle's carpeting.
These car floor mats are constructed from durable and weather resistant rubber materials, which will work well in mud or snow. They contain small grooves designed to keep any dirt and other debris trapped until you're ready to clean them.
AmazonBasics floor mats are easy to install and can be trimmed to fit with a pair of scissors. The anti-skid backing also ensures that the mats stay firmly in place.
Additionally, a strong point about these is that maintaining them is fairly easy.
Features and Specifications
Product Model Number: AmazonBasics.
Location: Front and rear 3 piece set.
Color: Gray.
Materials: Rubber.
Vehicle Category: Cars and SUVs.
What We Like
Easy to clean and maintain.
Durable.
Budget friendly.
Great for protecting the vehicle's carpet.
Can be trimmed to fit.
What We Don't Like
The rubber odor can be overwhelming.
Summary
This set from AmazonBasics is an affordable alternative for the budget-conscious consumer.
Would you like to know more about these mats and see for yourself whether they're right for you? Click here to find out more about them.
Intro-Tech SM-101-RT-B Hexomat Front Row 2pc
The honeycomb pattern on these mats excel at two things. First, they hold any liquid that may hit your car floor, which makes them ideal for snow and rainy conditions. Second, any debris like mud, small rocks and sand are contained within the hexo-shaped design. Talk about all weather protection!
The Intro-Tech Hexomats fit well around the vehicle's pedals and have non-skid nib backing to maximize safety as you drive.
These are also made using durable materials that prevent them from fading or cracking.
Features and Specifications
Product Model Number: SM-101-RT-B
Location: Front row 2 pieces.
Color: Black, tan, gray or clear.
Materials: Exclusively developed rubber composite compound.
Vehicle category: Smart car.
What We Like
Easy to clean.
Variety of colors to choose from.
Matching cargo mat also available.
What We Don't Like
They need airing out for a few days before using in the car.
This particular product is only for the Smart car.
Summary
The Intro-Tech Hexomats provide variety in terms of designs and colors, while fulfilling their job as your interior carpet protector.
This specific product is only for two models of Smart car, but the company boasts over 10,000 custom fit patterns available.
To know more about these, click here.
How Often Should You Change Your Car Floor Mats
Let's get one thing straight: these things won't last forever, no matter how durable they are and how well you take care of them. Sooner or later, you'll need to replace them with new ones, and all you can really do is prolong the time till that happens.
Here are some signs that it's time to buy replacements:
Slipping Around
We can't emphasize this point enough, due to its impact on your safety.
Slipping floor mats are uncomfortable to drive with, as they give your feet a poor grip. Additionally, and as we've mentioned above, they may impede certain actions such as braking or using the gas pedal.
Wear and Tear
Holes and rips in your mats will channel the spills or dirt into your car's carpet and ruin it. No matter how large or small a hole is, it's an indicator that the time for a replacement has come.
Mold and Odors
A foul smell can come from something that has been spilled, but that's not always the case. It could also be a sign of poor construction materials or mold, both of which are health hazards.
Inspect the mat carefully to get down to the cause of the smell. If it happens to be the latter, throw it out and buy a new one as soon as possible.
If You're Selling Your Vehicle
A new set of car floor mats will liven up the interior of your car and make it more appealing to prospective buyers.
If you make this simple investment before you put your car on the market, that's a surefire way to sell it quicker and possibly even for a higher price.
Conclusion
We cannot stress enough the importance of installing the best car floor mats you can get your hands on in your vehicle.
They offer maximum interior protection all around, prolong the life of your carpets, keep your car floor safe from debris and stains, don't get in the way of your driving, and are easy to remove for cleaning.
Do you have any questions about car floor mats? Or maybe you have any feedback you'd like to share about certain ones you've tried out that have worked (or failed miserably) for you? Leave your thoughts in the comments, we would love to hear from you!