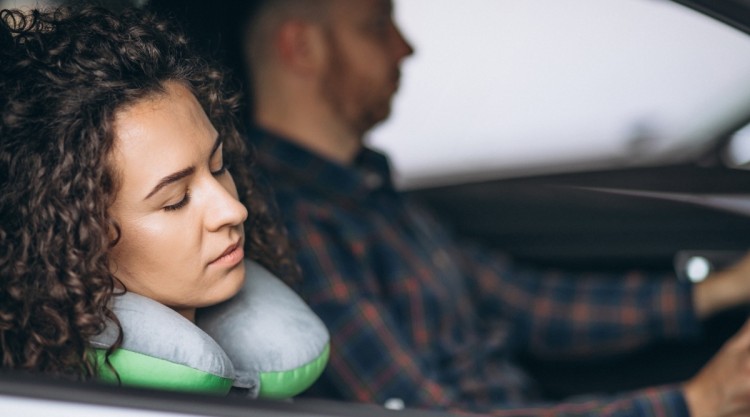 Long car trips can get tedious on the head or neck, and sometimes your car's headrest just doesn't cut it for comfort. What can you do in a situation like this? You can solve this problem with one of the best car neck pillows from our roundup below.
In this article, we're going to go over what car neck pillows are and how they can help keep you comfortable while driving. We'll also go over how to use and maintain them so they'll last you a long time.
Finally, we've compiled a list of the best car neck pillows on the market. This will help you to make your choice of a car neck pillow that will best fit your needs.
Quick Links to Our Top Recommendations for Best Car Neck Pillow
Note: Clicking the above links will take you to further information, current prices and customer reviews on Amazon.
Car Neck Pillows and How They Work
A car neck pillow's main purpose is to provide support and comfort when riding or driving in a vehicle. Unless you have perfect posture and fit the contouring of the upholstery, the car's seat doesn't prove very beneficial for back and neck issues without help.
Approximately 30 to 60 percent of drivers report back pain either stemming or getting worse from driving in a car for an extended time.
This is mostly due to vibration and other forces a person endures when driving in their car.
Car neck pillows are an excellent remedy for anybody who suffers from chronic back pain due to driving.
Car Neck Pillow Materials
There are several different materials that a pillow can be made from. There may also be any mix of these materials used too. Depending on the desired function, certain material may work better than others.
Visco-Elastic or Memory Foam
Memory foam pillows are one of the most popular materials used in car neck pillows. This is largely due to its viscoelastic properties. Viscoelasticity refers to the part of a material that has both viscous and elastic properties when put under stress.
This gives it both liquid and solid properties. Because of that, the memory foam can form to your body's natural shape to provide optimal support.
Latex Pillows
Natural latex comes right from the sap of the hevea-brasiliensis rubber tree. This material is typically manufactured without chemicals offering a greener alternative to memory foam.
Natural latex feels similar to that of memory foam, but synthetic latex will feel less durable than its natural counterpart. The only downside to this option is that those with a latex allergy won't be able to use them.
Polyester Pillows
Polyester is a synthetic fiber that is manufactured from coal, air, water, and petroleum.
Pillows made from polyester are typically the least expensive ones out there. They're filled with little polyester particles to varying densities and firmness.
While these may be a cheaper option, it may be worth spending more on different material. Polyester pillows require frequent readjustment, and they aren't very breathable.
Inflatable Pillows
These are just as they sound. They're hollow inside, and air is needed to blow them up into proper form. These are a generally cheaper option. However, they don't offer the best benefits and can lose their shape if not blown up all the way.
Car Neck Pillow Styles
Depending on the posture and position that makes you most comfortable, you'll want to make sure that you get a pillow to accommodate.
Luckily, there are a lot more styles than one would think. Some look like your standard pillow while others are a little more innovative. There are so many different styles on the market that you're bound to find the right one for you.
Let's look at the options when it comes to shape.
Standard Car Neck Pillows
Your standard car neck pillow is going to look identical or similar to a regular one, just smaller.
With these, you simply put it behind your head or against the car window. They don't come with anything to secure it to one spot though, so you may need to readjust frequently.
Over the Headrest
Some car neck pillows will have a sleeve that you slip right over the headrest. This is convenient because, as it's secured all the way around, it doesn't need readjusting. As nice as that is, it does come with its flaws too.
You need to make sure that the sleeve will fit around your car's headrest. If it isn't adjustable, it may slip if it's too loose or be a tight squeeze if too small.
Velcro Back
These are probably going to be the most popular car neck pillow design you'll see. They're built with velcro straps attached to the back, meant to wrap around your car's headrest.
These are nice because the velcro straps ensure the pillow will stay secure as long as you fix it tightly.
Some velcro-equipped products come with velcro on the sides as well as over the top. This is to guarantee a secure fit.
Headband Style
Believe it or not, there are headband style car pillows out there. These are designed to wrap around your head to give you extra support in the car. You're meant to use them to rest your head against the window.
While these are certainly good for taking a nap in the passenger seat, they may not be ideal when driving.
Front of the Neck
If you plan on traveling in the passenger seat, this type of pillow would be good for you. We wouldn't recommend using this if you're driving, though. Their purpose is to make car-napping more comfortable.
To use these, simply attach it around your neck, and it will rest on the front of your neck. They can also be adjusted to rest on the side of your neck too.
Over the Head
A similar style to the front of the neck, over-the-head pillows are meant to be worn like a giant scarf. These are also only meant for passengers because they're pretty bulky and can obstruct your view while driving.
U-Style
U-style car neck pillows are another popular design for manufacturers. This style slides right onto your neck. This is an ideal option if you're looking for something compact and lightweight.
However, while it's not very bulky, it doesn't have an option to fasten to the seat behind you. This can prove to be inconvenient for a driver since you won't necessarily be resting against your seat.
What to Look for and What to Avoid
Now that you know the different options on the market, there are some things you need to look out for before you choose. Car neck pillows may seem like an easy purchase, but comfort and support is all important, so you want to choose with care.
Consider these things when choosing your pillow.
Level of Support
The level of support a car neck pillow provides is perhaps the most important thing to take note of. After all, the entire reason you're buying one is to feel more comfortable while you're in the car.
Without proper support, the structures in your neck will be stressed, and that can cause chronic neck and back pain.
When choosing, check how firm it claims to be. As important as support is, you want to be comfortable as well. If you aren't a fan of super firm pillows, try finding one with less foam padding.
Ease of Installation and Removal
A pillow that is difficult to install can be frustrating. This is especially true if you plan on switching it between vehicles. When making your decision, take note of how it needs to be installed and if there are multiple steps.
Easy to Clean
Another thing to keep in mind is how easy it is to clean. Is it machine washable? Spot clean only? Ideally, you want one that you can throw into the washer, but you should also be careful here. Sometimes machine washing can alter the shape of the pillow if it isn't made very well.
Material
Next, we have the material it's made out of. This is important when considering how suitable competing products are. Some made of latex can cause a big problem if you happen to have a latex allergy.
Out of all the materials we've discussed, the most effective will probably be memory foam. Because of it's molding qualities it's most likely to provide the most comfort.
How it Looks
And of course, you want to make sure you like the look of the pillow. Practicality is nice and all, but some people are into aesthetics, and that's completely okay. Making sure you like how it looks in your car will make you feel better about using it.
What You Need it for
When you're shopping, ask yourself whether you'll need it as a driver or a passenger. This will greatly influence the type you buy. If you want it for driving, you'll probably want one that can attach to the back of your headrest.
However, if you're going to be a passenger on a long car trip, you have a bit more flexibility.
Vehicle Compatibility
And last but not least, we have vehicle compatibility. Above everything else, you need to ensure the pillow will fit in your car, particularly if it's an over the headrest or strap attachable style. Make sure that it fits your model of car, and any straps are long enough to fasten securely.
Best Car Neck Pillow – A Detailed Look at Our Top Recommendations
We've made it to the review section. After all of that information, it's finally time to go with your gut and make a choice.
We've scoured through the market and pulled the best of the best for you to choose from. And here are our picks.
Travelmate Car Neck Pillow
This neck pillow wraps around the car's headrest with an adjustable elastic band. The padding itself is made out of memory foam, and it provides additional support to your head and neck. It also helps improve your posture and relieve tension and stress in your muscles too.
On top of those benefits, it also helps with proper spinal alignment.
The construction is compact and ergonomic which makes it perfect for travel and driving long distances.
The pillow comes with a removable and machine-washable velour cover that is simple to remove and put back on. To remove the cover, simply unzip it and pull it off.
We like this because you can throw the cover in the washer without worrying if it will alter the pillow in any way.
Manufacturer Specs & Features
Adjustable elastic band.
Memory foam inside.
Compact and ergonomic design.
Machine-washable cover.
What We Like
Helps with spinal alignment.
Easy to move out of the way when not in use.
Memory foam center helps relieve neck pain.
What We Dislike
May not fit all car seat models.
Summary
This is one of the most popular ones you'll find. Its simple design ensures optimal comfort and support without being super bulky. It's also compact so you can take it with you wherever you go.
GUSADOOR 2-Pack Neck Pillows
If you're looking for pillows for both you and a passenger, these are worth considering. They come in a pack of two, and the outer cover is made of artificial leather. The fabric is breathable yet durable, and overall it is super compact.
The pillow is guaranteed not to deform or shrink, and its ergonomic design helps improve posture while driving.
The material inside is memory foam which provides the utmost comfort and is heat-retentive to help with muscle tension, while the back has a tight elastic band to attach it to the headrest of your seat.
Keep in mind that this should comfortably support your neck but may not provide much head support due to its design.
Manufacturer Specs & Features
Elastic band for attachment.
Two neck pillows.
Breathable fabric.
Heat-retentive memory foam center.
What We Like
Fabric is breathable.
Comes in pack of two.
Ergonomic design helps improve posture.
Won't shrink or deform with use.
What We Dislike
Headrest needs to be in a certain position for proper fit.
Summary
If you're planning on going on a long car trip with somebody, these are certainly ones to consider. Having a spare pillow for a fellow traveler is always a good option. Plus, as they match, you can always keep them in the car without worrying about aesthetics.
Hengjia Premium Neck Support
If compact and versatile are two of your favorite words, this car neck pillow is definitely worth looking at. It comes with an elastic strap to fit over your car seat, but can easily be removed to take other places too.
Whether you need it for comfort while driving or are planning on traveling by plane, this neck pillow can help with that.
The "dog bone" design is guaranteed not to flatten with use and alleviates neck and back pain. It also works to keep your spine in perfect alignment too.
It comes with a velour cover that can easily be removed and thrown in the washer if it needs cleaning.
Manufacturer Specs & Features
Compact "dog bone" design.
Removable velour cover.
What We Like
Dog bone design helps pillow conform to body shape.
Super versatile and can be taken anywhere on-the-go.
Super easy to clean.
Retains shape even after months of use.
What We Dislike
The small design might take getting used to.
Summary
When you first see this product, you may be thrown off by its size. Despite being a smaller pillow, it still does its job in providing you the support you need to be more comfortable. However, the small design still might take some getting used to.
Aukee Memory Foam Car Pillow
If you want something that won't stand out too much with your black seats, this is one to consider. The design matches most dark car upholstery and provides a comfortable way to fill the gap between your neck and seat.
The back has an elastic band with a buckle on the end to help fasten it to your car's seat. It isn't adjustable though, so you may have trouble buckling and unbuckling if you have a wider seat.
The inside of the pillow is made of space memory foam, and the cover has a convenient zipper to make removing much easier. The cover's fabric is also breathable to help prevent sweat and overheating. The material is made from grade A cow leather.
Manufacturer Specs & Features
Elastic band with buckle.
Space memory foam.
Zipper cover.
Breathable fabric.
Grade A cow leather cover.
What We Like
Super comfortable memory foam.
Works well for people of varying heights.
The sleek design isn't hard to look at.
What We Dislike
Softer than other memory foam pillows.
Summary
Aesthetics and cars are two things that go hand in hand for a lot of people. If you want added comfort but don't want a gaudy pillow taking up space, consider this one. Its sleek black design practically blends right into any darker car seat.
Sendi Travel Pillow
This U-style pillow is made of both microfiber and memory foam. It's designed to be ergonomic, and the fabric is made to be breathable as well. The microfiber cover is removable and machine washable and comes with a convenient bag for storage.
The bag will also help keep the pillow clean when it's not being used.
It is antibacterial, well-ventilated, and eco-friendly too. When washing the cover, make sure to hand dry only. The cover should not be dry cleaned or ironed either.
We like this pillow because it helps prevent the head from falling forward or leaning. The slow rebound memory foam center helps it mold to your body's natural curvature too which helps with comfort.
It comes with snaps on the ends to secure around your neck and prevent slipping if you happen to take a nap.
The manufacturer notes that the memory foam center should be ventilated in the shade every one to three months of use and can't be insulated.
Manufacturer Specs & Features
U-style design.
Snaps on the ends.
Storage bag.
Memory foam filling.
Microfiber cover.
Machine washable.
What We Like
Good for kids and adults.
Doesn't slip around when using.
The storage bag is really convenient for travel and keeping the pillow clean.
Eco-friendly.
What We Dislike
Doesn't attach to the car's seat.
Very firm.
Summary
When it comes to versatility, this is certainly one to consider. It can be used in the car, on a plane, bus, or just about anywhere else you can think of. We like this one because of its snaps that help keep the pillow in place.
Tianmei Cartoon Neck Pillow
If you're into novelty and cartoons, consider this cartoon pillow. It comes in four different designs and has a strap you wrap right around the back of the headrest.
The material is made from a knitted fabric and is filled with cotton on the inside. The pillow is machine washable and can be dry cleaned if need be. The outer fabric is made to be breathable and uses a zipper for removal.
When installing, rather than stretching the elastic over the top, remove the headrest and wrap the elastic around the bars. After doing that, reinsert the headrest into its slots. This will prolong the life of both the headrest and the elastic band on the pillow.
Manufacturer Specs & Features
Cartoon design.
Comes in pack of two.
Velvet fabric.
Cotton filled.
Machine-washable cover.
Zipper for removal.
What We Like
Cute novelty design.
Comes in four different cartoon options.
Cleaning is very low-maintenance.
What We Dislike
Not as durable as other car neck pillows.
Summary
While these are softer than other car neck pillows, they're a nice addition to your car if you like novelty items. The quirky cartoon designs add character to your car's interior while also providing comfort.
Sojoy Premium Neck Pillow
For those of you looking for extra support, consider this premium neck pillow. It uses patented ergonomic streamlining to ensure comfort and pain relief.
The pillow itself is made out of high-quality memory foam to mold comfortably to your body.
To attach it to your car seat, you have two separate straps, one that goes over the top of the headrest and one that wraps around the sides.
The mesh cover is breathable, removable, and machine washable. To remove it, simply unzip the back and pull the pillow out.
Despite the bigger design, the manufacturer assures that it doesn't obstruct the function or position you're in should the airbag deploy.
Manufacturer Specs & Features
High-quality malleable memory foam.
Extended design for added spinal support.
Breathable mesh cover.
Machine-washable cover.
Removable zipper cover.
Lightweight and portable.
What We Like
Extended design gives added support and comfort to the head, neck, and spine.
Bigger style doesn't affect how the airbag will hit you.
The cover is breathable to prevent overheating.
What We Dislike
Installation may be difficult. The straps need extra attention to make sure they're correctly and tightly fastened.
Summary
Anybody who suffers from back problems can attest to how long car rides affect their neck and back. With this pillow, back pain sufferers don't need to worry because its extended design provides support to the head, neck, and spine.
Alibo Memory Foam Neck Pillow
This pillow straps to the back of the headrest like some others we have mentioned, but comes in a circular design made specifically for your neck. This special design restores the neck and spine's natural curvature to help alleviate soreness.
It's made from memory foam that absorbs heat to ensure your body stays cool while using it. The slipcover it comes with is made of satin and can be removed for washing. The strap it uses is adjustable as well so it can be used in cars planes or just about anywhere else.
Manufacturer Specs & Features
Comes with one neck pillow.
Circular design for neck support.
Memory foam.
Removable satin cover.
Adjustable strap.
Super compact design.
What We Like
Keeps your body cool.
Is compact and can be taken anywhere.
Designed specifically for neck support.
What We Dislike
Softer than other car neck pillows.
Summary
All in all, this is a good pillow if you only want something for neck support. It does its job by filling in the space between your car's seat and your neck. However, if you like a firmer pillow then you might want to steer away from this one.
Conclusion
Now that we've gone over everything from how to choose to what to choose, it's time to go shopping. When you're looking, remember to keep in mind the firmness, material, and design of the pillow.
Comfort and support are key, and now you can make an informed decision on the most suitable one for you.
Our choice for best car neck pillow is the TravelMate Car Neck Pillow. We like this one because of its simple and compact design. We also like the fact that it's chiropractor recommended and helps keep your head, neck, and spine in alignment.
So which one will you choose? Have you tried any of these before? We want to know all of your questions, comments, and concerns, so please do drop them in the comment section below.