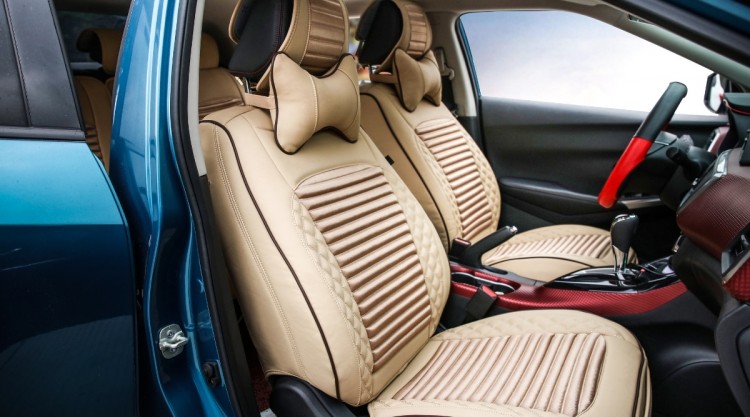 In the right circumstances and with the right people, road trips can be exciting and fun. They can also be long and tedious at times, or – to put it in simple terms – a literal pain in the butt.
When you're behind that steering wheel, you're sitting in the same position for hours on end. Unsurprisingly, this can cause discomfort – one that only grows with time if you're on the road very often.
Nowadays, a lot of people look for a solution for getting rid of that annoying back pain, without having to book an appointment with a doctor or resort to drastic measures.
A great place to start, and one that might help out tremendously, is a good car seat cushion.
In this article, we're going to talk about everything you need to know about this accessory, as well as why it's an important addition to your ride.
We're also going to go over some of the best car seat cushions on the market right now.
Quick Links to Our Top Recommendations for the Best Car Seat Cushions
Note: Clicking the above links will take you to further information, current prices and customer reviews on Amazon.
What Exactly Are Car Seat Cushions?
These are accessories you can position on your driver's seat to help support your back and promote good posture.
While there are different types you could choose – from the best heated car seat covers , to car seat massagers for example – they all have the same main objective: to relieve as much pressure as possible on your spine and muscles.
Car seat cushions are recommended for commuters, road trippers and just about anyone who travels long distances or suffers from back pain while driving.
You could also benefit from one if you suffer from a medical condition, one where being seated for a set amount of time causes you great discomfort.
Let's be honest here, vehicle seats aren't exactly the most comfortable place to sit in for long periods of time.
Unless you've got an expensive, top-of-the-range, luxury model, the chances are your seat won't have lumbar support. This means that you can end up with poor posture, which is likely to lead to back pain.
When you're the driver, you've got no choice but to sit in the exact same position throughout the entire journey. You've got to reach the pedals, and you need easy access to the shifting gears.
Whether you're going on a road trip or waiting in traffic for hours without doing much actual driving – eventually, the hours of being immobilized will add up.
Needless to say, this is where a good car seat cushion with lumbar support can help.
How Do Car Seat Cushions Work?
When you're sitting down, you're placing weight and pressure on the tailbone or coccyx. This is what may cause you back pain while driving.
It's often because a lot of seats don't provide the correct lumbar support for your body, so they promote bad posture. This means you adopt an unnatural sitting position that eventually leads to back pain.
A car seat cushion relieves this pressure on the tailbone, by adequate providing support for it.
It's a base that you simply attach to your chair and sit on. It provides padding and may help to prevent or relieve back pain by allowing for a more appropriate sitting position.
What Are the Benefits of Using a Car Seat Cushion?
Car seat cushions are more than just a stylish accessory, they also offer a number of important benefits for the driver when behind the wheel.
Let's take a look at some of the most important reasons you should consider getting a car seat cushion for your vehicle.
More Comfort and Support When Driving
Over time, your car seat can become lumpy and uncomfortable.
As a matter of fact, even if you've just recently bought a new one, a lot of them simply aren't good enough at supporting your back and spine.
Choosing one of these accessories for your vehicle is going to help keep you more comfortable during long journeys.
It can provide support in the right places, which is beneficial for lumbar health.
Improve Posture
Are you guilty of slouching when you're driving? Don't worry, a lot of us are. But the good news is that a car seat cushion may very well help you solve that problem.
The way that most car seats are designed means we naturally curve our spines more than we should.
However, a good car seat cushion may encourage you to sit up straight when you're behind the wheel due to its ergonomic design.
Does posture really matter? If certainly does! Take a look at this TEDx video for more information.
Less Back Pain
Poor posture and sitting in the same spot at the same position for long periods of time is linked to lower back pain.
This means you're at risk of developing lower back pain if you drive long distances.
Unfortunately, a lot of drivers don't take ergonomic support seriously. However, with a car seat cushion, you can avoid the perils of poor posture and subsequent back pain.
Less Arthritic and Sciatic Nerve Pain
A lot of people who suffer from arthritis may notice that the stiffness and pain get worse after driving for long periods of time at once. A lot of this is probably due to the lack of support from the driver's chair.
A car seat cushion may help to relieve some arthritic discomfort by encouraging a more natural sitting position.
In addition, it may also be able to help with sciatica.
Sitting with poor posture may very well be putting too much pressure on the compromised sciatic nerve. This can be extremely painful or, at the very least, cause an uncomfortable tingling sensation.
Improve Circulation
Bad circulation may cause cramping, tingling, and pain.
Of course, you're sitting in the same position while you're driving, unable to get blood flowing. Sitting incorrectly can be particularly bad for circulation, especially when excessive weight is on the wrong parts of the body.
The good thing about a car seat cushion is that it can help distribute your weight evenly.
When your spine is aligned properly and pressure is not on the wrong points, this helps blood to flow easier.
Better Air Flow
Have you ever been sat in a hot car, driving for a long period of time?
If you have, you'll know that the car seat, as well as your clothing, can get more than a little sweaty when you finally get out of the vehicle. It's even worse if the upholstery is leather or vinyl!
A suitable car seat cushion may help relieve this nasty problem by adding layers of cushions and air between yourself and the seat.
If this is the main reason you're looking for a car seat cushion, then we have an option on our recommendations list below you'll love – it's a cooling accessory which gets the job done perfectly fine.
Help With Hemorrhoids
There's no doubt about it, hemorrhoids are the pits! And they're the worst of the worst when you have to drive for any period of time.
While ring cushions can certainly help in these cases, they often don't provide as much cushioning as you'd like or need for real comfort.
To alleviate hemorrhoid woes during your commute, try using a car cushion in conjunction with your standard ring cushion.
What Different Types of Car Seat Cushions Are There to Choose From?
There are a few different types of car seat cushions available on the market for you to choose from.
With that being said, we think some of them are better than others at providing the benefits we've talked about so far.
So, let's have a look at the different types you'll come across when shopping around for a car seat cushion.
Standard Foam and High-Density Foam
One of the most common materials used in manufacturing these products is polyurethane foam.
It's generally quite an affordable option if you want to try out a car seat cushion for the first time, but the amount of support you will get depends a lot on the grade of the material used.
To support your coccyx and relieve pressure, you'll want to look at products with higher grade polyurethane. This will be a lot firmer, and thus offer far more support for your body.
This is often referred to as high-density foam. Low-density foam, on the other hand, will be softer and won't offer as much support.
One drawback to standard polyurethane foam is that it's not a very durable material. It won't last as long as other options such as memory foam, but it's lightweight – and this makes it more portable.
Memory Foam
Memory foam, otherwise known as viscoelastic foam, is one of the best car seat cushion materials you can ever get.
It's known for feeling thicker and firmer than standard polyurethane foam, but it's also special because it provides personalized support and pressure relief.
The material is able to conform to the shape of your body, supporting the tailbone and taking pressure away.
Memory foam is a durable material, but the downside is that it can be a more expensive option.
It works well with your body temperature to provide maximum comfort, too. This includes retaining heat to provide warmth when it's cold and chilly outside.
Memory foam is not waterproof or water resistant, though, which might be a deal breaker for some.
Speaking of memory foam, whenever you're able to do so, getting therapeutic grade memory foam is best.
Gel Pack
Gel technology is often preferred by drivers looking for firmness and extra support while on the road.
The gel is firm yet comfortable, which may help pressure points such as the hips (useful if you have hip pain) and tailbone (useful if you have tailbone pain). The gel might also help your body distribute weight evenly while in a sitting position.
Plus, it has the added bonus of helping with temperature regulation. It's cool to the touch, and this might be beneficial for those who live in warmer climates.
Seat Wedges
Another type you may see in stores or when shopping online are wedges.
These consist of a slanted and firm wedge that is placed on the driver's chair. The idea to it is that it levels the car seat.
However, what we don't like about these wedges is that they tend to be very firm and not too supportive.
There's no u-shape that you see with a lot of other products, which can help tailbone pressure – often the main cause of back pain.
Inflatable
These are just what they sound like; you just inflate them with air via a small pump.
While they may be great in terms of being portable and lightweight, they don't often provide the best support – not when compared to some of the other types on this list, at least.
They won't be able to relieve the pressure from the tailbone, especially for heavier adults. They're simply not supportive enough.
Also, there's definitely less stability with these than you'll find with other options.
How Do I Know Which Type of Car Seat Cushion is Best?
One of the most surefire ways to find out which type of car seat cushion is best for you is to think about what level of support you need or want.
Do you feel like you need cushioning to prevent some of the minor pains you get when you're driving long distances? In that case, perhaps a memory foam or high-density foam car seat cushion will be a good choice for you.
If you suffer frequent back pain or sciatica, you might need a firmer option. A combination of memory foam and gel technology could be a good idea for you in that case.
This conforms to the shape of your body, but still provides the firm support needed to alleviate aches and pains, making traveling enjoyable.
You should also think about the climate you live in and your air conditioning, or lack thereof.
If you live somewhere hot or don't have decent air conditioning, memory foam may not be the best choice for you. It often retains heat, which could become uncomfortable after a while.
In that case, gel technology could be a better choice for you, since it has a nice cooling effect.
What Should People Look For in Car Seat Cushions?
There are a lot of different auto seat cushion you can choose from on the market today, but just like everything else, some of them are going to be better than others.
Here are some of the most important aspects you should consider when you're choosing one for your vehicle.
Ergonomic Support
The most important thing you'll need to assess with this kind of product is the ergonomic support it provides.
Of course, this is the main reason you're purchasing this accessory, so make sure that it's made from quality material. As we mentioned above, memory foam or gel technology usually provide the best levels of support.
In addition, its shape matters too. Some of the best car seat cushions of nowadays have a u-shape, which greatly helps relieve pressure on the coccyx.
Removable Cover
Spilling drinks or food behind the wheel is something we've all done at some point – but some of us are more "clumsy" than others in this aspect.
Instead of getting angry with yourself about it, just choose a car seat cushion with a cover that can be removed for cleaning.
It's going to be even more hygienic if the cover is machine-washable. When an accident happens, you can easily throw it in the washing machine and it will look as good as new.
The Size and Dimensions
Most car seat cushions are designed to fit almost any vehicle, but that's not always the case.
Even if that were always true for all car seat cushions out there, if you've got different seats in your cabin, it's always best to check the dimensions before purchasing.
This way, you can ensure you've made the right decision.
Non-Slip Base
If you go with something that has a non-slip base, you can rest assured it's going to stay in place and provide stability while you're driving.
The last thing you want is for it to be sliding all over the place! That's not just annoying, but it will be distracting and even dangerous while you're driving.
The Design
Let's be honest, most of us want whatever we buy for our cars to be stylish and match the interiors.
Check out the design and the color of any car seat cushion before you purchase it – that way, you'll have a sight for sore eyes to look at, day in and day out!
The Best Car Seat Cushions – Our Top Recommendations
With so many great products to choose from, we know that it can get overwhelming really quickly. How on earth can you decide which one is right for you?
That's why we'll be talking about some of the best car seat cushions on the market in the following sections – ones we truly believe are worth your consideration.
All you've got to do is read through them and see if you find one that fills the bill.
Kieba Coccyx Seat Cushion
You can upgrade your front seat in a very nice way with this accessory.
The combination of memory foam and gel is exactly what you want if you suffer from poor posture and back pain. The memory foam seat customizes to your body shape, while the cool gel provides firmness required to help with weight distribution and pressure point relief.
This Kieba option features a U-shape design to help relieve the pressure of sitting on the tailbone. This is an ergonomic shape that's popular for good reason; it helps keep those aches and pains that occur on long journeys at bay.
One general downside to the memory foam construction is that it retains heat, but the manufacturers of this product have thought about this beforehand, as the use of gel technology provides a counterbalancing cooling effect. This may help out tremendously when dealing with hot temperatures.
The velour cover is soft to touch and it can easily be removed to wash, using the zipper. It's machine washable for removing any stains and keeping it fresh.
It also has a non-slip gel bottom so it doesn't slide around while you're road tripping or running errands.
Manufacturers Specs and Feature List
Weighs 2.8 pounds.
14 inches by 18 inches by 3 inches.
Features a non-slip gel bottom.
Combination of memory foam and gel technology.
Machine washable cover.
What We Like
May help prevent back pain and symptoms of sciatica.
Memory foam seat cushion conforms to body shape.
Gel technology has a cooling effect.
Promotes better posture while driving.
Assist with good spine alignment and even weight distribution.
Non-slip bottom for stability.
What We Don't Like
Some people may find it too firm for their liking.
Summary
Overall, we think this is one of the best car seat cushions on the market. The combination of memory foam and gel technology is fantastic for support, durability, and comfort.
While some people may find the materials are a bit too firm for their liking, this firmness is often a requirement to help with posture and spine alignment.
Backache can really affect your concentration on the road, and this may be just the right product to assist you with this issue.
To see more information about this item and decide whether it's right for you, click this link.
ComfiLife Gel Enhanced Seat Cushion
This car seat cushion from ComfiLife combines memory foam with gel. This is a fantastic duo for delivering firm support that may help with back pain, sciatica, and even herniated discs.
The memory foam will adjust to your body shape for cradling comfort, while the gel can promote better posture.
This is another product that's ergonomically designed, with a U-shape contoured surface to relieve pressure on the coccyx while driving. The addition of gel also helps cool down this seat cushion, as memory foam is known for absorbing your body heat. This is especially going to help you stay comfortable on summer commutes.
You won't have to worry about it sliding around either when you're on the highway. It features a non-slip base, which can hold it firmly in place and provide stability.
Also, if you feel like you want to bring it with you to work for the office chair or use it at home, then that's no problem at all. It's a lightweight design, and also has a built-in handle which makes it very easy to carry around.
The velour cover is zippered and removable for washing, too.
Manufacturers Specs and Feature List
5 inches by 13.7 inches by 2.8 inches.
Weighs 1.9 pounds.
Combines high-density memory foam and gel pack.
Built-in handle.
What We Like
Firm support for superior comfort and pressure relief.
The cooling gel is beneficial on hot days.
Combination of gel and memory foam may promote good posture.
U-shape for relieving pressure on the tailbone.
Non-slip base for stability.
A durable product.
Memory foam conforms to body shape.
What We Don't Like
Might not be suitable for larger or heavier users.
Summary
This product is definitely one of the better car seat cushion options out there.
It offers everything you need in terms of comfort and helps to remove pressure from the tailbone. The materials used are also durable, and the memory foam offers personalized support on the road.
To see if this is the product you've been looking for, you can click this link for further information about it.
Aylio Coccyx Orthopedic Comfort Foam Seat Cushion
This product by Aylio may help you deal with back pain and sciatic nerve discomfort on a long car journey.
It has an ergonomic U-shape at the rear, which takes away the pressure from the coccyx. The idea is that the tailbone hangs over the cut-out to improve comfort and support.
The standard foam that this product is constructed from is three inches thick, which is a very decent depth. This might provide support to the lower body and help with good spinal alignment.
Good posture is key and may prevent discomfort, particularly if you have a pre-existing back issue.
Of course, the velour cover is soft and feels luxurious. Just as importantly, it's also washable in case you spill any food or drinks on it. All you'll need to do is unzip the cover and throw it in the washing machine.
Also, this item is extremely lightweight, as it weighs a mere one pound. This means that you can bring it with you almost anywhere you go. You could even use it sitting at your desk or at home!
Manufacturers Specs and Feature List
Weighs one pound.
18 inches by 14 inches by 3.3 inches.
Velour cover which is removable.
Ergonomic U-shape design.
Constructed from standard foam.
What We Like
Removable cover makes it easy to keep clean.
U-shape prevents pressure on the coccyx.
Lightweight and portable.
Soft and comfortable while driving.
What We Don't Like
No straps or gripping material to secure to the seat.
Standard foam isn't the most durable.
Summary
Overall, if you're new to car seat cushions and want to try one, you may be interested in this product.
It's going to provide a good level of support for the tailbone with its U-shape, and the depth may also help distribute weight evenly and relieve pressure on hard points.
The only downfall is that standard foam is notorious for its lack of durability. After some use, it tends to flatten out and it might lose its structure.
We're also concerned that the lack of non-slip materials may cause this product to move around while driving in certain situations.
To find out more about this product, you can follow the link here.
Everlasting Comfort Seat Cushion
This product takes it up a gear by using not just regular memory foam, but some of the highest quality memory foam you can get.
We love the combination of the U-shape design and this durable material, as it can really help support troublesome pressure points. By taking away the weight from the tailbone, it helps make your long drives more comfortable.
With an impressive depth of five and a half inches, this is going to make for some very firm support.
Remember that the good thing about memory foam is that it conforms to your body shape, which provides personalized support to the back and hips.
Additionally, memory foam is known for springing back and being more durable than standard polyurethane foam.
The soft, removable cover makes it feel luxurious to sit on if you're wearing shorts or a summer outfit while driving.
It's machine washable as well, which makes it pretty easy to remove stains and keep hygiene levels up.
A feature we particularly love is the non-slip gel rubber on the base.
Manufacturers Specs and Feature List
Orthopedic seat cushion, doctor-recommended product.
Weighs 2.35 pounds.
75 inches by 8.6 inches by 5.5 inches.
The cover is machine washable.
Non-slip gel rubber bottom.
What We Like
Memory foam is adjustable to body shape.
Durable design for long-lasting enjoyment.
U-shape design to support pressure points.
The cover is machine washable.
Gel rubber bottom to prevent slipping.
What We Don't Like
The rubber bottom might stain light-colored vinyl or leather fabric.
The height might not be suitable for some people.
Summary
Altogether, we're pretty impressed with this product.
The memory foam is going to provide a good level of support to the hips and back. Of course, these are often the areas that lead to back pain and sciatic nerve discomfort.
One thing you'll need to be cautious about is that the rubber bottom could stain your leather upholstery if it's a light color. You might be able to avoid this by washing the cover before you use it, but this is definitely something to keep in mind before purchasing and using this car seat pad.
To find out how much it costs and learn more information about it, click the following link.
Zone Tech Cooling Car Seat Cushion
Do you happen to live in a part of the country that experiences hot temperatures most (or all) year round? If so, you may be interested in this cooling car seat cushion.
This item from Zone Tech is more about increasing comfort levels than providing support.
Whenever you want to cool down, you can switch on the temperature control feature. All you've got to do is plug the cushion into the cigarette lighter in your car, and this will allow cooling air to circulate.
The breathable microfiber and breathable mesh also absorb body heat, allowing you to feel more comfortable behind the wheel.
In addition, this car seat cushion doesn't just target the back and bottom – there's also a fan that can help circulate cold air to the back of the legs and thighs. This is an area that often gets hot and sweaty while you're cruising.
The fan often does a very good job at providing some relief to the areas that air conditioning can't reach.
It has a universal fit design, which means it should be suitable for just about any vehicle. Also, the straps mean you can secure it to your car seat and it shouldn't move around while you're driving.
Manufacturers Specs and Feature List
40 inches by 17 inches by 16 inches.
Plugs into a 12-volt cigarette outlet.
The universal fit design works well in most vehicles.
Temperature control function and fan.
What We Like
Temperature control feature provides relief on hot days.
Cooling fan targets legs and thighs.
Car seat cushion with straps to secure the product to the car seat for stability.
Fits most car seats.
Easy-to-use switch for control.
What We Don't Like
Doesn't provide much back support to help with back pain relief.
Won't help too much with improving posture or relieving coccyx pressure.
Summary
If you're looking for something to help you deal with the soaring temperatures while cruising around in your vehicle, this might just be the one for you.
It's going to cool down your front seat and help you regulate your body temperature better. This is especially true if you don't have effective air conditioning.
However, if you're searching for an accessory that can provide spinal support, this isn't going to be the best one for you, since it doesn't focus on relieving tailbone pressure like many of the other products on our list.
To see if this is the product that you're looking for, click this link.
An Important Note About Car Seat Cushion Care
Buying the right car seat cushion is only half the battle, the other half is caring for it so it lasts you for as long as possible before you'll need to buy a replacement.
First things first, it's recommended that you clean your car seat cushion around once a week. This is especially important if you use it daily, or for long journeys.
Most of these cushions have covers which can be machine washed, but that's not always the case. So, you should always check and follow the instructions given by the manufacturer.
It's not recommended to use a tumble dryer for these, as this may damage or shrink your cover. Instead, drying in natural sunlight will help keep it fresh and usable for many years to come.
If you want to wash the foam itself, try cleaning the surface with a damp sponge.
Some people like to wash the whole foam cushion by hand, but be sure to take a good look at the instructions before you do this, as you may end up damaging your cushion.
Always use cold water to ensure that there's no shrinkage!
Conclusion
If you've made it this far, you now know most – if not all – there is to know about car seat support cushions.
You now know about all the benefits they have to offer you (especially on those longer drives), and you also know what to look for in the best car seat cushions.
We like all the products we talked about in our list above, and we think they're all worth considering depending on your needs, but our overall favorite is the Kieba Coccyx Seat Cushion.
The combination of memory foam and gel technology is unbeatable in terms of support and weight distribution. This product also has a U-shape to alleviate pressure on the coccyx, and the gel has a very nice cooling effect.
The memory foam conforms to your body, no matter what shape you are. Last but not least, it's even machine washable, so you won't have to worry about manually wiping this thing down.
Is there an option on our list that stands out as your favorite? Or, perhaps you've tried one of these (or one we didn't mention in our list) and have loved (or hated) it? Let us know in the comments below, and help a fellow driver out!
Product image credits: © Amazon.com