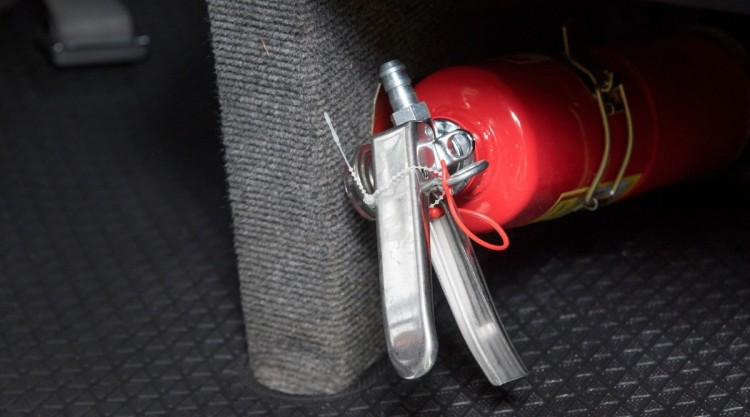 We all care about car safety and understand how important it is. Yet, so many drivers fail to realize that accidents on the road don't always involve other drivers or vehicles. In fact, a mechanical failure or electrical problems with vehicles can lead to dangerous fires. They can even be deadly.
While nobody wants to think about something terrible happening on the road, would you be prepared if your vehicle was to catch fire?
If the answer to this question is no, it's time to consider looking for the best car fire extinguisher. This will enable you to control flames and put out fires in an emergency. It could save your life, as well as the lives of your passengers.
Some countries require the presence of a fire extinguisher before a car can be registered, although this isn't the case in the US. For your safety, however, we highly recommend that you keep one in your vehicle.
Don't know what to look for? We've created this guide so you can learn more about them and then choose the best car fire extinguisher for you.
Quick Links to Our Top Recommendations for Best Car Fire Extinguisher
Note: Clicking the above links will take you to further information, current prices and customer reviews on Amazon.
Who Should Have a Fire Extinguisher in Their Car?
Everyone should have a car fire extinguisher.
Why? Because a car fire could start any time, and can spread very quickly too. It's always better to be safe rather than sorry.
When you've got a fire extinguisher on hand, you might be able to put out a fire, or at least contain it until emergency services arrive.
Sure, you've got car insurance to pay for the damage to your vehicle. But a fire extinguisher could save lives, which insurance can't do. It's well worth the investment.
Not only can you keep yourself and your passengers safe, but you may also be able to help other drivers out too. If you're passing an accident, or see a car that's on fire, you'll able to stop and provide some assistance.
Is it Safe to Keep a Fire Extinguisher in Your Car?
A lot of people think it's dangerous to keep one in their car. The most common rumor you'll hear is they can explode when exposed to high temperatures. But this simply isn't true.
Fire extinguishers have been specially designed to be stored at and exposed to extreme heat. Whether you live in a hot or cold state, you can safely carry one around in your vehicle.
Are you still not convinced? You can take comfort in knowing that the UL-testing for fire extinguishers takes place at temperatures up to 120 degrees Fahrenheit. This means that, with very few exceptions, they can withstand the temperature in your car safely and without any problems.
What if one is exposed to heat above this temperature? The only real risk is that it can lead to a shorter life-span for the device itself.
While it isn't likely to explode, there is a remote chance that it can develop a leak. This is why it's important to secure your fire extinguisher to prevent it from moving around as you drive.This will reduce the possibility of it accidentally spraying its contents around your vehicle.
What Size Fire Extinguisher do You Need?
You can choose from a few different sizes. The general rule is that a 1-kilo (2.2 pounds) model is a good weight to keep in a small to medium sized car.
If you have an SUV, a large car or a truck, we recommend going with a bigger size. Generally, a unit that's 2 kilos (4.4 pounds) will be better suited for a larger vehicle.
What if you encounter a second fire while you're on the road? Would a bigger one have been better?
Some drivers actually choose to drive with a spare fire extinguisher in the trunk. This is a good idea for added peace of mind. That way you're prepared for any eventuality.
A Look at Construction
It's important to pay attention to what a fire extinguisher is made of. This can help you decide which one might be the best for you. You'll find most of them are a choice between steel or aluminum.
Both materials have their advantages. For example, steel is one of the strongest metals you can get. This means it's tough and will be durable. It's also corrosion resistant. Your steel fire extinguisher will likely last for many years.
The downside, however, is that steel is very heavy, so if you're not too strong, it may be more difficult for you to hold and operate correctly.
The advantage of aluminum is that while still being durable, at the same time it's a lot lighter than steel. This means that it will most likely be easier to handle and maneuver than one made from steel.
Aluminum is an anti-corrosive material as well, so it can also last a good few years.
You may find some of the best models come with a chrome finish. This is purely aesthetic and generally preferred by owners of performance vehicles or show cars. The product underneath will be made from aluminum or steel.
Fire Classes
Maybe you have done some research on fire extinguishers before, or taken a course through your company on how to use various types? In this case, you will know that there are different classifications of fires.
Commonly, there are four classes: A, B, C and D. Each one of these has a different fuel source.
Why is this important? Because not all fire extinguishers can deal with all classes of fire. It's important to know about the different classes, to best protect yourself in any situation. Not all classes are likely to occur in a vehicle, as you'll see below.
We'll start with Class A fires. These are started by combustible and flammable materials, such as wood, paper, trash or plastics. If a car has any of this material inside, it runs the risk of a class A fire.
Class B fires are started by a flammable liquid or gas. This includes sources such as gasoline and oils with petroleum, as well as propane and butane. A class B fire is one of the most common in cars or trucks.
Next, there are Class C fires. The fuel sources for these are typically electrical, such as faulty wiring. Again, this can certainly take place in a car, as there are many electrical components. An electrical fault in your vehicle can lead to a class C fire.
Lastly, there are Class D fires. These flames are started by a combustible metal, such as magnesium or potassium. A class D fire is generally not something you have to worry about taking place in a car.
So, what kind of car fire extinguisher will you need for your vehicle?
We recommend an ABC type because, as the name implies, it will work on the fires that are most likely to take place in a car or truck, classes A, B, and C. Though some people, including the RAC, also recommend a type BC as sufficient.
Different Extinguishers for Different Fire Types
As you might have guessed, there being different classes of fires, there are different classifications of fire extinguishers to choose from too, that can put out specific classes of fire.
Let's look further at some fires you might expect in your car and the different types of extinguisher that you would need to tackle them.
Some car fires can start as a result of an accident or collision. This is especially true if the gas tank has been hit. But problems with electrical wiring also start fires, such as with the batteries and heating system. Simply a frayed wire could be the cause.
It's possible your engine can overheat too. This could lead to the ignition of coolant and oils that result in a fire. Lots of substances in your car are highly flammable, particularly under the hood.
Finally, are you a smoker? Ever lit a cigarette in the car and dropped it? Or maybe you threw the stub out of the window, only for the wind to blow it straight back in. If this lands on flammable upholstery, or a pile of papers, it could start a class A fire. (And as a side note, at the very least you will need to know how to fix a cigarette burn in a car.)
The ABC fire extinguisher that we recommended uses something known as ABC powder. This is made from a specially prepared form of mono-ammonium phosphate powder. While this can be messy, it's highly effective for fighting against class A, B and C fires—the kind you may be exposed to in your car.
Ease of Use
One of the most important things to consider when choosing a fire extinguisher is how simple it is to use. When you're in an emergency, you want something you can work immediately. This is definitely not the time to be fussing with complicated apparatus.
In the event of an accident or emergency, it's human nature to panic. It is a natural response, but it makes it much harder to think straight. This is why you need one that is straightforward and not difficult to use.
Look out for models that have labels with easy to follow instructions clearly printed. This will better support you when you may be panicking and not thinking straight. Many have easy to remember PASS instructions:
P – Pull the pin out.
A – Aim the extinguisher nozzle at the
S – Squeeze the handle, dispersing the contents.
S – Sweep across the fire and back until it is extinguished.
Mounting
Of course, you want your fire extinguisher to be accessible in your car, not stowed away out of easy reach. You also want it to be secured in place so that it doesn't move around or become damaged and accidentally spray out when you least expect it.
That's why it's recommended to mount and secure it inside your car or trunk. A popular place is to mount it underneath the passenger seat. This is within easy reach for the driver and passenger alike and can be quickly unmounted for use.
Having your fire extinguisher in a mount will prevent it from rolling or being thrown forward during a sudden stop or accident. It will also stop it being activated accidentally. A fire extinguisher should never be left lying loose or able to move around freely.
Some people keep theirw in the glove compartment if it fits.
Another option is keeping one in the trunk. However, since it's not as easily accessible in an emergency, we advise keeping it inside the car. You should only use the trunk for a backup extinguisher.
But even in a glove compartment or trunk, it should still be fixed somehow to prevent it moving out of place. No matter where you keep it, mounting it securely is a smart move.
Best Fire Extinguisher for Cars – A Detailed Look at Our Top Recommendations
With so many options available on the market, it's hard to narrow down your search and pick the best product for you. That's why we've done the work for you.
Based on our research, reading up on and comparing many different models, here are our top recommendations for the best car fire extinguisher in 2023.
Kidde 21005779 Pro 210, Abc, 160cl
Everyone wants a fire extinguisher that will be easy to use in an emergency. That's an accurate description for this product. It has a pressure gauge that's easy to read and tells you the status of the pressure at a glance, so you can check that it's ready to use. There are clear instructions for use on the label.
It's also a quick and powerful model. It has a discharge time of around 13 to 15 seconds, which is able to put out flames almost immediately. Plus, with the discharge range of 10 to 15 feet, you don't have to be close to the fire for it to work properly.
Most importantly, this product from Kidde can fight class A, B, and C fires, and is UL safety tested. This will help you tackle all kinds of fires and give you peace of mind when you're traveling on the road.
Manufacturers Specs and Feature List
Fights class A, B and C fires.
UL rated 2-A: 10-B:C.
7 inches high, 4.5 inches in diameter.
Lightweight aluminum cylinder.
Net weight 4 pounds.
Operating pressure of 100 PSI.
Multipurpose dry chemical.
Pressure gauge.
Optional mounting bracket
6-year limited warranty.
What We Like
Fights class A, B and C fires.
It's fully rechargeable.
Easy to read charge and pressure gauge.
Made from durable corrosion-resistant aluminum.
Easy and clear instruction label.
4-pound capacity is more than most car extinguishers.
What We Don't Like
Due to its size, it may not fit underneath all car seats.
Traditional red design; may not suit everyone's car.
Mounting bracket must be purchased
Summary
Overall, we'd say this is one of the best car fire extinguishers you can choose for your vehicle, particularly if you drive an SUV or a truck. It's going to provide you with protection in an emergency, and it's easy to use. You can see the pressure and charge levels instantly, so you know it's ready when you need it.
For some of you, the traditional red design may not be what you're looking for. But since it's made from corrosion-resistant aluminum, it's practical and effective. Although not included, a mounting bracket is also available to buy separately.
You can click the link below to find out more about this product and to make sure it's right for you.
H3r Performance Mx100c Fire Extinguisher
Among the most appealing features are its size and weight. It's one of the smallest and lightest you can get for your vehicle, which makes it easy to mount and display.
Of course, the shiny chrome finish means it's instantly noticed in your vehicle. If you have a performance vehicle, this can make a sleek addition to your car, beside your passenger seat. A mounting bracket is included.
It uses a dry chemical of sodium bicarbonate to be effective against class B and C fires. This can be useful for your vehicle and will provide you with a good level of protection. Plus, the color-coded pressure gauge is instantly readable so you know it's ready to use.
Manufacturers Specs and Feature List
Sodium bicarbonate agent.
2 pounds gross weight.
UL Rating B and C fires.
6 diameter x 10 inches high
6-year limited warranty.
1 pound of agent.
All metal valve construction.
5 to 8 feet discharge range.
What We Like
Attractive chrome finish.
Color-coded pressure gauge.
Lightweight and compact.
Can be mounted, bracket included.
Rechargeable
What We Don't Like
Doesn't cover class A fires.
Summary
This H3R Performance fire extinguisher is a good addition to your vehicle. It offers protection against class B and C fires. It's also rechargeable so that you can use it for many years. It's easy to use and is a good compact size for storing inside your vehicle.
The only downside that we could find is it may not be effective against class A fires. This is normally what we would recommend. To find out more about this particular model, click this link.
First Alert Auto Fire Extinguisher 2 Lb. Ui Rating 5:Bc
Specially made for storing in vehicles, this model would make an excellent addition to your car. It's small and compact, which makes it easy to secure underneath your seat or in the trunk.
It offers good performance, meeting UL standards. It can put out both liquid and electrical fires, which is what you need on the road. The cylinder is constructed from corrosion-resistant aluminum, which means it's durable and will last many years.
It is very simple to operate, just pull out the pin and use. This also helps to prevent accidental discharge. There's a straightforward instruction label on the cylinder so that you know what to do in an emergency.
Manufacturers Specs and Feature List
UL Rating 5:BC.
Bracket for mounting in vehicle.
Gross weight 2 pounds.
6 inches high by 2.6 inches diameter.
Metal pull pin.
Sodium bicarbonate.
100 psi.
What We Like
Fights class B and C fires, UL rating.
Compact for easy storage.
Corrosion-resistant aluminum design.
Pull pin protects against accidental discharge.
Instruction label is waterproof.
What We Don't Like
Doesn't have a pressure gauge.
Doesn't protect against Class A fires.
Not rechargeable so can only be used once.
Summary
If you're looking for a more affordable car fire extinguisher, we'd recommend this model. While it doesn't have a pressure gauge or a sleek design, it's still going to provide you with solid protection. You can also buy a pack of six here.
This product is effective against class B and C fires. It's compact, for easy storing inside your vehicle. The cylinder is made with durable materials, and the pull pin will prevent it from discharging accidentally.
Remember, though, if you use it, you must replace it. This product isn't rechargeable. For further information, you can find out all you need to know by clicking this link here.
Buckeye Type ABC Dry Chemical Fire Extinguisher
This Buckeye model is another great in-car product. It's a dry chemical extinguisher that can fight class A, B and C fires. It's suitable for use in your garage, as well as inside your vehicle. A bit on the large side, it may suit trucks and SUVs best.
It has a discharge time of 9 seconds for a reasonably quick reaction to a fire. You can be at a safe distance from danger, with a discharge range of 9 to 15 feet. It has an operating pressure of 100 psi.
It also features a yellow inspection tag, which is great for keeping a record of the pressure. You can check it monthly to make sure it's in working order. You know that it'll be ready to use if and when you might need it.
Manufacturers Specs and Feature List
375 inches diameter, 14.75 inches tall.
UL rated, 1-A: 10-B:C.
5 pounds of agent.
5 pounds shipping weight.
Metal pull pins.
Industrial grade steel and aluminum cylinder.
Discharge range of 9 to 15 feet.
Operating pressure 100 psi.
Discharge time of 9 seconds.
What We Like
Yellow inspection tag for monitoring pressure.
Color-coded gauge for easy-to-read status.
Can fight class A, B and C fires, UL rated.
Industrial steel grade and aluminum cylinder for strength and durability.
It's rechargeable for long life.
What We Don't Like
Bulky design for inside a car.
Heavier than other models.
Summary
The Buckeye ABC extinguisher is highly effective against class A, B and C fires, which is ideally what you want inside your vehicle. The discharge time is fast, and you don't have to be close to the flames.
What's more, it has a color-coded pressure gauge, and it's made from industrial strength materials for durability. The only downside is that it's bigger than other fire extinguishers we have on this list.
But this won't be a problem for everyone, and can be easily stored in your car's trunk if necessary, with a smaller product inside the car for instant access. To see the latest price and find out all the details you can follow the link below.
FIAFESA5 – Fire Extinguisher for Gasoline/Oil/Grease/Electrical Fire
One of the most economical choices for your car (at the time of writing) is this product from First Alert. It's effective against class B and C fires. This means you'll be able to deal with anything from an oil to an electrical fire.
If you've never used a fire extinguisher before, there are easy to read instructions directly on the cylinder. There's also a large and easy to use pressure gauge.
It comes with a plastic bracket that makes mounting it securely quite simple. This can be done inside your car or in the trunk. Its lightweight and compact for easy transport and handling.
Manufacturers Specs and Feature List
UL Rated 5 – class B and C.
Gross weight approximately 2.5 pounds.
Agent weight approximately 1.38 pounds.
5-year limited warranty.
Mounting bracket included.
Pressure gauge.
What We Like
Chemical resistant and waterproof label.
Corrosion resistant metal for durability.
What We Don't Like
Single-use – not rechargeable.
Traditional red design.
Doesn't protect against class A fires.
Summary
If you don't want to spend a fortune on a fire extinguisher for your car, this one is a great option. It's easy to use and will provide good protection from class B and C fires. Ideally, we'd prefer one that covers class A fires too.
It's made from corrosion-resistant metal, which means that it will last many years. But it's not rechargeable; you'll only be able to use it once, which is disappointing. You also won't be able to put it in your car straight away unless you've already got bolts.
To see if this is the right one for you and vehicle, you can click the link below.
H3R Performance HG100C Halguard Chrome Fire Extinguisher
One of the things we love about this product is the attractive, shiny chrome finish. This is a modern change from the more common red design and can take pride of place on display in your sports or performance vehicle.
This H3R Performance fire extinguisher is very lightweight at 2.6 pounds in total, which makes it easy to handle and use. It has simple instructions printed on the cylinder, which are easy to read quickly in an emergency. Of course, it also offers good performance and is effective for putting out fires, with liquefied gas.
Don't be fooled by the small size or modern design of this product. It's also tough and made from high-quality steel with a metal valve construction. This means it's going to last for many years. It's rechargeable and backed by a 5-year warranty.
Manufacturers Specs and Feature List
UL Rating: 1B:C
Includes steel strap and mounting bracket.
EPA approved.
Made from steel.
6 to 8 feet discharge range.
Halotron 1 extinguishing agent.
4 pounds of agent.
6-inch diameter and 11.25 inches tall.
5-year limited warranty.
What We Like
Aesthetically pleasing chrome finish.
UL rated 1B:C.
Durable and strong steel cylinder.
It's rechargeable.
Lightweight at 2.6 pounds.
Clear and simple instructions.
Compact design for under seats.
Mounting bracket included.
Easy to read pressure gauge.
What We Don't Like
Shorter discharge range than others.
Not rated for Class A fires.
Summary
This H3R Performance HalGuard definitely wins with regard to looks. Do you want your fire extinguisher to be a cool feature in your vehicle in addition to being practical? The small design and chrome finish are hard to resist.
It's lightweight and compact. This means it can be easily secured anywhere inside your car with the included mounting bracket. Its discharge range is not as strong as some of the other models, but it should still offer ample protection.
Halotron 1 is an excellent clean fire extinguishing agent that can effectively put out flames. What's more, it doesn't have a corrosive nature, which means it won't damage your vehicle or anything else in the vicinity.
Something to bear in mind before buying this product is that it might not be the best choice for the budget conscious consumer. You can click this link to find out more, including the latest price.
Fire Command Fire Extinguishing Aerosol Foam Spray Fire Suppressant, 16 Oz – Pack Of 2
This is a fire extinguishing foam that can fight against small fires. It's got a quick trigger to aim at flames. It can discharge up to 10 feet so you are a safe distance away from the fire. The foam can spread and cover the flames.
The appeal to a lot of car owners is the fact it's a relatively small can. It can easily fit in the glove compartment or the trunk of your vehicle. In fact, it's the smallest of all our recommendations.
This may be the ideal choice if you have a small car with limited space. It's aluminum construction makes it very lightweight yet durable. However, it only has a shelf life of three years, with the expiry date printed on the container.
One of the unique features of this product is that the contents are biodegradable and friendly to the environment. It's also non-corrosive, which means it won't damage your vehicle or any surroundings.
Manufacturers Specs and Feature List
Functional at up to 10 feet.
Shoots for nearly 60 seconds.
100 percent biodegradable.
Shelf life of three years.
5 inches diameter, 10 inches tall.
UL Listed foam spray.
16 ounces.
What We Like
Small design for easy storage.
Fast and easy to use.
Shoots up to 10 feet for safety.
Durable aluminum construction.
Fights class A and B fires.
What We Don't Like
Isn't UL rated for electrical fires (class C).
Short shelf life.
Summary
There's no doubt that this fire extinguisher is the smallest one of the list, which is good for car owners that want to hide it away. Yet, this does mean that you may have to keep more than one in your car and it has an expiry date.
We're impressed that it can be used from a distance of up to 10 feet away and it's claimed to fight against class A and B fires. Ideally though, you want one that can also protect you against class C electrical fires that are common in vehicles.
To see the details and current price of this product, click here.
Conclusion
While everyone hopes never to be involved in a fire, it's always better to be prepared. That is why we recommend investing in a fire extinguisher that you keep inside your vehicle. We also suggest that you keep a spare one in your trunk.
The best fire extinguishers for cars are the ones that can fight against class A, B and C fires. These are the fires—especially class B and C—that are most likely to happen in your vehicle. In terms of construction, aluminum is the lightweight yet tough option.
The model we would recommend as the best overall is the Kidde 21005779 Pro 210. This is effective against class A, B and C fires, and will give you peace of mind. We also love that you can easily monitor the pressure too.
Is there a car fire extinguisher that you like? If you want to share your thoughts or ask any questions, please leave a comment below.