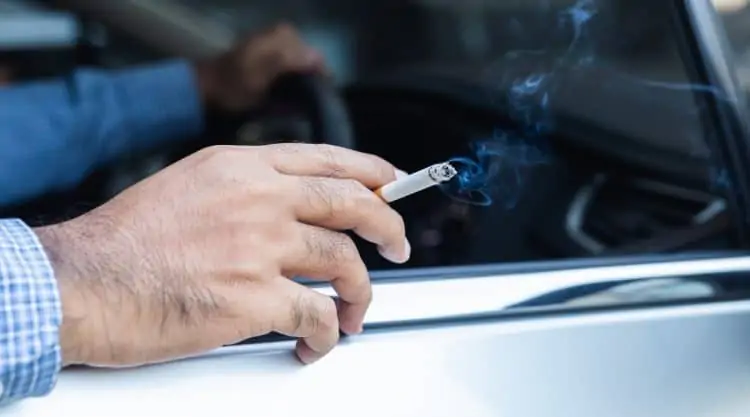 In this article, you'll learn about all the steps you need to take to fix cigarette burns in cars, and we'll hold your hand through the process from start to finish.
Starting from all the supplies you need to have on hand before you begin the process, to everything you need to do to get the job done – we have you covered. For those of you who aren't fans of DIY projects, we've covered alternative solutions as well.
Key Takeaways
Which Fabric/Material? – The steps you'll need to take will depend on whether you have cloth seats or leather seats.

Alternatives to DIY – If you're not confident handling this task on your own, you can enlist the help of an upholstery repairer or local detailer, or invest in a specialized burn repair kit.

Why Do It? – Fixing burn marks can boost your car's resale value and prevent the damage from worsening (it will, trust us!).
Why Should You Fix Cigarette Burns in Cars ASAP?
If you have a car cigarette burn, you should make an effort to address the issue as soon as possible. Otherwise, the hole can get worse over time, and decrease your car's value if you were planning to sell it.
Worsening Damage
This is more likely to happen in an area that sees a lot of action, like the middle of the driver's seat. After a while, the stuffing inside your chair can begin to emerge from the burn marks, making things look worse.
It isn't just about aesthetics, either. It's simpler to patch up the surface of the material rather than plug up a deep groove.
Decrease Resale Price
Those of you who are aiming to sell your vehicle one day will want to get the best price for it. If the cigarette burn starts to look really bad, you may have to involve a professional to get it properly fixed, which can be very costly. Otherwise, you could end up selling your car for less than what it's worth.
What Supplies Will You Need to Fix The Cigarette Burns in Your Car?
The first thing you'll need for burn spot removal to do is prepare your supplies.
There are a few items that are specific to certain upholstery repairs, and we'll list those in the appropriate section below.
Others are general in nature, meaning that anyone looking to fix a burn will need them, irrespective of the type of upholstery they have in their vehicle.
General Supplies
You'll need the following equipment and tools:
Fabric scalpel (optional, but it will make the task much easier).
Sharp scissors (for cutting patches, filler, etc).
Toothpicks or tweezers.
Cloth or foam material (to use as filler).
Fabric glue.
Appropriate cleaning product for your upholstery.
Nylon and Polyester
You have two options here.
First off, if the carpeting on your car matches the seats, you'll need a razor blade. You'll be using the carpet fabric as a patch.
If not, you'll have to buy a similar matching fabric to use as a patch. In this case, you won't need a razor blade.
Vinyl
As with nylon and polyester, you have a choice. You can choose vinyl spray paint to completely cover the burn, which is ideal for smaller burn holes.
You'll need:
Vinyl spray paint (matching your upholstery).
Sandpaper.
Filler glue.
For a larger cigarette burn hole, spray paint alone might not be enough. In such a case, you'll have to buy a vinyl patch instead.
Faux Leather & Leather
For faux leather, buy yourself a bottle of faux leather pigment.
For real leather, you'll need:
Leather pigment.
Leather conditioner.
Tips to Keep in Mind When Fixing Cigarette Burns in Cars
In the following section, we've listed a few tips to keep in mind for before, after, and during the repair.
Safety First
You're going to be handling sharp items and chemical adhesives, so keep curious pets and children away from you and your vehicle until you're finished.
Invest in the Right Supplies
Invest in quality glue and sharp fabric scissors or a scalpel.
Dull blades can make the task much harder than it has to be, and a cheap brand of glue may take longer to dry or might have poor consistency. So, choose super glue if possible.
Let There Be Light
When doing any vehicle-related work, you need to be able to see what you're doing – and this is especially true for a delicate task like this. Set aside time during the day to perform this work, preferably when it's sunny outside.
Take Your Time
Some of you may find this sort of repair easier than others. If this is your first time fixing upholstery, don't rush yourself through the task. There's nothing wrong with taking some extra time to make sure you don't make mistakes.
How to Fix Cigarette Burns in Cars
Now that you have all the necessary equipment you'll need to work with, and a few valuable tips to keep in mind, let's dive deep into what you came here for: how to fix car cigarette burns.
Nylon or Polyester
Here's how you can fix the burn on nylon or polyester:
1. Clean Surface & Cut Charred Fabric Away
Gently clean the area surrounding the burn to remove dust or debris. If you've wet the fabric, allow it to dry completely before you continue.
Now remove any charred, melted pieces of fabric with your scissors. For finer work, get the scalpel out. Be careful not to slice away more than is needed. You don't want to make the hole any bigger than it already is.
2. Collect Matching Fibers or Cut Your Patch
The carpeting in your vehicle may be identical to your upholstery. If so, find an inconspicuous place to gather some fibers, such as underneath your car's seat. If this isn't the case, skip ahead to the next step.
Use your razor blade to shave away the desired amount. Try to use a shaving motion over the surface rather than slicing into the fabric. Don't go overboard when doing this, though, as you don't want to leave another mark in your car. Put the fibers aside, since you'll need them shortly.
If gathering matching fibers from your car isn't an option, don't worry. Get your scissors out and cut the material to the size of the hole. When doing this, try to be as accurate as possible.
3. Fill It Up
You have two choices here.
If the hole is shallow, you can add a little bit of glue to fill it in.
For deeper burns, you might want to use your cloth or foam filler. Coat the hole with fabric glue, then use your tweezers (or toothpick) to pack the material in. Cut away any excess so that the end result is a flat surface.
Whether you used glue or filler material, give it ample time to completely dry.
4. Apply the Patch
Prepare the fabric you cut out earlier for your patch. Apply fabric glue to the packed-in hole and flatten the matching fabric over it with your tweezers or toothpick.
Adjust as needed to make sure it's smooth and flat. Then, let it dry, and you're done!
Vinyl – Patch Fix
Follow these steps to repair a deeper hole in vinyl seats: (Note that there are two options for repairing vinyl.)
1. Clean Surface
Clean the surface surrounding the burn with a wet cloth to clear away any dirt. Make sure there are no traces of dirt or dust left behind. This could interfere with the fabric glue.
2. Cut The Burn
Slice away any remaining burn marks with your scalpel. You don't have to do this if it's a "clean" hole.
3. Pack the Hole
Get out your filler cloth or foam. Coat the inside of the hole with fabric glue, and pack it as needed with the material.
Remove excess with your scalpel so that you don't have a lumpy surface for the patch.
4. Patch It Up
Cut your vinyl patch to size if you haven't already. Apply fabric glue to the packed burn and the area surrounding it, if necessary.
Glue your patch on and wait for the adhesive to dry. Wipe away extra glue immediately, and your fix is complete.
Vinyl – Spray Paint Fix
Are you dealing with a smaller, shallower burn on your vinyl upholstery? In that case, prepare your spray paint, and follow these steps:
1. Clean Surface & Remove Charred Fabric
Wipe away any dirt around or on the hole, then cut away pieces of charred fabric with your scalpel so that the hole is flat.
2. Get Out Your Glue
Apply filler glue directly into the hole until it's full to the brim. Then, let the adhesive dry. Next, use your sandpaper to sand the dried glue down until the packed hole is level.
3. Spray Paint
Wipe your upholstery with a dry cloth to get rid of any residue. Apply your vinyl spray paint to the glued-in hole and let it dry. Once you get this step done, you've completed the fix!
Faux Leather
Hide that unattractive burn on your faux leather car upholstery by following these step-by-step guidelines:
1. Clean the Surface & Remove Charred Fabric
Wipe the upholstery around the hole until it's clean. If there are any solid charred pieces, slice them off with your scalpel. You want a level surface rather than a bumpy one.
2. Use Your Faux Leather Pigment
Use the product you've purchased, and follow the instructions to a T as directed. You'll likely have to fill the holes with it and allow it to dry.
Leather
If you have a cigarette burn on your leather seats, it's best to consult a professional rather than attempt it on your own with a leather filler or touch-up kit.
If you do want to take the job on yourself, follow these steps:
1. Clean Surface & Remove Charred Fabric
Clean the upholstery around the burn with leather cleaner. Let it dry completely. If there are uneven pieces of burnt leather around the hole, slice them off. Make sure your scalpel is sharp; you don't want to cut away more than you need to.
2. Fill in the Hole
Apply fabric glue into the hole and pack it with your cloth or foam filler material until it is completely filled.
Use your tweezers so that there are no gaps that could cause the leather to bunch up. You want to get everything in tightly, with no expanding lumps.
Then, use filler glue as a sealant. Allow it to dry and sand it down with your sandpaper to make sure it's even.
Be precise while you're doing this, as you don't want to wear down undamaged leather.
3. Apply Leather Pigment & Condition
Add the pigment as directed, and let it dry. Condition the repaired leather for a sleek finish.
What Other Options Are There?
If you don't want to go down the DIY route, there are two other options: either purchase a cigarette burn repair kit, or go to a professional for help.
Cigarette Burn Repair Kit
There's a kit for everything these days – including cigarette burn repair. Such a touch-up kit comes with all the accessories you'll need, from glue to patches.
Ensure the brand you choose is appropriate for your upholstery (material, color, etc) before you buy it, though!
Professional Help
If you're aiming to get your upholstery looking brand new again, you'll need it done by a professional at a local detailing or upholstery repair shop.
This is especially advisable if you have genuine leather upholstery or severe burns. A careless DIY repair could worsen the damage and end up costing you more to fix.
Conclusion
By now, you're aware of all the options you have for fixing cigarette burns in cars.
Always remember that you should make it a priority to repair the damage as soon as you can – you don't want the hole to grow larger or stuffing to come out of your seats!
Ideally, you shouldn't be smoking in your car at all. Not you, nor any of your passengers. However, if you absolutely must smoke in your vehicle, reduce your chances of accidents or injuries by limiting smoking breaks to when you're parked. If that's not an option, invest in a good set of seat covers.