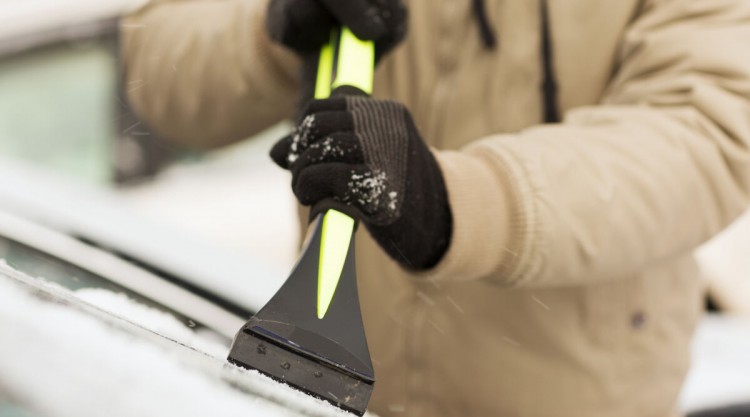 Driving in the winter can be dangerous for many reasons. Drivers of all experience levels have to be extra careful when the snow starts to fall.
Did you know that 17 percent of all crashes happen during wintry weather? This is why investing in tools to clean your vehicle of ice is essential.
Leftover snow or ice on your vehicle when in motion can increase your risk of a nasty accident. Not only can it obscure your own view through your windows, but it can blow off your roof or trunk onto any vehicle behind, potentially leading to an accident.
So grab one of the best ice scrapers from our guide, clear your vehicles of snow and ice, and do all you can to be safety conscious.
In this article, you're going to discover why ice scrapers and brushes are necessary and the different types available. We'll also detail what you should keep in mind shopping for them.
To finish up, we have a roundup of mini-reviews, taking a detailed look at some of the best ice scrapers of all kinds on the market today for you to choose from.
Quick Links to Our Top Recommendations for Best Ice Scrapers and Snow Brushes
Note: Clicking the above links will take you to further information, current prices and customer reviews on Amazon.
What Tools Exist for Removing Ice from Vehicles?
There are four categories of tools for removing ice from your vehicle. Each variation has its own advantages and disadvantages. Let's take a look.
Ice Scraper
An ice scraper is a handheld tool and, as the name suggests, it's used to scrape ice off your vehicle's windows. It comes with a blade that's designed to remove ice without damaging the glass.
Depending on the model, the material of the blade can vary. Most are made of plastic of some sort.
Snow Brush
Snow brushes are similar in design to ice scrapers, except with a brush instead of a blade. You use the brush to clear snow off your vehicle, although it may not remove stubborn ice.
Squeegee
A squeegee is used in combination with a snow brush. In some cases, the brush alone won't get all the snow or ice off your windows. With a squeegee, you can get the last traces of snow off – again, it might leave ice behind.
Combination Tools – any Two or Three of the Above
Combination tools are multipurpose ice removal devices. For example, a tool that has a scraper at one end and a brush on the other end.
Other combination tools may have detachable heads. You can switch out the heads as you clear snow and ice off your vehicle.
Why Should You Own an Ice Scraper?
Making sure your vehicle is clear of ice and snow can lower your risk of an accident. If your windshield is covered in ice, your visibility will be reduced.
The Occupational Safety and Health Administration (OSHA) recommends keeping an ice scraper and snow brush in your vehicle all winter long. These tools are considered essential in promoting safe winter driving.
Now, you're not obliged to use specific tools. It is possible to clear your vehicle of ice using your hands and a piece of cardboard if you prefer. And we list numerous ways to defrost a windshield without heat in our guide.
Still, ice scrapers are designed to make the experience easier. Why subject yourself to the extra effort?
Not only that, but they'll do a better job than anything you can make on your own. You can also rest assured that your vehicle's windows won't get scratched in the process.
Why Might You Also Want a Snow Brush?
The snow on your roof might not block your vision when your vehicle is parked. But, when you get moving it's a different story.
Snow tumbling off the roof of your vehicle onto your windshield can startle you and temporarily obscure your view of the road. If a large amount of snow flies off behind you when you're driving, you could inadvertently cause an accident for following vehicles. It might hit their screen and block their vision, or even break the windshield.
You might be thinking that brushing snow off your car isn't difficult. You can use your hands or even a household broom.
Well, snow brushes are built to brush off snow – that's their purpose. Some are specially shaped to maximize efficiency. This way, you get large amounts of snow off your car with less effort.
What to Look for in the Best Ice Scrapers and Snow Brushes
Now you know why they are a necessity, it's time to learn what features to look for in the best ice scraper and snow brushes.
The Right Handle Length and Strength
The best ice scrapers and snow brushes have strong handles. These handles must be sturdily built, for several reasons.
First of all, removing snow and ice is not gentle labor. You'll have to push the tool around with some force. A weak handle can break if you shove it too hard. This is frustrating and can also injure you, or scratch your vehicle.
Next, the handle has to be able to tolerate freezing temperatures. Certain plastics become brittle and can break in low temperatures.
The length of the handle is also important. After all, in some regions, winter can last for months on end. This means you'll be clearing ice and snow off your vehicle every day – or at least several times a week.
The wrong length handle can make cleaning your vehicle tedious. If the handle is too long or short, this will make the tool awkward to use or unable to reach far. It's bad enough to be out in the cold, you don't need to add more stress to the task.
Length and Strength of the Blade
The same things apply to scraper blades as they do to their handles. The best ice scraper needs to have a durable blade. A snapped blade can do more than just irritate you. It can visibly damage the windows of your vehicle.
Plus, you want to get all that ice off with minimal effort. If the blade is dull, you'll have to expend more strength and energy to get things cleared off.
Ideal blade length is subjective. If you have a large vehicle with big windows, a longer blade is preferable. You can get more ice off in less time, although you will need to apply more pressure. The longer the blade, the less impact you'll have per inch.
If your windows are smaller, a shorter blade is best. Longer blades may reach beyond your windows to your car's body. A too-long blade can prevent the blade from touching the glass, rending your ice scraper useless.
Adjustable Reach
The best ice scrapers and snow brushes have an adjustable reach. This is practical so that the tool suits all heights of vehicles and people.
If you have a tall vehicle, you'll need an adjustable reach on your snow brush. You don't want to have to drag out a step-ladder to brush snow off the roof – that's if you even have one nearby.
Those of you who are vertically challenged can save yourself time. If you're clearing snow off the hood of your car, lengthen the reach of your brush. You won't have to circle around your car or lean over uncomfortably to reach the center spots.
The Width and Effectiveness of the Broom Head
The effectiveness of a snow brush depends on the broom head. Ideally, the broom head should be wide. This way it will catch more snow when you brush it over your vehicle.
Unlike with the length of ice scraper blades, broom head width doesn't have to be vehicle-specific. Snow brushes can be used on the entire vehicle. Narrow broom heads won't clear off as much snow at once.
The shape and flexibility of the broom head is also important. If it can mold itself to the shape of your car, it won't leave snow behind.
Materials and Durability
As with any tool you buy, prioritize materials and construction. You don't want to go through several ice scrapers and snow brushes every winter.
Look for materials that are durable and cold-resistant. Even if they come at a higher price, it's better to make the investment. If you buy low-quality tools, you can't expect much from them.
If a snow brush is made of bristles, they should be firm, and securely attached to the broom head. Weak, thinly spaced bristles will pass through snow without brushing it off. Foam broom heads shouldn't fall apart or lose pieces.
You don't want to end up late for work because your ice scraper broke. Buying quality tools will ensure they last you for years, and winter after winter.
Ease of Use
Clearing your vehicle of snow and ice will take some effort. Unfortunately, there's no way around that hard fact.
This doesn't mean that the right tools can't make the job easier. The opposite is also true – the wrong tool can make for an exhausting ordeal. The tool you buy should be user-friendly in all senses. If anything needs to be attached or locked, the mechanisms can't be stiff.
Remember that you'll probably be wearing gloves. If buttons or catches are tiny, you might have to remove your gloves to trigger them. Needless to say, nobody wants to do that when it's below freezing outside.
Let's look at the three main types available now, with our top picks in each category.
Best Combination Snow Brushes With Integrated Ice Scraper
If a two-in-one tool appeals to you, invest in a combination snow brush with integrated ice scraper. Here are our favorites.
Hopkins Subzero 60" Quick Lock Pivoting Head Snowbroom, Squeegee, And Ice Scraper
This combination tool includes a snowbroom, squeegee, and ice scraper. It reaches 60 inches when fully extended.
One of the notable features of this tool is its user-friendliness. The button to extend or retract the head is easy to use, even with gloves. There are foam grips at both ends to help you get a secure grip.
You can maintain a firm grasp on it when you're wearing gloves. You'll also be protected from feeling the chill of the metal – it's cold enough outside without that!
Adjusting the length of the handle is done through a catch-and-release mechanism. Again, the button is big enough to be pressed with gloves on. When the lock is engaged, you'll hear a loud confirmation click.
The heads at each side are set up in a way to avoid unnecessarily swinging the tool around, with the snow brush and squeegee at one end and the ice scraper at the other.
The extendable handle makes it compatible for vehicles of almost any size. You'll be able to brush snow off the roofs of SUVs and Jeeps without stretching. Those of you with RVs can take advantage of the 60-inch handle length too.
The pivoting head will spare you moving around your vehicle frequently. Even with vigorous motions, the pivot won't lock up. Not many people brush snow off their vehicles gently, so this feature is a big plus.
Let's get to the combination scraper and chipper: It's built of a hard plastic that holds up against the cold without bending or cracking. It's sharp enough to chip and scrape ice off your windows without worrying about scratches.
Manufacturer's Specs and Features
Extendable handle reaches up to 60 inches long.
Pivoting broom head is 12 inches wide.
Includes blade and ice chipper.
Foam grip.
What We Like
Extendable handle with a long reach.
Foam grips at both ends.
Easy to handle wearing gloves.
Includes three tools – the full package.
Pivoting broom head saves time and effort.
What We Don't Like
Pivoting head can lock over time.
Foam grips are kinda short.
Summary
If you have a large vehicle or want all ice-removal tools in one device, this multi-purpose tool might be right for you. Get more information about it here.
Birdrock Home Snow Moover 55" Extendable Foam Snow Brush and Ice Scraper
Here we have two tools in one. You'll get a foam snow brush and plastic ice scraper. Both of these tools are detachable from the handle, which is extendable.
A major benefit of this tool is the removable heads. This makes storing everything in the trunk of your car easy. If you have a full trunk, storing a long two-headed tool can be a hassle.
The extendable snow brush handle is capable of extending from 31 to 55 inches. This is another thing that will make storing it less of a hassle. You'll also get a long reach when you're using the snow brush.
Another positive when it comes to this combination tool is the extent of the grip. Nearly the entire handle is covered in foam. You can adjust your grip without getting a handful of ice-cold metal.
This snow brush has a foam head rather than a bristled one. The foam is freeze-resistant and capable of rotating. You can lock it at an angle, depending on the part of your vehicle you're targeting.
When it's time to tackle the ice, you can remove the scraper from the handle for easy to reach windows. Or you can keep it attached – the choice is yours.
The plastic snow scraper has a flat scraping blade as well as sharp jaws. If you need to chip through tough ice, the jaws will make short work of it. These jaws are designed to be scratch-resistant to avoid damaging your windows or paint job.
The scraper blade is sharp enough that you won't have to apply heavy pressure. This is useful, as you want to avoid working up a sweat when the temperatures are freezing.
Manufacturer's Specs and Features
Dimensions: 14 inches by 2 inches by 31 inches.
Extended dimensions: 14 inches by 2 inches by 51 inches.
Foam head snow brush with a rotating head (270 degrees).
Removable scraper.
What We Like
The ice scraper is detachable.
Foam grip.
Long length when extended.
Rotating broom head for less effort.
Everything comes apart for convenient storage.
Lightweight.
What We Don't Like
Extendable handle shaft can get stuck.
Snow can clog the broom head rotating mechanism.
Summary
If you want a sturdy tool that won't take up too much space in your trunk, consider the BirdRock home snow mover. Check out this combination tool for yourself here.
Mallory 26" Cool Tool Snow Brush With Integrated Scraper
If you have a smaller vehicle, the Mallory cool tool is a good choice. Taller individuals can use it on high or large vehicles, bearing in mind the short length. This combination tool includes a bristle snow brush and plastic ice scraper.
This no-frills combination tool is lightweight and compact. Although neither of the two heads is detachable, it's small enough to fit in your trunk.
The most appealing part of this tool is the ribbed foam grip. Even while wearing gloves, it's comfortable to hold. This may seem unimportant, but an unpleasant grip can get you dreading the chore.
The handle curves upwards on the snow brush end. This will prevent the handle itself from hitting your car as you brush snow off.
The bristles are stiff without much yield, which is good for powdered snow. Still, they're gentle enough not to damage your paint during energetic clearing sessions.
The plastic scraper cuts through thin and thick ice effectively. It's resistant to warping or cracking in the cold.
Manufacturer's Specs and Features
Weight: 13.6 ounces.
Handle: 26 inches long
Ribbed foam grip.
Scraper blade is 4 inches wide.
Bristle-head snowbrush is 8 inches long, 1.5 inches wide.
Comes in red or blue.
What We Like
Long-lasting ice scraper.
Grip is comfortable.
Ideal reach for smaller vehicles.
Bristles are stiff but won't scratch.
Good value.
What We Don't Like
Snowbrush bristles can shed.
The scraper isn't detachable.
Summary
If you're looking for a basic tool that won't break the bank, this combination snow brush and ice scraper might work for you.
If you're looking for a longer handled version, Mallory also makes this one, which extends from 28 to 45 inches.
Get more information about the Mallory Cool Tool 26-inch snow brush right here:
Best Ice Scrapers
Some of you may already have snow brushes and squeegees. If you want a tool exclusively for ice removal, this is the section for you. We have listed the best ice scrapers on the market for you to choose from.
Dang Near Indestructible Ice Scrapers from Revheads
This handheld scraper from RevHeads has two main parts to the head. It has a sharp plastic blade and a spiked claw.
If you're in an area where the winters get seriously cold, this scraper is up to the job. The claw part is capable of breaking away thick chunks of ice off your vehicle.
The handle is a little over 9 inches long. It isn't uncomfortable or awkward to hold while you're clearing your windows. For the windshield, you'll get a decent reach with it.
The entire handle is covered in a soft foam grip. You can grasp it securely in thin or thick gloves. There are no sharp edges to deal with. You won't have to worry about getting blisters. This is practical if you have to clear ice off more than one vehicle.
The head of the scraper has an indentation where you can place your thumb. In case you want an additional measure of pressure while you're scraping, you can have it.
The blade is built of heavy duty plastic that will slice through ice quickly. You won't have to struggle or swipe over the same areas repeatedly.
The plastic blade is tough enough to scrape off the ice without scratching your windows. The blade has a slight yield to it to avoid cracking under pressure. If you do have to put
pressure on this scraper, cracking is unlikely.
When you're done scraping, you have flexible storage options. Either toss it in your car or hang it up indoors, with the built-in loop.
Manufacturer's Specs and Features
Dimensions: 9 inches by 2 inches by 4 inches.
Weight: 3.2 ounces.
Foam grip.
Plastic claw and blade.
What We Like
Pleasant grip.
Scrapes ice off with minimal effort.
Claw attachment is great for thick ice.
Plastic won't scratch windows.
Loop to hang it up.
Small enough to fit anywhere in your vehicle.
Excellent customer service.
What We Don't Like
Short reach.
Blade can get dull with frequent use.
Summary
The RevHeads snow scraper, with its claw feature, will get your car ice-free in short order. If you're eager to get one of your own, follow this link:
Hopkins Subzero Ice Crusher and Scraper
This product incorporates a chipper and ice scraper, both of which are made of durable plastic.
The chipper blades are short and separated, cleverly designed to make breaking through thick ice painless. You can use the chipper on your windows to cut through stubborn ice sheets. As the blades are blunted rather than sharp, there's no risk of scratching.
The handle is wide with a cushioned foam grip. It's thick enough that you won't feel the metal underneath and end up with frozen hands.
There are large hollows spaced throughout the handle to give you a more secure grip. Smooth handles can slip out of gloved or cold hands, which is frustrating.
The whole tool measures just over 11 inches long. You'll get decent reach for your windshield or higher windows. But it's still small enough to fit underneath your car seat.
Both tool sides have indentations where you can place your thumb to exert more pressure when close-up chipping and scraping.
The wide scraper blade removes ice or frost cleanly and evenly. As long as you drag it in a consistent line, you can get wide swaths of ice off. This means less repetitive scraping motions for you.
If you have to push the scraper blade down hard, it will hold up, with little risk of the blade snapping.
Manufacturer's Specs and Features
Dimensions: 11.6 inches by 4.6 inches by 0.9 inches.
Weight: 1.6 ounces.
Foam grip.
Plastic ice chipper and scraper blade.
What We Like
Longer reach than other products.
Chipper works on stubborn ice.
Scraper blade scrapes evenly.
Resilient and long-lasting.
What We Don't Like
The handle is uncomfortable to grip for long periods.
Needs elbow grease for thicker ice.
Summary
This Hopkins Subzero ice crusher dual-combo chipper and scraper works on both thin and thick ice. If you want to see it for yourself, click here.
Mattc Ice Scraper Mitt
This is an ice scraper attached to a wearable mitten. If you prefer thinner gloves during the winter, this mitten is an excellent alternative.
The same goes for those of you who wear gloves that absorb water or shouldn't get wet, such as knitted or suede gloves, for example.
There's no reason to swap out your stylish gloves for bulky winter ones if you don't want to. All you have to do is slip your hand into this mitten and get scraping.
The mitten itself will fit hands of nearly any size. It has a flexible elastic cuff around the wrist to keep it tight and prevent snow creeping into the mitten.
The exterior is made of waterproof material, to keep your hand dry as you work. Inside, the glove is lined with a furry material. Aside from being comfortable, your hand will stay warm too.
The ice scraper is connected to a textured handle inside the glove. To start scraping, you just hold onto this handle. This is how you control the scraper blade – it will literally be connected to your hand.
It's made of ABS plastic to prevent window scratches. The blade is shaped like a downward pointing shovel. It cuts through thin and thick ice evenly.
This smart design feature makes this product user-friendly. You can hold your hand naturally while you scrape the ice off. If the blade was angled upwards or straight ahead, you'd have to hold your hand at an awkward angle.
There are no parts to store or disassemble once your vehicle is ice-free. The mitten can be kept in your trunk or under your seat.
Manufacturer's Specs and Features
Dimensions: 9.8 inches by 4.7 inches.
Weight: 4 ounces.
Waterproof mitten with adjustable elastic wrist cuff.
ABS plastic ice scraper.
What We Like
Mitten keeps hand warm and dry.
Fits users of almost any size.
The scraper blade is sharp.
Interior of the mitten is heavily padded.
What We Don't Like
The internal handle can snap under pressure.
Reaches only as far as you can.
Summary
If standard handheld scrapers don't interest you, the MATTC scraper mitt combination will do the trick. If you're eager to buy one of your own, check it out at this link.
Best Snow Brushes
Do you already have your ice scraper picked out, ready for winter? If so, choose a snowbrush from our recommendations for the two best snow brushes available.
Subzero 35" Mini Arctic Plow Telescoping Snow Broom
This snow removal tool has an extendable handle with a foam head. When fully extended, you'll enjoy 35 inches of reach.
When you extend it, you'll hear a confirmation snapping click. You don't have to waste time checking if the mechanism is engaged or not. You don't want to spend more seconds in the cold than necessary.
If you have a small hatchback or a car, you'll be able to brush off snow quickly. For larger, taller vehicles you may have to reach a little, depending on your height.
This tool is built to last long term. The handle is made of steel and sturdily constructed. It won't bend or sway while you're brushing snow off.
The end of the handle has a ribbed rubber grip. It won't slip out of your hands when you're fighting big piles of snow. It's important to have a good grip on your snow brush to avoid injuries.
As the foam head is wide, you can clear a lot of snow with one swipe. The width of the head makes it suitable for powdered as well as packed snow. The foam won't scratch your car, no matter how aggressively you push snow off it.
The broom can be collapsed to just under 23 inches when you're done with it. You can remove the broom head to store it separately.
Manufacturer's Specs and Features
Dimensions: 22.2 inches by 6 inches by 22.2 inches.
Extends to 35 inches.
Weight: 1.5 pounds.
Foam broom head.
Rubber grip.
Steel handle.
What We Like
Wide brush head for quick clearing.
Stable handle.
Easy to store anywhere in your car.
No risk of scratches.
Constructed of tough materials.
What We Don't Like
Could be improved if the handle extended further.
Summary
If you're looking for a snow brush that will last longer than one winter, the SubZero mini Arctic plow could be for you. Take a look at it for yourself here:
SNOBRUM Snopro Professional Grade Snow Remover
This foam-headed snow brush has a 47-inch long handle. This generous length makes it suitable for people with small or large vehicles. Those of you with sizable vehicles won't be stretching out on tiptoes.
The handle of this snow brush is made of cold-rolled steel. It won't crack or warp in the sub-zero temperatures. You can also brush with aplomb knowing it won't bend under pressure.
As the broom head is made of foam, it's gentle on both glass and paint. There won't be any scratches to discover come springtime.
The head is 17 inches long and 6 inches wide, to cope with taller snowdrifts. You can sweep tall piles of snow off without having to break them up. This is ideal after a heavy snowfall.
Once your vehicle is cleared, this snow brush can be stored in your garage or hallway. Detach the foam head and hang it on a hook from the loop on the handle.
Manufacturer's Specs and Features
Handle length: 47 inches.
Weight: 2.71 pounds.
Foam broom head dimensions: 17 x 6 inches.
Removable broom head.
Steel handle.
What We Like
Long-lasting construction.
Wide broom head.
Non-scratching foam.
A generous length.
Lightweight.
What We Don't Like
Broom head can twist off the pole.
No cushioned grip.
Summary
If you're looking for a snowbrush that's built to get your vehicle snow-free fast, the SnoPro snow brush is the right choice. Learn more about it by clicking this link.
Final Thoughts
Ice scrapers and snow brushes are tools you don't really consider, that is until you need them. Depending on your height, reach and the type of vehicle you own, you need to put some thought into picking the best ice scraper that's appropriate for you.
If it's hard to use or low quality, that's more time you'll spend outdoors. You want to get into the warmth of your car (or home) as quickly as possible.
Do you have any questions, comments, or feedback? Please share your thoughts in the comments below – we'd love to hear from you!