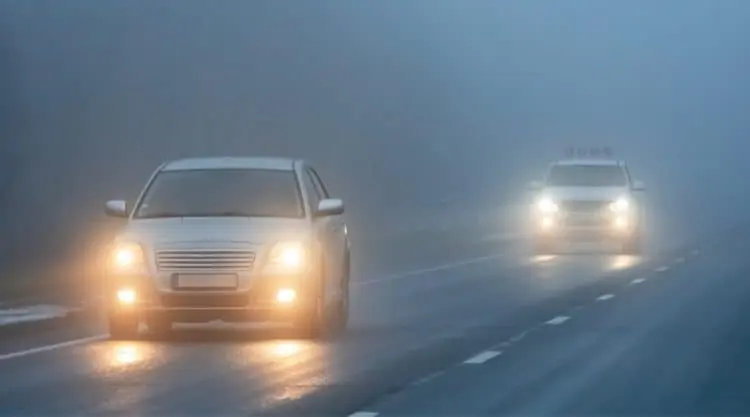 Depending on the area you live in and what kind of climate you have over there, driving through fog or rain is a given in some circumstances.
In these driving conditions, knowing how to turn your fog lights on is extremely important – for your safety, your passenger's safety, and that of anyone else on the road around you at the time.
Fog lamps produce a wide beam of light to greatly increase visibility and alert other road users to your presence.
They've been well-designed to shift the angle that light is produced at, to reduce the impact of reflection and increase safety levels.
Since they're such an important factor in driving safety, knowing how to turn on fog lights is incredibly important.
You'd think it'd be easy to know how to do this, right? Well, not really. Because not everybody uses them all the time, locating them quickly when needed isn't always a simple thing to do.
In this article, we'll go over their basic function, how to use them properly, how to know when they're turned on (or off), and some specific information for specific makes and models.
Whether it's a rear fog light you're after or the front ones, we've got you covered, so read on!
Starting With the Basics
There are some basic functions to keep in mind:
Automatic features.
Specificity to make, model and geographics.
Automatic Features
It's common for modern vehicles to have an automatic process to turn lights off.
This is when all internal and external lighting is switched off approximately 15 seconds after the ignition is switched off.
Depending on the outside lighting condition, many cars have a built-in sensor that automatically turns the headlights on. These are called automatic headlights. This has been included to increase safety, but doesn't usually include fog lights.
Make, Model and Geographic Specifics
Not all varieties of vehicles have the same process for turning on fog lights. Even worse, not all cars come with them as standard, and it's not always the law for them to be included. Yikes!
For example, rear lamps are legally required in Europe but not in the US. Due to how common it is to import and export cars, though, cars imported to the US from Europe will usually have rear fogs as standard.
However, in Europe, it's not the law to have front fog lights. With that being said, many manufacturers do include them, since they realize that it's a vital requirement for many drivers.
We talk about some more information on specific car models below. If you're unsure what the status is with your vehicle, check the handbook to see where they're located – if it has them at all, that is!
How to Turn on Your Fog Lights
If someone told you to find your fog lights on your indicator stalk and you had no idea what that meant or where you can find it, don't worry, it's not that complicated.
Besides learning about how to do this from your car owner's manual, the following sections will guide you about switching on your fog lights:
Most Common Method
This is considered to be a method that suits many vehicles:
Turn your headlights to low beam.
Check to see where the inner ring is located, right beside the signal lever.
All you need to do to turn them on is to press that inner ring.
If your car doesn't have this option, then continue reading below to see the steps you should take as an alternative method.
Alternative Method
Turn the ignition on.
Switch on your headlights, and switch the tail lights on.
Apply the fog lights.
Don't forget to switch them off!
#1. Turn the Ignition On
Start out by turning your key so that your car battery can start. You don't need to actually start your car, you're only going to need the dashboard for this to work.
#2. Switch the Headlights and the Tail Lights
Next, you're going to find the control lever that's in charge of turning the lights on and off. It should be located right beside the steering wheel.
All you need to do is twist it until the low beam headlights are turned on.
#3. Apply the Fog Lights
Somewhere on the control lever should be an inner ring. You can twist this around to turn the vehicle's fog lights on.
#4. Turn them Off
When you've gone through the rain and the mist and no longer need to make use of your fog lamps for now, it's time to turn them off. You'll want to do this because they tend to take up a lot of energy from your car battery.
Start by twisting the inner ring back, and – when necessary – turning the headlights and tail lights off.
Finally, you can shut your car off.
How to Know When Fog Lights Are Turned on or Off
If you're not sure whether you turned your fog lights on, there's a simple process to take.
Check the dashboard (i.e instrument panel).
Check outside the vehicle.
Still unsure? Get a professional to help.
#1. The Dashboard
All you need to do is to take a look at your dashboard. There's a symbol that will appear whenever you have your front or back fog lights turned on. It tends to be a bright blue light to make you aware.
If it's not there, it means that they are off.
#2. Check the Outside
To double-check, inspect the outside of the vehicle. If you're driving at the time, make sure to pull over only when it's safe to do so.
Visibly check the front and rear to put your mind at rest.
#3. Contact a Professional
Since vehicles are reliant on electronics, there is always a chance a fault can occur.
It could be the case that you are positive the fog lights are on but they're not working. Or, the dash indicator light might be on but the lights aren't working.
If you ever suspect a fault, it's imperative that you get it seen and checked by a professional. When it comes to safety, don't ever take a risk!
Shine Brightly Wherever You Go!
So, now that you've made it this far, you now know all about how to turn on the fog lights in your car, whenever you need them.
They're very useful when you're going through low visibility areas, due to mist, heavy rain or even snow. You'll want to use them for your safety, your passenger's safety, as well as that of everyone else around you on the road at the time, so please do use them and be a responsible driver.
Always remember that you're not only using them to be able to see better. You're also using them so that you can be seen by the other drivers around you.
Don't forget that most vehicles require you to have both the headlights as well as the tail lights on first. Most importantly, never forget to switch them off once you can see clearly, so that your car battery doesn't run out on you!