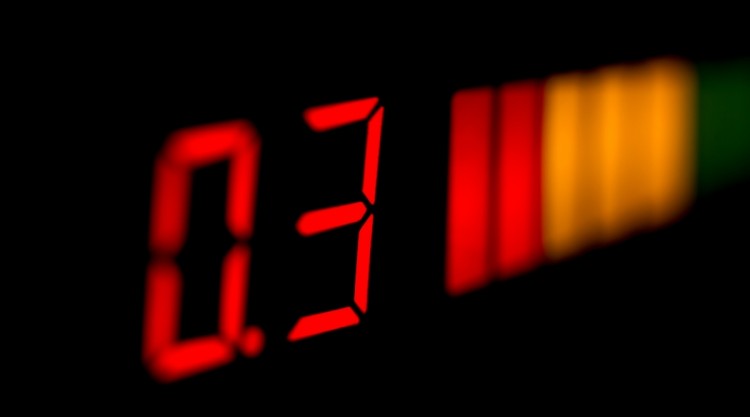 I know a few people who need a collector card for the local body shop and how much they spend on removing scratches or dents from reverse parking. It just so happens that a car parking sensor kit may have helped them avoid it!
In most circumsances, car owners won't do any serious damage or hit anything living. But it's only a matter of time before the inevitable happens …
Sound familiar? You're not alone!
Reverse parking is something which many of us struggle with. It's not a natural movement to be going in reverse—nobody has eyes in the back of their heads, despite what our mothers may have claimed.
As a matter of fact, a report published in the Journal of Safety Research found that 15 percent of all work accidents occurred in the parking lot.
If this sounds like something you struggle with in day to day life, you might want to take a look at some of the best parking sensors for cars on the market today – as these could (literally) act as eyes in the back of your head!
Quick Links to Our Top Recommendations for the Best Car Parking Sensor Kits
Note: Clicking the above links will take you to further information, current prices and customer reviews on Amazon.
What Exactly is a Parking Sensor?
A car parking alert system is a modern innovation which assists many drivers when parking their cars in tight spaces. They can be much safer than just relying on your peripheral vision, and help you see those blind spots your eyes often miss.
If fitted, they can also do away with the need for garage parking aids, as you have a much clearer view and warning system of anything behind your vehicle while reversing.
Small children or low walls can often be hidden by the back of your car when reversing, which is where parking sensors come into play.
To understand the severity of the situation, consider this statistic: Every week in America, there are over 50 reversing accidents involving children.
Many aftermarket parking sensor systems, especially the radar-based kind, will use an LED display to show the distance between your vehicle and nearby obstacles.
This could be in the form of colored lights using the traffic light warnings of red, yellow and green – or more complex images of the car with radar lines.
Distances can also be displayed on the LED display depending on the complexity of the radar or camera system—some sensors will feature both.
At the most simplistic end, an audible beep will become more urgent as you get closer to the object, with many systems offering both visual and audio warnings to alert you.
Can You Fit a Parking Sensor to Your Car?
All new cars in the US after 2018 are required to, by federal regulations, have backup camera technology installed.
The following YouTube video shows a modern car reverse parking system sensor in operation:
Previous to 2018, it only tended to be top-end models of cars which featured parking sensors. You can, however, choose one and install it yourself – with many of these products on the market today fitting most makes of cars.
Be wary if a car reverse radar system manufacturer states it's for a particular model of car, though, as its design may not fit any other.
Trucks or RVs may require different parking sensors if not already built-in, due to their larger size and height from the ground.
It's no good having a vehicle reverse backup sensor which doesn't identify objects below three or four feet tall, as that includes most small kids–and we know how they can pop up suddenly, out of the blue.
What Are the Different Types of Car Parking Sensors I Can Choose From? And How Do They Work?
The first thing you need to understand about these is that there are three different types you can choose from.
If you're debating which is the best parking sensor for your vehicle, it's important to know the main differences between ultrasonic parking sensors, electromagnetic parking sensors, and parking cameras first.
Ultrasonic Parking Sensors
These tend to be the most common type, and use high-pitched sounds which can't be detected by the human ear to judge distance.
A sensor emits these sound waves which bounce off nearby objects and send a signal back to the sensor.
A computerized brain is able to work out the distance between your vehicle and the nearby object by calculating how long it takes for the sound to bounce back.
It's similar to the radar system used by dolphins or bats to navigate areas where sight is more limited, like the night sky or the ocean.
It may sound like a convoluted system, but bouncing sound waves can be very effective.
With that being said, it can sometimes have a few drawbacks. Most will involve drilling holes in your bumper to mount the sensors, and these can be an eyesore.
Tunnel vision is another drawback of ultrasonic sensors which don't create a 360-degree field of vision around your car as electromagnetism does.
Generally, sensors are just designed to point forwards, or more commonly, to the back of the car. So, you could still accidentally scrape your car on something at the side.
Electromagnetic Parking Sensors
Although electromagnetic parking sensors are often much better than ultrasonic ones, they can also be much more expensive, prohibitively so.
Instead of emitting sound waves, an electromagnetic sensor surrounds the entire vehicle with an electromagnetic field.
When anything strays into that electromagnetic field, it sets off the sensor which alerts the driver to the presence of a detected obstacle, pretty much like a security fence.
The object then breaks the circuit, which changes the state of the parking sensor.
Electromagnetic waves are much more sensitive than ultrasonic sensors, and can often sense things ultrasonic sensors miss.
This accuracy does come at a cost, though. You won't find too many electromagnetic sensor kits for existing cars, and only premium makes of cars are likely to come with an electromagnetic parking sensor.
Parking Cameras
Strictly not a sensor, a camera doesn't tend to sound an alarm but rather just offers more visibility to the driver.
They can allow for the vehicle driver to see directly behind them with wide-angle or IR night cameras offering a much better view than the naked eye or a mirror.
Many of the top-rated car parking sensor systems will use a combination of a camera and some sensors to give more detailed information. Not only do you get a clearer picture of what's behind your vehicle, but also important data such as the proximity of the object.
Such systems can also offer an audible alert so you have both visual and audio prompts when parking.
What Kind of Backup Parking Sensor System Do I Need?
Deciding which type of auto rear reverse sensor is best for you isn't always a walk in the park. In fact, it sometimes varies wildly and depends on multiple factors.
First things first, decide how much money you have to spend, and check that it will fit your car just fine.
In general, choosing the top-of-the-line models which employ both cameras and radar will pay for themselves in no time with fewer accidents—if you're a parking klutz like a few people I mentioned towards the beginning of this article!
On the other hand, more basic systems will be highly affordable, easier to fix to your car and will often require minimal drilling or wiring for installation.
There are even simple fixed parking systems you can install in a garage or parking space for preventing bumps when trying to park a large vehicle in a narrow space.
What Are the Benefits of a Parking Sensor?
Obviously, safety is a top concern when deciding to buy a parking sensor for your car, but there are a few other advantages to have as well.
The more people fit parking sensors, the less parking lot crashes or accidents there will be.
Smart technology is integrated into many of these systems, and they can help you save time by determining whether an available parking space is large enough for your vehicle.
If you don't happen to be very good at judging distances, a parking sensor can be an excellent investment for added safety.
A parking sensor attached to your car or your garage at home can minimize the potential damage to your property.
The latest parking sensors feature a weatherproof performance and will last you for many years to come.
What Should I Look for When Choosing a Parking Sensor for My Car?
If you're looking for the best parking sensors available today, bear in mind these important factors when shopping around. This way, you'll know that you're getting something that's both high quality and suitable for your needs.
Your Car Model and Size
Although all the sensors we'll be talking about in the list below are made to fit almost any car, this isn't the case for all parking sensors out there, as some of these you may have a look at will be manufactured especially for certain models.
Normally, these cars will already have the mounting points and possibly the wiring already installed—it can be difficult to adapt such sensors to other cars.
The other concern is the size, or rather, the length of your vehicle.
Many of the sensors will come with short wires for connecting the parts, and the last thing you want is an audible beep in the back of your car.
Wires can either be extended, or you can choose to look for a wireless model instead.
Number of Sensors
Most parking sensors manufactured nowadays will come with at least two sensors to mount in your bumper, although some may have four – or as many as eight.
Generally speaking, the higher the number of sensors you have, the more coverage you will get.
Four sensor parking systems tend to be better with low-level objects, and for those dreaded little kids running out behind you that choose to come out of the blue with no warning whatsoever.
Eight sensor parking sensor systems will allow for front and rear distance information when parking.
Placement
If you have a poor sense of distance, then front-mounted (in addition to rear-mounted) sensors can be a big advantage for you.
Backup rear detecting sensors tend to be most popular due to the more difficult nature of reverse parking, but front ones can offer 360-degree distance detection.
Type of Feedback
Does the back up sensor you're considering purchasing just emit a loud beep that increases in frequency and gets more frantic as you approach and are getting too close to an object? Or does an LED display give colored indicators and actual figures of how close you are to an obstacle?
In an ideal world, you would have a camera and a radar system with a heads-up display unit (like something out of RoboCop).
More importantly, if your unit beeps, can you turn down or even turn off the incessant beeping sound if you have other notifications available? There's nothing worse than that often high-pitched beep of a parking assist sensor, especially if it turns on every time you shift into reverse.
Quality
How weatherproof is a unit and the sensors?
If you live in damp conditions like the Pacific NorthWest, this can be very critical! You don't want radars which cease up when wet, or even freeze, right?
Does the sensor feature more than one CPU or advanced chipsets which can avoid overheating or overload of data? You'll want to try to avoid your sensor failing on you just because it has cheaper and untrustworthy components.
Ease of Installation
In general, most car parking sensors will be user-friendly and easy to install yourself. It's only the much more complex models that come with a multitude of sensors and cameras to work with, which you may need professional installation for.
Sensors are normally drilled into your bumper and then wires fed through your car to a central AV control unit. From there onward, you just wire up the HUD, or possibly a speaker, to emit the audible warning system.
Some may feature dash-mounted displays or even rear view TFT monitors on more advanced units.
Does the parking sensor kit you're considering buying come with a drill bit for installing the sensors? If not, ensure you purchase the exact size by taking the sensor to the hardware shop—you don't want a hole too big which the sensor falls from.
Also, check how much wire comes with the kit, since some are notoriously short and will need extending.
Price
A good rule of thumb to follow is: spend as much as you can afford.
Sure, some of these products can be very advanced and offer some very cool features, but you don't always need to spend extra money on those. All you need is something that does the job effectively.
Parking sensors are generally some of the most affordable accessories you can buy for your car, and this doesn't need to change.
Even if you're buying a more advanced option that has Bluetooth or camera-enabled sensors, there's really no need for you to break the bank for a purchase like this.
The Best Parking Sensors – a More Detailed Look at Our Top Recommendations
In 10 years time, you may not have the problem of trying to choose the highest quality parking sensor there is, as most cars will probably already come fitted with them at the factory.
However, that's not the case today. Nowadays, many of us will have older cars which don't feature such technology, and may need some help with our parking.
Below, we have looked at seven of the best parking sensors currently available to suit all budgets.
Zone Tech Car Backup Radar System
The Zone Tech brand is known worldwide for superior quality products and excellent customer service. This Zone Tech car reverse system is made from premium quality materials for ultimate durability and longevity.
Adaptive environment technology protects the radar system from freezing, and is completely weatherproof.
The radar system is also protected by high-quality components, and protective circuits prevent the unit from overloading or overheating.
Installation is easy, all you need to do is drill four holes into your rear bumper and fix the ultrasonic sensor.
A double CPU and advanced chipset provide enhanced detection and coverage, able to warn you about hazards such as low walls or small children.
One thing we really like about this product is the double notification system of a loud beep and three-colored LED display.
Seven indicator levels on the LED parking sensor show how close you are to any object, with the audible beep notifying you about the distance as well. Green is the safe color, yellow is a warning that you are getting close, while red means you need to hit the brakes!
Manufacturers Specifications
LED display with 3 colors.
4 ultrasonic sensors installed in the rear bumper.
Weatherproof construction.
Double CPU and advanced chipset for enhanced coverage.
Weight: 12.8 ounces.
Dimensions: 7 inches x 3 inches x 6 inches.
What We Like
Durable and weatherproof construction.
Protection circuits to prevent overloading and overheating.
Excellent coverage and detection from the advanced chipset and double CPU.
4 sensors are easy to install.
Audible sound and LED display notifications.
Good value for the price.
What We Don't Like
No volume control on the audible beep.
Wires can be too short for some larger or longer cars.
Rubberized edges of the sensors can slip if not installed correctly.
Summary
Despite being one of the more affordable reverse parking sensors on the market today, make no mistake about its quality – the Zone Tech is also one of the best.
It's not everyday that you can find such a durable unit with advanced technology at a price that doesn't break the bank.
Don't hesitate to give it a try, as it can definitely improve your parking safety, and offers great value for money.
EKYLIN Vehicle Reverse Backup Radar System with 4 Parking Sensors
The Ekylin reverse backup radar system is another product which is equipped with both a sound system and LED display too.
Four sensors (which are both waterproof and shockproof) are drilled into your bumper—you can even choose the color of the sensors to match your bumper with a choice of 16 to choose from.
These four ultrasonic sensors are connected to a central AV controller box which can be hidden under a seat or your dashboard. An LED display is then connected to the same module before mounting somewhere which is more visible to the driver.
Radar systems using this design are very popular for their ease of installation.
To help avoid any collisions, the alarm on the Ekylin beeps louder and faster as you get closer to an object. Some people might feel that this is sometimes annoyingly loud, but truth be told, it proves very useful.
The LED display offers seven levels of detection from the safe of Green to the warning stop of Red.
One of the best things about this option is how easy the installation can be. An included hole-saw makes it simple to fit the discreet sensors to your rear bumper, although some customers complain they often receive the wrong color sensors.
A full English instruction manual is easy to understand and comprehensive.
Manufacturers Specifications
Four weatherproof and shockproof rear bumper sensors.
Available in choice of 16 popular car colors.
3-color LED distance display and piezo buzzer
Detecting distance of up to 8-feet.
Includes hole saw for installation.
Double CPU for enhanced detection.
Dimensions: 9.84 inches x18 inches x 5.91 inches
Weight: 9.9 ounces.
What We Like
The wide choice of colors makes the sensors much more discreet. They even have champagne gold!
Compact central AV control box is easy to hide away.
Clear 3-color LCD is simple to read.
Easy to install with drill head provided for conveniently drilling holes.
Low power consumption sensors don't suck the juice out of your battery.
Plenty of coverage with up to 8-feet detection.
Attractive price.
What We Don't Like
The usual complaint about short wires—tricky to extend.
The VERY loud and shrill buzzer can be annoying to some people.
The beep can sometimes be activated as soon as reversing rather than when near an object.
Some users have complained of receiving wrong colored sensors—so be sure to check the packaging before installation.
No overload protection circuits.
Summary
Another great value for money parking sensor, the Ekylin will certainly improve your safety when reverse parking.
It's one of the easiest to install, with a comprehensive instruction manual and drill bit supplied in the box.
Be warned, though: you may want to put some silicone in the buzzer housing to muffle the extremely shrill loud beeping!
FenSens Smart Wireless Parking Sensor
The FenSens Smart Wireless Parking Sensor differs from the first two products we've looked at so far, as it attaches to your license plate rather than your bumper.
Provided with a special tool and four security screws, all you have to do is install the included batteries and attach the magnetic sensor to your plate.
Because of the wireless design, it can be either fitted to your front plate or the back. You could even buy one for each if you wish.
Once the plate bracket is installed, you just download the FenSens app to your phone and add a sensor plate to your account.
Next, you pair the plate, telling the app if the plate is front or rear mounted and the distance between your car's bumper and the sensor.
Once paired, you can do a few test runs to ensure the sensor is calibrated.
The radar screen of the app shows a visual indicator which ranges from red to green, showing the distance between your car and any nearby objects.
A loud beep emits from your phone with increasing urgency as you get closer to the object. It's quite similar to many sensors built-in to new cars, and is just as accurate in showing depth.
A magnetic vent clip and Bluetooth launch button make this radar system completely hands-free, although the button only works with Android phones. Apple users have to prompt the notification that appears when the sensor is near to launch the radar screen.
Manufacturers Specifications
Two ultrasonic sensors in a magnetic license plate bracket.
Bluetooth connectivity with iOS and Android devices.
Sensors detect up to 10 feet.
Weatherproof sensors.
Anti-theft software feature.
Audio, visual and vibration alerts via your smart device.
Requires two universal AA batteries—average five-month lifespan.
Includes a Quick-launch button and air vent bracket for a phone.
Dimensions: 4.7 inches x4 inches x 2.4 inches
Weight: 1.7 pounds
What We Like
Easy to install with no wires needed.
Clear beautiful visuals simulate more expensive in-car parking sensors.
Pinpoint accuracy which rivals many OEM sensors.
Audio and vibration alerts.
Suitable for most commercial vehicles up to 30-feet in length.
Can be used in extreme weather conditions.
Instant on/off operation is hands-free, can even be launched with the additional button.
Anti-theft features can help track your vehicle if stolen.
Can use two brackets to cover both the front and back of your car.
What We Don't Like
Safety screws in the license plate can sometimes be difficult to remove, even with the included tool.
iOS app doesn't offer hands-free use and launch with button—you could try launching with Siri instead.
Might rattle as you drive.
Not suitable for use with recessed license plates.
Summary
A unique revolutionary sensor, the FenSens license plate parking sensor is one of the quickest to fit.
With no wires to trail, it's ultra convenient. With that being said, if your truck or car plate is too high from the ground, you may have trouble with lower objects.
The visuals and accuracy rival many of the modern in-car sensors of top brands like BMW.
Accfly Waterproof Rear View Backup Camera
With this equipment from Accfly, we come to the first of our reverse parking camera systems.
A 4.3-inch TFT dash cam monitor clips over your rearview mirror, with four parking sensors also providing radar and audio notifications.
A water-resistant IR camera can be used at night, features a wide angle view and is connected via a plug-and-play cable to a 4.3-inch two-channel input monitor.
Your mirror still functions as a rear window mirror, with the monitor auto switching on when in reverse. When the reverse park is complete, it automatically switches off for safety.
A great feature of this backup camera system is the integrated radar sensors that tie into the system. An on-screen distance display and audible proximity alerts allow for even greater precision.
All the wiring and connectors needed to get you started are included, although professional installation is recommended, seeing that many components need fitting properly.
Some users have reported fitting the system just fine on their own, but be warned: doing so requires the proper tools and some know-how.
Manufacturers Specifications
3-inch TFT dash cam monitor with high-quality rearview mirror attached.
IR night vision and wide-angle camera with plug and play compatibility.
High-power LED night light.
Four ultrasonic sensors with an 8-foot range.
Waterproof/weatherproof and can be used in extreme weather conditions.
Audible alarm with 65db buzzer.
Powered by 12-volt DC from a cigarette lighter or converter.
Dimensions: 12.2 inches x1 inches x 4.1 inches
Weight: 2.5 pounds
What We Like
HD TFT monitor is integrated into a top quality rear-view mirror.
On-screen radar and camera view for precise parking.
IR camera is ideal for use in darker conditions, including underground parking lots.
Dual input monitor allows connection of in-car entertainment system—don't use while driving, though.
Loud audible warning when too close to an object.
Weatherproof and camera is waterproof to IP68.
Auto switches on when reverse gear is engaged for hands-free operation.
What We Don't Like
Installation can be difficult for novices—professional fitting is recommended.
May be more than needed for some users.
Wires included tend to be far too short for anything other than a compact car.
Video can flicker if wires are extended too much, or in colder conditions.
Summary
If you can't decide between a parking backup dash cam and a radar distance detection system, the Accfly offers you the best of both worlds.
Once installed, you'll have a compact rearview mirror-based display offering full functionality assistance.
Best of all: it's considerably affordable, at not much more than some high-end parking sensors alone.
Frostory Car Reverse Backup Parking Sensor Radar System
This compact reverse backup parking sensor from Frostory offers excellent performance in such a small unit.
Although it doesn't have an LCD display, it works effectively whether light levels are high or low—sometimes it can be hard to make out those LEDs in brighter conditions.
A distance range of 1 foot to 4.9-feet is not all that impressive, but it gets the job done, nonetheless.
Four sensitive sensors are attached to your car's rear bumper, with the control unit having a double CPU and upgraded chip for better detection. As you get closer to an object, the speaker warns you to slow down via a loud beep.
This durable kit is both water-resistant and has an anti-freeze feature with an operating temperature range of minus 40 to plus 80 degrees Fahrenheit.
It's easy to install, with an included hole saw to drill four holes into your bumper before connecting the sensors to the speaker.
Although it would have been nice to have an LED display for an increased sense of security, the sound system is clear and loud enough to improve your parking safety.
It's also much more discreet when hidden away in your car, and less prone to thieves trying to break into your car and steal it.
Manufacturers Specifications
Double CPU and upgraded chipset for improved coverage and detection.
Includes 1 x Sound alert module and a command module.
Four ultrasonic sensors for attaching to the rear bumper.
Water resistant and anti-freeze with a wide operating temperature range of minus 40 to plus 80 degrees.
Rated working voltage 10V to 16V DC and includes a power cable.
Dimensions of Head Unit: 3.4 inches x4 inches x 0.8 inches.
Weight of entire package: 10.6 ounces.
What We Like
Four sensors for greater accuracy on all sides when reversing.
Offers quality and clear sound system.
Durable and weatherproof.
Very easy to install.
Wider voltage range of 10V to 16V means it can work in a wide range of vehicles from cars to trucks.
You can choose from four different colors to match your vehicle.
What We Don't Like
Range detection isn't the best out there.
No LED display.
Summary
If you're looking for an affordable (but quality) parking sensor for your car, they don't come much better than this one from Frostory.
Although an LED display would have been nice, the beeps offered by this durable compact unit are both clear and vary according to the warning they give—you'll get used to it in no time!
TVIRD LED Display Car Reverse Backup Radar with 8 Parking Sensors
This dash-mounted, car reversing backup radar from TVIRD uses what's quite possibly the largest LED display of the systems we have looked at so far in this list.
Using eight sensors, four at the rear and four at the front, it features all-around obstacle detection.
While most parking sensor radar displays use colored lines, the TVIRD uses a series of dots for distant notification.
The rear sensors assert a detection range of 7.54 feet, while the front detects objects up to 3.28 feet—ideal for those low bollards often in a certain space.
Audible warnings are also produced for more timely reactions when closer to obstacles. The best part is that you can switch off the beeper if you find the noise annoying.
The digital display offers ease of viewing, so the audio is rarely needed.
Being easy to install, you could even mount the control box in the trunk of your car with a long cable allowing the display unit to easily mount to your dashboard.
Again, a hole saw drill bit is provided for inserting the sensors, and it is better quality than most supplied saws.
Manufacturers Specifications
Dual CPU system.
8-high sensitivity sensors can also detect low objects.
All-around obstacle detection, up to 7.54 feet at the rear.
LED digital display with anti-interference digital protection.
Waterproof, dustproof and high/low temperature resistance.
Sensors are also shockproof.
Built-in high-fidelity speaker with adjustable volume.
Anti-theft device incorporated.
Dimensions: 9.7 inches x48 inches x 2.76 inches.
Weight: 16 ounces.
What We Like
Clear and easy to read large LCD display with a colored dot matrix at front and rear of the car.
Quick response LED monitor.
AV control box can be either front or rear mounted if space is limited in the cabin area of your truck or car.
Eight sensors provide low-level object detection in 360 degrees of car.
The audible alarm can be turned up or down and even switched off.
Easy to install with all parts provided and clear instruction manual.
What We Don't Like
Monochrome blue LED display isn't as attractive as three-color LEDs.
The clock on the LED can only be viewed when the sensors are in use.
Distances are metric only—no way of changing to more imperial US feet.
Summary
The TVIRD LED display car reversing sensor is a great choice for all-around obstacle detection with its eight high-sensitivity sensors.
Four in each bumper allows for detection of many low ground objects in front and at the back of you.
It's just a shame the distances are only given in metric—as for some people, I can already imagine them going something like "I don't understand these new fangled meters and things, who does?".
Striker Adjustable Garage Parking Sensor
Our final recommendation is one which doesn't attach to your car, but rather the wall of your garage for if you have a hard time squeezing your car in.
The Striker garage parking sensor is a large LED light with a sensor which allows for perfect reversing into your garage every time. You could even drive in forwards if wanted to.
The Striker uses ultrasonic pulses to work out the exact distance between your car and the assist system.
A three-colored light indicates whether you're at a safe parking distance from the wall or other surfaces. You could even attach to a workbench if that's what's at the back of your garage.
A green light shows when the distance between you and the obstacle is larger, yellow warns you to slow down, and the red light signals you to stop.
The Striker also allows you to choose the exact point where you want to park your car between 6-inches and 6-foot from the sensor.
Included double-sided tape and a velcro strap mean you can attach it to almost any surface including walls, shelves or that cumbersome workbench.
To calibrate it, you simply park your car in the desired space and press the red "Set" button.
As well as the innovative range finding system, the Striker also has a bright LED light which can illuminate those dark spots or a walkway through your garage.
Manufacturers Specifications
Three colors LED stick-on indicator.
Ultrasonic distance parking backup sensor with an accuracy of 6 inches to 6-feet for customizable parking.
No power outlet needed—uses 4 AA batteries.
Bright LED walkway light.
Sensor cord size: 4-foot.
Dimensions: 5.8 inches x5 inches x 1.2 inches
Weight: 3.52 ounces.
What We Like
Easy to attach to any surface with a velcro strap and double-sided tape.
Three colored indicators are bright and simple to understand.
Long sensor cable allows for versatile placement and detecting lower obstacles.
You can adjust the parking location of your car.
Simple to calibrate with just one button to press.
Requires no installation on the vehicle.
What We Don't Like
Can only be used at home.
Batteries can have a short lifespan, and might require changing regularly.
Only one sensor.
Summary
If you happen to be one of those people who spends too much time trying to get your car into the garage without dinging it, that's certainly nothing to be ashamed of – it is what it is.
You just have to be ready to deal with reality, and the Striker is ideal for that.
The LED lights are like having your own traffic lights at the back of the garage, and you can set the distance so you still have access to any refrigerator or freezer you may store in the garage.
Conclusions
After reading this, I definitely know of a few people who are going to completely change their minds and invest in a parking sensor.
Sure, some people's parking skills may be a joke at the moment, but not investing in one of the best parking sensors at these affordable prices would be an even bigger joke.
There's really no reason not to do so, seeing how much help they offer and how easier they make your life.
Having just treated myself to the latest iPhone with what's quite possibly the largest screen ever, I really like the idea of the FenSens Smart Wireless Parking Sensor.
No drilling holes in my bumper, I can simply remove the plate bracket when I change the car, and it uses the glorious display of my iPhone for a detailed HUD. It's just a shame that iOS integration hasn't yet achieved full hands-off usage of the sensors.
Otherwise, my other choice would be the Accfly Rear View Camera 4.3″ inch Waterproof IR Night Vision Car Dash Cam Rearview Mirror Backup Camera. With both cameras and radar sensors, it offers the best of both worlds, all in my rearview mirror. It even features an audio alarm, I just wish you could turn it down a bit!
If you've enjoyed reading this article, have any questions or even stories to share about personal experiences of yours, then please feel free to comment below. We will do our best to answer all your questions to the best of our knowledge!
Until then, stay safe & out of trouble!