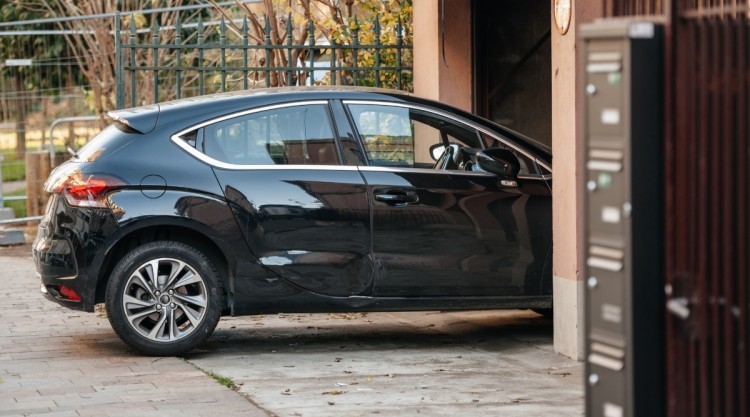 Storing your car inside the garage offers optimum protection from thieves, other drivers and their (sometimes) reckless actions, and harsh weather conditions.
For some people, getting their vehicles into and out of the garage is a piece of cake, but for others, it can be a tricky business.
Automakers do install some of the best parking sensors available in a lot of modern cars nowadays, but lots of them don't offer much help when you're facing difficulty trying to park your car in a tight garage.
This is where garage parking aids come in!
In this guide, we're going to introduce you to a selection of the best garage parking aids on the market and also provide all the info you need to pick the ideal option for your needs.
Quick Links to Our Top Recommendations for Best Garage Parking Aid
Note: Clicking the above links will take you to further information, current prices, and customer reviews on Amazon.
10 Best Garage Parking Aids Reviewed
There is a vast collection of parking aids on the market for you to choose from, and each has its own strong points and potential drawbacks.
The good news? It's not all that difficult to choose a suitable product for your needs, and we've done all the legwork for you!
The following is a list of some of the best garage parking sensors and aids on the market today.
MAXSA Parking Mat
Our first product is from Maxsa, and even though it looks simple, it's bursting with features that make it very effective.
To begin with, it features two bumps, a small one at the front and a larger one at the rear. The first one is designed to notify you when you reach the set position, while the second one prevents you from moving beyond the parking spot.
Its construction is that of a tough, flexible plastic, and you have two options for securing it to the floor. This can be done using a non-skid tape included in the package, or bolting it in place using the holes provided.
One of the features you're going to love is the raised edges between the bumps that serve as a drip tray. It collects water, snow, or dirt from the tires. This is a great design feature to have because you won't have to worry about your garage floor.
However, buying four mats to cover all tires for that purpose seems a bit overkill, and means you will be reversing over the front ones every time you park.
You can easily use just one, but two would be more effective. This mat stands out from many of its competitors because it's a universal fit that works for most (if not all) passenger vehicles.
Also, the reflective strip definitely makes it easier to park your car during the night as well.
Features and Specifications
Built-in drip tray.
Reflective strip.
Anti-skid tape.
Hard mount.
Reflective strip.
What We Like
The drip tray works well to protect the floor.
The reflective strip enhances visibility.
Strong anti-skid tape to keep it in place.
It prevents damages to the garage.
Features corner holes for hard mounting.
Universal fit for all passenger cars.
No electrical connections or batteries required.
What We Don't Like
The tape is not as effective as bolts.
Summary
All in all, this is a great solution for people who want simple – yet effective – assistance.
If you don't like the hassle that comes with powered aids, this might be just what you're looking for.
To decide for yourself, click here for more information about this product:
Double Garage Parking System – Ball Guide System
This is an incredibly simple device, and yet a highly effective one.
It's a professional upgrade to the classic tennis ball method that people have been using for years.
It's straightforward to install and perfect for single or double garages. It makes an ideal tool for people who have limited garage parking space, and it takes all the stress out of the equation.
The ball is about the same size as a tennis ball, and it comes with an 8-feet rope that's enough for most garages. With this ball guide system, you won't have to worry about batteries or any electrical malfunctions.
Included in the kit are step-by-step installation instructions, and it features adjustable clips to make the process as easy as possible for the user.
The system acts more like a floating yellow stop sign, and you'll no longer have to be as anxious when you park your car.
Features and Specifications
Ball guide system.
8-foot long rope.
Retracting ball sensor.
What We Like
Effective for all types of garages and cars.
Bright yellow to enhance visibility.
Easy to install on garage ceiling.
Adjustable parking sensor clips.
No electrical connections needed.
Comes with easy installation instructions.
Includes two systems for two cars.
What We Don't Like
Might not be very visible at times.
Summary
All in all, this is an ideal solution for people who just want something simple and practical, and can do away with the fancier and more advanced stuff that they might not need or afford at the time.
Find out more about this system by clicking here:
MAXSA Right Dual Laser Parking Aid
This Maxsa dual garage laser parking aid is designed to accommodate two cars.
It uses motion detection to help you park right each time, and all you have to do is drive into the car garage until the beam hits a predetermined spot on your car. The motion detection lasers activate automatically once they detect movement up to 10 feet away.
It's quite easy to install as well because it comes with mounting screws and anchors. You just need a screwdriver or drill to mount the device where it's going to be most useful. Most people find the ceiling more effective. The lasers are adjustable, so you can change spots without having to uninstall it.
It's electrically powered, and it comes with a battery backup that keeps it functional even when you lose power. It also comes with an AC adaptor that features 6.5 feet long power cords, so consider the perfect installation spot that's closest to a power outlet.
Features and Specifications
Dual laser.
AC powered.
Battery backup.
What We Like
No wiring necessary.
Easy to install with screws or double-sided tape.
Convenient battery backup.
Adjustable laser beams.
Movement detection up to 10 feet away.
Ideal for two cars.
Precise.
Easy-to-use manual.
What We Don't Like
Narrow adjustment angles.
Summary
This makes a great product for a household with two cars. It makes parking fairly easy and precise in this scenario, which is definitely what you're looking for when working in limited space.
If you think this product might be right for you, click here to learn more about it:
Tkach Enterprises Park Ranger
This is another simple option that will solve problems for people with small or cluttered garages.
Putting this to use, you can now easily protect your car, your garage, and all the stuff that happens to be stored in there at the time.
It's easy to install, and one of the best things about it is that you won't be dealing with any wires and cords, since it's not electrically powered.
Once installed, it's maintenance-free, and you'll be surprised at its precision. You can install it by attaching it to the wall with a small nail or using an adhesive strip.
It comes with a line that you use to measure up with, and you need to install it on the sidewall on the driver's side. When you see the lines aligned vertically, you'll know that you're in the perfect spot.
Features and Specifications
Works forward and backward.
No power required.
Made of durable resin.
What We Like
Easy to install and use.
Versatile.
Durable.
Requires no power, cords, or batteries.
What We Don't Like
Might be a bit too basic for some.
May not be very effective for newer drivers who need all the help they can get.
Summary
This is a great help for veteran drivers who just need a guide into the garage. It's simple to use, maintenance-free, and unobtrusive.
To get more details about the Park Ranger, click this link:
Ekarro Garage Parking Sensor
This Ekarro garage parking system utilizes a flashing LED stop sign that will assist you with parking, without denting or scratching your car.
The LED light will flash once you hit the rod, which will allow you to park your car safely. It works perfectly, even in dim garages or at night where visibility can be quite limited.
It features a flexible rod and a weighted base that keeps it in position, though it's portable enough to move around. One of the features you're going to love is how customizable it is, as you can adjust it for just about any size of vehicle.
With four interlocking sections, the height is adjustable up to 53 inches, and the LED light is bright enough not to miss. The construction is durable and solid, so you can be sure that you're getting a high-quality product.
It utilizes motion detection sensors to tell when your bumper comes too close to the rod. You're also going to like that it comes with batteries included. It's very easy to install and works perfectly well for tight spaces.
Features and Specifications
Weighted base.
LED light.
Flashes with contact.
What We Like
Batteries included.
It's strong and durable.
Easy to install and use.
Perfect for all car types.
Long customizable pole/rod even for large vehicles.
What We Don't Like
Needs to be moved to accommodate two cars.
Summary
This is the perfect option for people with a small garage. It doesn't require much installation, it's effective and precise.
Are you intrigued to know more about it? If that's the case, click the link below to get further details:
Park Zone Precision Parking
This is one of the best high-tech options on our list. It uses ultrasonic sound waves to help you park. Pretty awesome, right?
It comprises two units, both of which are mounted to the back walls of your garage.
The sensor needs to be mounted at the same level as the front of your car, someplace that's easily visible from the driver's seat. It's designed to activate automatically once a car approaches.
As you approach, the green light flashes to indicate that it's working, the amber light flashes when the car is within an 8-feet range, and the red light flashes when the car is in its perfect spot.
Both installation and setup are quite easy, and we appreciate the fact that it runs on simple batteries, making it more convenient for everyone. It's not only small and discreet but is also very easy to operate. For such a high-tech device, it's also pretty affordable.
Features and Specifications
Traffic light style system.
Battery operated.
Automatic ultrasonic sensors.
What We Like
It's easy to operate/set up/install.
Highly effective.
Uses batteries, which is convenient.
Affordable.
Precise.
What We Don't Like
Doesn't come with batteries.
Summary
This is an awesome choice for people who specifically want high-tech and advanced gadgets, especially those who don't want to break the bank when making such a purchase. Possibly the best garage parking sensor out there for buyers on a budget.
To find out more about this gadget, click here:
Victus Garage Parking Block
If you're looking for something that's going to outlast your car, this might very well be it.
Made with 7 pounds of heavy-duty rubber and six highly reflective safety strips, this option is not only strong but one of the most durable on the market.
You can install it permanently or temporarily on any solid surface using the mounting holes provided. You can either use lag bolts, rebar, heavy-duty tape, or silicone (not included in the package).
It is designed for a single wheel, and it's highly visible (given the yellow strips). This will make night parking very easy, even when your garage is not well-lit, minimizing any risk of accidents.
Features and Specifications
4 inches high.
Six highly reflective strips.
Single-wheel parking block.
Temporary or permanent application.
Durable commercial rubber.
What We Like
Easy to mount.
Portable.
Durable, heavy-duty rubber.
Highly reflective.
Low enough for sports cars.
High enough for large truck tires.
What We Don't Like
Summary
This product is great for all kinds of vehicles and applications. People looking for heavy-duty and uncomplicated parking aids at the same time will love it.
Click the link below for more details:
Chamberlain Group CLLP1-P Laser Aid/Assistant
This Chamberlain parking aid uses a laser beam to direct you to your position. It also works by pointing the laser beam to a predetermined part of your car which could be the hood or windshield.
It is designed to be powered by a garage door opener, and the laser beam usually activates when the garage door opens. The beam projects and tracks the vehicle's hood until it reaches the predetermined marker that indicates when to stop.
It's also designed to deactivate automatically one minute after you park, and works perfectly with Chamberlain, Craftsman, and LiftMaster garage door openers. So, if you already have any one of these garage door openers installed, you're in luck!
All in all, this option offers one of the most seamless solutions for a Hi-Tech garage system.
Setting this thing up is pretty straightforward as well. All you have to do is mount it to your ceiling, power it up, and then program your perfect spot.
If you have two cars in your garage, you can program two laser parking aids with a single garage door opener, and it can be used for just about any garage size.
In the package, you will get the aid, anchor, power adaptor, screws, wire, nuts, and instructions.
Features and Specifications
Automatic laser parking aid.
What We Like
Mounting accessories included.
Easy installation.
Durable.
Precise.
What We Don't Like
Must use a garage door opener.
Summary
If you already own a Chamberlain garage door opener, this can be the perfect solution to your parking garage aid needs.
The automatic laser beam is precise, especially for tight spots that leave no room for errors.
To learn more about this product, follow this link:
Park Daddy Vehicle Precision Parking
This is a precision-parking system that uses infrared technology and advanced optics to deliver your car safely into the garage.
It does a fine job of alerting the driver when they have reached the ideal location. It features two infrared head units that can be mounted to your garage wall using mounting tape or screws for easy removal.
The system runs on batteries that will last up to a year or more, and it comes with two RF radio receivers to accommodate two vehicles. These plug into the car cigarette lighter socket.
The radio receiver features an adjustable tone and a red LED light that illuminates if the infrared beams are broken.
As soon as the car clears the garage opening, the sound stops and the LED light changes to green, which notifies you that it's safe to park.
This product can accommodate up to four vehicles, but you would need to purchase additional radio receivers.
Features and specifications
Two vehicle parking aids.
Long-lasting D-size batteries (not included).
What We Like
Easy to use/install.
No hardwiring required.
No changing batteries for up to a year.
Durable.
Precise.
For two cars but can accommodate up to four cars.
What We Don't Like
Summary
All in all, this could be an ideal option for a household with two vehicles. You'll get a great affordable deal that will offer you precise parking for a long time.
If you're interested in this product, click here for more information about it:
Ohmitek Precise Park
Precise Park is a simple but elegant parking aid that offers real-time guidance. It's reliable, effective, and very precise.
It comes with a unique feature that actively guides drivers using red laser dots to the exact spot using triangulation. The laser dots move against the forward wall as the driver moves into the garage.
Unlike other similar products out there, you don't need a ladder or wires to install this unit. It's easy to use, and it should get the parking spot right every time.
Features and Specifications
Gives left/right and in/out positioning.
5-minute installation; no ladders or wiring.
Utilizes two bright red dot lasers.
No need for floor stops or ceiling-mounted devices.
Red laser dots.
What We Like
Small, practical design.
Powered by two AAA batteries.
Positioning for both in & out and left & right.
Zero mountings required.
What We Don't Like
Not the most durable option out there. Life expectancy is around 2 years.
Summary
This product is ideal for someone looking for a simple (but effective) device.
It might not be the most precise option on the list, nor is it likely to be the most durable, but it definitely gets the job done.
Want to know more about it? Click here:
What Exactly Is a Garage Parking Aid?
A garage parking aid is meant to assist you in parking your car while avoiding obstacles that could be in the way.
Regardless of how big or small your garage is, or how much stuff you have organized in there, with one of these products, you will be able to park at the perfect spot every time.
What Are the Benefits of Using a Garage Parking Aid?
If you've been driving for a fairly long time, these things might seem unnecessary. However, there are several benefits to using these products:
Safer and Smarter Parking
It's a regrettable fact that kids and pets are injured by cars while parking.
If you have kids or pets who frequent the garage or driveway, you'll need to do a lot of smart parking, and help like this could be a lifesaver by alerting you that they're there.
Vehicle Protection
Car insurance is not cheap. You're probably always looking for ways to lower the fees, and letting your insurer know that you park your car in a garage overnight is one of them.
Cars are really much safer when stored in the garage, but if you tell your insurer that you keep it there while – in reality – you leave it on the driveway or in the street, you could forfeit any insurance cover if it's damaged.
If you lack confidence in parking the car up in the garage regularly and you don't want to jeopardize your insurance coverage, help like this will definitely be useful.
Garage Protection
Just like your car, your garage also needs to be protected. Damages inflicted during parking could leave a dent in your bank account and lead to an inconvenient repair job.
Apart from the garage itself, you will be protecting all the valuables you keep in there as well.
If you're like most people, you've possibly turned your garage into an area where you store tools, gardening equipment, and even bicycles.
So, obviously enough, you also want to protect all these items (and more) from any unfortunate accidents that might have otherwise happened.
Different Options for Different Needs
Now, let's go over some of the most common products you'll come across on the market.
Bars/Mats
These are the most basic of all, and all you have to do is place them where you want the back wheels of your car to stop.
Once the rear wheels of your vehicle hit the bar, then you know you're in the optimal position. They come with reflective materials that allow you to have a visual guide during the night, too.
Consider how long the bar is and how easy it is to install when purchasing one. Be sure to check the construction material as well, as this will also determine the bar or mat's durability.
LED Signals
These are similar to STOP signs, and they come fitted with flashing lights and heavy bases to hold them upright. Once you hit a bump, the flashlight alerts you to stop.
LED parking signals are usually most effective if you only have one car in your garage. Otherwise, you'll need to keep moving it from one spot to another, which isn't going to be very convenient for a lot of people.
You also need to consider how visible they will be during the day and night when choosing one.
Ultrasonic Sensors
Ultrasonic parking sensors are designed to flash a signal when you approach the garage. They use sound waves to detect the location and distance of your vehicle.
Some come with as many as three lights, each with a different purpose. The first light will illuminate as you approach your garage, the second will light up when you need to decelerate, and the third light will show when you need to stop.
These can be fitted to several cars if you park more than one vehicle in your garage.
Lasers
Parking lasers are quite similar to ultrasonic sensors because they use motion detection. When you set up one of these, you set it at a predetermined spot on your car.
When parking the car, you just need to stop when the laser hits that predetermined spot.
Most of these devices are very effective, and the laser light is also hard to miss, so there is very little chance of making mistakes.
Balls
These are very low-tech, possibly the lowest tech (and simplest to use) of them all. Similar to tennis balls, all you have to do is hang yours from the ceiling.
Make no mistake about it though: when used properly, they can be quite effective. However, you need to take measurements to hang the stop ball at the right height and distance when installing. Be aware that this distance may change from car to car.
Parking ball guides have been used for a long time now, and most people who've tried them would vouch for them.
What Factors Should You Consider When Choosing A Garage Parking Aid?
There are several factors you must consider when choosing, such as the size of your garage and how many cars you can park in it.
There's more to it than just that, though, so let's look at some of the most important factors you need to keep in mind.
Size of Your Garage
Given the sheer variety of different products to choose from, the size of your garage could determine what type you're best off getting.
For example, your garage may not be suitable for something that hangs from the ceiling. You should also consider the power outlet available to gauge whether or not an electrically powered model will work.
Talking About Power…
Some parking aids use electric power, while others use batteries.
How would you like your device to be powered? Maybe you want a simple device that doesn't need any power at all, or perhaps you would prefer something that uses batteries to eliminate the use of cables instead.
At the end of the day, this all comes down to personal preference.
You need to consider wiring your garage to accommodate the device, or the possibility of continually charging it.
Single or Multi-Pack
If you have two vehicles in your garage, you can look for a pack at a discounted price instead of getting two single devices each on its own.
You should also ensure that they can accommodate both small and large cars, depending on your car models.
Visual or Tactile
If you would like to receive visual feedback from the device when you park your car, a laser system or a ball guide system could be the right choice for you.
However, if you want a tactile approach, then a bump or a mat will serve its purpose pretty well.
Construction quality
Most garage parking aids on the market today are made with quality materials, but you still need to be careful when using them, especially with the lower-end products.
Look for sturdy materials that will last a long time, and ensure they resist impact during parking.
Conclusion
So, as you can see by now, garage parking aids can save you a lot of time, heartache, and money spent on fixing damages down the line.
Use just about any one of the products we've mentioned on our list above, and you're on the right track to break away from anxiety and unwanted garage damages!
One of these devices could literally be all you need to make getting in and out of your garage a breeze!