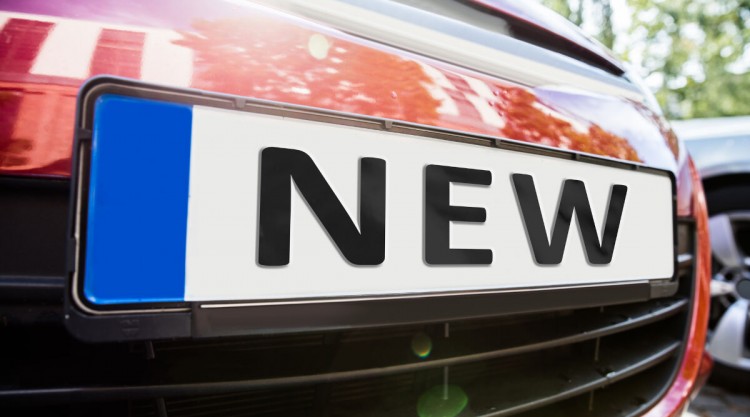 If you value your car's looks and style, then it deserves the best license plate frame you can find on the market.
Whether you're looking for something suave, stylish, funky, or fun, there are plenty of custom license plate frames out there that fit the bill.
In this article, we'll be covering everything you need to know about personalized license plate frames: What they are, the different styles available, what to look for and avoid while buying, and how to make sure they comply with the law.
We will also share a list of recommendations for some of the top license plate frames on the market today.
Quick Links to Our Top Recommendations for Best License Plate Frame
Note: Clicking the above links will take you to further information, current prices and customer reviews on Amazon.
Best License Plate Frames – A Detailed Look at Our Top Recommendations
To help you choose, we've compiled a list of 13 of the best license plate frames out there. Our list includes everything from industrial-grade silicone license plate frames to steel models and classy affairs to quirky affairs, so there's something for everyone.
Best Practical, Two-Screw Plate Frames
These choices are all practical, no-fuss options to fit cars with two mounting holes.
Product Express Personalized Your Own Chrome License Plate Frame
If you're looking for a simple, stylish, affordable and customizable choice, then this is an excellent option for you.
This product offers customization both at the top and bottom. You can have your own personal text and the lettering is done using waterproof vinyl stickers. These do last a long time but will fade if exposed to too much sun.
The accessory is made using chrome steel and can withstand the elements well. However, it might be susceptible to rust, since it is not powder-coated. Installation is easy, but you will need to purchase the screws and other tools separately.
Features and Specifications
All-weather materials.
Minimalist design.
Screws and other tools not included in the package.
Lettering uses waterproof vinyl.
Material: Chrome steel.
Weight: 8 ounces.
Dimensions: 6 inches by 12 inches.
Number of frames: One.
Summary
This is a great option for the minimalist who wants to make a statement without making too much fuss. We like the chrome material, and we love that it is customizable.
Sunplustrade 2 Stainless Steel Polish Mirror Frame
This sleek frame from Sunplus Trade is ideal for anyone looking to pimp their ride with a modern and stylish twist. It's made of stainless steel which is not just sturdy but will also resist corrosion and rust. The chrome finish gives it a gorgeous look that will not fade, come rain or shine.
Its slim profile doesn't block registration tags but may be a little too thin for some plates.
This product can be used on both cars and trucks and is fairly easy to install. When you purchase these frames, you'll also receive four self-tapping screws, four screw caps, four washers, and a screwdriver.
Features and Specifications
Slim and sleek design.
Corrosion and rust-free construction.
Installation kit included.
Material: Stainless steel with chrome finish.
Weight: 5.6 oz.
Dimensions: 6 5/16 inches by 12 ¼ inches
Number of frames: Two.
Summary
This item will work well for anyone who is looking for something modern and stylish. Since it is made from stainless steel, it is ideal for areas that experience lots of rainfall.
Aggressive Overlays Carbon Fiber Frame
Our next choice has 'class' written all over it. With its high-quality gloss clear finish that gives the frame a durable and shiny, 'wet' look, its aesthetic appeal is unmatched. It also has a UV protective coating that keeps it from fading — and let's not forget the intricate twill weave pattern.
Aesthetics aren't its only appeal, though. This item from Aggressive Overlays is made using genuine carbon fiber that is sturdy, stiff and lightweight. Previously, this product was built thicker than the norm, but has now been trimmed down in line with customer requests.
It's easy to install and the package includes screws and caps to get the job done. Thanks to their universal fit, these are a great option for all motor vehicles.
Features and Specifications
High-quality finishing with UV protective coating.
Sturdy yet lightweight.
Installation kit included.
Material: Carbon fiber.
Weight: 2.88 ounces.
Dimensions: 12.4 inches by 6.4 inches.
Number of frames: One.
Summary
This is the go-to choice for racers and high-end vehicles, as it looks great but weighs so little. But the good thing is that your vehicle doesn't have to be either to sport this accessory. We love the look and we love the durability.
Circle Cool T304 Stainless Steel Polish Mirror Frame
These sharp-looking license plate frames will add a simple but polished look to your vehicle. Made from top-grade T304 stainless steel, you can expect them to be sturdy, durable, and corrosion-free. A great feature of this product is that its front and back are both polished, making it even more attractive.
This Circle Cool frame may block the bottom part of your registration, especially if your state requires the info to be situated low down. Check this out before purchasing to avoid any issues with law enforcement officers.
Having said that, the manufacturer may have a solution for you, in the form of a bottom cutout corner design, so you might not have to give up your favorite choice after all.
Features and Specifications
Mirror finish.
Features front and rear polish.
Comes with a stainless steel screw and anti-rust metal screw cap.
Material: T304 stainless steel.
Weight: 8.8 ounces.
Dimensions: 12.25 inches by 6.5 inches.
Number of frames: One.
Summary
Clean-cut lines are the name of the game with this product from Circle Cool. It's sharp, it's polished and it's stylish. You simply can't go wrong with it, both in terms of aesthetics and functionality.
Dfdm National Black Stainless Steel Matte Finish Frame
A true hero, this frame fights off rust, salts and other environmental contaminants, to retain its beautiful matte look. This accessory is made using stainless steel and is finished with a matte black powder coat, giving it a sleek look.
It also comes with anti-theft screw covers designed to deter would-be thieves. The universal fitting will suit a wide range of vehicles, including domestic or imported cars, SUVs, RVs, trucks, and trailers.
Features and Specifications
Sleek matte finish.
Features anti-theft screw covers.
Corrosion-resistant and anti-rust construction.
Available in matte black, gloss black, pink and polished stainless steel
Material: SAE 304 stainless steel.
Weight: 1.6 ounces.
Dimensions: 12.2 inches by 6.4 inches.
Number of frames: Two.
Summary
This attractive all-weather product combines efficiency and beauty. It is an excellent choice for anyone who is constantly on the road. We love that it can be used on cars and trailers, too.
Karoad Black Stainless Steel Frames
A great combination of functionality and simplicity ensure that these Karoad frames do their job and observe state requirements. It comes in a pack of two, and the material is tough, durable, and offers lasting protection against rusting, corrosion, and aging.
It features a slim design with a border that is only 0.55 inches, to ensure that it doesn't block any plate information. Additionally, the edges of the frame have a thick and slick finish that is anti-peel, durable and will not hurt your hands. It is easy to install these, and, best of all, you'll find all the tools you need in the included kit.
Features and Specifications
Slim design for compliance with state regulations.
Thick and slick finish with anti-peel qualities.
Durable.
Material: 201 stainless steel.
Weight: 12 ounces.
Dimensions: 6 5/16 inches by 12 ¼ inches.
Number of frames: Two.
Summary
The slim design on this product is specifically geared towards compliance with the law while protecting your license plate. It is a good option for anyone looking for this handy combination. We really like that we don't have to get our own tools out, too.
Ohuhu 2 Pcs Slim Bottom Polish Mirror Frame
Stainless steel combined with mirror polish is perfectly okay; add a powder-coated finish and this choice goes to a whole new level. That's what you get with this Ohuhu license plate frame — effortless elegance, anti-rust construction, anti-peel, durability, and sturdiness.
This frame features a slim bottom that was designed to ensure that no plate information is concealed. It can be installed in a matter of minutes, and the back is fitted with two tabs to help keep the tags in place.
The product comes with an installation kit that houses plastic screw caps, self-tapping screws, machine screws, spacers, washers, and a screwdriver. You will also find a user manual to help you get the job done fast.
Features and Specifications
Powder-coated, mirror-polish finish.
Slim bottom.
Two tabs on the back for better fitting
Durable.
Material: stainless steel.
Weight: 9.6 ounces.
Dimensions: 12 inches by 6 inches.
Number of frames: Two.
Summary
This product was clearly made with customer needs in mind. The slim bottom ensures the full visibility of plate info while the tabs at the back help secure the frame in place. We think it would be a worthy investment that will also look great.
Best Practical, Four-Screw Plate Frames
The next few products all have been designed to fit vehicles with four screw holes for the license plate.
Ohuhu Black Matte Frame
This frame delivers is made from high-quality aluminum with anti-peel and anti-rust qualities, while the matte finish brings on the wow factor. All four edges are made smooth so as to protect your hands from cuts.
This item can be used on all types of vehicles, from cars to trucks and trailers. Since many vehicles have two holes rather than four, check your vehicle before placing an order.
This Ohuhu frame comes with a manual, and the installation process is quite easy. You get everything you'll need in the package. This includes plastic screw caps, self-tapping screws, machine screws, spacers, and washers.
Features and Specifications
Matte finish.
Smoothened edges
Material: Aluminum.
Weight: 10 ounces.
Dimensions: 12 ¼ inches by 6 ? inches.
Number of frames: Two
Summary
A great option for anyone looking for a classy but simple and strong design. We like the inclusion of a full installation kit, love the sleek, polished look, and appreciate the drainage holes in the base.
Ohuhu 4 Holes Slim Stainless Steel Polish Mirror Frame
Another Ohuhu product, this one has a polished-mirror finish which is appealing and gives off a "bling" effect, but without the stones.
Made from high-quality stainless steel, it is anti-rust, corrosion resistant, and durable. It's built to suit all types of vehicles, from cars to trucks and trailers.
With smooth edges, designed to keep your hands safe from cuts, installing and mounting this accessory is straightforward. The installation kit comes fully loaded with everything you need, too.
Features and Specifications
Polished mirror bright finish.
Smoothened edges.
Material: Stainless steel.
Weight: 10 ounces.
Dimensions: 12 ¼ inches by 6 ? inches.
Number of frames: Two.
Summary
This universal all-weather accessory gives a classy look to any vehicle. It can withstand all weather conditions and still look good, and the fact that it mounts on four holes makes it entirely rattle-proof.
Best in Bling
Ready to pimp your ride without the cost of custom paintwork and modifications? Get your hands on one of these bling-worthy choices, and ride with rhinestone-encrusted pride.
Hippo Creation 2 Pack Luxury Handcrafted Bling White Rhinestone
Embedded with over a thousand SS20 clear rhinestone pieces, luxury license frames don't get much better than this. The manufacturer uses natural rhinestones that are precision-cut to ensure premium quality is delivered to the customer.
The base itself is made of high-quality stainless steel, which has been carefully designed so as not to block plate information. Its edges are ground to prevent them from scratching the vehicle (or you) during the installation process. The premium quality of this product keeps it free from corrosion and scratches.
The mounting screws are longer than your usual size, but installation is still fairly easy. The package comes with anti-theft screw caps for extra protection and all the tools required for installation.
Features and Specifications
Anti-theft screw caps.
Ground edges.
Extra long mounting screws.
Material: Metal and rhinestone.
Weight: 4 pounds.
Dimensions: 12 ¼ inches by 6 ¼ inches.
Number of frames: Two.
Summary
This product is all about making a statement and with them you get to roll like a rap mogul. Not just that, but the two pack means you can put your best bling forward (and back).
Hippo Creation 2 Pack Luxury Handcrafted Bling Black Rhinestone Frame
Another opulent product from Hippo Creation, this time featuring 14 crystal rows of black rhinestones, it can only be described as the epitome of luxury. You get over one thousand SS20 clear AB rhinestone crystals that are guaranteed to dazzle, by day or night. They would make a great gift for your loved ones.
The construction itself is premium quality stainless steel that is strong, durable, rust-free, and lightweight. The accessories are easy to install and come with an installation kit, complete with anti-theft caps for enhanced security.
Features and Specifications
Anti-theft screw caps.
14 rows of black rhinestone pieces.
Material: Stainless steel
Weight: 2 pounds.
Dimensions: 12 ¼ inches by 6 ¼ inches.
Number of frames: Two.
Summary
This is definitely bling with an edge and is suitable for anyone who wants to add a bit of luxury on their ride. Oh, and we also love the anti-theft cap — certainly needed for frames this fly.
Novelty Options
If you want to bring a smile to the faces of other drivers on the road, these novelty options are the way to go.
Cruiser Accessories Chrome Palm Tree Frame
Any tropical island lover will be delighted with this beautiful choice that features two palm trees on either side. This stunning piece is made of zinc die-cast metal that's plated with extra-heavy show chrome. It's hand polished to give it a glorious sun-worthy shine.
Installation is easy, and the package comes with a set of instructions to help you along. The package doesn't come with screws, though, so you'll need to buy a set or use the screws from your old plate.
Features and Specifications
Polished tropical look.
No screws or tools are included.
Material: Zinc die-cast metal plated with show chrome.
Weight: 7 ounces.
Dimensions: 6 inches by 12 inches.
Number of frames: One.
Summary
This Cruiser Accessories frame lets you carry a bit of a tropical island with you wherever you go. It is sturdy, polished, and completely adorable. Just get two if you want to tropify both the front and back of your car.
Cruiser Accessories 19130 Daisy, Chrome/Painted
Make a statement with this simple yet beautiful daisy-themed frame from Cruiser Accessories. Adorned with yellow and white daisies, this product brings a touch of hippie happiness to your ride.
This product is made of zinc die-cast metal and plated with chrome, making it durable and waterproof. It is carefully hand painted and hand polished for a super sleek and attractive look. It's easy to install and comes with a set of full instructions to help you mount it, although installation accessories aren't included.
Features and Specifications
White and yellow daisy flowers on all four corners.
Durable.
Installation kit is not included.
Material: Zinc die-cast metal and chrome plating
Weight: 8 ounces.
Dimensions: 12 inches by 6 inches.
Number of frames: One.
Summary
Flower power your ride and let your sunniness show with this unique and unforgettable Cruiser Accessories frame.
Lpsusa Animal Paw Frame
Animal lovers will be thrilled by this animal paw frame from Lpsusa. It features generic-style black paw prints that are recessed in the chrome frame.
Made from chrome-plated, die-cast metal, this frame is sturdy, lightweight, and weatherproof. It is worth noting that this is a 4-hole frame which may not work for all vehicles. Installation is relatively easy, but the package doesn't come with an installation kit.
Features and Specifications
Generic animal paws
Material: Chrome-plated, die-cast metal.
Weight: 8.8 ounces.
Dimensions: 12 inches by 6 inches.
Number of frames: One.
Summary
Whether you want to get your jungle on or celebrate your fur babies, this is a great option for any animal lover. We also like the solid and sturdy construction of this Lpsusa product.
What to Consider When Buying a License Plate Frame
Before you purchase any product, it's important to take the following factors into consideration.
State Law Requirements
State laws apply to how a license plate frame must look and fit to a vehicle. This is because some frames impair a law enforcement officer's ability to read the essential information on the plate. Some states, like Utah, require license plates to be readable from at least 100 feet away in daytime.
Motorists in Texas are prohibited from using any cover that contains blurring or reflective properties which may interfere with readability.
Generally, these products are not illegal. But using one that alters the appearance of the plate, or obstructs and conceals information, will land you in trouble with the law. Visit your individual state's DMV website to learn more.
Number of Mounting Holes
The number of mounting holes will vary from one vehicle model to another. American license plates are mounted by either two or four holes. Naturally, four holes will provide greater stability for your license plate than two.
No holes in your car? No problem. Before you grab your drill and attack your shiny new ride, take a look at these guidelines for a hole-free mount. And check out our guide on how to install a license plate frame for the other types.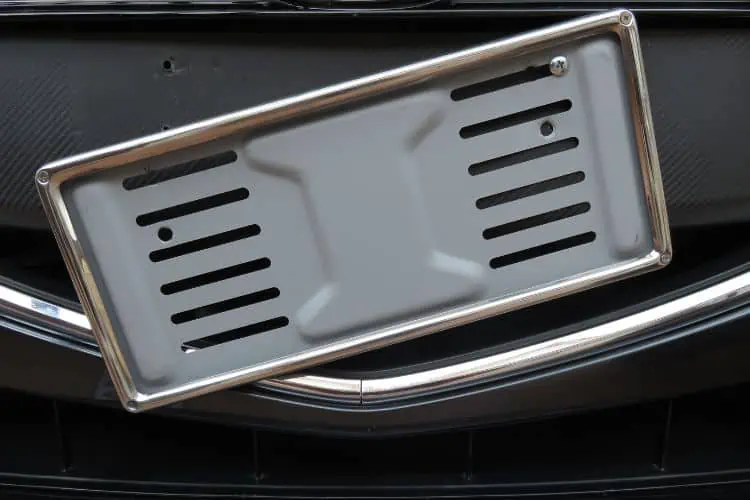 Number of License Plates
Of the 50 American states, 31 of them require automobiles to have both front and rear license plates. If you live in one of these states, you should consider limiting your choices to options that come in pairs.
If you happen to like an item that is sold individually, you can always order two of the same.
Style
These products come in many different styles and colors. Apart from keeping state laws in mind, you can really let your imagination run wild.
Some of the most common styles include:
Slimline: As their name suggests, these frames offer a trim cover and don't conceal or obstruct any of your plate's information. As a general rule, they comply with the DMV requirements in all 50 states.
Semi-Wide Bottom These plates feature an 8-inch wide nameplate in the middle of the frame's bottom. The corners are cut out to display your plate's information better.
Wide Bottom This type of plate works best in states where the registration tags or license plate message is not situated too low on the plate. This is because the bottom of the frame is, as the name suggests, wide, with a 12-inch nameplate.
Bling or Novelty Options These frames are all about pizzazz and making a statement. You can splash crystal rhinestones, diamonds, and other precious metals and stones on the frame if you're feeling opulent — and, in the case of diamonds, wealthy! Just ensure whatever design you choose doesn't go against your state's regulations.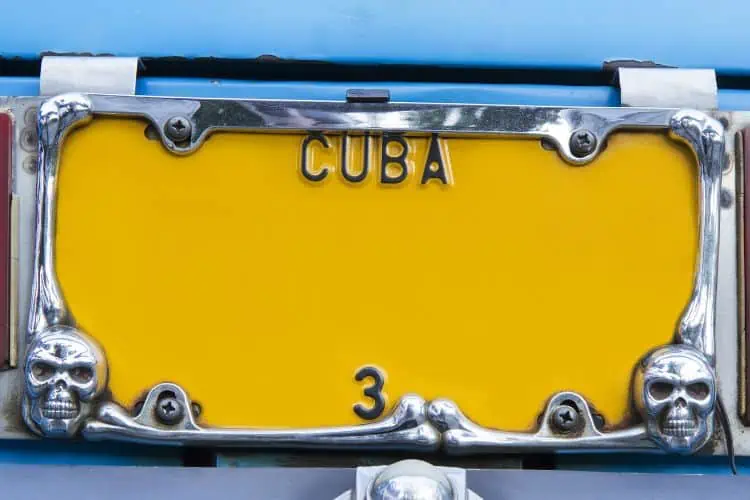 Durability
A license plate frame's durability is mainly determined by the material it's made with.
Chrome and plastic license plate frames are cheap and may look attractive in the beginning. Unfortunately, however, they quickly break down, due to exposure to the weather, salt, debris, and car washes.
Metal options, on the other hand, are sturdier and durable. They are made using various materials, such as zinc, aluminum, stainless steel, carbon fiber, or combinations of these materials. Most usually come with stainless steel hardware.
Stainless steel comes in a variety of finishes. You can go for brushed steel, polished, powder-coated, black, and black pearl. Carbon fiber is just as good and offers a perfect luxe effect.
Attractive Design
Functionality is important but so are looks. Forget the cheap-looking frames and find one that complements your style and enhances your car's appeal. Find a product that reflects your personality because, at the end of the day, it's your car and your style.
Do You Want One or Two Frames?
Do you need a front and rear option or are you interested in replacing only one? Some are sold as a pair while others come individually. As far as the law is concerned, 31 states require you to display both front and rear license plates. This means that you will need two frames.
The remaining 19 that require the display of the rear license only include Alabama, Arkansas, Florida, and Tennessee. You can find the full list here.
The Finish
There is a wide range of finishes you can choose from, particularly when looking at a product made from stainless steel or carbon fiber. You'll find polished mirror finishes, black powder coating, black pearl, or brushed stainless steel — and everything in between.
Remember, the materials used will determine how long the finish lasts. Cheap materials may look good at first, and sell at a low price, but they will not last, and neither will the finish.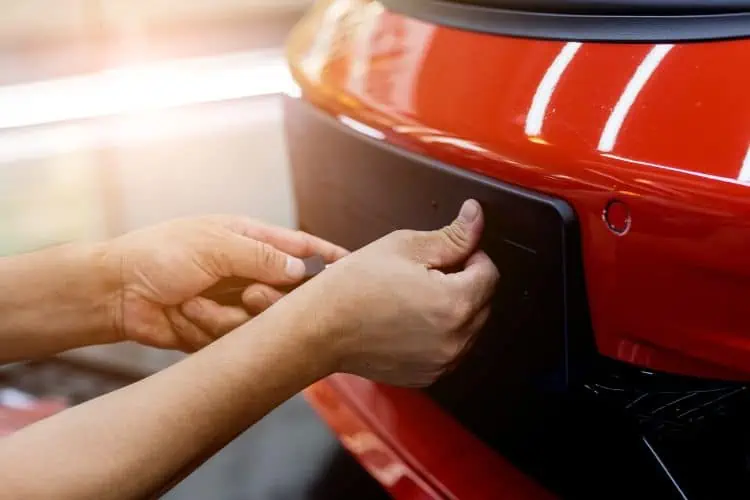 Go for One With Spacers
Where possible, buy an item that comes with built-in spacers. These create a barrier between the license plate and the vehicle and any harmful debris that would normally collect behind the frame is allowed to drain. Additionally, the barrier prevents vibration and protects the vehicle's paint from getting damaged.
Conclusion
These useful and funky car accessories protect your license plate from the damaging effects of weather and other contaminants in the air. They also deter would-be thieves seeking to steal your plate and add a splash of your personality to your ride. Whatever kind of frame you're looking for, we're sure you'll have found something to suit in the list above.
We hope you liked our guide and would appreciate hearing from you. If you have any questions, comments, or feedback, leave them in the comments section below, we'll answer every one.