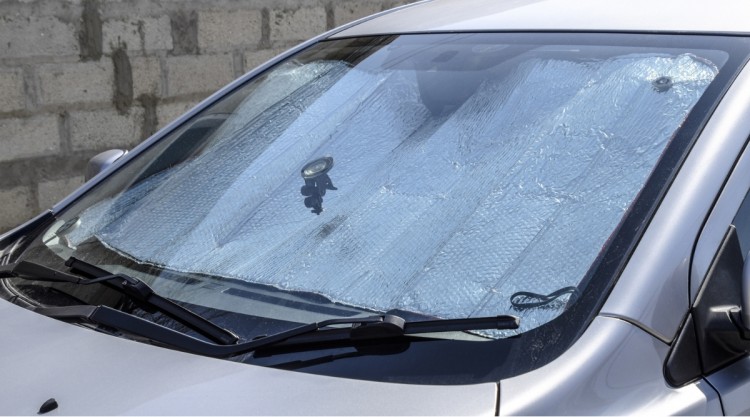 There's nothing worse than a boiling hot vehicle on a sweltering day. You know how it goes: you open the door and, before you know it, the heat from inside smacks you in the face.
Because cars have metal exteriors, they're veritable sun traps – and the heat doesn't just stay on the exterior, either. If a car is left in the sun for some time, it will heat up throughout the day. The air inside becomes stifling, and the seats and steering wheel can become too hot to touch.
Keen to avoid this kind of tropical interior? If so, you're in the right place. Below, we review a handful of the best windshield sun shades on the market and provide expert tips to help you choose the perfect option for you and your ride.
Quick Links to Our Top Recommendations for the Best Windshield Sun Shades
Note: Clicking the above links will take you to further information, current prices and customer reviews on Amazon.
Best Car Sun Shade Reviews – A Detailed Look at Our Top Recommended Products
Below, we've listed our favorite options to save you the time and effort researching the best car sun shades you can add to your ride.
EzyShade Windshield Sun Shade
This universal sun shade is one of the most easy-fit interior windshield covers of them all.
This claim of universality is backed by the exhaustive list of cars that can benefit from it. These include BMWs, Chevrolets, Fords, Jaguars, Mazdas, and Toyotas, to name just a few.
These car shades fit such a wide array of vehicles because they're made using two rectangular sections, which can be applied vertically or horizontally for maximum adaptability.
This not only means that the product fits well and prevents the sun from beaming into the vehicle, but it also looks smart.
Although this sun shade is large, it's easy to store away. The two pieces fold away into the small, round bag that's provided and can then be tucked inside the door pocket or thrown in the trunk.
This sun shade boasts 99 percent UV protection and 82 percent heat reduction, so you and your vehicle will remain well protected from harm. This is achieved through the reflection and absorption of heat and UV radiation.
The EzyShade is said to have the lowest solar heat gain coefficient (SHGC) of any other similar lightweight car sunshades on the market. So, you'll be saved from that awful feeling of opening the door, only to be met with the Sahara desert!
Manufacturers Specs and Feature List
Three size options.
Easy to store and use.
Easy installation.
Two-shade design, making them a great fit for almost any vehicle.
Lightweight and long-lasting.
99 percent UV protection.
82 percent heat reduction.
Includes a pouch for storage.
Includes a dashboard mat.
What We Like
Protects your dashboard from cracking and fading.
Protects objects in your vehicle, like your SatNav.
Easy to use, install, and store away.
Lightweight but durable.
Fits almost all vehicles.
Multiple sizes, so very versatile.
What We Don't Like
A little bulkier than others when it comes to storage.
Summary
The EzyShade is a lightweight, durable, and user-friendly product that boasts arguably second-to-none heat-reduction capabilities.
The added bonus of the dashboard mat, as well as the easy storage, makes this a definite winner in our books.
Enovoe Car Window Shade
The first bonus that this Enovoe shade has to offer is that you get four in a pack. As we discuss below, these can be ideal for protecting passengers in your vehicle.
This set includes one for each side window, or you can choose to double up and place two on the rear windshield — if your local laws permit, that is.
On to the most important element of this product — the UV protection. This one is said to block 97 percent of harmful ultraviolet rays, and also helps to keep things cool during hot summer months.
Another benefit you'll get is the excellent reduction of glare. When it comes to eye health, this is really nothing to take lightly.
Made using a dual-layer design, the mesh material protects your passengers, but still allows them to see out the windows. This is very useful if you're going sightseeing, but it happens to be extra sunny when you're cruising around.
With this easy-to-use cling design, which utilizes static to hold it in place, there's no need for any of that hassle. Simply stick it on the window, and you're all set!
Manufacturers Specs and Feature List
Size: 21 inches by 14 inches.
User-friendly.
Static cling design.
Protects from UV, heat, and glare.
Dual-layer design for sun protection.
Great value.
Lifetime money-back guarantee.
Pack of four.
What We Like
Protects passengers from UV radiation.
Keeps the car cool and comfortable.
Super easy to apply to the window.
Lifetime warranty shows the confidence that Enovoe has in its product.
Fits most windows.
Can see through it.
What We Don't Like
Doesn't fit the entire window on some cars and may be too big for smaller vehicles.
Summary
Looking for an option that will do an excellent job at protecting your passengers?
The Enovoe window shade is great for protecting your children (or other adults) from those nasty UV and heat rays, as well as any glare.
Kinder Fluff Car Sun Shades
This versatile four-pack comes with two transparent covers, as well as two more that are semi-transparent.
The dark ones create an opaque shadow, which limits the UV radiation that penetrates it by almost 100 percent. The two less opaque options don't look much different to the others. However, they actually provide a lighter shadow, allowing you to use them on the front windows without significantly reducing visibility.
This limits the solar radiation that goes through to the driver and passenger, keeping everyone protected from UV radiation and heat.
If your vehicle is larger than average then this is no problem at all, as you can simply overlap the four pieces to fit your needs.
Generally, the Kinder Fluff car shade is easy to use and store, without the need for suction cups.
Manufacturers Specs and Feature List
Size: 20 inches by 12 inches.
Four-pack, with two transparent and two semi-transparent covers.
Dark mesh absorbs more heat.
Static application.
Tight-weave polyester.
Easy to use.
Folds down to 6 inches for storage.
What We Like
99 percent UV protection.
Versatile, so you can choose how much protection is needed.
Nice looking pouch to store them in.
Easy to use and store.
Can overlap to fit larger windows.
What We Don't Like
Two needed on larger windows.
Transparent covers may not be legal for use on the driver's window in some areas.
Summary
Looking for a car window sun shield that has higher protection from UV radiation and heat than most others? Well, this may be the choice you should go for.
The two different types in this pack make it versatile and easy to change over whenever needed.
ShadeSox Universal Fit Car Side Window Baby Sun Shade
Unlike the previous options we've seen, this one tailors to fit the entire window on most cars. This means that the harsh direct sunlight can't creep through any sneaky gaps around the edges, providing ultimate protection as a result.
The stretchy mesh pocket pulls over the window before you set off. Simply open up the car door, pull it over the top until it's in place, and you're good to go. Once applied, simply close the door, and then the thin and lightweight material will seem almost non-existent. This makes it a really good-looking and affordable option, and quite similar to tinted windows.
Due to its easy application, it fits almost any vehicle, and it's still possible to open and close the vehicle's window while maintaining full protection. So, even with the window open for some fresh air, you aren't at risk of getting burned.
Due to its durable construction, this car window cover is ideal for frequent use. With 100 percent protection from the outside world, it makes a great option for anyone with kids. Two covers are included in this purchase.
We also like the addition of an eBook which provides ten great ideas to keep your kids entertained in the back seat of your vehicle. After all, if the kids are happy, the parents are, too!
Manufacturers Specs and Feature List
Fits car window sizes up to 20 inches by 44.3 inches.
Easy to install.
100% protection from UV rays.
Keeps the interior cool.
Breathable mesh material.
Includes an eBook.
Pack of two covers.
What We Like
No gaps around the window.
Stylish and seamless look.
Durable and lightweight.
Protects the window from scratches.
Can still open the window while maintaining full protection.
Easy to use and install.
eBook to keep the kids entertained.
What We Don't Like
May not fit every car window.
Summary
If you're looking for an innovative way to maintain maximum protection for your children and back seat passengers, even with open windows, then this is a great option to consider.
If you're looking to discover more about the ShadeSox window covers, click this link:
OxGord Car Sunshade for Windshield
This windshield shade is a little more traditional than other options on this list.
It's made using reflective material to bounce the sun's rays away. This not only blocks the sun's ultraviolet radiation from damaging your car, but also limits the heat accruing inside.
This helps your vehicle remain cooler for when you next take a drive. It also prevents the sun from damaging your car's interior.
Due to its foldable design, the OxGord not only stores neatly away, but it can also fit multiple windshields sizes.
Simply stretch it all the way for a larger car, or just scrunch it up for a smaller car. This means it can even fit the windshields on vans and SUVs.
Manufacturers Specs and Feature List
Size: 55 x 28 inches.
Reflective.
One size fits all.
Pouch for storing.
Blocks UV and heat.
What We Like
Protects car from damage.
Keeps the interior cool.
Large enough for even the biggest cars.
Durable.
What We Don't Like
Not the most aesthetically pleasing product.
Summary
This OxGord windshield sunshade, although traditional, does the trick very well.
It works effectively to reflect the heat and sun's rays that would usually damage your car's interior. Made to fit almost every car, this is simple – yet effective.
Geneev Car Sun Shade for Side and Rear Window
This is another pack of window protectors that stick on using static. The set includes four pieces: two are an almost square shape, and two rectangular ones.
These are made using a mesh material with an SPF of over 30, which blocks 98 percent of the UV rays.
Due to the extensive scientific research behind this product, this is one of the more ideal products for protecting your loved ones, as there's more data to rely on that backs up the manufacturer's claims.
They're super easy to use — simply pull them out of their pack and press them against the window, and they'll stick like a dream. Then, when you're ready to pack them away, just twist them, and they'll fold into a small circle to be stored in their pouch.
Due to the different size options available for you to choose from, these can even be used to block the rear window, as they can be doubled up to fill the larger space. This provides optimum protection, even for your pets.
Manufacturers Specs and Feature List
Four-pack — two 19 x 17 inches, and two 20 x 12 inches.
Clings to the window by using static.
98 percent UV protection.
Includes a dashboard mat.
Lifetime warranty.
What We Like
Easy to use and store away.
Different shapes and sizes for custom fit.
See-through material.
Keeps your vehicle and occupants cool.
Protects against UV and heat.
What We Don't Like
Slightly less UV protection than some other shades.
Feels like it's a bit too dark for use on driver's window.
Small gaps around the edges.
Summary
Although this product doesn't necessarily protect against UV to the highest degree like some of the other options out there, their shape makes them super versatile.
This means you can use them on most windows, so every member of the family, even our furry friends, can stay cool and protected.
The E Z Slide Shade Retractable Windshield Shades
Last but definitely not least, we're looking at the retractable windshield sun shade from E Z Slide. This option is pretty unique and sets itself apart from all our other choices.
These are more like blinds than simple covers — you just stick it to the bottom of your car's windshield and stick the included hook at the top of your windshield. Then, when you leave your car, you just pull each blind up from the bottom and attach it to the hook. Easy!
This saves space and time, as you don't need to rummage around your car looking for them. The E Z Slide shade just needs to be installed once, and then it can be used every time you leave your car.
They also protect pretty well against UV rays, as well as keep the heat levels out by up to 20 degrees. This prevents your car from damage, as well as a hot steering wheel and seats when you step back into your car.
Manufacturers Specs and Feature List
Two-year warranty.
Pack of two, for both sides of the windshield.
Reduces heat inside the car by up to 20 degrees Fahrenheit.
Metal frame for durability.
Anti-ultraviolet coating.
What We Like
Looks nice and neat.
Full coverage from heat and UV damage.
Durable and long-lasting.
Quick and easy to use.
No storage needed.
Easy to remove when not required.
What We Don't Like
Not quite as effective at blocking heat as other shades.
Not a great fit on some windshields.
Summary
We love these retractable shades. They're easy to use, durable, and unique – plus, you don't have to fully pack them away each and every time you use them. Simply slide down the blinds when you get in and drive away!
What Are the Benefits of Having a Windshield Sun Shade?
The main benefits to having this protection from the sun in your vehicle, both for the windows and the windscreen, are:
1. Keep It Cool
It can be pretty uncomfortable – even painful – to get inside a car that feels like it's come directly from the fifth circle of hell.
Secondly, your driving performance can diminish by up to 75 percent in extreme, humid, stuffy conditions. "Heat stress" can cause delays to your reaction time and impair your ability to carry out simple driving tasks.
2. Reduces UV Exposure
UV radiation has harmful effects on both our skin and eyes, potentially causing cancerous mutations and cataracts, among other worrisome retinal issues.
There's an urban myth that states that UV radiation can't penetrate glass windows, but studies have shown that UV rays can travel through windows.
A lot of the top sun shades on the market today do an excellent job at preventing UV penetration. In fact, a number of our options provide up to 99 percent protection.
3. Prevent Sun Damage to Your Vehicle
When the weather heats up, your car interior surfaces can become scalding. This can cause a number of issues, such as dashboard cracking. When the PVC coverings on your dashboard are exposed to heat and light, their complex bonds can break, causing cracks on the surface. The intense heat can also cause it to fade.
Also, if you have leather seats in your vehicle, interior heat and unhindered sunshine can cause the leather to dry out, making it tough and uncomfortable to sit on.
4. Reduces Glare
Glare occurs when light particles bounce off a flat surface such as a road. In turn, this causes the light to concentrate in one direction. All of this is uncomfortable and bad for our eyes.
This is where good sun shades for side windows can come in useful, since they reduce glare for passengers in the back seats.
Just make sure you can clearly see your mirror, though. You should also check your local laws first — using side window covers while driving is not legal in all states. This applies to window tinting, too.
What Should You Look for in Windshield Sunshades?
Now you know the importance of a good car sun shade, here's what you should look out for before you buy one.
Fit
Most windshield shades will expand to fit your vehicle size. Many are designed so that the cover that each offers will suit multiple cars – but it's always best to check, especially if your windshield is smaller than average.
Some of the options we've included on our list give you a choice from several sizes — just make sure you measure your windows first. Too small, and they will leave gaps around the edges which sunshine can penetrate through. Too big, and they won't be secure on the window.
UV Protection
As we've already seen, UV protection is an essential component of any car sun shade.
With this in mind, any product that promises to block out 99 percent of damaging UV rays (and actually lives up to its promises) is a winner in our book.
Heat Protection
High interior temperatures in your vehicle can seriously affect your performance on the road, not to mention also making you (and your passengers) uncomfortable.
All windshield and car window shades are designed to limit the amount of sun that makes its way inside – that's a given – but some do it better than others. Generally speaking, the most effective are those with a higher UV protection rating and more extensive coverage.
Visibility
Some window shades can be used even on the driver's side window, to prevent glare and UV radiation from penetrating through the glass. Obviously, it's important that the driver can still see clearly through the window.
If you're thinking about putting a mesh cover on the rear windshield, don't forget the importance of this window during driving, either.
Again, check local laws before you drive with a window shade on the rear, as it's not legal to do so in some states.
If you're only planning on purchasing a front windshield protector, then visibility is not something to think about, as you won't be using this when driving.
Ease of Use
Choose an option that is user-friendly and quick to set up or pack down to save hassle. Blind-style models are the most convenient. Once set up, these simply slide up to protect your vehicle from heat and UV radiation.
Storability
Most car window sun shades on the market these days will twist and fold, creating a circular shape, which will then fit neatly into their storage bag or pouch.
These can then be placed in a pocket for future use, which makes them easily accessible.
If you want to know a little more about how to fold away a sunshade, here's a video to help with that:
Most of the interior covers for windshields will fold concertina-style, or even roll away like a blind.
All of the options on our list of the best windshield sun shades keep storage in mind, so you won't be struggling for somewhere to put them when they're not being used.
Conclusion
In this article, we've discussed the ins and outs of car sun shades, giving you all the details you need to know about so you can make an informed decision. We've also shown you what to look for in the best one for your needs, finishing off with a detailed list of our favorites.
The moral of the story is this: If you want to protect yourself and your passengers, and ensure a comfortable ride for everyone, car sun shades are essential.
We hope we've helped you in some way, shape, or form. Till then, enjoy the sun, and stay safe!