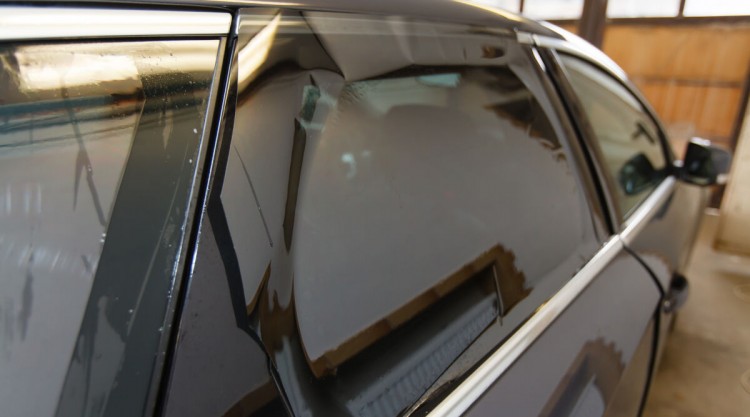 Window tint is widely misunderstood. Most people who want it on their vehicles think it's just there to make their car look a little better, while some think it's just an accessory that doesn't really provide any value and actually makes a car look silly.
Overall, it does so much more than change the appearance of a car. It has significant benefits ranging from protecting the interior of your car from fading to protecting your own skin from harmful ultraviolet rays.
Understanding the benefits of window tinting also begs the question of what the best window tint is for you and your vehicle.
In this article, we're going to look at all the benefits that window tint provides, what types different types are available and you can choose from – and in doing so, show you exactly what we believe to be the best window tints for your particular needs.
Quick Links to Our Top Recommendations for the Best Car Window Tint
Note: Clicking the above links will take you to further information, current prices and customer reviews on Amazon.
What Are The Benefits of Having Window Tint On Your Vehicle?
Overall Appearance
The look of a vehicle is subjective, but a quality window tint will generally improve the appearance of a car. Not only does it mask window smears visible from the outside, but it adds a look that compliments many vehicle trims and accents.
Car enthusiasts generally consider the darker look that window tint provides a must-have upgrade when it comes to modifying a vehicle. Black trim is considered sporty and dark window tint accentuates the general sporty feel of the entire vehicle.
Less Heat Inside The Vehicle
Depending on the type you get, up to 98% percent of the sun's infrared rays can be reflected to reduce the heat buildup inside your car. In the summer months, this can go a long way in improving your own comfort as well as protecting your interior's components.
Heat Retention
Heat retention during cold months is possibly the most overlooked benefit of having these on your car's windows.
Just as heat can be trapped inside your car during the summer, heat can be retained inside during winter as well. When it's extremely cold outside, this can have a profound effect on your personal comfort.
Reducing Vehicle Running Costs
Running costs during both summer and winter can be greatly reduced with quality window tint.
Heat reduction and heat retention means you won't have to run the air conditioning or heater quite as much.
This could improve gas mileage as well as eliminate having to turn either to "high", reducing overall wear on the systems' components.
Privacy
If you don't appreciate people looking inside your vehicle as they drive or walk past, window tint can obscure the contents of the inside of your car.
Increasing the darkness of your tint will increase your own personal privacy.
Reducing Road Glare
Not all window tint reduces glare, but choosing the right kind will. Glare is reduced when visible light transmission is reduced.
One of the primary jobs of window tint is to reduce the amount of light allowed to enter through your vehicle's window.
Interior Protection
The sun's light fades color, damages delicate materials, and increases interior heat. All three of these things can damage any number of interior items in your car.
Window tint can protect your interior from fading, peeling, and heat damage by deflecting the sun's rays.
Personal Protection
Window tint doesn't just protect the material in your car – it can also protect you and your passengers. It can act as sunscreen, reducing or eliminating harmful UV rays that shine through unprotected windows and damage your skin.
Glass Protection
Window tint is applied to your glass as a film, and this can have protective benefits.
Not only can it protect your car's glass against cracking and scratching, it can also strengthen glass and prevent it from shattering in a worst-case-scenario situation.
Are There Any Drawbacks I Need To Know About?
Costs Extra Money
First things first, all of this will cost money. Though it's one of the least expensive and most beneficial "modifications" you can perform by yourself or professionally, it could cost $100 for the most basic installation.
Larger vehicles with high quality window tint installed by a professional can cost more than $500 for materials and labor.
Getting high quality tint from a professional installer isn't necessarily a waste, though, as many high quality products are expected to last up to ten years and come with 1, 3 or 5 year warranties.
Fading And Peeling Can Occur
The type and quality of the tint installed could affect how quickly it needs to be replaced or how quickly it can become ineffective.
Because window tint is a film that is adhered to the window of your car, doing it yourself or saving some money by purchasing a low quality product could decrease the tint's lifespan.
A sign of low quality or failing window tint is the presence of a purple hue in it. Another sign is the presence of bubbles or peeling. Both are unsightly, and whatever money you did save could have to go to replacing the work you just did.
If you see these symptoms, it's time to remove your window tint, and invest in a higher quality one!
Electronic Interference
Certain types actually disrupt radio, cell phone, and GPS signals.
Metallic or metalized window tint generally works very well to keep heat and sun out, but the presence of metal flakes can also work to block signals used by the electronic devices in your car.
Legal Issues
Every state has different laws regarding how dark you can tint your windows. While some states are loose in their stance, other don't allow it at all.
If you're traveling or you don't know the laws, excessively dark tinting could get you a ticket.
What Are The Different Types Of Car Window Tint?
Window tint comes in many forms, and not all are created equal. Each does a separate job and each has its own benefits and drawbacks.
Dyed
Dyed window tint is pretty self-explanatory. This gets its dark color from dye that is placed between the adhesive layer and the protective layer of the film.
It's a popular choice for those who are on a tight budget, as it is often the least expensive type. It gives a nice black appearance to a vehicle, it prevents interior fading, and is non-reflective, which also allows it to decrease road glare.
The downside to this type is that it has a tendency to fade over time. As it is less inexpensive, it also doesn't last as long as other types, and it doesn't have the heat shielding characteristics of other types.
Metallic or Metallized
Metallic tint is designed the same way as dyed ones, but instead of colored dye, tiny pieces of metal flake is used between layers.
This causes metallic tint to be reflective, which is perfect for keeping heat away from the inside of your car.
The metal flaking also provides added strength to the window, acting as a reinforcing agent.
Metal tint is an especially great option if one of the main reasons you're doing this is to prevent people from looking into the inside of your car.
Keep in mind though that as it is reflective, metallic tint is illegal in many places, doesn't reduce road glare as well as other types, and can interfere with electronic devices inside your vehicle.
For those who want a sleek, dark look for their vehicle, you might be better off considering another type.
Carbon
Carbon tint takes away the reflective features of metallic ones while providing a great, dark look for your vehicle.
Unlike dyed tints, carbon ones won't fade over time, and it does a better job than dye when it comes to reducing interior heat.
Because it combines some of the best features of both dyed and metallic, carbon tint will generally cost more than both.
Similar to dyed, it still doesn't have the optimum heat rejection capability some other types have.
Crystalline or Crystallized
A high-quality tint whose calling card is its heat-rejection ability, crystallized tint is good for people who don't want (or need) the traditional dark appearance that other types can give.
Crystallized tint allows more light to enter the vehicle than any other type.
Because it allows more light, your vehicle's windows won't look as tinted when compared to other types. This could cause brightness and road glare to be more of an issue than traditional dark tint.
Crystallized tint also costs a great deal more than other types because of its properties.
Ceramic
Ceramic tint is a newcomer, and it does everything well.
Combing the best heat rejection, durability, and glare-resistance properties, ceramic tint uses the latest technology to accomplish everything with just one product.
Of course, being the best all-around in just about every category means you paying much more for it than any other type.
The downsides of ceramic are few, but the high cost might just make someone consider making some compromises.
Hybrid
Hybrid tint is simply a combination of two different types in order to access the best features that both types have to offer.
The most common types of hybrid tint combine dyed & metallic, and carbon & ceramic.
Questions to Ask & Considerations to Make When Looking For Car Window Tint
Shopping for window tint doesn't have to be hard, but like anything else, it can be a pain – especially if you don't know exactly what you need to be looking for. The following is a list of important things to consider when looking for the right product that suits your needs best.
What's the Goal?
Everybody is going to have different needs and wants. You have to ask yourself what your personal goals are, and what compromises you would be willing to make in the process.
What Kind of Legal Limitations Are There?
You will need to comply with your state's regulations on how dark your window tint can be, especially on your daily driver. Always check with your local DMV to see what specific laws you have to be aware of.
What Are the Highest Rated Products?
Nobody wants to pay high prices for products that don't last or don't work. Products with high ratings will usually (but not always) perform better. Always read consumer reviews before making a purchase. You will be better prepared to deal with whatever the product does and doesn't have to offer before you actually buy it.
Are You Going to Be Installing It Yourself or Having a Shop Do It for You?
If you're a do-it-yourself-er, you may revel in the experience of buying your own window tint and taking the afternoon to make sure it's done correctly on your own.
If you have any hesitation about doing it yourself, though, you should probably get help from a professional.
Window tinting isn't the most complicated "modification" you can do, but it is something extra you're doing to an expensive piece of equipment.
If you're worried about messing up, at the very least, you can buy the material yourself and pay a trained expert to apply it.
How Long Will It Take to Do the Job?
Time is always a factor when you're having work done to your car. If you're busy, be prepared to drop your car off at the installer's shop. Window tinting can be a tedious process. It can take several hours, especially if you have a larger vehicle, even for a professional.
If you don't have the time to sit and wait, you will most likely need to make arrangements to pick your vehicle up the next day or at the end of the same day.
Privacy Glass Is Different
Privacy glass is often confused with window tint. Vehicles like vans and SUVs have "factory tint" on the rear passenger windows, but this is actually privacy glass.
While tint is a film that adheres to the window of a car, privacy glass achieves its look from coloration of the glass itself.
Privacy glass also doesn't achieve the same functional results of window tint. In most cases, privacy glass just shields the vehicle's occupants from outside onlookers – nothing more.
See If A Warranty is Offered
Warranties are great! A high-quality window tint is meant to last for years, but getting one with a manufacturer's warranty, installer warranty, or both will ensure that it will be taken care of if something were to go wrong.
Many major tint manufacturers and installers will offer some kind of warranty.
Cater To Your Own Wants And Needs
As always, any installer or manufacturer will always be able to offer advice if you need it, but you also need to make sure you know what's important for you.
There are all types of tints for all types of needs and wants, and there will always be a right type for you.
Best Window Tint – A Detailed Look at Our Top Recommendations
Now that we've covered all the information you need to know before taking the plunge, let's get to talking about what you came here for!
If you've got this far, I'm sure you've decided to go ahead with the job of doing it yourself — well done!
Not only will this save you a significant amount of money if you don't mind putting in the time and effort yourself, but you'll be very proud to show off your handiwork when it's completed, too.
To help you decide which is the best window tint for your vehicle, we've picked out our favorites and will be talking about them below.
LEXEN Computer Pre-Cut Complete Tint Kit
Lexen is a renowned supplier of professional window film, and the company's all windows computer pre-cut tint kit is — as the title says —a suitable option for just about every window on your car (excluding the front windscreen).
This kit is made from two-ply 1.5 mil premium window film, which makes for cooler temperatures, greater privacy and the protection of your car's interior — even with the lightest tint.
With five shades to choose from, ranging from 5 percent (darkest) to 50 percent, as well as the ability to select up to two different shades in your kit, you'll be able to get just the right protection for your needs. For example, you may want the rear screen to be darker than the side windows, which is something this kit allows you to achieve.
It's specially formulated to help block 99 percent of harmful ultraviolet rays, and is resistant to scratches.
The film can be applied using either a dry heat or wet heat process, whichever you're more comfortable with. It comes with a yellow squeegee & detailed instructions, which is always a plus — considering how all of this can feel like rocket science at times!
Since this product is customized, you'll need to provide specific information about your car when purchasing — or else it's easy to mess things up and get something unsuitable for your needs.
Manufacturers Specs and Feature List
Fitment option customized kit.
Choice of five different shades.
Carbon coating polyester film.
5 mil premium carbon window film.
Standard black color.
99 percent ultraviolet blocking.
TSER Rejected 35-66 percent.
Lifetime color stability.
No metal.
What We Like
Scratch resistant coating.
Particle technology film with excellent color stability and heat rejection.
Non-reflective film.
A great deal for a complete set of tinting films.
Detailed installation process.
Wet/dry heat shrink-ability.
Blocks up to 99 percent UV rays.
What We Don't Like
Doesn't always seem to be a good option to choose for older vehicle models.
Summary
This kit is available in a range of shades, at affordable prices too – so there's not too much to this option not to be happy about.
If you're going with this option, though, make sure you provide the car model details correctly when you place the order so, that you get the specific kit which will fit perfectly on your windows. If you input inaccurate information, even if it's not off the mark by much, things will still backfire on you.
The kit isn't available for all makes and models, though, particularly on some of the older cars – so a message to the seller and a simple inquiry could be very useful before ordering.
For more information and pricing details about this product, click here.
LEXEN 2Ply Premium Carbon Roll Window Tint Film
Here's another great product from Lexen, this time in a roll, rather than pre-cut. The Lexen two-ply premium carbon window tint film is a quality product which, again, comes in a range of various film shades you can choose from.
A strong point to this option is that you're almost guaranteed a color-stable window tint without the fear of fading. Built with a particle collection film that contains carbon pigments, heat resistance is top notch, which further aids a cooler temperature.
Another one of our favorite things about this? If you have more than one vehicle you're getting tinted, it's a great money-saving buy, as one roll is enough to work on three or four average sized cars. Remember to measure all your windows before ordering, though, to ensure that 20 inches is wide enough.
No tools are included, but kits are available, providing all you need.
Manufacturers Specs and Feature List
Carbon coating polyester film.
Two-ply layer.
Standard black color.
Scratch resistant.
5 mil thickness.
Blocks up to 99 percent of UV rays.
No metal.
Choice of five different shades.
35-66 percent TSER rejected.
What We Like
Easy installation.
Scratch resistant coating film.
Various shades available.
Heat rejection and color stability.
No radio signal interference.
Wet/dry shrinkability.
What We Don't Like
No tools provided.
Not in pre-cut sizes of your car windows.
Summary
The installation of tinting films for cars is often done in workshops, but that's not what everybody wants to do nowadays. In today's world, applying tinting films on your car can be a great achievement when you do it yourself – something you have all the right in the world to be proud of.
Tinting film manufacturers are ensuring great construction to help every car owner out there have enough protection against ultraviolet rays and get the privacy they need.
With this roll providing enough tint film for three or four cars, you'll find that you might save some money, as long as your windows aren't deeper than 20 inches.
You can find out more on the pricing and other details about this product by clicking here.
TRUE LINE Automotive Computer Customized Pre-Cut Window Tint Kit
A quality choice from a top-grade brand, the TRUE LINE Automotive tints don't disappoint.
These are pretty adjustable and customizable upon order from the manufacturer. You can choose whether you want to work on all the windows, just the rear, side, or front side tints, or a combination.
Depending on the year and/or model of your car, True Line can cater for all your tinting needs. Be aware, however, that kits for older cars may not be available.
The quality is very good – one of the best out there, in our opinion – and it doesn't crinkle or leave creases if applied correctly.
It's also quite easy to apply yourself, so there's nothing to feel intimidated about if you're not exactly an expert in this area. This way, you'll save yourself the trouble of paying multiple times the price for a professional application.
Like a number of the other good brands offering precut window tint, you have a choice of four shades to select from depending on your needs. So, whether you're looking for a subtle or a heavier shade, there's a suitable option for everybody.
It also does a very good job against sun damage, as it protects and blocks up to 99 percent of ultraviolet rays.
The pre-cut pieces are easy to set up, so you won't have to worry about making a mistake while trimming them.
Each of these pieces have excess film surrounding them, which makes for adequate protection in transit and storage. This needs to be removed before fitting, but leave on the protective backing which comes off when you're ready to make the final fit.
Manufacturers Specs and Feature List
Easy to install kits are CAD designed
Installation guide and how-to videos available.
Pre-cut for all side and rear windows.
Four shade options.
Professional grade material.
Guaranteed against peeling or delaminating.
What We Like
Perfectly fits car window without trimming.
Value for money – only order for the windows you want to have tinted.
Comprehensive instructions included.
Customer service is very good.
What We Don't Like
Installation kit must be purchased separately.
Some reports of incorrect sizes being sent – but this is also an area where the user needs to get their measurements right before placing an order.
Summary
A great deal from a popular brand, these tints from True Line Automotive will keep your car well-protected and shaded.
They're also easily customizable, with a choice of four shades to choose from, and you can order to fit for only a couple of windows if you prefer.
All in all, you can rely on this kit to make your vehicle stand out from the crowd and give it a classy look.
For the latest details or to learn more about this option, click here.
MotoShield Pro PreCut Ceramic Tint Film
This option is customizable for a perfect fit, requiring no cutting. This listing covers a wide spectrum of window types for many different types of Sedans and Coupes.
The product is made with nano ceramic tint film, which is a high quality material that contains non-conductive and non-metallic ceramic particles.
Another cool feature is that not only do these block 99 percent of ultraviolet rays, but they also have an IR rating of 95-99 percent.
The tint shade offerings are also available on a wider scope from this brand, in comparison to other brands. You can opt for six shades, including a 70% tint – something you won't find with other brands that limit you to a 50% tint shade.
You can even choose different tinting levels for each of the windows you're ordering for. For example, you can order a darker 15 percent tint for the rear glass with a 25 percent for the rear side windows, and 50 percent on the front side windows — or any other variations you prefer in whatever order.
Easy-to-follow instructions are included with the packaging you receive, so you're less likely to make errors if you choose to install yourself. On the downside, the manufacturer recommends you have it installed professionally and states that it doesn't claim any responsibility for installation errors that might occur.
Manufacturers Specs and Feature List
Pre-cut sections.
Nano ceramic tint film
2-millimeter thickness.
Reduces interior temperature by up to 25 degrees Fahrenheit.
Blocks 99 percent UV rays.
Six shades available, from 70 percent to 5 percent.
What We Like
Each section can be customized with a different shade.
Environmental friendly.
Reduces infrared and ultraviolet rays by up to 99 percent.
Easy to follow installation instructions.
Manufacturer claims templates for all models are available.
What We Don't Like
Some users find it difficult to apply themselves.
Manufacturer recommends professional installation.
Summary
With a lot of great features, this is a good option to install if you're looking for the right color and shade to keep you protected from damaging ultraviolet rays and reduce the temperature in your car's interior.
You'll also definitely want to check it out if you're interested in tinting some windows in a more subtle shade, such as the 70 percent that MotoShield uniquely provides. Other brands that don't offer any lighter shade than 50% won't be much good for you in this case.
Don't forget that you can choose different shades for various windows, too!
Find out more about this product here.
Mkbrother Uncut Roll Window Tint Film Roll
Made of non-metalized material and with 50 percent heat rejection, this roll from Mkbrother is an affordable option for those on a budget. The product is manufactured from dyed film and offers up to 99 percent protection from ultraviolet rays.
This particular product has a VLT (visible light transmission) rating of just 5 percent, striving to give you maximum privacy and protection inside your vehicle. It comes in a nice charcoal hue too, which looks pretty stylish if you were to ask us.
Although you have to cut it yourself, unlike some of the other options on this list that come pre-cut for you, it's still relatively easy to install. The makers also claim it's scratch-resistant, so you're likely to maintain that sleek, quality look for quite a while.
On the downside, it doesn't come with tools, and users have complained that it can be quite messy to work with. If it's your first time applying tints yourself, we would suggest going with one of the other easier-to-apply options instead.
For those of who are adamant on getting this option because they're on a tight budget, you may struggle to get the hang of things at first, particularly as you'll need to cut out the film yourself, but keep at it – you'll get the hang of it soon enough!
Manufacturers Specs and Feature List
Roll size 24 inches by 20 feet.
Dyed film type.
5 percent VLT (visible light transmission).
Non-metalized material.
Scratch resistant.
99 percent UV solar protection.
50 percent heat rejection.
Standard charcoal black-grey color.
What We Like
The 50 percent heat rejection will help keep your car cool.
Attractive dark charcoal color.
5 percent shade assures maximum privacy.
20-foot roll is enough to cover the average car.
Budget-friendly choice.
What We Don't Like
Not pre-cut.
No cutting/fixing tools included.
Doesn't come with instructions.
Dark tint might interfere with visibility at night or in poor weather conditions.
Summary
This option offers an affordable, protective layer for your vehicle.
The 20-foot roll will adequately cover the windows of most cars, and your privacy will be assured with the 5 percent VLT shade (think Limo), which also strives to keep you cool when the temperatures rise and prevent your upholstery from fading.
It seems to need a little extra care and patience to apply, though, and no tools are included with the purchase. This might be an additional expense worth considering for some of you.
For more information on this pocket-friendly item such as price and customer reviews, click here.
LEXEN Front Window Precut Tint Kit
Here's another high-quality, precut window tint from Lexen, except this time it's just for the two front side windows. This product is scratch-resistant and made of carbon-coated polyester, making it durable and long-lasting.
Like the other Lexen picks, you can choose from one of five shades, between 5 percent (darkest) and 50 percent. This is great for privacy and protecting your vehicle's interior.
It's reported to maintain color stability as well, and once you've tinted your windows with these, they'll likely last you a good few years to come.
Manufactured from non-reflective film, there are detailed instructions for the application and videos are available on the manufacturer's website to help you further in case any sticking points were to arise.
It's another great DIY pick, so you'll need to apply it yourself, but at least it's pre-cut! A squeegee is included as well, which will take some of the hard work out of the equation.
Manufacturers Specs and Feature List
Pre-cut tint, requires no cutting.
Carbon-coated polyester film.
Particle technology film contains carbon pigments
Excellent heat rejection properties.
Choice of five shade options.
Non-reflective with no metal.
Blocks 99 percent UV-rays.
Scratch resistant.
Instructions and squeegee included.
What We Like
Economical choice for those who only want to tint front side windows.
Shade options will cater for most requirements.
Ready to use, no cutting needed.
Lifetime color stability.
Protection and privacy for the car's driver and front seat passenger.
What We Don't Like
Kit not available for some older vehicles.
Summary
This option for two front windows is a great, high-quality and budget-friendly option if you only want to tint the front side windows on your vehicle. Not everyone wants something for all windows on their cars, so they shouldn't be limited to doing only that.
With only two windows to tint, it should be a quick and easy DIY project, and maybe even a good enough option for beginners to work with.
For details on this product, and to find out if it's available for your car make and model, click here.
Wrapping It Up
Just like sunglasses for your car, window tint can have both appearance and functional purposes.
With the wide variety of different types available, you can find an option that looks great with less functionality or get one that has high functionality with little to offer in terms of aesthetics. The choice is really up to you depending on what you're looking for.
Understanding what is important to you will always lead you to the right type of tint for your exact needs. With technological advances, you can be sure that even if you can't decide which benefits you want, you can get something that gives you (almost) everything you need.
With tint being one of the less expensive overall "modifications" you can perform on your vehicle, you can customize the look and functionality of your car while expressing yourself exactly the way you want.