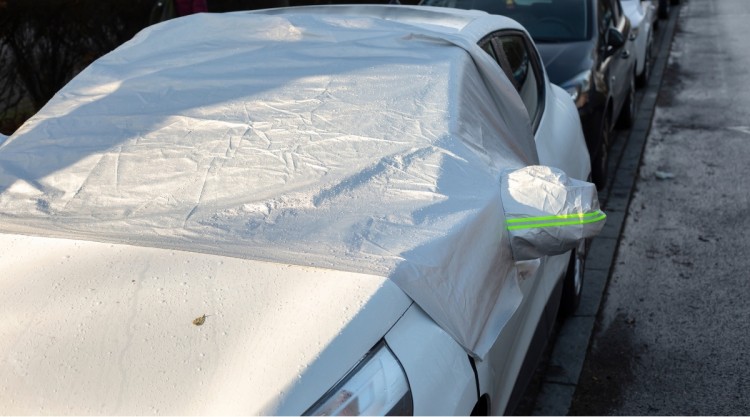 Have you ever wondered about the use of a windshield cover? Of course, the name explains it all. But is it really necessary or is it just another car accessory that's overhyped and an added expense you can do without?
The truth is, if you live somewhere that experiences lots of snow and ice, you really are going to benefit from one.
Let's be honest, nobody enjoys spending 30 minutes scraping the ice from their car before they can drive off. With one of these, you won't have to.
The best windshield covers aren't just about convenience, they're also about increasing the longevity and safety of your car.
In this guide we take you through all the benefits these useful accessories can bring, and provide a roundup and mini-reviews of some of the top products available on the market today.
Quick Links to Our Top Recommendations for Best Windshield Cover
Note: Clicking the above links will take you to further information, current prices and customer reviews on Amazon.
Benefits of a Windshield Cover? Why and When to Use One?
A windshield cover is used to protect your car from the damaging effects of dropping temperatures, snow, ice, and sleet. It's a flat cover that rests snugly over the windshield, and it's usually secured by at least one of several fastenings. These can include magnets or elastic straps.
A windshield cover is not to be confused with a windshield sun shade. A sun shade sits inside your car reflecting solar heat back out the window, keeping your car and it's contents cooler (particularly the seat and steering wheel.) A cover sites outside the vehicle for protection from snow and ice.
So, how does it protect your vehicle?
First of all, it's important to realize how damaging snow and ice can be for glass. In winter conditions, the windshield contracts and expands with the changing temperatures.
This means that any small cracks or chips in the glass can worsen during this time. Of course, this will affect visibility and become more dangerous as the crack grows. (If you ever find yourself in such a situation, anyone of these best windshield repair kits can come in very handy).
So, the main purpose of this product is to prevent the glass from freezing in low temperatures, helping to stop any windhsield cracks from spreading. It's constructed from thermal materials that act as a barrier, preventing snow and ice settling on the windshield. It also helps retain heat inside the car and prevents an icy interior.
A lot of drivers don't have a garage or carport and need to park out on the street or in the yard. This allows snow and ice to settle on the hood and windows more easily. Using a winter windshield cover is the simplest alternative to stop this happening.
And let's face it. Scraping ice and snow off your windshield before driving to work or going on the school run is the last thing you want to do. It's a hassle and can make you late, as well as irate, not to mention even colder than you already are. Having this extra layer means you won't have to worry about this anymore.
Additionally, using ice scrapers can have a damaging effect on the window. If not used carefully, it may scratch the glass and cause chips, that can worsen with the low temperatures. It's been found that when temperatures drop to 32 degrees Fahrenheit, a windshield crack is more likely to spread by up to 60 percent. Apart from the dangers we mentioned associated with this, repairs are expensive and inconvenient.
A lot of people use hot water to remove ice from the windshield. It seems like it would melt away the ice quickly, right? Well, it's actually a very dangerous thing to do, for the reasons mentioned above, and could end up with your car being out of action while the windshield is replaced.
You need to stop the snow and ice gathering in the first place. A well-designed cover will do this by protecting your windshield from the elements.
Are you wondering when you need to start using one? This is down to the climate you live in, but we'd generally recommend using a windshield cover from the very start of the winter season.
When the temperatures begin to drop, and ice or snow is likely, this is the right time. it's not going to work if there's already snow on the car. So, make sure you prepare to prevent the frozen screen or beat the snow storm before it arrives.
Different Types of Windshield Cover
There are many different types of cover on the market, from complete car covers, to those that only cover the windscreen. We're only going to discuss the latter here, while we have a separate guide to the best car covers to protect your whole vehicle.
The many different types of widnshield cover differ when it comes to how they are fitted, their effectiveness and level of protection.
So, let's look at the main differences you'll notice and what you should look out for when choosing one.
Side Mirror Protection
Ever thought about protecting the glass on your side mirrors? This is often forgotten about, but it's equally important for visibility. You'll notice that some covers will include this option and it's a fantastic feature for protecting you and your ride from reduced safety.
Full Coverage
Some will only protect your windshield's glass, while others will provide full coverage over the wipers, as well. You'll want an elongated and extended skirt design for full coverage. This is going to protect the window and also help prevent the wipers from not working due to freezing and getting stuck.
Protection in all Weather
Of course, we're looking at this car accessory for the winter. But there are some items which are versatile and can also be useful for the summer. This is a great option, as, over time, UV rays can be damaging for your dashboard and upholstery.
Multiple Securing Features
Our advice when you're looking for the best windshield cover is to look for one with several fastening features. This is going to ensure the best protection from the elements and against theft. We'll cover these in more detail next.
Different Ways to Fix Them to Your Vehicle
These products are fixed to the exterior of your vehicle, becaue they need to cover the outside surface of the windscreen.
Being attached to the outside, they are exposed to the elements, and to sometimes strong winds. Not only this, but they are sometimes seen as 'easy pickings' and stolen by thieves. So they need strong fixings to be kept in place.
So, let's have a look at some of the most common fixing options.
Magnets
It's common to see magnets on this product. They may secure the car windshield snow cover to the hood when the weather is relatively calm. But it's not going to do much good in strong winds if it's the only security feature.
Magnets on their own aren't likely to deal with heavy snow and ice either. There is even a danger that they may scratch your paintwork.
Side Mirror Straps
We'd say that elastic straps secured around the side mirrors are a pretty good and strong feature. They're going to keep a windshield cover firmly in place when it's windy, and won't be affected by heavy snow and ice.
Even if you prefer to fold in your mirrors when you're parked, these straps should still fit around them.
Door Securing Flaps
The third type of fixing is securing them using the front passenger and driver doors. The idea is it has extra material either side, which is firmly held inside the vehicle when the doors are shut.
This is definitely going to keep it in place and will be the best form of protection against theft. But it may also be hard to secure the windscreen cover in windy weather, particularly if you're on your own.
Wheel Hooks
Some shields can also be secured to the front wheels. Sure, this may keep the item in place to protect your front window, but what we don't like is this is usually done with a hook and we're not convinced this is going to deal with wind on its own. Plus, there is the possibility that the hook could damage your alloys.
Make Sure to Check Size
The last thing you want is to purchase a windshield cover and for it not to fit your vehicle, so pay attention to the size before you buy.
Some car manufacturers will sell windshield covers specific to the make and model, but most of the time, this type of product is flexible and is classed as universal fitting, designed to fit all normal cars, SUVs, trucks, and vans.
While this may be true most of the time, always double check and make sure to measure your windshield first. You want all of the glass to be covered to benefit from the maximum protection in winter.
Best Windshield Cover – Our Top Recommendations
If you've ever looked at windshield covers before, you'll know just how many there are out there. Of course, they all claim that they're the best. But they can't all be, right?
We've taken some of what are, in our opinion, the best products on the market and reviewed them so that you can decide for yourself. Here are our top recommendations.
Hopkins Subzero Heavy Duty Arcticguard Snow and Ice Universal Windshield Cover
We'd say the best windshield cover for your vehicle is this one right here. It's going to prevent snow and ice building up on your glass and damaging it. Investing in this could help avoid paying out for repairs later on.
This is the only product on our list that includes side mirror covers. After all, they also feature glass and are often forgotten about. But it's just as important for them to be protected from snow and ice, so you can drive safely with maximum visibility.
Another great feature is the adjustable mirror straps. This makes sure you can create a snug fit, suitable for your vehicle, no matter what size. Plus, they work in helping to prevent it from flying away in high winds. Combined with the interior hooks, it also deters thieves from taking off with your new purchase.
Finally, it's easy to fold up when not in use. It can be packed away into one of the mirror pockets, and its compact size means you can store it neatly inside your vehicle.
Specification and Feature List
Size: 73 inches by 40 inches.
Universal fit for most vehicles.
Includes side mirror covers.
Protects against snow and ice.
Features anti-theft protection with interior hooks.
Folds into side mirror pocket for storage.
What We Like
Will fit almost all different vehicles with universal design.
Side mirror covers included, with adjustable straps for secure fit.
Foldable and easy to stow away.
Easy to use and attach.
Combines straps and interior hooks for security and anti-theft.
What We Don't Like
Interior hook isn't adjustable and may come loose.
Doesn't cover the wipers.
Summary
Overall, this product is impressive. It's got all the features you need to protect your windshield from the winter weather. It's made from quality and durable materials, and its adjustable straps allow a universal fit.
It's easy to store and the side mirror covers persuade us that this one is value for money. What's more, this is the only item on our list that includes interior hooks. This could be more secure than just door flaps, and easier to attach.
Oxgord Windshield Snow Ice Removal Cover
What we like about this guard is it offers full coverage. It covers the whole front glass of your vehicle, as well as the wipers. This will protect them all when the temperature drops.
It's made from a thick, heavy-duty polyester material. This makes us confident it's going to last more than one winter and protect your vehicle from slush and water, as well as debris. It also has a frost guard, which helps to trap heat and prevent frost that could damage the glass.
The guard is designed to fit almost any vehicle. Of course, always be sure to measure your windshield first, to know that it's going to be the right fit for your car.
This product is fastened to the side view mirrors with elastic straps, and it also secures in the front doors too.
Specification and Feature List
Size: 75 inches by 42.25 inches.
Designed to fit most vehicles.
Made from 600D polyester.
Frost guard with thermal capabilities.
Secures to doors and side view mirrors with elastic straps.
Includes travel storage bag.
What We Like
Universal design.
Easy to use and secure without damaging paintwork.
Features straps for side view mirrors and front doors for anti-theft.
Waterproof, snow proof and frost proof.
Storage bag to stash away.
What We Don't Like
Other products feature more securing points.
Summary
Overall, we love this one. It's long lasting so that it can be used winter after winter. Plus, it's going to stop ice and snow damaging your car. The storage bag that's included is great for packing it away when it's not needed.
While some guards are secured by magnets, which may damage your paintwork, this one doesn't. Simply use the elastic straps on the mirrors and secure into the front doors. But it's worth pointing out that some other products offer additional security.
VIVVAUTO Magnetic Car Windshield Cover for Ice and Snow
This particular is large and suitable for covering the whole windshield. It also protects the wiper blades, giving you assurance that they'll be ready to use and won't freeze or suffer damage from the weather.
This product is made from a material that is soft and waterproof, as well as having cotton padding. What's more, the aluminum foil and thermoplastic polymer can help trap heat.
If you live somewhere that's prone to windy conditions, we'd recommend this product. Why? Well, there are several components to secure it to your vehicle. These include elastic strings to attach to the side mirrors, three magnets on the hood and two door flaps. This will keep the windscreen cover snug to your windshield and prevent it from flying away. It will also ensure it's not easy to steal too.
A feature we think fantastic is that the magnets are embedded inside the material. This will prevent them from scratching the paintwork on the car hood, which can be a problem with more inferior products.
Specification and Feature List
Size: 67 inches by 56 inches by 46 inches.
Weight: 14 ounces.
Elongated design to cover wiper blades.
Waterproof for durability.
Designed with aluminum foil and thermoplastic polymer.
Storage bag included.
What We Like
Materials have thermal capabilities to trap heat.
Prevent snow and frost cracks and damage.
Covers wiper blades.
Lightweight and easy to use.
Stash away in storage bag when not in use.
Magnets are covered, preventing paintwork scratches.
Padded cotton provides extra protection.
What We Don't Like
Magnets may not be strong enough for gale-force winds.
Summary
You can throw away the scraper once you choose this product. It's going to make sure no snow or ice will settle on your windscreen. It's also lightweight, which makes it easy to secure.
If you wanted to fix it quickly and only use the magnets you can, but ideally, you should use the different security fixtures to work together for anti-theft and windy conditions.
When not in use, it's easy to fold up and store away. It comes with a storage bag so you can stow it in a side door or center console.
Iceking Magnetic Windshield Cover – Huge Size
If you want to drive straight away with a clean and clear window, the IceKing could be a winner for you. There's no need for scraping as this acts as a barrier from the winter elements.
Of course, this also means your car is protected from the damaging effects of snow, ice and frost. It enjoys a waterproof design that's going to deal with the bad weather. The universal fit also means it can be used on most vehicles, from a sedan to an SUV. It'll cover the wipers too, so they're ready to use without having to de-ice them.
So, how does it secure to your automobile?
You can fix it in place with the ultra strong magnets. This is going to provide a good grip. But you'll also need the security flaps when there are high winds. The good thing about this product is it has ties to use inside the vehicle, too. This is a triple action safeguard against bad weather and thieves; it's not going to budge easily.
Specification and Feature List
Size: 70 inches by 50 inches.
Features powerful N52 rare earth magnets.
Security door flaps and interior ties.
Suitable for many different models and makes.
30-day money-back guarantee.
Waterproof and snowproof design.
What We Like
Universal design fits most vehicles.
Satisfaction guarantee.
Full protection from the effects of snow and ice.
One of the few products to feature interior security ties.
It also covers the wipers.
What We Don't Like
Magnets may scratch paintwork on the hood.
Installation may be difficult to secure in place without help.
Summary
The IceKing is going to make white winter weather a lot easier to deal with. Your front window should be clear for a quick getaway. Most of the time, it'll be easy to attach with the magnets and door flaps.
But if there are high winds, it might take two people to get this product in place confidently. There's also the possibility that the magnets, although covered, could scratch the paintwork if your car isn't clean. This is something to keep an eye out for.
Premium Windshield Snow Cover for all Vehicles
If you don't have a garage or carport, don't worry. All you need is one of these to prevent the snow and ice from damaging the glass on your ride. It will cover the whole of the vehicle's front, and this includes your wipers. This feature ensures they don't freeze or get stuck after a cold night.
The Premium cover from Apex Automotive comes in either a standard or large size. The standard will likely be most suitable if you drive a normal sized car. If you've got a pick-up truck or larger SUV or similar, then it might be best to choose the larger sized product. To be sure, always measure the front yourself first before ordering.
It's secured with the help of magnetic edges. These are sewn into the material, which helps prevent scratching. There are also double stitched and durable weighted door flaps, which will serve as an anti-theft feature.
A great feature of this item is also marketed to be effective against rain and the sun too. It can keep your front window protected from the rain and prevent streaks, and it will also protect the interior from UV ray damage in sunny weather. It seems that it gives year-round, all-weather protection.
Specification and Feature List
Sizes: Standard – 48 inches by 60 inches; Large – 50 inches by 70 inches.
Standard size fits most cars, while large size is for SUV, trucks or similar.
Protection from snow, ice, and rain, as well as sun.
Drawstring storage pouch included.
Secured with magnets and weighted door flaps.
What We Like
Dual weather protection, for winter and summer.
Storage pouch included.
Magnets are sewn into the material to prevent scratches.
Covers wipers.
Door flaps are weighted to help with fixing, and enable wind and theft protection.
What We Don't Like
Lightweight material makes it hard to secure in windy weather.
Summary
Altogether, this is an impressive product. It's going to offer protection from frosted windshields caused by low temperatures, as well as stop UV ray damage. We love how it can be used all year round.
What's more, you can easily stow it away when it's not needed. The storage pouch provided is sure to come in handy to help keep your car's interior organized.
The security features should hold it in place, but If there are high winds, the magnets may not be enough to hold it down while securing the door flaps. You might need to grab a friend to help install.
Snowoff Car Windshield Snow Ice Cover
Next up we have this item from SnowOFF. It's marketed as a premium product, and we'd agree it has some premium features, although, at the time of writing, this is reflected in the price. But we'd say it's worth it because of the protection it can offer for your vehicle.
It's handmade from a durable water-resistant material, protecting you winter after winter, and ensuring no snow or ice gets through. The long hood skirt is also great for shielding the wipers, avoiding all the problems that leaving them exposed can bring.
One thing that makes this product really impressive is the number of security features it has. It boasts windproof webbing straps that attach to the wheels. This is in addition to the suction cups and door flaps. They all work together to hold it in place against high winds, and to prevent theft. There are no scratching magnets to worry about either.
There are two sizes to choose from, as with the previous product. However, always measure first and check the listed dimensions, so that you're not left disappointed.
What's more, the company says that this windshield cover can also be used as a picnic sheet or pet car seat cover. This is a pretty neat idea and makes it a very versatile product. The storage bag provided means it stows away neatly, without any problems.
Specification and Feature List
Two sizes: medium and large.
A microfiber demisting cloth and emergency blanket are included.
Zip storage bag included.
Medium size for normal cars.
Large size for SUVs, RVs and trucks.
Webbed straps attach to the wheels.
Anti-theft suction cups.
What We Like
Several security points work together in high winds and to prevent theft.
Suction cups don't scratch paintwork.
Durable and water-resistant fabric.
Versatile product and can be put to other uses.
What We Don't Like
Wheel hooks could scratch alloys.
Actual measurements aren't specified.
Summary
It's marketed with the phrase, 'peel off, shake off, drive off'. Certainly, this is what you can expect from this product. You won't need a scraper in the winter time, and you can simply place this product over your windshield. It's so easy to use.
We love that it's got several features for securing it to your windshield. This is going to work well in high winds and also prevent anyone from walking off with it. While it's unlikely, there's still a possibility that the wheel hooks could scratch your alloys. This is something to be aware of.
Icescreen Magnetic Windshield Frost & Snow Cover
This item from Icescreen looks pretty good to us. The magnets make it easy to attach to your vehicle. We also love that they combine with inside door flaps for extra security. This is alongside hooks that attach to the wheels to hold the sides down too.
All these will prevent your cover from going anywhere during stormy weather.
Normally, we worry that the magnets may scratch the paintwork. But this product makes sure this isn't a problem, as long as your paintwork isn't dirty. The magnetic pouches are padded, which helps to protect the hood. It's also constructed from a durable quality Oxford material that's waterproof and won't scratch your vehicle.
Specification and Feature List
63 inches by 39.9 inches.
Protects against frost, snow and ice.
Waterproof Oxford material.
Door flaps, wheel hooks, and magnets for security.
What We Like
Long lasting and waterproof material.
Several ways to secure it and prevent theft.
Easy to use and attach.
It also covers wipers.
What We Don't Like
Not a universal fit, unsuitable for larger vehicles.
Doesn't come with a storage bag.
Summary
This is a good choice if you want to keep your car safe from the winter elements. It's going to protect the glass from ice and snow, as well as making sure the wipers don't get stuck. You'll need to buy a storage bag for it, though, as there isn't one included.
While this product will be great for coupés and regular sized vehicles, it's not going to be good for everyone. If you've got an SUV, large van or truck, it's not going to be big enough. If you're unsure whether it'll be suitable for your ride, check the measurements.
Conclusion
A windshield cover is just what you need for protection from snow and ice. It will mean you don't have to spend valuable minutes scraping away snow or de-icing the windshield every morning. Plus, you no longer have to worry about cracks on the glass from low temperatures.
We'd say that from our great selection, the best windshield cover is the Hopkins SubZero heavy duty ArcticGuard universal. This is going to provide you with fantastic protection in the winter. Plus, the inclusion of side mirror coverage is a real selling point, along with the adjustable straps and interior hooks for security.
After reading through our top recommendations, do you have a favorite? Let us know in the comments, and you can also ask any questions you have. We'll be sure to answer them for you.