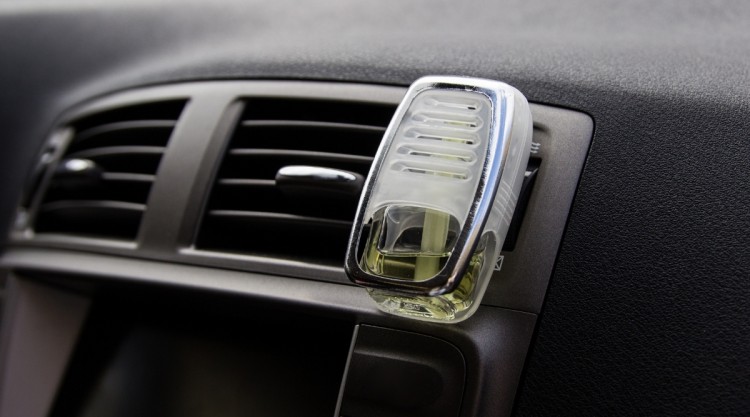 Let's be honest here, we've all been in a situation where we've jumped into our vehicle and discovered that … it stinks!
It just hits you like a truck. Perhaps you've forgotten some food in there when you were in a rush to get back home the other day, or maybe you have no idea where the smell is coming from and can't seem to get to the bottom of it.
Either way, it's not pleasant and it needs to go – fast! The last thing you want to do is have it permeating your senses while you're driving.
So, what can you do about it? Well, maybe it's time to invest in a good car air freshener. This is going to help you deal with the bad smell so you can go back to focusing on what you need to do best – driving.
Of course, you might be thinking: how on earth do I choose the right product when there's so many out there? Well, leave that up to us, as this is where our guide can help you.
We're going to fill you in on everything you need to know about car air fresheners, how they work and how you can benefit from having one. Plus, we've reviewed what we believe are some of the best on the market for you to check out.
Without further ado, let's get started!
Quick Links to Our Top Recommendations for the Best Car Air Fresheners
Note: Clicking the above links will take you to further information, current prices and customer reviews on Amazon.
What Are Car Air Fresheners and How Do They Work?
These small but useful items are popular accessories that you'll find in most vehicles across the country. In fact, most of the world's drivers use them.
They usually ride up front and their purpose is to make your vehicle smell clean and fresh. It's also a way to banish unpleasant odors that prevent you (and any passengers you have in the car with you) from having a good time on the road.
When all a vehicle's windows and doors are shut, it becomes a confined space. This means that bad odors are trapped inside the vehicle while you're driving. This is where air fresheners come in to help, by releasing a pleasant aroma to either deodorize, mask – or both – any unpleasant smells lingering in the air.
Many have an ingredient that neutralizes the air, cleans it from harmful particles, and deals with mold, mildew, and moisture.
Air fresheners are not to be confused with car air purifiers. A purifier is something that filters and cleans air before it even gets into the car from the outside, it doesn't deal with odors generated from within. For this, you need an air freshener.
What Are the Benefits of Car Air Fresheners?
Of course, the first obvious benefit to using a car air freshener is its ability to get rid of bad odors. When you don't have any windows open in your closed vehicle, lingering odors from pets, cigarette smoke, and other smelly sources circulate.
With the help of an air freshener, you can combat this. This is especially true when you can't roll down the window, such as on a noisy highway or in the pouring rain.
Not only will it get rid of bad odors, but you can also enjoy a delightful fragrance. This can get your vehicle smelling fresh and clean, even possibly getting that "new car smell" back. We all know nothing beats that!
When driving in a car that smells good, this can enhance your mood and make spending that time on the road more bearable.
When there's a bad odor you have to "suck up and deal with", not only will this make you feel miserable until you get to your destination, but this can also make you feel embarrassed about your ride if you're in there with other people.
What Different Types of Car Air Fresheners Are There?
There are several different types of car air fresheners available for you to choose from.
Of course, we're not just talking about the different fragrances they emit – there's much more to car air fresheners than that. We're also talking about the style of the product and the way it works.
There can be a big difference between one and another, so you should know what to look for to make sure you're getting something that suits your needs best.
Let's check them out.
Plug-In Car Air Fresheners
Just as the name suggests, plug-ins are inserted into the power outlet in your vehicle.
They usually consist of the plug and a small plastic or glass bottle that holds a fragrant oil. The idea is that this oil heats up and then creates a pleasant aroma which is circulated around in the atmosphere.
Normally, plug-ins work pretty quickly and they can be very effective at getting rid of odors, which also includes strong odors that other types don't do well at eliminating.
This type normally lasts longer too, and you'll likely only have to purchase refills.
Can Air Fresheners
These types are easy to use, you just twist the top of the can to release the scent. This gives you full control over when you want to release the contents.
You can also find this type in a jar instead of a can.
The fragrance can take a while to circulate around the vehicle, though, so keep that in mind.
Some of these products are also good at absorbing moisture, which may prevent mold and mildew from forming and creating bad odors.
Electronic Ionizers
An electronic ionizer is often nicknamed an air purifier.
This is a device you plug into the power outlet in your vehicle to cleanse the internal atmosphere. The idea is that it emits negatively charged ions using this electricity. The ions disperse and attach to positive particles in the atmosphere, such as cigarette smoke, bacteria, or allergens.
This is a great option for destroying the source of bad odors, and not just masking it with a fragrance temporarily. It essentially acts as a car deodorizer and cleans the inside of the vehicle, which is good news for those who suffer from allergies.
While they can be more expensive than other types, they're normally worth it.
Air Purifying Bag
An air purifying bag will do all the hard work for you.
They normally contain natural ingredients that absorb bad odors, and they may also deal with excess moisture as well, getting rid of mold and mildew in the process.
Natural car air fresheners are usually fragrance-free, which means they might be a better option for allergy sufferers.
Sticky Gel Air Fresheners
The main benefit these sticky gel products have is that they're versatile. You can stick them to just about any dry surface in your car, such as the dashboard.
They usually contain fragrant oil, which is known to greatly help improve the aroma in vehicles. They normally last longer than some other types as well, such as cardboard (which we'll be talking about below).
However, you might want to be extra careful that sticky gel air fresheners don't stain surfaces in your vehicle. They're not always the best for combating the strongest of odors either, and you may need more than one to make a substantial difference.
Spray Air Fresheners
Sprays are easy to use whenever there's a bad odor in your car which you need to deal with on the spot, and they're usually everybody's go-to choice.
You simply spray to create a mist and you'll be in control of how much fragrance you use until the smell goes away.
This also means you'll be in control of how long the product lasts, assuming – of course – you don't get something low quality that has you emptying 1/4 a spray can every time you need to deal with a nasty smell!
The one problem with some freshener sprays, though, is that they're only good for masking bad odors. This means that they might not get rid of the source of the bad smells altogether, which returns when the spray's fragrance dissipates.
So, you should look for something that's known to last a good amount of time before you need to spray around some more.
Cardboard Air Fresheners
These are probably the most popular ones you'll see, likely because they're the most economical option.
Basically, it's a shaped piece of colored card, infused with a scent. They usually hang from the rearview mirror by a short elastic cord and come in hundreds of different shapes and aromas.
Drivers enjoy the ability to choose the color and design to complement their vehicle's interior.
However, these usually only create a pleasant fragrance and don't deal with moisture or strong odors. They also don't last very long and need to be replaced frequently.
What Should You Look for in Car Air Freshening Products?
There are so many of these products out there, and it seems like every manufacturing company claims that their product is the best. What gives?!
Truth be told, we know this can't be true.
So, we've come up with a list of some important factors you should look into when you're choosing an air freshener for your vehicle.
The Contents
Recent studies have found that some of the ingredients used in air fresheners can be harmful to our health. This includes chemicals such as formaldehyde, phthalates and petroleum solvents.
Trusting just about any car freshener out there for being good for your health without doing some research about it beforehand is not the best of ideas.
So, it's best to look for a product that's as natural as possible. This will help you avoid toxic chemicals, which may be very dangerous in a confined space such as a car.
For those of you wondering what exactly is in air fresheners, this video from National Geographic has the lowdown.
Long Lasting
Of course, you want to get your money's worth when it comes to whatever air fresheners you buy.
The truth is, though, that some of the cheaper options are at that price point for a reason. For example, cardboard and gel types have a lower price tag, but they will only last a few weeks at the most.
Spray and can perfume types tend to last longer than sticky gel and cardboard options, but are usually more expensive. Meanwhile, plug-in air fresheners require you to buy refills, but electronic ionizers don't require you to do anything other than plug them in, although they're usually pricey.
At the end of the day, there's going to be some sort of trade-off involved no matter what type of car air freshener you decide to go with – and it all depends on what you're most comfortable with letting go with, in return for what you prioritize.
Suitability for Car Size
The size of your car can affect the effectiveness of whichever air freshener you choose to have inside.
For example, if you have a bigger vehicle, it may be better to go for oil-based and electric products. This allows the fragrance or clean air to spread around the vehicle more efficiently.
In a big vehicle, if you went for a basic cardboard option, you might need more than one – or else some areas in the car will still stink.
On the other hand, if you've got a small vehicle, you'll have a lot more freedom when it comes to choices.
Moisture and Bacteria Control
Some air fresheners are able to tackle the source of a bad odor. This includes the electronic ionizer type, which can get rid of bacteria altogether. Certain can types will also be able to get rid of moisture in the atmosphere.
Other products, such as gel or cardboard, will simply mask bad odors temporarily.
In Which Situations Should Car Air Fresheners Be Avoided?
If you suffer from asthma or have breathing difficulties for any other reason, it may be best to avoid a lot of these products – or at least consult with your health care provider first before making such a purchase.
In particular, fragranced air fresheners can cause negative symptoms to arise. You might benefit from non-fragranced or natural products in these cases, but this will ultimately be a matter of what you feel most comfortable with and what works best for your health.
In addition, if you have allergies, air fresheners might not be the best option for your vehicle. Some of the fragranced products can make you sneeze or might cause discomfort and irritation.
However, electronic ionizers could help clean the vehicle's atmosphere of allergens, such as pollen, during the summer.
Last but certainly not least, if you're someone that's easily distracted or nervous when you're driving, think carefully about which product you choose.
A lot of vehicle air fresheners suspend and swing from your rear-view mirror or on hooks around your vehicle. This could become a distraction when you're behind the wheel.
In this case, though, you could just opt for a plugin or other fixed type.
The Best Car Air Fresheners – Review of Our Top Recommendations
We've fired all of this information at you about different types of car air fresheners to choose from, as well as what makes each type special and the downsides to them.
So, you've probably guessed by now that there are loads of products out there to choose from – with dozens of options to pick from each type.
In fact, there are so many options to choose online and in stores, that it's near impossible to choose only one as the best car air freshener out there.
With that being said, don't worry – we're going to make it easy for you. We've reviewed some of the best car air fresheners on the market to save you some hassle and help you decide which ones are right for you.
Let's check them out, shall we?
FRiEQ Car Air Purifier
You might look at this air freshener and think it's some kind of futuristic device that needs a 100 page manual to work, but it's really not. It doesn't just look cool, it's also going to help you get rid of bad odors and bacteria in your vehicle.
Just plug it into a 12-volt power outlet and you're ready to go.
It works by releasing negatively charged ions into your vehicle, which purifies the air from odors, bacteria, and mold. This means you get rid of the bad odor that's spoiling your journey as well as tackling it at the source – something not all car air fresheners out there do.
It doesn't mask the smell, it cleans the air instead. This could well be the preferred product for those with asthma and allergies.
The great thing about this product is that there are no filters to change on a regular basis. This purifier will work all by itself – just leave it to do its thing while you travel to your destination, and let it worry about the rest!
What We Like
No maintenance or refills needed.
Can deal with strong odors, including smoke.
Gets rid of mold, bacteria, and allergens.
A preferred product for those with asthma and allergies.
Attractive design.
What We Don't Like
Not suitable if your power outlet is more than 12 volts.
Summary
What we love about this product, apart from the futuristic design that's just one of the coolest out there, is that it doesn't just get rid of strong odors – it actively improves the quality of the air in your vehicle.
It may even get rid of viruses lurking inside, but don't rely on it too much for that.
The only problem we can see with this air freshener is if you don't have a power outlet in your vehicle to get it to work, or if yours is a 24-volt outlet. However, this is unlikely to be the case for most of us.
It also has a slightly higher price tag than some other products on our list, so it's not exactly the most budget-friendly option to choose, but we think that it pays for itself over time.
To see the current price of this product and find out more information about it, click this link.
Meguiar's 1 Pack Whole Air Re-Fresher Odor Eliminator
Would you love to smell the fragrance of a new car when you jump in the driver's seat? If so, this product should be on your radar. It has that unique scent to it which is bound to revitalize your vehicle and re-kindle old memories of when you hopped inside for the first time ever.
The aerosol spray mist can also effectively destroy odors at the molecular level. This includes cigarette smoke, bad food, as well as other unpleasant smells in your car.
Even more, this product from Meguiar's is very easy and straightforward to use. Just activate the locking trigger, turn on the vehicle's air conditioning and fans, close the doors and leave the product to work its magic. This process spreads the formula around your vehicle easily and quickly.
After 10-15 minutes, remove the spent canister and air the vehicle out for the same amount of time.
What We Like
2-ounce can, easy to store.
Simple to use, just activate and leave.
One use is all you usually need to effectively eliminate odors.
Formulated to give that fresh, new car fragrance.
What We Don't Like
The car must be unoccupied and parked in the shade when it's sprayed.
Contains some ingredients that may cause side effects for those with allergies.
The scent can be a bit too strong for some people's liking.
One-time use and not refillable might make it an uneconomical option for some.
Summary
We like the fragrance of this product and how easy it is to use. It takes up hardly any space in your car, so you can keep it safely stored in the glove box or trunk until it's needed.
However, there are some downsides that we feel we should share.
The most annoying thing about the process is that the vehicle must be unoccupied when it's being used. You've got to activate it first and then wait 30 minutes before you can travel. This isn't going to be convenient for everyone, especially if you've discovered a bad smell just as you're heading out and you need going straight away.
The contents also include some ingredients which can trigger allergies, so be careful about that. It may cause side effects in people with allergies, such as throat irritation and dizziness.
Other than these issues, it could be an excellent option to consider.
Read more about this car air freshener by clicking on this link.
Glade Plug-Ins Car Air Freshener Starter Kit
If you already use similar products around your home, we're sure you've probably heard of Glade before. This famous company gets it right when it comes to car air fresheners.
All you have to do is plug it into your car's power outlet and enjoy the fresh Hawaiian breeze fragrance! It's as simple as that.
A feature we love (and don't see on many other products) is the four adjustable fragrance settings. This allows you to have a good amount of control over how much of this product you use. This means you can put it on high to get rid of bad odors faster, or use the low setting to get more value for money and maintain a subtle scent that gets it to last longer.
Plus, it only works when the engine is turned on, so it's not wasted overnight. It's also said to last up to 60 days before it needs to be refilled, which is longer than many other products on our list.
What We Like
Gets rid of bad odors effectively.
Lasts up to 60 days, longer than some of the other similar products out there.
Refillable.
Unique, energizing fragrance.
Only works with the engine running, which means it lasts longer.
Adjustable fragrance setting.
What We Don't Like
Doesn't help with moisture or bacteria.
Not suitable for some people with asthma or allergies.
Summary
Altogether, Glade has done pretty well with this product. It lasts longer than some other essential oils-based products, and it's going to deal with bad odors quickly and effectively. We do think that the adjustable fragrance setting is a noteworthy advantage, too.
However, this is not a product that's going to get rid of bacteria or moisture in your car. It's also not going to be the best choice for those with allergies or asthma.
To see if this product is the right choice for you, follow the link here.
Chemical Guys New Car Smell Premium Air Freshener and Odor Neutralizer
If you like the smell of a new car, then you're going to love this new fragrance spray from Chemical Guys. This brand is trusted when it comes to just about anything car-care related, and you certainly won't be let down with this product.
If you've got a bad odor on your carpets or upholstery, you can simply spray it directly onto the material for a temporary fix, until you manage to find some free time to address the problem for a proper fix.
It uses natural enzymes to get rid of strong odors and releases a pleasant scent.
It's claimed that you only need one spray to help neutralize bad odors in a normal-sized vehicle, and the manufacturer also states that it can keep bad odors away for a good few weeks after you've used it.
This odor neutralizer comes in a 16-ounce bottle, which is bigger than a lot of products on our list. It should also last longer than some of the other products out there, as it's not constantly in use.
For a less concentrated formula, you can also dilute the liquid with up to two gallons of water – which will significantly increase its lifespan even more.
What We Like
Large bottle, so should last longer.
Can be diluted for a more subtle effect.
Can be sprayed directly on carpet and upholstery.
Naturally derived fragrances.
Neutralizes bad odors using natural enzymes.
New car fragrance.
What We Don't Like
Some people find the scent to be fairly strong if not diluted.
Not effective for moisture or mildew control.
Summary
There are a lot of positives to note about this car air freshener. This includes its invigorating scent, natural odor-neutralizing capabilities, and the easy application when it comes to carpets and upholstery.
If we had to pick out a negative, there are other products on this list that eliminate moisture – but this doesn't do so. In addition, the smell of this product may be a bit too strong for some people if it's not diluted.
To check out the latest price on this product, follow the link below.
MOSO NATURAL Air Purifying Bag
Not everyone enjoys a sweet fragrance in their vehicle, especially one that can be overpowering at times. Plus, some people can be allergic to certain chemicals which are used to create the scents, in which case all of these are best avoided.
So, if you're one of those people, we'd like to recommend this fragrance-free product from MOSO Natural. It's not going to strike you when you enter your car, and it's made from natural bamboo charcoal.
Despite its eco credentials, it remains very effective at getting rid of bad odors. So, if you've had pets in your car or there's been something building up bad smell in your vehicle for a while now, you can make sure any lingering smells are gone for the time-being.
The MOSO purifying bag even prevents mildew, mold, and excess moisture from building up in your vehicle. This means you won't be inhaling anything unhealthy for you or your family, thanks to the charcoal which draws it all in like a magnet.
Another strong point about this car air freshener is that it can last for up to two years. This is one of the best on our list in terms of longevity, and this means value for your money spent, too.
Plus, it works on areas up to 90 square feet, which is great for big vehicles.
What We Like
Long lifespan.
Non-toxic and fragrance-free.
Prevents mildew, mold, and excess moisture build-up.
Re-usable for up to two years.
Eliminates bad odors by absorption.
Should work well in larger vehicles, too.
What We Don't Like
Not for people that want fragrances.
Some maintenance required.
On display in your vehicle.
Summary
This has got to be one of our favorites and one of the best car air fresheners we've had a look at. We love the fact that it's non-toxic and eco-friendly, and that it's going to last up to two years. You're going to be able to get rid of bad odors continuously, as well as stopping harmful mold and mildew.
You just need to remember to take the freshener out of the vehicle every month and leave it to dry in the sun. However, we think this is a fair trade for a product that lasts for up to two years.
With that being said, if you're particular about how your vehicle looks inside, you may not appreciate this product. There's no denying the fact that it's just a linen bag filled with charcoal, and it might not fit into cup holders or center trays.
To see more about this car air freshener, click here.
Air Spencer Car Air Freshener and Refill Combo
This car air freshener stands out from the rest because of its versatility.
It comes with a case that has double-sided tape, which means it can be mounted anywhere in your vehicle. You can attach it to the dashboard, underneath a seat, or even to your door. The case also looks attractive, with a black and chrome design and blue accents.
Of course, the squash scent in your car is something you're bound to love. It's fresh and citrusy, which is a breath of fresh air from some of the other mainstream products out there.
It's going to help get rid of any bad odors lingering inside your vehicle, and you can use the sliding louver to adjust the strength of fragrance as you wish.
The case is also refillable, which means that you only have to purchase refill cartridges. This makes this product a more economical choice for many.
What We Like
Fresh citrus smell.
Gets rid of bad odors.
Refillable.
Can adjust fragrance strength.
Can be mounted anywhere you like.
What We Don't Like
It may mark your plastic surfaces.
Doesn't absorb moisture or bacteria.
Summary
This car air freshener definitely wins an award when it comes to uniqueness and design. It looks good and the citrus fragrance is pleasant and not too overpowering. This is sure to get the smell from dirty shoes, pets, or moldy food out of your vehicle.
But, you should be careful that the double-sided table doesn't mark the plastic surface that you attach it to. This may happen especially if it's in your car for a long time.
In addition, if you need something for moisture absorption or to eliminate bacteria, there are other car air fresheners on our list that can better help with these.
To learn more about this product, click the link below.
Ozium 806326 Large Gel Smoke & Odors Eliminator
This is one of the few gel-based jar fresheners on our list.
We're pretty impressed with this product and its ease use. Simply turn the top to help eliminate odors and then close the lid when you're done using it. This offers full control over when the fragrance is released and may help to extend the lifespan of the product.
This air freshener is available in a natural, subtle fragrance. It's not overpowering or likely to trigger fragrance allergies if this is a concern for you. Most importantly, it can target some of the baddest, meanest odors you can send its way.
It's particularly good at getting rid of cigarette smoke, which is notorious for building up in enclosed spaces.
What's more, this 8-ounce jar may last a good couple of months. Of course, closing the jar when you don't need it will extend the product's longevity.
What We Like
You control when the product is needed.
Gets rid of strong odors, including cigarette smoke.
Natural fragrance is less likely to trigger allergies.
Longer lifespan than some other products.
What We Don't Like
May stain plastics if not kept upright.
Might not be strong enough for larger vehicles.
May not be preferred by those who like fragrances.
Summary
If you want to get rid of that lingering cigarette smoke smell in your vehicle by using a gel-based product, this may be the right choice for you.
It does a great job at absorbing bad odors and helping your vehicle smell fresh again. Plus, it should last a decent amount of time as well.
This is going to be one of the preferred options for those with allergies.
With that being said, it may not be the number one choice for those who want a fragrance as well. Its effectiveness might also be reduced when used in a larger vehicle.
To find out more information about this product, click here.
Little Trees Auto Air Freshener
If there's one vehicle air freshener that everyone instantly recognizes, it's Little Trees. Even if you haven't heard of the name before, you're going to recognize it as soon as you see it.
Of course, this is the famous scented cardboard tree that everyone knows. It's a product that's made in the USA, and this particular option boasts a revitalizing blend of citrus and woods. This might give your vehicle just the cleansing car scent it needs.
It's easy to hang this product on your rear-view mirror and the fragrance should spread around the vehicle almost instantly. In particular, if you're looking for more of a "masculine" scent, the Black Ice is recommended. Plus, the fact that it's black in color means it's unlikely to clash with your car's interior.
If you've got a bad odor to deal with in your vehicle, this air freshener may be just what you need to help you get rid of it. The good thing about it is that it works constantly, whether you're driving or when you've got the vehicle parked. It's not like there's some sort of button you'll have to press to turn it on and off.
Although each one doesn't last very long, the pack includes 24, which will see you through quite a few months or possibly even several vehicles!
What We Like
This pack contains 24 Little Tree products.
A masculine scent with citrus and woods aroma.
Easy to hang up.
Helps with bad odors.
Black color won't clash with most cars' interior.
What We Don't Like
One only lasts up to 30 days.
Won't help with some of the strongest odors.
Doesn't deal with moisture or mildew.
One only isn't effective for bigger vehicles.
Summary
While Little Trees is synonymous with car air fresheners, it doesn't mean their products are going to be the most effective option for everyone out there.
Sure, Black Ice is a pleasant and intriguing scent, but this air freshener is only going to last up to 30 days. For many, this is more than enough, but for others, it's not.
Not your color or scent? Don't worry, there are numerous Little Trees scents and colors available for you to choose from, so there's basically options for everyone's taste.
You're really going to go through these air fresheners like water compared to others on the list, but the good thing is that there is 24 in a single pack, so it's more than likely to keep you going for a while.
To see the current price of this air freshener pack, follow this link.
Yankee Candle Car Jar Ultimate Hanging Air Freshener
Yankee Candle is world-famous for its amazing choice of fragranced candles. So, if you're a particular fan of using those in your house, you'll probably be interested in finding out more about their car air fresheners.
We're definitely fans of the lovely scents these air fresheners have, being subtle yet relaxing at the same time. In particular, these three fragrances have a summer theme, which is pretty cool if you're driving around on a cold, rainy day and you're someone who associates more with warm summer days and sunny locations.
They also come in attractive pastel colors, which blend in beautifully with your car's interior.
This product is a gel-based car air freshener, which is shaped like one of the Yankee Candle jars. For a gel-based product, it's pretty effective in getting rid of odors in your vehicle, so don't let the form it comes it put you off for any reason.
If you happen to travel with pets often or you've had fresh food go bad in your car recently, this option might be just the help you need.
It's also very easy to hang up on the rear-view mirror. It comes very neatly sized, which means it's not distracting and the string is securely attached for hanging.
What We Like
Compact size.
Easy to hang up.
Eliminates odors.
Energizing summer fragrances.
Three pack of air fresheners.
What We Don't Like
Not the most durable option, as each one is likely to only last for two to four weeks.
Summary
You might pay a little bit more on this option because it's a Yankee Candle product, but if you're a fan of their products and already use some of those around the house, then you probably won't mind doing this.
The one thing that lets us down with this car air freshener is that each one only lasts from two to four weeks. Yankee Candle certainly isn't the cheapest on the market, and having to replace it sooner than other alternatives out there might not be very convenient for everyone.
To learn more about this product and find out whether it's the right one for your vehicle, click here.
Bigfoot Air Freshener
Do you love the smell of the great outdoors? If you're anything of a nature fan like me, then the answer is a resounding yes!
In that case, you might want to consider giving this Bigfoot product a consideration. It offers an invigorating and imaginative pine scent that can make you feel like you're out on an adventure.
It's an economical option and an amusing cardboard air freshener for your vehicle, so is definitely something you should consider if you're looking to keep it budget-friendly.
You can simply suspend it from your rear-view mirror with the attached string. The design is on both sides and measures 5 inches.
After a few days left in your car, you'll notice the pine scent without even trying to. What better way to take care of bad odors in a car and have it smelling fresher than ever again?
What We Like
It's fun and amusing for passengers – the kids will love it!
Pleasant pine fragrance.
Helps with bad odors.
Easy to hang up in your vehicle.
What We Don't Like
Will only last a few weeks.
Won't deal with the strongest of odors.
Not very effective for bigger vehicles.
Won't deal with moisture or mildew.
Summary
There's no doubt that this product is more of a novelty for your vehicle. It's very fun to hang up and look at whenever on the road (it also makes for some very amusing conversations with passengers), and if you like spending time in the outdoors, you will certainly enjoy the pine scent it has to offer.
With that being said, it suffers from the major pitfalls you'd expect from a cardboard air freshener. Its scent is only going to last a few weeks, and it may not deal with the strongest of odors very well. For what it's worth, though, it's certainly fun while it lasts!
To learn more about the Bigfoot car air freshener, click the link here.
How Often Should Car Air Fresheners Be Changed?
How often you need to change your car air freshener will mainly depend on the longevity of the individual product you have. It will also vary based on what type you choose for your vehicle.
For example, not only do cardboard air fresheners tend to only last a matter of weeks at most, they may only have a strong fragrance for the first few days. Sticky gels might last a bit longer, but could be affected by extreme weather changes.
Oil-based products normally have a longer life before they need to be changed or refilled – and sprays will depend on how many times you use them, which gives you the most control of how quickly (or slowly) you go through a can.
How to Make Car Air Fresheners Last as Long as Possible
As with most things we buy, there's usually a product life on car air fresheners.
For example, the packaging on a given item may state that it lasts up to four weeks, but this number is normally ambitious and you'll usually be lucky to get a full four weeks out of it.
With that being said, there are some tricks you can use that may help you prolong the life of your car air freshener.
A lot of people think that keeping the wrapper on a cardboard freshener can prolong its life, but we're not really convinced that this method works. Instead, you could try dipping it into a liquid fragrance and reusing it, once the initial aroma is no longer there.
If you're using a can, you should close it when you don't need it. You control how much fragrance is emitted, so when there are no bad odors you have to deal with, keep it closed – as this may increase how long it will be effective for.
Plug-ins can (and should) be removed from the power when not needed and not being used. For example, if you're driving with open windows, there's no need for a plug-in car air freshener to be operating, as that would just be putting it to waste.
There's lots of ways you could prolong a car air freshener's life, but it all mainly boils down to some thinking and common sense.
Conclusion
The main purpose of a car air freshener is to ensure your journey on the road is more comfortable and enjoyable. That's not just for you, the driver – it's also true for everyone riding along with you.
Fresheners or odor eliminators can get rid of lingering smells in your vehicle and make sure everyone enjoys the ride.
Whatever product you end up choosing, make sure it has all the right features to ensure your vehicle's interior remains fresh and inviting!
Do you have a favorite car air freshener? Let us know in the comments below if there's anything you tried and found worked wonderfully well for you. Also, feel free to ask us any questions and we'll get back to you as soon as possible!
Product image credits: © Amazon.com