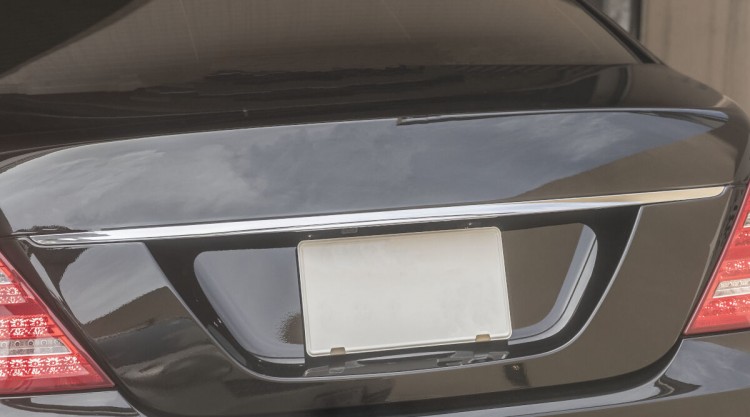 Owning a vehicle comes with certain administrative obligations. One of the most obvious of these is having a license plate that's installed in accordance with your state's laws. Get it wrong, and there's a good chance you'll get pulled over and receive a fine.
Don't know how to install a license plate frame the right way? Fear not! Below, you'll learn how to perform this simple task at home and all the tools you'll need to get the job done. We guide you every step of the way for a painless installation and also reveal how and where to get your plates and frames. You'll also discover the alternatives available if the DIY option isn't right for you.
Key Takeaways
Getting New Plates – Before you get started with installation, you'll need to get your new plates through the DMV or AAA.

Opt for OEM – You should ideally buy an OEM (Original Equipment Manufacturer) frame that's built to fit your car.

Do It Right – Be sure to take your time and enlist the help of a friend if need be. If you mess this job up, it's very hard to fix!
Skill Level: Beginner.
Time to Complete: 10–15 minutes.
Tools Needed:
Electric drill and drill bits (unnecessary if you have a no-drill mounting bracket, an adhesive mounted bracket, or a tow hook bracket/tow hook anchor and a tow hook stud in a specialized mounting kit).
Screwdriver.
Standard-sized license plate screws (ensure your vehicle doesn't have special measurements).
Bubble level.
Socket wrench.
Sockets of varying sizes.
Soft cloth.
Hardware included with or specified by the OEM frame's installation instructions.
Buying New Plates
The installation can't proceed without these.
In some states, if you have a plate lost, stolen, or damaged so it's illegible, you'll have to surrender your current plates and order new ones.
For instance, in California, this rule applies to any circumstance where you don't have both plates. This applies whether the front one was stolen, lost, or damaged to the point that it's no longer legible.
You'll get rear and front license plates with a different number. You also have the choice to customize or personalize the number-and-letter combination.
The Department of Motor Vehicles (DMV)
Check the DMV website for your state to find the relevant information. You'll need to fill out the appropriate form and send it in, along with a fee.
The cost will vary based on your location. We don't suggest going to your DMV in person as the process can be done online. Once you've fulfilled all the requirements, your new plates will arrive in the mail.
American Automobile Association (AAA)
The DMV can be a hassle to deal with. If you're a member of the AAA, you may be able to speed things up.
One of the services the AAA provides in certain states is handling pesky DMV paperwork. They do everything for you. All you have to do is head to your local branch. You might even get the replacement plates on the spot.
Purchase a New License Plate Frame That Fits Your Car
Ideally, you should pick an OEM model built to fit your car. Another brand may be more appealing to you, but if it doesn't fit your vehicle, it'll be useless.
You can head down to your local automotive supply store to see if they have one in stock. Or, Google the make and model of your car followed by "license plate frame" or "license plate bracket".
There are two-hole and four-hole models. You have to ensure that you're getting the appropriate one. You could also opt for a custom license plate frame to add a little bling or personality.
We also have a ton of recommendations in our guide for the best license plate frames available today.
How to Install License Plate Frames: With and Without Dimples
Check out your vehicle's front bumper for the mounting location. Your car may already have pre-drilled holes on it, which eliminates the need for you to go drilling holes in the mounting site.
If not, you'll either find dimples or nothing at all. Here's what you'll have to do it for each situation:
With Dimples
The dimples are indicators of where you should be drilling. Look at your owner's manual or check online to find out what size of drill bit you need to use.
Without Dimples
Prepare your bubble level, because you'll have to align the unit yourself. These are the steps to follow:
Step 1: Align Your Frame
Center your front license plate frame on your front bumper after removing the protective film. You could ask someone to stand back to help with alignment, but using a measuring tape is far more accurate!
Measure the width of your car's bumper, halve it, measure this, and mark it on your bumper.
Measure the width of your license plate. Halve it. Measure this and then mark it.
Finally, make sure the two marks are aligned, and then you are definitely bang on center.
Step 2: Make Sure It's Level
Use your level tool to do this, so you're absolutely sure. You don't want to end up with a canted license.
Step 3: Mark the Holes
Using a pencil or marker, poke it through the holes in the frame to mark where you'll be drilling.
You're now ready to get drilling!
Drill Holes
If you aren't familiar with electric power tools, follow basic safety precautions. Keep your fingers and hands away from the drill bit at all times. Position yourself so that you're stable and balanced.
This will only take a couple of seconds, but you want to be comfortable. If you're in an awkward position, you could make a mistake.
Position the drill at each dimple or self-made mark and get to it. Keep a steady hand, and the job will be over before you know it.
Install Your New License Frame and Plates
You're nearly done. The hardware you need for this step should be included with the OEM frame you purchased.
Step 1: Attach the Frame
Align the holes in your frame to those in your front bumper. Attach the two or four screws using your socket wrench. Tighten until there's no more give.
Step 2: Screw Plate On
Take out your screwdriver and screws. Securely screw the plate to the frame.
If you're a visual person, watch this video to get an idea of what to expect when installing your frame and plate:
What Other Options Are There?
You don't have to do the installation yourself if you're not up to it. If the thought of drilling into your vehicle horrifies you, there are some custom options:
Local Dealership or Mechanic: Your local automotive store, mechanic, or dealership will be able to handle everything for you. You pay more for the privilege, though.
Professional Detailing Shop: For a detailing shop, this type of installation will be a breeze. If you have a favorite business that you frequent, ask for a quote.
Custom Installation: Custom installation is something you can do on your own or have a professional do for you. These are methods that avoid having to drill into your car. If you want to attempt this yourself, research online.
What Should You Do With Your Old License Plates?
As with renewal, this will depend on your state. For example, in Nevada, you might have to return old plates to the DMV, either by mailing them in or dropping them off.
Correct disposal of an old license plate could involve recycling at an appropriate center. You may have to destroy it to render it unusable before disposal. Your state's DMV website will tell you what to do.
Freshly Installed!
We hope our guide on how to install license plate frames has been helpful to you. This isn't a task you'll be performing every month, but it's still handy to know how to do it.
If you're driving around with a missing front plate in a state where it's required, don't push your luck. Installation isn't difficult enough to warrant avoiding it and getting fined.
Do you have any questions, comments, or tips for us to share? Please leave it below. We appreciate your feedback, and we'll respond to every one of you!