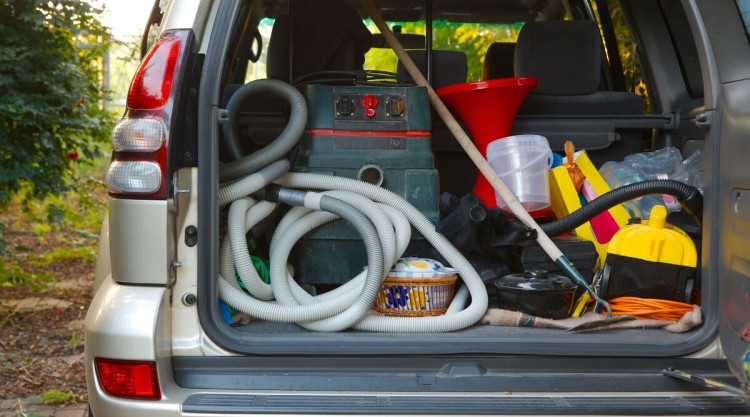 We can all agree that the inside of a car can get pretty chaotic.
For a lot of us, our car is a home away from home, and given the time we spend in there, our trunk doubles as a storage facility. From water bottles to luggage, car wash products, jumper cables, and even groceries—keeping the trunk uncluttered can be a real challenge.
One of the major problems of a messy trunk is that it takes forever to find anything in there. Many items are at risk of becoming damaged if piled up unceremoniously on each other.
So what do you do about this? Get the best trunk organizer for your vehicle from our guide, that's what.
In this article, we will discuss everything about trunk organizers, the reasons why you need one, and the factors to consider when you go shopping for one. We also have some recommendations on the best trunk organizers currently on the market.
Quick Links to Our Top Recommendations for Best Car Fire Extinguisher
Note: Clicking the above links will take you to further information, current prices and customer reviews on Amazon.
What is a Trunk Organizer?
A trunk organizer is a simple yet incredibly practical, wonderful way to organize your gear, accessories, groceries, and other items in your trunk.
They can be made from a variety of materials such as nylon and polyester. Trunk organizers sport various features, storage compartments, and pockets that help you categorize your belongings and store them safely.
Most high-quality organizers are either foldable or collapsible, which makes them easy to store when not in use. This allows for enough space in the trunk when you need to transport large items such as luggage.
Most also feature sturdy handles for easy transportation to and from the vehicle. Different brands have different unique features from coolers to shoe compartments, and pockets for tablets and phones to removable dividers and so forth. So in the end, it comes down to what you need.
Why Might You Need One?
There are tons of reasons why you would want a trunk organizer. Shopping, decluttering, camping, tailgating, the list could go on.
Here are some of the primary reasons why you probably need a trunk organizer:
To Keep the Trunk Organized
This is the primary reason for getting a trunk organizer. Liquid bottles need to stay upright to prevents spills, toys need their own space, and so do the cables, spare parts, and tools you need for roadside repairs.
An organized trunk will stay cleaner, and you'll possibly be a happier version of yourself that way, right?
Dangers of Loose Items in Your Car
It's dangerous to have unsecured items in the trunk because the minute you hit the brakes too hard, everything goes flying.
Some things could even hit you or a passenger in the process, depending on how your trunk is designed. Heavy items will also tumble about and damage anything they fall on top of.
To Find Things Quicker
How frustrating is it when you need something from an emergency kit but can't find it among the clutter?
When everything has a place in your trunk, it gets a whole lot easier to find something when you need it. This will save you time, energy, and keep your mood in check.
Secure Groceries
We all know how it is once you get inside a store. You'll come out with lots of bags and just dump them in the trunk. Delicate groceries could get squashed and damaged in the process.
Having an organizer, however, means you could have a designated compartment for the groceries once you shop. You'll tuck them away nicely to ensure everything stays in place on the trip home.
Prevent Damages and Keep Things in Better Condition
You might carry items that could break or spill over and ruin the trunk. A trunk organizer will prevent these damages as the items will be well-secured in place. There'll be no rolling over or crashing about.
What to Consider When Buying a Trunk Organizer
Why do you need a trunk organizer? How big would you like it to be?
There are several more things you need to ask yourself and factors to consider before choosing the one that's right for you.
Let's explore those factors:
What's it for?
Every family or individual will have their own unique reasons for needing a trunk organizer—clutter, groceries, toys, emergency kits, school supplies, sports gear, you name it.
You might need one because you love camping and want your supplies secured for such trips. You might need one for your work tools if, for instance, you're a plumber; or maybe you just want one for your shopping excursion.
What Size Trunk Organizer do I Need?
When it comes to size, the dimensions of your car are critical. If you have limited space, buy an organizer that fits it. The same goes for a large vehicle and the amount of stuff you need to store in one go.
This might seem obvious, but you'd be surprised at how many people end up with an organizer that's completely unfit for their car and their lifestyle.
Consider placement as well. Do you want to pop it in your trunk? Would it be better suited lying on the bed of the trunk or do you intend to hook it to the back seat? Wherever you decide, ensure there is sufficient space.
Be realistic about your expectations when it comes to such a storage option. If you constantly go on road trips that require huge stashes of supplies or substantial equipment, there are other options available, such as roof racks.
Compartments to Fit What You're Organizing
There's no one specific answer here as the number of compartments is a matter of preference. The layout will vary depending on how much supplies you need to stash at one time. Check how large the compartments are and consider what suits you best.
If you just need to keep your sports gear in one place, you'll require fewer compartments compared to a person who has to store miscellaneous small items. Having at least one divider will help keep things upright and separate; for example, those that shouldn't be mixed, such as groceries and car care products.
Check for pockets as well and how many the crate comes with. These will keep smaller things organized and in one place. At the very least, there should be several outer pockets to keep everyday items such as snacks or water bottles. These will be easier to reach as well.
Materials and Quality
It's really going to pay off if you pay attention to the materials and build quality of the organizer. Most on the market are made of polyester, which is pretty durable considering the high level of use. The materials need to be enduring and stable enough to take being knocked around by other things in the trunk.
The partitions, accessories, and hardware should all be sturdy enough to accommodate all the clutter you'll stash in there without compromise. Most of the pockets are constructed using lining materials, and you need to ensure that at the very least it's moisture resistant.
When shopping online, it's pretty hard to tell whether the materials are good enough without touching it yourself. However, the overall weight of the organizer should indicate whether the hardware is made of sturdy plastic or metal, or whether it's just a flimsy piece of cloth. Quality products and materials tend to weigh more.
High-quality organizers have a fixed shape that doesn't collapse on their own if emptied, which is very convenient when you need to throw in the groceries after shopping. The problem with organizers that collapse on themselves when empty is you have to put everything down first to open them up.
Is it Foldable or Collapsible?
When the time comes for a vacation in a log cabin across the state, you'll probably pack your trunk with luggage and supplies. So where do you keep your organizer at such times? Unless it's foldable or collapsible, you'll probably have to leave it behind.
You might also need to use just one compartment of the crate, and it'll help if you can fold up the rest to make it compact. This way, it'll be out of your way.
Security Features and Cover
Flimsy trunk organizers that don't come with security features might spill your things over the moment you take a turn. Look for a model with security straps that'll keep things in place. You also need to secure it to the trunk or the seats for safety, so ensure it has the right straps and buckles for that purpose.
Some brands also feature a cover, which could be anything from a net to fabric to plastic. A cover is a nice-to-have feature because you'll keep things tight and secure. However, this is simply a matter of preference.
Handles
Not all organizers feature handles, so don't make that assumption.
Carrying the groceries from the car still in the organizer could save you time. Or, maybe you could use it to take your sports equipment to the field instead of transferring it to another box or bag. Handles are very useful in these situations.
Waterproofing
Most trunk organizers are made from waterproof materials that make it convenient to use on an open truck bed.
Check whether the cover is waterproof as well to protect your stuff from the elements. If there are any spillages, you won't have to worry about it leaking through to your trunk, either.
Versatility
Versatility is an important feature given that your needs could change and you'll probably need to store different things on different days. If the design allows you to take some compartments apart, such as adjustable sub-dividers to create more room, it'd be a great feature.
This will be very convenient when you need to store small items that will easily tumble over or oddly shaped items that don't fit in one compartment.
Best Trunk Organizer – a Detailed Look at Our Top Recommendations
The variety of trunk organizers on the market is simply overwhelming. The thing is, most of them look so much alike it's hard to tell which one will suit you best. However, worry not, as we've made things easier for you by reviewing some of the products we feel will be well worth the investment.
Starling's Car Trunk Organizer – Durable Storage Suv Cargo Organizer
SUV drivers definitely need an organizer that matches the size and ruggedness of their vehicles, without looking out of place. This does not by any means suggest that it would be unsuitable for another type of vehicle though. It's a high-quality product from Starling and might just be a perfect choice.
It has a beautiful rugged design, ample storage space, and tough construction that makes it one of the most durable organizers you could get. With the ability to expand up to two feet, it's long enough for a big trunk.
It features several compartments that will accommodate multiple items, from car tools to groceries, emergency tools, cleaning supplies, toys, and whatever else you'd like to bring along. It's suitable to serve as an SUV trunk tote, an in-car organizer, or as trunk bed storage.
It's constructed from durable Oxford polyester that features extra stitching for an additional layer of strength. You'll appreciate the three-layer waterproof bottom board, super strong compartment dividers made from polyester, and innovative design that allows it to stay firm and sturdy even while empty.
You'll also like how the dividers don't collapse or bend from the added weight. It's clear that this product was built to endure heavy usage.
Featuring two divided sections, one of them has three smaller compartments while the other is an open space. It's easy to fold one section and use the other when you have fewer supplies or when you need to place it on the car seat if you have no room in the trunk.
On the outside, you will get not just one but two non-skid, rubberized floor supports, 10 pockets, four plastic buckles of adjustable sizes, four eyelets, and two strong and durable handles. These buckles will do an incredible job of securing the organizer in place, and the rubberized support adheres to most surfaces, preventing it from skidding around while the car is in motion.
The manufacturer claims that the handles will never break, and they make it super easy to carry stuff in it. This organizer can handle as much as 100 pounds of weight, making it great for tools, auto wares, and other hard-wearing items that you might have.
One of the features you're bound to like is it's collapsible and folds flat to a mere 1.5 inches. That's pretty convenient. You also get a 100 percent money-back guarantee, which reinforces the quality of the product.
Features and Specifications
Brand: Starling's.
Warranty: Lifetime.
Supported weight: 100 pounds.
Extra thick, strong polyester material.
Strong buckles.
Non-slip rubber add-ons.
Waterproof bottom.
Unbreakable handles.
Strong, durable dividers.
100 percent money-back guarantee.
What We Like
Plenty of compartments for multiple items.
Perfect for groceries.
Foldable and collapsible.
Handles and hooks to secure it in place.
Perfect for front or back seat decluttering.
Strong and durable construction for heavy use.
Easy to use, install, and fold away.
Attractive, customizable design with multiple colors to choose from.
What We Don't Like
Pricy compared to competing models.
No cover.
Summary
Being completely versatile, this organizer is suitable for a wide array of users. It's perfect for everyday use as multiple compartments allow you to carry a variety of items, while also being great for road trips or camping. The strong construction makes it perfect for tools, so handymen at work will find it handy, too.
If this seems like the organizer you need, click here for more information.
Trunkcratepro Collapsible Portable Multi-Compartments Trunk Organizer
Built with tremendous strength, Trunkcratepro is an eco-friendly organizer that's jam-packed with phenomenal features that go beyond keeping your car clutter-free. The first noticeable thing is the clever layout.
The design is so innovative and multifaceted that it covers most needs and addresses the shortcomings you might encounter with other organizers. With three compartments and multiple removable sub-dividers, it's the ultimate organizer that can accommodate a plethora of uses. You can create up to four compartments when you need extra space.
You'll like the foldable feature, that will allow you to transform it into a seat organizer, and how you can collapse it fully when you don't need it. With multiple pockets inside and out, you'll have convenient storage space to keep smaller items separate and well-organized that would otherwise get lost.
You even get a specific section for bottles, so the potential for accidental spills is eliminated. Plus, if you buy your favorite bottle of wine, you can be sure it'll reach home intact.
It has a tough, durable construction given that it's built from strong Oxford polyester fabrics. This allows it to handle heavy use and withstand wear-and-tear for a long time. The strong buckles and straps will make it easy for you to secure it to your seats.
You'll also appreciate the water and abrasion resistant features because you'll know that whatever you store in there will be safe, and so will your trunk be. The waterproof materials also make it very easy to clean. The rigid base allows up to 75 pounds in weight, so you can store plenty of things without damaging it.
With reinforced stitching for extra strength, this nifty organizer has durable handles that'll make it easy for you to carry stuff. The other feature that makes it a great product is the non-skid velcro underside that keeps it in place and prevents things from flying around when you make a turn or hit the brakes.
To reinforce the quality of this product, it has a lifetime warranty from the manufacturer. It's also available in several different colors, and you can choose one that suits your vehicle best.
Features and Specifications
Brand: TrunkCratePro.
Warranty: Lifetime.
Supported weight: 75 pounds.
Oxford polyester fabric construction.
Water- and abrasion-resistant.
Reinforced stitching.
Straps included.
Rigid base plates.
Inside and outside mesh pockets.
What We Like
Foldable and fully collapsible.
Strong, rugged and durable construction.
Multiple pockets.
Customizable compartments.
Large enough to accommodate multiple items.
Easy installation.
Slider feature for adjustments.
Two removable subdividers.
Strong handles to easily transport items.
Velcro system for security.
Beautiful, unique design.
What We Don't Like
No cover.
Non-skid velcro is likely to scuff the trunk carpet.
Summary
Campers and tailgaters will absolutely love this organizer. The same goes for videographers and photographers who practically live on the road to accommodate their job demands.
This is not to say it's unsuitable for everyday use, so if you like it, check it out here.
Oxgord Trunk Organizer for Car Storage – Organizer Best for SUV Truck
If you feel the need to expunge your messy trunk and turn it into an organized and clean space, this might just be the organizer for you. It's simple, compact, durable and features large compartments that'll fit multiple things at once.
With three adjustable sections, you'll have enough space to store your everyday items, car cleaning products, toys and some for groceries when you do light shopping.
These partitions might not seem plenty, but they are large and deep enough for you to store more stuff in one compartment. You'll like the side pockets that you can use to hold smaller items and keep them in one place.
This organizer has an adjustable expansion that allows retraction or augmentation to fit the trunk when needed. It features sturdy handles and can be used as a carry-on case so that it would serve you well for a picnic.
The buckles are strong and convenient for securing it safely, and its size makes it a universal fit suitable for SUVs, jeeps and small cars. It's well-constructed with high-quality materials, while still being extremely light in weight. It's simple and basic enough that it comes at an affordable price as well.
It's very straightforward to use, as all you have to do is push down the bottom and you'll gain instant room to store most of the things that clutter your car. Folding it when not in use is just as simple.
Features and Specifications
Brand: OxGord.
3 adjustable compartments.
5 side pockets.
Durable materials.
Adjustable expansion.
Universal fit.
Foldable and collapsible.
What We Like
No assembly required.
Strong handles.
Universal fit.
Foldable to a briefcase size.
Inexpensive.
Deep compartments.
Great for bulk and large items.
What We Don't Like
Not weather resistant.
No rubber lining.
No straps or security mechanism.
The sides are not that rigid.
It might be flimsy when empty.
Summary
Given its basic features, this is an everyday organizer for people who are simply looking to keep things in place. If you plan to travel, camp or carry work tools, this is not the most suitable. However, if you like its simplicity, check it out here.
Drive Auto Products Car Trunk Storage Organizer
When you first lay your eyes on this organizer from Drive Auto, the thing you notice is its excellent construction. High-grade Oxford polyester fabric has really done it justice. It's durable, long lasting and tough enough to weather many years to come.
Weighing just 3 pounds, this organizer is lightweight enough for regular use, but still large enough to store plenty of things. You'll like how you can retrofit it into a bag by using the foldable shoulder strap.
The revolutionary Tie-Down feature will help you organize things in a better way, so you don't have to deal with loose clutter. With this product, you don't have to deal with flimsy sides, nor a base that caves in every time you need to organize everything. Slipping and sliding bottoms will be a thing of the past.
You'll get two front pockets that will easily hold bottles or coffee mugs, sturdy handles that will make lifting easy, eight flexible mesh pockets, as well as folding compartments. You'll have enough space in there for your tote of tools, pet supplies, toys, tablets and phones (when it's in front-seat mode).
The organizer features three modes—an open mode, half mode, and collapsible mode. You'll get three large compartments that will allow you to pack everything you need.
All the panels are reinforced with heavy-duty base plates that keep them sturdy, and the front-seat mode will allow you to organize your office equipment in one place.
It'll also come in handy when you travel alone as your necessities can fit into one compartment, and you can easily secure it in the passenger seat. Using the strap for security, nothing will move around when you turn or brake the car.
Features and Specifications
Brand: Drive Auto Products.
Three large compartments.
Eight side pockets.
Tie-Down feature.
High-quality Oxford polyester fabric.
Three different modes.
Lightweight.
What We Like
Large compartments to accommodate more stuff.
Tie-Down strap system to keep things secure.
High-quality construction.
Three different modes for different needs.
Flexible mesh pockets.
Durable and sturdy.
Heavy-duty base plates.
What We Don't Like
Summary
If you constantly need to pack things up in the front or back seat instead of just your trunk, this organizer is an incredible choice. If you travel a lot on your own, this is a great place to secure your devices and essentials and keep them all in an easily accessible place.
Check it out here for more info.
Rola M.O.V.E. Rigid Base Trunk Organizer
This organizer from Rola is incredibly designed, with enough space to store everything from cleaning supplies to travel accessories, sports equipment, tools, medical items and more. The manufacturer has designed an extra-large organizer compared to most, and it's a universal fit that works well on SUVs, cars, trucks, vans, et cetera.
It features four compartments with movable interior dividers, which will allow you to customize the cargo area according to your needs. These compartments are large enough to accommodate items of up to 3 feet long. This sounds like a great way to carry gear like baseball bats for sports enthusiasts, right?
The exterior mesh pockets are well constructed with flexible mesh, and they'll provide the extra versatility you need to store multiple items. Things are just easier to find when you know exactly where they are, and these side pockets allow you to see what's stashed in there clearly.
They're suitable for most of the things you need on-the-go, such as water bottles or tiny items that could easily get lost. They also work well for things that need to stay upright. The organizer also features a non-slip base that will keep it put while driving, so you can be sure your gear will not come flying up front, even after abrupt stops.
It's pretty straightforward to set up as it features a spring self-opening system, and the sturdy handles allow easy transportation of goods. It has a rigid base that'll allow easy folding for convenient storage when not in use.
Features and Specifications
Brand: ROLA.
Four compartments.
Two mesh side pockets.
Removable sub-dividers.
Strong and durable handles.
Non-slip bottom.
What We Like
The moveable interior dividers are convenient
Large enough to accommodate stuff of up to 3 feet long.
Four well-sized compartments.
Non-slip base keeps everything in place.
Easy to set up and fold back.
Strong buckles.
Extra exterior mesh pockets.
What We Don't Like
A bit shallow compared to others.
No cover or straps to hold things in place.
Summary
Sports enthusiasts, campers or people who occasionally go on road trips or picnics will find this nifty product very useful. With strong handles, it'll be easy to carry everything from the car to where you need it.
Check the price and more details here if you're interested.
Autoark Multipurpose Car Suv Trunk Organizer
Suitable for most types of vehicles, this organizer from Autoark is well constructed from the strongest type of polyester, Oxford, making it durable and long lasting. The fabric features extra stitching for added strength and a triple-layered waterproof bottom board for protection.
It comes with non-skid strips that will keep all your stuff from flying around when you make abrupt stops. It has a premium design that features two sections, and you can easily use one or both depending on your needs. It has two dividers that you can easily remove for your convenience, buckles for locking it in place or folding it up and multiple extra pockets for versatility.
The handles are quite sturdy too, and the fully collapsible mechanism allows you to store it when you don't need it. Assembly is not required, and the material is easy to clean with just a cloth. This model easily blends functionality with affordability, and you get several colors to choose from.
Features and Specifications
Brand: Autoark.
Weight capacity: 80 pounds.
Sturdy rubber foot feature.
12 pockets in total.
Four buckles.
Heavy-duty eyeholes.
High-quality durable polyester.
Middle snaps.
Non-skid strips.
Triple-layered waterproof bottom.
What We Like
Large storage space.
Thick PVC mesh material.
Movable sub-dividers.
A foldable and collapsible mechanism.
Handles for easy transportation.
What We Don't Like
Summary
Perfect for everyday use, traveling, and even camping, this organizer will add a nice touch to your vehicle.
To know more or check the price, go here.
Higher Gear Car Trunk Organizer
If you'd like to have something tougher than the average organizer, this might pass as a good choice. Made from heavy-duty 600D, this is the ultimate organizing product. You don't even have to use it in your car as you can also use it at home. It'll take whatever you throw at it, or in it!
You can organize the junk drawer with it or organize your cleaning supplies, auto supplies, camping equipment and anything else. It features two large compartments and three outer pockets to accommodate all your storage needs.
Want to go to the beach? Maybe grocery shopping? Want to pack up all your auto supplies in one place for easy access? Camping? Whatever you need to pack up for, this organizer will take it.
You'll get four reinforced grommets to help secure the tie-down straps and the bottom collapses to an inch thick for space-saving storage. It has a sturdy construction and will remain firm, even while empty.
It features rugged stitching that reinforces the sturdy construction and comes with a foldable reinforced flat bottom for safety from heavy cargo. It offers some serious stability. It comes with useful handles that are reinforced with pads to make them comfortable while carrying the crate.
The non-slip rubber feet will keep the crate from skidding or sliding when you're on the move. For safety purposes, the manufacturer designed two reflective strips on both sides of the crate; these make it visible even in the dark.
Features and Specifications
Brand: Higher Gear.
Two compartments.
Three outer pockets.
Universal fit.
Rigid folding bottom.
Non-slip feet.
100 percent money-back guarantee.
What We Like
Large compartments.
Rugged and tough construction.
Stable bottom.
Multiple pockets.
Reflectors.
Non-slip padded handles.
Rugged stitching for reinforced strength.
Multiple colors to choose from.
Foldable and collapsible.
Multiple uses.
What We Don't Like
Not as many pockets as others on the list.
No cover feature.
Summary
This is an incredibly well-built product that will handle almost anything you put in it. Those of you with the intention of carrying heavy items will like it's durable and sturdy construction.
Click here to learn more:
Kangokids Trunk Organizer for Car and SUV – Keep Your Trunk Tidy
This is a simple yet highly effective trunk organizer designed to strap to the headrests of your backseat. This passes as a car pocket as the only thing you get is mesh pockets to store your necessities while in the car.
If you are simply looking to create room in your trunk by removing some of your necessary items that often seem like clutter, this is an incredible option. It features four deep pockets that will hold anything from medical supplies to toys, shoes, clothes, baby supplies, snacks, car spares, and even sports gear.
It's not exactly designed for heavy equipment, but for most of the small items in your car, it'll do a fine job of keeping everything in one place.
It's lightweight, easy to install and just as easy to stow away when not needed. It features release clips that'll make it easy for you to carry it in and out of the car. You'll like the multipurpose design made for daily use and the high-quality 600D PVC material that makes it highly durable.
For simply keeping things in one place, out of your way and keeping the car clean, this is a pretty impressive product. It doesn't get in your way, either, as it tucks easily behind the seats, so you'll still have ample space in the trunk to store other items.
Features and Specifications
Brand: KangoKids.
600D strong polyester fabric.
Universal fit.
Multipurpose.
100 percent satisfaction guarantee.
What We Like
Easy to install, use and fold.
Fits all headrests.
Multipurpose features.
Four deep pockets.
Snap-shut buckles for easy security.
Doubles as a front and back seat organizer.
Lightweight.
Collapsible
What We Don't Like
Small compartments.
Not strong enough for large equipment or tools.
Summary
For those who want something simple that will keep a few basics in one place, this is an excellent choice. If you don't want an organizer that sits in the trunk and takes up too much space, this will work for you, as you just hang it on the headrests.
Want to know more? Click here.
Car Trunk Organizer by FORTEM
Exceedingly attractive and sturdy, this crate from Fortem is a fabulous addition to your car accessories. The side walls are reinforced, the pads are adjustable and non-slip, plus you get plenty of storage pockets.
The one feature that stands out from the rest is the sturdy cover lid that comes with it. You'll love how it'll keep your belongings safe and intact. Thanks to the high-quality materials, you'll be using this trunk organizer for years.
The base plate is strong and sturdy to hold any equipment you stash in there, and the dividers are built to keep everything nicely in place.
This crate features three large and roomy compartments that will allow you to keep groceries, tools, sporting goods, and car cleaning supplies, among others. You also get side pockets that will easily hold cell phones, medical boxes, snacks, tablets, books, magazines, keys and more.
It's straightforward to install because all you need to do is unfold it, slide in the base plates, attach the dividers, and voilà, you have ready storage space to keep whatever you need. The superior construction allows it to stay upright even while empty, but it's also very easy to collapse and fold for storage.
The company offers a 100 percent guarantee on the product, so that pretty much reinforces its quality, and you also get a one-year warranty.
Features and Specifications
Brand: Fortem.
Multiple compartments.
Durable construction.
Large capacity.
Foldable.
100 percent guarantee.
What We Like
Durable and sturdy construction.
Strong sidewalls, dividers and base plates.
Stretchy and adjustable straps.
Numerous outer pockets.
Rugged and rigid.
Large handles.
Cover lid.
Foldable and collapsible.
Microfiber towels included.
Works well in the backseat as well.
Universal fit.
What We Don't Like
Summary
Being a universal fit, this crate is suitable for multiple uses. It'll work just as fine for everyday use as it will for camping and stargazing needs.
Check more information and pricing here.
Conclusion
There you have it! We hope we've answered any questions you might have had about trunk organizers. We also hope you now have enough knowledge to make an informed decision, to buy the best one for you.
If we had to pick a favorite for the best trunk organizer on this list, we'd go for the Sterling Trunk Organizer as it comes with a plethora of features, and it's suitable for multiple uses.
If you have any experience with these products or questions about the ones on the list, get back to us through the comments section below. We'll be sure to respond right away!