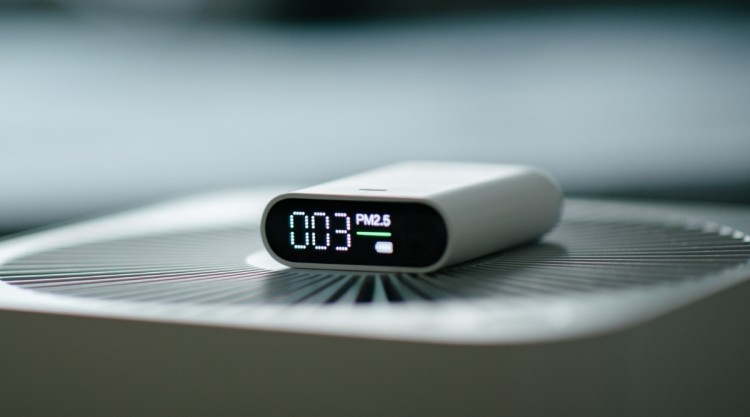 Whether you suffer from asthma or any other breathing-related problems, are worried about all the pollution you're exposing yourself to each time you get behind the wheel, or just want to breathe easier while driving, a car air purifier should be high on your list of items to consider purchasing.
In this article, we'll go through the ins and outs of car air purifiers and help you decide which one is the best option for your vehicle. We'll also give you a rundown of the top models on the market. We've combed through all of the options and narrowed it down to the following list of what we believe to be the best of the best.
Quick Links to Our Top Recommendations
Note: Clicking the above links will take you to further information, current prices, and customer reviews on Amazon.
Best Air Purifiers for Vehicles – A Detailed Look at Our Top Recommendations
Below, we review eight of our favorite air purifiers for cars with a series of mini-reviews. Whatever type of purifier you're looking for, there's sure to be something to suit on our list.
Read on…clean air awaits!
California Home Goods Bamboo Charcoal Air Purifying Bag
If the thought of an ionizer and its production of ozone makes you uncomfortable, this more natural option may be a better choice for you. These purifying bags by California Home Goods are filled with activated charcoal.
We like these purifying bags because they're reusable and work just about anywhere for up to two years. They also come with a product lifetime guarantee and are made from non-toxic material, so they are also safe for families with small children.
These are especially useful if you're a pet owner. The bamboo charcoal will work as an eliminator against the worst of odors, so if your furry friend has an accident or the smelly fur permeates the enclosed atmosphere, it has you covered.
Features and Specifications
Product lifetime guarantee.
Non-toxic and eco-friendly.
Four bags of charcoal.
Specially formulated, carbon-activated bamboo charcoal.
Two years of use per bag.
What We Like
A natural approach to air purification.
Product lifetime warranty.
One bag will last for a long time.
What We Don't Like
May give off a slight campfire smell at times.
Summary
For anybody trying to live a more naturalistic lifestyle, these bags are a great way to purify and clean the air in your car without feeling guilty. They are completely non-toxic, to the extent that the company even recommends dumping the bags in your garden after two years of use.
The contents are reusable, just leave them out in the sun to dry once a month, and they will work virtually anywhere. They can easily fit in small spaces such as gym bags and discreet spots in your vehicle, which is great for convenience.
Philips GoPure Compact Air Purifier
If you're looking for a product that works quickly and efficiently, this compact device from Philips is worth a look. It will remove up to 99% of toxins in your vehicle in a matter of just 15 minutes.
The GoPure purifier has a unique three-layer filtration system, featuring both HESA and HEPA filters. Its pre-filter catches the big stuff — hair, for example — and the HEPA filter catches dust, pollen, and other bacteria.
After the air passes through the HEPA filter, the HESA filter steps in and reduces unpleasant odors from pollutants like exhaust and cigarette smoke.
It also comes with an automatic switch-on when you enter your vehicle and start it up, an LED light that indicates when it's time to change the filter, and air quality sensors.
Features and Specifications
Healthy air indicator.
Sensor to change the filter.
Three-stage filtration process.
Automatic switch-on.
2 fans speeds.
Comes with mounting accessories.
12v Power cable length: 4 meters.
What We Like
HEPA and HESA filters.
Indicators for air quality and filtering change.
Turns on automatically when you start your vehicle.
3-step filtration system ensures healthy air quality inside your ride.
What We Don't Like
Noise level might not be everyone's definition of silent.
Summary
If you're looking for something that will ensure good air quality in your vehicle, this is a great option for you.
This is especially a good option to consider if you have pets that ride along with you, or if you (or other passengers) tend to smoke in your vehicle.
The 3-step filtration system is also pretty hard to beat, as it gets down to the nitty-gritty and eliminates the odors and other pollutants from your vehicle.
Pure 3-in-1 Car Air Purifier
Mold and other bacterial build-up can cause an unpleasant experience for the senses, not to mention all the negative repercussions on your health as well.
Cars are a breeding ground for all kinds of pollutants, and this is where this 3-in-1 car air purifier can help you.
This product easily plugs right into the power socket in your vehicle, and it will work to eliminate odors caused by smoke, mold, and many other factors. While it is considered to be an ionizer, it still comes equipped with a HEPA filter to catch the stuff that the ionizer may miss.
Keep in mind that this one does emit some ozone, however. If this concerns you at all, maybe it's best to check out another option.
This purifier is also great if you want something that won't take up a ton of space in your car. It also has a sleek design for anyone who likes a certain aesthetic.
The Pure 3-in-1 car air purifier features USB charge ports and cables with quick charge capabilities, and they are compatible with all Android and Apple products.
Features and Specifications
Ionizer and HEPA filter.
2 USB charge ports.
Quick charge USB cords for Android and Apple.
Minimal sound output.
What We Like
Comes with USB ports and USB charging cable.
Great design.
Doesn't make a lot of noise.
What We Don't Like
Summary
If multi-functionality is your thing, this is a great unit for you.
Not only will it clean the air in your car while still allowing you to charge your phone, but you'll get something that looks awesome while doing it too. Because it's so compact, you might even forget that it's there!
FRiEQ Car Ionizer Air Purifier
If you're specifically looking for an ionizer, this product by FRiEQ is a good option. Like other ionizers, it emits a safe amount of ozone to clear your car of airborne contaminants and kill viruses and harmful bacteria.
This is a great choice to consider since not only can you use it in your car, but it can also be used as a home air purifier as well. In order to do that, however, you will need an adapter that it can plug into. If you own an RV, this will work well in there, too. Keep in mind that these should not be plugged into an adapter with more than 12v of power.
Its attractive design is great for those of you who don't want an eyesore in their vehicle. It should also give you around a solid 12 months of use, depending on how often you're in the car.
Features and Specifications
Ionizer.
Emits a safe amount of ozone.
Compact and attractive design.
Dispels smoke quickly.
Neutralizes contaminants.
Works in the car as well as home or RV.
What We Like
Comes in a sleek design.
Will dispel smoke quickly.
More than one function; can also be used in the home with an adapter.
What We Don't Like
Can't be used in 24-volt powered outlets.
Not refillable or reusable.
Summary
This air purifier is great for car smokers because it dispels smoke quickly to eliminate the smell from your vehicle.
The only downsides to this purifier we could think of are that you will have to replace it every 12 months or so when it stops working, and the fact that it's not suitable for 24v power outlets.
Thinkga Ionizer and Purifier
If you're looking for a bigger ionizer, this is a good one to consider. It sits comfortably in the cup holder of your vehicle and works to rid your car of unpleasant toxins and odors. It traps mold spores and dust, as well as other allergens such as pollen and pet dander.
It comes in a cool black color and has an adapter that will plug right into your vehicle's power outlet.
It's also a great option if you're looking for something that won't make too much noise. It gives off lower than 30 decibels of sound, making it virtually silent.
It can also be used in your home and other places as well, so you're not just limited to using it in your car. And, being auto-operational, it will start once you turn on your car, which saves you time in case you're in a hurry.
It works to refresh the air every five minutes, which makes it perfect for anyone who suffers from stuffiness, allergies, or other breathing-related issues.
Features and Specifications
Low noise level.
Comes with two USB ports for mobile device charging.
Has two speed levels.
Unique size and design.
Auto operation.
Portable and compact.
What We Like
Great for travel.
Low noise level.
Two USB ports for mobile device charging.
Aesthetically pleasing.
What We Don't Like
Takes up space in one cup holder.
Summary
The Thinkga ionizer is great for anybody who travels a lot. It can easily be transported from car to hotel room, and it's also great for traveling with friends because it comes with two USB ports for charging phones.
If you're looking for a high-quality auto air purifier that is both portable and attractive, the Thinkga ionizer could be a great option for you.
Nova 2.0 Ionic Air Purifier
If you're looking for something that doesn't need to be replaced as frequently as other models out there and will still eliminate odors with effectiveness after months of use, this might be an excellent option for you to consider.
The Nova 2.0 will work to eliminate smoke, musty smells, mold, and other bacteria, as well as sports stench and more. It will effectively work to remove the stench of dirt and sweat, which can make any car smell like a soiled locker room (yikes!).
It also comes equipped with two fast-charge USB ports that are compatible with both Apple and Android mobile devices.
The company states that this model is most effective when used over a period of time, so don't expect stellar results overnight.
Features and Specifications
Two fast-charge ports and a charge cord.
Most effective when used over a period of time.
Slight ozone smell.
Blue indicator light.
Powerful deodorizer.
What We Like
Comes with two fast-charge ports.
Compact and sleek design.
What We Don't Like
Doesn't give immediate results.
Will make some sound.
Summary
Needless to say, if you're an athlete or you chauffeur an athlete, then this could be the perfect car air purifier for you. No car has to smell like dirty old gym socks!
Because it also comes with two charge ports, you won't need to worry about any petty arguments over who gets to charge their phone first.
Eco Breeze Purifier and Ionizer
For those of you looking for a safe option that won't annoy other passengers in your car, this may be the right one for you.
The Eco Breeze car air purifier is an ionizer that plugs directly into your cigarette lighter socket, and it can also be hung up if preferred.
This purifier will eliminate up to 99% of airborne bacteria and can be used as a car air freshener as well. When this ionizer does its job effectively, it can actually help alleviate car sickness too. Because it eliminates cigarette smoke smells, it's also great for anybody who suffers from asthma or has other breathing conditions.
Its unique color and sleek design are also ideal for anybody looking for a stylish option for their vehicle, one that stands out from other car air purifiers.
Another great thing is that it also works to dispel harmful chemicals such as benzene and formaldehyde from the air in your car, ensuring you're breathing the cleanest air possible.
Features and Specifications
Fashionable and unique design.
Ozone generator.
CE (European Standards) certification.
FCC certification.
RoHS certification.
Increases concentration for longer driving.
What We Like
Can be plugged in or hung up.
Has several certifications to back it up and prove its worth.
Fashionable and sleek design.
What We Don't Like
Summary
This is a great product for anybody who either smokes themselves or carries passengers that smoke.
Because this air purifier works well to dispel smoke and eliminate the odor, your drive will be a much more pleasant experience for everyone involved.
Evtech Portable Car Air Purifier
If versatility is your jam, this is definitely one car air purifier to consider. It's designed to have 360-degree spin-ability and can be bent at a 90-degree angle, so easily fits power outlets in awkward places.
It also comes with a dual USB port for charging your mobile devices.
This car air purifier will also increase the productivity of anion by 50%, which is a huge help in promoting a cleaner environment in your vehicle.
Features and Specifications
Two USB ports.
Uses a wind turbine fan.
Rotatable and bendable for versatility.
Two indicator lights.
What We Like
Versatile: can be rotated and angled to fit your car.
Has two indicator lights.
Effectively removes harmful toxins in the air.
What We Don't Like
Needs to be manually switched on every time.
Summary
This car air purifier takes up very little space and you can make it fit into your car exactly the way you want it to fit. It's also highly effective and comes with two USB ports for charging phones.
The only notable downside is that it doesn't have an auto-start option. Because of this, you will need to remember to turn it on every time you get in your vehicle.
What Is a Car Air Purifier?
Car air purifiers stemmed from a need by asthmatics, to reduce the number of allergen attacks. Because nobody wants to breathe in germs and dirt, it's no surprise that they have gained so much popularity. Clean oxygen only, thank you very much!
Purifiers are not to be confused with car air fresheners. A freshener simply deodorizes, or masks smells floating in the air inside a car, whereas a purifier aims to filter and clean the air before it ever gets into the car in the first place.
There are different types of purifiers on the market; each one is made and works in a different way. Some use small amounts of ozone to clean the atmosphere, and others will use a true HEPA filter. Others will also use natural properties like charcoal to filter the air.
When driving, you subject yourself to all kinds of pollution. Whether it's exhaust fumes from other vehicles or just a bad odor in general, a car air purifier will greatly reduce potentially harmful allergens.
Depending on what you're looking to achieve, this product may not always be necessary, though. In some cases, you may just need to give your car a good clean from the inside.
Are car air purifiers safe? Well, while some emit a small amount of ozone, this is always in safe amounts.
Sources of Air Pollution
Air pollution is a mixture of solid airborne particles and gasses that pollute the atmosphere.
It can build up in your car for any number of reasons, even if you don't smoke in there or own any pets you have ride along with you (dander, anyone?). Simple things such as dust and exhaust fumes are common culprits.
This can cause a lot of issues while driving, especially if you suffer from asthma or other breathing problems – which puts both your safety, that of your passengers and everyone around you on the road at risk.
For more information on such pollution and how it can affect you, check out the Youtube video below.
Which Methods of Air Purification Do These Products Use?
We briefly mentioned the different types available above, and now we'll go into more detail to help you make a decision as to which is the right product for your needs.
Car-Air Ionizer
These work by releasing a negative ions charge into the air, and don't use a filter. The negatively charged ions attach to the harmful particles and bring them to the surface, so they are easier to clean.
They typically emit small amounts of ozone to eliminate toxins and harmful pollutants. If you're based in California, these may not be available as this state has heavily regulated ozone-emitting devices.
These are usually very small and plug right into the 12-volt power socket. They don't require much power either, so they're really low maintenance.
Ionizers are especially effective if you need to get rid of smoke odors inside your car or other persistent smells.
HEPA and HESA Filters
HEPA filters are the most common. They're made up of a lot of tiny glass fibers, and once the fibers are formed, they're made into mats and then manipulated into an accordion pattern.
They are then put into a case and are ready to filter particles. These filters are good for catching particles, but are not recommended for gas removal, as gas will pass right through the coils.
HESA stands for high-efficiency specific air filter, and these filters are meant to take care of strong odors and gasses that a HEPA filter can't remove. These filters are best for people with allergies, since they will capture most allergens.
Activated Carbon Filter/Generator
These filtration systems contain activated charcoal, which is a natural way to reduce toxins. Activated charcoal is used in all types of products ranging from car air purifiers to face masks.
Activated charcoal is like a magnet for toxins and other chemicals in the atmosphere, like benzene and formaldehyde. It works to pull all of those unwelcome visitors away from the source to leave the area much cleaner.
Activated carbon generators are best for removing harmful gasses and their bad odors from the air in your vehicle. These are particularly effective because they capture small particles that other filtration systems might miss.
Air Freshener
While these aren't technically air purifiers, they're still a good option to consider if you want a particular scent in your ride. Use them after you've used a car air purifier, though, because they only mask the odor and are not an effective solution on their own.
What Should I Look For In A Car Air Purifier?
How Loud Is It?
If it's noisy when in use, this can be a major distraction to you on the road, and annoying if you're trying to listen to the radio or music.
So, you'll want to be sure to choose one that isn't going to make loud, disruptive noises while you're driving.
Purifiers, in general, shouldn't make more than a dull noise. The quieter it is, the better. If for some reason yours is extra noisy, this could mean the fan is overheating, and this can be dangerous. In that case, it's advisable to remove it and call the company and ask for a refund or replacement.
How Will It Fit in My Car?
While some car air purifiers plug into your vehicle's power outlet, others will require placement in other areas. This could be behind seat headrests or in your cup holder.
There are also ones that come in bags; these can easily be placed underneath your seat or in another discreet location. Keep in mind the size and design of your car interior and how a certain product will fit.
Every product is different, so the installation will vary, depending on which one you buy. If you choose to go with an ionizer, don't worry about facing difficulties when it's time to install it – it's super easy. All you do with these is connect them to your power outlet and they will get right to work.
Other air purifiers may require a little more work. If they need to be fastened to the back of your headrest, be sure to look out for products that come with everything you need for installation.
Does It Require a Lot of Maintenance?
Just like any other device, car air purifiers will require at least some amount of maintenance and upkeep. In order to keep it running effectively, it is important to clean the filter out regularly.
When making a purchase, keep in mind how easy or difficult it is to maintain the purifier. If it's easy, you should be able to clean it regularly. If it seems more difficult or downright impossible, you may just have to keep purchasing replacement filters!
A product that has some sort of signal or notification, one that alerts you when it's ready to be changed or replaced, is a major plus.
If your purifier has a true HEPA filter — as many purifiers do — there is a proper way to clean the filter so that you don't have to keep replacing it unnecessarily.
Best Car Air Purifiers: The Verdict
Nobody likes a smelly car, that's for sure. Even if you've become nose blind to your car's bad aromas, your passengers probably haven't!
Air fresheners can only do so much as all they do is mask the problem temporarily, and won't solve it from its root cause. So, investing in a quality car air purifier is a must.
We think the best car air purifier out there is the Bamboo charcoal air purifying bags by California Home Goods. Because they are eco-friendly and non-toxic, they make ideal car air purifiers for anybody who truly wants to breathe naturally clean air. Plus, the charcoal formula eliminates pet odors, which is a major plus for all you dog-lovers out there riding around with your furry buddies!
What are your thoughts on car air purifiers? Are you concerned about those which emit ozone? If you have any questions or comments, let us know and we'll do our best to help!