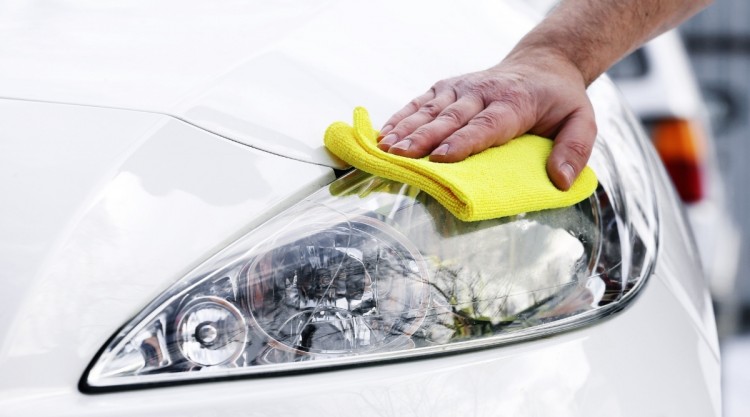 When your vehicle's exterior is in desperate need of a clean, the first thing that comes to mind is to take it down to the nearest car wash and make it someone else's problem or bring out your hose and buckets or pressure washer and do it yourself.
While there's nothing wrong with traditional car washing methods (there's a reason almost everyone does it this way, right?), you might be surprised to learn that there might be an even better way to clean your vehicle.
Enter the waterless car wash!
We put together this guide to walk you through everything you need to know about waterless car washes, from all the benefits this breakthrough technology has to offer to reviews of some of the best waterless car wash products on the market today.
Quick Links to Our Top Recommendations for the Best Waterless Car Washes
Note: Clicking the above links will take you to further information, current prices and customer reviews on Amazon.
Best Waterless Car Wash Brands: Our Top Recommendations
Let's dive into more details about what we believe to be some of the best waterless car wash products available today.
Aero Cosmetics Wet or Waterless Car Wash Wax Kit
The Aero Cosmetics wash kit is great for any kind of vehicle, whether it's your car, motorcycle, or anything else. This product includes a 16-ounce spray bottle, a one-gallon replacement bottle, and four high-quality microfiber cloths.
The best thing about this formula is that it doesn't contain any alcohol or ammonia, which means you'll avoid harsh chemical smells during use. It also means this product is more environmentally friendly.
Another thing you'll like about this waterless car wash kit is how simple it is to use. Simply spray it onto the entire car and then buff it off with one of your microfiber towels – and it's job done.
While a little harder to buff off than other products, it's still much quicker than washing your vehicle by hand.
If you decide to use Aero Cosmetics, you'll leave your ride with a nice shine and a UV protective coating, something you can't get at a standard car wash.
Manufacturer's Specs and Feature List
16-ounce spray bottle.
One gallon of replacement waterless car wash solution.
Four microfiber towels.
Water-based formula.
Product guide included.
What We Like
No alcohol.
No ammonia.
Acts as a guard for your vehicle with a UV protective coating.
Meets Boeing and AirBus cleaning standards and requirements.
Includes microfiber cloths.
Adds wax protection.
What We Don't Like
Might be a little more difficult to buff off than other products.
Wax doesn't last for a very long time.
Summary
Aero Cosmetics is one of the best waterless car washes on the market. If you're willing to deal with a very slightly harder time buffing the product off, you'll be rewarded with a shiny and spotlessly clean vehicle.
All in all, it's an environmentally friendly formula that leaves your vehicle protected and looking good.
Meguiar's G3626 Ultimate Waterless Wash And Wax
With an advanced polymer formula, Meguiar's product aims to provide your vehicle with elevated protection that lasts for a long time – and does a good job at it.
This dry car wash and wax also features a high-lubricity formula, which makes it easier to use and leaves a lasting shine and gloss on your vehicle's surface.
You can even use it on wheels, glass, and rubber, making it an extra versatile option. However, it can leave a haze on windshields, so be careful when working with it around that area.
This company recommends you use their microfiber towels along with the spray, but that's not really a necessity. Truth be told, as long as you're using a similar cloth of high quality, you should be just fine.
After you've applied the spray, wipe it off with your microfiber cloth to get the best results. This product is specially formulated to not leave scratches on any surface areas.
The wax in the formula can last for weeks at a time through a variety of different weather conditions, which gives you greater value overall.
Manufacturer's Specs and Feature List
26-ounce spray bottle.
High-lubricity formula.
All-in-one wash and wax formula.
What We Like
Wax included in the formula.
Long-lasting protection.
Safe for use on wheels, vinyl, glass, and rubber – making it a versatile option.
Quick 15-minute cleaning process.
What We Don't Like
Might leave a haze on windshields.
Sometimes leaves visible swirls on black vehicles.
Summary
Meguiar's waterless wash wax is a great product for anyone looking to give their vehicles longer-lasting protection.
It's quick and easy to use and gives you pleasing results overall, though you might have to deal with some streaks on the windshield. It also might not be the best choice for black cars.
Chemical Guys EcoSmart-RU Ready to Use Waterless Car Wash and Wax
Chemical Guys is a big name in the vehicle maintenance world, so it shouldn't come as any surprise that they also make top-notch waterless car wash sprays.
The best thing about this formula is how eco-friendly it is. It uses all-natural ingredients, including carnauba wax, which is not only good for the environment but also great for your car. To top it off? It also offers long-lasting protection.
The high-gloss formula also helps you achieve a much shinier look once you're done washing your car. It's also safe for any color, meaning you'll avoid any pesky streaks on dark-colored paint.
One word of caution, though: the bottle itself might give you some problems, with some people having experienced leaks and cracks leading to a loss of product.
Manufacturer's Specs and Feature List
16-ounce spray bottle.
Also available in a 4-ounce or 1-gallon size.
High-gloss formula.
Multi-functional, safe for paintwork, wheels, and windows.
Cleaner, wax, and protective product.
What We Like
Uses eco-friendly carnauba wax.
Leaves a high-gloss shine.
Safe for any color.
Includes wax and protectant.
What We Don't Like
Not exactly an economical option; one bottle isn't likely to cover many washes and last for very long.
Summary
This Chemical Guys waterless car wash product is perfect for anyone who wants a product that's more environmentally safe than others, while still achieving long-lasting protection and not cutting down on effectiveness.
The natural carnauba wax is great for all colors and vehicle surfaces as well.
TriNova Waterless Car Wash and Wax Kit
TriNova's concentrated formula is powerful and provides more value than products that are already diluted.
This kit comes with an 18-ounce spray bottle and 16 ounces of extra concentrated formula, and it also includes a premium microfiber cloth.
One of the best things about TriNova's kit is the protective coating it leaves behind. Once you've applied it to your vehicle, you can expect great protection against both rain and UV rays. The formula is also specially designed to trap dirt particles and other grime, so your pride and joy will get cleaner faster.
The kit is extremely easy to use as well – spray it on and wipe it away with the included microfiber cloth.
Since this is a concentrated formula, you'll need to dilute it yourself before use. It's an easy and straightforward process, though, so there's nothing to worry about – all you need to do is mix half an ounce with water and you'll get an entire bottle of spray to use.
Manufacturer's Specs and Feature List
18-ounce spray bottle.
An included 16-ounce bottle of replacement solution.
Microfiber cloth included.
40 washes per kit.
Scratch-free formulation.
What We Like
Protective coating against rain and UV rays.
High concentrate formula.
Includes a microfiber cloth.
Good value for money.
What We Don't Like
Doesn't work very well on glass.
You can expect some streaking on dark-colored paintwork.
Summary
If you want something a little more powerful than other waterless car wash products on the market, TriNova's product can help.
Even though you'll have to do a bit more work and dilute the solution on your own at first, it's very good value, and well worth it to give your car some great UV ray protection at the same time.
While this kit doesn't work too well on glass or dark colors, it still provides an excellent solution to all of your car cleaning needs.
Adam's Waterless Car Wash
This waterless car wash product has been made with extra surfactants and lubricants to better get rid of dirt, grime, and bird droppings. It also uses emulsifiers and special wetting agents to capture the dirt more efficiently.
There's an interesting blue color to the liquid, but it has a pleasant, tropical smell so you're not overwhelmed with harsh chemical scents.
Another notable benefit is that it can help prolong the life of your previous sealant or wax because it's less invasive than other cleaning methods. Unfortunately, though, this spray doesn't contain any wax to protect your vehicle.
If you're looking for an additional level of protection, you'll need to wax your vehicle separately.
Manufacturer's Specs and Feature List
16-ounce spray bottle.
Extra-slick formula.
Can be used in direct sunlight.
What We Like
Pleasant tropical scent.
An extra-lubricating formula for easier cleaning.
What We Don't Like
Summary
While this waterless car wash product doesn't include any kind of wax, it still provides a superb clean.
Thanks to the extra-slick formula with special ingredients, you can achieve a comprehensive clean in a minimal amount of time.
For those of you who can't clean your car with water and need something more accessible, then this is a product you should definitely consider.
Chemical Guys EcoSmart Hyper Concentrated Waterless Car Wash & Wax
Chemical Guys' hyper-concentrated formula is both powerful and eco-friendly. It's great for anyone looking to get a quick and comprehensive clean without water and a hose.
Since this is a concentrated formula, you'll need to do the mixing yourself, meaning you'll also need to get your own spray bottle.
It should be noted that this product struggles a bit with tougher grime such as bug and water spots, but it still does a good job overall.
Since this is a concentrated mix, you get more bang for your buck. This single 16-ounce bottle can make up to 2 gallons of spray.
Manufacturer's Specs and Feature List
16-ounce bottle.
Contains natural carnauba wax.
All-in-one product.
What We Like
The hyper-concentrated formula lasts longer.
Provides UV protection.
Biodegradable and eco-friendly.
Ease of use.
What We Don't Like
No spray bottle or microfiber towel included.
Doesn't work very well on bug spots.
Summary
This product from Chemical Guys comes in a concentrated mix so you can use it whenever you'd like. It's simple to dilute and easy to apply to your dirty car.
With eco-friendly carnauba wax, you also leave your vehicle with a protective layer that can last weeks.
If you're looking for something that's both environmentally safe and provides an extra effective clean, this formula does the trick.
FW1 Wash & Wax Waterless Polish with Carnauba
The FW1 wash and wax is touted as a product that professional racers and their pit crews use on their vehicles. If you need something more advanced than the casual driver, this might be the product for you.
It contains both carnauba wax and extra lubricants to ensure a super-clean finish on your car's paint, wheels, chrome, and glass. The carnauba wax is safe for the environment, too.
If you buy this pack, you'll get three separate cans of spray, which will last you a lot longer than many other sprays on the market.
Using the product is super easy and you'll find yourself loving how simple it is when compared to a traditional water and soap cleaning method. All it takes is a spray-on and wipe-off approach to achieve a professional showroom shine.
Also, and unlike other products on the market today, it's particularly effective against bug spots. With that being said, it does struggle a little when it comes to water spots.
Manufacturer's Specs and Feature List
Three, 17.5-ounce cans.
Lab-tested formula.
Removes tree sap, tar, bugs, and tar.
What We Like
Can be used on a variety of surfaces.
Eco-friendly carnauba wax.
Works well on bug spots and other road grime.
Used by professional racers and their pit crews.
What We Don't Like
Summary
If you want to use a waterless car wash that professionals use, consider this one. For those of you with advanced requirements, this could be the perfect option.
It provides both a clean and professional finish, making it one of the more comprehensive products on the market today.
Also, with three spray cans in the pack, you get plenty of product to work with.
Ultima Waterless Wash
Ultima's waterless car wash is strong and provides a long-lasting protective coat for the top layer of your vehicle.
This is a high-concentration mix, but you don't get a spray bottle and you'll need to dilute the product yourself. The bottle includes measurement marks so you can easily get the right ratio of product to water.
The spray gives off a pleasant smell, which makes it easier to use in enclosed spaces. This is a huge deal, since many waterless car wash products are hard to use in closed spaces such as a garage.
The formula itself uses a clay lubricant that adds a protective layer to any surface you use it on. One of the proprietary components, called Active Defense, even provides anti-microbial protection.
Manufacturer's Specs and Feature List
16-ounce bottle.
High-concentration formula.
Anti-microbial protection.
What We Like
Measurement markings on bottle.
Powerful formula.
Clay lubricant adds a protective layer to your paintwork.
Pleasant smell.
Environmentally friendly.
What We Don't Like
No spray bottle included.
Summary
With a powerful and eco-friendly formula, Ultima is a perfect choice for anyone who can't (or doesn't want to) clean their vehicle with conventional methods.
Even though you have to dilute the product yourself, it cleans well and adds an extra layer on top of your paintwork for long-lasting protection.
Rain-X 620100 Waterless Car Wash & Rain Repellent
The aptly named Rain-X 620100 specializes in protecting your vehicle against rain. This is one of the main benefits that separates this product from the rest on this list.
With a unique and environmentally safe formula, you get a protective layer without the need for any wax in the spray. It's also highly lubricated, which prevents scratches during use. You also get a high-gloss finish.
Unfortunately, it can leave a streak on darker-colored vehicles and it may be harder to wipe off than other products.
Manufacturer's Specs and Feature List
32-ounce spray bottle.
Safe to use on all exterior surfaces.
Wax-free formula.
What We Like
Excellent rain repellent.
Can be used on glass, chrome, and plastic too.
No wax necessary.
What We Don't Like
Tends to leave some streaking.
Can be a bit more difficult to wipe off.
Summary
If you're looking for a product that gives your car extra protection against rain, look no further than the Rain-X 620100. Its special formula is specifically designed to help repel rain, snow, and sleet.
The high-lubrication formulation also makes it especially easy to use and helps prevent scratching on your vehicle.
What to Look for in Waterless Car Wash Products
Let's take a look at some of the most important features you should look for and considerations you should take into account when shopping around.
The Formula
Not all waterless car wash products are created equally. There are many formulas out there that contain abrasive ingredients which cause harm to both your vehicle and the environment.
The good news? They're not all like that. With a little bit of effort, you can easily find a product that is both safe for your vehicle and non-toxic for the environment.
You should also consider the fact that many of these products are simply cleaning products and nothing more, while others also include wax ingredients as part of their formula. We recommend the latter option, just so you get more bang for your buck.
Carnauba Wax
You'll see that a lot of products proudly include carnauba in their formulas.
This natural vegetable wax, sourced from Brazilian palm trees, is one of the finest things you can rub on your car – so keep an eye out for it. It's almost always a plus when it's part of any product's list of ingredients.
Cost
While you're already saving yourself money using these products than if you were to take your car to a professional car wash all the time, you should still consider the amount of product you're getting for the price.
These cleaning products can come in a huge variety of shapes and sizes. Most sprays are either 16 or 24 ounces, but some also include larger replacement bottles.
Generally speaking, the larger the bottle, the more washes you get overall – unless you need to apply a massive amount of one product to get the same results another product yields with a much smaller amount.
Method of Application
You can apply a waterless cleaner to your vehicle in a couple of different ways.
The most common application method is spraying the product directly on your vehicle and then wiping it off. However, you can also purchase waterless wipes which eliminate the spraying step.
While it may seem like skipping a step is beneficial, we still recommend purchasing the spray versions simply because they provide better cleaning overall and longer-lasting results.
With that being said, if there's a specific method of application you're more comfortable with, then definitely take this into consideration before you buy any waterless car wash product.
Included Extras
Many companies will throw in a couple of accessories with your purchase, the most common of which are microfiber towels.
These are essential to the process, and if they're included in your purchase, you can rest assured that they will work well with the spray you purchase.
However, if you've already purchased soft microfiber towels for your car before and have enough stocked up at home, you might decide to opt for something that doesn't come with a microfiber towel to save money.
What Exactly Is a Waterless Car Wash?
Waterless car washes are products that you apply to your car and then wipe off to lift any dirt or grime. These ready-to-use formulas typically come in a spray bottle and work best on light dirt and grime.
It's an all-in-one product, and you won't need anything else to get your vehicle clean besides a cloth. Because of its simplicity, this product packs a number of benefits that traditional car wash methods don't have.
What Are the Benefits of Using Waterless Car Wash Products?
Let's take a look at some of the main benefits that using a waterless car wash product has to offer, both for you and for your ride.
Saves You More Money in the Long Run
Have you ever stopped to think about the total cost of taking your vehicle through a self-service wash on a regular basis? If you haven't yet, you really need to – chances are you're in for a surprise! That cost only goes up if you opt for professional detailing, too.
And what about cleaning your vehicle by hand? Have you considered how much more you're paying on your water bill just because you clean your car in the driveway?
When you start weighing up how much money you spend on washes throughout the year, you might be in for a jaw-drops-in-shock moment. What seems like a few bucks spent here and there adds up really quickly.
Waterless methods are relatively inexpensive in comparison. You only have to purchase the no-rinse wash product itself as well as a few microfiber towels.
Easier Than Manual Washes
Cleaning your vehicle by hand takes a lot of energy and time – both of which are better spent elsewhere.
Before you know it, you could easily spend a couple of hours out in the hot sun scrubbing away.
Using a waterless car wash formula makes the process way easier and much less time-consuming. You won't be scrubbing, rinsing, waxing, and then repeating all over again.
Better for the Environment
Using gallon upon gallon of water to clean your vehicle increases your water bill and has a detrimental effect on the environment.
To give you a clearer idea about this, your standard garden hose uses about 17 gallons of water every minute, which means you can easily go through 100 gallons when washing your car – if you do it quickly!
Conserving water is an important part of helping the environment, and waterless car wash products help you prevent water waste.
Keep in mind that when you use water to clean your car, this also involves draining harmful chemicals directly into the environment, which can have a much more negative impact than you might think.
Waterless car wash products do contain chemicals (these are the ones you should be using, anyways) – but since proper usage only requires a couple of ounces per wash, you won't be harming the environment anywhere near as much.
More Accessible to Everyone
Depending on where you live, not everyone has the option of washing their vehicle by hand in a driveway. For some, it's physically impossible, while for others it's not very feasible. Almost everyone can use waterless car wash products, though, even if doing so inside a garage.
Leaves Behind a Protective Finish
Unless you're an avid automobile enthusiast, giving your car a manual wash is mainly about getting it clean. You're probably not thinking about waxing and buffing your paintwork on top of everything else. This can cause long-term problems for your vehicle, especially considering the wear and tear that comes with driving around.
Waxing and buffing is a complicated and expensive process. If you don't know what you're doing, you can easily damage your car.
Fortunately, many waterless car wash products on the market today leave behind a protective finish that can last up to three months. This can protect your car from rain, scratches, and more.
The best thing about this? Regular car owners don't have to spend extra time or money on wax products and learning how to use them.
When Not to Use Waterless Car Wash Products
For the most part, you can use waterless wash products in any scenario and on just about any vehicle.
The product doesn't scratch your car and anyone can learn how to use it. However, most manufacturers agree that waterless car washes will only work on slightly dirty vehicles. If you just got back from off-roading and your vehicle is caked in mud, these products won't do much for you and a traditional car wash is your best option.
In fact, trying to use a waterless method on a very dirty vehicle may result in scratches and damage to your paintwork. Also, don't expect waterless washes to magically transform your vehicle if it has significant issues with the bodywork.
Deep scratches, rust spots, and dull finishes will need to be remedied by an auto shop and a dedicated polishing/finishing product.
How Often Should You Use Waterless Car Washes?
There are a couple of schools of thought on this, but ultimately, it really depends on how often you drive and what kind of conditions you drive in.
Some people (us included) think it's best to give your car a once-over with a waterless car wash spray every week.
If you're cleaning your car proactively, your vehicle won't get anywhere near as dirty and you won't be faced with a mammoth task once a month.
On the other hand, people who drive infrequently in prime conditions may only need to give their vehicle some TLC once every two weeks, or even once a month.
Conclusion
You're now armed with the right information and are ready to hang up your buckets and hoses for good! Alright, alright, maybe not that extreme – but it's great to know that you don't always have to use water to clean your ride.
We'd love to know what you think about all of this, too! If you've ever used any of these products before, leave us a comment below to let us (and others reading this article) know about your experience.
You can also ask any questions you have and we'll answer as soon as possible!
Till then, happy waterless car washing!