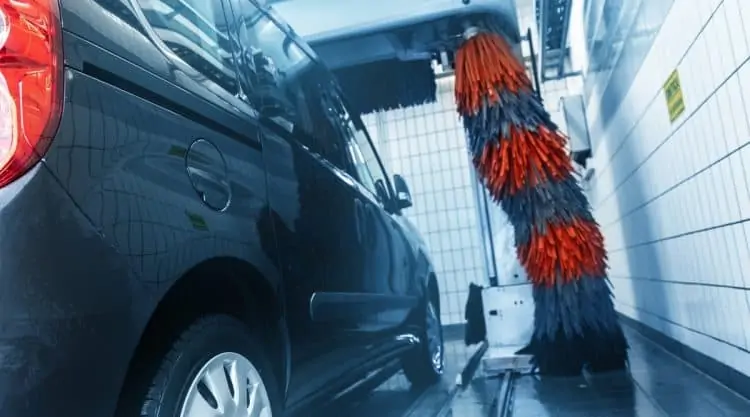 You can find car washes all over the country, but one of the most common places to find them is at your local gas station.
The best thing about having them there is being able to kill two, three, or even four birds with one stone. You can fill up your vehicle with gas, get a bite to eat, or even get some groceries at the same place – all while having your vehicle washed at the same time. Also, they can offer a variety of different cleaning options, depending on your specific needs.
So, going to the closest gas station car wash to clean your ride not only saves you cash, but also a healthy whack of time.
Sound good? If so, then let's take a look at what you can expect when you take your vehicle to a gas station car wash for some good cleaning.
Key Takeaways
All About Convenience – Washing your vehicle at a gas station can save you a lot of time.

Select Your Service – The services offered vary from one gas station to the next, so be sure to check before going.

Check Reviews – To ensure you'll be getting the best service available, check user reviews before choosing where you'll go.
What Benefits Does a Gas Station Car Wash Provide?
These often provide a greater number of advantages over regular, standalone car washes.
Many gas stations provide their customers with some sort of loyalty membership. This often comes with discounts or rewards for various items, cash back after a certain amount purchased, or free items.
Included in these reward programs are often discounts for returning customers, making your next visit just a little cheaper than if you choose to go elsewhere.
Sometimes, they will even include a deal wash you can get with the purchase of a certain item. Similarly to how a value meal would work, or a dollar menu at a fast food restaurant, you may be able to get a combination wash and meal during the summer, or a quick "express" wash at a lower flat rate.
The largest advantage, though, is the convenience it can provide. Not only can you get your vehicle properly cleaned by professionals, you can also fill up your gas tank, grab some lunch, and even get a few snacks or groceries if the gas station is larger.
If the station is on your way to work or in the middle of your errand route, it is even more convenient to get your vehicle washed on your way.
How Do You Use a Gas Station Car Wash?
These don't function any differently than standalone car washes in their methodology of use.
The general three-step process involves paying for the wash, the actual washing of the vehicle, and then having your vehicle dried or leaving when the wash is done.
Let's go through each of these steps in more detail in the following sections below.
Step #1: Pay for It
Most gas stations will take payment at the inside register, similar to when you pay for gas inside the station. This is easy when it's an automated car wash, as there isn't a time limit for how long you can use the water supply.
For those stations that do have a more traditional spray-it-yourself type, a pre-paid set time will turn the hose off when it has expired.
Another way you can pay is to simply pay before driving into the bay. This is how most standalone car washes work today.
The third option is the more traditional cash or coin payment method. For these, you often have to convert any bills you might have to coins. After you do that, you feed the meter with a set starting price.
A set time is allotted to you for use of the hose. For more time, just add more coins. Once time runs out, the water stops, and you will have to pay the starting price again or choose to be finished.
Step #2: Figure Out What Type of Car Wash It Offers
If the wash is automated, you will most likely be able to choose what type of wash you want.
After that, you will have to pull into the bay when prompted to by signs or lights by the bay doors. Once you move into the washing bay, the car wash will tell you when to stop your vehicle.
Once you stop, you should put the vehicle in park – if you have an automatic transmission – or put the vehicle in neutral if you have a manual transmission.
After you stop, the wash will do everything by itself. If the wash is completely self-service, you just have to park your vehicle in one of the bays, and use the meter selectors to spray, clean, and rinse your vehicle. Easy!
Step #3: Have It Dried or Simply Leave?
Many automated stations provide the option to air dry your vehicle by turning on huge air dryers as you exit, but some others don't.
All automatic washes will prompt you to leave the bay slowly when the job is complete, and once it's safe to exit. For a self-service wash, you simply leave when you are done.
Some stations do employ attendants to help dry your vehicle, but most don't. If a station does provide attendants, remember to provide a small tip for their time!
What Kinds of Gas Station Car Washes Are There?
There are five main types of car washes you can find at gas stations. Some are much more common than others, and depend on the size and location of each.
1. Full Self-Service
Full self-service washes are some of the least common types you can find at gas stations, or even in a standalone format, but they are still out there.
With self-service washes, you just use the equipment that the gas station has provided in a designated area and wash your own vehicle.
You still have to pay to use the equipment, but the rest is up to you.
What Are the Advantages?
The biggest advantage this type has to offer is that it can be cheaper than other types. Because you aren't paying for machine running costs, excess water usage, time, or attendant salaries, gas stations can charge less.
Another advantage is that you are in charge of the actual washing. Hand washing almost always gets a vehicle cleaner than a machine can, no matter how good the machine is.
You might not have the space to wash your vehicle on your own at home, but this provides you the opportunity to be picky without having to buy all the products yourself.
What Are the Disadvantages?
A major disadvantage that this type has is that it will take more time. One of the biggest reasons that people use car washes is to save time, especially if it's connected to a gas station.
If you are able to get the materials yourself and you have the space at home, a self-service gas station car wash doesn't have many advantages over doing that.
2. Coin-Operated Self-Wash
Most do-it-yourself car washes are coin-operated. They are a more traditional form, as technology in the past hasn't allowed for the automated technology we have today.
Coin-operated washes have a set starting price and allow a specified amount of time to elapse before the water is shut off to a pressurized hose with a trigger-operated handle. The more coins you put into the meter, the more time is added.
These washes often have a dial with which you can select what kind of liquid is sprayed from the hose and with how much pressure it is sprayed.
"Rinse" is often a fine, less pressurized water delivery, while "soak" is often highly pressurized and is designed to loosen dirt and get rid of soap.
You can often even choose a wax and water or soap and water combination to fight dirt better or to increase the shine of the wash.
Many coin-operated washes also have a brush wand that discharges soap with which you can scrub your vehicle.
What Are the Advantages?
You still have control over how clean your vehicle is at the end of the wash.
A coin-operated car wash allows you a limitless amount of time with which to wash your vehicle, as long as you pay for it.
They also usually have a lower starting price than other types of washes. Even if you choose to add more coins for more wash time, which means that extending the time isn't all that much more expensive.
This also means that if you are in a hurry to be somewhere, you control how quickly you wash your vehicle.
If the car wash has a soap brush wand, you can also get your vehicle cleaner than just a spray wash would.
What Are the Disadvantages?
Just as you can be as quick as you want, extending the time because you are picky can end up costing more money, and becoming costlier than the most basic automatic car wash.
Coin-operated washes are also not usually as efficient as automatic ones. You might be able to do a better job yourself, but a lot of water can be wasted by over-spraying your vehicle.
Also, unless the one you're using is exclusively for reward members of a particular gas station, you won't usually be able to get a discount.
One last disadvantage is that they can be messy. High-pressure water can go everywhere after it hits a surface. If soap is mixed with the water, it can get on your clothes, outside the bay, and in your eyes.
3. Touchless Automatic Car Wash
Touchless automatic car washes are one of the most common types throughout the country. They have risen in popularity everywhere and use high pressure to provide a fast, thorough, and efficient wash.
These types often offer a variety of different package options you can choose to best suit your needs. Most have at least three from which to choose, with the most basic taking the least amount of time and money to complete. Some offer even more options depending on your needs.
The most basic packages often just include a wash, a soapy application, and a rinse.
Intermediate packages usually add an undercarriage wash, perhaps a wax finish, and a vehicle drying option as you leave the bay.
Advanced packages usually include several rounds of soap, wax, and clear-coat protectant, plus a wheel wash, a spot-free rinse, and a tire shine to cap it off.
Many of these package options are separated by just a dollar or two, and can range from four dollars for the basic package and twenty dollars for a very advanced automated clean.
What Are the Advantages?
Touchless automatic car washes are everywhere and are very convenient for car owners.
They allow you to stay in your vehicle, they allow you to choose what you want done during your wash, and they are more environmentally friendly than they might seem.
Touchless automatics are also better for your vehicle's paint than regular automatic car washes. There is very little to no contact with your vehicle other than pressurized water during the wash, so there isn't any opportunity for dings and scratching to occur.
What Are the Disadvantages?
One of the biggest disadvantages of a touchless automatic car wash is that it doesn't do as good of a job at removing dirt as other types.
Because there is no contact from scrubbing, pressurized water alone won't remove those hard dirt and grime spots from your vehicle.
Another disadvantage is that they can be expensive. Not all the extra soap, wax, and rinsing is always worth the prices that gas stations set. So, in these cases, being a rewards member can help out big time!
4. Automatic Drive-Thru Car Wash
Automatic drive-through car washes are another very popular type. They are quick, efficient, and often offer reward points for loyal members.
These types are similar to touchless automatic washes, but they use brushes with pressurized water to dispense soap, wax, and tire cleaner, thus providing scrubbing to the wash for added dirt removal.
What Are the Advantages?
Automatic drive-thru washes provide better dirt removal than touchless car washes due to spinning brushes that contact the surface of your vehicle.
You still don't have to get out of your vehicle, and they can be just as fast as touchless automatic systems.
They also offer various levels of washing power, increasing in cost with each added component.
What Are the Disadvantages?
Automatic drive-thru washes are notorious for scratching paint, damaging mirrors and antennas, and dislodging items in pickup truck beds.
Even though the brushes are designed to be gentle, they spin at high speeds and can be quite harsh on paint.
These types of washes are also more expensive to use than coin washes. The most expensive packages may offer a good variety of cleaning options, but they may not be worth it and will almost never deliver as good of a quality cleaning as you can do yourself.
5. Full-Service Wash and Detailing Service
Full-service washes are very rare at gas stations, and can only be found in the largest and fanciest of places.
A full-service wash and detailing is when you pay to have your car washed and treated by attendants. Sometimes, you can even opt to have the interior of your ride cleaned if you are willing to pay extra.
What Are the Advantages?
The biggest advantage a full-service wash and wax provides is that a machine isn't doing the work, and personal attention can be given to your ride.
It also saves you the trouble of doing all the work yourself, which can be tiring and hard, especially on a hot summer day.
What Are the Disadvantages?
The largest disadvantages are cost and time. You will pay a premium to have this service done, and it will take longer than other forms of gas station washes.
Quality can also be compromised if the attendants are new, not all that properly trained (or sometimes not trained at all), or don't really care to do a good job.
The following video discusses some extra gas station car wash dos and don'ts.
Is There Anything Else I Need to Know?
First things first, not all gas station car washes are the same. If you are going to use something like this for the first time ever, check reviews beforehand to make sure that you will get the best quality.
Not only do people affect a good car wash, but old, poorly maintained, and poorly engineered machinery does too.
Not all automated packages are worth the extra price, too. Most base packages offered at automatic car washes aren't bad value, but paying over ten dollars for a wash, soap, wax, tire shine application, and dry can be done for much less and much better by yourself.
Also, some gas stations that offer automatic washes, full-service washes, or self-service washes still have attendants that are able to dry your vehicle after being washed.
This can often be skipped, as the towels are used repeatedly before cleaning and can re-apply dirt after the car wash has been completed.
Last but not least, always remember to close your windows and fold your mirrors before entering an automatic drive-thru car wash. Folding your mirrors will prevent a vital part of your vehicle from being damaged, and closing your windows will keep you and the interior of your vehicle dry.
Wrapping It Up
Though standalone car washes can be found everywhere, gas station washes provide a level of convenience that is unrivaled.
You can get a variety of things done quickly and efficiently by visiting a gas station with a car wash attached, which saves you valuable time and effort.
Just remember that a certain type of car wash guarantees quality. Gas stations with a high rating are the ones you should be visiting, so make sure you research what is available in your area and explore your options thoroughly beforehand.
Automatic car washes have been increasing in popularity for gas stations in recent years. Not only are they quick and easy, but they often provide rewards that allow discounts, making your stop even more cost-efficient.
Standalone car washes definitely aren't bad, but gas station washes easily have the advantage in an increasingly busy world.
Happy washing!