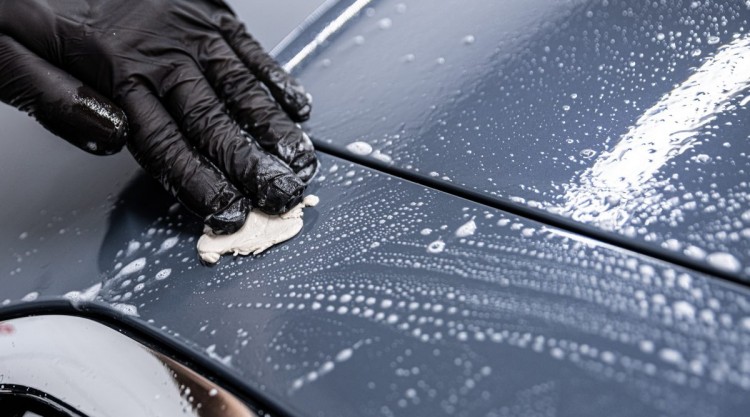 Looking to revitalize your car's bodywork and take it back to its glory days? If so, the tool most likely to do the trick is the humble clay bar.
Claying is one of the most effective methods available to give your car's exterior the lustrous shine you're after. This item removes bonded contaminants from the car's surface that you can't see with your naked eye and restore your car's paint to its original shine – something you can't achieve with washing and waxing alone.
In this article, you will learn everything you need to know about this product, including the different types available and how to choose the best clay bar for your vehicle's paint job. We've also gathered our recommendations for the top picks of the bunch to help you choose.
Quick Links to Our Top Recommendations for Best Clay Bars and Kits
Note: Clicking the above links will take you to further information, current prices, and customer reviews on Amazon.
Best Clay Bar Kits With Lubricants and Other Accessories
These are some of our top picks from what's available on the market today.
Mothers California Gold Clay Bar System
The Mothers clay bar kit is by far one of the most popular available. The kit includes two clay bars, an instant detail lubricant, and a microfiber towel. The system is designed to remove tree sap, embedded grains of metal, paint overspray, and other airborne environmental deposits.
One of the upsides of the system is that it's not hazardous to the paint, and you'll like how the bar is firm enough to pick up all the contaminants without being aggressive on your car. You also get two premium clay bars, each weighing 100 grams, which makes for a very good deal.
One of the reasons why this kit is so popular is it's suitable for all types of paints, undercoats, and plastics. It's also straightforward to use, and the clay towel comes in handy. It's used to wipe off excess detailer lubricant from the area when you're done claying. You might like how useful the lubricant is as you can also use it for other purposes.
For instance, you can spray it on bird droppings and heavy dirt and allow it to soak in a bit before you wash the car. All that grime will then come off your vehicle's paint with ease.
Features and Specifications
Two 100-gram clay bars.
A 16-ounce bottle of instant detailer spray and lubricant.
One 15-inch square microfiber towel.
What We Liked
A true value pack.
The bars are very malleable and not stiff at all.
Minimal chance of scratching.
Works on multiple surfaces and finishes, including plastic, glass, and matte finishes.
Removes paint overspray.
Safe for all auto paints.
Easy to use.
Adds depth and clarity to the paintwork fast.
What We Don't Like
The product might become sticky in hot weather.
Summary
If you need to do regular touch-ups and want something that's easy to use and convenient, this clay luber, clay, and towel combo kit is a great choice. It's great value for money because everything you need is included in the pack.
Meguiar's Smooth Surface Clay Kit
Meguiars is a leading company when it comes to premium car care products, and this kit is no exception. It will allow you to detail your car easily and leave it smooth, glossy, and ready for waxing. This kit comes with two bars, a detailer, and a microfiber towel, which is everything you need to get the job done.
You might like how non-abrasive these bars are, which makes them safe to use on multiple surfaces. They're very effective when it comes to removing paint overspray, and other environmental debris that gives your car that dreaded gritty texture.
Waxing or polishing will be very easy once you've finished claying with this product. You'll like that they have included a Supreme Shine microfiber towel, which restores the finish and leaves the car looking shiny after use.
The kit also comes with a convenient case for you to store your clay bar after use. Sealed storage is handy as the product can pick up other particles if stored in a dusty area, which could render it useless.
Features and Specifications
Two 80-gram bars.
Mist and wipe detailer.
Supreme Shine microfiber towel.
What We Liked
Value pack.
Safe to use and non-abrasive product.
Durable and easy to use.
Highly effective detailer.
Minimal chance of scratches.
Safe for using all paints and coats.
Better wax protection.
What We Don't Like
Not very effective on tough or old contaminants.
Summary
This value pack from Meguiar's is a good choice for car enthusiasts looking to detail their car every once in a while. It's suitable and effective on light contaminants and good for people who don't necessarily intend to polish their vehicle afterward.
Griot's Garage Paint Clay and Speed Shine Kit
This is another money-saving kit as it features everything you need to treat your car paint job.
The clay bar is so large that the manufacturer recommends cleaning up to seven cars with it, by breaking off and using one piece at a time. This easily translates to you using it on your car seven times: how awesome is that?
The bar is pliable and sticky, making it quite effective when it comes to picking up everything it glides over. The Speed Shine lubricant included in the kit is just as effective and, working together with the clay bar, your car will look almost brand new.
The product is yellow in color, which is great because you can evaluate the amount of dirt on your car. In addition to the product and lubricating spray, you also get three microfiber towels that will buff off the lubricant and help give your car a glossy finish. You also get five pairs of vinyl gloves to protect your hands through the process and a storage container for safekeeping.
Features and Specifications
35-ounce speed shine lubricant.
One large 226-gram clay bar.
Three microfiber towels.
Five pairs of vinyl gloves.
What We Like
All-inclusive value pack.
Yellow bar so it's easy to see your progress.
Gloves included.
Highly effective Speed Shine lubricant.
Multiple microfiber towels for longer use.
Storage case included.
Durable
Easy to use.
What We Don't Like
Not the best for using in hot climates.
Summary
Beginners looking for a product that features everything will value this pack. People who clay their cars regularly will also appreciate the accessories included. It will last multiple processes if you break off a piece to use each time. The gloves are an added bonus, too.
Trinova Clay Bar Kit
If you intend to wax or polish your car, using this kit first will leave your paint job well prepared to take the wax. This is an all-in-one solution from TriNova that includes everything you need.
If this is your first time using clay bar products, you'll be surprised at how effective these are at removing brake dust, tree sap, overspray, and embedded metals.
This kit comes with two bars, an 18-ounce quick lubricant bottle, and a microfiber towel. This makes for a good deal as the two bars will last a long time, as will the lubricant. The bars are blue in color, which makes the dirt quite visible so you'll have an easy time gauging how much you are picking up.
Features and Specifications
Two bars in the pack.
One 18-ounce bottle of lubricant.
One microfiber towel.
What We Liked
An easy-to-use product.
All-inclusive value pack.
Two bars included.
Highly effective.
Premium automotive spray lubricant included.
Durable.
Long-lasting finish.
What We Don't Like
Not suitable for use on plastics.
Slightly harder resin compared to other products.
Summary
This premium product is ideal for all vehicle owners. Whether you're driving a truck, an SUV, or a regular car, it's well worth a place in your car-care arsenal. It doesn't come with a storage container, but you can easily use a Ziploc bag for safekeeping.
Adam's Visco Professional Detailing Clay Bar Kit
One of the major benefits of using this kit is that it's suitable for your entire vehicle, from your paint job to your wheels. All the contaminants that leave the glass, paint, and chrome on your car's exterior looking dull and feeling rough are no match for this Adam's combo.
The viscoelastic clay itself is even effective when it comes to clearing tail light and headlight oxidation, which is unusual. It will also get to work on stubborn bug splatter marks on the windshield.
These products are fairly easy to use. All you have to do is spray the surface with the spray detailer lubricant provided, knead the product into shape, and get to work.
The one feature you might like about this product is the Geoimpressions tool. You stretch the clay over it and then pass both over the surface of the car. It leaves your vehicle feeling slick, looking glossy, and will reveal the vibrant color and shine of the paintwork.
What we like most about the clay itself is that, unlike some cheaper clay bar alternatives, it will not break, stick to your hands, or dry out, which can be quite frustrating. The price is a little higher compared to most, but with the Geoimpressions tool included, it's highly effective, and in our opinion, entirely worth it.
Features and Specifications
Viscoelastic 80-gram clay bar.
Geoimpressions tool.
Detail spray.
What We Liked
Removes contaminants without damaging surfaces.
Safe for multiple surfaces.
Geoimpression tool makes the kit highly effective.
Easy to use.
Durable.
Long-lasting finish.
Works on highly contaminated vehicles.
What We Don't Like
No microfiber towels included.
Summary
This a good product, albeit a little pricier than most in its category, but it will last you longer. The Geoimpressions tech possibly makes it a whole lot better. If you're willing to try out something new for an even glossier finish, why not give it a shot and see how long it lasts.
Best Clay Bars – Bar Only
If the only thing you're looking for is the bar itself, then we have you covered as well. Check out our five recommendations for what we feel are some of the best products on the market.
Leobro 4 Pack Top Quality Car Clay Bars
Apart from the perk of getting four premium products, you also get resins that are highly effective on multiple materials, such as glass, lacquer, paint, and chrome. Each of the bars is 100 grams, and this professional size is suitable for fast cleaning.
This fine-grade clay bar has been designed to safely remove grease, micro iron particles, rust, scale, spots, oxide, tree sap, dead insects, asphalt, overspray, and multiple other contaminants.
One of the most convenient features is that there's no need for a specialized lubricant. These are just as effective with a mixture of water and a cleaning agent, or even run-of-the-mill dish detergent.
This product is quite soft and easily malleable so you can form the resin into any shape, making it easy for you to handle. Try not to drop these bars though, as they'll be pretty much useless once they come in contact with a dirty surface.
It's also super sticky, very effective, and quite easy to use, and the bars are packaged separately so you can use one at a time.
Features and Specifications
Four, top-quality 100-gram bars.
Blue in color.
Packed separately.
What We Liked
Soft, sticky, and highly effective bars.
Easy to use.
Durable.
No need for a special lubricant.
Each product can be used multiple times.
Easy to see the dirt while you're claying.
What We Don't Like
More sticky than other products.
Surfaces need to be polished afterward.
Summary
If you are looking for something that's not complicated to use, this value pack is an excellent choice. Plus, soapy water is all you need before you get to work. The fact that you can use the product on multiple surfaces is also a bonus.
Griot's Garage Paint Cleaning Clay
This is the very same product we reviewed in the top section, but this time it's sold without the accessories. It's a paint-cleaning product that's highly effective at removing bird droppings, sap, brake dust, and all other light and heavy contaminants.
It's yellow in color, 226 grams, soft, and malleable enough to mold and flex as needed. It's a very large clay bar, so you'll be using it for quite some time. All you have to do is stretch and fold it to expose a fresh, clean side, or break off and use a piece at a time.
If you plan to wax and polish your car, the heavy clay bars are among the best products to prepare your surface with. They'll leave you with an ultra-smooth vehicle, making it easy for the wax to adhere to the paintwork, and the wax will last longer.
It's designed to work on different types of paint as well as on clear coats. However, you still need a lubricant to use with the clay bar, as it's not suitable for use with just soapy water. It might work, but it's simply not as effective as it would be with the right lubricant.
The bar is large enough to treat seven vehicles, or just one vehicle seven times, which makes it a great value. Of course, if you have heavy contamination, it might not last that long.
Features and Specifications
One 226-gram clay bar.
High-vis yellow color.
Storage container included.
What We Liked
Highly effective clay bar treatment.
Long-lasting.
Good size.
Yellow in color.
Easy to use.
Beautiful glossy finish.
Storage container included.
Soft, malleable, and flexible.
What We Don't Like
Needs a specialized lubricant and not just soap and water.
Summary
If you bought a Griot's value pack and still have the lubricant but need another bar, you can purchase this one separately. Just remember not to try and use it without lubricant.
Mothers Single Unit Speed Clay
This is one of the most versatile products out there, and works fast when it comes to surface preparation and paint restoration. It's almost as simple as washing your car, and it tackles both surface and embedded contaminants. It should do a great job of restoring all your surfaces.
This item has a patented rubber polymer technology that removes and sheds off contaminants. It features an ergonomic design that makes it easy to use, and it's reusable up to 20 times. Just rinse after use and store. It can even be rinsed clean after being dropped on the ground.
One of the features you might like about this bar is it works on multiple surfaces. It will restore your paint job, glass, chrome, and smooth plastics. It's red in color, which will reveal how much dirt you've picked up. You'll be able to gauge how much contamination you are dealing with in the first few passes.
Features and Specifications
Ergonomic design.
Cleans up to 20 vehicles.
Single bar.
What We Liked
Easy to use.
Ergonomic design makes whole clay bar process easier.
Reusable.
Highly effective.
Leaves a beautiful gloss.
Works pretty fast.
Red in color.
Soft and malleable.
What We Don't Like
Summary
If you already have Mothers' detailing clay lube but no bar, this is a good pick. It's durable, highly effective, and fast working – you don't, after all, want to be clay barring your car for hours on end. The fact it can be rinsed and reused is another plus.
Meguiar's Mirror Glaze Detailing Clay
If you have stubborn or severe contamination on your paintwork, this is one of the best products on the list to take care of it. It's a professional auto detailing product that is highly effective on multiple surfaces such as glass, plastic, metal, and paint.
It will work on most contaminants and is great for removing tar, sap, industrial fallout, fresh water spots, bug debris, and paint overspray. On the downside, it needs a specialized lubricant instead of just soap and water, so make sure you purchase that separately.
It'll leave your surfaces mirror-smooth once you have finished using it, making it an excellent choice in terms of final aesthetics.
Features and Specifications
Single unit.
Aggressive cleaning action.
200-gram bar.
What We Liked
Mirror-like finish.
Durable.
Aggressive and suitable for heavy contamination.
Works on multiple surfaces.
Non-abrasive.
Safe on clear coats and single-stage paints.
Storage container included.
What We Don't Like
May leave scratches if not used correctly.
Summary
Ideal for people looking to eliminate heavy paint contaminants from their vehicles. If this is your first time claying your car, this might not be an ideal choice, as it's rather heavy duty.
Chemical Guys Medium Clay Bar
Chemical Guys is another reputable company when it comes to car care products, so this might be a worthwhile purchase. It's completely safe to use on your paintwork and will remove all the contaminants and impurities that might ruin it.
It features flex technology that makes the clay highly effective at removing all that dirt. It's medium-grade strength and gray in color. Designed to eliminate years' worth of contamination or pollution, it's a good-value purchase.
The product is non-abrasive, so it works great on multiple surfaces, including glass, paint, metal, fiberglass, and plastic. It works on both new and old cars and is suitable for pre-wax cleaning.
It'll restore the shine and gloss to your car, RV, motorcycle, or even boat, and leave it looking fabulous. It also works great on Kevlar and specialty carbon-fiber surfaces. You need to use a dedicated lubricant, though, as the manufacturer does not recommend soapy water.
Features and Specifications
Medium-grade clay bar.
Flex-clay technology.
Gray color
Non-abrasive resin.
What We Liked
Medium grade for stubborn contaminants.
Smooth-as-glass finish.
Works on multiple surfaces.
Durable.
Soft and easily malleable.
What We Don't Like
Requires a bit more effort than other bars to use.
Summary
If you are looking to detail your car for the first time, this product is ideal. However, it's also efficient on newer cars. And as long as you get the right accessories, it's fairly easy to apply.
What Is a Clay Bar Anyway and How Does It Work?
Contrary to what some people think, these products are not literally made of clay. Instead, they're made of elastic, malleable compounds, making them super tacky and very ductile. They are very easy to mold or flatten into any shape and size you need.
You'll also find organic options made of natural materials. The synthetic types are the most popular, though, because they are more durable. That said, many people prefer organic or all-natural alternatives (despite the fact that any chemical or compound has its base in nature.)
When you rub this product across the surface of your car, it pulls all the contaminants out of the paint or clear coat. They do tend to be a little abrasive, so you should lubricate the surface of the car before you start.
It works by effectively scraping away unwanted elements, such as rail dust (metallic components embedded on the surface of your paintwork), carbon, and similar substances. If left on the surface for long, these paint contaminants spread under the clear coating or embed deeply into the paintwork, which then leads to pitting.
For more details, check our guide on how to use a clay bar.
Why You Might Need to Clay Your Vehicle
These products are an essential tool when it comes to car detailing. Brake dust, road grime, hard-to-remove tree sap (unless you follow our guide on how to remove tree sap from a car of course 😉 ), overspray, and industrial fallout embedded into the surface of the paintwork, leaving it with a rough, gritty feel.
You might wonder why you still feel that rough texture after washing your car. This is because contaminants are fully bonded to the car's paint surface or clear coat. Claying removes these particles safely, without harm and without scratching or removing the paint.
One of the most significant benefits of using these products is the lustrous and smooth finish you're left with. After claying, waxing on a super-slick surface is easier and more effective. The wax coating will also last longer and protect your car for an extended period.
Claying Versus Polishing: Is There a Difference?
These are two entirely different things, and both are necessary. Most people think that using a clay bar replaces the need for polishing. On the contrary, the only thing clays will do is remove contaminants from the surface. However, the clear coat finish on your car can suffer from acid rain, hard water spots, swirls, and scratches, from various things.
Claying is not a solution to these problems, but polishing is. Polish helps to remove all these paint defects, together with any old wax, and restores the surface. Claying will, however, reduce the amount of polishing you have to do to keep the car in excellent condition.
What Types of Clay Bars Are There?
The most significant difference between different types is the aggressiveness of the treatment, known as the grade, or grades of the clay. Typically, there are three different grades, namely heavy, medium, and fine. Let's take a look at each.
Heavy Grade
Heavy-grade products are rough and designed to remove deeply adhered and embedded contaminants, impurities, and overspray. These tend to leave a haze, so polishing straight after use is highly recommended.
They work very quickly, but if used on sensitive paint they will leave some defects. Most experts will advise you to leave this grade to the professionals.
Medium Grade
Medium-grade clay bars are made to remove stubborn impurities and contaminants that won't come off with fine clay bars. These might also leave a light hazing or micro-marring, so polishing afterward is highly recommended.
Fine Grade
Fine-grade products should remove lightly embedded contaminants and are the most popular. These are less coarse, easy to knead, and don't harm the finish in any way, unless it's really sensitive paint. However, they work slower than the first two grades.
Natural and Synthetic Clay Bars
We also mentioned earlier that there are natural and synthetic options. Natural clay bars are highly effective, just as they are highly priced. They don't last long and have to be discarded after use.
Synthetic options, on the other hand, are durable and easily moldable, serving several uses before they need to be replaced. Some synthetic products can even be cleaned after falling on the ground, but note that this doesn't hold true for all the items we've reviewed.
Can They Only Be Used on Paint, or Other Parts of the Car, Too?
You can use these products on any hard surface, including chrome or glass. Avoid use on clear plastics though, such as headlights.
A pro tip is to use a fresh batch for your paintwork and then to get a second use out of the product by going over your windows. If your wheels have a clear coat or a powder-coat finish, you can also clay them. If not, steer clear.
Make sure you read the instructions that come with the product or kit as these will specify the areas and materials the products can be used on.
Can a Clay Bar Damage Your Paint?
A clay bar for your car is quite easy to use but just as easy to misuse. The sticky abrasive nature of the clay is the property responsible for removing contaminants from your car, not the friction nor the pressure of rubbing it against the surface.
All you need to do is slide the item across the surface and allow it to do all the work. If you have stubborn contaminants, simply make more passes across that area.
It goes without saying that if you drop the clay, you should discard it, as it will pick up dust and sand from the ground. Unless, of course, you've purchased a dedicated product that can be washed and reused.
Lubricating is extremely important when claying, because it prevents scarring or marring of the surface. It's possible to scuff the paint if you rub the clay bar on a non-lubricated surface. You can lubricate with soapy water or with a lubricating detailing spray.
Buying Guide: How to Choose the Best Clay Bar or Kit
Although most popular with automotive professionals, these products are a great investment because you can use them at home and achieve similar results without the cost of hiring a professional. They are relatively inexpensive and user-friendly, so you can give it a try without too much risk.
Here are some factors to consider when choosing the best option for you.
Kits or Bar Only?
Choosing a kit or a bar only really depends on you. If you just want to try it out and give your car a little touch-up, you might go for the latter option. You'll still need to lubricate the vehicle though.
A kit will give you more value for money as it includes several accessories. Some kits come with a clay bar and clay lubricant, while others include microfiber towels to help polish the car once you're done claying. Some include gloves as well, but this depends on the brand.
Size
The size of the product is important because it will determine the overall value. If it's large, you'll be able to use it several times.
The shape doesn't matter at all, as you'll have to knead and mold it, which means it's going to change anyway. You'll also need to rip off small pieces to make it easy for you to clean small areas.
Types of Lubricant
We have already established that these products cannot work without a lubricant. Some bars work just fine with soapy water, which is convenient. However, such bars are designed for basic cleaning and touch-ups and won't provide a high-quality finish.
Most options on the market require a synthetic lubricant specifically designed for the job. These lubricants usually contain ingredients such as wax, which works together with the bar to create a shiny gloss finish.
Eco-Friendliness
In general, these products don't contain any harmful ingredients, as they're made from resins. However, it doesn't hurt to check what they're made of before making your purchase. Harsh chemicals will not only harm the environment, but they may harm your hands while you're working with them too.
Color
Clay bars for detailing come in many colors, and most people think the color is insignificant, but it's actually not. You see, the color of the product is very helpful when it comes to determining how dirty your car is and how much you've cleaned it so far. It can act as a guide to whether you're claying correctly or not.
Light colors clearly show all the dirt you've picked up, whereas it's quite hard to tell how much dirt you've collected when you're using a dark-colored bar.
Are Clay Bars Easy to Use?
A traditional clay bar is pretty straightforward to use. Once you spray the lubricant on the surface (or soap up your vehicle), you just have to knead the bar to flatten it and start rubbing.
Make sure you detail your car in a cool and shaded area. If you use the product on a hot car, it will soften and make a mess. It'll also get sticky in your hands, and you won't be able to get the job done. The lubricant will evaporate in direct sunlight as well.
Looking for visual details on using this product? This handy video has lots of good information:
Conclusion
Car clay bars are handy and effective products when it comes to detailing a car. In most cases, using these products not only restore shine, but will also protect your car's exterior and paintwork from damage and pitting.
We feel that the Mothers California Gold clay kit is the best clay bar kit on this list, as it features everything needed for a smooth glossy finish. It comes with all accessories, it's easy to use, and it works on multiple surfaces.
If you have used any of these products, or have a personal favorite, we would love to hear about your experiences. Just leave us a note in the comment section below. And if you have a question, we are also more than happy to help.