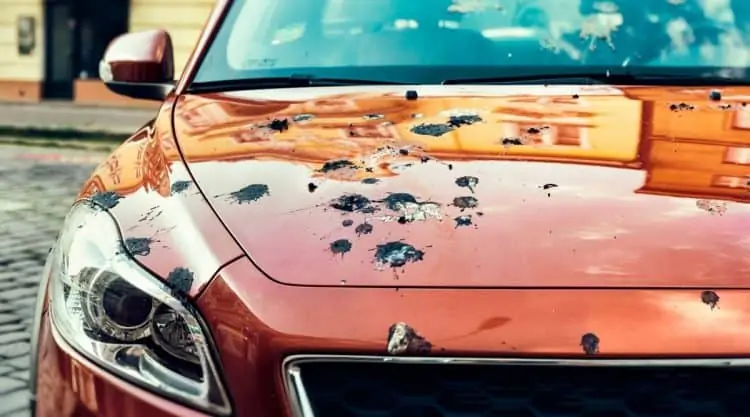 Our vehicles are exposed to a whole lot of different contaminants and pollutants on a daily basis, many of which we can't do all that much to avoid.
Pollen, exhaust smog, grime, road salt, tree sap — you name it. Unless you wrap your car in cling film before leaving home, a lot of it is unavoidable.
The good news is that most of the aforementioned debris isn't too visible. That doesn't mean they aren't harmful to you or your vehicle, but you can at least wait a while between washes.
This isn't true of everything your vehicle can get hit with when you're out and about, though.
In this article, we'll be talking about animal waste that can get on your vehicle – in particular, bird poop stains. Bird poop on cars isn't just unsightly, but enough of it can become a driving hazard and/or cause damage to your paintwork.
In the following sections, you'll learn how to distinguish between the different varieties of bird poop and why they're bad for your paint job, and we'll also discuss all the methods you can use to get rid of bird poop on your car.
We've also listed the techniques you should avoid using, since these might make the situation even worse.
Key Takeaways
Park Carefully – Avoid parking under trees, telephone cables, or bird-rich buildings.

Decide on a Deepooping Method – You can use baking soda, car detailing spray, WD-40, or specially made wipes.

Use a Deterrent or Cover – Car covers are ideal if you have to park in poop-prone areas. If you don't want to use a cover, rubber snakes may also do the trick!
How Can I Clean Bird Poop off My Car?
If the feces are fresh, acting quickly with the following steps will depoop your ride in no time (if the poo is old and hard, move on to the other methods below).
Gather Equipment Needed
Gloves.
Paper towels.
Bucket.
Car shampoo or mild detergent.
Access to a water source.
Sponge.
Step-by-Step Instructions
Get your gloves on – avian waste can be packed with bacteria.
Wipe the poo stain away with a paper towel. Wipe from the bottom up to prevent it oozing down your vehicle, and press the sheets down firmly. Lift the mass up and away, scrunching the towel up in a ball.
Wipe away any leftover droppings that you didn't catch. Toss all the dirty paper towels in the trash.
Wash the surface thoroughly with your detergent of choice and water.
Dry and polish the surface you just cleaned with your microfiber cloth.
How to Use WD-40 to Remove Bird Poop on Cars
Many of you likely already have a canister of WD-40 at home.
This penetrating oil is safe to apply to your car's paint and it can help to loosen age-old droppings that are tough to remove.
Equipment Needed
WD-40.
Gloves.
Paper towels.
Car shampoo or mild detergent.
Access to a water source.
Sponge.
Bucket.
Step-by-Step Instructions
Put your gloves on.
Spray a generous amount of WD-40 on the dropping. Keep a paper towel nearby and hold it underneath to catch any drips.
Let the WD-40 take effect. For bird droppings that have been on your vehicle for a long time, you may want to give it at least one minute.
Try wiping the dropping off with a paper towel. The bulk of the mass should come off without a struggle.
Fill up a bucket with water and your vehicle shampoo. Remove any leftover pieces with your sponge.
Rinse off the soap and examine the surface. If you see that it's still greasy from the WD-40, or there's any waste residue, wash it again.
Dry off the part you just cleaned with a microfiber cloth and polish it.
How to Use Baking Soda to Remove Bird Poop
If you don't have WD-40 and you don't want to buy it just for this task, you can also use baking soda. It should work on dried droppings, whether they're recent or old.
Gather Equipment Needed
Gloves.
Baking soda.
Spray bottle.
Car shampoo or mild detergent.
Access to a water source.
Sponge.
Bucket.
Prepare the solution. Mix two tablespoons of baking soda with half a quart of hot water, and pour the solution into a clean spray bottle.
Don your protective equipment to shield you from bacteria.
Spray the dried poop with the baking soda mixture.
Wait. If the waste is a couple of days old, a few minutes should be sufficient. For older dried waste, wait for 5–10 minutes.
Use a paper towel to wipe away most of the solid bird mess.
Wash off any residue with your sponge and car shampoo or mild detergent.
Rinse the surface off with clean water. You can also use a wet cloth if you don't want to wet surrounding areas.
Dry off the freshly washed car surface. You can also polish it with wax for extra effect.
How to Use Car Detail Spray to Remove Bird Poop
Detailer sprays work to eradicate traces of mild to moderate contamination and won't harm your car paint when used properly.
Equipment Needed
Gloves.
Detailing spray.
Paper towels.
Microfiber cloth.
Put your gloves on.
Spray the droppings with detailer. Apply your detail spray to the droppings. Don't leave any part of the mess dry.
Wait for a brief moment. If the poop has been on your vehicle for weeks, give it a minute or so.
Wipe the residue off. The detailer should have dissolved most of the poop. If any spots are leftover, remove them with a paper towel.
Re-apply detailer and polish. Spray a small quantity of detailer on the area. Polish it with a cloth as you would normally.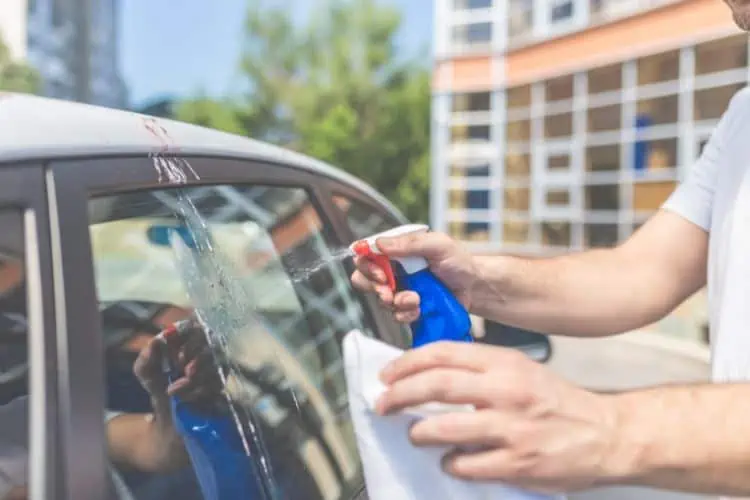 Consider Buying Bird Poop Car Wipes
Bird poop car wipes are great to keep in your trunk to wipe off droppings as soon as they're found, and avoid having a headache and uric acid problem to deal with as time goes by.
Going to a Professional for Bird Poop on Car Paint: What to Expect
If you're too squeamish to handle the job on your own, or you don't have the time to take this task up yourself, you have two choices: You can either go to a gas station car wash, or to a professional detailer.
Some car washes have big scrub brushes available that can loosen the dried poop before you take your vehicle through the wash.
A professional detailing shop will get your vehicle poop-free. The downside is that it will cost you anywhere from 50 dollars to upwards of 150 dollars.
What Should I Avoid Doing When Trying to Get Rid of Bird Poop on My Car?
Now you know how bird droppings damage your vehicle and how to avoid it, it's time to learn how to avoid damage done by your own hands in the cleaning process.
It can be tempting to reach for the strongest chemical you have to remove bird poop, but that's not a good idea. Powerful bleaches, grout-eating gels, and similar products could make for a speedy cleanup. At the same time, these substances can eat through your paint and plastics
Likewise, using soda like Coca Cola to dissolve droppings might be effective and cheap, but this success could come at a cost if you leave any residue behind. Soft drinks are acidic, meaning you don't want them anywhere near your vehicle. Given enough time, certain sodas can even corrode aluminum.
Finally, don't use a razor edge or other sharp tools to scrape off droppings. No matter how cautious you are, you could end up scratching the surface underneath.
How to Prevent Bird Poop From Getting on Your Car
There's no absolutely guaranteed method to stop birds pooping on your car. With that being said, there's still a lot that you can do to protect your vehicle from bird poop when it's stationary.
Watch Where You Park
Before you park, take a look around. Are there trees right above you with more birds than the Central Park lady in Home Alone 2? How about a building close by that's covered in black and white splatters that indicate it's a natural habitat for airborne bombers? What about light posts, telephone wires, or cable wires with a whole posse of avians on them?
If so, this is the kind of parking area you want to leave to the neighbors!
Use a Car Cover
It isn't always possible to be selective when it comes to parking, and you may oftentimes be obliged to park in the same spot, one that just so happens to be a hotspot for many birds.
If this is the case, buy yourself a sturdy, easily washable cover for your vehicle. You'll have to clean waste off it periodically, but less frequently than on your vehicle itself.
Get a Rubber Snake
Rubber snakes are like scarecrows for your car. They won't scare off eagles and raptors, but they will discourage other birds.
Why Do Birds Poop on Cars?
If your vehicle is frequently bombed by droppings, don't take it personally, but do try to ask yourself a few questions.
Are you unknowingly advertising your car as an avian waste disposal center? Why does it seem like you get hit more often than others?
Just like rodents and other small creatures, avians go whenever they feel like it.
However, we all know that most birds spend most of their time hanging out in trees, which places your car's roof, hood, and windshield in the prime landing zone for poop if you park under them.
Research has also shown that birds prefer to poop on certain color cars. The most pooped on, apparently, are red cars (followed by blue and black), while the least pooped on are green cars.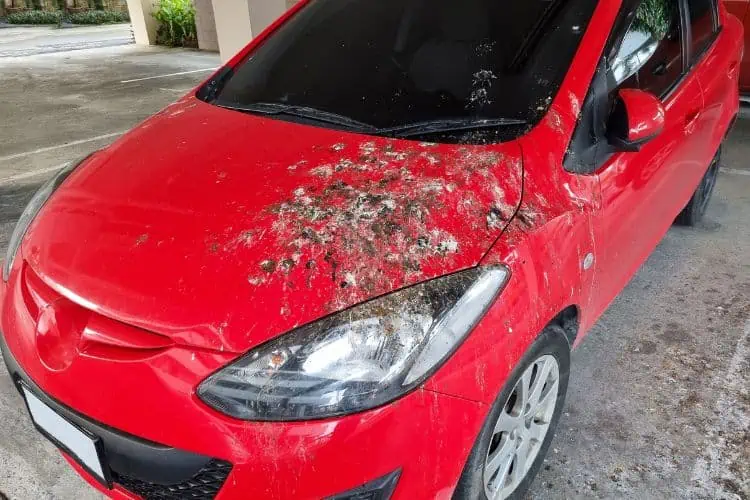 What Happens If You Leave Bird Droppings on Your Car?
Bird poop damage on cars is very real, especially if it becomes dry bird poop.
Ignoring the splatters can be bad for both you and your vehicle. There are health risks to think about, as well as car paint damage from bird droppings on cars. (Take it from us: it can become very hard to recover the car paint afterwards).
Avian droppings can also be a health hazard. Viruses like avian influenza type A are spread in the saliva, feces, and mucus of the infected animal.
If the waste is on your door jamb, you could come into contact with it by accident. Family members with weak immune systems, or children, are at a greater risk.
Droppings are a known decaying agent for outdoor metal structures (e.g. statues). They're composed of, and can produce, corrosive compounds as they rot. Some examples include uric acid (urine) and the nitrogenous wastes found in urates.
Unsightly
Even the nicest-looking vehicle can be marred by a sizable clump of avian doo-doo. Those of you who are especially proud of your cars will want to get the waste off quickly.
Conclusion
By now, you probably know more about avian droppings than you ever wanted to.
You're also informed about the risks they can pose to your vehicle. On top of this, you're now also aware about how that waste can be hazardous to whoever comes into contact with it.
We know that no one looks forward to cleaning off bird poop on cars, but it's something we all have to do at one point or another. So, pick one of these methods and get to work — the faster you get this stuff off your vehicle, the better!