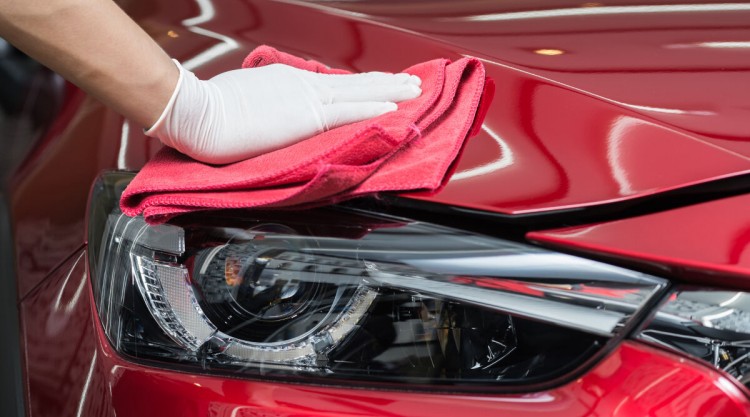 Note: Clicking the above links will take you to further information, current prices and customer reviews on Amazon.
The external condition of your car — the paintwork — is important, and not just for the sake of appearance. Paint shields your vehicle's body from the elements. Think of it as the car equivalent of your skin.
But let's admit it — to most of us, appearances matter too. Paint is the image your vehicle presents to the world. You want to be proud of your car, and keep it looking new.
Here's where car paint sealant comes in. This product can keep your car looking great while preserving and protecting your paint job.
In this article, we'll help you find the best car paint sealant for you and your vehicle. You'll also learn what car paint sealant is, the various types available, and the difference between wax and sealant. Before that, though, we'll review a selection of the best car sealants on the market and reveal what you should consider when shopping to find the right sealant for you.
Quick Links to Our Top Recommendations for Best Car Paint Sealant
Note: Clicking the above links will take you to further information, current prices, and customer reviews on Amazon.
Best Car Paint Sealants – A Detailed Look at Our Top Recommendations
We've reviewed what we consider to be the best car paint sealants on the market. Read through our list to find out which one will work for you.
Chemical Guys Jetseal Anti-Corrosion Sealant and Protectant
The Chemical Guys JetSeal Paint Sealant is suitable for nearly all your vehicle's surfaces. It can be used on glass, plastic, and metal surfaces, as well as on glossy paintwork.
One of the standout features of JetSeal anti-corrosion sealant and paint protectant is ease of use. You can apply it by hand with a microfiber cloth or with a polishing machine.
As this sealant can go on any external surface, you can apply it freely without worrying about streaking your lights or windows. Even if your vehicle is covered in decals, this sealant won't ruin them. This makes for quicker application time. Additionally, non-painted surfaces will benefit from protection. It will get your vehicle's chrome, glass, and plastics shining too.
The JetSeal formula includes acrylic polymers that bond to your car's paintwork. You can expect protection against everything, from road grime to UV rays. The sealant also repels water, which is perfect for those of you with off-road vehicles. You can use it on your RV, motorcycle, or truck. As you might expect from the name, JetSeal can also be applied to airplanes.
Specification and Feature List
Bottle capacity: 4 ounces, 16 ounces, or 1 gallon.
Nanopolymer formula.
Mirror finish.
Suitable for paint, glass, metal, and plastic surfaces.
Can be applied with a machine or by hand.
Lasts for up to 12 months.
Takes 12 hours to bond.
What We Like
Can be used on any surface.
Decal-friendly.
Rapid application.
Guards against heavy-duty threats.
Great paint protection.
What We Don't Like
Many users find it doesn't last as long as claimed.
Summary
If you want a sealant that'll work for your entire vehicle, including the windows and lights, JetSeal is a great choice. It'll protect your vehicle from mild to severe external threats and can be applied fast. However, it doesn't seem to be as long-lasting as the manufacturer says, so be prepared to reapply sooner than every 12 months.
Wolfgang Concours Series Wg-5500 Deep Gloss Paint Sealant 3.0
This formula will appeal to those of you who prioritize your vehicle's appearance. It's a sealant that is sure to give any paintwork a glossy, wax-like shine.
If you love the way your vehicle looks when waxed, this product is a good choice. The warm, glossy shine will last for months instead of weeks.
Washing your vehicle to prep it might be time-consuming, but applying the sealant won't be. This product buffs off effortlessly without smearing or streaking.
One bottle will last you longer than you think. If you're going to be using it on a car or truck, a 16-ounce bottle should be more than enough as a few drops are enough to cover a big section.
This sealant relies on polymers to bond to the surface of your vehicle. It protects against everyday dust, grime, and debris from the road. You can apply it by hand or with a machine, depending on your preference.
The moderate protection of this product is great for new vehicles. Reapply it as needed to keep your vehicle pristine.
Specification and Feature List
Bottle capacity: 16 ounces or 128 ounces.
Suitable for all types of paint.
Lasts for up to six months.
Polymer formula.
Can be applied with a machine or by hand.
Takes 12 hours to bond fully.
What We Like
Ideal for preventative care.
Waxy-looking shine.
Easy to buff off.
Unlikely to streak or smear.
A little goes a long way.
What We Don't Like
Shine begins to fade after one month.
Can stain rubber or plastic surfaces.
Any moisture can prevent sealant from bonding.
Summary
If you want the striking glow of vehicle wax without the effort of repeated applications, this deep gloss sealant is ideal for you. Just keep it away from the plastic and rubber trims. This product can also be used to keep the paintwork on new vehicles protected, with repeat applications.
Meguiar's M21 Mirror Glaze Synthethic Sealant 2.0
Meguiar's M21 sealant is perfect for users who dread car-related chores; people of all experience levels can apply it with a standard polisher. If you don't have one available, it can be applied by hand with a microfiber cloth.
You won't have to worry about precise movements or buffing in the right direction. Streaks are unlikely to appear, no matter how you wipe it off. You won't have to put much elbow grease into the job either.
This product will repel everyday grime and dirt from your vehicle. It's also hydrophobic, meaning water will bead on your paintwork instead of staining it. If bird poop on your car is a problem for you, this sealant will do the trick, too.
A major advantage of Meguiar's M21 product is its restorative properties. This polymer-based sealant can reduce the appearance of fine swirls or scratches.
To add to the ease of application, you don't have to soak your cloth or polishing pad. It's also a great option if you have more than one vehicle to treat. A small quantity of this product goes a long way.
If you accidentally get any on your vehicle trimmings, don't panic. Unlike many other formulas, it can be removed without much hassle.
Specification and Feature List
Bottle capacity: 16 ounces or 64 ounces.
Machine application recommended.
Lasts for months.
Mirror-glaze finish.
Polymer formula.
Bonding time depends on external climate (g. humidity and heat).
What We Like
Gets rid of fine imperfections on paintwork.
Repels water, dirt, and dust effectively.
Resists bird poop.
No need to use much product.
Buffs off easily.
Won't permanently stain plastic trims.
What We Don't Like
Less effective in humid climates.
Doesn't work as well on older paintwork.
Vehicle must be spotlessly clean for best results.
Summary
If you want a formula that's resistant against everyday weathering, this one will do the trick. It'll also work well for those of you who want to get rid of small flaws in your paintwork.
Trinova Paint Sealant – 18 Oz
If you value quality and durability, you'll like this product from TriNova. Once applied, this sealant will protect your vehicle for a good length of time before needing re-applying. The flawless paint shine it leaves will keep your vehicle looking new for several months. The results can be felt as well as seen. Your paintwork will feel smoother to the touch afterward.
Application instructions recommend using a fine coat, which is all you'll need, so the 18-ounce bottle will last you for several applications.
This formula is strongly resistant against all sorts of grime and dirt. Tough debris such as dead bugs and bird feces will come off with ease. It also works against heavy-duty threats to your vehicle's paint and the harmful effects of UV light. As with the shine, the repellency will endure the test of time.
The application process is straightforward. In half an hour, it's dried and ready to buff off.
Specification and Feature List
Bottle capacity: 18 ounces.
Can be applied with a machine or by hand.
Polymer formula.
Mirror-like wet finish.
Lasts for six to eight months.
Takes 30 minutes to dry.
What We Like
Paintwork feels smoother after application.
Powerful repellent.
Renews old paintwork.
Intense mirror shine.
Durable.
Robust UV protection.
What We Don't Like
Might need to be wiped down several times to buff out streaks.
Preparing your vehicle for application is time-consuming.
Summary
One of the top car paint sealants for users without indoor vehicle storage. As specified, it will keep your vehicle shiny and protected for months. Application is quick, although preparation will take some time — but it will be worthwhile in the end.
Carguys Hybrid Wax Spray Sealant
CarGuys Hybrid Wax spray sealant is a versatile, multi-purpose product.
To begin with, it's appropriate for any surface on your vehicle. Unlike other formulas of its kind, this product won't stain plastic, chrome, etc. You can also use it on your vehicle's windows and mirrors without worrying about streaks or haze.
This means that applying it to your vehicle won't be a painstaking process. The spray bottle also allows for easy, rapid application. You can cover a midsize sedan in 15 minutes or less. You'll also receive a microfiber towel included with your purchase, which is an added bonus.
The finish of the Hybrid Wax spray sealant is glossy, similar to that of wax. Despite the name, it's made of polymer-based ingredients for durable protection. According to the manufacturer, it does contain liquid carnauba wax as an ingredient and this is why they refer to it as a "hybrid."
It will repel dust, grime, and water, and also protects your vehicle against UV light. One application will last you from three to six months. How often you wash your vehicle and environmental factors will influence the lifespan.
Specification and Feature List
Bottle capacity: 16 ounces or 128 ounces.
Suitable for paint, chrome, plastics, glass, rims, and more.
Polymer formula.
Glossy finish.
Lasts for three to six months.
Comes with a microfiber towel for hand application.
Dries in 30 minutes.
What We Like
Rapid, easy application.
Dries fast.
A little spray goes a long way.
Won't leave streaks, smears, or swirls.
Free microfiber towel included.
Powerful water repellant.
What We Don't Like
Spray turns to thick goop if the vehicle is even slightly warm.
Dries a bit too fast in warm conditions.
Summary
If you're looking for a sealant that's quick to apply and a powerful water-repellant, CarGuys Hybrid Wax might work for you. Those of you who don't want to mess around with pouring out liquid will like the spray bottle applicator. This product is all about convenience.
Klasse High Gloss Sealant Glaze – 33 Ounces
Klasse high-gloss sealant glaze offers heavy-duty protection. It defends against saltwater, acid rain, UV rays, and industrial pollutants.
Everyday road grime is repelled by this product too. If your vehicle often gets hit by bugs or bird feces, fighting to scrub them off will be a thing of the past as they'll wipe off easily.
This product can be used on almost any vehicle. It's non-abrasive and anti-static, meaning safe to use on all sorts of surfaces. Glass, fiberglass, metal, plastics — it covers more than just your paintwork. You can also use the Klasse high gloss glaze on more than just your vehicle. It can be applied to enamel, tiles, Formica, and other non-porous surfaces.
One application will last you for up to a year, though you can apply additional coats throughout the year to boost shine and protection. It has a liquid rather than a viscous consistency, which makes applying it less of a chore than some others.
If you're only using this sealant on one midsize vehicle, one bottle could last for years.
Specification and Feature List
Bottle capacity: 33 ounces.
Mirror finish.
Acrylic formula.
Can be used on all paints, plastics, glass, fiberglass, and metal surfaces.
Also compatible with tiles, Formica, enamel, and non-porous surfaces.
Can be applied by hand or with a machine.
Anti-static and anti-abrasive.
Takes 30 minutes to dry.
What We Like
Can be used on your vehicle and in your home.
One bottle can last you for years.
Mirror finish.
Heavy-duty protection.
Once-yearly application.
What We Don't Like
Not as effective on oxidation or older paintwork.
Harder to polish in warmer climates.
Excess product is hard to remove.
Summary
The strong formula of this product is perfect for year-long protection against nearly all external threats to your vehicle's paint. One bottle will keep you in car paint sealant for years, as long as you're not using it on multiple vehicles. It's great for using around the home, too.
Chemical Guys V7 Gloss Spray Sealant and Quick Detailer
If you want a quick, glossy finish on your vehicle, this is possibly the best auto paint sealant out there. The convenient spray bottle will definitely speed up your application time.
The Hybrid V07 gloss spray is appropriate for any car surface. It'll keep the dust and grime from building up on your paintwork, plastic, and glass. As the name suggests, the spray also acts as a detailer. If you notice watermarks or fingerprints on your vehicle, this product will remove them.
All you have to do is spray it on and polish it off. You don't have to get out the soap and water to clean your vehicle off first.
The shine this product provides is akin to a professional job. In fact, the deep glossy finish will make it look as if you just had your vehicle detailed. Your paintwork will also feel sleek to the touch afterward.
You'll also see a reduction in dust and grime build-up and fewer water marks after rainfall. While the protection lasts, your vehicle will be shielded from UV light.
Specification and Feature List
Bottle capacity: 4 ounces, 16 ounces, 64 ounces, or 1 gallon.
Can be used on paintwork, plastics, and glass.
Hand application recommended.
Glossy finish.
Polymer formula.
Instantly bonds to your vehicle.
What We Like
Striking finish.
Great for quick detailing.
High-gloss shine on lighter-colored vehicles.
Can be used for spot cleaning.
Fast and easy to apply.
Good on everyday road grime.
Prevents watermarks from rainfall.
What We Don't Like
Can leave streaks on darker vehicles.
Must be applied frequently for consistent protection.
Summary
If you want your vehicle to look like it was just professionally detailed, the Hybrid V07 gloss spray sealant and detailer is for you. It's ideal for touch-ups between polishes and washes.
Adam's Paint Sealant – 6 to 8 Month Protection: 8 Ounces
This acrylic polymer car paint sealant can be applied outdoors without any issue. Unlike some other formulas, it won't change in consistency or texture if exposed to sunlight.
Applying the sealant can be done by hand or with a machine. Either way, this product is simple to put on and a little will spread far. Additionally, this car paint sealant has a pleasant, grape-like scent. You don't have to be precise when it's time to wipe it off, either, as the formula isn't prone to streaking or swirling.
It will keep your glass protected too. It won't leave a haze, like some other brands. This car paint sealant will leave your vehicle with a hard mirror finish. The paintwork will also feel noticeably smoother to the touch once you're done.
When used, your paintwork will repel water, dust, and grime. It's particularly effective against water — if you live somewhere prone to frequent rainfall, Adam's is a good choice.
Specification and Feature List
Bottle capacity: 8 ounces.
Acrylic polymer formula.
Suitable for paintwork and glass.
Can be applied by hand or with a machine.
Lasts for six to eight months.
Mirror finish.
What We Like
Can be applied outdoors.
New-car mirror finish.
Pleasant smell.
Small amount goes a long way.
Capable repellent against rain.
Easy to apply and buff.
What We Don't Like
Requires thorough cleaning and preparation of the paintwork beforehand.
Doesn't endure as long as advertised.
Summary
This car paint sealant is hydrophobic and can be applied outdoors. If you don't have a garage and you hate watermarks, this product is the right fit for you, although your car should be thoroughly washed before you use it.
Why Should You Use Car Paint Sealant?
The paint on your car is designed to last as long as possible but it can and does degrade over time. Sunlight, rain, snow, and other natural elements can wear it down, as can pollution.
Automotive paint is made from the same core ingredients as other paints. These include pigment, binder, and solvent (or carrier agent). The exact composition of these ingredients is dependent on the application. You can't use any old paint on your vehicle and expect it to work.
Pigment gives the paint its unique color. The binder is what keeps the pigment in the right place by allowing the paint to harden and dry when exposed to air. The solvent is what enables you to apply the paint. It keeps the binder liquid until you apply the paint to your vehicle. The chemical composition of all the primer, binder, and solvent is specific to the manufacturer.
As said earlier, the paintwork on your vehicle does more than just make it look good. How? Additives such as silicones keep the paint resistant to weather and climate changes. Other useful additives boost scratch resistance and lower the risk of corrosion.
Over the years, your vehicle's paint will lose these beneficial attributes, through wear and tear, extreme weather conditions, etc. In turn, your paint surface will be at higher risk of fine scratches, corrosion, and other damage. Sealants are an added layer of defense from these unpleasant consequences. Plus, they can refresh your vehicle's overall appearance.
Car Paint Sealant Vs. Car Wax – Which Should You Use?
You may have heard the terms sealant and wax used interchangeably. They share many similar characteristics. However, they aren't the same.
The purpose of car wax is much like that of car paint sealant. Namely, to buffer your paintwork from harmful contaminants, UV light, etc. Although they have evolved over the years, waxing products typically contain some natural ingredients.
Car wax manufacturers take advantage of waxes with valuable characteristics. One such example is carnauba wax — it can withstand high temperatures before melting. That's why it's sometimes an included ingredient.
Car waxes can also be made with petroleum distillates and hybrid compounds. For instance, carnauba wax modified with silicone.
The downside of car waxes as compared to sealants is that they have a shorter life span. This is because they're superficial. They don't bond to your vehicle's paint; they only sit on top of it.
Running your vehicle through the carwash, or repeated home cleaning with a car wash soap, will over time remove the layer of car wax. A few days of bad weather will also thin out that layer of traditional car wax or spray wax.
Car paint sealants, on the other hand, are always synthetic. These liquid products are made to adhere to your vehicle's paintwork. This means a chemical reaction takes place, physically bonding the formula to the paint. They can hold up against daily wear and tear in a way waxes can't.
The exact formula differs based on the brand. Many contain chemicals such as silica or silicon dioxide, an anti-corrosive agent that also serves as an additive in automotive paint.
Both car wax and sealant will give your vehicle a polished look. Nevertheless, the shine provided by the latter tends to appear "harder." The majority of these products result in a shine that is more like that of a mirror or glass.
If you're looking to give your car's exterior a softer, warmer glow, car wax is preferable. Keep in mind, however, that wax doesn't offer as much in the way of preservation. You'd have to wax your car regularly to sustain the protective layer.
If that sounds like a lot of hard work (and time) to you, car paint sealant is the better choice. One application can last you anywhere from several months to a year. They are also optimal for protecting vehicles that are used daily — or roughly. Take off-road vehicles, such as RVs or jeeps, for example.
If you're so inclined, there's no reason why you can't use car wax even after using car sealant for extra shine. If you don't know how, follow our guide on how to buff a car.
Type of Car Paint Sealant
There is a range of options when it comes to these products. You should be aware of what choices are available to you before you buy.
Acrylic, Polymer
There are two categories of car paint sealants: acrylic and polymer. Nearly all are polymers.
Polymer is a term from chemistry, referring to thousands of microscopic particles that are linked together. They can be either natural or synthetic polymer. When discussing vehicles, we need to look at synthetic sealants.
A substance can be made polymeric by undergoing a chemical reaction (including acrylic). Polymer car paint sealants form a sort of shellac over your vehicle's paint. This hard layer is what acts to seal the product.
Acrylic has numerous applications when it comes to automobiles. Acrylic mixed with silicone (acrylic silicone) can be found in acrylic car paint sealants.
Different Finishes
The finish is the final look of a car after you've used the product. Your personal preference and taste will determine the best car paint sealant for you.
Don't forget that this stuff can be difficult to remove. You want to be sure before you begin, that the finished look is something you'll appreciate.
Mirror Shine: This type provides a sleek, glassy shine. This category of finish offers the classic "harder" look of car paint sealants.
Glossy: A glossy finish is great for darker vehicles. This finish will give your paint job a smooth, deep shine.
Wet Look: As the name suggests, these will leave your car looking as if the paint is still wet. These types of car paint sealants will make your vehicle look fresh off the assembly line.
Durability and Level of Protection
Think about what you want to get out of your car paint sealant or ceramic coating spray. Factor in the climate and terrain where you live, as well as how you use your vehicle.
Remember that the formulas are contingent on the manufacturer. Some types guard against mild, moderate, and severe threats. Some work against debris and dust, but not much more. Others can hold up against acid rain or UV light exposure. If you don't have a place to store your vehicle, these sealants might be best for you.
Additionally, certain products have restorative properties. They can reduce the appearance of minor scratches on your vehicle if applied as instructed.
How Long Does It Last? How Often Must You Apply It?
Just like the formula, the durability of car sealants can vary. One application can last for one month, three months, or more.
If you find a product that you like, definitely consider the duration of the application. If it has to be reapplied every month or two, is this going to be an inconvenience for you?
How Easy Is It to Apply?
Based on the specific product, the application can be a breeze or a real chore. Check the instructions for a potential purchase to avoid trouble. Is it a liquid or a spray? Is it hard to wipe off or buff into a shine?
Most products can be applied either by hand or with a machine. If you have a polishing machine for your vehicle, you can purchase a product that requires this. If not, make sure you pick a type that can be applied by hand without streaking.
On the same note, car paint sealants can either be forgiving of human error or not. If you're already worried about streaks or swirls, pick one that's easy to apply and wipe off.
You should also take into account the drying time and vehicle preparation. You may have to thoroughly clean your car beforehand, with a special detergent or a clay bar.
If a product needs a long time to dry, proceed with caution. If you don't have a garage, you don't want rain spoiling your vehicle's finish before it dries.
Final Thoughts
Now you know a whole lot more about car paint sealants and what to look for when buying, we hope this article has helped you select the best car paint sealant for you and your vehicle.
Maintaining your vehicle's exterior is just as essential as the internal workings under the hood. Using car paint sealant can also keep your vehicle looking compliment-worthy, with a showroom shine.
If you have anything to add, questions, or feedback, please share your thoughts in the comments. We make it a priority to answer every reader!