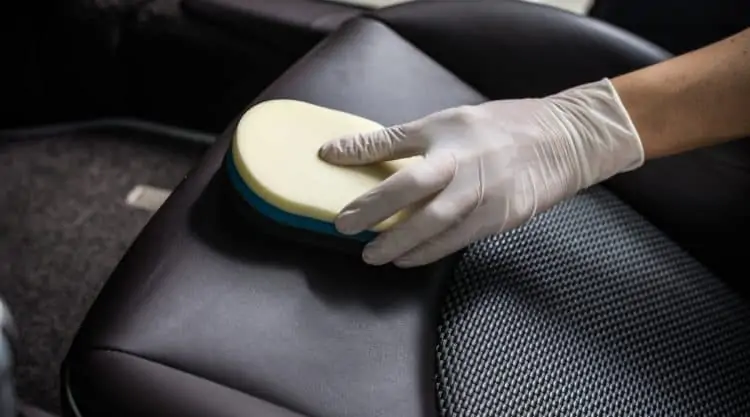 Leather seats are elegant, comfy, smell great, and can make you feel like a King/Queen, even if you're only driving a humble family vehicle. However, although leather is high-class, it's also high-maintenance.
The good news is being serious about cleaning will save you a lot of money down the road since you won't waste your money replacing them in the future. You just need to clean them on a regular basis to prevent cracking, fading, staining, and other signs of wear. But do you know how to clean leather car seats?
Just in case you don't know anything about upholstering, we've done the homework for you and found the easiest way to keep your leather car seats looking brand new. This article will explain the different types of leather, as well as the right way to take the grim off without damaging your seats.
Key Takeaways
Which Type? – Different leathers require different cleaning solutions. Be sure to check your upholstery and cleaning products are compatible before you get to work.

Surface Clean, Scrub, or Deep Clean? – The cleaning method you use will depend on your objectives and the severity of the task at hand.

Stain Removal – You can remove tougher stains with a variety of domestic products, such as toothpaste, hairspray, and nail polish removers.
What Tools and Materials Do I Need to Clean My Leather Seats?
Cleaning your leather car seats is a straightforward process. All you need is a good cleaning solution, something to scrub your seats with, and a microfiber cloth to dry them.
Homemade Cleaning Solutions
You can buy cleaning solutions for different leathers in your local automotive goods store. Better yet, you can make one yourself at home. If you're only doing a superficial cleaning, simple house cleaning products or vinegar can get rid of the grime on your upholstery for only a fraction of the cost.
Homemade solutions are a great alternative to commercial products. Besides being cheap, they're also mild enough not to wear down the leather fibers.
To make a simple homemade leather cleaner, combine one part of white vinegar and two parts of linseed oil in a spray bottle. Alternatively, you can also combine three parts vinegar and 1 part of water. Either way, you should test your solution on a small area of one seat before continuing.
Commercial Cleaning Solutions
You can find plenty of leather cleaning products on the market. But be careful with what you buy, as some are abrasive enough to damage your upholstery. To avoid this scenario, test your commercial solution on a small area of your seat first. This will make it easier to patch or hide if you screw up.
When buying a solution, you should choose the right kind for your leather type. Manufacturers make their products with one type of leather in mind. So make sure you read that label twice before you start.
If you can afford it, you should buy foam instead of liquid cleaning products. For starters, foam is much more efficient than any liquid on the market. Foam is also a safer choice because it prevents the kind of bleaching streaks that many liquid-based leather cleaners create.
Moreover, foam can penetrate into the leather. This means it can drive the dirt to the surface and so you can wipe it off with a damp cloth, instead of just moving it around, as is the case with liquid products.
Scrub Brush
Deep cleanings need some vigorous brushing. So whether you prefer a toothbrush or a regular scrub brush, make sure you add this item to your toolkit. Whichever option you choose, a soft-bristle cleaning brush is the way to go.
Alternatively, you can also use a paintbrush, since its softer bristles are less likely to damage your expensive leather seats. Just make sure you cut the hairs about halfway and don't apply too much pressure when scrubbing.
Microfiber Cloth
You'll need a piece of cloth to dry your seats and remove the dirt brought out by your cleaning solution. This could be any clean piece of rag or cloth lying in your garage, but nothing gets the job done better than a microfiber cloth.
Leather Wipes
Wipes are cheap and easy to use on leather surfaces. Carrying them in your glove compartment can save you a lot of trouble — especially when dealing with spills.
For extra convenience, make sure you buy the two-in-one wipes. These carry both a cleaning agent and a leather conditioner, so you can save time doing both things at once.
How to Clean Leather Car Seats – Step-by-Step Instructions
You can choose between different methods to clean your leather upholstery. To choose the right method, you need to know why you're cleaning your dirty leather car seats.
Did you spill a drink over your seats or do they look greasy because you were driving without the air conditioner on? Depending on the answer to these questions you can choose whether you need a superficial clean, scrub, or deep clean.
With each of the methods described below, you should first:
Use a vacuum cleaner or air compressor to blow out each seat before you start. Any surface dirt or objects on your chair could damage the fibers of the leather when you scrub. Also, make sure you use an upholstery attachment to avoid scratching the leather.
Only clean a small section at a time until you know how the leather will react to the leather cleaning solution you choose.
Don't let the solution dry up. All the dirt you've pulled out is in the solution. So make sure you dry each section immediately after scrubbing.
Superficial Cleaning
This method is quick and safe for your upholstery. If your seats look oily, sweaty, or you haven't cleaned them in a while, this will get rid of the dust and dirt lodged in them really fast.
Step 1: Spray your homemade solution over a small area of your seat and rub it gently with a towel. (For perforated leathers, pour the solution over a towel rather than directly onto the seat)
Step 2: Clean the solution with your microfiber cloth before it dries up. If your seats have heating, turn it on once you've dried them off with your cloth
Make sure to follow these steps once a month and your leather seats will look fresh all the time.
Scrubbing Cleaning
This one is a bit more aggressive and should help you clean off recent spills or stains. Remember that leather is a delicate material, so this isn't a method you should use too often.
Step 1: Depending on the size of the area to clean, grab a toothbrush, scrub brush, or paintbrush.
Step 2: Pour your solution or foam over the area and use circular motions and moderate pressure to get as much dirt out as possible.
Step 3: Use a microfiber cloth to wipe off the excess cleaning solution or foam before it dries up.
Deep Cleaning
Even if you clean your car seats on a monthly basis, dirt is still going to find a way into your leather seats. So the only way to get it out is by giving them a hot steam cleaning.
As a rule of thumb, you should give a deep cleaning to your leather car seats at least once or twice a year. This number can vary depending on use and the color of your upholstery (light-colored leather seats need it more often).
Step 1: Pour a good amount of foam or liquid on the area you want to clean.
Step 2: Use a piece of cloth or a brush to scrub the solution or foam over the area.
Step 3: Cover the head of your steamer's upholstery attachment and use it to steam the surface you're working on.
Step 4: Dry any area where liquid, foam, or dirt is left.
Step 5: Apply a leather sealant to stop your seats from fading, aging, or getting stained.
Note: If you don't yet have one, check out our guide to steam cleaners for cars.
How Do I Remove Stains?
When it comes to tough stains, it's best to remove them as soon as you can. But since commercial removers can do more harm than good on natural leathers, it's better if you use one of these home products to treat your stains:
Toothpaste. This will work great on surface stains. All you need to do is dab non-gel toothpaste on the stained area and then gently scrub the stain. Clean the area with a soft cloth or clean microfiber towel when you're done.
Nail Polish Remover. Pour a bit of nail polish remover over a cotton swab and rub it over the stain. Once it's gone, clean the spot with liquid dish soap diluted in warm water before you dry the area.
Hairspray. If you have an ink stain on your seat, use hairspray and let it sit for a couple of minutes before you wipe it with a towel.
Baking Soda. This is one of the best ways to deal with grease stains. Rub it over the stained area and let it sit overnight while it absorbs the oil. Then clean the area with a damp cloth before you dry it.
Talcum Powder or Cornstarch. This method is gentle on your leather seats but will remove grease spots without leaving any trace. Just rub it over the area and follow the same steps you use to clean with baking soda.
Lemon Juice or Cream of Tartar. The most effective yet dangerous method on the list. Use it only on light upholstery, as it can bleach some types of leather. Mix equal parts of juice and cream of tartar into a paste (test it before you use it). Rub it over the affected area and let it sit for 30 minutes before you remove it with a damp towel.
What's The Best Way To Condition My Leather Seats?
Once you've cleaned your seats, you want to use a leather protector or high-quality leather conditioner on them to complete the cleaning process. This will keep them soft, give them a pleasant smell, and also guard them against the elements.
Since leather is dead skin, it gets dry if you leave it on its own. Conditioner will make your upholstery look alive again and draw positive attention to your car interior. Choose one which is water-based and doesn't contain petroleum distillates or silicone — which would give a greasy, oily finish.
Leather conditioners can extend your upholstery's lifespan considerably. However, you shouldn't overuse them, as this can backfire by saturating your seats with an artificial solution.
To use a conditioner:
Give your seats a good cleaning and make sure that everything has dried up before you continue. If your seats have heating, turn it up just to make sure.
Pour a good amount of conditioner on each seat and use your hands, a brush, or a towel to spread it.
Wipe any excess conditioner with a microfiber towel and let it sit there for 20-30 minutes.
Make sure that you repeat this process every four weeks. If you do this, you'll have upholstery that will not only feel good but looks great and is less likely to crack in the future.
Why Is Cleaning My Leather Car Seats Important?
Leather seats add a luxurious touch to any vehicle, but they can age quickly if you don't take proper care of them. So before we talk about how to clean them, you should know what to watch out for.
All seats experience some level of wear and tear, but usually, the driver's seat takes the brunt of it — for obvious reasons. Every time you drive your car you scrape the surface of the seat, which over time adds up and can produce cracks.
Dirt is another agent that you should keep an eye out for. Not only will dirt make your car's interior look bad, but its abrasive quality will weaken the fabrics of your seat if you let it. With time, this will tear your upholstery and even fade its natural color.
Leather also does a lousy job at keeping liquids at bay, so if you don't clean your seats regularly, they will absorb your body oils and sweat, which will give them a glowing, greasy look.
However, if you clean your seats on a regular basis — say every month, plus a deep cleaning 2-3 times a year —none of these agents will damage them too much.
How Can I Identify Which Leather Seat Type I Have?
You should know the type of leather you're dealing with before you start. This way you can make them look as good as new without actually damaging the fabric. Most cars today use one out of four leather types: Aniline, Semi-Aniline, Napa, and Corrected Grain.
1) Aniline: Uses the highest quality hides to give the seat a natural bright color and extra softness. It looks great but can be a pain to clean. To make matters worse, it doesn't have a protective coating and lets water pass — which makes spills a recurring nightmare! Luckily, your car probably doesn't have these types of seats since production stopped in the 90s.
2) Semi-Aniline: Use the same dyes as full-aniline but with an added coating on the surface for increased resistance. They don't look as bright or feel as soft as full-aniline, but they do a better job at keeping water out and resist your daily wear and tear much better.
3) Nappa: Out of all the full-grain leathers, Nappa possesses the thickest coating and pigmentation. This makes it very durable while still allowing it to show off the natural beauty of an uncorrected leather piece. In other words: It may not look as beautiful as an aniline, but it still looks pretty damn good in your car!
4) Corrected: This is the kind you want if you have kids. Corrected leather uses inferior hides which manufacturers polish to smooth out any imperfection. It's the most common type used in vehicles today, and can still feel pretty soft despite being mostly artificial.
A simple way to find out the type of leather you have is to Google your car model. If you can't find anything then just pour a drop of water on your seat. Aniline doesn't stop liquids at all, so the drop should disappear immediately. With semi-aniline leather, it will take a little longer. If the drop slides off without penetrating, then it's probably Nappa or corrected leather.
Wrapping It Up
Cleaning leather car seats: done!
Now that you have clean leather seats, make sure you create and follow a fixed cleaning schedule from now on. It might seem like too much trouble at first, but once you get the hang of it, you'll be able to do it with your eyes closed.
Remember to park your vehicle in the shade, clean your seats every month, and only use the right materials and techniques to avoid damaging the leather.
Now that you're done with all of this, ready to move on to something else? Check out our guides on how to clean your car's windows (on the outside and inside), as well as all you should know about the optimal frequency of washing your car in general.