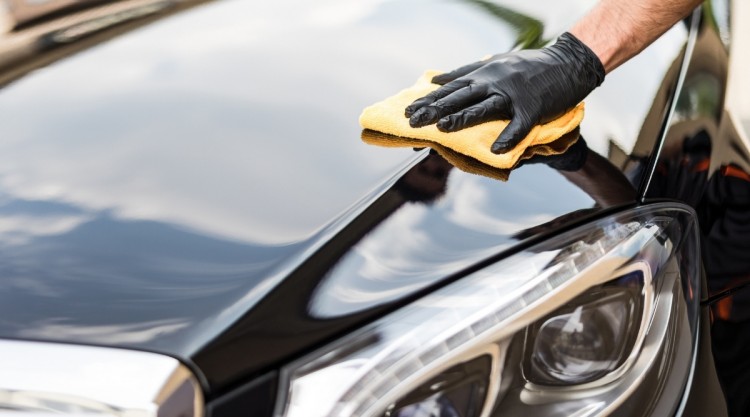 Own a black car?
The bad news is that black cars only look good when they're clean. If you've ever owned a black car, you will know how dirty they can get, and just how drab and dull they can appear between washes.
The good news is that there are dozens of great waxes out there that are capable of making your car's black paint shine and sparkle like it's just left the showroom. The options are numerous, but we've been busy separating the wheat from the chaff and in this guide introduce you to our favorites.
Below, you'll find detailed buying advice to help you choose the right wax for you as well as nine contenders for the title of the best wax for black cars.
Quick Links to Our Top Recommendations for Best Wax for Black Cars
Note: Clicking the above links will take you to further information, current prices and customer reviews on Amazon.
Best Wax for Black Cars – A Detailed Look at Our Top Recommendations
To help you choose the ideal product for your vehicle, we've taken the time to research the options and created a curated list of the best car waxes for black vehicles out there.
Pinnacle Natural Brilliance Pin-312 Souveran Paste Wax 8 oz
If there's one product on this list that car enthusiasts love, it's this carnauba paste from Pinnacle Natural Brilliance. It's made from Brazilian ivory carnauba and natural oils, which means it's a natural product containing genuine yellow carnauba.
Of course, the advantage of this ingredient is it offers a superior shine and makes the paintwork on dark-colored cars shimmer. Your vehicle is going to enjoy a deep and glossy finish. This is exactly why this is the chosen product for a lot of enthusiasts attending car shows. It's even said to create a three-dimensional appearance.
But this product isn't just about making your car look pretty. It's also about protection.
Carnauba offers excellent protection from water, dirt, and debris. This product has a butter-like consistency, which makes it easy to buff onto your vehicle. It's a bit pricey, but it's going to last for around 30 applications, so there's some definite value for money.
Features and Specifications
8-ounce jar, suitable for up to 30 applications.
Contains Brazilian ivory carnauba.
Protects for up to 90 days.
Suitable for vehicles with dark paintwork.
Can be layered for protection.
Includes a microfiber towel and pad.
What We Like
Streak resistant.
Fantastic deep gloss finish.
Protection from dirt, salt and weather conditions.
Works well on all colors.
What We Don't Like
Small jar for the price.
The paste is more effort than liquid or spray waxes.
Doesn't provide long-term protection.
Summary
There is no doubt that this carnauba-based product is superior to many other waxes on the market. You can enjoy a wet-looking shine that's going to dazzle on the road. In addition, you will have peace of mind that your vehicle is protected from the weather, come rain or shine.
While this may offer good protection for your vehicle, it doesn't last as long as others. It needs to be reapplied after about 90 days, which is a well-known downside of carnauba-based products. But this particular product can be layered, so if you've got the time, you can re-apply it every few months to enjoy full protection from the grime on the roads.
One thing you can't ignore with this one is the price tag. It's a lot higher than many products on this list, and it won't be affordable for everyone. What we would say, though, is it can be used on any color car and it should last for up to 30 applications, so despite the higher price tag, it will be around for a while.
Meguiar's G18211 Ultimate Paste Wax – 11 Oz.
This product is made from full synthetic polymer wax, which is going to provide your vehicle with excellent protection from dirt and grime. In particular, the hydrophobic polymer technology means that any rain and contaminants simply roll right off your car.
In addition, we love this product because it's long-lasting and durable. This means your car is going to be protected far longer between waxings than with carnauba. This product also offers enough shine that your car will dazzle in the sunlight.
A common problem with car waxes is they can leave white stains if you accidentally get them on plastic and rubber. This is especially true for carnauba. But you don't have to worry about that with this product.
Features and Specifications
11-ounce tub.
Microfiber towel and soft foam applicator pad included.
Contains synthetic polymer wax.
Suitable for all glossy paintwork on vehicles.
Water-beading capabilities with hydrophobic polymer technology.
Uses thin film technology for easy application.
What We Like
Excellent water-beading abilities.
Long-lasting protection.
Creates reflection and shine.
Easy to apply to paintwork.
Can be applied in the sun.
What We Don't Like
Paste requires more work than other types.
Summary
Generally speaking, this product from Meguiar's is impressive. It offers all the benefits of synthetic waxes, including durability and long-lasting protection. While carnauba is better for a deep glossy finish, this product still makes your car look attractive, and the shine will last longer.
If you're looking for a quick waxing product, this may not be the best one for you. While it's easy to apply, it's still going to take longer than a liquid or spray.
If you think this product may be the best one for your needs, take a look at this link.
Chemical Guys Black Light Hybrid Radiant Finish Color Enhancer (16 Oz)
Don't you just love it when your car has that wet-look shine? This is a hard thing to achieve with just soap and water, but it's easy with this product.
This is a fully synthetic nano-blended formula that's going to deepen the black color of your vehicle while making it really shine.
In addition to its excellent shine, your car will also be protected from damage on the road. This product forms a slick barrier on your car's paint that's going to repel contaminants.
It's easy to apply and isn't time-consuming to buff to a finish. You can apply it by hand or by machine.
Features and Specifications
16-ounce bottle.
Suitable for hand and machine application.
Fully synthetic nano-blended formula.
Designed for a high-gloss finish.
Offers durable protection from the elements.
What We Like
Easy to apply.
Excellent shine and glossy finish.
Good protection from contaminants.
More durable than carnauba.
What We Don't Like
Doesn't hide existing scratches or swirl marks.
Summary
Altogether, this Chemical Guys product is going to offer you the shine and protection you're looking for. It's easy to apply, and you won't have to do it many times in the year. You can drive and have peace of mind even in the worst weather.
While we like this product, carnauba-based waxes still offer superior shine and protection. But this is a good option to start with, simple to use, and is long-lasting.
To find out more, please follow this link.
Meguiar's Black Car Wax – Creates Deep Reflections and Gloss
Are you always envious of showroom cars? If so, you've got to check out Meguiar's Black Car Wax. The cream is specially formulated for black vehicles, which gives you peace of mind that your color will be preserved and enhanced.
The synthetic polymer wax is easily applied with the applicator pad included. Plus, there's no danger of swirl marks, it being non-abrasive. Most importantly, it's going to offer protection from contaminants out on the road.
It can last up to a year before you have to re-apply.
Features and Specifications
7-ounce tube.
Includes an application pad.
No risk of swirls with clear coat-safe formula.
Contains synthetic polymers.
Specially formulated for black and dark-colored vehicles.
What We Like
Can hide micro-scratches.
Creates glossy shine.
Long-lasting protection.
Especially for black cars.
What We Don't Like
Not as easy as a spray bottle.
May stain plastic and rubbers.
Summary
Meguiar's have done well with this synthetic wax. It's going to protect your vehicle from light scratches and chips while you're driving, plus it will create a fantastic shine. This will suit car owners who want their vehicles to look good in the short and long term.
But one concern we have is it may stain plastic and rubber. So, this is something you should be careful of when you're applying it to the paintwork of your car.
The 7-ounce tube may not cover too many applications, but it's marketed as a long-lasting formula so we'd need to evaluate this one further.
Like the sound of this product? See it for yourself by clicking this link.
Carguys Liquid Wax – for Ultimate Shine, With Polymer Paint Sealant Protection! – 8 Oz Kit
If you really don't want to spend a lot of time waxing but want the benefits, choose this product. It only has to be applied once or twice a year, which means it's low on hassle. This is due to patented additives that are super protective and shield your car from damage.
This product is one of the easiest waxes for black cars to use. Directly apply it to your paintwork and simply buff it off. It's so straightforward, especially compared to paste waxes.
Of course, everyone wants the mirror shine when they're done waxing, and that's precisely what you get with this product. You'll be able to see your own reflection when done. Not to mention, the black color will look deeply enhanced.
Features and Specifications
8-ounce bottle.
Synthetic.
Contains patented protective additives.
Suitable for all car colors.
UV protection and hydrophobic barrier.
What We Like
Only have to apply once or twice a year.
Excellent protective capabilities.
Easy to apply.
Sleek shine.
Provides long-lasting UV protection.
What We Don't Like
Needs to be removed from plastic very quickly as stains are hard to shift.
Summary
One thing's for sure, we can't fault this product for durability. Your black car can enjoy long-lasting protection from the sun, and dirt or grime from the road. You only have to apply it a couple of times of year too. If you're interested in protection and durability, this product is going to be a good option for you.
To see the latest prices and customer reviews, click this link.
Carguys Hybrid Wax Sealant Infused With Liquid Carnauba
Next, we've got this interesting spray from Car Guys. It's got a unique formula that combines synthetics and liquid carnauba, which will give you the shine you're looking for. It's also safe to use on all surfaces, meaning no white stains on plastic.
Of course, your car is also protected from damage out on the road. You can say goodbye to chips and scratches…and it prevents sun bleaching too.
This product forms a protective coat on your vehicle, providing UV protection, which is going to ensure your black coloring doesn't fade.
Do you see waxing as a chore to be over and done with as quickly as possible? Well, the manufacturer claims it only takes 15 minutes to wax your car from bumper to bumper. All you've got to do is spray it on and wipe it off with microfiber towels. This is definitely going to save you time compared to the paste type products on the market.
Features and Specifications
1-gallon refill bottle.
Blend of synthetic and carnauba waxes.
Hydrophobic capabilities to repel water.
Prevents color fading with UV protection.
Suitable for all colors, not just black paint.
What We Like
Doesn't leave streaks on paintwork.
Encourages water beading to protect against contaminants.
UV protection.
Deep glossy finish.
What We Don't Like
Doesn't offer long-lasting protection.
Summary
We'd say this is a fairly good product for beginners to waxing. It offers a slick barrier from contaminants and creates an attractive shine. You can even use it on other parts of your car, such as the plastic bumpers and rims.
The downside to this product is it only offers protection for around three to six months. So, if you drive a lot and wash your car often, you won't get a lot of protection out of it and will have to re-apply it to your vehicle around four times a year. If you're looking for that showroom kind of shine for your black car, you'd be better off with pure carnauba.
Want to know more? Click this link.
P21s 12700w Carnauba Wax
Do you want your car to be the shiniest on the road? If so, take a look at this carnauba combined with beeswax, delivering the deepest of shines. This is really going to bring life to your car's black paint and make it stand out.
If you're worried about white stains on your plastic bumper or rubber, you don't have to be with this product. It doesn't contain any dyes or additives that leave stains. This means it's safe to use on most vehicles.
You'll be impressed by the protection offered by this product. Of course, we know that carnauba offers superior protection from water and contaminants. This is especially true for pure yellow carnauba wax. This is going to prevent chips and oxidation on your paintwork.
Features and Specifications
2-ounce tub
Blend of yellow carnauba and beeswax.
Can be used with a machine or applied by hand.
Doesn't leave white stains on plastic and rubber.
What We Like
Leaves no white stains.
Excellent deep shine and gloss.
Excellent protection from elements and dirt.
Contains yellow carnauba.
What We Don't Like
Smallest tub on the list.
More effort to apply compared to liquids or sprays.
Doesn't provide long-lasting protection.
Summary
Overall, this product is great. The yellow carnauba and beeswax blend provides excellent shine and makes your black car paint shimmer. It also offers good protection from the contaminants found on and off the road. It's also available in a combo pack with a gloss-enhancing paintwork cleaner.
However, we're disappointed that although this product isn't budget-friendly, it doesn't come with a microfiber towel or applicator pad unless you pay. This is something that's included in a lot of the products we've reviewed. In addition, carnauba isn't as durable as synthetic wax, so you may have to re-apply this product every few months.
To find out more, follow this link.
Meguiar's G18216 Ultimate Liquid Wax – 16 Oz.
This product is a liquid, which is fast and easy to apply. Use the soft foam applicator to apply it, and the microfiber towel to buff it back off. If you want to spend more time driving and less time cleaning your car, that's what you get with this product.
This is a synthetic polymer wax, which is safe for all glossy car paint and is going to provide excellent protection from all the elements. Water beads off the protective layer, and contaminants won't cause lasting damage. This protection can last a long time, depending on where you live and how often you drive.
What's more, you can enjoy a deep shine after application. Your black car will look like new and shimmer in the sunlight. Plus, you won't have any staining on the plastic or rubber such as you can get with carnauba.
Features and Specifications
16-ounce bottle.
Includes a microfiber towel and a soft foam applicator pad.
Easy to apply, thanks to thin film technology.
Advanced synthetic polymer formula.
Protects from water contaminants with hydrophobic polymer technology.
What We Like
Long-lasting protection.
Glossy and shimmering finish.
Easy and quick to apply.
Can be applied in the sunlight.
Comes with high-quality microfiber towel
What We Don't Like
Won't hide micro-scratches.
Carnauba offers a superior shine.
May not apply evenly to paintwork.
Summary
Altogether, we'd say this product from Meguiar's is a good product for black cars. It's going to provide you with lasting protection throughout the year and make your vehicle look good at the same time. It's easy to apply if you're in a hurry and the tools you need are all included.
The only comment we'd make is that synthetic liquid wax isn't great when it comes to hiding micro-scratches. This is where carnauba would be better. You've also got to watch how you apply liquid wax. It can be hard to spread it evenly over the paintwork, since it dries so quickly.
To decide if this is for you, please follow this link.
Turtle Wax T-3kt Black Box Kit
Turtle Wax is one of the most well-known brands when it comes to car cleaning products, and they certainly don't let you down with this complete black box kit. It contains everything you need to buff your car into the realms of paintwork glory.
In particular, we are focusing on the carnauba wax in the kit. It offers excellent water-beading capabilities, which will make sure contaminants glide straight off your paintwork. It also offers UV protection to make sure the black color doesn't fade.
Of course, this product also enhances the color of your vehicle. It contains tint technology, which uses pigments to cover up micro-scratches and imperfections on your paintwork. What's more, once you're done buffing, it's going to reveal a deep, wet shine that will brighten up even the dullest car's appearance.
Features and Specifications
Contains black tinted conditioner and pre-cleaner (12 fluid ounces), two black spray detailer (12 fluid ounces) and wax (12 fluid ounces).
Two applicator pads are included to buff products into the paintwork.
Suitable for hand or machine application.
Contains carnauba.
Offers UV protection.
Contains tint technology for a richer black finish.
What We Like
All-around protection.
Contains carnauba.
Protection from sun and UV rays.
Protection from elements and dirt.
Delivers wet-wax shine.
Easy to use spray.
What We Don't Like
Using all the products is time-consuming.
Protection doesn't last as long as synthetics do.
Summary
This one is for the car enthusiast or anyone who enjoys cleaning their car. With this full kit, you can detail your car, making it look its best. We're talking about a fantastic shine thanks to the carnauba, plus protection while you're out on the roads. Your car may look as good as new.
The only thing we would say is the protection offered by carnauba doesn't last as long as with synthetic wax. This means you will have to re-apply it to your vehicle several times during the year. But if this is something you enjoy, you can take full advantage of all the products in this kit.
If you want to find out more about the 'black box kit', click here.
Why Wax Your Car?
We're sure you can find lots of things you'd rather be doing than waxing your car. But the truth is, there are lots of reasons why you should do this on a regular basis. It's not something that car enthusiasts choose to do just for fun.
Let's have a look at the benefits it brings, and why you should schedule it into your calendar.
Makes It Look Good!
Nothing makes you feel better than when your car is shining and gleaming in the daylight. One of the best ways to create a high-gloss finish is to use wax.
You apply car wax similarly to car polish, all you need to do is buff it onto the paintwork. This creates a clear, shiny protective coating and really deepens the black color. It looks way better than just washing your car with shampoo and water. In fact, it takes away the dullness that black cars often suffer from as the paint job ages.
What's more, waxing your vehicle now is going to make it easier to keep clean in the future. Its protective layer makes it harder for dirt and grime to stick to your paintwork. Washing your car is easier, and you won't have to detail your vehicle fully every month.
Protects the Paint
One of the most important things about wax is it's going to protect the black paintwork of your vehicle. We all know how damaging salt and dirt from the road can be and this stuff seems to be more attracted to black vehicles. It slowly chips away and damages the paint, making your vehicle look older than it really is.
But waxing your car can help stop this. It forms a protective shield on your paint that repels water, salt and dirt. Water simply beads and runs off. What's more, it can fill any micro scratches that already exist on your paneling.
The sun is especially attracted to black cars, and the UV rays can be damaging. They make the color of your vehicle fade and discolor over time.
Wax forms a protective layer from the sun, too. It makes sure that the oils from the black paintwork are preserved, stopping oxidation and color fade from occurring.
Higher Resale Value
Regularly waxed cars don't just look good—they also have a much higher resale value than other cars. I'm sure this is something you want to hear if you're going to be selling your vehicle in the future, which most of us do, of course.
Prospective buyers are going to look at your car before buying to see if it's in good condition, and pristine paintwork will impress, whereas faded, dull paintwork will lessen its value and the interest of prospective buyers.
It will also look better for photographs if you're listing the car in an auto trader magazine, bringing in more inquiries.
Car Wax Categories
There are three different broad categories, or types of car wax you should know about before rushing in to make a purchase.
Each work in different ways, and have different levels of effort required to apply them. Let's see what they're all about, and why you might choose one type over another.
Liquid
First up we have liquid car wax. It's easy to apply, and it creates the nice gloss you're looking for. All you need to do is wipe it on, then buff it up with a clean cloth as it dries.
The one downside to the liquid type is it dries very quickly. While this may seem like a positive thing, if it dries too much before you remove it, it's harder to clean off the excess.
Spray
If you don't want to spend your free time waxing your vehicle, this may be the one for you.
Spray wax is by far the quickest type to apply that you can choose. Plus, it's great if you just need a top-up on your vehicle during a road trip.
While a spray is easy to use for beginners, it does wear off quicker than the other types we've listed here. This means you'll probably be waxing your car more often, especially if you live somewhere with wet or snowy weather.
Paste
Lastly, you've got paste car wax. This is usually a product that uses protective, natural oils that are excellent for your paintwork. In fact, paste wax gives the best possible shine to your vehicle out of all the different types. It's a real deep, glossy finish, which makes this one popular with car enthusiasts.
The only real drawback is you'll really have to work. Wax paste can take some elbow grease to apply, and you'll spend a lot more time buffing it into your paintwork.
Carnauba or Synthetic Wax?
When you're choosing a car wax, there are generally only two types, either carnauba or synthetic waxes. Both have something to offer you, so let's break it down.
Synthetic
Synthetic car wax consists of silicones and polymers, and it's often marketed as a paint sealant. It's definitely more durable than carnauba, and it can last up to 12 months on your vehicle. Of course, it depends on the weather and where you live, but I'm sure you agree that's a long time.
Synthetic car wax is normally available in spray and liquid form. This makes it easier to apply. It offers a decent glossy finish, but not as good as carnauba. However, it's going to be the best option if you drive a lot since it's long-lasting and affordable.
Carnauba
Then we've got carnauba wax. This is always the preferred option of car enthusiasts because it offers a superior deep glossy finish and better protection. It's made from the Brazilian carnauba plant, and it can be blended with oils.
It's most commonly available in paste form, which does make it harder to apply to your vehicle. But car aficionados swear that it's worth it.
Carnauba is preferred for black cars and other dark-colored vehicles. It offers good water beading abilities so contaminants wash off your paintwork, helping to keep it looking polished, and preventing paint damage.
Of course, carnauba wax requires more work, which puts a lot of people off. It also has a higher price tag than synthetic formulas. This is especially true for yellow carnauba wax, which is natural and pure. It also isn't as durable as synthetics and may only last up to four months.
Conclusion
A lot of car enthusiasts choose to wax their vehicle so it looks as if it's fresh from the showroom. While we all love a shiny vehicle, waxing is done for other reasons too, such as protecting paintwork from damaging UV rays, dirt, and other contaminants.
There's no doubt there are some fantastic products on our list. But we'd say the best car wax for black cars is the Meguiar's G18211 Ultimate Paste. This offers a good mixture of wet-look shine and superior protection on and off the roads.
Do you have a favorite wax you want to try out? Tell us down below in the comments. You can also ask any questions, and we'll do our best to answer each and every one.