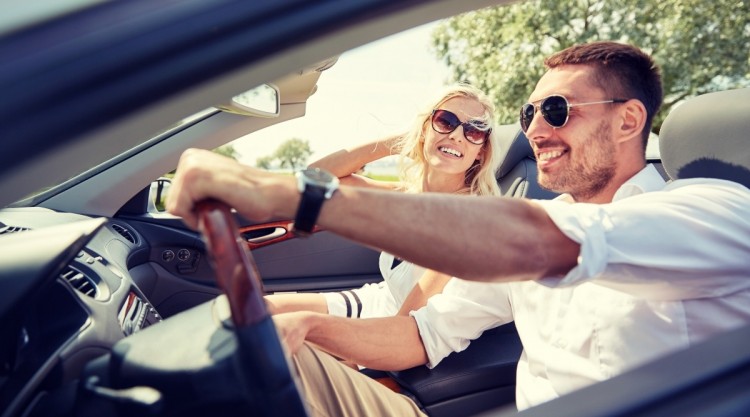 Have you ever thought about what you're wearing before hopping in that car and sitting behind that steering wheel? No, we're not talking about leather jackets and snap-back hats – we're talking about sunglasses specifically designed for driving!
If you used to think (or still do think) that sunglasses for driving are nothing more than a cool addition to your apparel, then think again! By the end of this article, we're confident you'll have changed your mind about this, anyways.
Not only will they add to your general aesthetic, but they're also essential for your safety in lots of circumstances when on the road. In the end, that's what really matters when getting from point A to point B in a moving vehicle, wouldn't you agree?
In this article, we'll take a look at some of the most important reasons why you should be wearing driving sunglasses, when you'll need them most, and why they're better than ones designed for regular use for something like the beach.
We'll then take a look at a list of what we believe to be some of the best driving sunglasses of today, so you can take your pick based on what you think suits your needs best.
Quick Links to Our Top Recommendations for the Best Driving Sunglasses
Note: Clicking the above links will take you to further information, current prices and customer reviews on Amazon.
Why Should You Wear Sunglasses For Driving?
According to the AAA, glare is commonly cited as one of the top causes for road accidents. Ever wondered why older people tend to be classed as "bad drivers"? Well, it oftentimes comes down to their poorer vision, jaded by dazzling sun and head lights, which can be a major causal factor in road traffic accidents.
There are a number of ways this can be avoided, one of which is ensuring your windshield is clean at all times. However, probably the best way to really avoid this is to wear a great pair of driving sunglasses.
Some of the best sunglasses for driving will offer a wide array of benefits, such as:
Protecting your eyes from harmful radiation.
Keeping you comfortable while driving.
Preventing road accidents.
Aiding with vision.
Helping prevent the degeneration of your eyes.
Some lens colors can even help enhance your vision when driving at night or generally dark conditions.
Helping you look cool and fashionable as an added bonus.
This is all well and good, and we all love to look stylish when driving around on a sunny day, but most importantly of all – not wearing a pair of driving sunglasses when needed will put you at a higher risk of getting into an accident, so it's one of the things we suggest to keep in your car.
This is true for both the short term and the long term. Sometimes, the glare is too much to handle and it can easily affect your vision, causing you to not pay attention to certain hiccups on the road and get into an accident.
However, and as we will discuss a bit later in this article, UV radiation can have harmful effects on your eyes over time as well. In turn, this can result in problems such as cataracts, which are also a prime cause of accidents on the road.
Why Won't Just Any Pair of Sunglasses Do the Trick?
You're probably asking yourself: "But why can't we just wear an average pair of sunnies from the local store?! Do we really have to buy something specifically designed for driving purposes? Is it really that different, or is this just another way for business people to trick me into paying for something I don't really need?".
If you want to do this the right way, you shouldn't just go out and buy any pair of sunglasses you can find straight away. You need to find something specifically designed for driving purposes (or one that at least has the qualities and features that driving eyewear has) – or else you'll be cutting yourself short.
Let's break it down a bit further.
Protect Your Eyes
I'm sure you're fully aware of the environmental effects our careless human actions have on the Earth we all live in – not least of which is the thinning of the ozone layer. This not only has adverse effects on our climate, but it also enhances UV radiation, which penetrates into our daily lives.
Too much exposure to sunlight has actually been linked to cataracts and retinal degeneration. So, it goes without saying that you need to do your best to make sure you limit exposure to harmful UV radiation whenever you're able to.
When you drive, your eyes are exposed to the UV radiation from the sun and–especially if you're driving for a long time–it's very important that you safeguard yourself.
Generic sunglasses won't normally provide these safeguards, but driving sunglasses are all about that UV protection.
It doesn't cost an arm and a leg to obtain this protection, either, as you will soon see in our list of the best sunglasses for driving brands.
So, don't take your eye health for granted, and safeguard it while you have the chance!
Too Dark
Something you may not already know is that the average pair of sunglasses can often be too dark to let enough essential light through for you to see clearly.
Of course, we need to protect our eyes against dangerous UV rays, but we also need to let enough light in to get a clear image.
For that reason, you'll need something bright enough.
This is just one issue that shows how important it is to think about the type of sunglasses you wear for driving purposes.
Comfort
We've all been there—squinting in the sunlight to attempt to see better. This can be uncomfortable and, after time, can lead to eye strain and headaches. It can also — dare I say it — lead to wrinkles!
Driving sunglasses actually help prevent this, not least because they limit the heat and UV rays your eyes get subjected to, but they're usually lightweight as well.
This means you should barely notice them sitting on your face, so you'll remain comfortable for a longer period of time.
Safer Driving
Safe driving is very important to not only protect yourself, but your passengers and others around you on the road as well.
But the question remains: how can driving sunglasses help with this? Well, this is true for a number of reasons, including:
Fewer Distractions
This is probably the most obvious of these reasons.
If you're comfortable when taking control of that steering wheel, you're more likely to remain focused on getting from A to B. This will promote a much safer driving experience for both you and your passengers.
Polarization
The best shades for driving, unlike most other regular ones, will be polarized. But, what does this mean exactly?
Light is known to scatter in multiple directions at a time, but when it's reflected on a horizontal surface such as the ground, it can refract off in a more uniform direction.
This can lead to not only annoying, but sometimes dangerous concentrations of light in one direction—glare. Polarized sunglasses filter this light, making it a lot easier to see.
Colored Lenses
Most of the sunglasses specifically designed to be worn when driving will have colored lenses. These colors help increase visibility by providing more clarity to the images you see.
For example, yellow lenses are known to cut blue light rays, which are actually harmful to the eye.
So, as you can see, it's really important to use driving sunglasses in comparison to the regular, store-bought ones.
Your safety and eye health is something you may take for granted now, but know for a fact that protecting against eye damage now (while you still can) will be very beneficial to you in the future.
What Should I Look for in Sunglasses for Driving?
I hope we've now convinced you that you can't just stick to any old pair of sunnies to do the job when behind a steering wheel!
If so, it's time to go through some of the most important factors that make the best sunglasses for driving.
Polarization
As we've seen already, light reflected from horizontal surfaces (such as road) becomes polarized.
This is why a polarized lens is super important, as it reduces the concentration of these reflected light rays, dispersing the light more safely into your eyes.
By wearing polarized sunglasses for driving, not only are your eyes protected, but you'll be able to see a lot clearer as well–all of which creates a much safer driving experience.
UV Protection
It's not just your skin that needs protection from ultraviolet radiation. The three types of UV are not only harmful to your skin, but also to your eyes.
First off, and before we get into the main scoop, let's take a quick look at the three types of UV radiation we're exposed to:
UVA
UVA has a wavelength of between 320 and 400 nanometers, and is known to penetrate the skin deeper than the other types of UV.
It's not just responsible for skin pigmentation when you step outside, but is known to cause wrinkling and even skin cancer.
When it comes to the eyes, UVA can pass through the cornea and make its way into the retina, causing cataracts and degeneration as a result.
UVB
The UVB wavelength is between 280 to 315 nanometers.
These rays are the ones which cause skin pigmentation, but they can also burn your skin by penetrating the superficial layers, or epidermis, of the skin.
This is one of the main factors that cause skin cancer, so eliminating your exposure to UVB is advised.
UVC
These UV rays are the highest energy, and have been known to be the most harmful to your eyes and skin.
They range between 100 to 280 nanometers in wavelength, but the ozone layer blocks most of these rays.
So, What's the Takeaway Point?
Okay, so now that we've seen what these harmful rays can do, I'm sure you now want to know how you can protect your eyes from them.
For starters, it's best to go with something that actually has UV400 protection, so make sure that's the case for any pair you want to get, before you spend money on it.
UV400 is the maximum amount of protection one can achieve, as it protects against UV rays with a wavelength of over 400 nanometers. That means they protect against all three of the UV rays we discussed above.
Color
This may seem a bit of a silly thing to worry about but, trust us, it can actually make all the difference in the world.
Some of the best pair of shades for driving will have a variety of lens colors to choose from, which are all tailored to a specific purpose.
For example, yellow and red are great for providing clarity and depth-perception, and mirrored lenses reflect dangerous light rays—perfect for driving.
Through accentuating the image your eyes see, your driving experience will become a much safer one, as your judgment and focus should become clearer.
Tint
Tinted glasses are great for dimming the world around you, limiting the potential for squinting.
The British AA company notes that you can even bag yourself sunglasses for driving that have graduated tint levels. This basically means that the lens is darker on top (for the sun's rays), and lighter below, so you can see the car dials easier. Pretty neat!
It's also possible to get yourself some adaptive glass lenses for driving, which darken in sunlight. This is more prevalent in proper prescription glasses, though, and these are usually significantly more expensive than regular driving sunglasses.
That said, please be aware that although tinted lenses may seem like a great bet, they must also be UV protected in order for you to reap the benefits of wearing sunglasses.
You just have to be aware of tint levels and tint densities when looking at this stuff.
Comfort
Distractions are naturally a top cause for road traffic accidents—if you're not focused on the road ahead, you're more likely to miss something.
Ensuring the pair you get fits right and is comfortable to wear is an essential part of avoiding these distractions.
Width
The width between the sunglasses legs are important—if they're too wide apart, the glasses will slip easily down your face, and if they're too close, they'll cut into your temples.
This will usually come down to the hinges, so if they're flexible, the glasses will fit a lot better around your face.
Frame Material
In most cases, the frame will be built using a durable metal or plastic material. In other sunglasses, the frame may be made using a flexible material such as rubber.
This is ideal for anyone with a larger face, so you can be sure that you remain comfortable throughout even the longest of journeys in your car.
One thing to keep in mind when it comes to the frame is that you don't want to choose something that's too thick, as this can end up blocking your peripheral vision. Thin arms do a better job at ensuring your peripheral vision remains intact.
Lightweight
To further avoid distractions, it's important that the sunglasses for driving you wear remain unnoticeable on your face.
This can be achieved through the use of polycarbonate lens materials, which are super light.
Nose Pads
This is another pretty obvious one, but we have to cover all bases.
Nose pads are great to keep your nose comfortable and stop the glasses from sliding downwards.
Sometimes, these can even be adjusted to fit your face shape better, so the glasses sit properly. If this is usually a struggle for you, then maybe nose pads are an exceptionally important factor for you to look out for in driving sunglasses.
Durability
This comes down to two main factors—the material, and the frame design.
We've noted already how some of the best sunglasses for driving are made using really flexible materials and hinges, which optimize their durability.
Scratch resistant lenses, which can be achieved through polycarbonate materials, are also another great way to achieve this.
Add-Ons
This may seem trivial, but when it comes to maintaining your driving sunglasses for a long period of time, there are three things which come in handy—a cloth wipe, cloth pouch, and hard case.
These are great to help keep your new sunglasses good-to-go, limiting potential scratches and disasters such as–something we've all been guilty of doing at one time or another–sitting on them!
Warranty
The longer the warranty, the clearer it is that the company that manufactures the driving sunglasses you've purchased has real faith in its product.
Surprisingly, a lot of driving sunglasses out there actually have a limited lifetime warranty on defective products. So basically, if the product breaks due to wear and tear, they'll be replaced.
Best Sunglasses for Driving — A Detailed Look at Our Top Recommended Products
So, now that you know all the sciencey bits you need to be aware of before doing some shopping, it's time to get down to the bit that probably means the most to you!
Here's a list of what we believe to be some of the best sunglasses reviewed for driving available in today's market.
SUNGAIT Ultra Lightweight Rectangular Polarized Sunglasses
The first pair of sunglasses we'll look at ticks almost every box when it comes to what we expect from a pair suitable for driving.
Most importantly, these are polarized, which (as we've previously discussed) ensures top-notch visibility by effectively working to reduce glare. There's nothing more important than safety, so that's a check to begin with.
Next, with UVA, UVB and UVC protection of 100 percent, that makes this pair undeniably suited for the road.
Going hand-in-hand with these two positives, these Sungait sunnies enhance your visibility even further, through the use of true color technology.
Couple this with the lightweight feel, soft adjustable nose pads, and alloy metal frame which is kind to your skin, you might not even feel that you're wearing sunglasses at the time.
Not only this, but these are also super durable, which makes them long-lasting—a great, reliable purchase. How? Well, you have the flexible hinges and shatterproof lenses to thank for that.
There's also an adjustable, lightweight aluminum/magnesium alloy frame to these sunglasses, which means they'll fit the shape of any face, ensuring maximum comfort for everyone alike.
Even better, it's no real issue if they do break, as Sungait have such confidence in their products, that they ensure a lifetime money back guarantee.
This means you could even wear them for other outdoor suitable activities, such as running or fishing (nothing too crazy where you're asking for trouble, though) and there's no need to be concerned about having them break.
The add-ons that come with them also make them a great option. The importance of a glasses cloth is perhaps underrated, considering the potential for fingerprint and grease smudges on the lenses. Also, a glasses bag and box should keep the glasses as good as new, for longer.
With the special addition of a mini screwdriver, you can ensure that you always keep the hinges tightened, wherever you travel.
It seems this pair has it all – so, with the rectangular frame, the aesthetics could be the only deciding factor in purchasing them.
Manufacturers Specs and Feature List
Frame is lightweight and strong.
Lens has HD polarized protection.
Perfect fit.
Rectangular sunglasses.
Lifetime breakage and money-back guarantee.
Includes a cleaning cloth, sunglasses pouch, sunglasses box, and a mini 4-in-1 screwdriver.
100% UV protection.
What We Like
Comes with multiple accessories, which enhances the value for money.
Lifetime warranty.
Durable lenses and frame.
Flexible, to fit your face.
Lightweight feel.
Polarized and UV protection of 400, with true color.
Versatile, so not just for driving.
Large lenses to encompass eyes and avoid distractions.
What We Don't Like
The rectangular frame design might not be to everyone's liking.
Lenses aren't adaptive or graduated.
Summary
Looking for a pair of sunglasses that might just tick almost every box you'd consider for driving purposes?
Well, with complete eye protection, comfort, and durability, the Sungait ultra lightweight sunglasses is surely a winner for us. As long as you like the frame shape, they're suitable for pretty much everyone.
Want to know more about these Sungait sunglasses? Just click this link for more information:
MERRY'S Unisex Polarized Aluminum Vintage Sunglasses
Let's take a more detailed look at our first set of unisex sunglasses, ideal for anyone to use – males and females alike.
This stylish set from Merry's comes in a range of different colors and lens types, so you can take your pick no matter what your personal preferences are.
Merry's actually pride themselves on their glasses styles, which are consistent in keeping with the latest fashion trends.
However, it's not just fashion and style that makes these glasses great. To begin with, each of these vintage sunglasses has a polarized lens, to avoid any distractions from glare caused by the sun.
This is further enhanced by the maximum 400 UVA and UVB protection, and a true color mechanism, which protects your eyes and enhances visibility.
So, not only are your eyes kept out of harm's way from light and heat radiation, but these sunglasses also improve your vision by restoring the image accuracy.
What's more, the silicone nose pads and end-tips optimize the user's comfort, and the synthetic lens frame ensures a durable and strong alternative to the typical metal frames.
But, that doesn't mean that metal is off the cards—the aluminum-magnesium legs provide a lightweight feel, molding to the shape of your face. This enhances the driver's comfort, limiting the potential for driving distractions.
To top it off, the composite lenses made from polycarbonate and other materials also ensure a lightweight feel.
Coming with a glasses cloth, pouch, and leather-look case, this provides a stunning (but functional) exterior to provide protection for your glasses.
Perfect for just about all outdoor activities, but most importantly for driving, Merry's unisex vintage sunglasses may be the right choice for you.
Manufacturers Specs and Feature List
Silicone pads for the nose.
An array of product colors.
Comes with a glasses case, cloth cleaner and pouch.
Protects from glare.
Strong and comfortable fit.
HD visuals.
User manual is included.
Polarized test card is also included.
Guaranteed money back if returned within 30 days.
What We Like
Made from durable materials, which also maximize comfort.
Protects your eyes from UV rays to the max.
True color design for improves visibility and restoring image colors.
Stylish, in keeping with the latest trends.
Comes in a number of colors.
Provides HD vision through the use of true colors and polarization.
Comes equipped with a number of extras to keep your sunglasses in good shape.
What We Don't Like
No adjustable frame or nose pad, so not everyone can fit them as comfortably as they'd like to their face shape.
Smaller lens frame than some others, which may sometimes distract the driver.
Summary
These stylish sunglasses will keep you looking trendy while you drive, but that doesn't mean that Merry's skimp out on functionality—make no mistake about that.
This pair has all the protection required (and just enough comfort required) to limit driving distractions, and keep your eye health up-to-scratch.
For both men and women, you could just pop these in the glove-box to share with any of your car's drivers as well – just in case you weren't the one behind the steering wheel at the time.
For more details about this product, just follow this link for more information.
Fiore HD Night Driving Sunglasses
These Fiore driving sunglasses come in quite a variety of shapes and styles, each conforming to the yellow-tinted lens.
This means that, depending on your face shape or driving needs, you can tailor your purchase to suit your tastes, while still reaping all the benefits that this quality product has to offer.
One of the things that sets this brand apart from others is the choice between a metal or plastic frame. You can even choose a mixture of both if that's your style, and the spring hinges give that added touch.
This means that the product can be suited to you and your needs, while still remaining durable, strong, and comfortable.
With the typical UV400 protection expected, your eyes are assured the maximum protection possible.
With that being said, something to watch out for is that some of these styles aren't polarized. This sets them apart from others in a negative sense, as it's important to eliminate potential glare while driving to improve vision.
However, the yellow tint is known to improve vision behind the wheel during night time drives in particular. So, if this is your priority, these may be the pair for you.
Last but certainly not least, there's nothing worse than losing your sunnies, or getting them scratched in the glove-box. With an included glasses case, you can avoid these mishaps, keeping the lenses scratch-free and protected at all times.
Manufacturers Specs and Feature List
UV400 protection.
Yellow plastic lenses.
Plastic frames.
Hinges are springed.
Guaranteed money back within 30 days if returned.
Soft glasses case included.
What We Like
An array of different colors and styles.
A choice of frame materials.
Durable.
Protection via the soft glasses case.
Yellow-tinted lens.
Protects against UV rays.
What We Don't Like
Some styles come with non polarized lenses for driving.
No mechanism to maximize vision, like true color.
Not much means of increasing comfort.
Summary
Are you more geared towards night driving, and want to ensure as much glare protection and image clarity as possible? Or perhaps you're looking for a pair guaranteed to fit your desired style and face shape?
In any of these cases, this might very well be the right pair of sunglasses for you, with plenty of varieties to choose from.
If you're interested in these Fiore sunnies, then click here to find out more about them.
ATTCL Unisex Classic Driving Polarized Sunglasses
These aviator-style glasses, which never seem to go out of fashion, are ideal for both men and women.
Available in two colors, with either a blue lens or a black lens, they're not quite as versatile as some others on our list, but they're still super stylish.
Although we have to say that, alongside this stylish exterior, the ATTCL sunglasses aren't shy of functional qualities either.
With a metal frame and large lens, not only are they durable, flexible, and sturdy, but they should also help avoid distractions. A smaller lens can sometimes get in the way of your vision, but there's no problem with that here.
This pair also checks off the list in terms of UV400 protection, guarding against UVA, UVB, and UVC rays, with 100 percent efficiency.
The lenses aren't just polarized, but the lenses' composite make-up, made using lightweight materials, actually increases how comfortable the product feels altogether.
This, coupled with the nose pads, promotes an optimum driving experience, ensuring minimal distractions as you go.
Last but not least, an added bonus has to be the gorgeous, hard leather zipped case. This gives you no excuse for breaking or scratching your sunnies. That said, even if you do break them, the limited lifetime warranty has you covered.
Manufacturers Specs and Feature List
Money back guarantee in the first 30 days.
Unisex style.
UV400 protection.
Lenses are polarized, made using composite materials.
Imported from Hong Kong.
Frame is made using metal.
On purchase, you'll receive a case, glasses cloth and bag, and polarized test card.
Limited lifetime warranty.
What We Like
Lifetime warranty on breakages.
Large lenses.
Fashionable and stylish.
Works for both men and women.
Versatile, for all outdoor use.
Lightweight.
Includes all the add-ons needed.
Flexible frame, which makes them pretty durable.
What We Don't Like
Hinges are not flexible, so they may not fit your face for optimum comfort.
Summary
This stylish pair of aviators work well for anyone, and protect your eyes in all the ways they should.
Lightweight, durable, and sturdy, with all the mod-cons you should expect, this pair is an overall great deal.
So, if you want to discover more about the ATTCL sunglasses, look no further:
Costa Del Mar Loreto Sunglasses

Okay, these sunglasses may be a little more expensive than most others you can find these days, and they might not be the best option if you're on a tight budget – but we'll tell you why you shouldn't write them off just yet.
First things first, they're super sturdy, with a corrosion-resistant metal frame, made using monel. This is a really durable alternative material to others on the market.
This metal frame, alongside the plastic legs, is not only durable, but is actually also super lightweight and comfortable. This also helps reduce distractions, as it almost feels like your sunglasses aren't even there.
The part that really accentuates this lightweight feel, though, is the composite lens, made using polycarbonate materials. This not only has a light feel, but is also durable, scratch and smudge resistant, making the sunglasses a doddle to clean.
The thinness of the lens, which is claimed to be 20 percent thinner than the average lens on the market, also helps make them lighter too.
Another element which really adds to these comfort levels has to be the silicone leg-ends, which improve the general feel of the glasses behind your ears.
I know I find that this can often be a burden with cheaper sunglasses, causing irritation, and even pain at times. However, this shouldn't be a problem with these Costa's sunglasses.
So, what about the actual vision provided by the lenses? Well, Costa's new and improved lens technology, that being the encapsulated mirror between the glass layers, provides optimum clarity.
This is furthered by the 100 percent polarization, which removes glare, as well as the mirrored exterior that reflects harmful light rays.
What's more, they have a huge array of different colored lenses which actually suit specific needs.
If you're driving, the gray or copper lenses may be a good choice for you to go with, as they're great for everyday activities and cutting glare. Also, the silver sunrise mirror lens might be the most suitable for night-time vision, so take your pick!
100 percent UV protection makes for maximum functionality, ensuring your eyes remain healthy for the long term. This, alongside the hard case included with your purchase, makes for a really fantastic addition to your travel adventures.
Manufacturers Specs and Feature List
Limited lifetime warranty included.
Made in the USA.
Polycarbonate lenses.
Monel frame.
Polarized lens.
100 percent UV protection.
Handmade.
Case included.
What We Like
Protects your eyes.
Maintains visibility.
Is lightweight and durable, as well as resistant against corrosion.
A huge array of design choices, which can be tailored to fit specific outdoor purposes.
Easily cleaned, due to the scratch-resistant and smudge-resistant lenses.
Aviator style, so very "in."
Comfortable.
What We Don't Like
May be a little small for some people.
Not exactly budget friendly driving sunglasses.
Summary
Although this particular pair of driving sunglasses may cost a little more than most, they do live up to our expectations of what the best sunglasses for driving should do.
So, if you've got a little extra cash to spend, do consider getting these bad boys.
Not only do they check every element off our list, but they have that added touch of functionality. You can easily tailor the lenses to your chosen outdoor activity.
Interested in getting to know the Costa Del Mar Loreto sunglasses a little more? Then just click this link to learn more about them:
TOREGE Polarized Sports Sunglasses With Interchangeable Lenses
So, what's the deal with our next pair of sunglasses—the Torege sports sunglasses?
First off, you can definitely tell that these are an excellent fit for anyone trying to keep a sporty look, considering the streamlined shape and tailored fit.
What we particularly love about this pair is the flexibility of the sunglasses frame. But, why exactly is this special?
Well, not only does this mean it's super durable, as it can withstand almost anything (except deliberate abuse where you're trying to break it on purpose – please don't try to do that!), it also makes these sunglasses super comfortable.
This way, they will fit your face, molding to the shape of your head effortlessly.
But won't this feel a little tight? Absolutely not! Torege actually ensures that this flexible frame stays in place without the feeling of compression on your temples.
To top it off, the frame is also lightweight, and the soft nose pad, made using rubber, accentuates the sense of comfort these glasses provide.
The main selling point with this pair of sunglasses, though, has got to be the five interchangeable lenses you get. The product comes with an array of different lens colors for different occasions.
For example, the rainbow lens protects your eyes from ultraviolet rays, while the yellow lens enhances color contrast to achieve a much clearer image.
That said, despite these different lenses, each one is still fully UV400 protected and polarized, so you can be sure that any choice you go with will protect your eyes.
They also each have true color technology, heightening the clarity of the visuals you see. This clarity is furthered by the rimless frame around the lens, which removes the potential visual barrier that most sunglasses have.
The only potential issue with this product is that they're not specifically designed for driving. That said, they have just about everything we look for in driving glasses, so there's no harm in getting multi-purpose action out of these little gems.
Manufacturers Specs and Feature List
Includes a cloth and fabric pouch.
Comes with five lens choices.
Flexible frame.
100 percent UV protection.
Restores your true color vision.
Polarized lens.
Rubber nose pad.
Limited lifetime warranty.
30-day guarantee to get your money back.
Rimless sunglasses.
What We Like
A wallet-friendly option.
The product is claimed to be unbreakable.
Very durable and lightweight.
Five interchangeable lenses included on purchase, each for different activities.
Easy to clean.
Provides image clarity.
Protects your eyes effectively.
Comfortable.
Streamlined and sporty.
What We Don't Like
Not specifically designed for driving purposes. However, it does tick most (if not all) the boxes we look for in driving sunglasses.
Some of the five lenses may not be polarized.
Summary
This pair of sunglasses is easily one of our favorites—not only do they have just about everything we would look for in a pair of driving sunglasses, but they can actually be used for way more than just that.
Most importantly, the five interchangeable lenses and flexible frame make this one a real winner—durable, comfortable, and functional, all in one product.
Want to find out more details about this pair of sunnies? Here you go—click on the following link for more details:
Splaks Clip-on Prescription Sunglasses
Last, but certainly not least, are the Splaks clip-on sunglasses—a fantastic option for anyone with vision problems.
So, instead of forking out hundreds of dollars to pay for prescription sunglasses, you can simply attach them to your current pair of glasses and hit the road.
Coming in a number of shapes and sizes that are prescription ready (in the sense that they should fit most prescription glasses), these clip-on sunglasses are perfect to help you drive during daytime or at night.
The yellow option is ideal for night-time driving, as it actually accentuates your vision to help you drive safer. On the other hand, the black option is great for daytime use, doing what it needs to do to keep your eyes protected from the sun.
There are also a couple of other colors to choose from as well, including tea brown (which helps remove glare), and blue with a mirror coating, for outdoor activities.
On purchase, you select the choice of lens color you want, so you can tailor your purchase for your needs. This makes a fantastic (and money-saving) option for anyone!
Every pair, no matter the color, blocks UV rays using UV400 protection, and they're also polarized to keep your vision as clear as day.
In addition to that, the use of a polycarbonate lens material not only makes them durable to prevent scratches, but also lightweight. This'll mean you'll hardly notice them, as you can simply attach them onto your regular pair of prescription glasses and be good to go.
With a flip-up option, which protects your glasses using rubber tips, you can easily switch from eye protection to not.
So, when you need to quickly step into the gas station (for example), you won't have to struggle with adjusting your vision or changing glasses.
Versatile, functional, and money-savvy, the flip-up clip-on Splaks sunglasses are definitely worth your consideration.
Manufacturers Specs and Feature List
Two-piece set.
Four color options.
Two shape options.
UV400 and polarized.
Scratch-resistant.
Average size.
Clip-on.
Unisex.
Can be used night and day.
What We Like
There's a good choice of options, so you can tailor your purchase to your needs.
Money saving, as you can simply clip them onto your prescription glasses.
Convenient and comfortable.
Protect your eyes from harmful radiation.
Help you drive safer.
Lightweight and durable.
Rubber tips built in to prevent them from scratching your glasses underneath.
What We Don't Like
Although they are supposedly an average size to fit all glasses, there's no guarantee that they will fit your glasses. Some of you might need oversized ones.
Don't come with a case to protect them.
Summary
Looking for an economical alternative to spending hundreds of dollars on prescription sunglasses? These clip-on sunnies are convenient and comfortable, without breaking the bank – so they might be just the right option for you!
They do everything a pair of driving sunglasses should do, with style and ease.
Interested in learning more about this convenient option? This link should give you more details:
Conclusion
In this article, we've laid out the importance of wearing sunglasses specifically designed for driving, whenever you're on the road.
In a nutshell, they protect your eyes from harmful radiation and glare, helping you drive more safely in the moment, and minimizing eye damage over the long run.
We've also outlined some of our favorite options for the best sunglasses for driving.
There really are so many different options out there for you to choose from – sunglasses in different shapes, sizes, and styles.
The point is this: no matter what your personal preferences are, there's something out there for everybody to look fashionable in, while also staying safe behind the steering wheel.
Happy driving!