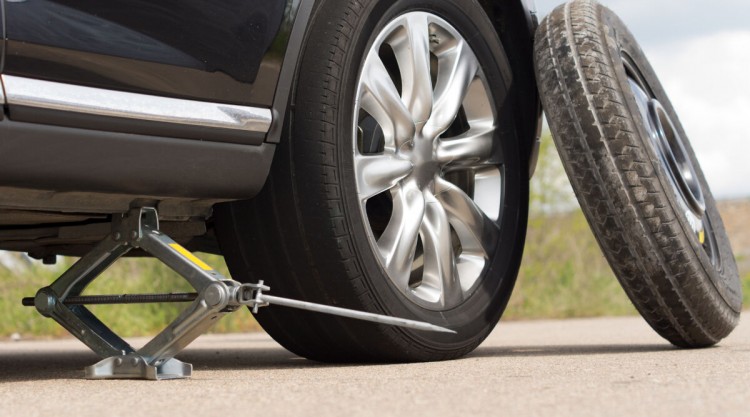 There's nothing like an inspiring song to lift your spirits, is there? Too bad it's not quite as easy to lift your vehicle!
There are many reasons why you might need to jack up your car, even if you're not much of a mechanic. Even a novice will find many reasons why they might want to own a jack and look under their vehicle.
The first thing you'll learn, is there are several different styles of jacks to choose from. How are you supposed to know which one you need? You search the Internet, of course!
That leads us to today's topic – A search for the best car scissor jack. We'll look at what they are and how they work, and why you might want to own one.
Ready for a knowledge boost?
Quick Links to Our Top 5 Picks for the Best Scissor Jack
Note: Clicking the above links will take you to further information, current prices and customer reviews on Amazon.
What is a Scissor Jack?
As the name implies, a scissor jack opens and closes rather like a pair of scissors. (Personally, I think it's more like an accordion, but no one asked me to name it.)
By turning a screw that runs through the center of the jack, the mechanism extends upwards very gradually. This allows for a lot of lift from a simple, purely mechanical device, with a minimal effort.
Why Might I Need a Scissor Jack?
A lot of things can go wrong with a car, and not all of them happen in accessible places. If it's not under the hood, it's probably under the car.
From simple inspections to DIY tire or oil changes (or that time my exhaust fell apart and I had to rig it up with duct tape and bungee cords), there are plenty of solid reasons to own at least one scissor jack. The best reason, however, is simply to stash it in the trunk in case you get in trouble on the road.
Advantages of Scissor Jacks Over Other Jack Types
Scissor jacks are one the simplest types out there. While that might seem like a negative, it actually means they are incredibly easy to use.
The twisting motion required to raise and lower a scissor jack is arguably less than the pumping necessary to raise any kind of hydraulic jack.
Additionally, they constructed so simply, there's very little that can go wrong with them. They fold down nice and flat, making them useful for vehicles of most sizes.
Other Types of Jacks
Bottle Jacks
Available in many sizes, these are vertically oriented hydraulic jacks. They can lift heavy loads with ease, with the largest able to prop up buildings during foundation repairs.
Click here for more details and to see a list of the best bottle jacks.
Hydraulic Floor Jacks
Low-slung and usually on rollers or wheels, these jacks are a common sight in repair shops. Their low profile makes them very useful for jacking up vehicles with minimal ground clearance.
For more info, check out our guide to buying the best floor jack.
High-Lift Jacks
These massive pieces of equipment are usually reserved for Jeep and other off-road vehicles, as well as farming equipment.
They use a ratcheting system to lift very tall vehicles off the ground. They require a lot more care and strength than any of the other jack types, but they're the only game in town for high-clearance vehicles.
If interested in further details, please see our guide to the best high lift jacks.
What to Consider Before Buying a Scissor Jack
Before you go and grab the first model you see on the shelf or online, there are some variables you should look at and consider first.
How Much Weight Will You Be Lifting? / Max Lifting Capacity
An overloaded jack is dangerous. Before you buy one, it's important to know how heavy your vehicle is.
With that figure in mind, find yourself a jack that exceeds it. That way you'll have perfect confidence that it's up to the task.
Lifting Height / Lifting Range
What's the ground clearance of your vehicle?
Start with that number and choose a jack with a minimum height that's lower so that it fits comfortably under your vehicle.
The flip side of that coin is it also needs a max lift height sufficient to lift your vehicle high enough that you can work on it safely.
Materials / Durability
For such a small device, a jack has a very big job. To do it safely and repeatedly, it needs to be made of sturdy materials. Steel is always a good choice. You also want to see a base made of a single piece of metal, and solid-looking rivets.
For extra assurance that your jack is up to snuff, look to see it's been approved or meets the specifications of your local standards organization.
In the US those designations would be ANSI, PALD, and, ASME. A good warranty is also an indicator the manufacturer is confident the jack is going to last.
Lift Speed
Scissor jacks are not the fastest style of jack available. In fact, they may be just about the slowest.
If you're not in a hurry, this won't be a problem. However, if you're part of a racing team, or you're just extremely impatient, this may not be the type for you.
Price
Because they're so simple, have no complex parts, and don't use a lot of material, scissor jacks are an economical choice.
If you're on a budget, or just don't see the value in shelling out moderate to big bucks (in a relative sense) for a jack you don't expect to need much, a scissor jack makes good sense.
Stabilizing Versus Lifting Jacks: What's the Difference?
Be careful when selecting a scissor jack as many models are meant for stabilizing rather than lifting. This means they are designed to help support something and keep it balanced, but they aren't meant to lift it up off the ground.
These are very useful for trailer owners in particular. A stabilizing jack will keep your trailer level while it's parked and occupied. Frequently they're sold in multiples of two or four, so you can place one in each corner. Many can be bolted or welded right to the trailer and then raised or lowered as needed.
These jacks do not have the proper saddle for raising a vehicle and should never be used for the job. Choose wisely!
Our Recommendations for the Best Scissor Jacks
There are a lot of jacks out there, and we don't want you getting stuck with a lemon. Based on our list of what to look for, we've put together the following selection of the best scissor jacks on the market.
Torin Big Red Steel Scissor Jack
Sometimes you simply want to go with a name you know and trust when it comes to automotive parts and accessories. But truthfully, how many jack makers do you know?
Torin is one of the biggest and best names in the biz, so you know you can buy with confidence.
First Impressions
It honestly looks like the blueprint for practically every car scissor jack out there – right until you see the over-sized bottom plate. It's 4.5 inches wide and nearly a foot-and-a-half long. That makes it much larger than most others we've seen.
All that size means increased stability, and you can never get enough of that.
Specs
Max Lift capacity: 1.5 tons
Lifting range: 4-1/8″ to 15-1/8″
Dimensions: approx. 17.5" x 4.5" x 3.75"
Weight: 7.7 pounds
Special features: Folding handle with grip, alloyed steel frame and saddle, 1-year warranty, meets ASME standards
What We Like
We always appreciate the one-year warranty from Torin, especially since there's a good chance you may not even need it more than once or twice in a year. The extra-wide base also makes us feel pretty secure.
Like all Torin jacks, it's made of strong material and solidly put together. And with a max lift range of nearly a foot, it will get the job done on most standard-size vehicles.
What We Don't Like
Folding handles are great for storage. They are not, however, always great for operation, since they sometimes choose to fold prematurely.
The jack as a whole might be too large to store in the same place your factory-supplied one should go, but overall we'd rather have a bit too much power than too little.
Yeah, we're reaching a bit, here. There isn't much bad to say about this quality jack.
Other Models Might Suit You if
Your vehicle exceeds 3000 pounds
You don't like fidgety folding things, or you have an irrational fear of pinching your skin
Though it's capacity is a bit limited, it does offer a solid lift range. The Torin Big Red 1.5 Ton Scissor Jack is a perfect replacement for your original factory model, even if you still have it. We can almost promise it's going to be better than what you've got.
You can see more pictures, mull it over, and then buy one in less time than it takes to change a tire. Set the ball rolling here:
Pro-Lift T-9456 Grey Scissor Jack
You've never owned a jack. You've never used one. You're not sure you want to use one. But you know you ought to have one in case you ever need one, and there's no one around to help you out.
What you need is a reliable but straightforward jack you can put in the trunk for an emergency (even if you pray you never need to touch it).
First Impressions
Not going to lie to you – this looks like the Torin Big Red painted battleship grey. But, that's not a bad thing.
It looks solid and sturdy, with its large baseplate and ample saddle. And there's something about that grey that says, "industrial strength." Confidence is high. Repeat: confidence is high.
Specs
Lift capacity: 1.5 tons
Lifting range: 3-3/4 inches to 15-1/8 inches
Dimensions: 17.7" x 4.1" x 5.3"
Weight: 9 pounds
Special features: 2-piece handle, meets ANSI/PALD specifications
What We Like
It's not too heavy, and it has a good range of lift. It should fit under most average height vehicles and will be capable of lifting small to moderate vehicles. The price is right, too!
What We Don't Like
Like the Torin, the Pro-Lift T-9456 scissor jack comes with a two-piece handle. Anything in two pieces is inherently less robust than a one-piece version, but this is a minor complaint.
Other Models Might Suit You if
You drive a larger vehicle
You drive a tiny car or a sports car and don't have a foot-and-a-half to spare for a jack
If the "50 Shades" movies haven't put you off the color grey forever, you can hook up with this excellent jack with just one click.
Powerbuilt 640819 Mechanical Scissor Jack
If you lost your original jack, or bought a used car without one, you're probably going to want to replace it ASAP. The trick is finding one that fits into the same little space and won't occupy all the room in your trunk.
We may have a strong contender here…
First Impressions
Actually, nothing really stands out about this jack at first. It looks like a completely standard-issue model such as you might get included with a new car. That's ok, because that means it might just fit in the same spot!
Looking closer you'll notice the slightly different handle and crank set up. The Powerbuilt uses a slot-and-pin system that looks easy to use.
Specs
Lift capacity: 1.5 tons
Lifting range: 4 – 14 inches
Dimensions: 16.5" x 3.9" x 3.9"
Weight: 7.1 pounds
Special features: Handle grips
What We Like
The one-piece handle with it's pin-style connection to the jack should be easier to operate than the typical hook-and-ring system used on most scissor jacks. Those can be hard on the wrists until you get used to them.
It's also a nice, light unit and would be easy to set up and move around for just about anyone.
What We Don't Like
Ten inches of lift is a little skimpy when others in this class are reaching 11 or 12 inches. An inch or two might not seem like much, but it could make a difference on some vehicles or in certain situations.
The base is smaller than others on this list, but should still be adequate.
Other Models Might Suit You if
Again, if you have a heavier car or truck
You don't need it to fit into a smaller storage space (e. you have room for a jack with a larger base)
The Powerbuilt 640819 scissor jack is a basic model that will undoubtedly cover the needs of most average motorists, and it's a suitable replacement for your OEM jack. Click here for your chance to review and purchase.
Ez Travel Collection Mini Scissor Jack
When you're on the road, it's good to be prepared for anything.
Unfortunately, bringing everything you might need takes up so much space, you end up with limited room for the stuff you do need. That's why there are so many "travel-size" products available. But did you know there's a travel-size jack?
First Impressions
Our first impression was probably the same as yours: this is small! It's like a scale model of a scissor jack.
It looks pretty solid for all that, and it certainly is portable. But can it lift a car?
Specs
Lift capacity: 2 tons
Lifting range: 3.5 – 15 inches
Dimensions: 17.5" x 4" x 3.5"
Weight: <7 pounds
Special features: Handle grip
What We Like
Despite its tiny size, it can lift 2 tons, which is a solid amount for a scissor jack. This makes it a viable option for many motorists.
Of course, its main selling point is how small it is. Since it's so compact, you'll hardly even notice it in the trunk. This would be great for any vehicle with minimal storage space, like micro-cars (Smart, Fiat, etc.), sports cars, or golf carts.
What We Don't Like
It may seem ironic, but its biggest drawback is also how small it is. The foot is tiny, so you'd better be very sure you're using it on level ground.
Other Models Might Suit You if
You've got room for a larger jack
You travel a lot of rough, uneven roads
This would be a great little jack to have in a pinch on a long trip, especially if you drive a tiny vehicle. It could also be handy to store wherever you park your lawn tractor for more convenient repairs.
We're impressed with how much lifting range and capacity they packed into the EZ Travel Collection Mini Scissor Jack. Plus it's just cute as heck!
If you can't resist it's tiny charms any longer, you can order yours right now by following the link:
Black Bull Ej212 12v Electric Car Jack
Despite how simple a jack makes it to lift a vehicle, it still requires some strength of arm. Surely, in this era of modern conveniences, there's a model that can do the hard part automatically?
If you don't have the physical capacity to pump a car jack repeatedly, or if you just like cool gadgets, you'll want to look carefully at this next one.
First Impressions
It looks like a typical scissor jack, but with a small electric motor attached on one side. The base looks sturdy and reasonably wide, and the slotted saddle should provide a secure lift if used properly.
Plugging in and operating the two-button remote (up and down) appears incredibly simple.
Specs
Lift capacity: 1 ton
Lifting range: 5 to 14 inch
Dimensions: 16.25" x 4.0" x 4.25"
Weight: 11 pounds
Special features: plugs into 12V outlet, 12' cord, storage case, corded remote for raising and lowering
What We Like
Removing the need for "elbow grease" makes jacking up a vehicle accessible to just about anyone. Plus, you can save your strength for loosening nuts, moving tires, etc. The remote is very simple, and the long cord means you can stand well and safely clear of your vehicle as you lift.
Having a carrying case makes it practical for travel, and will protect the motor from getting banged around.
What We Don't Like
One ton isn't a lot, but should be enough to change a tire on most cars. It's worth remembering that in the unlikely event of a double-whammy –flat tire and a dead battery– you won't be able to use the jack.
Other Models Might Suit You if
You have a larger van or truck
Your 12V outlet doesn't work
It would be tough to beat the Black Bull EJ212 for convenience. While some people might not think it's worth the extra money (they're pricey for a scissor jack), it could be a real lifesaver for those with limited strength or mobility.
For another look at this cool jack and for your chance to place an order, plug into the following link:
Scissor Jack Maintenance Tips
Of all the jack types, scissor jacks are the least complicated, mechanically speaking. There are no fluids to top up and no sensitive parts to protect. (Unless you buy an electric version, in which case you'll want to take care to keep the motor in good running order.)
Still, there are always things you can do to prolong the life of your scissor jack and ensure it's ready to perform when you need it.
Keep it stored in a dry place
Wipe it down after use to remove dirt, debris, and moisture that might interfere with the operation
Regularly lubricate the screw and hinges with silicone spray to keep parts moving smoothly
Do not use grease for lubrication as it will hold on to grit and debris, interfering with the operation of the screw
Occasionally test the jack without a load to ensure movement is smooth
How to Safely Use a Scissor Jack
No matter what kind of jack you're using, it's important to exercise caution when lifting a vehicle. An uncontrolled or unexpected descent can cause serious injuries or even death to the operator, or anyone working on, under, or near the vehicle.
Here are some basic steps for safe operation of a scissor jack.
Park your vehicle in as level a place you can manage (assuming you can move it). If you're at home, choose the garage over the driveway if you have enough room to work. Put on the parking brake to keep the vehicle from rolling back.
Use chocks on the wheels at the opposite end of the vehicle from the jack (front wheels for the back; rear wheels for the front).
If you're doing more than a tire change, get your jack stand(s) and check them for functionality. You should always use stands when performing maintenance under the vehicle, and never rely on the jack alone.
Check your jack for any damage or flaws, metal fatigue, a binding screw, or rust.
Assemble the handle (if necessary) and hook it into the loop at the end of the screw.
Test the jack without a load. Give it a few turns in each direction to make sure it's raising and lowering without any trouble.
Find an approved lift point on your vehicle near where you want to lift. Check the owner's manual if you're not certain about location. These spots are put in by the manufacturer specifically to take the weight of a lift without damaging the frame, body, or mechanicals of the vehicle. Failure to use them puts you and your vehicle at risk.
Clear your workspace of debris, tools, and other people for safety.
Position the scissor jack as close as you can to the lift point. You can just eyeball it for now.
Turn the handle clockwise to raise the saddle. Continue raising until the saddle nearly touches the lift point. Make any last minute adjustments you need to ensure perfect alignment with the lift point.
Keep raising until the vehicle is at the height you need to perform whatever task you have in mind. Once there, position your jack stand(s) (if you're using them) where they need to go.
Carefully lower the vehicle by turning the handle counter-clockwise until the stand(s) are taking the weight. Once you're sure the vehicle is secure, continue to lower the jack until all the weight is on the stands and then remove it.
You can now safely work on your vehicle. When you're finished, repeat steps 9 to 11 until you've taken the weight off the stand(s) again.
Remove the jack stand(s) and move them out of the way. You should also clear the area of any tools or discarded parts.
After ensuring no one is anywhere near the vehicle, slowly continue lowering the vehicle until it's on the ground again.
WARNING: Never Work Under Your Vehicle Using Only Scissor Jacks
Jacks are meant for lifting up vehicles. They are NOT meant for keeping vehicles up indefinitely.
Unless you're just changing a tire, you should always transfer the load to jack stands. Although jacks are generally very reliable, they can fail, and the last place you want to be when if that happens is under the vehicle.
And You Put Me Down Again
Would you forgive me if I said writing this article had a lot of ups and downs? Doesn't matter; I'll never know. I do hope you got all the information you were looking for about scissor jacks today.
If there was a stone we left unturned, please let us know and we'll try to help you out. We'd also be happy to hear any other questions, comments, or concerns you might have. Just leave a comment below anytime!
Thanks for spending time with us today. May all your roads be freshly paved.