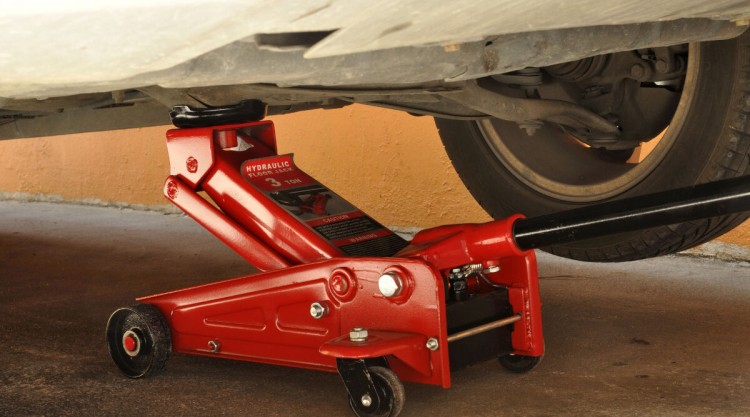 This article is one in a series covering the major types of jacks and our topic today is: The search for the best floor jack.
Unlike many other types of jacks, floor jacks are a cinch to use and easy to move around thanks to the caster wheels on their base. If you anticipate doing regular work on your vehicle, they're a great tool to have at your disposal.
Let's take a closer look at what they are, why you might want one, and how to tell a good one from a not-so-good one. Plus, we'll look at eight of the best floor jacks out there on the market today, then tell you how to use and care for them.
Quick Links to the Best Floor Jacks
Clicking the links above take you to further information, customer reviews and current prices on Amazon.
Best 2-Ton Floor Jacks: Our Recommendations
If you've got nothing but lightweight vehicles in your garage, why bother with a model that could flip a dump truck? Here are two of the best small floor jacks on the market.
Hein-Werner Floor Jack – 2 Ton
Just because your car is small, that doesn't mean you don't take its care and maintenance seriously.
Just because your car is small, that doesn't mean you don't take its care and maintenance seriously.
Maybe you race it, or perhaps you love to tinker? Whatever the reason, it would be great if there were a heavy-duty jack for lightweight cars. Hey, guess what? Here it is…
First Impressions
Everything about it looks solid, from the oversize wheels and casters to the 6.75" saddle. It actually looks so great, you might want to pull it out and raise your car for no particular reason. Pull it out carefully, though, because it's heavy as heck.
Specs:
Lifting range: 4.5 – 20.25"
Dimensions: 28.5" x 6.75" x 11.75"
Weight: 99 lbs.
Special features: one-piece 50" handle, cast iron lift arm and pump base, U-Joint release mechanism
What We Like
With a minimum height of 4.5" it will fit under most vehicles, and we just love how solidly built it is, especially considering it's only a 2-tonner. The long handle will also make lifting a breeze, and the wide chassis keeps it steady throughout the lift. Although we don't expect any problems with it, we still appreciate the 2-year manufacturer's warranty.
What We Don't Like
Admittedly, 99 pounds is really heavy for a lightweight jack. But it's a professional-grade lightweight model, so that's the trade-off.
We're also not crazy about the somewhat hefty price tag, but it needs to be viewed as an investment. This sucker is going to last!
Other Models Might Suit You If
You don't get under your car a lot
For people who love working on their small cars, you'd be hard-pressed to find a better, more reliable model than the American-made Hein-Werner HW93642.
Powerzone 2 Ton Steel Floor Jack
There are true gearheads, and there are weekend mechanics. And then there's the occasional weekend mechanics. If getting greasy isn't your hobby, but you still want to be able to get under your car now and then, there's no reason to spend a bundle.
How about a good, simple jack that can be pulled out when needed and stored most of the year without buyer's remorse?
First Impressions
I'm not going to lie to you; this thing looks basic. Well, that's because it is. It gives the unmistakable impression that it's functional, but not a really serious-looking bit of kit. You won't find this in any commercial shop, I'm sure. But, it's not the least bit intimidating and looks just right for the casual car owner.
Specs
Lifting range: 5.25 – 13"
Dimensions: 19.7" x 9" x 5.7"
Weight: 19.7 lbs.
Special features: overload protection
What We Like
Despite its all-steel construction, it's lighter than most steel floor jacks, meaning it will be easy to move around and position under your car.
It's generally available at a bargain price but still comes with the all-important overload protection feature to prevent you from hoisting past the jack's load capacity and getting yourself into a dangerous situation.
What We Don't Like
It stands a bit tall for such a light piece of equipment, so measure your ground clearance carefully before you buy.
The rear casters are a bit on the flimsy side, but if you're not using it every day, this shouldn't be a big deal.
Other Models Might Suit You If
You drive anything larger than a compact car
Your vehicle is very low to the ground
For a "bargain" buy, the Powerzone 380033 has a lot going for it. From peeks at the undercarriage to seasonal tire changes, this is a good pick for owners of small cars.
Best 3-Ton Floor Jacks: Our Recommendations
Need a little extra lift? Here are some of your best choices for your mid-size vehicle.
Powerzone Aluminum and Steel Garage Jack – 3 Ton
Cars were once made almost entirely of steel. These days there are a lot of aluminum ones out there, too. This keeps the weight down but still keeps them plenty sturdy.
If someone applied the same principle and made aluminum jacks, you'd have a rugged lifter that could still be moved around with relative ease.
What do you know? Someone did.
First Impressions
It's so nice and shiny!
Aesthetics aren't essential for these tools, but we can't help but think this aluminum jack looks great. We also couldn't help but notice the rubber pad on the saddle – a nice detail many alternative options don't have.
All in all, this looks like it would be right at home in most garages.
Specs
Lifting range: 4 – 18.25"
Dimensions: 28.4" x 13.9" x 7.4"
Weight: 59.1 lbs.
Special features: Aluminum frame, overload protection, rubber-padded saddle, side handle
What We Like
While 59 pounds isn't "light," it's still a lot lighter than most aluminum floor jacks of a similar caliber. Makes it a lot easier to maneuver with the handle, or to fine-tune with the grab handle on the side.
The 14.25" lifting range is more than adequate, and it starts low enough to fit under almost any vehicle. And for those who like to baby their baby, the rubber pad for protecting the frame from scratches is a really nice touch.
What We Don't Like
We'd prefer a one-piece handle to a two-piece, but that's not a deal-breaker. Other than that, there's not much to not like!
Other Models Might Suit You If
You have very low ground clearance
You like really heavy stuff
This is a terrific option for small to mid-size vehicles, based on its solid performance and ease of use.
Pittsburgh Automotive Heavy Duty 3-Ton Floor Jack
The motto for some car owners is, "how low can you go?"
High-performance sports cars and custom hot rods sometimes sit crazy low to the road. (Beware of speed bumps!) It's not easy to find jacks that fit under these amazing cars, but Pittsburgh Automotive might have you covered with this low rider.
First Impressions
Yeah, that's really, really low to the ground! It's obvious a lot of thought went into the design to make it as low-slung as possible.
The dark gray paint job is a little drab, but that's not especially important. The paint job on your vehicle is important, so it was nice to see the foam bumper on the lower portion of the handle.
Specs
Lifting range: 2.9 – 19.75"
Dimensions: 28" x 12" x 10"
Weight: 79 lbs.
Special features: Foam bumper on handle, rapid pump system, knurled handle
What We Like
The lifting range on this quality floor jack is over 16 inches – impressive! That means you can lift up taller vehicles like jeeps and light trucks as well as your car.
The handle has a foam bumper to protect your car from scratches, and a knurled top to help you keep your grip.
Overall, it's a very nicely thought out and designed piece of kit. Oh, and it's a bargain, too, costing much less than many others on this list.
What We Don't Like
At nearly 80 pounds, this is a heavy bit of equipment, and there's no side handle for small adjustments or dragging. We still prefer a one-piece handle, but that's OK; the other handle features make up for it.
Other Models Might Suit You If
You only have tall vehicles and don't want to pump so much
79 pounds is too hefty for you to move around comfortably
Considering the cost and the features, the Pittsburgh Automotive Heavy-Duty 3-ton floor jack belongs on the shortlist for anyone shopping for a new lifter.
Peruse the gallery of pictures and send for yours today – just point and click!
Best Low-Profile Floor Jacks: Our Recommendations
If your car or truck is truly among the lowest of the low, you need an appropriately low-profile jack. Check out some of the finest minimal clearance options out there below!
JEGS Performance Products Professional Low-Profile Aluminum Floor Jack
If you truly care about your vehicle, then you want tools made by people who also care about vehicles – and their owners! For a tool that ticks all the boxes for convenience, safety, and vehicle protection, you won't do much better than this.
First Impressions
It's clearly a low-profile jack, and it looks nice and solid, too. The convenience features are quite evident, and you get the feeling you can trust it with your most precious vehicle.
Also, we like that you can actually get at the moving parts with ease when it comes time to service it.
Specs
Lift capacity: 2 tons
Lifting range: 3.5 – 19.25"
Dimensions: 7.4" x 13" x 26.5"
Weight: 50.2 lbs.
Special features: 360-degree rotating saddle, 50" handle with sleeve, knurled grip, rubber saddle pad, two side handles
What We Like
Between the handle bumper and the rubber padded saddle, this jack has been designed to go easy on your car. This is great for anyone who owns a show car or likes to keep his or her vehicle in pristine condition.
At 50 pounds it's not unmanageably heavy, and you can adjust the positioning easily from either side with one of the grab handles. Great lifting range, too. A nicely designed piece of gear!
What We Don't Like
Sorry to be a broken record, but we will always prefer a solid, one-piece handle. It's not like we're stowing this in the trunk and have limited space. Oh well – it's a nice handle, and we wouldn't let this stop us from buying one.
The saddle is narrower than some we've seen, but not unreasonably so.
Other Models Might Suit You If
You're on a budget
You don't care about your paint job
Pro-Lift Grey Low Profile Floor Jack
Like to tinker with your car, but not so much that you're ready to invest a ton of money in a floor jack? For hobby mechanics with smaller cars, a model with good performance in a small, inexpensive package would be ideal. Thank you, Pro-Lift for delivering!
First Impressions
There is something decidedly retro about this tool. Something about the color and the "streamlined" design. Might be good if you've got a classic car and want to recreate the era in your garage?
Other than that, it looks functional but scarcely revolutionary. The handle on top looks like a nice addition, though.
Specs
Lift capacity: 2 tons
Lifting range: 3.5 – 14"
Dimensions: 17.9" x 5.3" x 8.5"
Weight: 30 lbs.
Special features: over-pumping bypass, overload protection, one-piece handle with rubber grip
What We Like
Since it weighs only 30 pounds, most owners will be able to lift it up by the handle with ease.
The minimum height is less than 3.5 inches so it will fit under most small vehicles. The handle is a single piece, which means less chance of a failure at the joint.
What We Don't Like
That one-piece handle we like? It's pretty short, so you may be stooping over to operate it.
The carrying handle is a nice addition, but we'd also have appreciated a side handle for easier adjustments. The lift range isn't bad, but it's not earth-shattering, either.
Other Models Might Suit You If
You have a taller than average vehicle
You do more than just casual work on your car
The best jack ever? No. But, definitely one of the best for those who don't routinely need to access the underside of their vehicle.
For a modest investment, it's a good tool to keep around for a rainy day. Admire its curvy lines right here:
Best Aluminum Floor Jacks: Our Recommendations
Ah, aluminum. (Or aluminum for our readers outside North America!) So light, and yet so strong and durable. Let's review some of the best "Al" options you can buy.
Arcan Aluminum 3-Ton Floor Jack
You run a pro shop – or at least you want to look that way! So, you want a high-quality jack that not only looks the part but performs, too.
If you're not afraid to drop a few extra bucks on your garage gear, you'll want to look closely at this model.
First Impressions
Everything about it looks hi-tech and pro-grade. Part of that is just the stylish design, but it also applies to the excellent mechanical features like the rubber saddle pad and the dual pistons with their dust shields.
For sure, this one looks shop-ready.
Specs
Lifting range: 3-3/4 – 18-1/8"
Dimensions: 31" x 12.5" x 7"
Weight: 56 lbs.
Special features: bumper pad on the handle, rubber saddle pad, dual pump pistons, dual side handles
What We Like
First off, it looks incredible. We appreciate the car-friendly features (bumper pad, rubber saddle), and the user-friendly side handles.
The dual-pistons provide quick lift with minimal pumping – the manufacturer claims you can reach full height (unloaded) in just six pumps. And it's less than 60 pounds so moving it around isn't too bad.
What We Don't Like
Yup – two-piece handle. I guess we need to get used to that. Also, the side handles are very far forward, so it will be unbalanced if you use them for carrying, and they won't be easy to reach for making positional adjustments.
Minor complaints, though!
Other Models Might Suit You If
You're sticking to a lower budget
You're more of a causal mechanic than a serious grease monkey
The Arcan ALJ3T is one of the best-looking, best-performing models we've looked at.
Of course, all that quality comes at a fairly hefty price. Think it might be worth the extra coin? Learn more about it at the link below.
NOS 2-Ton Aluminum Service Jack
If all you want is everything, you may have a hard time finding something to fit the bill. Everything includes low profile; high max lift; not too heavy; durable build; decent price. Oh, and it needs to be backed by a company you've actually heard of.
Prepare to get it all!
First Impressions
It looks sharp with the red and silver finish, and the famous NOS logo on the side. Irrelevant, but still cool. Construction appears solid, and it has the car-protecting features we like to see.
Specs
Lifting range: 3.5 – 19.5"
Dimensions: 29.5" x 13" x 6.5"
Weight: 47 lbs.
Special features: bumper pad on handle, rubber saddle pad, overload protection, rapid lifting, side handles
What We Like
It's less than 50 pounds, so it's not hard to move, position, and even carry. The bumper pad and rubber saddle pad are great for avoiding scratches, and the overload protection is excellent for preventing serious damage!
The lift range is about 16 inches, so you'll be lifting both low and tall vehicles with ease.
What We Don't Like
Other than the 2-piece handle, not much, really.
Other Models Might Suit You If
You need to lift a heavier vehicle (a 3-ton version is available)
You're on a more casual budget
For great looks and performance, this one is a keeper. Ready to buy, or at least ready to learn more? You know what to do…
What Is a Floor Jack?
A low-slung hydraulic jack for automotive use. Operation is typically manual, controlled by pumping a handle or lever up and down to raise and lower the hydraulic mechanism. One of the main benefits of these jacks is that they have caster wheels on the base that let you shift them around with ease.
Advantages of Floor Jacks Over Other Types
There are many things a good floor jack does better than just about any other type out there. Let's take a look…
Speed: Because they're on wheels, you can get floor jacks into position quickly. From there, it's a fast process to lift your vehicle from a standing position with the long handle. Much quicker and easier than a bottle or scissor jack. If it's a simple fix like a flat tire, you can get the job done in no time with a standard floor jack.
Safety: The design of floor jacks keeps the operator at a good distance from the vehicle. If there's a sudden descent, you'll most likely be clear of the danger zone.
Easy Operation: Floor jacks are easily the simplest type to operate. They may look like tools for pros only, but the truth is they're great even for novice mechanics. They roll, they have long handles, and you can use them standing up.
Lift Height: Floor jacks sit very low to the ground. That means you can roll one under even the lowest sitting vehicles you're likely to come across. If you can't get a floor jack under your car, it's either resting on its frame, or you should rethink those aftermarket skirts and dams you added.
Other Types of Jacks
As we've touched on, floor jacks aren't the only type out there. Let's take a speedy look at the other types available.
Scissor Jacks
A scissor jack is a simple, mechanical apparatus that looks like two pairs of scissors joined at the tips. A long screw threaded through the twin folding joints raises and lowers the jack.
We've prepared a detailed guide to the best scissor jacks for those interested!
Bottle Jacks
Like floor jacks, a bottle jack is a hydraulic device, but it has a much smaller footprint and is more a portable jack. Probably the second most commonly owned type after scissor jacks and often found in spare tire kits.
Note: Follow this link for a detailed look at the best bottle jacks
Electric Jacks
As the name suggests, these jacks lift your vehicle using electricity instead of manual labor or hydraulic power. All you have to do is push a button and the device will do the rest of the work for you. On the downside, they can be pricey, often don't support heavier weights, and have lower lift heights.
How to Choose the Best Floor Jack for Your Needs
With so many choices available, it's hard to know which floor jack is right for your needs. Let's review some key points to consider before dropping your cash, so you can be confident you're looking at the right model for your needs.
What Are You Using It For?
Floor jacks are pretty much one-trick ponies. They're meant for raising vehicles off the ground so you can get a look underneath. They tend to be a bit on the long side, meaning they're less easy to stash in a trunk or trailer for use away from home.
If you expect to need your jack on the road, say for holding up the tongue end of a trailer, or for construction projects, a floor jack, with its lack of portability, may not be the best option for you.
Max Lifting Capacity
There's no point in owning a jack that can't lift your vehicle. Trying to stretch their maximum weight capacity could be potentially dangerous.
If you don't know how heavy your vehicle is, check your owner's manual or the manufacturer's website for the correct specs. Based on that number, choose a model that's readily capable of getting it off the ground.
Floor jacks generally don't lift more than a few tons, unless you're ready to shell out upwards of $1000. If you have a very heavy vehicle, then it likely isn't the right type for you.
Maximum Lift Height
Not only does the jack have to get your vehicle up, but it also needs to allow enough clearance for you to work with ease. For example, if you've ever jacked up a car to change a tire, you've noticed that as the pressure is relieved on the shocks, they stretch out. It takes more lift than you might think for a tire to clear the pavement.
If you plan on getting right under your vehicle with the use of jack stands, you'll need to allow enough clearance for you to slide underneath with enough room to work and use tools. A two-foot-high lift jack will only be a good buy if you're comfortable with a two-foot space!
Take some measurements before you go shopping, so you know how much height you're going to want. Make sure the model you buy has a maximum height that meets or exceeds that height or you're wasting your money.
Profile
Not all vehicles are created equal. Do you drive a sports car that makes you feel like your backside is inches from the road? Or is there a 4×4 with significant off-road clearance parked in your garage?
The type of vehicle you drive will partially determine the kind of jack you need. A low-profile model is suitable for low-riders (you're singing the song in your head, aren't you?), but likely won't have the height you need to boost a large truck. On the flip side, very tall jacks may not even fit under your sunny-days-only sports car.
Materials / Durability
Planning on using your floor jack regularly? Look for a model made with heavy-duty steel, or thick aluminum. You also want to see metal wheels and casters, not plastic. Models with thinner, lighter materials may be suitable for the occasional lift, but likely won't last as long.
Safety Features
Every region has its own regulating bodies for safety. Make sure the jack you're buying meets your local standards for mechanical devices. In North America, look for any of the following acronyms: ANSI (American National Standards Institute), ASME (American Society of Mechanical Engineers), and PALD (Portable Automotive Lifting Devices, an ASME mark).
Overload and over-extension prevention systems and a built-in safety valve are also must-haves, so make sure any you consider has these features.
Lift Speed
The only reason to be terribly concerned about this is if you're into racing and need a quick pit stop. Dual-piston floor jacks tend to lift more quickly than single-piston models. A long handle will also make lifting quicker and easier.
Price
There are cheap car jacks, and there are expensive ones. By and large, you get what you pay for . If you don't think you'll be using it often, then a low-cost option may be all you need. For serious mechanics and car enthusiasts, it's not a bad idea to invest a little extra in a model with more features and better construction.
Hydraulic Floor Jack Maintenance Tips
If you don't look after your stuff, you can't have nice things. That's what mom always said, anyway. Here are some useful maintenance and troubleshooting tips for keeping hydraulic car jacks in tip-top shape.
General Tips
Store it somewhere dust can't get at it.
Wipe it down after use.
Fully retract piston between uses.
Inspect it for leaks and cracks regularly.
Topping Up Hydraulic Fluid
If your jack isn't lifting properly, or feels "spongy," you may be low on hydraulic fluid or oil. On the hydraulic cylinder, you'll find a plug. Remove the plug and top up the fluid to the fill line. Use only hydraulic oil for the best, safest performance with hydraulic jacks.
Bleeding Air
Excessive jostling can cause air to get into the hydraulic system, and this diminishes lift performance. Luckily, it's not difficult to "bleed" the air out and restore proper function. Here's how it's done:
Turn the handle counter-clockwise (loosening)
Pump the jack 20-30 times
Tighten the jack by turning it clockwise
Raise the jack to full height, unloaded
Let it back down again
That's it! Remember to bleed the air after every time you add more oil.
How to Safely Use a Floor Jack
Even the smallest cars are very heavy, and you can cause significant damage to yourself and the car if you use a car jack improperly.
Here are step-by-step instructions for safe operation.
Position Your Vehicle: Since floor jacks are usually not the kind you take on the road with you, we'll assume you can park your vehicle on a smooth, level surface. Engage the parking brake and wheel chocks to prevent rolling.
Assemble The Handle: Connect each piece securely so it won't fall apart when you're applying torque. If you have a one-piece handle, you won't have to assemble it, but you will need to insert it securely into the jack.
Locate A Lift Point/Jack Point On Your Vehicle: Not sure where the jack points are? Refer to your owner's manual, because lifting from the wrong part of the frame or undercarriage could cause damage to your vehicle.
Tighten The Handle: Turn the handle clockwise to tighten and ready the pistons for lifting.
Position the Jack Under the Lift Point: Roll the jack and center the pad under the lift point to ensure the safest possible lift. If you have them, you can use the side handles for small adjustments as you approach the frame.
Lift Your Vehicle: Pump the handle until you have enough clearance for the job you have in mind.
Position Axle Stands to Support Vehicle: If you're keeping your vehicle hoisted for a while, or if you need to get right under your vehicle, you'll need to use strong, reliable jack stands to keep it up safely.
Lower the Vehicle: With your jack stands in place (consult our guide to using jack stands, or the owner's manual for specific instructions on using a jack stand), turn the handle very slowly counter-clockwise to lower the vehicle until the jack stands are taking all the weight.
Remove Your Jack: Once you're done, it's time to put your rubber back on the road. Raise the jack until the weight of the vehicle is off the stands and then carefully remove them. Slowly lower the vehicle to the ground, and you're ready to roll!
WARNING: Never Work Under Your Vehicle Using Only Floor Jacks
We cannot stress this enough – jacks should never be relied on to hold a vehicle up if you're working underneath it.
Always use jack stands to support the vehicle's weight during undercarriage work. For extra safety, stack up some tires or wood underneath for redundancy in case of stand failure.
Wrapping It Up
By now you should have a clear idea of whether or not a hydraulic floor jack is the right type for you and your vehicle, and – if it is – which is the best floor jack for your needs.
They are extremely handy in the garage, especially if you're one of those lucky people who own a sports car.
Is there anything we missed, or any questions we left unanswered? Drop us a line and we'll try to fill in the gaps for you! We're also interested in your comments and concerns about this article, or anything you've seen on the site, so please do hit us up in the comments section below.
Product image credits: © Amazon.com
This page contains affiliate links and VehicleScene.com will receive a small commission if you purchase anything after clicking through these links. This has no effect on the eventual price you pay, but helps us maintain and grow the site. We're sincerely grateful for your support.