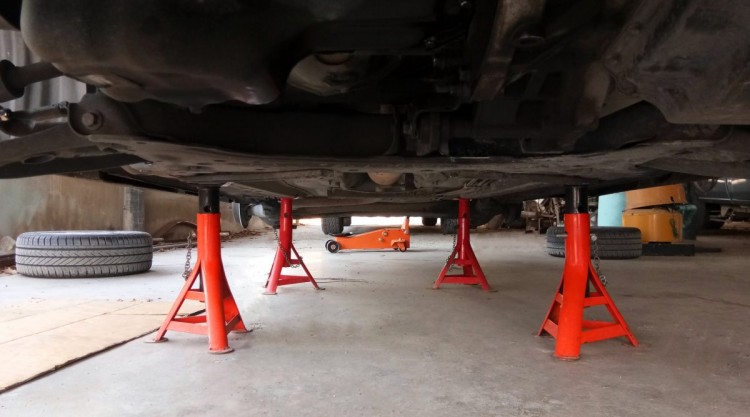 When working underneath your car, you need a good, strong floor jack to lift it. But jacks can – and do – fail, so you cannot rely on one to hold your vehicle up while you're working. That's where jack stands come in…!
In this article, we take a deep dive look at this essential garage staple, covering why you need them, the different types available, what you should look for when shopping, and our top picks of the best jack stands available today.
Quick Links to Our Top Recommendations for Best Jack Stand
Note: Clicking the above links will take you to further information, current prices and customer reviews on Amazon.
Best Jack Stands – A Detailed Look at Our Top Recommendations
Let's take a look at the top models available in 2023. The following few are great all-rounders, and lower down we look into more 'heavy duty' options.
Torin Big Red Steel Jack Stands: 3 Ton Capacity, 1 Pair
These lightweight models will work well to support your vehicle after it's lifted. The generous saddle surface allows for optimal contact with the body it is supporting. These jack stands are suitable for a wide range of vehicles, including cars and some types of smaller trucks.
This model from Torin is offered in a number of different sizes, all of which offer strong support. The steel build is also durable and well-suited for handling different vehicles.
One of the cool features the Torin jack stand comes with is a locking rack and pawl, guaranteeing your safety. The self-locking ratchet bar is adjustable, allowing ample space no matter how far you go under the car.
Thick and sturdy without being too heavy, this garage must-have is not too difficult to move around. The nice finish and sturdy base also make it a premium pick.
Manufacturers Specs and Feature List
Weight: 17 pounds, one pair.
Dimensions: 15 x 9 x 8 inches.
Lift capacity: 3 tons.
Minimum lift height: 11.62 inches.
Maximum lift height: 16.75 inches.
Double locking: yes.
Base length x width: 7.5 x 7 inches.
What We Like
Affordable price point.
Sleek look, the paint is evenly applied and not glossy.
Manufactured from durable, quality steel.
Sufficient weight rating for most cars.
What We Don't Like
Some parts may need lubricating to prevent rust forming.
Might be too tall for some low-profile vehicles.
Summary
This pair of jack stands are good quality and reliable. Although they may not appear very strong at first glance, they're actually very sturdy. It's really no surprise that they're one of the more popular models out there.
Can you see these well-built, rugged jack stands underneath your ride? Learn more about them here:
Torin Big Red Aluminum Jack Stands: 3 Ton Capacity, 1 Pair
These are some of the more attractive models out there with their bright color design. We also like the locking support pins and the fact that these break down quickly for easy storage.
They have a large base, keeping you safe while your car is securely elevated. The aluminum build also means these jack stands are likely to last you a good few years. From small cars to jeeps to SUVs, these are suitable to use on a wide range of vehicles.
Like most other models, these pin-type jack stands come in pairs. Easy to adjust and made with a well-built frame, they're unlikely to disappoint. The pin-style design and easy assembly make them extremely user-friendly. Also, they're quite solid and suitable for use on versatile concrete or asphalt.
Manufacturers Specs and Feature List
Weight: 10.2 pounds, one pair.
Dimensions: 30.7 x 10.6 x 7.9 inches.
Lift capacity: 3 tons.
Minimum lift height: 10.71 inches.
Maximum lift height: 15.63 inches.
Comes with removable locking support pins.
Base length x width: 7.48 x 6.81 inches.
What We Like
Constructed of high-grade, durable aluminum.
Easy to assemble.
Compatible with a wide range of cars.
Easy to break down for compact storage and transport.
Attractive design and paint color.
Generous saddle surface area.
Limited one-year manufacturer's warranty.
Leashed safety pin.
What We Don't Like
The maximum height setting of just over 15½ inches may be too low for some.
There's no padding on the saddle and the base is relatively narrow.
Pin-lock style won't appeal to everyone.
Summary
It's hard to resist this compact, easy-to-transport pin-style jack stand, especially with the glossy paint and the sleek design. Given all the benefits that come with them, we definitely recommend these jack stands.
More information about this model and the latest prices can be found here:
Esco Jack Stand, 3-Ton Capacity
Another sturdy model, the Esco is definitely a long-lasting jack stand that you can rely on to support and carry heavier vehicles. What's particularly beneficial about this model is that the rubber pad and the circular base provide optimal protection and strength.
They have a generous adjustable range of between 13 and 21 inches. The powder-coated base and circular base pads offer optimal stability, so it's almost guaranteed to keep you safe.
The flat rubber pad is a major plus, because that means, unlike other jack stands, it won't leave marks on your car's undercarriage. These are reportedly too big for smaller cars but work well when set to the lowest height level.
Each jack stand is sold either individually or in multiples of up to four.
Manufacturers Specs and Feature List
Weight: 13 pounds.
Dimensions: 20.2 x 14.5 x 12 inches.
Lift capacity: 3 tons.
Minimum lift height: 13.2 inches.
Maximum lift height: 21.5 inches.
Powder-coated base and circular base pads offer optimal stability.
Comes with removable saddle cushion to protect the car frame.
What We Like
Protective, sturdy make, with key safety features.
Versatile height range makes it compatible with different types of cars.
Protective saddle cushion keeps the car frame protected.
Doesn't leave marks on the subframe or suspension components.
Offers optimal stability in comparison to comparable products.
What We Don't Like
They are too tall for smaller cars, even when adjusted to the lowest height setting.
Summary
A sturdy, well-built model, these are a great option you can't go wrong with. It's really worth the money, and it doesn't wobble at all. You can buy one at a time, or up to four in a pack. A reliable product with a great reputation, check it out here:
Hein-Werner Blue/Yellow Jack Stand – 3 Ton Capacity
With a multi-position adjustment, the Hein-Werner allows for changeable positions, all of which keep your vehicle firmly in place. You won't hesitate to work underneath your car with these jack stands because the overall quality is top-notch.
With impressive strength and constructed from extremely durable materials, these are among the sturdiest and safest in their weight class. The saddle column has a good weight capacity, and the overall weld is superior to that of products from comparable brands.
The maximum lift height isn't particularly tall, so they are arguably most compatible with smaller cars. But these jack stands are still super solid, and one of the best you could choose.
Also, their excellent quality means they'll still look good, even after you've used them regularly for several years.
Manufacturers Specs and Feature List
Weight: 19 pounds, one pair.
Dimensions: 9 x 7.5 x 12 inches.
Lift capacity: 6 tons (pair).
Minimum lift height: 12 inches.
Maximum lift height: 19 inches.
Multi-position ratchet bar with a saddle offers easy height adjustment.
What We Like
Versatile height adjustment, making it compatible with a wide range of vehicles while allowing plenty of space.
Overall weld quality is superior to that of comparable brands.
Reliable and sturdy make.
Good finish and colorful design.
Assembled in the USA.
What We Don't Like
Not tall enough to accommodate some higher vehicles, although the adjustable lifting range is pretty wide.
Summary
These Hein-Werner jack stands are some of the best around, and they hold up very well against competitors. The welded frame design of this ratcheting post stand is among the best we've seen, which is as high praise as we can give! Check them out here:
Best Heavy-Duty Jack Stands
Aside from the top picks we learned about in the previous section, there are several noteworthy heavy-duty jack stands on the market. These fulfill the requirements you're looking for in terms of build, durability, and lifting ability when it comes to heavy vehicles.
Most of the products below have a lift capacity several times greater than the standard ones above. Enough capacity, in fact, that a single jack stand may be all you need to support your vehicle.
Omega Magic Lift Black Jack Stand – 12 Ton
These have a mammoth capacity, dwarfing many other options on the market. Also, the lift handle rises automatically as you adjust it. That's where the name "magic lift" comes from.
Sturdy and constructed from welded steel, this pick is notable not only for the self-rising feature but also for its multi-position capability. You can securely lock the ratchet bar with its counter-weighed pawl feature. This helps to keep you safe while you're underneath your vehicle.
With their huge size, these impeccable jack stands will lift many small commercial vehicles, whether that's an ambulance, a truck, or a large SUV.
The magic lift feature is also great for helping prevent fatigue. When you're working with larger vehicles, you want to make sure you have all the energy you need for the job at hand.
Manufacturers Specs and Features List
Weight: 42 pounds per pair.
Dimensions: 23.2 x 15.5 x 17.5 inches.
Lift capacity: 12 tons.
Minimum lift height: 19.75 inches.
Maximum lift height: 30.25 inches.
Multi-position ratchet bar with saddle, offering height adjustment.
Full one-year warranty.
What We Like
Heavy-duty construction.
Welded steel construction allows for optimal durability.
Heavy lift capacity, suitable for lifting only one side of your vehicle.
Lift handle automatically raises, dubbed the "magic lift" option.
Ratchet bar allows for multiple positions and height adjustments.
More stable than most comparable products.
What We Don't Like
Very heavy if you need to carry them around.
Summary
One of the sturdiest jack stands with the heaviest capacity, the omega magic lift is a stellar option with some cool features. Given the size, they're also well-suited for small commercial vehicles as well as bigger cars. For more information on these giants, click here.
Torin Big Red Steel Jack Stands: 6 Ton, 1 Pair
These classic six-ton capacity jack stands, sold and used in pairs, are the garage essentials you'll wonder how you ever lived without. They're also designed to meet top safety standards.
Despite the stability and weight capability these offer, you won't break your back carrying them around the workshop. They're remarkably light for such a heavy-duty product.
Featuring a large foot-base size, these big red steel jacks will keep even the heaviest of loads adequately supported. They also come with a one-year manufacturer's guarantee, so the company has your back in the unlikely event that they fall short of your expectations.
The lifting and height adjustment range is generous and allows for precise adjustments. At a six-ton capacity, these can accommodate heavier vans, trucks, and SUVs.
Manufacturers Specs and Features List
Weight: 29.3 pounds per pair.
Dimensions: 18.5 x 11.8 x 10.2 inches.
Lift capacity: 6 tons.
Minimum lift height: 15.37
Maximum lift height: 23.8 inches.
Large saddle surface area allows plenty of contact with the vehicle.
Limited one-year warranty.
What We Like
Self-locking pins and multiple-position ratchet safety bar help you adjust height ranges easily and safely.
High-quality steel construction.
Generous surface area allows ample load support.
Locking rack and pawl give exemplary security and stability.
Deep red color, nice finish, and glossy look.
Not too heavy to carry compared to other six-ton models.
What We Don't Like
The hinges can get rusty.
The release requires tension to travel far up.
Summary
A quality, durable product, these are a great choice for any vehicle owner. When used in pairs, you'll be able to support a wide range of vehicles.
We love the extra safety features and the fact that they're easy to move around. Read more about them here:
Omega Black Heavy Duty Jack Stand – 22 Ton
Capable of carrying a whopping 22 tons, the Omega heavy-duty stands definitely give a new definition to the phrase! The sturdy steel construction means you can hold up some hefty vehicles in complete safety.
Just don't try moving these bad boys on your own if you suffer from back problems. Many users report that placing these on a slick-bottomed carpet or mat is the best way to shift them around the garage.
The heavy gauge steel frame makes twisting all the more unlikely. An adjustable pin allows for compatibility with varying height levels, giving secure support to an array of loads.
For good reason, these have been dubbed indestructible. They might be heavy to carry around, but they're almost failproof.
Manufacturers Specs and Feature List
Weight: 65 pounds, per pair
Dimensions: 17.6 x 11.9 x 11.1 inches.
Lift capacity: 22 tons, per pair.
Minimum lift height: 13.33
Maximum lift height: 19.66 inches.
The attached heavy-duty pin allows for adjustable heights.
What We Like
Heavy-duty adjustable pins allow the model to work for differing height levels.
Sturdy welded steel construction.
Steel frame prevents twisting.
High weight capacity.
Guaranteed safety thanks to the indestructible
The materials make it a long-lasting model.
Full one-year warranty.
What We Don't Like
The saddle is not deep or wide enough compared to others.
At over 30 pounds in weight for each stand, you won't want to move them far!
Summary
The hallmark of heavy-duty stands, the Omega 22-ton are more than impressive. Given the capacity, each stand or pair is best suited for larger vehicles, like buses, vans, and small trucks. That said, if you're after a failsafe product that will lift anything with ease, you can't go wrong. If you're interested to know more, click here.
What Are Jack Stands and What Is Their Purpose?
Jack stands are vital when it comes to keeping an elevated car or vehicle safely off the ground in a stable position. If you need to change a tire, a jack (sometimes called floor jacks or simply car jacks) that elevates just a side or corner of your vehicle will suffice.
But if you need to carry out significant work on the undercarriage, you'll need more than just a floor jack or hydraulic bottle jack. Never, ever work under a car supported only by a jack! That's where jack stands come in.
Once you've lifted the car, they should be placed securely under the axle or frame to keep the vehicle off the ground…with very little chance of failure and the vehicle dropping.
Over the years, the designs of these tools have evolved significantly. These days, many come with useful features, such as a ratchet-type height adjustment, for example.
With modern versions, even the most inexperienced handyman can fix their car in the comfort of their own garage or driveway.
Since you'll usually be using a jack stand to allow you to go underneath your car, you want to make sure you've invested in a reliable, sturdy model. You need one that won't collapse and compromise your safety.
When using them, you must ensure that your vehicle is standing on a safe, solid surface, otherwise you run the risk of your vehicle destabilizing. This is extremely hazardous for the person under the car.
What Different Sizes and Types of Jack Stand Are There?
There are various kinds, suitable for different types of cars. For instance, supporting a sports car will require a smaller-framed, lower-capacity stand than that needed for lifting an SUV.
Commercial vehicles like trucks, vans, and ambulances will require the heftier types of stand. Most jack stands used for this purpose have capacities of 15–25 tons.
Different types and sizes of jack stands are available, with variable lift capacities. You need to look for one with a maximum capacity that is heavier than your vehicle's weight. Those with a 3-ton weight capacity are usually sufficient for smaller vehicles.
There are a couple of main configurations of jack stands. They can be a straight column construction, designed to stay stable on the ground. Otherwise, they can be pyramid-shaped, which provides more ground area contact. Most modern products are of the latter kind.
There are two main categories of jack stands. Let's look at each one.
Adjustable-Height Jack Stands
Adjustable models do exactly as the name suggests. They allow you to adjust the height or clearance of your vehicle after it's already off the ground.
To do this, they generally have a tripod base with a moveable rod in the middle. This rod is attached to the saddle—the part which makes contact with your car. The adjustment is made using a built-in ratchet.
Units made for heavy vehicles often feature an adjustable steel locking pin that is used to secure the stand at the clearance level desired. A threaded type is a third style.
One obvious benefit of adjustable models is you can change the height clearance as and when you need to without going through the hassle of lifting the car all over again.
Fixed-Height Jack Stands
Fixed-height stands have two main advantages over adjustable ones.
The first is to do with safety. Because there are no moving parts, or fewer moving parts, there is far less potential for them to fail.
The second key advantage is also related to the first. Fixed jack stands are super reliable and will last you for years because they are solidly made without any moving, mechanical parts that can fail.
If you intend to work on just one vehicle at home, fixed-height stands are probably your best option. Just make sure you buy the right ones for your vehicle and needs.
A downside to this type is that they aren't as versatile. You won't be able to use the same ones on different types of vehicle. They're also quite heavy, so are not as portable as their adjustable counterparts.
Consider What Type You Need
You can find low-rise or regular jack stands, depending on the type of vehicle you're working on. The latter is best suited for SUVs and larger vehicles, while smaller stands are best for smaller cars.
If you have a Corvette, for example, a small stand with an average-sized frame would suit you best—larger ones would not fit under the car.
What to Look for When Buying
When selecting the right jack stands for your vehicle, you'll need to consider the load capacity of both (or all four) stands together. They are usually sold in pairs as this gives you a balanced, safe way to lift your car.
There are a number of other factors to bear in mind while considering your purchase. These include:
Height
You need a car jack stand with a generous enough height setting to accommodate you underneath it. Around 20 inches as a maximum height for the support bar is likely to be sufficient.
If you're looking at models with a max height much less than that, there may not be enough height clearance for you to get underneath the car.
Base Area and Stability
Interlocking jack stands offer the stability and strength you'll need to keep your vehicle steady because they are built in a four-legged structure.
Check the welding locations before buying, to make sure you're purchasing a model that is built to last. The last thing you want is to have the jack stand underneath your vehicle collapse while you're under there too.
A cool feature to keep an eye out for is a double-locking safety feature. This stops the stand from moving even if the handle is bumped. You usually won't need to use the double lock when the jack stand is at its lowest height setting.
Safety Certification
Look for models certified or approved by Portable Automotive Lifting Devices (PALD), the American Society of Mechanical Engineers (ASME), the American National Standards Institute (ANSI), or Portable Automotive Service Equipment (PASE).
The Larger the Saddle, the Better
The saddle-shaped part of a jack stand is where it contacts the car and is used to support it.
The larger the saddle's surface area, the more support your car has off the ground. A saddle with a good surface area also helps keep your vehicle stable.
Materials and Durability
You want a jack stand made from a long-lasting material that's unlikely to rust or crack. Usually, steel is a safe bet. If you choose a product made from a durable material, it should last in your garage for a decade or more with proper care and maintenance.
Cost
With such a huge range of jack stands on the market, you can also expect a range of prices. You'll find some that cost less than $50 and others with a price tag of over $200.
Because it's so important to protect yourself while working under your vehicle, bear in mind that the extra outlay is generally worthwhile.
Cheaply made stands are more likely to collapse. Aim for the highest quality model you can afford. Don't compromise your safety over a few extra dollars.
Conclusion
Many horror stories abound that feature cheap jack stands collapsing while the owner is under the car. To make sure you don't star in your own horror story, put some time and effort into choosing a strong, quality product. Figure out your needs, check the weight capacity you need to lift, and decide which features matter to you.
Some jack stands are more expensive than others, but it's best to invest in a quality brand instead of risking your life each time you slide underneath your vehicle! Plus, when you invest wisely, you'll have a product that will last for many years in your garage.
Which jack stand have you chosen to buy? How well do they work with your vehicle? Let us know in the comments section below. We're also more than happy to help if you have any questions you'd like to ask.