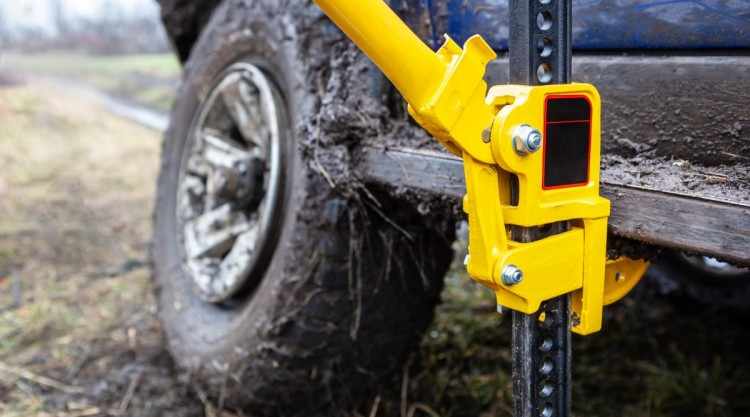 I always had my Freudian suspicions about people who drive giant vehicles on tires that look like they came off one of those mining trucks that are accessible only by ladder. But then I rode in one.
The view of the road ahead is commanding, and you feel almost unnaturally safe up there.
I suppose that must be how semi drivers feel all the time? And of course, if you're into off-roading, height is a distinct advantage.
When it comes to maintenance, however, that height can suddenly be a disadvantage. Your average car jack doesn't have the reach required to pick one of these rolling observation platforms.
The solution? The high-lift jack.
For all you drivers who have never even noticed a speed bump, this review is for you.
We'll take a look at how high-lift jacks work, and the features you should be looking for when you're shopping around.
We'll also showcase five of the best high-lift jacks on the market to help make your job a little easier.
Quick Links to Our Top 5 Choices of Best High Lift Jacks
Note: Clicking the above links will take you to further information, current prices and customer reviews on Amazon.
What is a High-Lift Jack?
This is a very specialized – and rather intimidating looking – jack meant for lifting tall vehicles.
They use a ratcheting system to lift a vehicle in small increments gradually. You'll usually find these used on off-road vehicles like Jeeps, Land Rovers, etc.
High-Lift Versus Hi-Lift: What's The Difference?
You'll see both terms used interchangeably, but there is a difference.
"High-lift" refers to the entire category of jacks.
"Hi-lift" is the brand name of a company that makes high-lift jacks.
It's kind of like saying Kleenex vs. tissue, or Aspirin vs. acetylsalicylic acid. Except worse because they sound exactly the same.
How Does a High-Lift Jack Work?
The most prominent feature of a high-lift jack is the tall I-beam that gives the jack its height. This beam is perforated with regularly spaced holes up and down its entire length.
As the handle is pulled down, it disengages a climbing pin. The pin is part of a complicated apparatus that wraps around the I-beam. The apparatus moves up one notch and the pin re-engages, sliding into the next hole.
It's a bit like using pegs to climb up one of those boards high school gyms always used to have, but no one was allowed to use.
At the opposite side from the handle, this mechanism has a hooked shoe. This is the part that makes contact with the vehicle. Continuing the up-and-down cycle walks the mechanism up the I-beam, thus lifting the vehicle.
For a more detailed look at the workings, please see our guide on how to use a high-lift jack.
Why Might I Need a High-Lift Jack?
If you're into adventures beyond the pavement, you probably drive a tall 4×4 vehicle, or something similar?
Such vehicles, with their oversized tires and high-clearance suspensions, are great for handling rough terrain. What they can't handle, or rather what can't handle them, are standard automotive jacks.
Your typical scissor or bottle jack might have a maximum lift height of around 15 inches. That's plenty for your average car, SUV, van, or even pick-up. For an off-road vehicle, that's probably not going to be enough.
A high-lift jack is portable enough to take with you, but tall and rugged enough to handle all kinds of sticky situations.
They're perfect for changing tires, or making small repairs, like bending back a damaged body panel.
Stuck in the muck? Use your high-lift jack to get your drive wheel clear of the ground and then shove some sticks or something underneath for traction. You can even use it for winching your way out of a rut. If you run into to trouble far from help, a high-lift jack could save your neck.
Advantages of High-Lift Jacks Over Other Jack Types
While they aren't as portable as scissor or bottle jacks, they do clamp nicely onto off-road vehicles, making them just as easy to tote. Additionally, their enormous height allows them to lift tall vehicles off the ground that many scissor, bottle, and floor jacks couldn't touch.
On top of these reasons, high-lift jacks can also perform many other functions that regular jacks can't. For example, a bottle jack isn't going to help you pull a fence post out of the ground. And you'll live a 100 years and never see anyone winch a 4×4 out of a rut with a scissor jack.
Having said that, it is not the best choice for a routine tire change in the garage due to an inherent lack of stability. If you plan to use it in the shop, make sure you have jack stands handy for even the most routine of jobs.
Other Types of Jacks
As a comparison and to maybe fill in any gaps in your knowledge, here is the low down on other types of car jacks on the market.
Hydraulic Bottle Jacks
You can get these in a range of sizes from 1-ton to 100-ton capacities.
They're great for lifting standard, on-road vehicles or even tractors. You can even use them for lifting and supporting on construction jobs thanks to their strength, stability, and reliability.
We talk a ton more about them in our search for the best bottle jack.
Hydraulic Floor Jacks
They look like skateboards with a long handle, but they're not much fun to ride. They're perfect in shops and garages, as they can be maneuvered with ease, and they fit under even low-slung vehicles.
For more details, check out our article: Best floor jack – Buying guide and reviews.
Scissor Jacks
As basic as jacks come, they're also easy to maintain and operate. Most new vehicles come with them. They're light and great in a pinch.
Please click here for a detailed look at the best scissor jacks.
High-Lift Jack Accessories
We usually don't talk much about accessories, but then again most jacks don't have any!
However, there are many extra goodies you can get that can enhance the performance and versatility of your high-lift jack. Here are three we really like.
Lift Mate
No, this isn't your buddy that gives you a ride home when you've been at the bar for one too many.
A lift mate is sort of a sling that attaches to the wheel of your vehicle and then to the jack. Lifting from the wheel gives a very secure connection and a height advantage since you're not fighting the suspension for lift.
Off-Road Base
High-lift jacks have very narrow bases. This is entirely by design; the skinny footprint allows them to be mounted with ease to the outside of a vehicle, plus there are situations when a bit of tilt is desirable.
Most of the time, however, you want your jack nice and level. That can be hard to achieve on a trail. An off-road base fits securely on the bottom of the jack and widens it considerably for a steadier, safer lift.
Bumper Lift
A simple hook attachment that allows you to lift your vehicle by the bumper – assuming you have a nice, solid bumper.
This is convenient for situations when you'd like to raise the entire front or back end, and not just one corner.
What to Consider Before Buying a High Lift Jack
A lot is riding on your high-lift, so you can't choose just any old model. Here are some of the features you shouldn't do without, and other things to consider.
Materials / Durability
A lot of strain is placed on a high-lift jack. Cast parts will never hold up better than parts welded together or hammered into shape. In short, the fewer cast parts, the better.
Lifting Height
Typical high-lift jacks range from 48 – 60 inches in height. The lift capacity won't change within the same model line, so you just need to decide how high you need to go.
If you're tackling giant boulders in a super-high vehicle, go with a 60. Just remember – the higher you go, the less stable you get.
Price
As is often the case, you generally get what you pay for. There are plenty of low-cost high-lift jacks on the market, but many are cheaply made and may not stand up to rugged use.
We highly recommend spending a few more bucks on better equipment. High-lift jacks are often put through the ringer, so opt for quality now instead of frustration later. The few bucks left in your wallet aren't worth it.
Clamp Attachment
It goes without saying that a high-lift jack needs a spot at the top for attaching a chain for winching. Even better is if that spot doubles as a clamp.
By ratcheting the mechanism until the lift plate meets the top clamp, you can really put the squeeze on something. Alternately, you can flip it over to use as a spreader in rescue/extraction situations.
The Best High Lift Jacks for 2023
Now that you've seen what features you want in a high-lift jack, let's review some of the very best you can buy.
Hi-Lift Hl485
For some people, the original always equals best.
If you prefer to trust your equipment and yourself to the best-known maker in the business, the one that launched the entire category, you might not need to go any further than our first review.
First Impressions
It looks like the poster child for high-lift jacks. Actually, since the company was first to market with this style of jack, it's no surprise all others in this category look pretty much the same.
The red, powder-coat finish looks great and should be durable. Since it's all-cast metal, it certainly looks solid as a rock from winch clamp to the base plate.
Specs
Lift capacity: rated – 4,660 pds; tested – 7,000 pds.
Height: 48 inches
Weight: 29.7 pounds
Special features: Shear bolt (overload protection), winch connector clamp, all-cast metal, winch-connector clamp
What We Like
High-lift jacks are outside basically all the time, so we appreciate the rust-resistant zinc-plated hardware.
The sheer bolt means it can never lift past its capacity, and that means safer lifting.
Because it's literally the name brand in high-lift jacks, it's easy to find compatible accessories and support. And you can get the same jack in 42- and 60-inch models.
What We Don't Like
The handle on the Hi-Lift HL485 is much shorter than others in this category, and that means it will take more strength to lift your vehicle.
The base plate is also smaller than some others we've looked at, but if you opt for the off-road base attachment, this won't matter much.
Why Another Model Might Be Better for You
You're not sure you have the strength to use the shorter handle
You don't want to buy accessories and would prefer a larger base out of the box
You're looking for a more budget-friendly high-lift jack
Yes, the Hi-Lift HL485 costs a bit more than some others with similar specs. For your money, however, you get 100 years of expertise backing your purchase, and a super-durable, high-quality jack.
There are still 4 more jacks on our list, but if you think your search might be over, follow the link to see more pictures, some useful videos, and then buy one for your next adventure.
Torin Big Red Tr6501b Ratcheting Jack
Off-roading is just one of the applications for high-lift jacks. They're also great for farm equipment, clamping, spreading, and so on.
If you're looking to put your new jack to work all over the place, you want a versatile, easy to use jack. And you want it from a name you know and trust already.
Good news! One of the best names in automotive jacks and equipment – Torin – also makes high-lifts.
First Impressions
It's a good-looking jack overall, but the most notable feature is the long handle – it's almost as long as the I-beam. It also has a fairly big base plate, and you just get the feeling it's a reliable piece of equipment.
Specs
Lift capacity: 6,000 pounds
Height: 48 inches
Lifting range: 5.12 – 40 inches
Weight: 30 pounds
Special features: Rust-resistant powder coat, high-grade steel, adjustable top clamp, meets ASME standards
What We Like
The extra-long handle should make this jack much easier to operate than others we've seen. It's all about extra leverage. Plus, it's got a rubberized handle for easy gripping.
The versatile top clamp is great for squeezing things tight and for use with winching applications.
Looking at the bottom of the jack, we find a large, forged base plate for added stability and strength. Comes in a 60" version, too.
What We Don't Like
Torin doesn't seem to offer the same array of accessories as Hi-Lift or Smittybilt.
Why Another Model Might Be Better for You
You want a one-stop shop for add-on parts and accessories
You need more than 6,000 pounds of lift (what the heck are you lifting??)
Buying a product from a company that has a great reputation in the field is a real confidence booster. Even if things don't go according to plan with your Torin Big Red TR6501B, at least you know there's a solid manufacturer you can connect with. Plus, it's easier on the wallet than some high-lift jacks.
If Torin is already in your garage, why not add one to your off-road, emergency, or farm equipment, too? Follow the link for info, pics (some of which show you how NOT to use a high-lift jack), and to buy yours now.
Smittybilt 2722 Universal Trail Jack
For serious automotive adventures, you want equipment that's going to stand up to extreme conditions and continuous use. There's a good chance if you're this type of person, you already know Smittybilt products. They make an incredible array of products from utility knives to winches to storage and repair solutions.
For all that kind of off-road lifestyle know-how applied to a high-lift jack, this is a perfect choice.
First Impressions
The grey and black paint job doesn't stand out much, but that's ok – in a perfect world it'll be dirty in no time, anyway. The handle seemed a bit short at first, but since this is a 54" jack, it's actually longer than I realized.
Specs
Lift capacity: rated – 4,660 pounds; tested – 7,000 pounds
Height: 54 inches
Weight: 30 pounds
Special features: Rubber handle grip, rust-resistant, zinc-plated hardware, powder coat finish, 28 sq. in. base plate
What We Like
It fills us with confidence knowing outdoor adventure experts who understand the conditions off-roaders experience made this product.
The long handle is excellent for getting good leverage, and we like the rubber grip. We also like that it's 6 inches taller than 48" jacks, but it really doesn't weigh much more.
Most of the parts are cast for extra strength. We also kind of dig the fact there's such a HUGE array of other goodies available, especially if you drive a Jeep.
It's not really relevant to the jack, but it's fun to shop and match up all your accessories – including jack mounts for your vehicle.
What We Don't Like
The base plate is a good size, but it's not a single cast piece, unlike just about every other jack we looked at when selecting our top 5. It's probably still solid, but it's the one part of this jack we're not 100% sold on.
Why Another Model Might Be Better for You
You don't have room for a 54" jack
You're replacing a Hi-Lift jack – Smittybilt is not compatible with many Hi-Lift accessories
The Smittybilt 2722 Universal Trail Jack is a good choice for anyone who hates being stuck indoors when there are trails to explore out there. It's the perfect compliment to your existing array of gear, especially if you're already part of the Smittybilt community.
To start your journey towards Smittybilt ownership, just click below!
Hi-Lift Utv-364
Not everyone into pavement-free adventures is driving a 1st cousin to a monster truck! So, where's the high-lift jack for the small-but-mighty off-road warriors?
If you didn't think you could get the power and versatility of a full-size high-lift in a compact package, we've got the jack for you. UTV drivers rejoice!
First Impressions
Amazingly, this looks just like the big boys – same features, same solid construction. It's just shorter! Seems like it will fit nicely on ATVs, UTVs, and other, smaller off-road and farming equipment.
Specs
Lift capacity: rated – 4,660 pounds; tested – 7,000 pounds
Height: 36 inches
Weight: 30.1 pounds
Special features: Rust-resistant zinc-coated hardware, powder-coated finish, cast-metal parts
What We Like
It's awesome that someone made a model just for UTV enthusiasts. And they did it without compromising the quality, or features.
It's rust-resistant, has solid, cast metal parts, winch clamps – the whole nine yards! Amazingly, it has the same lift capacity as full-size Hi-Lift jacks, so you can use it on full-size vehicles if necessary.
We'll also mention that we like how Hi-Lift puts a sticker with safe lifting instructions on the handle of every jack, including the little guys.
What We Don't Like
It's surprisingly heavy for a small jack, and some people might not appreciate hauling around an extra thirty pounds, or so.
Why Another Model Might Be Better for You
You don't drive a UTV or other, smaller off-road vehicle
This is an amazing "little" jack, and the perfect companion for compact off-roading, farm machinery, or for heavy yard equipment. You can also get it in a 42" version for a bit of extra lift.
If you love your UTV, side-by-side, or ATV, you should stow one of these aboard whenever you head out. You can order yours right here:
Hi-Lift Xt485 X-Treme Jack
Is off-roading your passion? Do you scoff at "weekend warriors"? Can you even remember the last time you went a week without another backwoods exploration or desert safari?
For people who are really serious about this stuff, only the best, most-reliable gear will do. If you want equipment that's as extreme as you are, there's only one choice, really.
First Impressions
Frankly, all high-lift jacks are a little intimidating, but this one is really intense.
The Hi-Lift XT485 X-Treme looks more like industrial machinery than an automotive jack. When the zombie apocalypse finally comes, you'll want one handy.
Everything about it just says, "Yup. This will do the job." Hi-Lift says this is their top of the line model and we believe them.
Specs
Lift capacity: 7,000 pounds
Height: 48 inches
Weight: 31.8 pounds
Special features: All cast-metal, rust-resistant gold zinc-coated winch/clamp attachment, metallic powder-coat finish
What We Like
The special coatings will delay rust even longer than what you get on "standard" high lift jacks. (It's steel – it will rust eventually!) The unique clamp/winching attachment is well designed for threading and securing chains.
What We Don't Like
Is a rubber handle grip too much to ask for? Yes, you should use gloves, but still, this seems like a no-brainer of a feature.
Why Another Model Might Be Better for You
You don't off-road enough to warrant the premium price tag
You don't expect to do much winching or clamping
The upgrades from a standard Hi-Lift jack to the XT485 X-Treme are pretty cool, but not Earth-shattering. For most people, this jack may not be worth the extra money. But, if you always insist on the best and love to put your gear through its paces, you should strongly consider picking up this jack.
To get an even better idea of its capabilities, and to place your order right now (because it's awesome) all you have to do is point and click.
How to Safely Use a High-Lift Jack
Not to scare you, but a high-lift jack can be an extremely dangerous piece of equipment. That space between the central beam and the handle when it's pulled back? Some people call it the "triangle of death."
There's a lot of force applied there, and if the handle snaps back it will crush anything in its path like a nut. That includes protruding vehicle parts, limbs, and heads. It's an amazing tool, but must be handled with care and treated with respect.
There are many uses for a high-lift jack, but we're just going to cover a standard lift. Here's how it's done:
Lifting a Load
If possible, move your vehicle to level ground. (More often than not, this won't be possible because you'll probably be stuck.)
Chock your wheels opposite from where you'll be lifting to prevent rollback. If you don't have chocks, you could wedge in some rocks if there are any handy.
Inspect your jack for any damage, or anything that might prevent it from operating properly.
Identify where you plan to lift your vehicle. There are many possible points, but it's important to choose a solid point of contact for safety.
Place the base of the jack on as level and firm a surface as possible (carrying a board with you is a good idea; an off-road base is even better). Point the steel I-beam straight up.
Find the reversing latch (a hook-shaped level on the ratcheting mechanism) and lift it until it locks. It is now in the UP position and ready for lifting.
Take the handle and pull it down and away from the steel bar until the handle clip spring releases.
Grab the handle socket and lift the ratcheting mechanism until the large runner (the part for lifting that sticks out opposite the handle) is firmly in contact with the lifting point on the vehicle.
Make sure the area is clear of people, and you can work safely and without obstruction.
Take hold of the handle with both hands. Carefully pull the handle down, making sure to keep your head and upper body clear of the gap between the handle and the steel I-beam. The load will raise one notch on the down stroke.
The handle is now under high tension, and the upstroke must be carefully controlled. Letting go of the handle will cause it to snap violently back to an upright position. Continue the up and down motion to lift the vehicle.
Visually inspect the vehicle and the jack after each notch upwards. If you see the jack or vehicle begin to shift, stop pumping and attempt to stabilize. If you can't, you may need to lower the vehicle and try again.
Once you've got the vehicle to the height you want, ease the handle into the upright position. Use the handle clip to hold it in place against the I-beam.
If you're making a repair or changing a tire, it is best to transfer the load to blocks or jack stands. Position the blocks or stands under the vehicle where you want the support.
Shift the reversing latch to the down position.
As before, grab the handle with both hands and carefully pump it up and down.
Once the weight has shifted from the jack to the blocks or stands, the lowering mechanism will suddenly drop to the bottom. This is normal (it releases when the applied load is less than 150 pounds), but can be startling.
Lowering a Load
Ensure the area is clear of hazardous debris and people before you lower the vehicle.
If the vehicle is on blocks or jacks, follow the instructions for lifting a load until the weight is on the jack. Carefully remove the blocks or jacks once the jack is secure.
When you're ready to lower, push the reversing lever into the down position.
As always, take the handle in both hands and begin carefully pumping up and down. The mechanism will ratchet down one notch on each upstroke.
Continue pumping until the vehicle is in contact with the ground. As noted earlier, once the load on the jack drops below 150 pounds, the ratcheting mechanism will quickly slide down to the bottom.
WARNING: Never Work Under Your Vehicle Using Only a High-Lift Jack
You should never rely on any jack to support a vehicle while you work underneath it. This is especially true of high-lift jacks.
The height of the lift and the typically uneven terrain make them unstable even in the best of times. While sometimes this can be advantageous (like if you want to nudge your vehicle sideways), it is extremely dangerous.
Always use blocks or jack stands if you plan to get under your vehicle.
Back Down to Earth
Itching to grab a high-lift and see where the road less traveled leads you?
Cross-country and off-road journeys are a lot of fun, so we don't blame you! Just make sure to pack your jack – the piece of mind you'll have knowing it's there if you need it is worth every penny of the investment.
If off-roading is your thing, we're willing to bet you've got friends who are into it, too. Make sure to share this article with them and help them out. It's either that or end up helping them out with your own jack down the road!
Thanks for dropping by today (between adventures, no doubt!) and for choosing us as your source for automotive info. Drive safe!