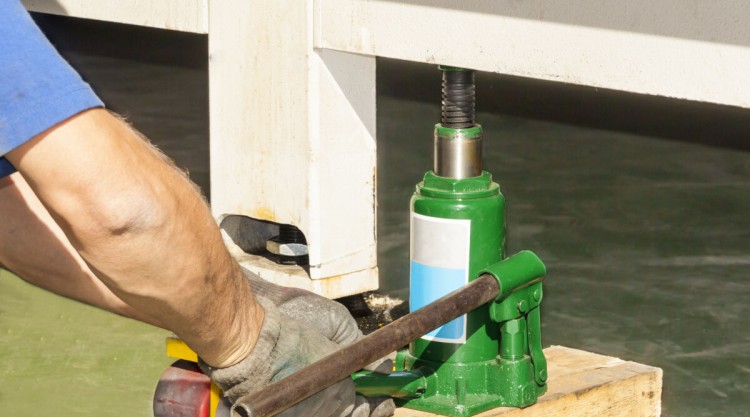 In a perfect world, your vehicle would always be ready to give you a lift. There are occasions, however, when the opposite is true. Sometimes your car needs a little pick-me-up.
Even if you aren't ultimately able to solve the problem yourself, it's good to get underneath and see what's up with your own eyes. The second a mechanic puts your car on a hoist the charges start accumulating.
There are many different kinds of car jack to choose from. Which one is right for you and your vehicle? We've created a series of comprehensive articles to tackle the topic so you don't have to scour the internet, sifting through the facts and the fake news.
The topic today is on the search for the best bottle jack.
Subtopics are what to look for in a bottle jack, how to use and maintain one, and reviews of some of the best on the market.
Quick Links to Our Top 5 Picks from Our Search for the Best Bottle Jack
Clicking the links above take you to further information, customer reviews and current prices on Amazon.
What Is A Bottle Jack?
A bottle jack gets its name from its shape: it looks just like a bottle fly. Ok, no, it looks like a bottle. Not a lot, really, but enough that someone figured it was a decent name.
Hydraulic bottle jacks are an apparatus, with a central lifting ram that lifts out of the cylindrical body.
A removable handle allows the operator to raise the pillar with such ease, that anyone can lift a large vehicle.
Why Might I Need A Bottle Jack?
Maybe it's a flat tire? Perhaps it's a mysterious leak? There is a myriad of reasons why your car or truck might need to be lifted off the ground.
Bottle jacks are also good for raising or supporting trailers or propping up sagging structures awaiting foundation repairs.
Advantages of Bottle Jacks Over Other Types
The size to lifting capacity ratio of a bottle jack is a major selling point. (The largest ones, called "barrel jacks" are used to hold up houses.)
They're quite compact, with a small footprint so that they can be used in cramped quarters and then just tossed into the trunk.
They tend to be pretty heavy-duty, too, so they'll stand up to rough service.
Other Types of Jacks Available
Bottle jacks aren't the only type on the market, there are of course others.
We have entire articles dedicated to them, but just for illustration purposes, here are what they look like, a brief description and a link to further info should you want it:
Scissor Jack
A simple mechanical device, this is the kind of jack many manufacturers include with the vehicle. They employ a screw-driven mechanism and a scissor-style pivot point rather than hydraulics to raise and lower vehicles.
You can check our detailed guide to the best scissor jacks for further info.
Hydraulic Floor Jack
Found in most automotive repair facilities, these jacks are low profile, easily moved, and work under most vehicles.
For more info, check out our guide to the best floor jacks.
What to Consider Before Buying a Bottle Jack
There is a glut of bottle jacks out there, and they mostly look alike. Here are some features and factors to consider when you're shopping around.
We go more in depth in our detailed look at the best bottle jacks.
What Vehicles Will You be Lifting?
There's no use buying a great bottle jack then getting it home to discover it won't fit under your chopped hot rod or low-slung sports car.
They are pretty tall even when completely lowered, so they're generally more appropriate for SUVs, trucks, and vans.
Maximum Lifting Capacity
If you try to push a bottle jack past its limits, you'll either be unsuccessful in lifting your vehicle, or it'll lift a bit and then come right back down again when a safety valve kicks in if the lifting piston is over-extended. Both scenarios are sub-optimal.
Know the weight of your vehicle before you buy, and purchase a jack with the appropriate capacity to avoid frustration and danger.
How High Must it Lift?
Merely clearing the ground is enough for a basic tire change. But if you plan on getting more adventurous under your vehicle, you'll need a jack that can give enough clearance for easy access.
Measure the ground clearance of your vehicle, and then add space for working comfortably.
Build Quality
You expect a lot out of a jack, from raising cars to propping up small buildings. A lot is riding on it, so it had better be made to stand up to the job!
Obviously, it should be made of steel, and any welds ought to look suitably robust.
Lifting Speed
Bottle jacks aren't noted for breaking speed records. (Does anyone even keep track of that?) Still, you don't want to be pumping all day (it gets tough on the arms), so it's not unreasonable to want a model that gets the job done relatively quickly.
A very slow jack can be frustrating and may even be indicative of an inferior hydraulic mechanism.
While manufacturers don't list lift speed on the package, it's worth investigating. If you can give it a trial run before you buy, you'll know what you're in for. If you're more of an online shopper, see if you can find a video of your potential purchase in action to gauge the ease-of-use and lift speed.
Safety Features
When you're working on your vehicle while it's jacked up, there are thousands of pounds of metal perched on a tiny platform. It's not hard to see the potential for danger in this situation! It's imperative that you follow basic rules for safe use, and that the jack is built strong and functions safely.
To be sure the model you're considering complies with current safety standards, look for ANSI (American National Standards Institute) and/or ASME (American Society of Mechanical Engineers) certification on the package, in the manual, or marked right on the product.
Another acronym you might come across is PALD. It stands for Portable Automotive Lifting Devices, and if you see it, it means the ASME has determined the jack is safe for operation.
If you're outside North America, look for an indicator that your national safety regulators have given their approval to the jack before you buy.
As for safety features, the key one to look for is a hydraulic bypass. This internal system prevents the operator from raising the ram too far and causing it to wobble or exit the cylinder.
Your Budget
Don't overpay for your bottle jack!
This isn't rocket science; it's just basic hydraulics and paying a fortune won't get you any advanced technology. Having said that, cheaping out could get you a poorly built, unreliable model.
If you think you'll just be lifting your vehicle on occasion, feel free to snag a bargain. But, if you mean to give your new jack a workout (there are so many things you can do with them!), invest a bit of money.
Our Recommendations For The Best Bottle Jack In 2023
To save you the trouble of prowling the automotive center aisles, or sifting through digital reams of online shopping pages, here are our top picks for your potential new bottle jack.
Powerbuilt 640912 All-In-One 3-Ton Bottle Jack
Tall vehicles like jacked up trucks and off-road machines are a lot of fun. When the time comes that you need to lift one off the ground, however, it can be a problem to find a jack with the necessary height.
For all you high-riders out there, a model that stands tall and then gets even taller sounds ideal, doesn't it?
First Impressions
It isn't hard to spot the Powerbuilt 640912 in a crowd! The unique pyramid shape might make you think it's a jack stand until you notice the offset hydraulic cylinder. The truth is, it's a little bit of both.
Ignoring the unusual design, it doesn't seem as robust as some of the more typical bottle jacks out there. Looks can be deceiving, however, and indeed a closer inspection reveals solid welds and welcome safety features.
Specs
Lift capacity: 3 tons
Lifting range: Default 11 to 17.25″, can be raised to 21″ if adjusted manually
Dimensions: 9.75" x 9.75" x 12.25"
Weight: 22.2 pounds
Special features: safety lock bar, extra-wide base
What We Like
The appearance is not deceiving; with the safety lock in place, the jack becomes a stand. No need for potentially dangerous swap outs!
The pyramid shape and broad base combine for enhanced stability, and the whole unit instills confidence. You can trust your car and body to this jack.
It has a very large 10-inch lifting range, so whatever you're lifting, you can get it way up off the ground. It's fantastic for vehicles with very high clearance.
What We Don't Like
Since it's so tall, you won't fit it underneath most cars. That being said, with a 3-ton maximum lifting capacity, you may not be able to lift your very large truck, either.
That's ok though, it's still great for ATVs, 4x4s, lighter trucks, and smaller household projects.
Other Models Might Suit You If
You have an average to short vehicle
You have a very heavy vehicle
You plan on holding up very heavy structures
There are many great reasons to own this well-designed jack. To explore a little further all you have to do is click the link.
Pro-Lift B-006D Grey Hydraulic Bottle Jack- 6 Ton Capacity
Let's face it: we're not all using our jacks to hold entire buildings off the ground for major renovations. Most of us just need something to get our vehicle off the ground for a tire change, small repair, or inspection. Still, it's nice to know there's extra capacity on hand for bigger jobs if and when they arise.
Somewhere between the lightweights and the big boys for lift capacity would be the sweet spot for a lot of people. The Pro-Lift B-006D nails it.
First Impressions
Personally, I will never need a 20-ton, or likely even a 12-ton jack. Why would I pay for capacity I don't need? I can envision needing more than 2 or 3 tons, though, so I love this compromise at 6 tons.
In a world of red, the grey paint job on this product is a bit unusual, but it's also entirely irrelevant when you think about it.
The base seems a bit narrow, but overall it seems to be a good, solid jack.
Specs
Lift capacity: 6 tons
Lifting range: 8.5 – 16.25"
Dimensions: 4.9" x 4.3" x 9.8"
Weight: 10.9 pounds
Special features: bypass system, extension screw
What We Like
The Pro-Lift B-006D is an excellent mid-capacity jack that will rarely seem under- or overpowered for a job. It doesn't weigh a heck of a lot, so it's easy to move from site to site, or even toss in the back of your vehicle.
What We Don't Like
At nearly 10 inches tall, but with a base less than 5 inches across in either direction, it seems like it might be less steady than some jacks we've looked at.
Used properly on a level surface, this shouldn't be a problem, though.
Other Models Might Suit You If
You're lifting very heavy equipment
You have limited clearance
You like your jacks to be red
Thinking about going grey? Take a look at the Pro-Lift here (and it's 12- and 20-ton siblings, too):
Strongway Hydraulic High Lift Double Ram 6-ton Bottle Jack
Remember those famous amps from the movie This is Spinal Tap? The ones that went to 11 for those times when 10 wasn't loud enough?
How awesome would it be to find a bottle jack that went that extra distance when you needed it? If you're the type that always likes to have a little something in reserve, we may have the model for you.
First Impressions
It doesn't look like anything special at first. Then you notice the dual-stage cylinder and realize the Strongway Hydraulic High Lift will provide some serious height!
It has a wide, square base so that you can reach that maximum lift point with confidence. A cast base means extra strength, and the wide barrel says, "sturdy" to me.
I will say the pad looks disproportionately narrow, but maybe that's just because the whole unit is so thick.
Specs
Lift capacity: 6 tons
Lifting range: 8 1/2 – 19 1/8 "
Dimensions: 5.9" x 5.9" x 8.4"
Weight: 22 pounds
Special features: lead-free grease-, dirt-, and oil-resistant paint, dual-stage cylinder, carrying handle, hydraulic bypass, and overload protection
What We Like
Obviously we like the incredible, nearly 11-inch range of this mighty jack. With that kind of extension, you can take on all types of lifting and support tasks.
Standing nearly 20 inches tall at full height, even the tallest vehicles will take flight.
The 3-piece handle provides plenty of options for usage and storage, and we're happy for the carrying handle since the barrel is rather wide for getting a good grip on.
What We Don't Like
The lifting pad seems small to us, and it would be nice if it had the waffle-maker style non-slip lifting saddle surface we've seen on other models. Still, that's being a bit nit-picky, we admit.
There's really not much to not like about this beauty of a jack.
Other Models Might Suit You If
You need to lift more than 6 tons
You don't need the extra height (not using it for non-automotive applications, commercial or farm vehicles)
Your vehicle is lower to the ground than 5"
You might have guessed this is one of our favorites on the list. But don't take our word for it (actually do – we're completely trustworthy!); check out what others are saying, and then order one for your shop. It's all waiting for you here:
Torin Big Red T90803B 8 Ton Hydraulic Bottle Jack
Try though we might, there are just some situations where it's not easy to take good care of your equipment. If you find yourself working in demanding environments, it's important to know that your gear can hack it.
For rugged applications like farming, construction, or even military, take a look at this solid contender.
First Impressions
The first look reveals… nothing too shocking. However, a second look reveals a thorough mix of forged parts and solid welds.
This could be the most sturdy, well-assembled jack in the bunch. It certainly seems perfectly suited to a life of rough service.
Specs
Lift capacity: 8 tons
Lifting range: 8.86″ – 17.32″
Dimensions: 4.72 x 3.94 x 9"
Weight: 13.2 pounds
Special features: drop forged alloy steel, adjustable screw top, inner and outer welded structure for leak resistance, overload and over-extension protection
What We Like
Every part is nicely integrated into the jack; there's not much doubt it can handle a lot of abuse. Despite that, it still only weighs 13 pounds, so it won't be much trouble moving it around.
The lifting range isn't out of this world, but it does extend to nearly a foot-and-a-half tall, and that's excellent for things like tractors and big trucks. All in all, this is a really nice, heavy-duty jack.
We also like that you can get this same durability with the 'Big Red' range in 2-, 4-, 6-, 10-, 12-, 20-, 30-, and 50-ton capacities.
What We Don't Like
The biggest complaint we have with this jack is the very narrow base. It's not a lot wider than the barrel.
While we'd usually prefer a wide base for enhanced stability, we do see a possible advantage for using it outdoors where there may not be much of a level surface to rest on anyway.
Other Models Might Suit You If
You do not need a rough-service jack
You have smaller vehicles
Have we got you convinced this is the jack that's been missing from your life? Yeah, we can be pretty persuasive sometimes. What are you waiting for, then? Click the link and order yours now!
Sunex 4913A 12-Ton Short Bottle Jack
Not every big job has big dimensions. Bottle jacks are notoriously tall, which is frustrating for people who want a lot of lift, but don't have the height for the usual suspects.
A truly compact model with lift power to spare would be an incredible help in tight situations.
First Impressions
To be honest, the first impression I got was that it reminds me of a dwarf from Lord of the Rings. It's short, squat, not terribly attractive, but clearly powerful. It turns out, that impression is spot on.
Everything about the Sunex 4913A says 'heavy duty.' The cast base looks solid and should prevent tipping in most situations. Joint pins are robust, and even the handle segments appear sturdy.
Specs
Lift capacity: 12 tons
Lifting range: 6″ – 11.5"
Dimensions: 5.2" x 6.9" x 5.5"
Weight: 15 pounds
Special features: heat-treated extension screws, 2-piece handle, ductile iron base, carrying handle
What We Like
The Sunex 4913A is short for a bottle jack, one of the shortest on the market, in fact. That means you can use it on many cars, as well as trucks and SUVs.
Because it's so squat, it stays upright with ease during normal usage. Carrying handles should be standard, but since they're not, we're grateful to the good people at Sunex for including one.
We like our tools to look and perform their best, so the rust-resistant electrostatic paint job is a nice feature to have.
Safety is essential when using a jack, so the hydraulic bypass for preventing over-extension could literally be a lifesaver.
What We Don't Like
At just over 5-inches square, the base is a bit small. But, the lift height is short enough that stability shouldn't be a big issue.
As with all short jacks, there may be a lot of pumping involved to get up to the required height, but that's the trade-off for all that power in a small body.
Other Models Might Suit You If
You own a tall vehicle
You need a lot of lift for construction/demolition jobs
It's tough to beat the Sunex 4913A for its 1-2 punch of big strength and small size. If this little guy fits in with your plans, follow the link for more info and to snag one for your garage.
Powerbuilt 647501 Heavy Duty 12 Ton Bottle Jack
Is it too much to ask just to get everything you want? If your checklist includes large capacity, but not too tall and solidly built, but not too expensive, you might be expecting to have to compromise on at least one of those items?
Well, maybe you don't have to…
First Impressions
Having seen a couple of models with the handle mounted closer to the base, this vertical handle attached to the cylinder certainly appears to make far more sense. It should be much easier to carry with the weight balanced.
The cast base looks solid, and the ratio of the base dimensions to the overall height should keep it nice and steady during use.
Specs
Lift capacity: 12 tons
Lifting range: 8 ¼ – 16 5/16"
Dimensions: 5.9" x 5.2" x 8.2"
Weight: 13.95 pounds
Special features: forged steel saddle, cast steel handle socket, extension screw, carrying handle
What We Like
The base is nearly 5" x 6", so we are very confident this jack will stay upright without any trouble.
At approximately 14 pounds, it feels sturdy, but not excessive.
The carrying handle is great for ease of movement, and the extension screw allows for fine-tuning your height.
With a lifting range over 8" (it doubles in height!), you'll have no trouble getting good access to the underside of your vehicle.
What We Don't Like
Looking at the lifting pad, we see a simple raised cross instead of the waffle pattern typical to most bottle jacks. This gives us minor concern about possible slippage.
Other Models Might Suit You If
You have a vehicle with low ground clearance
You really don't need to lift 12 tons
You plan to use your jack to hold up wooden joists and want a pad with more ""
If what you've read sounds good, you should get to know the Powerbuilt 647501 better by clicking here. You'll also discover nine other similar models ranging from 2- to 30-ton capacities.
Torin Big Red Air 12 Ton Hydraulic Bottle Jack
There's no denying that hydraulic bottle jacks are super convenient. Still, all that pumping can wear out your arm, especially if you're going for maximum lift.
A jack that took care of that for you would be more than welcome, especially for high lifts and huge equipment. Trade your elbow grease for air power with the Torin Big Red Air!
First Impressions
To be honest, it looks damn complicated compared to the rest of the options on this page. What's with the giant springs?
Mind you, I'm not accustomed to air-compressor tools, so maybe that's all it is. It certainly looks powerful!
Specs
Lift capacity: 12 tons
Lifting range: 10″ – 19-13/16″
Dimensions: 10.8" x 10.6" x 6.3"
Weight: 28 pounds
Special features: manual or air compressor powered, 4' air hose included, carrying handle
What We Like
The ability to hook up to an air compressor makes this a versatile choice. Also makes it a lot easier to hoist a really heavy load.
Including a length of air hose was a nice touch, too. Having a nearly 10-inch lifting range means it'll be perfect for all your giant vehicle needs.
What We Don't Like
Tipping the scales at nearly 30 pounds, this isn't a jack you'll be traveling with much unless you drive a bus or commercial truck. You might not even want to carry it across the garage. But, that's the price of versatility, and if you own an air compressor, you probably won't mind.
Other Models Might Suit You If
You don't own an air compressor
You aren't lifting very large vehicles or objects
Having read numerous reviews from owners who've lifted semi-trucks and buses with this jack, it's safe to say this is an excellent choice for anyone who operates commercial vehicles. Learn more and snag one for yourself right here:
ATD Tools 7385 Short Hydraulic Bottle Jack
Just because you're big, that doesn't necessarily mean you're tall, too. There are times when there's a heavy load to lift, but only a minimal amount of clearance.
Perhaps it's a low-slung sedan, or maybe it's a foundation without much room for digging out?
Whatever the situation, surely there's a solution that's both powerful and compact?
First Impressions
With all the design aesthetics of a fire hydrant, this jack is clearly built for impressive performance, and not impressive appearance. That's ok; we're not putting it in a trophy case.
Everything about it looks solid, even indestructible. The multi-configuration handle is plenty long, which should make jacking a breeze.
If quarters are tight, however, you can easily convert to a shorter handle.
Specs
Lift capacity: 12 tons
Lifting range: 9-1/2″ – 18-5/8″
Dimensions: 10.1" x 5.9" x 5.6"
Weight: 6.65 pounds
Special features: heat-treated extension screws, 2- and 3-piece handles, carrying handle
What We Like
Because it stands just less than 6 inches tall when fully retracted, this mini-but-mighty jack fits places many other models simply won't. Like under a car, for example.
We also appreciate the carrying handle; it's far from the heaviest jack out there, but the handle makes it easier to carry, and easier to avoid getting grease, oil, and other car-borne crud on your clothes.
With a 12-ton capacity, it's seriously unlikely it can't handle your vehicle, and it's suitable for many other non-automotive applications.
Got a big trailer that needs propping, or leveling a shed or shipping container? It's ready for the job! And you can feel confident that the bypass system will keep you safe by preventing over-extension.
What We Don't Like
When you're this short, it can take a while to get your vehicle clear of the ground, unless it's a close fit before you start pumping.
In short, don't get this for your full-size SUV. The lift range is only about 4 inches, which is a bit skimpy, though adequate for tire changes and other basic jobs.
Other Models Might Suit You If
You own a tall vehicle
You need a lot of lift for construction/demolition jobs
If you think this little jack could be the solution to your big problems, you can read more about it and place your order right here:
Bottle Jack Maintenance Tips
Here are a few tricks for getting the most life and best performance out of your new piece of equipment.
Avoid Leaks
The number one complaint you'll find about bottle jacks is that they leak oil. This could be a sign of extreme wear, a defect, or merely an untightened screw.
To minimize the chance of a leak, be sure to retighten the release valve before the next time you use the jack.
Top Up Fluids
If you're low on fluid, you can easily top it up yourself. Just remove the fill plug from the back of the barrel and carefully refill.
Be sure to use only hydraulic jack oil. While you'll find some folks saying they used other fluids successfully, it's always best to use the real deal for worry-free operation, and for possible warranty issues.
Bleed Air
If you're not getting good lift, it's possible there may be air trapped in the barrel. This can happen as a result of jostling during shipping or transporting, and it sometimes happens after adding more hydraulic oil.
Here are the steps to follow for bleeding air from your bottle jack:
Loosen the release valve
Pump the handle a few times
Lay the pump down on a level surface with the fill plug facing up
With a slot screwdriver, push the plug sideways to release the built-up air (kind of like "burping" Tupperware)
You may need to repeat the process a few times to clear all the air.
How to Safely Use A Bottle Jack
If you've never used a bottle jack before, here's a step-by-step guide to safely putting it to work.
Position your vehicle
Park somewhere you can safely work on your vehicle, preferably somewhere level (and away from traffic if this is an "unscheduled" incident).
Engage the parking brake and chock the wheels to prevent rolling.
Assemble the handle
The longer the handle, the easier it will be to lift your vehicle. Be sure and connect all pieces securely to prevent it from falling apart when applying torque.
Locate the lift point on your vehicle
If you're not sure where it is, consult your owner's manual. Lifting from another part of the frame or elsewhere on the car could cause damage to the vehicle.
Tighten the release valve
A bottle jack has a small valve located near the base of the barrel. Loosening it allows the jack to retract, lowering your vehicle to the ground slowly.
If you don't tighten it, you may be unable to lift your vehicle, and you may also force hydraulic oil to exit through the valve.
Typically you'll find a notch on your jack handle that fits over the valve for easy turning.
Position the jack under the lift point
Be sure the pad is centered under the lift point to ensure the safest possible lift.
Adjust the pad/saddle height
Turn the pad to unthread the uppermost portion of the lift ram for fine-tuning the fit against your vehicle.
Attach the handle
Fit the appropriate end of the handle into the socket on the pump mechanism. Ensure you have a snug fit before pumping.
Lift your vehicle
Pump the handle until you have created sufficient ground clearance for the maintenance or repair you mean to perform.
Position axle stands to support vehicle
If you plan to keep your vehicle hoisted for an extended period, or if you need to get under your vehicle, you'll need to position jack stands to hold it up without fear of a sudden, unexpected descent. If you don't own any, please check out our guide to the best jack stands.
With the stands in place (consult our guide or the owner's manual for specific instructions on how to use jack stands), slowly lower the vehicle until the stands are taking its full weight. Use the notched end of the handle to turn the release valve counter-clockwise until the vehicle starts to descend slowly.
If you're just changing a tire, this step isn't 100% necessary, but you should still use extreme caution.
Lower your vehicle to the ground
Once you've finished your task, you're ready to get your wheels back on the pavement.
If it's on jack stands, raise the jack until the weight of the vehicle is off the stands and then remove them. Slowly lower the car to the ground as explained in the previous step.
Always be sure the area around the vehicle is clear of people when you're raising or lowering it.
WARNING: Never work Under Your Vehicle Using Only Bottle Jacks
The only thing holding up your vehicle when you use a bottle jack is hydraulic pressure. While they're pretty reliable, they're not foolproof, and they have been known to fail.
If you need to get under your vehicle, be sure and transfer the load to one or more jack stands first.
…And Down Again
And there you have it. In a nutshell, a complete buying guide and a few options to choose from for the best bottle jack for you.
Did you find the model of your dreams today? Or have you decided another jack (or combination of different types) might be better for your situation? Whatever your position is now, we hope you learned all you needed to know.
If you have any unanswered questions, please send them our way. Same goes for any comments or concerns. You could even just say hi if you like! Send us an email with whatever you have for us.
We also encourage you to share this article, and the whole site, with your friends and family across the social media channels you like best. Copy the link and pass it around!
Thanks for reading, and all the best with all your automotive endeavors.