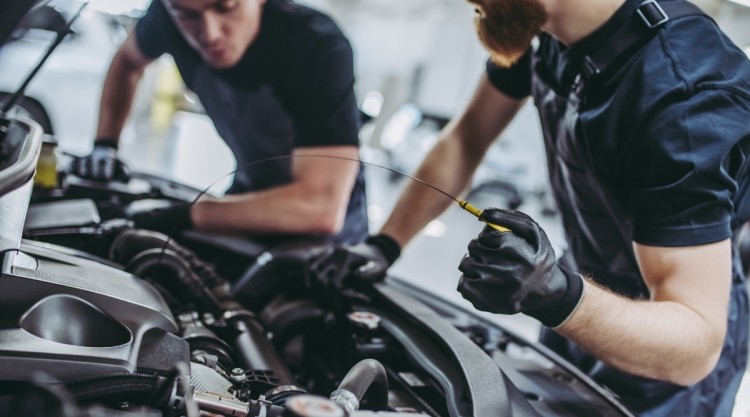 Oil is essential for your car's engine to work properly. And regardless of you choosing to use a traditional or synthetic blended oil, it needs to be changed on a regular basis.
If you ask ten different people where the best place to have this basic service done is, you will most likely get ten different answers. If you've tried a few different places yourself, you may even have your own personal preference by now.
What place is the best place to get an oil change, though? That's the question.
There are just as many people who have had great experiences at a certain place as those that have had bad experiences as well. There's way too many factors that might come into play, which makes it impossible for everyone to be equally contempt with being served at the same place.
In this article, we're going to take a look at all those places (as much of them as we can cover in a single article, at least) and give you what we believe to be the best options so you know where to go the next time you need to have your oil changed.
Note: We also have a companion article you might want to check out: How much does an oil change cost?
Ready? Let's begin!
Where's The Best Place To Get An Oil Change For My Vehicle?
A Google search of "Best oil change locations near me" will show you just about every service shop within a 5-20 mile radius of where you are.
Pretty useful, right? Well, not if you don't know what you need to know first!
These locations can be broken down into three basic categories: Dealerships, general service and maintenance shops, and "quick lube" locations.
There are both advantages and disadvantages with each type of location you visit for an oil change.
There will also be variations within each individual location as well. For example, things such as customer service, oil change prices, and staff expertise will all vary depending on where you go.
Let's have a detailed look into each location, what it brings to the table and who each is best suited for.
1) At the Dealership
Benefits to Getting Your Oil Changed at a Dealership
Expertise
Getting your oil changed at your vehicle manufacturer's dealership ensures expertise you most likely won't find at any of the other shops. They may even identify an entirely different problem with your vehicle and alert you to a potential issue you need to be aware of.
To put it in simple terms, it makes sense that a BMW service center would know best how to properly service your BMW. The service department will have all the necessary tools for your car and know exactly what needs to be done.
And if something unexpected happens or a mistake is made, it's easy to trace and potentially get reimbursed or compensated for lost time. For the best chances of covering your back, always keep your records and receipts from any service visits, just in case.
Stock
Dealers stock manufacturer's suggested parts and supplies. Not only will your dealership know exactly what kind of oil your car requires, they will probably also have it in stock too.
Even if you have to schedule an appointment to have your oil changed, you may end up saving some time as other shops may have to order a specific product they don't have.
Consistency of Service
Dealers often hire certified technicians based on the make and models they sell. If not already certified, many dealers have training programs to prepare the technicians for their work.
So, you really know you'll be getting some of the best service in town.
Motivated to Serve you Well
Many dealership service technicians are rewarded for high customer service reviews.
A good customer review says a lot about a business. It could also mean the difference between technicians getting a raise or not getting any at all.
Service centers who perform well are more likely to get bonuses and benefits from their hard work, which often makes your experience a whole lot better because of the motivation aspect involved.
They have all the reasons in the world to ensure you get the best experience possible, as it's a win for you and a win for them.
Benefit from Free (or Cheap) Changes
Some dealerships provide free oil changes under warranty and offer special maintenance packages bought with your car.
This isn't always the case, but the majority of dealers and manufacturers offer some kind of package where you can get free or inexpensive maintenance for a certain period of time.
Depending on the make of the car, basic warranties may even cover oil changes.
Disadvantages to Getting your Oil Changed at the Dealership
Time Spent
You will probably have to schedule an appointment just to get a quick change.
Time is precious, and it's much easier to stop at a "quick-lube" shop and be seen right away than to schedule an appointment days ahead of time and wait longer at a dealership only for a simple service.
Costs Involved
A simple oil change cost may be a little more at the dealer's service center. Sure, coupons may help, but they're not as readily offered as with other shops.
Unless getting a change is covered under warranty, it will probably cost a little more.
The Verdict
At the end of the day, the dealership is our preferred location for an oil change, and it is what we would suggest to anybody else looking for the best service possible.
If you own a high-performance car and know the technicians that works on it every time you visit, you'll know from first-hand experience that the dealership has all the recommended parts and products to keep your car working in tip-top shape.
I would rather pay the extra $5 to get the correct oil so that I don't pay more for repairs down the road. Because the cost of parts is generally more expensive than in a normal car, even a simple oil change at a place you trust with the correct products is very important.
Don't get us wrong, there will always be good and bad dealer service centers. We're definitely not saying they're all perfect.
With that being said, even if there isn't a good dealer for your specific car in your area, it is definitely worth driving a little farther to find one you like and trust.
2) At a Full Service Center
Benefits to Getting your Oil Changed at a Full Service Center
Getting Good Deals
Places like Goodyear, Midas, and Mr. Tire often run deals in the local paper or on their websites.
Combo packages with inexpensive oil changes can save you a bit of money if you need more done to your vehicle than just an oil change (perhaps it's time for you to wash your car too?).
Oil change specials by themselves aren't too hard to find either, in case you only need this one job done.
Look for these specials at specific times of the year. The beginning of summer and certain large traveling holidays are when specials are most easily found.
Superior Customer Service
You will often receive superior customer service at a locally owned, non-chain service, independent shop.
Your friendly neighborhood maintenance man and his brother probably aren't receiving as many customers as the local Jiffy Lube. Consequently, customer service is key for consumer retention – and locally owned, non-chain service shops know this for a fact.
Locally owned shops often provide friendlier service in general. Nobody is keeping track of numbers, mistakes, and efficiency rating, waiting for an employee to make a mistake.
These mechanics can focus on quality rather than quantity.
Reputation
The reputation of the locally owned automotive shop is usually going to be better than anywhere else.
Customer service goes a long way, but reputation can go just as far. For some long-time mechanics, they've spent years building a customer base while building their skills, working on just about every car on the road.
If they do it well, people will send their friends. Word of mouth plays a huge role.
Other places may have great reviews, but they may also have high turnover and inexperienced technicians working on your vehicle. Make sure to find shops with good reviews (and many of them).
Disadvantages to Getting your Oil Changed at a Full Service Center
Limited Parts and Supplies
Correct parts and supplies are often limited or not always readily available.
Better service means getting the correct oil or filter for your car, but it also may mean waiting until it has been ordered.
A quality shop will find the correct supplies for your oil change, but because they service a wider variety of vehicles, there's a higher chance they won't have the supplies on hand like a dealership does.
Scheduling Appointments
You will probably still have to schedule an appointment.
Many locally owned shops employ fewer mechanics than dealer service centers and other chain stores. A few are even run by one person, and it can get way too hectic at times if it's a one-man-show.
If they are reputable, it may take longer to get in and get a change done than any other place you could take your car.
The Waiting Game
Even the larger chain stores like Goodyear, Midas, and Pep Boys don't just specialize in oil changes.
Most likely, you will still have to wait just as long to get an oil change here as you do at a dealership. These shops have other priorities, too.
If speed and convenience is what you need, taking your car to a full service shop could potentially take longer than any other option.
More Room For Mistakes
The chances of mistakes increase. The numbers of vehicles serviced at these locations and the wide variety of services offered means that a broader understanding of your specific vehicle may take the place of specific expertise.
This certainly doesn't mean that the technicians here can't perform an oil change, though. It just means there's a higher chance that the lack of specific information and expertise could result in errors.
The Verdict
Taking our cars to a full service station would be our second best option if a dealership wasn't available.
Both Midas and Goodyear have impressed in the past (and continue to do so today), making it easy to book appointments online and getting you and your car in and out without incident. Both places are generally highly rated chains.
If you distrust a dealership but also think that a quick service station doesn't do a good job, this would be the best option for you.
Just find a highly rated and reputable service station and stick with them. Change if you don't like the service or have a bad experience.
3) A "Quick Lube" Location
Benefits to Getting your Oil Changed at a "Quick Lube" Location?
Fast
"Quick lube" franchises, such as Jiffy Lube, specialize in fast oil change services that usually take 30 minutes or less.
As a matter of fact, most quick service stations have a specific bay set aside for just oil changes. They happen all day, every day, which means they have a system set in place to get the job done and get you on your way in as little time as possible.
We go into great detail on how long an oil change takes in this separate piece.
No Appointments
You can get an oil change whenever you need it, because you don't have to schedule an appointment beforehand. Just pull up to the location whenever, and they'll take care of things from there.
One of the best things about not having to schedule an appointment is that these places can see you in a pinch.
Cheap
Going to a "quick lube" service station is usually inexpensive compared to other locations. Assuming doing everything yourself is out of the question, this is the most cost-efficient method.
You can often even choose what kind of oil you would like to have put in your vehicle.
Disadvantages to Getting your Oil Changed at a "Quick Lube" Location?
Inexperienced
The technicians at these locations tend to be less experienced and turnover is much higher.
The fact of the matter is that places like these are often stepping stones to better positions or jobs.
While training is available – and many times required – something as seemingly small as an oil change can become an issue if a mistake is made.
Generic Oil
You may get to choose the oil you want, but it probably isn't what your manufacturer recommends for your car. Most quick service stations just stock generic oil.
The manufacturer always knows best, so trust them on their recommendations.
Always consult your owner's manual to see exactly what type of oil they recommend. At the very least, you can choose one with the same viscosity as what your vehicle's manufacturer recommends.
Quantity > Quality
For these businesses, volume and speed tend to be more important than quality.
"Quick lube" locations aren't called that for no reason, you know. Their goal is to get as many people in and out as they can in as little time as possible. This is also the main reason they can take customers without having to schedule an appointment.
Not the Best Reputations
Some "quick lube" shops don't have the best reputations.
Shoddy work, inexperience, and even scams have all been connected with these quick service stations over the years. Though not all quick service shops are like this – and we are not passing judgement or saying all the accusations are true (we are merely reporting what we've found – reputation can take its toll.
Selling You Stuff You Don't Need
The shop will often try to sell you extras that you may or may not need. Anytime they say you "need" something else, ask to see what needs replacing before they replace it.
Because changing your car's oil isn't a very lucrative profit source, these kinds of shops make a good portion of their money by selling additional items like cabin air filter changes (assuming it's time for a cabin air filter change), oil filter, radiator fluid, and radiator flushes.
Checking your car's tire pressure and washer fluid levels may be beneficial, but you can really do these things yourself if you wanted to.
Be sure of what it is exactly you need before walking in the door. In most cases, you can perform these extra maintenance "needs" yourself at home for cheaper.
The Verdict
Of the three options presented, this is our least recommended location to take your car for an oil change.
Every once in a while, a friend of ours takes his wife's car to get an oil change at one of these locations, but never gets any other service done there.
Unlike his sports car, his wife's car is pretty basic. It has 145,000 miles on the odometer, and it's not worth much if they were to sell it.
As a result, he doesn't mind getting the most basic oil change done at a quick service station when absolutely necessary, but he will still take his wife's car to the dealership technicians for everything else.
How Do I Know I'm Taking My Car to One of the Absolute Best Oil Change Places?
The best way to be sure you are getting the best oil change for your car is to check the ratings and customer feedback for each location before heading there.
There is so much variation within each service center that your service could vary drastically from place to place.
You will also need to decide what part of the process is most important to you.
If you are busy and always in a hurry, a reputable quick service station may be a great option. If you want quality and that's what's most important for you, you should go to a local mechanic you trust or a dealer with a high customer satisfaction rating.
At the end of the day, where you take your car for an oil change is largely a matter of preference and focusing on what matters most to you.
There are both good and bad reasons to take it just about anywhere you could think of, and because of that, there are many who suggest doing it yourself. In reality, most of us don't have the time to perform an oil change on our own, though.
Our recommendation is to start at a reputable dealer because they will have all the specific tools, parts, and supplies that your car will need. If you don't go to a dealer, we recommend a highly rated local mechanic or service station as a second best alternative. In our opinion, a "quick lube" location should be your absolute last resort if you're in a position where the two other options are out of the question.
The most important thing to remember is this: If you like the service you get, and the quality of the service is up to your expectations, stick with that shop. You have to choose somewhere you like to go, and where both you and your car get treated right. If you do that, you will have chosen the best place to have your car's oil changed for years to come!