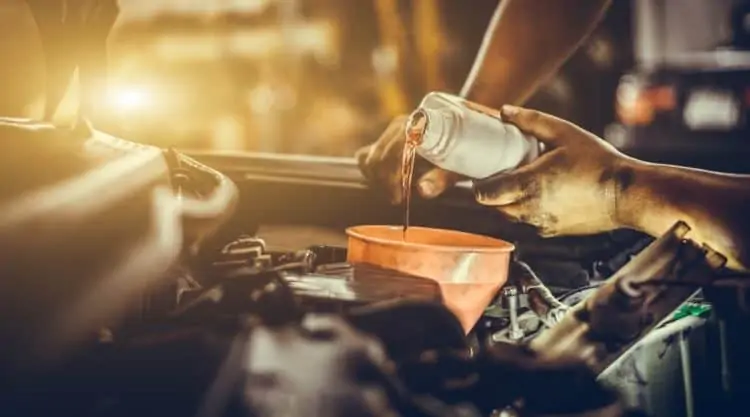 Oil is essential to the proper functioning of your vehicle. While gas provides the power, oil keeps the parts that make your vehicle move functioning as they should.
Having your oil changed at regular intervals is key to keeping your vehicle in good working order, but many car owners balk at the idea of spending time on a task that many deem to be somewhat "optional".
We have good news and bad news. The bad news is that oil changes are only optional if you have a shedload of cash you're willing to part with for serious engine repairs. The good news is that the time required to do your own oil change or have it done by a pro is minimal, and the cost of an oil change is far more favorable than those aforementioned repairs.
How long does an oil change take? Read on to find out.
Key Takeaways
A Ballpark Estimate – An oil change can take anywhere from 15 to 60 minutes, depending on who does it, when they do it, and the make and model of your vehicle.

DIY or Leave It to a Pro? – This is one of the easier vehicle maintenance tasks, but if you have any doubts whatsoever, leave the job to a professional.

The Early Bird Gets the Worm! – If you decide to go to a service shop, go on a weekday morning to get the job done quickly.
How Long Does an Oil Change Take?
Several factors affect how long an oil change takes. Depending on the factors you encounter, it will generally take between 15 and 60 minutes to complete.
Here are some of the factors that come into play:
DIY vs. Shop Work
What is the best place to get an oil change? You could do it yourself to save money, or you could take your vehicle to a shop. The decision to take your vehicle somewhere or do it yourself will be based solely on your wants, needs, and abilities.
If you change your car's oil yourself, you alone determine how long the job will take. Car care centers have to deal with other customers, higher priority repairs, and busy times throughout the day.
If you decide to take your vehicle to a professional shop, it's best to do so at a quieter time. If you take your vehicle in at a busy time of day, you can expect to spend much longer waiting for the job to get done. Weekday mornings are usually the best time to ensure a quick trip.
Expertise
Expertise makes a big difference.
It makes sense that somebody who changes car oil on a daily basis would be able to do it faster than somebody who doesn't. Even if you regularly change the oil yourself, you may only be doing it every 3–6 months or 3,000 to 7,500 miles (or maybe 10,000 with synthetic oil).
The people who work at your local car care center are experts. Unless you also work there, you are not. If changing the oil is something you do on a regular basis, it will be a faster process.
Low Priority VS High Priority
An oil change at a shop is usually a low priority. Places like Jiffy Lube specialize in oil changes and minor repairs, and there is usually a bay set aside specifically for oil changes.
Taking your vehicle to a larger car care center or a dealership will usually take longer because customers go there for larger repairs and full services, not just an oil change. Employees are on a schedule, and larger shops have to prioritize work to keep everything moving efficiently.
Even if you go to a quick lube location, people may not call ahead for appointments. When it gets busy, a brake job takes priority over a simple oil change.
Vehicle Size
The larger the vehicle, the longer the process.
It would make sense that a larger vehicle with a larger engine would take more motor oil than a smaller one. Draining the old oil in any vehicle is generally the longest portion of an oil change.
According to Ford's technical specifications, the smallest of their vehicles, the Ford Fiesta, requires between 4.3 and 4.5 quarts of oil. The Ford F150 pickup with the V8 engine option requires as much as 7.7 quarts of oil.
The drain plug that is removed to drain the oil isn't very large, so it usually takes about 15 minutes for an average car to fully drain.
A truck that requires more oil than an average car may take up to 25 or 30 minutes to fully drain.
Vehicle Make and Model
The make and model of your vehicle can factor into the process. Many cars today are pretty straightforward when it comes to oil changes, but there are exceptions.
Much of this has to do with ease of access to drain the oil and replace the filter.
Since each car is different, it's best to consult your car's owner's manual to see where the oil filter is, where the drain point is, and how easy it will be to access everything you need.
If the filter is in a hard-to-reach area or it takes a more specialized tool to unscrew the filter or plug, it may be faster and easier to take it to a professional mechanic.
Another potential time-consuming factor has to do with the aerodynamics of your vehicle. If there are panels underneath your car to create better airflow, you may need to remove them so you can access your oil pan.
Previous Oil Changes
Any previous oil change your car has had makes a big difference. Oil wears out, and the longer the time between changes, the more potential there is for the next oil change to be more difficult. This applies particularly to the draining process.
Old, used oil becomes thicker as it picks up particulates throughout its lifespan. Dirt and microscopic pieces from the engine get caught up in the oil, and it becomes less effective.
Not only can this cause added wear on the engine components, but it may also make it harder to do your next oil change quickly.
You should always consult your owner's manual as to how long the car should go between oil changes, but the older the oil, the longer it will take to drain.
How Can I Make the Oil Change Process a Faster One?
Spending a little time planning your oil change now can save you a lot of time down the road. Here's how you can speed up the process to ensure it will be as quick and efficient as it can be.
Schedule
Scheduling your oil change at a service center or dealership is simple and effective. Most places have an online scheduling page that allows you to set up an appointment right from your laptop or phone.
Making an appointment doesn't always guarantee that your car will be ready to go in 15 minutes, but it does give the technicians a set time to work on it.
On top of that, many places don't provide "first come, first serve" service anyway.
Off-Peak Hours
If going to Jiffy Lube or another "first come, first serve" shop, go on a weekday morning. Lunchtime, late afternoon, and weekends are usually busier times for the shop because more people are off work.
Taking your lunch break early or going into work later in the morning may be a slight inconvenience, but taking only 30 minutes off work in the morning could turn out better than waiting at the shop for an hour and a half during your lunch break.
Practice Makes Perfect
If you are going to do the job yourself, practice. Once you start doing it yourself, keep doing it so that it becomes easier with time and you feel confident in your abilities.
If it's your first time, ask a friend to help you or watch a YouTube video on how to change oil to guide you through the process.
Education
Educate yourself. The owner's manual isn't provided with a new car for no reason. It may be boring, but it's the key to success and the key to not ruining your vehicle.
Putting the wrong oil in your car could prove detrimental to the engine and may wind up costing thousands of dollars in damage.
How Long Does It Take to Prepare for an Oil Change?
Preparation for an oil change can take anywhere from 1-15 minutes.
You will, of course, have to buy the new, clean oil and a new filter, but this will only cost you up to about $50 for top-grade oils. Additives are not usually recommended or needed.
If your car is warmed up, all you need to do is take the time to jack up the car, using stands to hold it in position at the desired height. Alternatively, you can use a lift, if you have one, or tire ramps to access the underside of the vehicle.
If the car is cold, you will need to turn it on to warm up the oil. This allows it to drain more easily and can take anywhere between 5 and 10 minutes.
If you have been driving your car, you may need to let it cool down before allowing the hot oil to drain.
Beyond that, you will simply need to assemble your tools. Once that is done, the process is simple and should take between 15 and 60 minutes based on your skill level, familiarity with the process, and the make and model of your car.
What Does the Process Look Like, and How Much Time Should Each Step Take?
The first step in changing the oil is to locate the drain bolt. Unscrewing the bolt takes just a few seconds, but if it's in a hard-to-reach area or you need to remove undercarriage panels, removing it may take as long as 5 minutes.
Once the bolt is unscrewed, you will need to wait for the oil to drain into the disposal carton you have chosen. This is the longest part of the process and will depend on how much oil the car can hold. The amount and age of the oil will affect how long it takes to drain the car, but generally, this should take anywhere from 10–30 minutes.
Replacing the drain bolt and installing a new oil filter usually takes between 2 and 5 minutes. The ease of access to the filter, the age of the car, and the position of the filter all contribute to the time required.
The last step in the process is to refill your car's engine oil. This usually doesn't take more than 5 minutes. It's always a good idea to use a funnel when refilling the oil. Spilled oil can cause smoke from the heat produced by the engine. Not using a funnel will also take more time. A precise pour requires a steady hand whereas a funnel speeds up the process.
Any Other Tips And Tricks You Have For Me?
Because oil is so essential to the proper functioning of your car, be consistent with when and how you do changes and which oil you use. This will make the changing process easier and will set you up to save time in the future.
Get to know your car. The more familiar you are with the vehicle you drive, the easier it will be to navigate its components. Identifying things like the oil pan, drain bolt, and dipstick ahead of time will make it easier on yourself when it does come time to change your oil by yourself.
Remember to check the oil level of the car after each change to make sure it's filled all the way. For more guidance on this, check our article on how much oil a car needs.
Check for leaks by turning your vehicle on when you are done to make sure you won't be refilling the oil again next week.
Finally, be sure to use a quality oil that will lubricate and protect your engine as best as possible. We have many recommendations in our guide to the best synthetic oils, and also how to enhance any engine oils' performance in our guide to the best oil additives.
Why Should I Change My Car's Oil?
Oil is a lubricant. Even the simplest engines endure quite a bit of heat and stress as each component moves. Oil is what keeps each part moving quietly, smoothly, and efficiently.
Fresh oil ensures optimal fuel consumption, decreased heat caused by the engine, and proper filtration of unwanted dirt and particulates. The less an engine has to work, the more efficient and cost-effective it will be.
This is especially true for an older vehicle. The Bureau of Labor Statistics found that cars 5-16 years old tended to cost about $151 more in maintenance per year than cars less than five years old. (Note: For best results with older vehicles, you should consider using a product from our search for the best high-mileage oil.)
You don't have to become part of that statistic, and a regular oil change can help reduce that cost.
As oil gets used up, and as time goes by, it breaks down, becomes dirty, turns into sludge, and becomes less efficient. All this can contribute to engine damage. Moving parts like the pistons can warp because of the decrease in lubrication and consequent heat and friction produced.
Older cars usually need more frequent oil changes. Extreme driving conditions such as frequent stop-and-go commutes and unusually cold or warm climates also affect how often you will need to change your oil.
Regardless of a vehicle's age, changing the oil on a regular basis could prevent significant damage to your engine and its components and save you the cost of major repairs down the road.
Wrapping It Up
There are so many excuses you could make to put off that next repair or reschedule your next car service. Your car's next oil change should never be included in that excuse. Oil is the lifeblood of any vehicle, and it's quite easy to perform an oil change.
It doesn't have to take that much time, either. If you plan ahead of time and know what you need to do, the whole process can take as little as 15 or 20 minutes.
Even if this job takes 30 minutes or longer, it is well worth it as it could increase the longevity of your vehicle and prevent major issues down the road.
If you aren't comfortable performing this task yourself, consider having your local service shop handle it for you. It won't take too long, and you can rest assured that your vehicle will remain in the best shape possible.