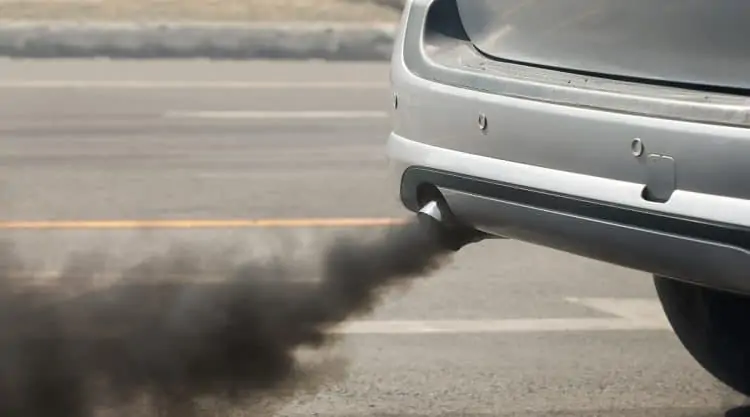 A car's exhaust fumes are a direct result of the combustion process occurring inside the engine. As such, they are a key indicator of your engine's health.
Car emissions can at times appear in various colors, such as white smoke, black smoke, gray smoke, or blue smoke. In most cases, the exhaust from your tailpipe should be clear. If not, this suggests a problem.
If you notice white smoke coming from your exhaust and a loss of engine performance, there are several potential causes. In most cases, these can be fixed at home, but certain issues will require specialist equipment and the help of a qualified mechanic.
In this guide, we take an in-depth look at each of these causes and reveal what fixes you can take on yourself and which ones are best left to the professionals.
Skill Level: Moderate
Time to Complete: 30–60 minutes
Tools Needed:
Engine coolant
Engine oil
Replacement intake manifold gasket
Replacement head gasket
Replacement cylinder head
A safe workspace
Key Takeaways
SOS! – White smoke is your car's way of sending out a distress signal, much like the bonfire smoke signals of castaways marooned on desert islands. When you see this SOS, answer it ASAP!
Potential Causes – White smoke coming from your exhaust is normally caused by leaking coolant, but transmission fluid, leaking oil, and condensation are other possible culprits.
Seek Help – If you're seeing white smoke from your car's tailpipe and can't solve the issue on your own, head to a mechanic as soon as you can.
What Are the Causes of White Exhaust Smoke?
Let's take a look at some of the most common reasons why your exhaust may be emitting white smoke:
Condensation
In colder months or humid conditions, the source of the smoke may be condensation in the exhaust system. When it's still cold, water will collect here and then be released as steam or water vapor, which looks like thin white smoke, when the engine is turned on. As the engine warms up, it will dissipate.
The lower the temperature is, or the higher the level of humidity, the denser the exhaust fumes noticed will be. However, if it's thick white and cloudy smoke, then you probably have a more serious issue in need of repair.
Faulty Fuel Injection Pump Failure
In diesel cars, the problem may be caused by a failure with the fuel injection pump timing.
The injector pump is needed for pumping fuel into the cylinders. Timing is important because the fuel must be injected in the middle of the cylinder's compression stroke. This helps with fuel efficiency and to prevent an overflow.
This failure may be caused by a faulty engine control unit. If this is the case, then the unit simply needs to be adjusted to correct the timing of the fuel pump injection.
Irregular fuel injection can cause white smoke to be emitted from the tailpipe.
Leaking Coolant
One of the main causes of white smoke from your exhaust is engine coolant leaking to different parts of the engine. Thick white smoke will be released when even small amounts of coolant enter the combustion chambers.
If this is the cause, then the smoke from the exhaust may come with a sweet smell. There may also be a low level of coolant reserve. The coolant can affect the motor oil and cause it to produce a frothy or milky consistency.
There are different factors that can cause engine coolant to leak:
Cylinder Head
The cylinder head closes in the top of the cylinders to form the combustion chamber. Coolant loss may be the result of a cracked cylinder head or warped cylinder head.
This can be brought on by other parts being incorrectly installed. It can also be caused when the contrasting metals of different parts have different expansion rates. However, the most common cause is the engine overheating.
Blown Head Gasket
The cylinder head gasket (or just "head gasket") sits between the engine block and cylinder head to seal the cylinders and maximize compression.
Failure of the cylinder head gasket is another cause of a coolant leak.
If the gaskets are unable to seal properly, then coolant can be lost. It can also lead to leaking oil and a loss of compression. This can be noticed from a loss of power from the reduced compression in the cylinder.
Again, this failure is most likely to be due to overheating, and a faulty head gasket will – in turn – exacerbate this.
Intake Manifold Gasket
The intake gasket seals the intake manifold against the cylinder heads to create a vacuum. It's also known as the inlet manifold gasket.
This gasket leaking is usually the most common cause of internal coolant leaks.
These leaks would most probably be caused because the engine is hot. However, they have limited use, so a failure could also be from general wear.
Engine Block
The engine block houses the cylinders and other parts of the engine. If cracked, it can allow coolant to leak into the combustion and chambers, which can be dangerous.
A cracked engine block could be caused by structural damage to the engine or from overheating. This could be the result of a lack of coolant (low coolant levels) or a faulty water pump to distribute the coolant.
Transmission Fluid
If you notice that white smoke is produced while you're accelerating, the issue could be with your transmission fluid. In these cases, the exhaust may smell of burned oil.
However, white smoke during acceleration could also be due to burning coolant, which usually points to a cylinder head or gasket failure.
Transmission fluid is used by vehicles with automatic transmission, for various transmission requirements. This can leak and burn, producing white smoke.
It may be caused by a hole in the transmission system – these could be in the gasket of the oil pan, the fluid lines, torque converter, transmission oil pan, or various seals.
Leaking Oil
Sometimes, motor oil can leak out of the piston rings or valve seals, and it can then flow into the internal combustion chamber and mix with the fuel. Together, gas and burning oil will cause exhaust emissions to turn white or even blue.
If the oil is not being used to lubricate the engine, it can be damaged in many different ways. For this reason, the problem should be resolved sooner rather than later.
It should be easy to identify an oil leak from the smell of the oil. It may also be possible to check for an oil leak by holding some paper over the exhaust while the engine is running: black spots on the paper would suggest that there is an oil leak.
White Smoke From Exhaust Pipe: How Can I Address the Situation?
Hopefully, you've now been able to identify the source of the white smoke coming out of your car's exhaust.
Now, let's take a look at some of the possible solutions to fix the problem:
At the Garage
In cars with diesel engines, and if the issue is with the fuel injection, then this should be checked by a mechanic. The expertise required for this will be too difficult for most drivers to take on themselves, without the help of a professional.
Maybe you're unable to identify the cause of white smoke, or maybe you can't seem to resolve the issues all on your own, even though you know for a fact what's causing it.
In these cases, you should always find a trusty mechanic to help you out.
However, if you are able to deal with the problem at home yourself without messing up and causing a more serious problem than the one you had to begin with, then you will likely save yourself some time and money doing it alone.
At Home
Follow these steps to start addressing the white smoke coming out of your car's exhaust on your own at home:
Check the Coolant Level
Checking engine coolant levels in the reservoir can determine if a coolant loss is causing the problem. Make sure the engine is off and cool before starting your inspection.
You should be able to check the coolant levels by looking at the tank, as the container will be transparent. There will be markers on the reservoir to show the levels of coolant.
If the levels are low, then you should obtain the correct coolant fluid that's best suited for your car, and fill to the indicated amount.
Check the Head Gasket
To find where the coolant is leaking from, start by checking the head gasket by doing a "leak-down" test. You can do this by pumping air into the cylinder and noticing if any air has leaked through the gasket.
Note that this test may need to be carried out at a garage.
Check the Cylinder Head
The cylinder head is located at the top of the engine block. If it's broken or damaged, it will need to be replaced. The cylinder head will need to be removed in order to check for leaks.
One way of doing this is to pour water over the valves. Water that drips through the valves will suggest a leakage. If the cylinder head is leaky, it will need to be replaced.
Check the Intake Manifold Gasket
To do this, the intake manifold needs to be removed.
This is usually a task for a qualified mechanic, so please don't try to do this all on your own if you're not exactly experienced and equipped to tackle major automotive repairs, as you might end up causing a more serious problem than the one you had to begin with.
If there is rust in the gasket, then this will need to be cleaned. If the gasket is damaged, then it will need to be replaced.
Check the Transmission Fluid
If the level of transmission fluid in your vehicle is low, then you can add more.
Before you start, check first that you have the correct fluid. If you don't know which is which, this is info you can find in any proper service manual.
It may also be necessary to replace the transmission vacuum modulator valve.
How Can I Prevent My Car Exhaust From Emitting White Smoke Again?
The most likely cause of discolored emissions is leaking coolant. As such, it's a good idea to check your level of coolant regularly.
Coolant is also essential in keeping the engine from overheating. Since overheating can be the cause of many other problems in cars, it's advisable to prevent this at all times.
It is also recommended to check the parts where leaks are most likely to occur.
As already mentioned, leaks can often be found in the intake manifold gasket, the head gasket, or the cylinder head. They appear as a result of engine wear, such as a lack of lubrication caused by insufficient amounts of motor oil.
Checking the levels and the quality of your engine oil on a regular basis is another safeguard against engine wear. This will also prevent the engine from overheating.
Last but not least, check your levels and quality of transmission fluid on a regular basis. As a general rule of thumb, this should be changed every 30,000 to 60,000 miles traveled.
Conclusion
As we've seen in this article, there are a variety of different reasons for white smoke to come out of your car, so pinpointing one cause is not always that obvious and easy.
Many of the checks that we can apply to our vehicles demand advanced equipment and knowledge.
However, even when we are not able to carry out the inspections ourselves, understanding the workings of our cars is still valuable.
Not only does this help us appreciate the machine we're driving to and from our destinations every day, but we could also use this knowledge to avoid future difficulties as well.
And always remember this: if you're seeing white smoke from your car's tailpipe and can't seem to solve the situation on your own, take it to a mechanic ASAP!