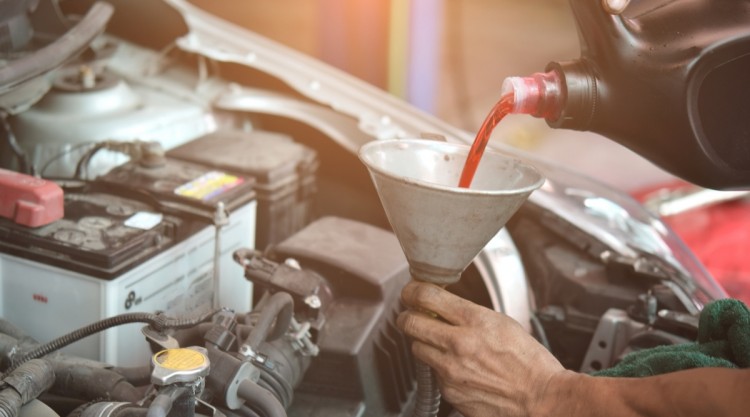 Hearing grinding noises or experiencing problems when shifting gears? If so, then the chances are you're having some transmission problems. When this happens, the most common cause of your troubles is the transmission fluid.
In this guide, we're going to teach you all you need to know about transmission fluid, including what it is and what it does in your vehicle, what different types there are, and how you should go about choosing the perfect product for your ride. Before that, though, let's take a look at a selection of the best transmission fluids on the market today.
Quick Links to Our Top Recommendations for the Best Transmission Fluids
Note: Clicking the above links will take you to further information, current prices, and customer reviews on Amazon.
Best Transmission Fluids – Our Top Recommendations
We've reviewed some of the top products on the market today to save you some time, as well as some of their shortcomings you have to be aware of.
Mobil 1 112980 Synthetic Automatic Transmission Fluid
This option from Mobil 1 is fully synthetic and has a number of benefits to offer your vehicle.
First of all, we love how versatile this product is. It can be used in many popular vehicles, including cars requiring Ford Mercon V as well as General Motors Dexron III.
This formula has a high viscosity index of 176, so it works well at both high and low operating temperatures. In particular, it may be great for you if you live in colder areas of the country. Mobil claims that it can help efficiency at temperatures as low as minus 60 degrees Fahrenheit.
When you use this product, you can rely on it to improve the overall performance of your vehicle. It promotes a smooth and quiet gear shifting, while also helping to prolong transmission life.
Manufacturers Specs and Feature List
Fully synthetic formula.
Meets or exceeds the requirements of Ford MERCON V and JASO 1-A.
Helps to provide outstanding resistance to oil deposits and breakdown.
Improves overall cleanliness and durability.
Multi-vehicle formula recommended for SUVs, SUTs, high-performance vehicles, and vans/light trucks.
Pack of 6 x 1 quart (32-ounce) bottles.
What We Like
High viscosity index.
Fully synthetic.
Suitable for most popular car brands.
Enhanced friction durability.
What We Don't Like
Not recommended for Dexron IV vehicles.
Summary
Overall, this is the best automatic transmission fluid out there for your average motorist. While it's recommended for Dexron IV vehicles, it suits most other car makes.
The high viscosity index is a real advantage if you live in colder regions of the country. It won't break down like cheaper brands, and it may help to improve fuel economy and make for a smoother ride.
On the downside, this isn't exactly the most budget-friendly option out there.
Valvoline MaxLife Full Synthetic Multi-Vehicle Automatic Transmission Fluid
We love fluids that use synthetic oils, and this is exactly what you get with this option.
This is going to help reduce friction and oxidation, which may help promote smooth gear transitions. Synthetic oils are also less likely to break down in high temperatures.
This formula also includes advanced additives, which may help to clean and prevent deposits developing on components. This can, in turn, help to extend the life of your transmission.
This is a multi-vehicle automatic transmission fluid, so it's suitable for several different vehicle makes. It will work in cars requiring Dexron, Mercon, and Mercon LV. These include high-performance vehicles such as BMW and Mercedes-Benz, as well as Toyota and Subaru.
Manufacturers Specs and Feature List
Available in 1 gallon (case of 3).
Fully synthetic formula.
Suitable for most Dexron/Mercon and Mercon LV vehicles.
Unique blend to promote better oil flow at extreme temperatures.
Contains cleaning additives.
Includes seal conditioners to prevent leakages.
What We Like
Fully synthetic.
Includes cleaning agents.
Suitable for most popular car brands.
Deals with high temperatures.
Reduces friction.
What We Don't Like
Not suitable for cars with CVT.
Not an OEM-licensed product.
Summary
There's no doubt that this product is one of the best automatic transmission fluids out there.
The fully synthetic formula is beneficial for cooling the transmission and promoting smooth gear shifting, and the cleaning additives might help you avoid damage.
However, it's important to note that this is not an OEM (original equipment manufacturer) licensed product. This means that car manufacturers have not evaluated whether this is 100 percent suitable for their vehicles. For this reason, some drivers may prefer to choose an OEM-licensed product for added peace of mind.
Castrol 06814-6PK Transmax Import Multi-Vehicle Automatic Transmission Fluid
Castrol is a famous brand across the world, known for creating quality (yet affordable) products for the automotive market. The company certainly doesn't let you down with this option.
With its enhanced formula, this product may help reduce friction within your transmission. This results in reduced wear and tear, and keeps your car shifting smoothly.
This product is known as an import multi-vehicle fluid, and it is OEM approved. This means that it's recommended for most Japanese vehicles, such as Honda and Nissan, and also for other imported cars. It's also suitable for vehicles requiring Mercon V and a variety of Dexron fluids.
Manufacturers Specs and Feature List
1 gallon (128 ounces) (pack of 3).
Synthetic automatic.
Meets or exceeds DEXRON-IIIIH, MERCON V and JASO-1A.
Suitable for passenger cars and light trucks.
Recommended for imported vehicles, such as Toyota and Nissan.
Excellent protection at high temperatures.
What We Like
Large size option.
Recommended for many different car makes.
Reduces friction.
For transmission and power steering.
Works well in cold weather.
What We Don't Like
Not suitable for continuously variable transmission (CVT) vehicles.
Not suitable for Dexron VI vehicles.
Summary
This is an affordable choice compared to similar brands on the market. And you're not getting a substandard product, either. It's able to protect your transmission in cold weather, as well as reduce high-temperature friction of the components.
If you've got an imported vehicle, this might be one of the best transmission fluids for you. It's recommended for a variety of car makes, especially Japanese vehicles, but it's important to note that it's not suitable for CVT cars or those requiring Dexron VI.
Royal Purple 12320 Max ATF High Performance Multi-Spec Synthetic Automatic Transmission Fluid
This one is marketed as a high-performance transmission oil, and this is due to its ability to withstand extremely high temperatures.
It's suitable for a range of vehicles, too. This includes variations of Dexron and Mercon, as well as Japanese imports such as Honda and Toyota. Also, if you've got a European car like BMW or Volkswagen, you can use it as well.
One of the great things about this product is that it can be mixed with other automatic fluids when doing your transmission fluid change. When doing this, it won't lose its effectiveness or cause any damage, which means you can top up anytime.
Manufacturers Specs and Feature List
Case of 12 quarts.
Synthetic base oils used.
Ability to mix with other automatic transmission fluids.
Recommended for a range of Mercon, Mercon V, and Dexron vehicles.
Designed to be long-lasting.
Deals with oxidation better than other options.
What We Like
Compatible with other options.
Suitable for a range of vehicles including imports.
High viscosity index for extreme temperatures and conditions.
Reduces friction.
Good lubrication.
What We Don't Like
Not suitable for Dexron VI vehicles.
Summary
Royal Purple has done well with this option, as it does everything you want any similar product to do. This includes smoother gear shifting, as well as cooling the transmission—even in high-performance vehicles.
It also prevents oxidation and wear and tear by acting as a transmission lubricant. This is exactly what you want, assuming you're trying to enjoy your vehicle for a long time without expensive repairs, of course!
With all that being said, if you need Dexron VI-compatible fluid, this one's not for you.
Red Line (50204) SAE 75W80 API GL-4 Synthetic Manual Transmission and Transaxle Lubricant
If you've got a high-performance vehicle, the Red Line synthetic is well worth considering.
Unlike many of the other products out there, this is for manual transmissions and transaxles. So, if you've got a manual or transaxle BMW, Dodge, or Jeep vehicle, pencil it in!
This is also a great lubricant that cools your transmission and reduces friction to prevent wear and tear.
Manufacturers Specs and Feature List
1 quart (32 ounces).
For manual and transaxle vehicles.
Suitable for imported vehicles, such as Mini Cooper and Mitsubishi.
Low sulfur formulation for compatibility with brass synchros.
Achieves gear oil viscosity requirements of 70W, 75W, and 80W.
Satisfies motor oil viscosities of SAE 30, 5W30, and 10W30.
What We Like
Works well at high temperatures.
Synthetic base oil.
High-performance option.
Reduces friction.
Improves gear changes.
What We Don't Like
Smaller size.
Improvements can be hit or miss – sometimes it's obvious, other times it's minimal.
Summary
This is one of the best manual transmission fluids out there, and is a great choice for high-performance vehicles.
The use of synthetic base oils also acts as a great lubricant to protect the transmission and promote more speed through smooth gear changes.
Valvoline DEXRON/MERCON Automatic Transmission Fluid
There's no doubt that Valvoline is a well-respected brand in the automotive industry, so it's no surprise that this is a good option to consider.
If your vehicle requires specific variations of Dexron or Mercon, this may be suitable for you. It's specially formulated to operate at low temperatures, which means that it should be easier to start your car and drive on a cold winter morning.
It also contains friction modifiers that are there to protect your transmission all year round. It can stop sludge from developing and prevent deposits that can cause clogs.
Manufacturers Specs and Feature List
1 gallon (128 ounces).
Includes special friction-reducing additives.
Suitable for MERCON, DEXRON, DEXRON II, DEXRON III AND ALLISON TES-389.
Not compatible with cars requiring Mercon IV or Mercon SP.
Rewarding for electronic and hydraulic transmissions and transaxles.
Protects against wear and provides shudder resistance.
What We Like
Suitable for most Dexron and Mercon vehicles.
Responsive in low temperatures.
Large size available.
Contains friction modifiers.
Prevents deposit build-up.
What We Don't Like
Not suitable for CVT vehicles.
Summary
This is a great choice for vehicles requiring variations of Dexron and Mercon. We especially like that this formula can protect your transmission from damage with its additional friction modifiers.
Being responsive at low temperatures means that this is a good choice if you live in colder regions, but keep in mind that this product won't work for CVT vehicles.
Genuine Honda Fluid 08200-9008 ATF-DW1 Automatic Transmission Fluid
Do you drive a Honda and want to get what's arguably the best product possible for your ride? In that case, take a look at this one.
This is a genuine Honda fluid, which meets all their quality standards, so you can enjoy peace of mind knowing you've chosen the right option.
This aims to make shifting gears smoother and it's been specially formulated to work well at low and high temperatures. There are also special additives for protecting seals and O-rings.
Manufacturers Specs and Feature List
1 quart (32 ounces).
Meets Honda quality standards and OEM product.
Formula that offers seal and O-ring protection.
Promotes better fuel economy with low viscosity.
Ability to deal with low and high temperatures.
Low oxidate rate.
What We Like
Original equipment manufacturer (OEM) fluid.
Works well at extreme temperatures.
Protects the seals and the O-rings.
Lubricates.
What We Don't Like
Not suitable for CVT.
Might not work for other (non-Honda) car makes.
Only available in 1-quart bottles (although multi-packs are available).
Summary
If you've got a Honda car, this may be the best choice for you. Choosing an original equipment manufacturer (OEM) fluid lets you know it's a quality product and the right one for your vehicle.
The downside to this product is that it's not suitable for CVT vehicles, or possibly other vehicle makes. It's also only available in small (quart) size bottles.
ACDelco 10-9395 Dexron VI Automatic Transmission Fluid
This product is suitable for almost any vehicle requiring Dexron fluids, and is also backward compatible, which means older vehicles can benefit from this newer formula – not a common feature in similar products.
You can enjoy friction modifiers with this ACDelco product, which includes fully synthetic oils. This will cool your car's transmission and prevent damage to the components that can result from constant grinding.
It can also withstand extreme temperatures pretty well and still deliver smooth gear changes. It's also worth noting that some users report improved mileage when using this formula.
Manufacturers Specs and Feature List
1 gallon.
Fully licensed and approved by GM.
This product is DEXRON backward compatible.
Suitable for vehicles with GM transmissions from 2006.
Recommended for DEXRON VI, DEXRON III OR DEXRON II(E).
Improved friction durability and oxidation resistance.
May improve your vehicle's fuel economy.
What We Like
Backward compatible.
Friction modifiers.
Fully synthetic oil.
High viscosity index.
Improve fuel economy.
What We Don't Like
Not suitable for CVT vehicles.
Summary
We specifically love that this is one of the only products on our list that's backward compatible. This means that you don't have to have the newest car on the road to enjoy an advanced formula.
With the inclusion of fully synthetic oil and friction modifiers, you can also improve the performance of your vehicle. Plus, you can get suitable protection from the wear and tear of grinding in the long term.
However, this product isn't suitable if you have a CVT vehicle.
What Is Transmission Fluid?
In order to understand what this fluid is, it's essential to first know what your vehicle's transmission actually does.
Simply put, it receives power from the engine of your vehicle and sends it to the wheels. This is what dictates both the car's speed and the engine's torque.
There are two basic types: automatic and manual.
An automatic transmission, as the name implies, shifts your gears for you: you don't have to do anything. It all takes place automatically when you reach different speeds.
A manual transmission, on the other hand, utilizes a stick shift. In this case, you have to maneuver the stick manually to change the gears by yourself.
In either case, transmission fluid is the liquid that's used to lubricate all of the components. It keeps things running smoothly and stops the gears from grinding and rubbing against each other.
Without this fluid, you're going to damage either type permanently. You need the slick surface of this fluid to make shifting gears easy and reduce friction.
The fluid acts as a coolant too, reducing high temperatures in the transmission when your car is on the road.
What Different Types of Transmission Fluids Can I Choose for My Car?
If you've ever been into an auto store, you'll have seen many different types available to choose from.
Many people think you only have to decide between automatic and manual transmission fluids, but it's a little more complicated than that.
So, let's break it down.
Dexron/Mercon
Dexron and Mercon are most likely the ones you'll see recommended for your vehicle. There are different quality grades, with most modern car transmissions being suited to one or the other.
Dexron is licensed by General Motors, while Mercon is licensed by Ford.
This means that GM vehicles like Cadillac, Pontiac, and GMC are going to use the Dexron series. On the other hand, if you drive a Ford car such as Mercury, Ford, or Lincoln, Mercon will likely be your required option.
Synthetic Fluids
Synthetic transmission fluids use synthetic base oils and additives to take better care of your vehicle's components. They are also referred to as aftermarket fluids, as they are not made/licensed by car manufacturers.
The specific synthetic transmission fluid type will be recommended by car makers for a variety of models.
Normally, synthetic automatic transmission fluids can better withstand temperature changes than Dexron and Mercon. This means they won't break down easily.
The downside to synthetic fluid types, however, is that they can sometimes have a high price tag.
Type-F
Type-F is an automatic transmission fluid that's normally only used for pre-1977 Ford cars. If you've got a vintage 1970s Ford, you'll want to go for Type-F. The reason it's not suitable for modern cars is because it doesn't contain friction modifiers.
Hypoid Gear Oil
If you've got a manual transmission, you might want to consider hypoid gear oil.
This has a high viscosity level, which means it can deal with extreme temperatures. This is going to cool the temperature down and prevent grinding damage.
Motor Oil
Most of us know that motor oil, as the name suggests, actually lubricates a vehicle's engine – but many drivers also previously used motor oil to lubricate manual transmissions.
It's now commonly recognized that motor oil isn't as good at handling heat as other types. In addition, motor oil doesn't have additives to help prevent damage.
How Do I Find Out What Type I Need?
Every car is different, which means that you will need to consult the owner's manual to find out what your particular vehicle needs. If you don't have the manual and aren't sure which one to use, you can always ask at your local car dealership or service center.
Always take the time to determine which fluid you should use, since using the wrong one can cause serious damage. Failure to use the recommended option may actually void your vehicle's warranty – yikes!
What Happens If a Car Doesn't Use Transmission Fluid or It Runs Out?
What if you're on the road and – all of a sudden – you see the warning light for your transmission fluid?
If Your Car's a Manual
If you drive a manual, stick-shift vehicle, you'll still be able to continue driving, but you'll probably notice grinding noises and delayed gear changes. It's not going to be a smooth ride.
Once you see the warning light, you should refill the fluid as soon as possible. Otherwise, you risk causing damage and incurring huge repair bills.
If Your Car's an Automatic
If you have an automatic transmission, we've got bad news for you: you may be in immediate trouble.
Automatic cars need transmission fluid to create power, as it works with the torque converter to power the wheels.
It can be dangerous to drive with insufficient automatic transmission fluid levels. As a matter of fact, there's actually a good chance you won't be able to drive any longer in an automatic vehicle without any transmission fluid, even if you tried.
For these reasons, it's imperative that you watch these levels in your vehicle.
Most modern cars have warning lights on the dashboard that'll notify you whenever something's wrong. If this light comes on, you should add some fluid immediately.
With that being said, there are some telltale warning signs of low levels you should keep an eye out for. These include:
A burning smell
Trouble shifting gears
Puddles underneath your vehicle
If you notice any of these things, it might be related to your transmission fluid. In that case, follow our guide on how to check transmission fluid level, and be sure to fill it up right away if it's running low.
When it's time to change your fluid, you have two choices: You can either take it to a garage or do it yourself at home with our guide on how to change transmission fluid.
What Should You Look for in Transmission Fluid?
There are some key features you should consider, including the presence of friction modifiers and the fluid's viscosity index.
Friction Modifiers
Friction modifiers are transmission fluid additives that help reduce friction between components. Friction-modified transmission fluid contains lubricants that help prevent the harsh contact that can cause wear over time.
Not all transmission fluids use friction modifiers. For example, Type-F fluid doesn't contain any friction modifiers, and this is why it's not suitable for most modern vehicles.
If you have a high-performance vehicle, you may want to look for an advanced product that contains more friction modifiers than usual.
High Viscosity Index
Usually, you'll want to choose something with a high viscosity index. This means that the oils will stay thick and flow easily, even in high temperatures.
If you choose something that has a low viscosity level, the oil can become thin and won't lubricate the components properly.
On the other hand, a higher viscosity index means that the state of the oil hardly changes, despite extreme rises or drops in temperature.
Conclusion
While there are many different types and products to choose from, they all strive to serve the same purpose: to lubricate the components and lower the temperature of the transmission.
All of this, in turn, leads to better performance and a more enjoyable ride, and can prolong the life of your vehicle's components.
With that being said, some do their job better than others, and some are more suitable for specific car makes and models than others.
With the help of our recommendations, we hope that you've found the best transmission fluid for your vehicle! You know enough now to make a well-informed decision.