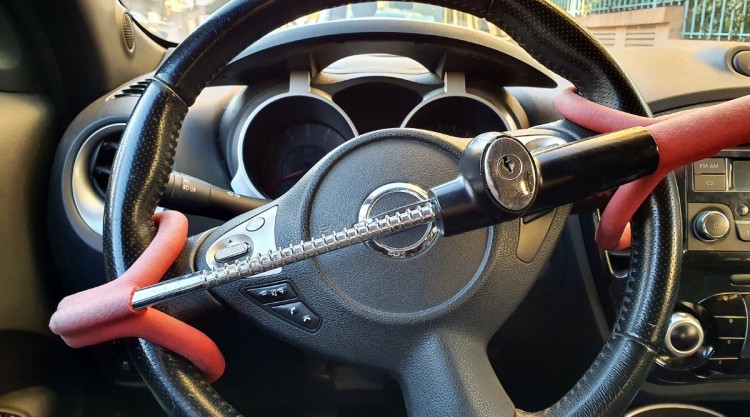 Do you think you're safe from car thieves? Of course, you never want to think about your car being stolen. But the reality is—it could happen to you no matter where you live.
Everyone seems to think that vehicles would become harder to steal as technology improves, but in actuality, thieves have worked out stealthy ways to clone remote keys and even beat immobilizers.
Of course, we're not saying this to scare you. We're telling you because there are numerous ways you can protect your car from theft. For example, there are still traditional ways to secure your vehicle. One of them would be with the best steering wheel lock.
In this article, we're going to explore what precisely a steering wheel lock is and how they work. We'll also introduce the different types available on the market and what to look for when buying one for your particular vehicle.
We'll end the article by sharing our recommendations for the best steering wheel locks available on the market today.
Quick Links to Our Top Recommendations for Best Steering Wheel Lock
Note: Clicking the above links will take you to further information, current prices and customer reviews on Amazon.
What is a Steering Wheel Lock?
A steering wheel lock is a security accessory that simply locks onto your wheel. It secures the steering wheel in place so that it can't be moved or turned. Thus, making your car undrivable when it's installed.
The only person that can remove it is the driver or someone that has the key.
This device is often chosen as the first line of defense against modern thieves who manage to break through keyless entry systems.
Note: This guide concentrates on steering wheel locks only. Often confused with locks used externally for your 4 wheels, but this is not what we discuss here. For these, please check out our guide to the best wheel locks.
Why Use One? Do They REALLY Stop and Deter Thieves?
You may be thinking it's all just a bunch of hype? Do steering wheel devices really stop your vehicle being stolen? Well, even the police are recommending that car owners think about investing in one to protect their valuable asset—it's not just coming from lock manufacturers.
Prevents a Getaway
Steering wheel locks work by completely immobilizing your vehicle. You can't move the wheel when it's locked into place, so while thieves may still be able to break in through a window, they can't drive away. This stops them from making a hasty getaway since they can't physically turn the wheel.
They are deliberately made from unbreakable metals and materials to combat whatever tools are being used in the crime.
Acts as a Deterrent
Another advantage of a steering wheel device is that sometimes they can prevent a break-in altogether. Thieves want to steal cars that seem like they're easy to access. They want to do this stealthily without getting caught, of course. Having a locking device in place makes it more difficult for them to do this.
Therefore, it's said that steering wheel locks may have a deterring effect when it comes to auto theft. When they're clearly visible to perpetrators, it'll very likely make your ride less desirable to thieves. This is why, in the main, they are bright red or yellow, so they are highly visible and put thieves of.
Gives You Peace of Mind
At the end of the day, your car may never be broken in to at all. However, the point of this security device is to offer some invaluable peace of mind. You can know that you've done everything you can to prevent someone from taking your car.
This is going to be particularly reassuring if you've got an expensive sports car, classic collectors item or a leased vehicle.
How do They Work?
The point of a steering wheel lock is just as the name suggests—it's to secure your wheel in place so that it can't be moved.
While there are a plethora of different designs to choose from that we'll have a look at in just a bit, they are usually designed with a combination of hooks and locks. You'll be provided with the only keys that can unlock it.
The only way a thief is going to get their hands on your vehicle is with a tow truck. Let's face it, the chances of this are pretty slim. It makes the vehicle pointless to break into because they can't drive away with it.
If thieves are really determined, this will significantly slow them down or at least make a lot of noise so that they can be easily detected.
Types of Steering Wheel Lock and Which Type to Choose
There's actually a few different styles and designs to consider and they all offer varying levels of security.
Let's take a closer look at each of them.
Traditional Lock
When you imagine a steering wheel locking device, the traditional design is probably the one you imagine first. It's been around for many years and is suddenly making a comeback for those who want to protect their vehicles.
Usually, it boasts a bar that stretches across your wheel with hooks and an extendable arm. When a hardy, durable material is used, this can be a good way to immobilize your ride and lock the wheel securely in place. However, there is the possibility that with the right tools at hand, a thief could still break their way through one.
Wheel-To-Pedal Lock
This one is similar to the traditional design, except it's got a hook that attaches to one of the pedals. So, it secures your wheel and doubly protects your vehicle by also attaching to the brake pedal or the clutch pedal. You won't be capable of turning the wheel nor using your brake or clutch pedals.
We like the double protection that this design offers. It can make it incredibly difficult for an opportunist to drive away with your vehicle. However, again, there is still a chance that certain tools could be used to saw through this type of device.
Enclosed Lock
This design is just like it sounds—it encloses the whole wheel entirely so that none of it is showing. It acts like a hard shell around it, so that nobody can use any tools to break it off and drive away with your precious vehicle.
It's a very effective choice that's going to be extremely tough for thieves to maneuver around, as long as it's made from good, solid materials. However, you may find it quite bulky and difficult to work with if you've never had one before.
What to Look Out for When Buying a Steering Wheel Lock
There are some key features you'll want your steering wheel lock to have. We've mentioned these below so that you know what to look for when you're shopping for an antitheft device.
Let's have a look at them so you can remember these factors when you're ready to purchase your new device.
First and Foremost: Effectiveness
The most important thing you want from this security accessory is effectiveness. You want to stop thieves from stealing your ride, so you want to choose a product that is constructed from a tough and impenetrable material. This way it can resist attacks from tools or at least slow thieves down.
The best materials to look out for are cro-moly (chromium molybdenum) or hardened steel. These will resist any type of sawing, hammering, and prying from determined thieves. They'll also stave off power tools.
Universal Fit
Most steering wheel accessories will be a universal fit. This means that they'll attach to most models of cars, by expanding to fit different sized steering wheels. Unless you've got a huge truck, a universally fitted device will normally be suitable for your ride.
Sure, some products will have sizing options. In these cases, examine the dimensions carefully to make sure it'll fit your wheel securely. The last thing you want is to choose the wrong one hastily.
Usually, the dimensions you'll need to know are the width and breadth of your steering wheel. Take note of them, so you don't waste your time on a product you've got to return.
Visibility as a Deterrent
Thieves are likely to look into your vehicle before they decide to break in. They'll weigh up whether it's easy to steal, and therefore if the whole endeavor seems worth it. If you've got a brightly colored steering wheel lock, they're going to see it right away.
This could be just the deterrent needed to stop them from breaking in. They'll know they won't be successful in making the quick and quiet getaway they had originally planned.
Our advice is to choose a bright yellow or red device. This is more than just for style. It makes the accessory clearly visible and easy to spot, which often is enough to stop thieves from attempting to steal your car right in their tracks.
How Easy it is to Fit and Remove
If you purchase a product that's too complicated for you, you'll end up not using it. This is a complete waste of money and still leaves your vehicle at risk. Make sure that you understand how the security accessory works beforehand.
Most of the traditional steering wheel lockss are pretty easy to use.
In particular, those with self-locking features will be even more user-friendly. All you've got to do is unlock the device when you want to drive off. The enclosed design may be a bit bulkier to fit around your wheel and will take some time to get used to.
Best Steering Wheel Lock—a Detailed Look at Our Top Recommendations
There are so many products out there to choose from. If this is your first foray, you may need some pointers. To help, we've reviewed some of these security devices and recommended our favorites below.
Disklok Security Device – Steering Wheel Lock – Full Cover – Silver – Thatcham Approved
First up, we've got this super cool, enclosed lock. Of course, this covers the whole steering wheel, forming a protective and strong shell around it. You can't even see the wheel when it's in place.
This design is patented and it's going to be one of the best products for making your car undrivable and therefore unattractive to car thieves.
It's made from hardened steel, which is exactly what you want from a steering wheel device. Such construction makes the device extremely robust and durable.
The best part though is it doesn't actually attach to the wheel. It secures in place around it without being directly attached. This means that it'll spin when somebody tries to tamper with it. It also has Thatcham approval and has been tested for its security and safety.
This award-winning product even has a locking barrel that's designed to prevent drilling and stop lock picking from being successful. The surface of this particular steering wheel lock shuts tight, leaving no space for tools to break it down. It's pretty invincible, even against the most determined of thieves.
It's easy to fit onto your steering wheel too. Pull the disk apart and place it over your wheel. You'll then lock the bar, and you're all set. You'll feel content knowing your car is safe, whether it's overnight or in a new area. Just reverse this process with the keys, and you'll be ready to go the next time you jump in the driver's seat.
There are three sets of keys provided here so you don't have to worry if you happen to lose one. You'll still have two more before you run into trouble.
This device is designed to fit most vehicles, but there are three different sizes—small, medium, and large. Be sure to look at the dimensions and choose the right one for your car. This will let you enjoy using it right away.
Features and Specifications
Three-year mechanical warranty.
Weighs 8.8 pounds.
The small size is suitable for 13.7- to 15.3-inch steering wheels.
Three keys provided.
Includes official Disklok window sticker.
Made from hardened steel.
What We Like
Made from tough hardened steel.
Easy to fix to your wheel.
Spare keys provided in case you lose any.
Spins on the wheel to prevent tool attacks.
What We Don't Like
Bulky design for storage.
The Club CL303 Pedal to Steering Wheel Lock
Winner International boasts their renowned The Club range, which includes this incredible product. It's made from tempered steel, which is the toughest steel you can get. This should withstand physical attacks, even with tools. You'll make your vehicle very hard to steal.
What makes this device different from others on our list is that it attaches to the brake pedal or the clutch pedal. Instead of just being attached to the wheel, it also holds onto the pedal for double protection. It means that the wheel can't move and the pedals can't be used either. Thieves don't stand a chance. All you do is lock it around the wheel and hook it on the pedal, it's very easy and quick to set in place.
Exclusive to this range of products is the self-locking component, which is patented. You've just got to pull and extend this device and it's going to lock by itself. You don't have to mess around—it locks and secures instantly with minimal effort. If you're in a hurry, you can easily attach your device within two minutes.
Another benefit of this product is that it's bright red in appearance. Anyone can spot this one from a mile away. This may stop a car thief from attempting to break into your vehicle. It's certainly worth a try.
It's a universal fit, so you won't make a mistake when it comes to sizing. It's going to be suitable for different vehicles, such as cars, trucks, and vans. There are two keys provided in case you lose one and they're only used for unlocking your device when you want to drive.
Features and Specifications
Weighs 2.45 pounds.
Extends from 22.5 up to a whopping 30 inches.
Two keys are provided.
Universal fit.
Red finish.
Made from tempered steel.
What We Like
Quick and easy to attach.
A spare key is provided in case it's misplaced.
Universal fit is suitable for most vehicles.
Bright color for a visible deterrent.
What We Don't Like
Thieves could cut into the wheel.
The Club 3000 Twin Hooks Steering Wheel Lock
This product steps it up a notch with an added double hook for extra security. This makes it even harder for thieves to successfully steal your ride. It's also going to let you relax when you've got to leave your beloved vehicle parked in an unknown location.
This lock boasts a revolutionary chromium molybdenum steel construction. It's a really tough and heavy-duty steel that's going to cope well with any type of attack. Whether the thieves bring saws, hammers, or try to pry it open with another kind of tool, it's still going to stand strong. Even if they do try to use tools on the steel, it's likely to make a lot of noise that draws attention to the situation.
As this comes from The Club range from Winner International, you can enjoy having the self-locking feature, which is patented as we mentioned before.
With just one pull, you can secure this device into place. It makes it quick and easy to attach when you're in a hurry. You don't have to use your key—this is only for when you want to unlock it. There are no excuses for not using this security accessory, even when you're running late.
What's more, this one is a universal fit. It's designed to be compatible with vans, SUVs, cars, and small trucks. You don't have to choose a size—it extends up to 14.4 inches.
To ensure this secure steering wheel device is visible to anyone passing by, there's a yellow vinyl finish. There's no way you could miss it. This might stop an opportunist from breaking in and trying to get away with your ride. One thing's for sure, even if they do, they won't be going anywhere.
Features and Specifications
Maximum opening of hooks is 14.4 inches.
Made from cro-moly steel.
Twin hooks design.
Yellow vinyl finish.
Universal fit for most vehicles.
What We Like
High visibility with yellow design.
Made from tough and durable steel.
Double hooks for double security.
Quick and easy to use.
What We Don't Like
Thieves could cut through the steering wheel to steal.
The Club 1000 Original Club Steering Wheel Lock
Winner International introduces this classic design, and it's definitely a popular choice that could be suitable for your ride. It's tough, long-lasting, and perfect for keeping your car safe when you're away. Overall, it's one of the best products in our list.
The bright red color enables you to see this device from afar. This will hopefully discourage thieves who may attempt to break in. Of course, if they do break the window, there's no way they're going anywhere fast. It's made from cro-moly steel, which is resistant to prying and sawing attacks. The steel hooks are solid and secure too.
Again, this product features the unique self-locking mechanism, which is patented. This makes fitting this nifty steering wheel device both super easy and quick. You don't have to mess around with keys. Simply attach it to the wheel and pull the lock and it's all ready. You can be confident that your car's safe when you're leaving it unattended.
The long extension on this one means it's going to fit a lot of different car models. Just be sure to check out the maximum opening dimensions to see if it'll fit your wheel. Still, we're pretty sure it's going to fit anything from a car to van without any problems.
Features and Specifications
Weighs 7.8 pounds.
One-year guarantee.
The maximum extension is 16.3 inches.
Cro-moly steel.
What We Like
Lightweight and easy to store.
Bright red design for visual deterrence.
It's simple to attach and unlock.
Resistant to hammering prying and sawing.
What We Don't Like
May be possible to drill the lock.
Nrg Innovations Srk 101 Mb Quick Lock
The next product we've got here is constructed from solid steel. This means it's tough—it's going to not only slow down thieves but stop them.
The idea is that you already have a Quick Release Hub for your ride. This device secures on top of it. All you've got to do is twist it on and press the button. You won't need the keys unless you're unlocking it.
It's super easy to use once you've installed the hub. This could be complicated, and you've got to make sure you follow the instructions carefully. It's going to stop thieves attaching a wheel to your ride to make a getaway. It has this ball-lock design for effectiveness and the key mechanism to secure your wheel in place.
While the matte black looks stylish, it may not have a deterrent effect. So, the chances are a thief could still break in and may still try to steal your ride. But the good news is they won't be able to. They shouldn't be capable of turning the wheel.
Features and Specifications
Matte black design.
Requires Quick Release Hub.
Two keys provided.
Ball-lock design and key mechanism.
Made from solid steel.
What We Like
Constructed from tough steel.
Keys are difficult to copy.
No other steering wheel can be used for theft.
What We Don't Like
May affect the comfort of your steering wheel.
Universal Steering Wheel Lock for Truck, Van, SUV Auto Adjustable
One of the best steering wheel lock options on our list is this one from Monojoy. It's made from a tough and durable hardened steel so that thieves can't saw through it and make off with your ride. This one expands and retracts to fit most wheels and lock them in place. This means it should be a good choice for any ca. It's an excellent choice for beginners.
A feature that's worth highlighting is the self-locking mechanism. The bar will automatically secure to your wheel, meaning you don't have to use the key. This makes it easy to extend use on your car with minimal effort. You don't have to search for keys before you leave your vehicle. Just use one of the three keys provided when you want to unlock it.
A B+ grade lock cylinder is used so that thieves can't break it. It's going to combat against any hammering or prying. Even if you have a keyless entry that thieves could break in, this device is going to stop them from going anywhere with your car. It also has a free-spinning construction so it can't be broken with a power drill.
What we love about this device is it has B+ grade laser-cut keys. They have a snakelike groove, which makes them hard to duplicate. This is exactly why manufacturers of big car brands like Audi and Bugatti use this style of key. You'll feel confident to know that modern thieves can't open your steering lock with a copy of the key you have.
A unique feature about this lock is the hammer on the end of the handle. This is a solid cone shape, and you can use this in an emergency to break glass windows. Hopefully, you won't ever have to use it, of course, but you'll take solace in knowing you're prepared for such a situation just in case.
Features and Specifications
Weighs 3.05 pounds.
Includes three keys and a sponge cover.
Measures 19.3 x 5.12 x 1.4 inches.
Universal fit.
Extends from 17.7 to 28.7 inches.
B+ grade lock cylinder and laser cut key.
What We Like
Universal fit for most vehicles.
Robust construction to sustain hammer and saw attacks.
Additional hammer for breaking glass.
Three keys provided in case you lose one.
Keys can't be duplicated.
What We Don't Like
It's not brightly colored to act as a theft deterrent.
The Club 2100 Truck/Suv Club Steering Wheel Lock
If you've got a large truck or bigger style SUV, don't worry—we haven't forgotten about you. This one right here is going to be the product you want to fit your ride. It's got a longer shaft that's designed to fit the bigger steering wheels that you find on many large vehicles.
You can open this one up to 19 inches, which is a lot more than others on our list. The self-locking mechanism will kick in to make the process of attaching it is easy and convenient. You won't need your keys. If you've made it through the review, we're sure you'll be an expert on these self-locking features by now!
The hooks are made from solid steel, which is one of the best materials for antitheft. Hammer and prying attacks should be resisted. With this gadget on, you can feel safe and secure about leaving it unattended. It should still be there when you get back.
You'll also be provided with three laser-encrypted keys. The awesome thing about these is not only are there spares, but they can't be copied at all. You don't have to worry about thieves getting smarter and being able to open your device.
We love how it's also bright red. This means you've got a visual deterrent on your side. Thieves only want to mess with cars that look like they're easy to steal and you'll put them off coming near yours when they know they can't drive away.
Features and Specifications
Three laser-encrypted keys included.
Made from cro-moly steel.
Maximum opening of hooks is 19 inches.
Self-locking mechanism.
Fits larger SUVs and trucks.
What We Like
Keys are unique and can't be copied.
Easy and convenient to attach.
Solid steel construction for protection.
Visible deterrent.
What We Don't Like
Have read reports of vehicle theft by cutting the steering wheel itself to remove this lock.
The Club Cl606 Brake Lock Vehicle Anti-Theft Device
Another great security accessory from Winner International is this device. Again, it belongs to The Club range, which is one of the most popular names for protecting against theft.
How well does this one perform? Well, it's made from tempered steel, which is going to be impenetrable by most tools and weapons used by thieves. It will lock your car with the hook on your wheel that also attaches to the brake pedal or the clutch pedal. This makes it impossible to use the pedals to drive.
While it may sound like it's going to be complicated to attach, it really isn't. We're sure you'll be familiar with the self-locking aspect. It only takes one pull to get this device into position. It will secure for you and you needn't use any keys. You only need the key for unlocking and taking it off to drive away.
We like that this product has a bright red finish. Of course, this is only going to be visible if somebody looks into your windows and not from a distance—but it's still going to stop them from making a getaway even if a thief does break your windows.
Features and Specifications
Two keys included.
Constructed from tempered steel with red finish.
Connects to brake or clutch pedal.
Fits on brake pedals up to 9/16 inches wide.
Self locking feature.
What We Like
Stops brakes from being utilized.
A spare key is included.
Easy to fit as it self-locks.
Made from a tough steel material.
What We Don't Like
Doesn't fit the Volkswagen Jetta or 2014 Jeep Cherokee.
Not instantly visible.
Keeping Universal, Heavy Duty Van Car Suvs Rotary Steering Wheel Lock
Last, but not least, we've got this secure device from Keeping. It's made out of aluminum die cast and solid steel, creating a tough construction for securing your vehicle. This is going to totally immobilize your wheel, preventing thieves from turning it and driving away.
The great thing is that while it's virtually impossible to break, it's also easy to install. All you've got to do is clamp it around the wheel and secure it with the key. This is going to stop it from being fully turned by a thief. It actually comes with two keys, which means you've got a spare one if you misplace the other.
You'll notice there's a vinyl coating on this one. This is not just for aesthetics, but it's also to protect the interior and stop abrasion.
This product is a universal fit. It should fit most types of vehicles, including compact cars and SUVs or small trucks. So, you shouldn't have to worry about purchasing the wrong size.
We know by now that you want a steering wheel device with a bright design to act as a deterrent. The good news is this device is black and yellow. This makes it visible from a distance, even if you have a slight tint to your windows. It may be just what you need to stop an opportunist from even thinking about stealing your ride.
Features and Specifications
Weights 2.47 pounds.
Measures 16 x 35 centimeters.
Universal design for most vehicles.
Includes two keys.
Aluminum die cast and solid steel construction.
Includes vinyl coating.
What We Like
Two keys in case you lose one.
Brightly colored for deterrent effect.
Solid and unbreakable design.
Quick and easy to attach.
Universal fit for most vehicles.
What We Don't Like
The keys may bend and snap easily.
Conclusion
If we had to choose the best steering wheel lock from our list, we'd select the Disklok Thatcham Approved steering wheel lock. It's made from hardened steel for maximum protection from thieves. It forms a robust shell so that no tools can be attached. It's even Thatcham approved for its effectiveness.
A steering wheel device can be a good way to protect your vehicle and deter modern auto thieves. It's also a way to ease your mind when your ride is unattended at night or in a new location.
Do you have a favorite product from our list? Do you have any questions or anythign to add? Please do let us know in the comments below!