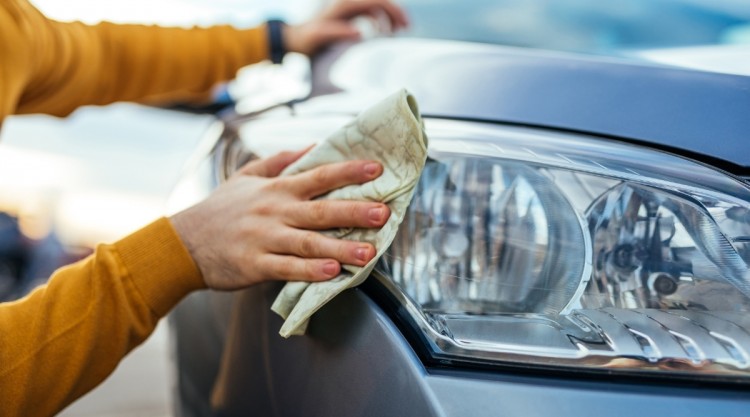 Are the headlights on your car starting to turn yellow? Or, perhaps you've noticed some deep scratches emerging?
In any case, don't worry, you haven't done anything particularly wrong – this happens to most headlights over time as they get exposed to all sorts of different environments.
Nowadays, dull and cloudy headlamps tend to develop on vehicles more frequently. Unlike older vehicles that had glass headlamp covers, modern cars use plastic that turns yellow and is susceptible to damage.
With that being said, the good news is that you don't have to rush out and purchase new lamps if yours aren't looking (or performing) their best. Of course, sometimes you'll have no other choice but to do that – but other times, there's a simpler fix.
Oftentimes, you can invest in a car headlight restoration kit to solve the problem for you. Just as the name suggests, with these kits, you can revitalize your car's headlights and get them back to their former glory.
This guide is going to tell you everything you need to know about headlight restoration kits – everything from what they are, how they work, and what to look for in these products when shopping around.
In addition, we'll review some of the best headlight restoration kits on the market today, so you can choose one that works best for you.
Ready? Let's get started!
Quick Links to Our Top Recommendations for the Best Headlight Restoration Kits
Note: Clicking the above links will take you to further information, current prices and customer reviews on Amazon.
What Exactly Is a Headlight Restoration Kit?
First things first, you'll want to know what a headlight restoration kit exactly is before you buy one.
Basically, this is a DIY kit that allows you to clean and rejuvenate your headlamps by sanding and polishing them. This means you don't have to go to a garage or call a professional when your lamps are dull – you'll have everything you need at your disposal.
Over time, the headlights on your car will become discolored and dull in appearance due to oxidation, a process which takes place when cars are exposed to UV light, debris from the road, bugs, and extreme weather conditions.
Because of this, the hard coat on the plastic will break down and the light from your headlamps will be negatively affected.
This deterioration of your headlamps can severely affect your visibility of the road at night – which puts your safety, your passengers' safety, as well as that of anyone else who happens to be on the road near you at the time at risk.
As a matter of fact, hazy headlights can produce up to 80 percent less light than clear ones.
How Do Headlight Restoration Kits Work?
If you've got cloudy headlamps, these kits give you the tools you need to sand and polish the plastic. As a result, this can smoothen out any scratches, and get rid of debris and that yellow tint.
Usually, there's a range of sandpaper grits you'll get to use in each kit. You can choose to use sand by hand or with a power drill – it's entire up to you.
Then, the included polish helps bring out the clarity, improve the appearance and allow all that light to shine through again.
Sounds pretty simple, right? That's because it really is!
What Accessories Are in a Headlight Restoration Kit?
Inside a restoration kit, you'll likely find a few common items, regardless of which product on the market you end up choosing.
Normally, you'll be provided with sanding pads or discs, and this sandpaper is usually available in a variety of grit grades.
The general rule of thumb to follow is that the lower the number, the rougher the grit. For example, a 200-grit paper is rougher than 2000-grit paper.
The sandpaper is used to smooth scratches and dents in the headlamp.
You'll also find polish in your restoration kit. This is used to clean up the plastic, doing a good job at removing the yellow tint and any other grime that's present.
Some kits will also provide you with foam pads, microfiber towels, a sealant or protective coating – but that's not always the case so you may have to buy these separately. You can check our guide to the best microfiber towels for some options.
What Are the Benefits of a Headlight Restoration Kit?
Choosing to sand and polish your headlights by yourself has a number of advantages, so let's take a look at them.
Makes Your Car Look Newer
Let's be honest here, nobody wants to see yellow and dirty headlamps on their ride!
This can easily make your car look uncared for, and gives off the impression that it's older than it actually is. However, with the help of a restoration kit, you can fix this problem pretty quickly.
It's a good way to get rid of all the dirt and grime that's accumulated on the plastic, and is also going to wipe away the yellow discoloration.
In turn, this can reveal a crystal clear and shiny headlight that looks as good as new.
Improves Nighttime Visibility
Driving at night can be very dangerous if you're not prepared for it, so it's especially important to have effective headlamps to help light the way.
Unfortunately, hazy and dirty lights aren't going to do a good job at that, and can be dangerous if driving after dark.
Headlight restoration kits are not just about making your car look new and shiny, they're also about improving safety for both you and your family.
Removing all the imperfections can improve the effectiveness of your headlights, so that you end up getting better visibility when driving at night.
Increases Resale Value
Everybody wants to keep their vehicle in the best possible condition so that it's easier to sell in the future. After all, nobody wants to buy a car unless it looks good all around.
Using a headlight restoration kit is a great way to do exactly that, and can actually increase the resale value when you hand it off to a potential buyer.
Simply spending some time on sanding and polishing your lights can help make you some extra cash with minimal effort.
Saves Money on Replacement Lights
At the end of the day, if you don't take good care of your headlamps, they'll have to be replaced sooner than usual. However, you could save yourself some money by paying a minimal amount for a restoration kit instead.
These kits can be a cost-effective way to improve your headlamps' condition, and save you from the expense of replacing the headlights altogether. Not to mention that it's a lot less of a hassle, too.
If you've left it too late and you do need to replace your headlights, though, then you can follow the instructions in this handy video:
DIY or Hire a Professional?
If you don't feel confident about using a restoration kit on your car all on your own, then you may prefer to hand this job off to a professional instead.
But, even if you're a total beginner when it comes to car care, it's worth pointing out that most of these products do come with instruction guides, and we have a guide ourselves on how to clean headlights that you can follow.
They don't leave you in the dark about what you should do, and they'll include three or four steps to follow. Take your time and read the instructions carefully, and you'll find that it's quite easy to understand the process.
If you lack patience or time, though, then this may not be the best option for you.
Some of these kits require elbow grease and perseverance when it comes to polishing – if you want to get the best results, of course. This can take some time, especially if you're a beginner and haven't actually done any of this work before.
With that being said, you'll also need to consider your budget. If you hire a professional, you're going to pay a lot more than tackling the job yourself.
If you're on a tight budget and don't have the money to spend on hiring someone for this, then this should spur you on when you feel like it's too much work!
What You Should Look for in Headlight Restoration Kits
First of all, do you need a different kit for HID vs LED headlights? In rare cases you may do, however nearly all kits are suitable for both types and you just need to read the product description to make sure. If no 'type' is mentioned, it will suit both.
Different kits offer a variety of products for you to work with.
There are some items in there you'll most definitely need, whether they're part of the kit itself or you have to buy them separately, to make sure you achieve the best results possible.
Let's take a look at what a good headlight restorer kit should contain:
Masking Tape
Some of these kits will include automotive masking tape.
This is needed around the lenses, to protect your paintwork from the damaging heat and roughness of sandpaper and polishers.
Always look for automotive masking tape; normal tape may stick to your car's paint and cause damage, and basic masking tape will wash off if it becomes wet.
A Range of Sandpaper Grits
If not included, it's best to have a range of sandpaper grits at your disposal.
This allows you to smooth scratches and dents in the plastic, as well as rub out yellowness.
The greater the range you have on hand, the more damage you can tackle, ultimately leading to a better result no matter how bad the situation you're working on is.
Use of a Power Drill
Some products will be compatible with a cordless drill for sanding and polishing, while other kits will require some elbow grease by hand.
There's nothing wrong with products that can't be used with a power drill, but you should be aware that it takes a lot longer to achieve the results you want that way.
If you're looking for a quick solution to your hazy lights, look for a product with contents that attach to a power drill.
Just be sure you know how to use it properly, so that you avoid damage to your surrounding paintwork and plastic.
Sealant
Some of the best auto headlight restoration kits on the market will include a sealant.
This is going to act as a barrier against the elements and damage from oxidation in the future. Otherwise, your hard work may need to be repeated sooner rather than later.
The Best Headlight Restoration Kit Reviews – Our Top Recommendations
Now that you know all about how these products can come in very handy at times, as well as what you should look for when shopping around for the right kit, it's time to look at some of the best headlight restoration kits on the market today.
We know it can be hard to choose, given the plethora of products out there – so, to help you out, we'll be talking about a few of our favorites in the sections below.
SYLVANIA Headlight Restoration Kit
Hazy headlights can be given a new lease of life, thanks to this award-winning restoration kit from SYLVANIA.
It's specifically designed to revitalize lights which have suffered damage from UV light and other environmental factors.
The product is easy enough to use, even for first-timers who might be hesitant to try something like this on their own.
First, you use the surface activator, which is designed to soften the plastic on your vehicle. This should make it easier to sand, and you won't have to use as much elbow grease.
Then you sand and polish to reveal a brighter and more illuminating lamp.
Sounds simple and straightforward, right? That's because it really is!
The inclusion of 400, 1000, and 2000-grit sandpaper means this product should be suitable for deep scratches. If your headlights are significantly damaged, this kit is sure to make them a lot better.
Start off with the 400-grit sandpaper first, and work up to the 2000-grit.
This kit also includes a UV-blocking clear coat that acts as a sealant and may help to protect your headlights from future sun exposure.
Manufacturers Specs and Feature List
Includes surface activator to soften plastics.
Contains applicator, two polishing cloths, and vinyl gloves.
Features premium 400, 1000 and 2000-grit sandpaper.
UV-blocking clear coat for future damage prevention.
What We Like
Helps remove deeper scratches.
The surface activator may help make the restoration process easier.
Includes vinyl gloves to keep your hands clean.
Sealant to protect against future UV damage.
What We Don't Like
Not suitable for use with a power drill.
Summary
Altogether, this is a really impressive product.
We love the variety of sandpaper provided, which helps to revamp really aged and weathered plastics. Plus, the sealant can help to repel debris from the road and act as a barrier against UV rays.
This kit provides just about everything you'll need, with clear instructions to get started.
If there's a downside to this product, it would be that it's not compatible with a power drill. This means you'll still need to sand and polish by hand.
While this may take you longer, many people prefer having more control and do things that way regardless. That way, you can stop any damage occurring to the lens or surrounding paintwork, which can be a risk with a power drill.
You can find out more information about this item by clicking the following link.
3M 39008 Headlight Lens Restoration System
If you think it's high time you clean up those cloudy headlights, this is a great product to get you started. In fact, you can also use it on your tail lamps and fog lights as well.
First things first, this kit is going to provide you with most of the tools you need.
Three trizact sanding discs of 500, 800 and 3000-grit are included This will help you rub down and smooth medium to small scratches on your lens.
The good news is that if you've got a power drill, you can use it with this 3M product. This kit includes a drill adapter which is going to save you some time on the job.
After sanding, all you've got to do is apply the polish. Simply buff it off with the polishing pad that's included, and there you have it: a headlamp that looks brand new again.
It's a pretty simple way to remove that yellow tint and any damage sustained from being on the road.
Manufacturers Specs and Feature List
Includes 500, 800, and 3000-grit trizact discs.
Polish and a polishing pad are provided.
Includes an adapter for use with your own power drill.
What We Like
Variety of sanding discs for rubbing down scratches.
Discs can be used with a power drill to save time.
Fast three-step method.
Can be used on all car lamps.
What We Don't Like
No sealant provided for future lens protection.
Summary
Overall, if your vehicle's lights have sustained minor damage and discoloration, this is a great product to consider. If you've got some deep scratches, though, then you may be better off with a rougher sanding disc to start off with.
But for most cars, this is going to do the job just fine. There are only three steps you need to follow; sanding, polishing and buffing. This means that this kit is simple and quick, especially when you use it with your own power drill.
You will still have to provide your own masking tape to make sure the paintwork isn't damaged while you're sanding. In addition, you might have to buy more than one kit, as there isn't a lot of polish in this one.
There's no sealant included, too, which might be a little disappointing for some.
To learn more about this product and see how much it costs, click this link.
3M 93084 Headlight Restoration Kit
Next up, we have another product from 3M to recommend.
You don't need any tools, and everything you need is in the kit provided to you, so you can start renewing your headlights straight away.
We especially like how easy it is for beginners who have never done anything like this before to use this kit.
We also like the variety of sandpaper grits provided. This can help remove the toughest damage and revitalize even the dingiest, yellowest lamps. There are 500, 800, 100, and 3000-grit abrasive discs included – depending on what kind of job you have at hand.
You just attach a disc to the foam pad to start sanding. Always start with the lowest number first if you've got a lot of damage on your headlights, then work your way up to the finest grit.
The rubbing compound is included and acts to clean up the appearance of the plastic. You'll have to use your own microfiber towel to buff it off and reveal the shine, though.
Manufacturers Specs and Feature List
500, 800, 1000 and 3000-grit sandpaper discs.
Includes an orange foam pad with a hook attachment.
One fluid ounce of rubbing compound included.
No tools required.
What We Like
The variety of sandpaper discs for tackling oxidation from bulbs and grime.
Simple instructions are easy to follow.
Fast process of sanding and polishing.
No need for a power drill.
What We Don't Like
Might be more time consuming than other options, seeing that more work needs to be done by hand.
No sealant included.
Summary
The highlight of this product for us is the variety of sandpaper discs it includes.
A lot of headlight restoration kits don't supply a range of different grits, and this can mean they only deal with small scratches and minor damage.
However, this one gives you a good range to deal with cloudiness, deep scratches, and yellow-tinted lights.
As opposed to the 3M 39008 kit above, this one is not for use with a power drill, so it will likely take you longer to complete the restoration.
Depending on the condition of your headlights, the finish may not be as good, and you might need something more advanced to work with.
You can find out more about this product by following this link.
Meguiar's G2980 Heavy Duty Headlight Restoration Kit
If there's one car brand that everyone knows, it's Meguiar's. These automotive giants have produced a headlight restoration kit as well, and it's a trustworthy one to invest in.
This option helps clean up oxidized and dull headlights, doing a great job at improving visibility on the road at night.
There's 1000 and 3000-grit sanding discs included with this kit. The sandpaper grit attaches to the hand-sanding pad, making it easy to hold and control where you're sanding.
For best results, this product should be applied in the shade.
We love that the polishing pad can also attach to a power drill. This is going to get the job done a lot faster, and also enables a more thorough polish of the plastic.
Once you wipe the polish away, this should reveal a squeaky-clean headlight.
Another fantastic thing about this product, compared to some of the others on the market nowadays, is the headlight coating that's included.
This acts like a sealant, which helps to keep your lamps clear and prevent yellowing. This could last for up to 12 months before reapplication is needed.
Manufacturers Specs and Feature List
1000 and 3000-grit sandpaper discs with a hand pad.
4-ounce bottle of G12304 Plastix for polishing with the foam applicator pad.
5-ounce bottle of G2402 headlight coating for protection.
Polishing can be done with a power drill.
What We Like
Reputable car brand.
Helps smooth and remove small scratches.
Polishing can be completed with a power drill for simplicity.
Includes sealant for UV protection.
What We Don't Like
Lower-grit (coarse) sandpaper might be needed for some deeper scratches.
Summary
If you want to rejuvenate aging headlamps and make them look as good as new again, this product should help.
The sandpaper discs included help grind out light scratches when combined with some elbow grease. The polish also helps to bring out the plastic's shine while removing dirt.
Using a power drill for polishing may help you get the job done in half the time. With that being said, all the provided sandpaper is fine – not coarse – so deeper blemishes may remain.
The sealant will have to be left on for 24 hours, so it's best to use this restoration kit when you have some free time on your hands and won't need the car anytime soon.
To find out more about this product, click on this link.
Mothers 07251 NuLens Headlight Renewal Kit
If you're looking for an all-in-one headlight restoration kit, then this is an option you'll certainly want to consider.
There are only a few easy steps that go into putting it to use, and it's designed to be a fast process.
Start by using the restoration discs to deal with scratches and tough grime. There's also a backing plate included which allows you to attach to a drill, but be careful when working near your paintwork.
A highlight of this kit is that the included polish also acts as a barrier against further oxidation, by leaving a protective polymer layer in place.
This means that you can drive on different roads and in all types of weather without the headlights discoloring in a hurry.
Manufacturers Specs and Feature List
Includes a 3-inch backing plate.
Restoration discs included.
Attach the Powerball 4Lights polishing tool to a cordless drill.
Includes an 8-ounce bottle of PowerPlastic 4Lights Liquid Polish.
Instruction sheet to follow.
What We Like
Polishing tool is reusable and it can be washed.
Restoration discs included to remove scratches.
Fast process, and you don't have to use elbow grease.
Easy to understand with instruction sheet.
What We Don't Like
Summary
To summarize, we'd say this was one of the better headlight lens restoration kits we've looked at.
If you're someone that doesn't want to spend a whole lot of time cleaning your lights, then this is for you. With this option, you can attach both the restoration discs and the polishing tool to your drill.
Usually, the only thing you'll need to purchase separately is some automotive masking tape to protect your paintwork.
If you'd like to learn more about this product, you can do so by clicking this link.
Meguiar's G2970 Two Step Headlight Restoration Kit
Another product from popular brand, Meguiar's, this does a great job at removing the yellow tint from your plastic.
Nobody wants their car to look old, and this two-step product is easy to follow to deal with oxidation.
There's no need for any drills or tools that may damage your vehicle, either. All you've got to do is use the cleaning solution and apply the protective coating, and then you can get on with your day.
We like that a sealant is provided to protect the lenses against the elements. It's going to block out the UV rays that can cause damage and oxidation to recur, and is also going to help repel debris.
The spray can makes for an easy application process, too.
In addition, this product offers you up to 12 months of protection. This means cloudiness and haze should be kept at bay for a long time to come, and is going to be great if you live somewhere with a lot of sunshine or dirty winter conditions.
Manufacturers Specs and Feature List
Cleaning pads included.
Four ounces of cleaning solution.
Includes a 4-ounce bottle of headlight coating.
Lamps stay clear for up to a year.
What We Like
Offers up to 12 months of protection.
Simple for beginners to use, with only two steps.
Good job at removing yellowing and oxidation.
Can be completed swiftly within 20 minutes.
What We Don't Like
Not very suitable for removing scratches.
Summary
This product should really help improve the clarity levels on yellowed headlights, and ones with low-visibility.
The cleaning pads included are abrasive in order to buff away clouding, and the whole process will only take you around 15 to 20 minutes from start to finish.
Not using a drill lowers the risk of damage to your paintwork, and this is a huge plus for many.
However, you should still be careful and apply masking tape around the edges of the plastic. The tape will also be helpful when you're spraying on the sealant.
With that being said, if your headlamps are excessively hazy and have some damage, you may be better off with a different product that includes sandpaper.
To find out more details about this kit from Meguiar's, click on the link here.
Turtle Wax T-240KT Headlight Lens Restorer Kit
If you've bought car products before, chances are you've already used at least one item from Turtle Wax. This brand is popular for its quality products, and this one won't let you down.
This kit is ideal for everyone with a yellow haze on their plastic lamps, as well as scratches and grime.
There are three restoration pads provided in this kit, including varying grits from 2400 to 8000. This allows you to scrub at grime and get rid of any damage.
You can work your way up to the finest grit and combine it with the included spray lubricant for the best results.
Of course, once you've got your lamps all shiny and clean again, you'll want them to stay that way – which is why this kit provides lens sealing wipes to protect your car from further oxidation.
Manufacturers Specs and Feature List
Three restoration pads with 2400 to 8000-grit ratings.
A 4-ounce bottle of spray lubricant.
Four ounces of lens clarifying compound included.
Lens sealing wipes.
Suitable for both plexiglass and plastic.
What We Like
Lubricant included instead of water.
Varying grits to tackle grime and scratches.
Includes sealant to prolong results.
No need for power tools.
What We Don't Like
Doesn't tend to do the best jobs at removing deep scratches.
Summary
If your headlights or tail lamps are starting to look old and tired, it's time to use a restoration kit like this one.
This is going to help you clean up the lens nicely to improve optical clarity and promote safer driving.
The various grits will rub away light damage and help to renew the lens, and the polish will also help you tackle yellow tint.
This kit doesn't include coarse grade sanding pads, so using a different product will likely be more suitable if you're dealing with deeper chips and scratches.
You can learn more about this product from Turtle Wax by clicking the following link.
Wire New HDL6PCMTRRT Headlight Restore Kit
If you're looking for a quick way to improve hazy headlights, this may be the right product for you. It's award-winning and is definitely one of the easiest ones to use on our list.
You just have to use the two-sided pad to help remove oxidation and grime and polish the lens. Then, simply use the Wipe-It microfiber included in the kit on the plastic and you're done!
Oftentimes, this is all you need to reveal a brighter and streak-free headlight.
Manufacturers Specs and Feature List
Polishing pad included.
Nitrile gloves to protect your hands.
Precision Wipe-It infused with Wipe New solution.
What We Like
Removes grime and diminishes yellowness on plastic.
Very easy for beginners.
One of the fastest headlight restoration kits on the market.
What We Don't Like
The included Microfiber Wipe-it is single use.
Not the best for deep scratches.
Summary
There's no doubt that this is one of the best headlight restoration kits in terms of simplicity.
It's incredibly easy to use and the job can be done very quickly – but it doesn't include sandpaper grits, so you can arguably question its suitability for damaged headlights.
If you only have surface scratches you want to work on and not deeper ones, then this product is a great option to consider.
The microfiber Wipe-It included is only single-use, which is also a bit of a downside.
To learn more about this product, click on the following link.
How to Use a Headlight Restoration Kit
First things first, you should always read the instructions that are included with whatever headlight restoration kit you buy.
There might be different steps that one manufacturer needs you to do with their product than you'd need to do with a different product from a different manufacturer, but most have a similar process.
To give you an idea of what's involved, we've highlighted the key steps below.
Prepare the Headlight
Start off by cleaning the surface of the headlight. Clear off any bugs and other debris, to make the rest of the process easier.
Following this, put masking tape on the car's bodywork, around the outer edge of the lens. This is a vital step which makes sure the drill or sandpaper you use won't damage your paintwork or surrounding parts.
Provide a Lubricant
This step should be combined with the next step we talk about below.
Make sure you've got a lubricant to reduce the heat from using the sandpaper and restoration discs.
You can use water, or water and soap, but some kits will include a dedicated lubricant. Basically, you need the sandpaper to be wet.
Sand With the Lowest Grit First
Sandpaper grit does the hefty task of eliminating scratches and damage to the plastic.
The general rule is to use the lowest-grade, roughest paper first to work on the deep scratches. Then, you gradually work your way up to the finer grades.
Between 300 and 800-grit sandpaper is the roughest you should use on your vehicle, depending on the condition of the lens. Then, you can move on to 800 to 1500-grit paper.
Keep rubbing the plastic, without using too much pressure, to slowly (but surely) even out any scratches.
Finally, use the 2000 to 3000-grit paper. This final once-over will finish your lens to the desired level.
Apply Polish to the Lens
After the surface is smooth and you're happy with it, it's time to polish. This can be done by hand or with a drill.
Polishing will buff away any remaining yellow tint and remove any surface grime.
After buffing the surface, all you have to do is wipe the product off with a microfiber towel. Once you've wiped it away, you'll be rewarded with a clean lens, making all your hard work worthwhile.
Use a Sealant
Once your plastic is crystal clear and looks all brand new again, you'll want to make sure it stays this way for as long as possible.
To achieve longer lasting protection, apply a sealant to the plastic. This helps keep grime and yellowing at bay, repel dirt, and protect against UV light.
How Often Should Headlight Restoration Kits Be Used?
The short answer is that it really depends on the climate where you live, and how much you use your vehicle.
For example, if you live in a hot region of the country, you'll probably need to use it more often than someone else who lives in a mild climate. This is due to important factors such as the increased levels of UV light.
Also, if you live in cold regions with snow and salted roads, you might have to consider restoring your headlight lenses more often than someone else who lives in moderate climate regions.
If you experience these kinds of extremes, headlight restoration kits could be put to use every year.
Are There Alternatives to Headlight Restoration Kits?
If you're wondering whether or not there are other options to use besides headlight restoration kits, the answer is yes. There are a few different choices you could go with, but truth be told, they're not as cost-effective or as safe.
First things first, you could just choose to ignore this and let your lenses turn yellow and hazy, but that's not a smart thing to do.
The way they make your vehicle look may not exactly bother you, but it's hazardous.
Hazy lights dramatically reduce your visibility on the road at night, which is why we don't recommend this to any driver. Not to mention that you could also fail an inspection because of this.
The next option you have is a new casing, which will get rid of the damage altogether. But the downside to this is that it's going to be more expensive than using a headlight restoration kit.
If you're watching your budget, want to keep things affordable and don't want to overspend on any of this, we recommend headlight restoration kits.
Conclusion
The best way to revive yellowed, aged, scratched and damaged lenses is by using a top notch headlight restoration kit – and you've got plenty of options to choose from nowadays, such as the ones we've gone over in this guide.
If we had to choose a favorite, we'd select the SYLVANIA Headlight Restoration Kit.
This kit has a great selection of sandpaper grits to tackle deep scratches and plastic damage. It's also going to get rid of that bad discoloration that comes hand-in-hand with oxidation.
You won't have to purchase a separate sealant either, because this is also provided in the kit for added protection.
Do you have a favorite from our list of recommendations? Comment below with your thoughts to let us know, and feel free to ask any questions you may have!