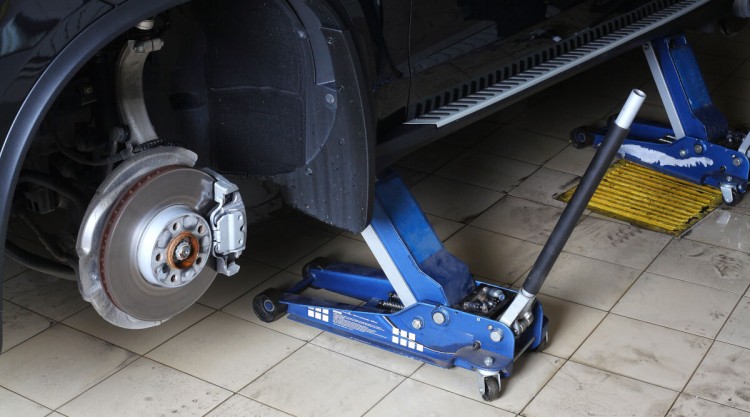 So, you bought a hydraulic floor jack? Congratulations! That's a terrific addition to your lineup of tools for the garage.
Now, how does it work and how do you use it? You've come to the right place. This article will tell you everything you need to know about owning and operating your new tool.
What? Didn't you buy one? No problem!
After reading this article not only will you know how to use a floor jack safely, you will also have a good idea whether or not this kind of jack is right for you.
Ready to pump up your knowledge? Read on!
What is a Floor Jack?
A floor jack is a manually operated hydraulic lift, one of a few different types of jacks available and most commonly seen in mechanics garages rather than a boot of a car.
They're used pretty much exclusively for lifting vehicles partially off the ground for repairs and maintenance.
Floor jacks are designed to be low-profile, enabling them to roll under vehicles with ease.
How do Floor Jacks Work?
Unlike other types of jacks, floor jacks sit on a pair of fixed wheels and a pair of swiveling casters. This makes them very easy to move around.
The operator rolls the jack until the saddle is positioned underneath the lift point. By pumping up and down on the handle, the hydraulic cylinder raises the lift arm until the saddle makes contact with the vehicle.
The hydraulic cylinder is mounted horizontally. You could view it as a bottle jack lying on its side.
Are There Different Types of Floor Jacks?
Some resources categorize a wide variety of jacks as "floor" jacks. They then subcategorize them under headings like "bottle jack," "scissor jack" and so on.
For our purposes, we consider a floor jack to be a specific type of jack, those being the low-slung, wheel-mounted variety meant solely for lifting vehicles that you can see in the image at the top of this page.
Within the category of floor jacks, there are a few variations on the basic build.
There are some that are extra low to the ground, frequently referred to as "Low Profile." There are some made entirely of aluminum; lightweight and perfect for easy maneuvering and storage.
Of course, they also come in a variety of lift capacities, though not nearly as many as bottle jacks. The most common capacities are 2-ton and 3-ton. If you look around, you'll also find 4-, 6-, 10-, and even 20-ton floor jacks. They are, however, incredibly expensive, some costing several thousand dollars.
Looking for Recommendations?
If you're shopping for a jack, we recommend reading our buyer's guide to the best floor Jacks.  You'll learn what to look for in a jack, and you can read our reviews of some of the best floor jacks available today.
How to Safely Use a Floor Jack
Safety must be top of mind anytime you use a jack; this cannot be overstated. Even the smallest cars are very heavy.
A sudden, unexpected descent could damage the vehicle, and, more importantly, could cause serious injuries or even death to you or anyone else working on, under, or near the car.
We're not trying to scare you. We just want you to be aware of how important it is to do things properly. With that in mind, here are step-by-step instructions on how to safely use your floor jack.
Park your vehicle on a solid, level surface, and engage the parking brake. A garage is an ideal location.
Chock your wheels at the opposite end from where you'll be lifting the car. This is to prevent accidental rollback. Do this even if the surface is level.
Get your jack stand(s) ready to position before jacking up your vehicle. If you plan on working under your car, or you intend to leave your car lifted for an extended period, jack stands are essential.
Check your jack for any flaws, leaks, or crack. Look for leaking fluids or a loose or broken saddle. (The saddle is the part of the jack that makes contact with the vehicle.) Test it to make sure it raises and lowers smoothly.
If you don't already know where they are, locate the lift points under your vehicle. This information will be in your owner's manual. Using a jack anywhere other than the designated lift points could cause damage to your car and be unsafe.
Make sure the area around your vehicle is clear of debris and that you have enough space to work in.
Assemble the handle (if necessary) and insert it into the receptacle a the back of the jack.
Using the handle, position the floor jack under your vehicle with the saddle centered under the lift point. (Just eyeball it – you'll be able to fine-tune in the next step.)
Pump the handle up and down until the saddle is nearly touching the vehicle and then adjust as necessary until the saddle is positioned fully under the lift point.
Lift the vehicle to the necessary height for the job and then position your jack stand(s) so that they are ready to take the weight of the vehicle.
With the jack stands in place, very slowly lower the vehicle by turning the handle gently counterclockwise.
Once the weight is fully on the stand(s), you can lower the jack the rest of the way.
When you're done working on the vehicle, repeat steps 8 and 9.
Ensure there is no one under or near the vehicle, and clear the area of tools and debris.
Continue pumping the handle until the floor jack is carrying the weight of the vehicle, and the vehicle is clear of the jack stand(s).
Carefully remove the jack stand(s) and set them aside.
As you did in step 10, gently turn the handle counterclockwise until the vehicle begins to slowly descend. A rapid descent could damage the vehicle, so try very hard to avoid it, no matter how cool it looks in commercials.
If you'd like a video demonstration on how to use a car jack safely, here's a great video from 'Eric the Car guy:
Final Thoughts
The key to using a floor jack is to exercise caution. They make lifting a vehicle seem almost effortless, but it's important to remember there is a lot of weight perched on that jack.
Being mindful of your surroundings, maintaining your jack, and using your common sense should prevent any mishaps from occurring.
Now that you're finished reading, you should be able to approach your new (or future) floor jack with confidence. We're certain you're going to find it to be an incredibly fun and useful addition to your garage or shop.
Thanks for reading!