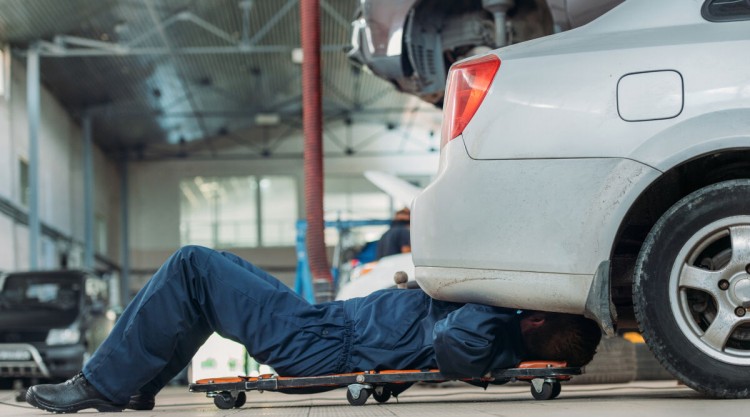 Do you work on cars for a living or spend a lot of time under cars as a hobby? If so, you'll understand more than anyone else that getting down on the floor, moving around and under your vehicle, laying on a cold hard floor can be a right pain in the…back and knees 😉
Luckily for you, there is a piece of equipment that can make things so much easier, quicker, and most importantly much more comfortable: The mechanics creeper.
The best mechanics creeper will allow you to slide in and out under your car effortlessly, while also keeping you comfortably supported while you work.
In this guide, we strive to find the perfect mechanics creeper for you.
We start by taking a good look at what they are, and what they're used for. We then head into the features and specs of different models, and discuss why you might want certain features over others, so you know which type to choose. And we end by recommending some of the best products on the market today.
Let's crack on…
Quick Links to Our Top Recommendations for Best Mechanics Creeper
Note: Clicking the above links will take you to further information, current prices and customer reviews on Amazon.
What is a Mechanics Creeper? Why are They Used?
A mechanics creeper is an essential tool for anyone that is completing work under a vehicle.
Whether you're a mechanic changing a vehicle's oil or an auto enthusiast wanting to upgrade your ride, a mechanic's creeper is going to make your work more comfortable and efficient.
They are essentially a piece of equipment that you lie flat on so that you can work underneath a car. As the name suggests, this tool allows you to "creep" underneath a vehicle and back out again. It normally has wheels so you can slide in and out from under the vehicle with ease.
The idea of a mechanic's creeper is to get you under a car hassle free, and prevent you from lying on the cold hard ground when you're working on the car for some time. This not only makes you feel more comfortable and supported, but it can also prevent back injuries and painful joints.
What Different Types are There?
There are a few different types of mechanics creeper you can choose from. They all offer some advantages and drawbacks; at the end of the day, it's your decision as to which one will suit you best. Let's take a closer look.
Folding
These are typically constructed of a steel frame, with a body that is able to fold. It has the advantage of being transformed into a mechanic's seat or a Z-set creeper. Also it usually has padding, making it more comfortable for the user.
One of the drawbacks of this kind of creeper is that the heavy-duty frame can make it bigger and heavier. This means that a folding model may be awkward to transport if you want to use it elsewhere.
Contoured
These have been specially designed to fit the natural curve of your body. These are typically made from plastic, which can provide good back support. It's also an incredibly durable material.
The disadvantage of a contoured creeper is that not everyone will find the molded plastic comfortable. While there may be a headrest, normally there's no padding. The plastic construction also means it may not be able to support much weight.
Low-Profile
The obvious advantage of a low-profile mechanics creeper is it's designed to roll underneath a vehicle with low clearance. It can still provide you with comfort but without taking up much space, leaving you enough to get your work done. Low-profile creepers are usually flat, with large wheels.
One disadvantage to them is that some people find them uncomfortable. This is usually due to the fact they offer no padding and are flat plastic close to the ground.
How do You Choose the Best Creeper for You?
With so many different models on the market, it can be difficult to know which one is best suited for your needs. But there are some key characteristics to look for and that you can use to differentiate between models. We'll take a quick look at them below.
Height and Clearance
There are mechanics creepers designed to deal with all vehicle heights and clearances. Of course, you'll need to know how much space you have available before you purchase one.
For example, if you're working on a low car with limited clearance, you're going to need a low-profile model. This will allow you to slide underneath the vehicle and still have enough room to work.
If you tend to work on trucks or cars that have a higher clearance, then you can go for a folding or contoured type.
Maneuverability
It goes without saying that you want your mechanics creeper to move around easily on the ground. But maneuverability goes further than that, you may be working on a vehicle in less than ideal conditions, which can include uneven surfaces.
This means that you have to think about the maneuverability, what the wheels are made from and how large they are / what they can roll over. You'll find the most common types of wheels on offer today are steel and urethane wheels.
We would say that urethane is generally better for everyday automobile work. Urethane is able to deal with uneven surfaces well, which means that you're going to have more mobility on the ground.
In addition, large oversized wheels are better at maneuvering around on an uneven surface than smaller, flimsy wheels. Caster wheels, which can move in all directions, offer you more freedom underneath a vehicle than fixed versions.
How Comfortable is it?
You might be working underneath a car for quite some time. Anyone that carries out automotive work on a regular basis knows that this can get uncomfortable and painful after a while. This can jeopardize the quality of your work too.
This is why it's important to think about the comfort of a given mechanic's creeper before you purchase one.
Comfort largely depends on what material the creeper is made from, and whether it has a body-fitting shape. For example, models that have full padding are going to be more comfortable than a creeper that's made with hard plastic or wood.
Build Quality
Of course, you always want to choose a well-made and durable creeper that's made to last. The steel frames that construct a folding mechanics creeper are likely to last a lot longer than plastic, for example.
Yet, this is not to say that plastic is bad. It's lighter and can be easier to keep clean and undamaged. Plus, if the plastic used is heavy duty and high-quality, it's more durable.
The padding that comes with a steel frame may not be made from quality materials, and the steel could be prone to rust in certain conditions. You'll need to keep these factors in mind when looking at different mechanics creepers.
Cost
Since there are so many options to choose from, there's also a wide range of prices available. The price that you want to pay will be up to you and you likely already have a budget in mind.
But it's important to remember there may be qualities you have to sacrifice if you choose to buy a budget model. For example, it may not be as durable as a more expensive option, or it could be uncomfortable to use once you have it all set up. "Buy cheap, buy twice" is something to keep in mind.
Best Mechanics Creeper — Our Top Recommendations
There's such a diverse range of mechanics creepers available on the market today, it's hard to know which is best. So we've taken the time to review some for you and choose the best that we could find. Here are our top recommendations.
Lisle Red Plastic Creeper
This mechanic's creeper is made in the USA and sports a bright red design so you won't be searching for it around the workshop. It has a low profile, which is going to be great for getting underneath low-clearance vehicles.
It's made of a durable plastic material, which means it's going to last a while, even with constant use. This also makes it easy to clean with a wet or dry cloth. But the best news is that this plastic is resistant to water stains, oils, and solvents.
The plastic is molded to fit the body, which is just what you need for comfort and back support. There's a comfortable headrest that you'll appreciate when you're fixing or inspecting a car for a long time.
The rollers on this mechanics creeper are made from urethane, which makes them sturdy and easy to move over different surfaces. Plus, they're secured to the plastic body with steel bushings.
If you're looking for an affordable product that is going to let you get the job done easily and feel comfortable doing it, this may be the one for you.
Manufacturers Specs and Feature List
Dimensions: 38 x 17.5 x 4 inches. (L x W x H)
14-inch floor clearance.
Weight: 10 pounds.
Color: Red.
What We Like
Low profile for access underneath any vehicle.
Made from a strong plastic material.
Lightweight and transportable.
Molded to fit body shape.
Urethane rollers for uneven surfaces.
Affordable price.
What We Don't Like
There's no padding for ultimate comfort.
Not suitable for heavy-duty use.
Summary
The Lisle mechanics creeper is a good first-time purchase. It's durable enough to get you started and will provide some back stability with its body-shape design. The urethane rollers are also good for dealing with different surfaces.
But there are options out there which are more heavy-duty and more comfortable too. Interested to know more about this model? You can check out the current price of this product here.
Omega Black Low Profile Z-Creeper – 450 Ibs. Capacity
What we love about this mechanics creeper is its foldable body, which makes it so versatile. You can convert this into a mechanic's seat, as well as a Z-seat creeper. This means it has more than one function in the workshop.
It also has a low profile for easily sliding underneath cars that have low clearance. Since it has a black, powder-coated steel frame, you can expect it to be strong and hard wearing. It also has one of the best maximum weight capacities to suit all mechanics and auto enthusiasts.
The Omega features thick padding all over, which provides comfort during automobile work. The padding is covered in black PU leather that looks and feels good.
Another great feature is the six swivel casters that have polyurethane wheels. This makes them able to deal with rough surfaces and move in any direction you need, to make moving around underneath a vehicle much easier.
Manufacturers Specs and Feature List
Dimensions: 40 x 26 x 4.25 inches (L x W x H)
Cushion size 39 inches.
Foldable body style.
Six swivel casters.
Weight capacity of 450 pounds.
What We Like
Convertible and foldable body.
Comfortable padding.
Durable steel frame.
Heavy-duty design.
High weight capacity.
What We Don't Like
Heavy compared to other creepers.
Wheel casters a bit on the small side.
The cushion may become stained.
Summary
The Omega mechanics creeper has a lot of offer, which is why it merits a higher price tag than some other models. The steel frame ensures that it stands the test of time.
The padding can make all the difference when you're working for long periods of time and the swivel casters will take you in any direction underneath the vehicle.
If you click the link below you can find further information and current prices.
Usa Made – Professional 44" Either End Adjustable Creeper
This is one of our top recommendations for the best mechanics creeper. Made by Whiteside Manufacturing, it's versatile and can be adjusted to become a mechanic's seat. With lots of uses for working on your vehicle, it's easy to fold into place as well.
The fully padded body is a fantastic feature that's going to provide you with comfort during your work. The heavy-duty vinyl is resistant to water stains, as well as any oil or liquids; it's easily cleaned off with a towel.
We love how strong and long-lasting this product is. It's constructed from steel tubing to be reliable and strong, with a powder coating to prevent rusting. The roller wheels are also oil-resistant, which means they won't stick. All this means that you will enjoy using this product for many years to come.
Manufacturers Specs and Feature List
Dimensions: 41 x 21 x 6.75 inches. (L x W x H)
Three-quarter inch steel tubing.
Six, 2.5-inch rollers
Fully padded with vinyl.
5-inch ground clearance.
What We Like
Good ground clearance.
Fully padded for comfort.
Easy-to-clean vinyl.
Treated to prevent rusting.
Strong and durable.
What We Don't Like
Heavy, compared to other models.
Summary
This USA made mechanics creeper from Whiteside Manufacturing ticks all the right boxes. It has a higher price tag than some due to its hardwearing construction and the adjustable frame. But, this should mean that it lasts for many years and be versatile for any work.
The full padding is going to make working underneath vehicles more comfortable, and the vinyl is easy to clean after changing oil or doing other messy jobs. But, with its steel tubing, this model may be heavier than other models you'll find on the market.
Find out more through this link.
Dale Adams Enterprises "Bone" Mechanics Creeper
This low-profile mechanics creeper has a striking design that you won't forget. But it doesn't just look good, it also has an ergonomic shape that's meant to feel supportive and comfortable for your back.
The Dale Adams is 100 percent made in the USA and constructed from polypropylene copolymer. This is a type of strong plastic that makes it durable and long lasting. Plus, it's easy to clean, you simply wipe off any dirt, oil or solvents with a cloth.
Another feature that makes "The Bone" stand out from the crowd is that it has big wheels, which can roll over almost anything. The four wheels keep you sturdy as the creeper rolls over cracks, wires, and even tools.
"The Bone" has wheels that are fastened with bolts for strength and they're enclosed under the frame. That way your clothing won't get stuck in them when you're moving around under a low vehicle.
Manufacturers Specs and Feature List
Maximum weight capacity of 300 pounds.
Dimensions: 47 x 25.5 x 6.75 inches. (L x W x H)
5-inch wheels.
18 pounds
75-inch ground clearance.
What We Like
The ergonomic 'bone' shape for comfort.
Made from strong plastic.
Easy to clean.
Low ground clearance.
Huge wheels.
What We Don't Like
Doesn't have padding or a headrest.
Summary
There's no doubt that the Dale Adams "The Bone" creeper is one of a kind. There's no other design like it on the market right now, and it's definitely one of the best low-profile mechanics creepers.
The big wheels are an advantage if you're working on a low clearance car and surrounded by tools. You don't have to worry about damaging anything or becoming stuck.
This mechanics creeper doesn't have padding or a headrest because it's designed for going under low clearance vehicles. But the plastic is shaped to fit around the body and is still going to provide more comfort than you would get with an unmolded creeper.
To see if this low profile model is the right one for you, follow this link.
Magic Creeper Patented Zero Ground Clearance Creeper
Just as the name suggests, the Magic Creeper has zero ground clearance. Without any wheels, you can get right underneath a low profile vehicle to carry out work without any problems. Nothing is hard to reach anymore.
Don't be fooled by the fact it doesn't have any wheels. You can still move backward and forward without repositioning it. In fact, the inner layers are designed to let you move effortlessly in all directions. It doesn't matter what kind of floor surface you're working on.
Since it's designed like a mat, this it can be rolled up and taken anywhere with you, and it's lightweight for easy transport. If you're a mechanic that moves around a lot, you won't have to go anywhere without it!
Manufacturers Specs and Feature List
Wheel-free creeper.
Zero ground clearance patented design.
Moves up to 5 feet.
Weight 3 pounds.
Dimensions: 60 x 28 inches.
What We Like
Zero ground clearance.
Works on all surfaces.
Effortless movement.
Water and oil resistant.
Won't scratch surfaces.
Can be rolled up and transported.
Helpful when it comes to moving furniture.
What We Don't Like
No padding or support on the back.
Summary
The Magic Creeper zero ground clearance creeper is the one you want to choose if you work on really low-profile vehicles. It's lightweight and folds up easily so that you can take it or store it anywhere.
The one concern is that there's not a lot of padding or support for your back. But if you know you're not going to be working underneath a car for too long, it shouldn't be a problem. To find out more information, click here.
Omega Black 40" Foldable Z Creeper
If you're searching for a foldable mechanics creeper that's going to be versatile, then look no further than this one. With its steel frame, it's able to fold into a Z-seat creeper in less than a minute. There's no need for tools either, it's simple to do on your own.
In addition, the steel frame means it is durable and robust and can hold a lot of weight. It also has a powder-coated finish, which is going to help prevent rust. The casters allow for smooth movement from every angle and they are oil resistant.
Another great feature is the full padding. This provides comfort when you're working on a car for a while and need extra the support. There is also a headrest for supporting the back of the head and neck when you're underneath a vehicle.
Manufacturers Specs and Feature List
450 pounds maximum capacity.
Six 3-inch polyurethane casters.
Dimensions: 40 x 18 x 7.5 inches. (L x W x H)
Padded seat and headrest.
What We Like
Easy to transform into a Z-seat creeper.
High weight capacity.
Features durable polyurethane casters.
Great padding for comfort.
Durable steel frame.
What We Don't Like
It's heavier than many other models.
Not so easy to clean.
Summary
The Omega Z Creeper is going to provide you with an excellent level of comfort. The padding is extensive, with an elevated headrest for comfort. It's also made from durable and strong materials, which means it's an investment in a product that will last.
While this creeper is heavier than other models, this is due to the sturdy steel construction. Although, you'll need to be careful not to get liquids on the padding, as it may not be easy to clean.
To find out more and to check the price, you can follow this link.
How to Use a Creeper – With Safety Tips
Working underneath any vehicle can be dangerous, even when you're using a car creeper. It's important to take your safety seriously and make sure that you're careful every time you choose to work on a vehicle's undercarriage.
Below, we've prepared some safety tips to ensure you can enjoy using your mechanics creeper but also stay safe for the duration of your work.
Check the Vehicle
The first step, which is essential when you're going to be working underneath a vehicle, is to make sure that the vehicle is secure.
If you're using a trolley jack to raise the vehicle, ensure that it's well-secured before you go underneath. The last thing you want to do is get injured or trapped. You may also need ramps, or jack stands to support the car while you work underneath.
Wear Appropriate Clothing
While you've got your mechanics creeper to prevent your back muscles and joints being in direct contact with the ground, you still need to protect your body.
This means that you should wear appropriate clothing for working with vehicles in case something falls from the car. You should consider wearing safety glasses and full-length clothing for any automobile work.
Position Your Creeper
The next step is to grab your new mechanic's creeper and lay it on a level surface.
While some models are made to deal with any type of surface, it's best to position any creeper on flat ground to start with, until you sit and lie down on it. Again, this is going to help prevent any injuries from occurring.
Move Slowly
It can be tempting to roll around fast on the mechanics creeper. But when you're first positioning yourself to move underneath the vehicle, take it steady. You don't want to bump your head on the vehicle or any suspended parts. Once you're in position, you'll be ready to work, but always move around slowly and with care while under the vehicle.
Conclusion
A mechanics creeper is designed to make your life easier if you work on cars. It doesn't matter whether you work as a full-time mechanic or you're an avid car enthusiast trying to save a few bucks.
This is a piece of equipment that's going to make your work easier, more enjoyable and — if you choose the right one — comfortable. It is a must-have item if you want to support your back, avoid injury, and move around easily underneath a vehicle.
There are different types of mechanics creepers that you can choose from. These include the folding, contoured, and low-profile creeper designs. They all have their advantages and drawbacks to take into consideration when you're shopping for one.
Again, our top recommendations all have something different to offer. For example, the Omega low profile Z-creeper can be easily converted into a mechanic's seat, while the Magic Creeper zero ground clearance creeper offers zero ground clearance for getting underneath the lowest profile cars.
If you have questions about mechanics creepers or want to share your thoughts on any of the products above, please do leave a comment down below — we'll reply to every one.