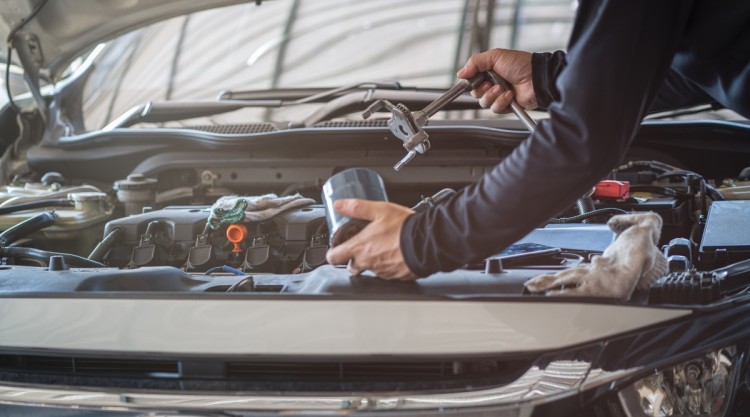 If you prefer to maintain your vehicle on your own, certain tools are an essential part of your kit. Expertise and know-how will only get you so far.
There are components in your car that can't be installed, removed, or maintained without the right hardware and specialist tools, and your oil filter is one of them.
So join us in our search below for the best oil filter wrench in 2023.
In this article, you're going to discover everything you need to know about oil filter wrenches.
For those of you who are less experienced, we've got you covered. We'll tell you how these tools work and what they're used for. You'll get familiar with the different types and learn how to pick the best oil filter wrench for your vehicle.
Finally, we recommend ten top products on the market today. All you have to do is select the one that best suits you and your automobile.
Quick Links to Our Top Recommendations for Best Oil Filter Wrench
Note: Clicking the above links will take you to further information, current prices and customer reviews on Amazon.
What is an Oil Filter Wrench?
Let's begin by clarifying what this removal tool is. The automotive experts among you can feel free to skip ahead.
The name says it all: it's a wrench built to fit around spin-on oil filters. The size and appearance can vary depending on the type.
They're designed to be up to the challenge of gripping a cylindrical, greasy surface. Using any old wrench doesn't work well and could even cause damage.
There are ways to remove an oil filter without a wrench, but by far it's so much easier and safer for your engine to use the correct tool. And for details on how to do so, check out our guide on how to use an oil filter wrench.
What is the Oil Filter?
Oil is one of the lifeblood fluids your vehicle needs to work as it should. This slick substance serves a variety of useful purposes in your engine. It lubricates fast-moving parts to inhibit friction damage. It also works as a dispersant, meaning it cleans out sludge and other contaminants.
The latter is just as important as the former. Otherwise, vital pipes and tubes could end up clogged with built-up gunk. If this happens, the moving parts won't function as they should.
Most brands today, whether synthetic or natural, are also enriched with additives. These are compounds that can enhance existing properties and add to them. This can include detergents and antioxidants to break down the contaminants that form sludge.
As it circulates through your engine, oil passes through an oil filter. This small but crucial component collects debris. This allows the lubricating fluid to continue circulating without redistributing potentially harmful materials.
The filtrating material will eventually become saturated. This means it won't be effective anymore, and has to be changed, just like your oil.
The majority of units in vehicles today are spin-on, also known as a canister. A disposable filter is contained inside this housing. You'll need a specialized wrench to be able to open it up (hence the topic of this article).
For more details on the types of filters and how they work, check out our guide to the best oil filters.
Poor engine performance, the dreaded "check engine" light, and a few other symptoms may indicate it's time for a replacement.
The Different Types of Oil Filter Wrench
As with many of the products and equipment we use on our cars, these wrenches come in more than one type. This is because filter location and size are not universal – it's conditional on the make and model of your car – so you need different size and shape wrenches to get into the different sized compartments where the filter is, and still be able to turn the tool.
You should be aware of the different types before you make a purchase. Each has particular advantages and disadvantages. The right model for one car may be inappropriate for another.
Let's look at the main types available.
Filter Pliers
These pliers may look similar to their non-automotive counterparts, but they aren't. The pliers' teeth are usually coated with plastisol, a type of plastic-based resin. This allows them to securely grip greasy surfaces.
The handles are long and extended rather than short. You'll get more leverage on stubborn, tightly screwed filters. Pliers are practical if you're looking for a ready-to-use tool. You only have to widen the jaws to fit, apply pressure, and get to work.
Still, in tighter spaces, you may find yourself working harder than you have to. It's also up to you to keep the pliers in place. If you slip, the tool will slip with you.
Pros
Adjusting the jaws is effortless.
Hands-on control (for those of you appreciate that).
Can be appropriate for a range of filter sizes.
Cons
Can be hard to maneuver in cramped areas.
You're responsible for keeping the pliers tight.
Spider (Claw, Jaw)
For those of you with arachnophobia, don't worry. These only have a maximum of three legs rather than eight. There are two subsets in this category: jaw or claw. Both work in a similar fashion. The legs are attached to a plate fitted with metal gears. You use a ratchet driver to tighten or loosen them as needed.
The jaws (or claws) can be built of metal, plastic, or a combination of both. They may be straight or curved inward for a better hold. They're optimal for spaces that don't give you much clearance to operate in.
Placing the tool might be a headache on heavily greased surfaces, though. You have to hold it firmly until it's secure. Nonetheless, once that's out of the way it'll stay fixed.
Pros
Great for low-clearance spaces.
Secure after they're clamped and tightened.
Cons
Requires an additional tool.
Might be hard to place on curved surfaces.
Strap Wrench
These consist of a strap attached to a metal adjustment bar. You slip the strap around your filter and tighten and then lock it with the bar. The strap is typically made of a resilient material such as nylon or rubber.
Straps are suitable for bigger units, such as those found on large vehicles like pickup trucks. They're also an option for those of you who worry about damaging or scratching other surfaces underneath your car.
At the same time, cloth does have drawbacks. Removing motor oil from dirty material can be a chore, and the strap can wear thin after repeated use.
Pros
Can't damage metal surfaces.
Will fit around large units.
Easy to adjust.
Can fit into spaces solid metal tools cannot.
Cons
Strap can wear thin with time.
If the material gets greasy, cleaning it can be difficult.
May require an extra tool.
Metal Band
Metal band models have a band made of metal connected to the wrench body. You turn the handle to adjust the band. The metal is typically spring steel to allow for some flexibility.
Many of these types have a pivoting hinge. You can loop the band and move the body independently to have control in restricted spaces.
Since they're usually constructed wholly of metal they tend to be long-lasting. The downside is that getting it placed correctly at first can involve trial and error.
Pros
Can access hard-to-reach filters.
No need for extra tools.
Resilient build.
Cons
Adjustment can be tricky.
Socket (End Cap)
A socket wrench looks like a metal cup or cap. They're built to attach to the knurling to remove the filter without as much effort on your end.
You use a square drive tool to secure it in place. These compact devices can go places no other removal tool is capable of reaching. However, they're not adjustable: if you have several vehicles, you may have to buy more than one.
Pros
Works well on highly recessed, inaccessible filters.
No gears or moving parts, simple to care for.
Useful when no other wrenches will fit.
Little risk of damage.
Cons
Not adjustable.
Additional tool needed.
Chain Loop
Chain loops are comparable to straps, except in place of the cloth you get a metal chain-link strap. This chain can be adjusted by using a bar that fits the tightening mechanism.
If you're dealing with a surface that's soaked in old oil, these tools should do the trick. The chain can cut through gunk and hold fast. Take note that the metal loop can provide powerful pressure—you don't want to over-tighten it.
Most manufacturers provide chains generous enough to fit bigger units. Shortening the length isn't an issue.
Pros
Perfect for greasy filters.
Hard-wearing.
Compatible with a range of sizes.
Cons
Can cause damage if misused.
Which Type is Best and Which Should You Choose?
The answer to that will depend on your car. Consult your owner's manual first to see if there are any recommendations. Certain vehicle manufacturers will tell you which wrenches are suggested for use on their filters.
If that information is unavailable, don't be concerned. We've put together a buyer's guide below so that you know what to consider before you make a decision.
Buyer's Guide – What You Should Look for in an Oil Filter Wrench
This is definitely not the sort of tool you can buy on a whim. You need to have set criteria in mind before you begin shopping. There are also compatibility features to keep in mind.
Choosing the wrong model can make the job more tedious than it has to be, so let's look at the things you should consider before making a purchase, to ensure you end up with the right tool for your particular vehicle and oil filter.
Filter Size
There's a reason why we keep mentioning size. You need to ensure the wrench you're buying will be able to fit the filter you're working on.
Room to Use the Tool
Get up close and personal with your workspace. How much clearance do you have? Will opening the handles on a pair of pliers be possible? How about reaching in to slip and secure a chain, strap, or loop around the unit?
If you're dealing with a recessed filter, a spider jaw or claw tool, or an end cap may be preferable. If you have lots of room, your options will be less limited.
Even if a certain model appeals to you, it may not fit. Forcing it is unwise as you can cause injury to yourself or damage to your car.
Multipurpose Vs. Specialty
Is the wrench you're buying specialty (automotive only) or multipurpose? If you want a tool that can be used on other projects, you may want a multipurpose model. Those of you that prefer buying dedicated tools for your cars should go for the latter.
Universal Fit
There are products built to fit any filter. If you own more than one car, you may want to choose one of these. Other brands are vehicle-specific. They're only suited to certain makes and models, for example, domestic cars only. This might be preferable if you've stuck with a particular make for years.
Extra Tools Needed
Not all of these products are standalone pieces of equipment. Some require another tool, such as a ratchet drive, to be adjusted. Ensure that you have everything you need in your toolkit to operate the wrench. If not, you'll have to shop for that too.
What About Installation?
Some wrenches are too powerful to install a new unit: they may crush or distort it. If hand-tightening isn't enough for you, look for tools that are suitable for installation too.
Quality
Badly built wrenches can fall apart when you're using them or get stuck. If the gripping end is made of poor-quality materials, it will be more prone to slipping.
Don't frustrate yourself or waste your money on a shoddily made device. You want to invest in a product that will last you for a long time.
Ease of Use and Performance
There are wrenches that are built for convenience. Why not avoid frustration by going with a brand that will make the job easier?
Best Oil Filter Wrench – a Detailed Look at Our Top Recommendations
Now that you have all the information you need, you're ready to pick an oil filter wrench of your own. We've reviewed ten of the top brands available to simplify things for you.
Tekton 12-Inch Oil Filter Pliers
These sturdy pliers by Tekton work on units up to four and a half inches in diameter. They're a good choice for vehicle owners with room to work in. The 12-inch handles are long enough to position the head of the tool where it needs to go.
The star features of this tool are its powerful grasp and ease of use. You won't have to apply much pressure to the handles to secure the teeth. Those of you who aren't interested in performing superhuman feats of strength will appreciate this. A light grip should be all that's needed.
On that note, the handles are comfortable to hold. They have a non-slip grip which is handy for when things get sweaty (or greasy) while you work. There's nothing more frustrating than trying to hold onto a slippery tool.
These pliers are adept at loosening canister ends that refuse to budge. One example is those that have been professionally tightened at your mechanic's. Tackling that sort of over-tightening can be notoriously tricky. If you've had trouble with that sort of thing before, this tool might be the solution.
The right-angled teeth will grip tight in any direction. They're set at an angle to get a firm grasp on the greasiest of surfaces. You won't have to experiment with placement to start loosening. It's also built with a three position slip joint to tighten the tool for an exact fit.
Features and Specifications
Plier type
12-inch handles
Also available in other sizes
Three-position slip-joint
Non-slip grip
Suitable for filters up to four and a half inches in diameter
What We Like
Lengthy reach
Teeth grip in either direction
Comfortable to hold
Removes stubborn units
Minimal force is required on your behalf
What We Don't Like
Some users have reported unintentionally damaging new units during installation.
Hard to use in smaller spaces
Channellock 215 15-1/2-Inch Oil Filter And Pvc Pliers
These pliers are made by Channellock, a company known for producing quality hand tools. They're rated for filters ranging from two-and-a-half to five-and-a-half inches. This broad size compatibility makes the pliers suitable for many makes and models.
You'll want to buy this model if you appreciate the value of a multipurpose tool. The jaws are curved to accommodate all sorts of shapes. It can also be used on fittings, conduits, and PVC. The versatile application means you can use it for repairs and replacements throughout your home.
Rather than nuts and bolts, it's built with a fastener. This eradicates the chances of small mechanisms failing or loosening with repeated use. You can expect these hardy pliers to last for a long time. The metal surfaces are built with high-carbon steel for extra durability.
Another great facet is you get a strong grip without having to put in too much effort. Loosening tight or oily filters can be managed without working up a sweat. If you have a few jobs ahead of you, the handles are made with comfort in mind. At 15.5 inches, you'll get decent leverage as well.
Features and Specifications
Plier type
5-inch handles
Suitable for filters from 2.5 to 5.5 inches
Also for use on conduits, fittings, and PVC
What We Like
No risk of bolt and nut failure
Multiple applications
Curved jaw to reach awkward areas
Fits a range of shapes and filter sizes
Strong grip
Reputable manufacturer
What We Don't Like
Might be hard to use in tight spaces
Teeth are sharp and powerful—not suitable for replacements
Neiko Two-Way Adjustable Oil Filter Wrench
The adaptable spider wrench by Neiko is optimal if you don't have much clearance to maneuver other tools around in. It's capable of grasping diameters from 2.5 to four inches. This makes it compatible with the majority of standard passenger vehicles.
It's similarly versatile when it comes to extra tools. It can be used with a 13/16 inch or a 3/8 to half-inch breaker bar or ratchet driver. You'll get an adaptor socket for the purpose, which is convenient. Unless your toolkit is empty, you probably won't have to buy anything new to use this wench.
Performance-wise, you'll get a firm bite that isn't destructive. As you may have experienced, crushing the unit you're trying to remove can make it tougher to take out. The three curved claws can be tightened securely without risking punctuation or distortion.
Once you've placed and adjusted the claws, they won't slip. The guidelines recommend placing a rubber band around them to ease the placement process. This will help if you'll have to work one-handed. Most over-tightened units should come out without you having to exhaust yourself.
Features and Specifications
Spider (claw)
Suitable for filters from 2.5 to 4 inches
Compatible with 3/8 or half-inch ratchet drivers or breaker bars, and 13/16 inch wrenches.
Includes adaptor socket: 3/8 to half an inch.
What We Like
Can be used in low-clearance spaces
Adaptor included
Works with different tools
Universal design—fits most standard-sized units
Doesn't slip
Applies force without crushing
Takes out over-tightened units
What We Don't Like
A few users experienced difficulty accessing recessed units.
For removal only
Innovant Adjustable 3 Jaw Oil Filter Wrench
This spider jaw model by Innovant comes with plenty of extras. You'll receive a socket adaptor (half-an-inch to three-eighths of an inch). For most vehicles, this should eliminate the need to buy a new ratchet driver or pick another wrench. Another bonus accessory is the ten pairs of large-sized nitrile gloves to protect your hands.
The wretch itself can contract and extend to grasp items from 2-1/8 inches up to nearly 5 inches in diameter. The build allows it to fit into low-clearance areas that other tools might not work in. The jaws are angled for a tough bite, and it's unlikely to slip once tightened.
Attaching this wrench to your filter is straightforward; turning your driver counterclockwise will tighten the jaws, clockwise will loosen them. Keep that in mind while you're working and you shouldn't have any problems. Once you get your desired
fit, the removal should go smoothly.
The firm grasp the jaws provide means you shouldn't have to work that hard. But if your unit has been over-tightened, you may have to put in some elbow grease.
Both the gears and frame are made with carbon steel. This makes for a sturdy, resilient tool that should last for years. Finally, the manufacturer provides a 60-day money-back guarantee. In case you're not satisfied within that period, you have a chance to recoup your money.
Features and Specifications
Spider (claws)
Suitable for filters from 2-1/8 up to 4-9/16 inches in diameter
Includes 1/2-inch to 3/8-inch socket adapter
Includes ten pairs of black nitrile gloves
60-day money-back guarantee
Built with carbon steel
What We Like
The extra accessories are a nice touch
Fits a variety of sizes
Works in small spaces without clearance
Doesn't slip
Sturdy construction
What We Don't Like
A few users reported a weak gripping action on smaller filters.
Motivx Tools Small Adjustable Oil Filter Wrench for Removing 2.5" – 3.25" Diameter Spin-O Filters
This adjustable spider wrench is designed for vehicles with smaller filters. If yours is on the smaller end of the spectrum, you already know of the difficulties removal can entail. So-called universal tools may be too big to get a tight grasp. Perhaps you're having difficulty fitting a wrench into the area at all due to limited clearance.
There shouldn't be any size-related concerns with this model by Motivx. It's rated to fit units with diameters from 2.5 to 3.5 inches. It will fit in confined areas without having to be forced. Users have had successes reaching units that are recessed and hard to access with other tools. If you have a long ratchet driver, you won't even have to touch the filter until it falls out.
The two steel jaws are plated in nickel. They have wide teeth on either side for a secure, non-slip bite. This is essential when you're placing it from a distance. It's also beneficial if the surface you're trying to grip is slicked in oil. The sharp teeth can plunge through grease and gunk to hold fast.
You'll receive a one-year warranty with your purchase. It's always reassuring when a company stands behind its products. That said, this wrench is constructed primarily from steel, the tough corrosion-resistant build means it should last you long-term.
Features and Specifications
Spider (jaw)
Suitable for filters from 2.5 to 3.25 inches in diameter
One-year warranty
Steel plate and nickel-plated Chromoly steel jaws
What We Like
Specific for smaller units
Non-slip grip
Quality construction
Generous warranty
Appropriate for low-clearance areas
Can reach recessed units
Works well on slick surfaces
What We Don't Like
For removal only
Some users reported having trouble securing the wrench
Lisle 63600 Oil Filter Tool
If you find you have to contort yourself to reach your filter, the Lisle 63600 is for you. This spider jaw model can go in areas which are inaccessible to other wrenches. The jaws can be set at between 2.5 inches to 3-1/8 inches. It's compatible for a range of domestic and imported vehicles.
This tool is also ideal if you've tried one too many times to remove a trapped unit. Once the shape is distorted, it can be even harder to unscrew it. The two steel jaws will tighten for a secure grasp without biting through. You'll be able to start the removal without having to worry about the jaws slipping.
Placement is easier than you may expect. If you open it to a wider setting, it's not difficult to use your ratchet driver to position the wrench in the right place. You won't have to exhaust yourself or exert a lot of pressure either. The stuck unit should unscrew without much of a fight.
Finally, this model is available in a bigger size to fit diameters from 3-1/8 inches to 3-7/8 inches. Those of you with filters exceeding 3-1/8 inches can take advantage of this. The bigger model is called the Lisle 63250 Wide Range Filter Wrench. It's identical except for the greater jaw capacity.
Features and Specifications
Spider (jaw)
Suitable for filters from 2.5 inches to 3-1/8 inches in diameter
Available in a larger size
Compatible with a 3/8-inch ratchet driver
What We Like
Removes stubborn and partially crushed units
Can be maneuvered in confined spaces
Works on a wide array of vehicle types
Simple to use
Tight grasp
Well-built
Large size available
What We Don't Like
Lisle 60200 Heavy Duty Strap Filter Wrench
This strap wrench by Lisle will appeal to a broad array of users. For one, the heavy-duty strap can extend to grasp items up to six-and-a-half inches in diameter. You can use it on your vehicle and other applications including PVC fittings and water filtration pods. This is a good option for those of you reluctant to buy a single-purpose tool.
Next, the strap can be positioned in places solid tools can't be forced into. If you've broken tools attempting to reach your oil filter, you may want to give the Lisle 60200 a try. There isn't any risk of scratching or otherwise damaging the canister itself. Plus, you won't risk injuring yourself trying to force a metal tool into a tight space.
Another advantage is that there's little chance of getting the strap jammed or stuck. If you have trouble placing it on the first try, you can pull it out. If you've ever accidentally trapped a tool underneath your car, you know how frustrating it is to remove it.
The strap is wide enough to provide a tight grasp without slipping off. You'll find it's capable of pulling off tight units, whether on your vehicle or elsewhere. It can also be used for installation—no chance of the strap biting through or distorting a new filter.
Finally, the tightening mechanism is made of heat-treated alloy steel for durability.
Features and Specifications
Strap type wrench
Tightening mechanism made of heat-treated alloy steel
Strap width: 3-5/8 inches
Suitable for filters and other items up to 6.5 inches in diameter
Compatible with a half-inch ratchet driver
What We Like
Won't scratch surrounding areas or canister
Can be used on more than your car
Useful for heavy-duty applications
Strap won't get jammed or stuck
Great for installation as well as removal
Fits into confined spaces
Durable build
What We Don't Like
Some users reported having to apply a lot of force to get results.
ABN Oil Filter Cap Wrench Metric 7-Piece Socket Set Tool Kit 24mm To 38mm
This seven-piece set is perfect for those of you who own several different vehicles. It consists of seven cap wrenches from 24 millimeters to 38 millimeters in diameter. These low-profile gadgets can reach units that are recessed and nearly impossible to reach with other tools. They can be used on newer filters that have plastic lids rather than the traditional spin-off design.
The set comes in a heavy-duty plastic carrying case. The compartments are labeled so that you can quickly access the cap you need. If you happen to have more than one out at the same time, don't panic. The size is etched onto the tools themselves for easy identification. Each one will fit with a 3/8-inch ratchet driver.
Users who have tried out more than one wrench and failed may also want this kit. With seven pieces, there's enough choice to practically guarantee a successful removal. If one piece doesn't do the trick, you have six more readily available. There's no need to go out and buy something new.
The caps are built with a six-point design to allow for maximum torque. They're made of chrome-vanadium steel to inhibit corrosion. The all-steel construction ensures you won't have to replace them for a long time to come. ABN stands behind its product, and you'll get a one-year warranty with purchase.
Features and Specifications
Cap type wrench
Six-point design
Seven pieces of 24, 27, 29, 30, 32, 36, and 38 millimeters each
Constructed of chrome-vanadium steel
Compatible with a 3/8-inch ratchet driver
Includes case
Sizes etched on each piece
One-year warranty
What We Like
Can be used on newer, non-spin-off units
Able to access recessed units
Six-point design provides a tight grasp
Long warranty
Quality build
Sizes etched on the case and individual pieces
What We Don't Like
A few users were unable to fit any of the caps on larger units.
Craftsman 2 Piece 16 Inch Rubber Strap Wrench Set
The two-piece set by Craftsman is ideal for users who are wary of damage during the removal process. As the strap is made of reinforced rubber, you can't bite into or scratch the canister or filter end. If you use it to install a new unit, the worst you can do is over-tighten it.
Unlike other strap wrenches, you won't need additional tools. Each piece has a cushioned plastic handle. The design allows for a secure and comfortable grip as you work. Unlike metal handles, it can't injure you or scratch other components underneath your vehicle.
An added bonus is that both the large and small versions are lightweight. If you have limited space to maneuver under your car, this should make things easier. Holding onto a heavy piece of equipment in an awkward position can be tedious.
With the two models combined, you should find one to fit around your unit. The strap can be adjusted as needed for a tight grip. It's made of reinforced rubber, so it's unlikely to slip. This is practical if you're dealing with a slick, greasy surface.
This set will be useful for other projects aside from oil filter removal. People have used one or both of the wrenches to open jars, remove stubborn showerheads, and more. In case anything goes wrong, you can count on a lifetime guarantee from Craftsman.
Features and Specifications
Strap type wrench
Two pieces: the small option fits around diameters up to four inches, and the large option fits around diameters up to 6-3/8 inches
Strap material: reinforced rubber
Cushioned plastic handles
Lifetime guarantee
What We Like
Can be used for a variety of projects
Rubber is simple to clean
Lightweight to hold
No additional tools needed
Rubber is non-slip
Won't crush or distort units
Scratch-safe
Reputable manufacturer
Guaranteed for a lifetime
What We Don't Like
Several users reported the rubber strap breaking with repeated use
Titan Tools 21315 12" Strap Wrench
This strap wrench has a 12-inch handle to fit in awkward areas. The nylon strap is 36 inches, which makes it compatible with the majority of car oil filters. The main benefit of this tool is that it can't scratch any metal surfaces or get stuck. If your unit is in an awkward area, you may want to consider this product.
It has a built-in cam lock and an aluminum handle. You can use it directly without having to get your ratchet driver out.
The build is lightweight, which makes it easy to handle. This feature will make the job easier if you're stuck in an uncomfortable position for a while. At the same time, the handle is sturdily constructed and it won't fall apart after a few uses.
The nylon strap means you can use it on other projects too. It'll work on anything you need to tighten or unscrew without damaging. Metal wrenches can carry the risk of biting or crushing. This quality makes it ideal for screwing in new units if you feel like hand-tightening isn't enough.
Features and Specifications
Strap type wrench
Material: nylon
12-inch aluminum handle
Also available with an 18-inch handle
Strap length: 36 inches
What We Like
Built-in cam lock
Works without extra tools
Lightweight tool
Useful for installation.
Won't scratch or get stuck
Fits in confined areas
What We Don't Like
Some users experienced the strap slipping or stretching when tightened.
A few users reported the strap breaking after several uses.
Conclusion
It's important to prioritize the tools we buy and use on our vehicles. A high-quality tool can turn regular maintenance tasks into a pleasure rather than a chore. Changing your oil filter is something that can't be avoided. If you want to do it on your own, you may as well invest in a wrench that will make the job easier.
All the wrenches we have reviewed are worth considering. Having said that, one product stands out above the rest. In our opinion, the best oil filter wrench is the Tekton 12-Inch Oil Filter Pliers. These powerfully-built pliers have a long reach and don't require superhuman force to use.
Do you have any comments or feedback for us? Please share your thoughts and opinions in the comment section below. We look forward to replying to each and every one of you.