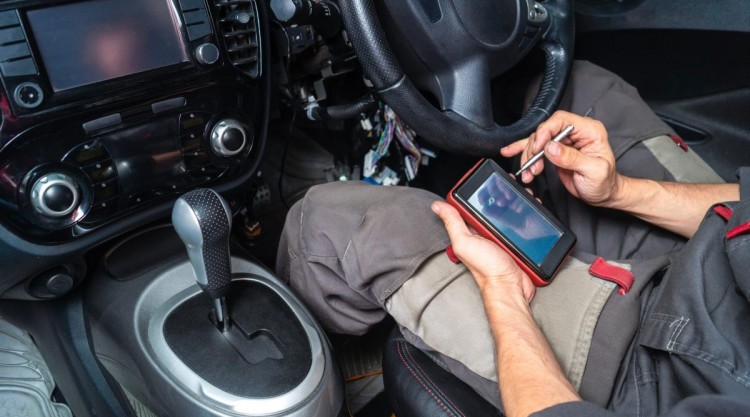 Bluetooth OBD2 scanners are great tools for owners of older cars. Unlike standard OBD2 scan tools, they provide ongoing, real-time data that lets you know what's going on under your hood and elsewhere in your vehicle. This is handy in any car, granted, but even more so in one that's long in the tooth and you need to keep an eye on.
A Bluetooth scanner is a block-shaped device, sometimes called a dongle, that plugs into your OBD2 port.
Many users leave the device, which communicates with an app on your Android or iOS phone via a Bluetooth connection, plugged in all the time. This means checking what's going on with your car's inner brain is as simple as opening the app on your phone – no hauling out a corded, bulky device each time you need to pull the fault codes.
In this guide, we reveal how to go about picking out the best Bluetooth OBD2 scanner for you and introduce you to 5 of the top scanners on the market.
At a Glance: Our Top Choices for Best Bluetooth OBD2 Scanner
Note: Clicking the above links will take you to further information, current prices and customer reviews on Amazon.
Best Bluetooth OBD2 Scanners – Our Top 5 Choices in 2023
We've looked at the specs for many widely-available Bluetooth OBD2 scanners and picked the top five available today, to present to you in the list below.
Bluedriver Bluetooth Professional OBD2 Scan Tool for iPhone, iPad, and Android
High quality and a full range of features meet in this pro-level Bluetooth dongle. Marry it to the free BlueDriver app built by the same company for the most comprehensive set of functions available through a Bluetooth scanner.
First Impressions and What's in the Box?
BlueDriver's small black dongle fits nearly every car and toolbox easily, and the curved front panel forms a handy grip for pulling it out of your OBD2 port.
Specifications
Warranty: 100% money-back guarantee, 1-year manufacturer warranty
Operating systems: Android, iOS. Windows phones are not supported.
Dimensions:2 x 1.9 x 1 inches
Apps supported: BlueDriver app only
Automatic off/power saver: Yes
Cars supported/excluded: 1996+ US-sold domestic, Asian, and European cars supported. Hybrid vehicles and diesels are excluded.
Enhanced features: Mode 6 diagnostics (if supported by car maker), ABS, Airbag, Transmission, etc for GM, Ford, Chrysler, Toyota, Nissan, BMW, VW, and 2003+ Honda.
This Model Is for You If
If you want the largest array of features and the most similarity to a pro-level scanner, choose the BlueDriver and matching BlueDriver app.
Another Model Is for You If
If you're on a tight budget and don't need to worry about advanced features like Mode 6 accessibility or clearing ABS codes, choose a less expensive, less feature-rich scanner.
Or, if you have an app in mind that you'd like to use, choose a different scanner, as the BlueDriver OBD2 dongle is designed to work only with the BlueDriver app.
What We Like
A money-back guarantee and excellent online customer support make BlueDriver a top-notch pick. The BlueDriver app will also offer a Repair Report with mechanic-vetted fixes for your car's particular diagnostic trouble codes.
What We Don't Like
The BlueDriver Bluetooth scanner isn't compatible with Windows phones. It's also not the least expensive option out there. And it can only be used with the BlueDriver-branded app.
In Conclusion
If you're not on a tight budget and want to skip the rest of the heavy thinking over which Bluetooth scanner to get, just choose the BlueDriver. It does everything well.
BAFX Products Bluetooth Diagnostic OBD2 Reader for Android Devices
BAFX's very first Bluetooth OBD2 scanners are still in use today, a testament to their longevity and good design.
First Impressions and What's in the Box?
With a sedate black exterior, the BAFX Bluetooth scanner will blend with your car's interior while providing you with critical information about your car's operation, such as coolant temp, oil temp, fuel pressure, and more.
Specifications
Warranty: 2-year warranty, with US-based customer support
Operating systems: Android & Windows phones. iOS not supported
Dimensions:8 x 1.5 x 1 inches
Apps supported: Many, including Torque, DashCommand, Carista, ScanMaster, Piston, and others. Contact BAFX for a complete list.
Automatic off/power saver: yes
Cars supported/excluded: ALL conventionally powered and hybrid 1996+ US-market cars with OBD2. Some electric-only vehicles will not have full support.
Enhanced features: Note that this device will not read SRS (airbag), ABS, TPMS, or reset oil-change lights.
This Model Is for You If
If you're unsure about using a Bluetooth scanner or this is your first such device, choose the BAFX for its US-based customer service and tech support. No difficult-to-understand overseas helpline here.
Another Model Is for You If
If you really need access to non-OBD2 systems like ABS, SRS, VSC, or oil change required lights, you'll want to pick a different OBD2 scanner.
What We Like
Excellent longevity means the BAFX will survive being tossed in your toolbox.
Fast read speed means quick and timely updating of info on your phone display while driving.
What We Don't Like
At nearly 3" long, the BAFX device is a little large. It may be at risk of getting hit with a knee while entering and exiting the car. Double-check your OBD2 port location before purchase.
In Conclusion
If you mostly need on-the-fly monitoring and want to be able to experiment with different third-party apps to see what you like best, give the BAFX OBD2 scanner a look at the link below.
Scantool Obdlink MX Bluetooth: Professional-Grade OBD2 Automotive Scan Tool for Windows And Android
The OBDLink MX is the only hacker-resistant Bluetooth scanner we looked at and includes access to powerful diagnostic software by Scantool.net.
First Impressions and What's in the Box?
The OBDLink MX is certainly the most fun-looking of the various scanners we've looked at, with its multiple colored lights across the front.
Notably, it requires the press of a physical button for Bluetooth pairing, which prevents anyone walking through a parking lot from linking up to your car's OBD2 scanner.
Specifications
Warranty: 90-day money back guarantee; 3-year manufacturer warranty
Operating systems: Android phones and Windows-based laptops. iOS not supported
Dimensions:8 x 0.9 x 2 inches
Apps supported: Many, including Torque and DashCommand. Includes OBDLink Android app and OBDwiz software license for Windows laptops.
Automatic off/power saver: yes
Cars supported/excluded: Supports 1996+ cars and light trucks sold in the US. Hybrid vehicles are excluded.
Enhanced features: Can read and clear enhanced codes for ABS, SRS, Transmission modules on some cars, e. GM, Ford, Toyota, Mazda, and Nissan.
This Model Is for You If
If your car's computer provides lots of data through OBD2, you'll love the OBDLink MX, as it's considerably faster than its competitors at getting live data to your device. That means a faster refresh rate on any gauges you've got displayed on your phone while driving.
Another Model Is for You If
If you've got a hybrid or an electric car, you'll need to pick out a different Bluetooth OBD2 scanner, as only conventionally-fueled cars and light trucks are supported.
What We Like
The provided access to diagnostic software is a huge bonus, allowing you to use this scanner with a laptop, too.
What We Don't Like
Although the device is compatible with a Windows-based phone, the app built specifically for the device, OBDLink, only works on the Android operating system. (The device does work with other third-party apps, however.)
In Conclusion
For the widest array of software options of all the scanners we've looked at, check out the OBDLink MX Bluetooth at our link below.
Kitbest Bluetooth OBD2 Scanner Adapter for Android
Kitbest proves you don't have to be expensive to get a basic job done well with their affordable OBD2 dongle.
First Impressions and What's in the Box?
The Kitbest Bluetooth scanner is both bright blue and very tiny, one of the smallest dongles we've seen. It's also one of the most budget-friendly.
Specifications
Warranty: 5-year warranty with a 100% money back guarantee.
Operating systems: Android and Windows phones.
Dimensions:9 x 1.0 x 1.3 inches
Apps supported: OBD Car Doctor, Torque Lite, Torque Pro, OBD Fusion, DashCommand for Android, and OBD Auto Doctor are recommended.
Automatic off/power saver: no
Cars supported/excluded: 100% compatibility on all 1996+ vehicles and light trucks. Diesel cars and trucks are excluded.
Enhanced features: This scanner will only read and clear OBD2 check engine codes.
This Model Is for You If
When budget is of utmost concern, consider the Kitbest OBD2 scanner. It provides the basic functions and features you'll need most without the frills that drive up costs.
Another Model Is for You If
The Kitbest is very basic. It won't help you out if you've got a diesel truck. Although Kitbest claims the power draw is very low, the device doesn't have a way to power down or sleep so it may not be the best choice for a vehicle that spends some time sitting, like a project car or weekend car.
What We Like
The Kitbest is competitively priced, which is great.
It works with a wide range of third-party apps, giving you a lot of flexibility.
What We Don't Like
Sometimes there are hiccups in setting up the Kitbest scanner, although the manufacturer stands behind their product and is responsive to customer issues.
In Conclusion
If you'd like to try out a Bluetooth OBD2 scanner but aren't sure if you really need a feature-rich device with a big buy-in price, trying the Kitbest OBD2 scanner at the link below can give you a taste of what wireless engine monitoring is like, without a huge upfront cost.
Veepeak Obdcheck BLE OBD2 Bluetooth Scanner Diagnostic Tool, Compatible Ios & Android
Finally, we present the Veepeak BLE OBD2 scanner. With low power consumption and a modest price, it offers some advanced diagnostics on some cars and full support for electric cars.
First Impressions and What's in the Box?
Like the BlueDriver, the Veepeak has a clever front design that gives you a good grip on the dongle, so that you can pull it straight out of your port without rocking it side to side, avoiding damage.
Specifications
Warranty: 30-day money back guarantee, 1-year replacement warranty.
Operating systems: iOS, Android, and Windows phones.
Dimensions:6 x 2 x 0.9 inches
Apps supported: OBDFusion, DashCommand, BimmerCode, OBD Auto Doctor, Torque Pro, others.
Automatic off/power saver: No, but uses low-power Bluetooth 4.0
Cars supported/excluded: All 1996+ cars and light trucks, including electrics and hybrids.
Enhanced features: On some cars, advanced features may be available, depending on the app you're using.
This Model Is for You If
If you have a BMW or MINI, Veepeak is one of the several models of OBD2 dongles specifically mentioned by BimmerCode, the most popular BMW coding app. If you've got a later model BMW or MINI, you'll have access to many additional controls and features not available from within the car itself.
Another Model Is for You If
If you've got an Android head unit in your car, choose a different OBD2 dongle, as the Veepeak sometimes has issues pairing with one. (It does well with Android phones and tablets, though.)
What We Like
The Veepeak works with all operating systems
Pairs automatically with iOS/Apple devices, no set-up required.
What We Don't Like
Some users observe that the Veepeak isn't very fast at reporting to your app.
It may have some hiccups pairing with an Android-based head unit in your car.
In Conclusion
For iOS users and BMW owners, the Veepeak is an obvious choice. Get started with yours at our link below.
What Is a Bluetooth OBD2 Scanner?
An OBD2 scanner can be thought of as a translator between "car language" and human languages.
All over your car's engine and mechanical and electrical systems are sensors that monitor your car's health. These sensors can report this information by way of codes that help us to know what's wrong when troubleshooting.
A Bluetooth OBD2 scanner reads your car's codes by means of an app (purchased separately) that runs on a mobile device, connecting to an OBD2 Bluetooth adapter wirelessly.
This not only eliminates the cable but often offers repair options and gives you real-time monitoring of your car's engine management systems, features usually only available on much more expensive OBD2 scanners.
The rest of this article concentrates only on Bluetooth-enabled devices. However, we do also have a guide to the best OBD2 scanners for the traditional units.
Why Would You Want One?
A Bluetooth-enabled OBD2 scan tool is a great choice for an older car with ongoing issues and prone to throwing frequent check engine lights, as it can stay plugged into your car's port.
Knowing what error codes lurk behind that check engine light means lower stress and less costly car ownership.
You'll have information available to you any time your phone is within range. It's also a smart choice if you're tuning or modifying your car, as real-time monitoring is critical to knowing how your modifications are affecting performance.
A less sexy reason you may want a Bluetooth OBD2 adapter is simple accessibility. If the port is hard to reach, you've got physical limitations that make fishing around under your steering wheel less than fun, or if the port itself is fragile due to age, a Bluetooth dongle that plugs in and stays plugged in can make life easier.
How Does a Bluetooth OBD2 Scanner Work?
Bluetooth allows you to read diagnostics wirelessly (once you insert the dongle of course.)
A Bluetooth OBDII scan tool is, in simple terms, a very low-power, short-distance radio transmitter.
When Bluetooth is enabled on your phone, it scans for available Bluetooth transmitters. Your OBD2 diagnostic scanner answers this inquiry as an available device. Now the two devices can enable a data link, and your scanner can transmit information wirelessly from your car's OBD2 system to your nearby phone or tablet.
You can check our guide for further detail on how to use an OBDII scanner.
Benefits of a Bluetooth OBD2 Scanner Compared to Other Types
Bluetooth OBD2 scanning has several big advantages over a corded, hand-held scanner:
It can be always on, every time you drive, allowing you to track things like coolant or transmission temperature on the fly.
It's very portable; there's no cord to store, and it's easy to pop into a pocket or toolbox if you'd like to use it in a different car.
Depending on which app you choose to display information and what your car manufacturer makes available through the OBD2 port, you may be able to access advanced features beyond the emissions controls as well.
For example, with the BimmerLink app and a corresponding app-builder-approved Bluetooth OBD2 dongle, you can manually control the exhaust flap or the Active Sound Design on your late-model BMW.
Drawbacks of Bluetooth Scanners Compared to Other Types
Nearly all currently produced Bluetooth scanners will read (and transmit to your phone) any of the five different protocols in use by the various car manufacturers, so you don't really need to get deep into which OBD2 protocol your car uses.
Avoid the very cheapest or off-brand dongles, and you should have no problem with communication between the Bluetooth dongle and your tablet or phone.
Note that all OBD2 scanners are limited by what the car manufacturer has decided to make available through the OBD2 port. While all emissions control information is required by law to be reported via OBD2, not all automakers will make all additional sensor information or controls available.
Some dongles will power down the device after a certain time of inactivity. Not all Bluetooth dongles do this, though, so choose a device that will if you're not driving the vehicle daily. Although the power usage of these devices is minimal, the potential exists for draining a battery if they're left in a car that isn't driven regularly.
What Issues Can a Bluetooth Scanner Find With Your Car?
OBD2 codes are divided into several categories designated by a letter:
B = Body
C = Chassis
P = Powertrain
U = Undefined/Other
These letters are followed by four digits that correspond to specific faults.
Codes that are a letter followed by a 0 are generic trouble codes common to all manufacturers. Codes that are a letter followed by a 1 are specific to a particular manufacturer.
The third character in the sequence indicates the subsystem the fault is in, as follows:
1 = Emission Management
2 = Injector Circuit
3 = Misfire or Ignition
4 = Emission Control
5 = Idle Control & Vehicle Speed
6 = Output Circuit & Computer
7 = Transmission
8 = Transmission
9 = (Reserved) 0 = (Reserved)
As you can see, there are a vast number of vehicle systems covered by onboard diagnostics. OBD2 does not, however, cover everything that can fail on a car, so the absence of a check-engine light should never substitute for routine car maintenance and safety checks.
Note that simply having an error code may not provide you with a perfect solution. A check engine light can have several causes, ones that you'll want to get to the bottom of before trying to reset the check engine light.
It usually takes some experience to decipher the cause of particular check engine light codes. Fortunately, with a Bluetooth OBD scanner, help is usually right at hand in your accompanying app.
What to Look for When Buying a Bluetooth OBD2 Scanner
We've prepared a collection of important questions to consider as you begin shopping for a Bluetooth OBD2 scan tool. Read on and discover what device will best meet your needs.
Is the Scanner Compatible With Your Car?
It's important to read the manufacturer specifications carefully to be sure your car is included.
Most common makes of car will be covered by most mass-market Bluetooth scanners, but it's important to double-check this. It's especially important if you own something unusual, like a gray-market import or a car not originally sold in the US domestic market.
Is the Scanner Compatible With Your Phone or Tablet?
There are two main phone operating systems in common use, Android and Apple iOS.
Some Bluetooth devices will work with both operating systems, but sometimes you'll need to buy the car scanner that works with the operating system of the device you'll use to display information, with one version of the device designed for Android and one designed for iOS.
If you have a Windows-based phone, read specifications carefully, because not all dongles and apps for Bluetooth scanning will work in a Windows phone environment.
Is the App or Software to Use With Your Scanner Free?
Some Bluetooth scanner purchases include access or download rights to a proprietary or recommended app designed to work with that particular dongle. Others will work with a wide range of apps available for sale in the Google Play or Apple app stores.
Some apps have a free basic version but a paid version that offers more features, such as additional data logging.
Is Reading the OBD2 Codes Enough? What About ABS, SRS, And VSC Codes?
What do you need to be able to access with your OBD2 car diagnostic scanner? Do you just need basic reporting emissions control information and to clear codes? Or would you like to be able to read anti-lock braking system, supplemental restraint system (airbag), and vehicle stability control codes, as well as utilize other advanced functions?
Not all scan tool and app combinations give you access to these advanced features, although all will allow you to simply clear any diagnostic trouble code presented.
Features a Useful Bluetooth OBD2 Scanner Must Have
The scan tool must reliably connect with your phone, or it will be frustrating to use.
It must be designed to work with the same operating system your phone uses.
It must have good customer support, in case you do have problems.
It must be a quality, genuine product, preferably with a warranty. In the Bluetooth device world, there are an awful lot of fakes and cheap knock-off products available online. These will often not perform well and may even damage your car's electronics. If a device's price seems too cheap to be believed, it is likely a fake.
Possible Extra Features…Do You Need Them?
Important here is whether the dongle you're considering works across all operating systems. No need for a Bluetooth scanner that operates on both Android and iOS devices if you're a dedicated iPhone user!
Another thing to consider is "Mode 6 functionality."
What reports are available in Mode 6 varies from automaker to automaker, and the results reported through this feature of a scanner will likely be fairly opaque to all but professional techs.
If you're a professional mechanic, you likely have access to professional diagnostic tools at work, and if you're a DIYer, you're not likely to need this depth of information.
Price Considerations
There are scanners available at a wide range of price points. A more expensive scanner may offer access to additional features, but be sure you'll actually use those features before you shell out for the best.
Also, take a look in your app store and think about which app you may want to use. Some apps have a recommended set of OBD2 dongles that work best, and others that are only partially compatible.
Don't forget to consider any possible cost (if any) of the app or software along with your purchase of the scanner itself.
Wrapping It Up
We hope we've provided you with some solid help sorting through the range of Bluetooth OBD2 scanners available.
Now you're well-prepared to keep your car on the road for many happy years of motoring, and with a dongle in your toolbox, you'll be ready to help out a friend or family member when they run into car problems too!
If you have any questions, suggestions or feedback on the topic of Bluetooth OBD2 scanners, we'd love to hear from you in the comments below, we'll answer every one!